For this issue's My Bike we catch up with ABR reader and retired tree surgeon Paul Holroyd to talk about his 2007 Honda Varadero, a bike he's already ridden down to the Sahara, and soon to be ridden up to the Arctic…
How many miles has it done?
Just short of 30,000 miles. It had done 3,000 miles when I bought it. I traded in my last Varadero, in exactly the same colour that had done 60,000 miles. I got rid of it because of the mileage and I didn't want things to start going wrong. I thought it was time for an upgrade and ended up with the same bike because the first one was so good.
Is it standard?
No, it's got crash bars on it, made by Givi, they're very good if you drop it on its side as the plastics are expensive. For the spotlights, I originally looked at a set from Touratech, but they were well out of my reach so these are Halfords, twenty-nine quid, made the bracket myself. I think they were originally for a car or something. The handguards are standard fit.
It's got an MRA screen on it, that stops a bit more of the wind buffeting. It came with normal Givi plastic panniers, like the Monokey panniers, but I swapped them for these made by G&G; 2mm aluminium, £300, or thereabouts, ordered off the internet, not bespoke. It's just a small firm and he makes them in his garage. The bottles are separate. One's from Touratech which I use for water. The other I got from the HUBB off the Starhubber man. I'm going to put fuel in that. I made the brackets myself. I made the top box rack myself. The tent goes on there.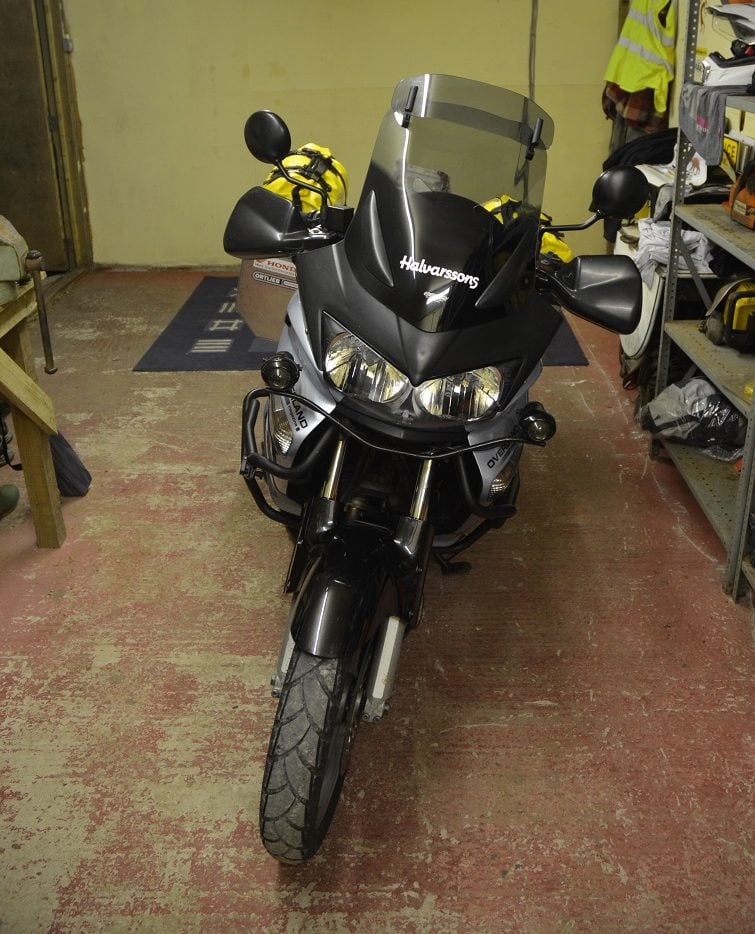 What goes in the Ortleib bags?
I'll carry my sleeping bag, roll matt, maybe some clothes if I'm a bit short on space in my panniers. In my panniers, I'm going to put tools, camping gear, a stove, a bit of food. Keep it low and forward, that's my only advice. You find that if you put too much weight on the back you can get a bit of wobble at the front. I like to cruise at eighty if I can. It's a 22-litre tank and I'm looking for fuel at 200 miles, starting to get worried at 240 miles. So I get around 50 miles per gallon.
How many miles did you do on your Sahara trip?
Just short of 6,000 miles including the ferries.
In how long?
In two weeks.
Any problems?
Absolutely nothing, I didn't even tighten the chain. I just topped up the Scottoiler. The Scottoiler was an aftermarket thing, but as standard, the bike came with the rear hugger, centre-stand and heated grips. Though the heated grips were an optional extra on this bike as well.
So these are going to come in useful on your Arctic Trip?
Absolutely.
Any more modifications for your Arctic trip?
Not really, no, that's about it. It's going to get a service and a new set of Metzeler Tourances ready for the trip. I usually run Michelin Anakee 2s but I'm going to give the Metzelers a shot. The back I've done about 6,000 miles on, but it's passed its sell-by date.
So you expect one back tyre to do the run and back to the Arctic?
Yes, definitely. And the Metzeler Tourances are meant to be a bit better in cold weather because they have this dual compound.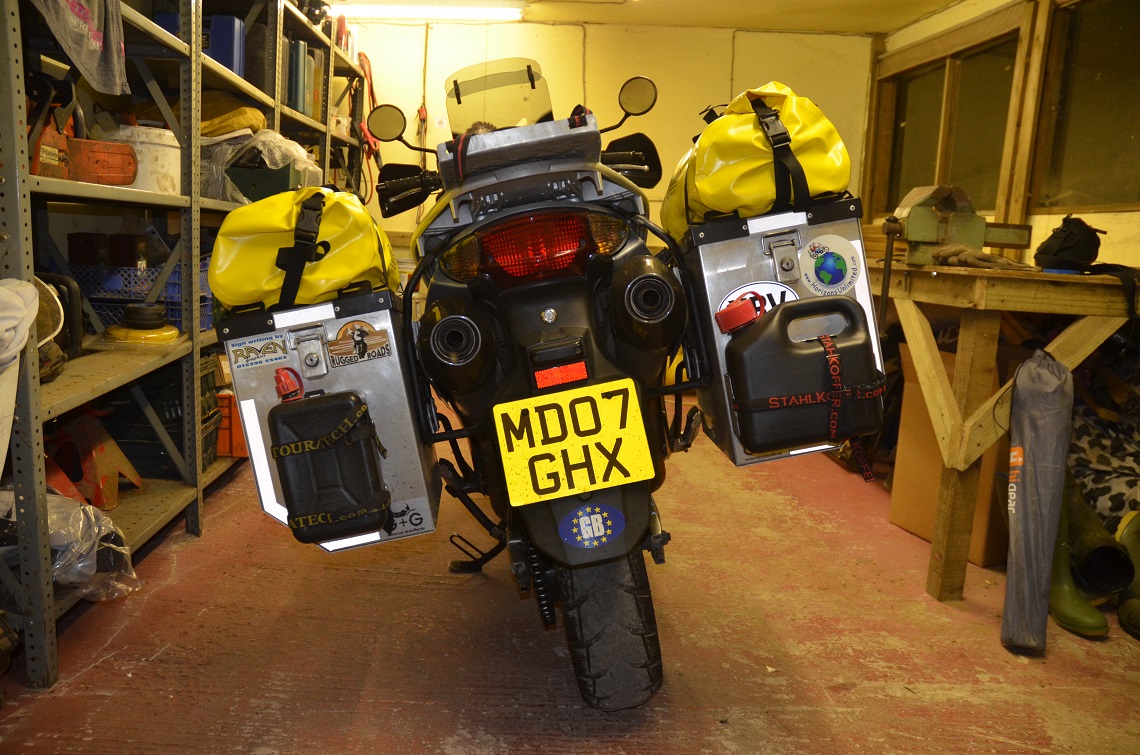 Same tread pattern?
Yep, dual-purpose, because it'll be mostly tarmac. I've contacted a company in America called Cold Cutters and they do these screw-in ice screws, which you put in and take out with a regular drill. So I'm going to take a bag of them just in case. If it's any worse than that I'm coming home!
What about special clothing?
Holvarsons has kindly set me up with jackets, trousers, gloves, layers. I've never had anything like it in my life. I think people are giving me the stuff because they're expecting me to be freezing my nuts off! The weather though shouldn't be too bad.
What about service intervals for the bike?
Five thousand miles. And that's oil, oil filter. And twelve thousand miles for the air filter. Because of the Sahara trip, I changed it when I got back and it was full of sand and flies and stuff.
Why did you do Sahara?
It was out of my comfort zone. Prior to that I'd toured all of Europe and it was a case of, where do I go next? There'd been a lot of articles on Morocco and when I looked on the map it wasn't that far, and it is easy.
Was it what you thought it was going to be?
It was more, it was mind-blowing, absolutely fantastic. That was last April 2012. The Arctic trip in September is a complete contrast. I'll ride from Mo I Rana to Kirkenes on the Russian border, then drop down through Sweden. Again just short of 5,000 miles.
Any negatives to the bike?
Just the weight really. As I get older it gets heavier. It gets heavier year on year. Once it gets going it gets easier. It's just hard work getting it on ferries and manhandling it in the garage, things like that. When I first got it I was alright. But now I do struggle. But on the plus side, it's uber-reliable, you can do 500 miles a day on it no problem, it's very comfortable, there's not a single vibration, it's got good wind protection. It's the reliability and the build quality really.
If you were to replace it what would you replace it with?
I've thought about all sorts, I fancied the Moto Guzzi Stelvio, just because it was a bit weird and a bit different. I fancied a KTM, but I've gone off that. I don't want a GS. I thought about a Crosstourer, that's a nice bike, and they do one in Saturn black, with a compass logo down the side. If I had the money that would be on the cards. I'm not sentimental about the bike. If I could afford a new one I'd have one.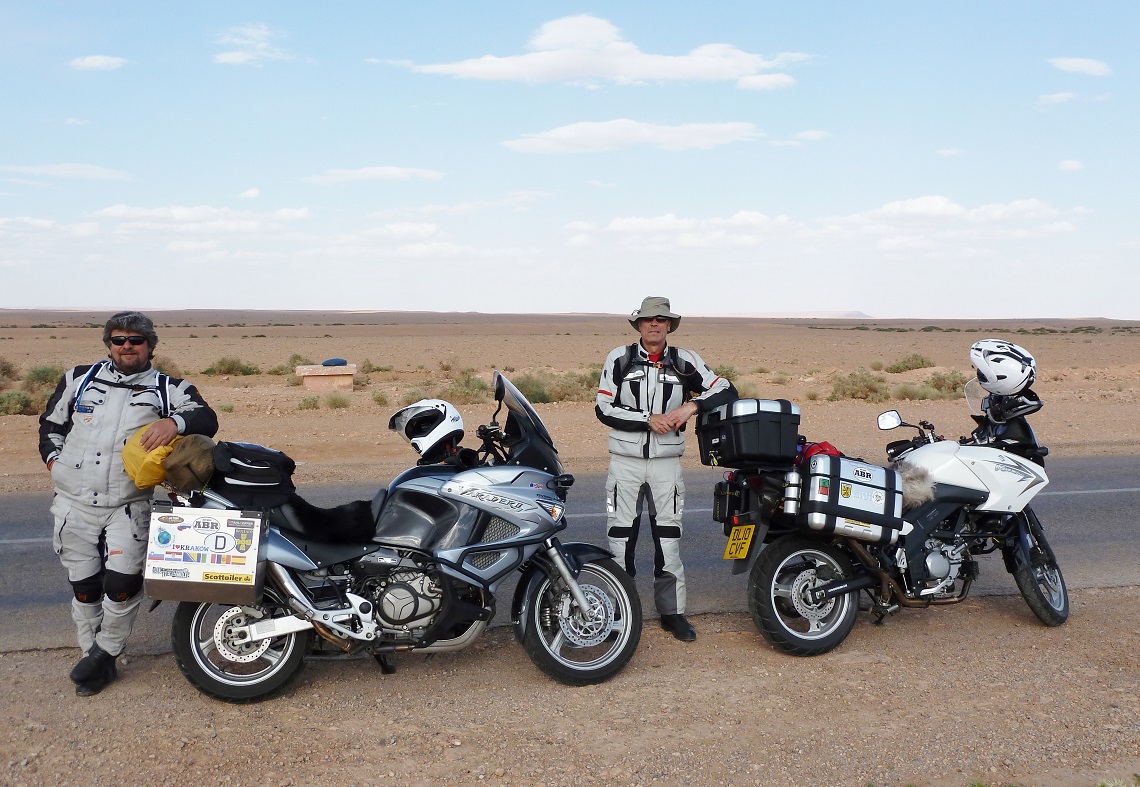 Who do you think this bike is most suitable for?
I think probably two-up touring in Europe, for someone my age, forty plus. I don't think there's anything better. Better than any Pan-European. Because it's more versatile. I mean it's not off-road, but I've done gravel in Bosnia. I haven't been green-laning on it, not on purpose anyway.
How much do you think it's worth?
I paid £5,000 for this, a 2009, two years old, and if I sold it tomorrow I might get £3,500 back for it. I don't know to be honest.
Any idiosyncracies with this particular bike?
Not really. The only little thing, if you take the key out – because it has that HISS thing – when you put the key back in it doesn't always connect. So sometimes you have to take the key out and put it back in again.
And the motivation behind these trips?
I'll be honest, a couple of years ago in early 2011 I had a bit of a mental breakdown; my dad died, my dog died, business was tough, it just got too much for me, and I've found these trips a great way of getting away from it for a while. It helps. And as long as Maria – my wife – gets a new pair of shoes out of it she's generally happy.
Paul has written a book about his Sahara trip (available on Amazon). He also has a bike-friendly campsite in Kirby Stephen, Cumbria (www.takodacamping.webs.com)
Photos: Paul Holroyd