Suzuki's new adventure bike joins the fleet. Alun Davies took it green-laning…
Bike: Suzuki V-Strom 1000
Rider: Alun Davies
Time on test: 2 Months
Miles covered so far: 2,200
Back n the late 1970s, having just returned from bumming around Morocco on a threadbare shoestring, I found myself at a loose end. It was late November, days were short, the first frosts of winter were starting to nip and my job prospects looked even bleaker. What's more, I'd given up a golden opportunity of a September start in University in favour of gorging on chunks of wanderlust in the deserts and mountains of North Africa.
Mind you, that didn't put me off telling anyone who would listen that hanging out in the Atlas Mountains and bartering for leather wristbands in souks was the fast track to a stellar career. My parents, in particular, were delighted at this wisdom and insight.
Fortunately, the government of the day came to the rescue via the tried and tested method of spending money to fix a problem that didn't exist. And so I enrolled as a guinea pig on the latest educational fad which was going to do away with the established academic model and launch all future generations of young, eager to learn Brits into 'Flexi-Study'.
Essentially 'Flexi-Study' meant I could spend all day in bed balanced by excessive nights out on the town and occasionally visit a lecturer on a day and at a time of my choosing. Hence, 'Flexi-Study'.
Better still, as one of the original trialists of this groundbreaking furthering of intellectuality, I got paid for the experience. On every practical level, the national Flexi-Study experiment failed, spectacularly, though on a personal note I managed to leave college with an accountancy qualification.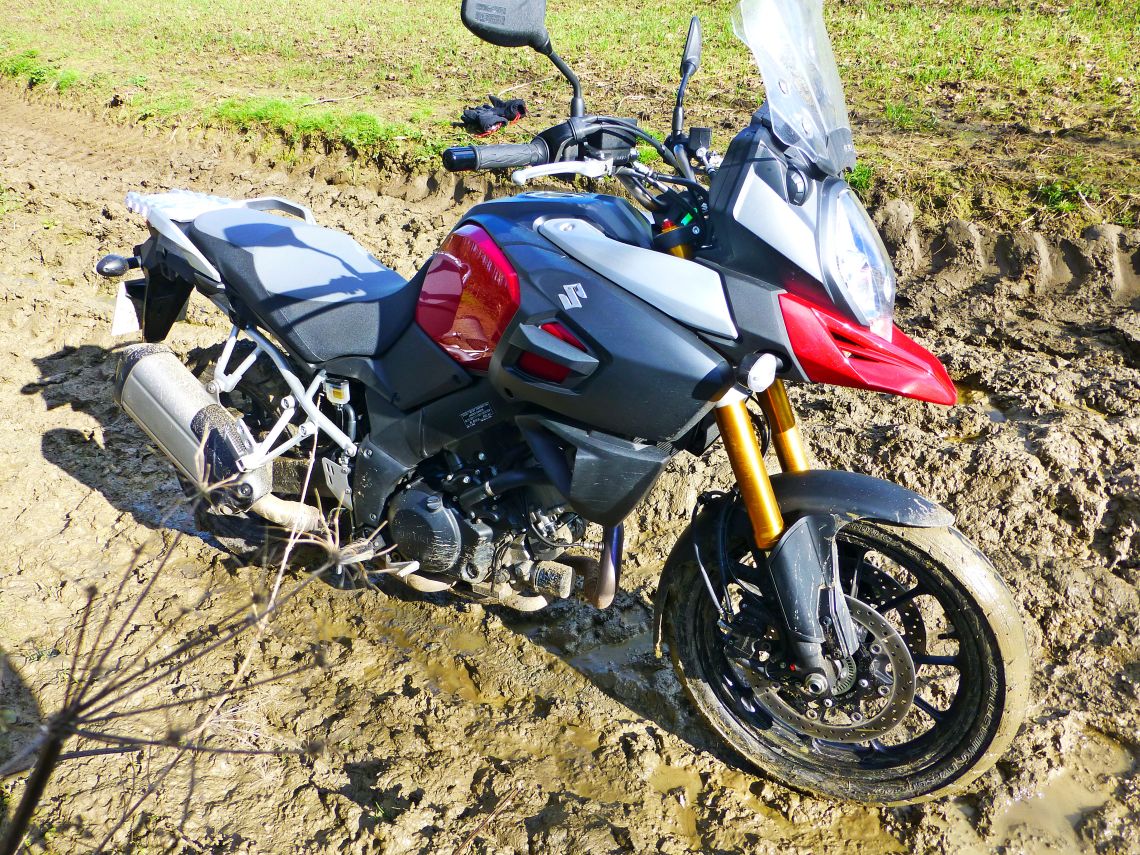 I then promptly took up a job in sales convinced that fatal liver disease and incurable bed sores were baked in if real-life accountancy mirrored the academic version. I loved sales and quickly discovered that the most satisfying route to lasting success was not through blabbering bullshit but by listening to customers and fulfilling their practical and emotional needs and expectations.
In simple terms; ask the customer what they need, listen, and then help them get it. Which brings me nicely to motorcycles and the new Suzuki V-Strom 1000.
There's no doubting the current success of adventure motorcycles backed up by consistently rising sales statistics. If a manufacturer wants to prosper then they need to be in the adventure game and preferably offer a smaller 600ish single, an 800ish mid-weight and a battle-ship sized 1000cc or above.
The undoubted leader in the adventure sector is BMW with a serious contender in all the above divisions plus the mega-selling R 1200 GS(A) at the top of the pile.
Suzuki, along with other Japanese motorcycle companies, appears to have been blind to an ageing demographic (we can't fit on sports bikes anymore) and caught off guard by the spectacular mainstream popularity of the 'Long Way' series in which a couple of guys lived out their dreams by travelling the world on motorcycles.
And what ageing biker doesn't harbour a dream, however minute and however unlikely, of travelling the world by motorcycle? Certainly not me.
In retrospect the growth of adventure bikes is not difficult to understand, they are a style of bike which fulfil both the practical and emotional needs of the core customer. And that dear student is the end of sales lesson 101.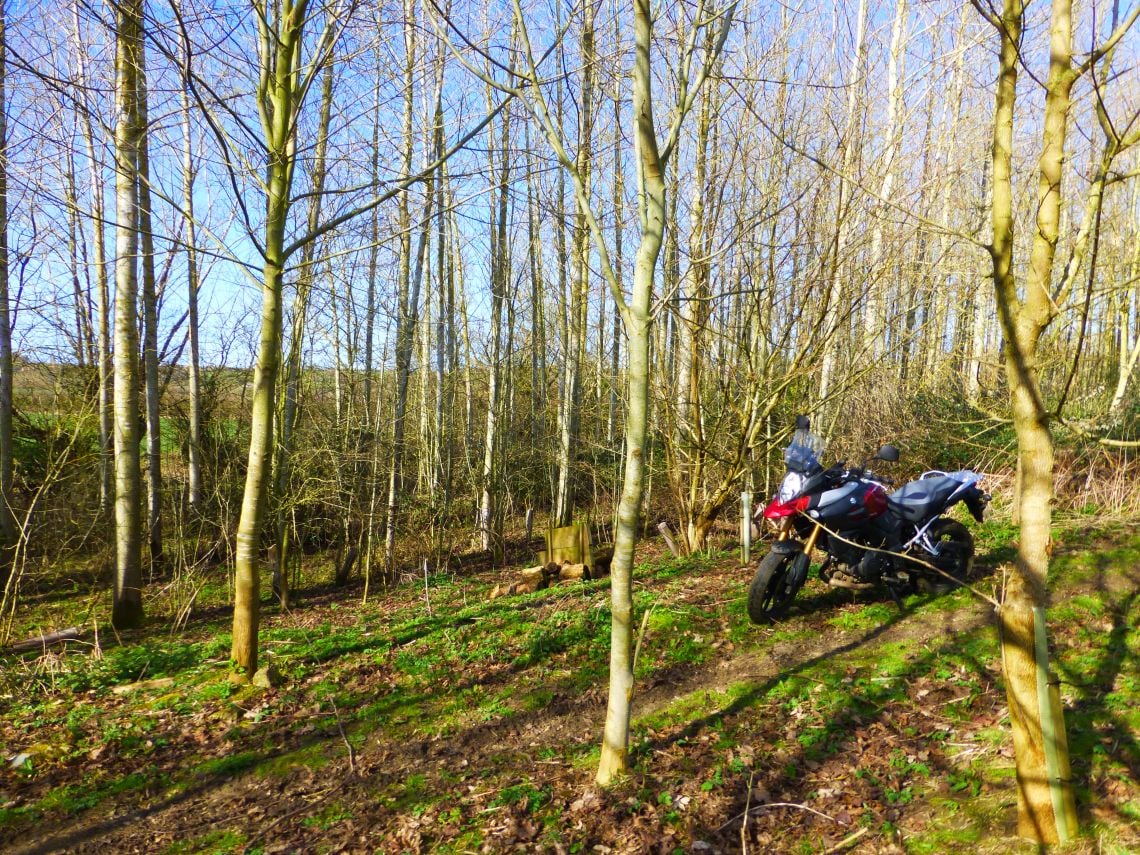 So, what questions did Suzuki ask the market and how hard did they listen?
I've no insight into the companies customer relations but having spent some time on the new V-Strom let's have a go at answering point two.
Is it practical and can it ignite the smouldering embers of my Round The World fire?
Adventure bikes have a certain look; tall, tough, upright, enduro-ish and, in most textile clad circles, it's vital they come with a beak. On first sight the V-Strom doesn't look that tall nor does it appear as if it'll blast through the walls of a nuclear reactor though it does come with an upright stance and a whiff of soft enduro styling.
Plus, as befits the instigators of the motorcycle proboscis, it has a beak – the 20-year-old Suzuki DR750 was the 1st bike to sport the now obligatory "I'm a gnarly explorer" extension. But then looks are captured by the eye only to be filtered through the heart and if I were to judge by palpitations alone then Suzuki have done a pleasant enough job.
The V-Strom is no pulsating catwalk stunner like the Yamaha Worldcrosser or KTM 1190 – both of which had me SOS'ing a cardiologist on sight. Nor is it a muscle-bound Amazon like the BMW GSA, it's more of a pleasant, unthreatening farmers daughter dressed for hay bailing on a sunny day.
From the off the Suzuki doesn't look anywhere near as bulky and unwieldy as its 1000cc plus peers, in fact, it felt more like I was sitting on its smaller sister, the excellent V-Strom 650. The ergonomics are good with hand, backside and feet positions in harmony and all are likely to remain so for many a continent.
In part, this has been achieved by the bars and pegs having been pushed back 1.3in and 0.6in respectively from that found on the original Strom. The result is a riding position that would be complemented by the head of the department at a Swiss ABR finishing school.
However, given enough time, those of a taller, longer-legged stature will find it gets a little cramped in the leg department though it's always comforting to be able to plant both feet flat on the ground, a rare event in these elevated adventure times.
Staying with size, which I reckon is the strongest selling point of the new Strom, if you've ever checked out a large capacity adventure bike and come to the conclusion that the bulk, weight and seat height are overpowering, impractical or just plain ridiculous, then I'd suggest you stop reading now and book a test ride on a V-Strom 1000.
When lined up against the alternatives it looks small and slender and, quite frankly, it is. The Suzuki weighs in at 229kg, comes with seat height options of 820mm, 850mm and 885mm and it has the narrowest waist of all the big blasters which means your legs are less splayed and feet closer to the ground.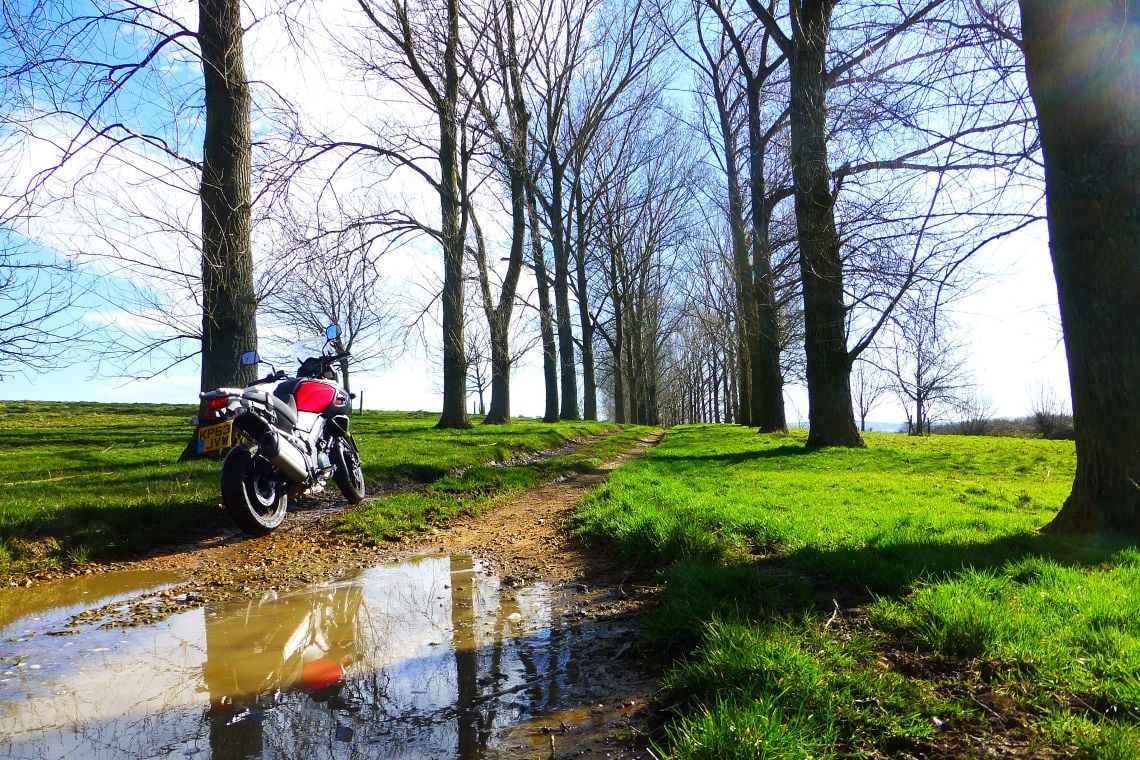 If you're below 6ft then this bike is going to be comfortable for touring and, just as importantly, manageable when you need to put a foot down at traffic lights or manhandle the bike out of tight spots. In my opinion, it appears that Suzuki listened to the group of customers who answered: 'the current crop of big-bore adventure bikes are far too tall, bulky and cumbersome for comfort'.
On the tarmac I found the engine to be just as I like them, with strong, linear power from low to high revs. It's fast, but not blisteringly so, unlike, say the KTM 1190 which kicks you violently in the butt with steel toe-capped size 12's when you pass through 4000rpm.
The Strom is more measured and controlled, in keeping with its pleasant looks. The suspension is a little on the hard side for my liking and it tended to jar and bump over imperfections in the road rather than absorb and flow. Overall the handling was good and coupled with its diminutive size and bulk the Strom is one of the most flickable of the larger adventure machines.
With a highly exposed oil filter sticking out the front and Bridgestone Battle Wings below the Strom does not come best dressed for off-roading. However, on a foray along the green, wet and muddy lanes of Warwickshire the Suzuki inspired me with more confidence than most of the 1000cc plus competition.
Once again this was down to the lower weight, manoeuvrability and the fact that I could paddle through bogs I'd have avoided on most of the heavier machines. I've no doubt that fitted with engine guards and shod in knobblies the Strom is going to be as capable, if not more so, than most big adventure bikes. It's the size, you know.
I'm looking forward to spending more time on the new V-Strom over the coming summer and assessing its strength and weaknesses for touring and riding with a pillion.
If you asked me now if I'd buy one then my answer would be at the current £9,995 'probably not', but if I was shorter in the leg and intimidated by bulk then there's a big chance I'd be opening the cheque book now.