A round-up of places we've visited in the past few weeks…
The Adventure Bike Shop (Feature image above)
Located over in Sudbury, Suffolk, the Adventure Bike Shop has everything you need to get started on your next adventure.
They sell clothing, helmets, accessories, panniers, camping gear, pretty much like a real-life walk-in catalogue, with products by Touratech, Alt Rider, Sidi, Klim, Jesse Panniers, Shoei and Adventure Spec.
The shop is owned and operated by Cliff and Jenny, with Tammy the newest member of the team recruited to help out with the web side of things.
We headed over this issue on the V-Strom 1000 we have on long term test, and while it is a fair old trek out to the east of England it is well worth it.
Just to be able to pick up and touch all the products you see and read about in catalogues and magazines, and especially with regards to our piece on panniers later in the issue, the ability to prod and probe around Givi, Jesse, Trax and Bumot panniers is a real help when trying to choose the right set.
The team also know what they're talking about, with Cliff and Jenny having ridden back from Australia themselves on a pair of BMW F650s. It was upon their return that they decided to open the shop.
As an excuse for a ride out to pick up some new bits, it's a great place to head.
---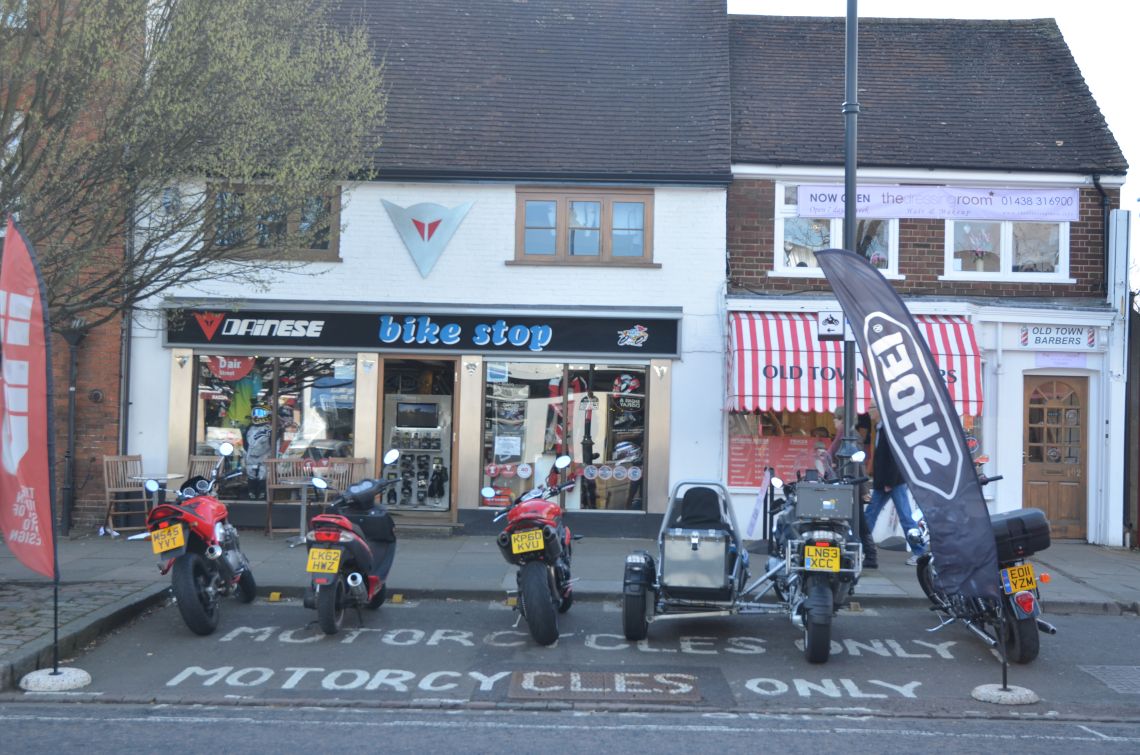 Bike Stop
Having picked up the sidecar from SBW Motorrad in Hertford, it was a short ride – and a chance to take a breather after the frantic first few miles on the sidecar – up to the intriguing little shop of Bike Stop, on the old high street in Stevenage.
We say intriguing because it's a bike shop, on a high street, with a butcher's and a hairdresser's on either side and to be honest, you don't expect much of it.
Then you walk through the door and it's like stepping into a tardis, with the shop going backwards, and upstairs, and then along, with a boutique feel about the place, and best of all, a great range of products and a team of staff that really know what they're talking about.
The stock seems split 50/50 between sports and adventure, with all the latest gear from Arai, RST and even some Belstaff.
There's a great range of products and accessories too, with a choice of Givi panniers, locks, covers, lubes and helmet cams.
The shop's been around for years, with current owner Martin doing a great job of things, even making a good coffee.
If you're in the area it's certainly worth stopping by, with free parking right on the doorstep.
It's what all bike shops should be like. Look out for the busy events schedule.
---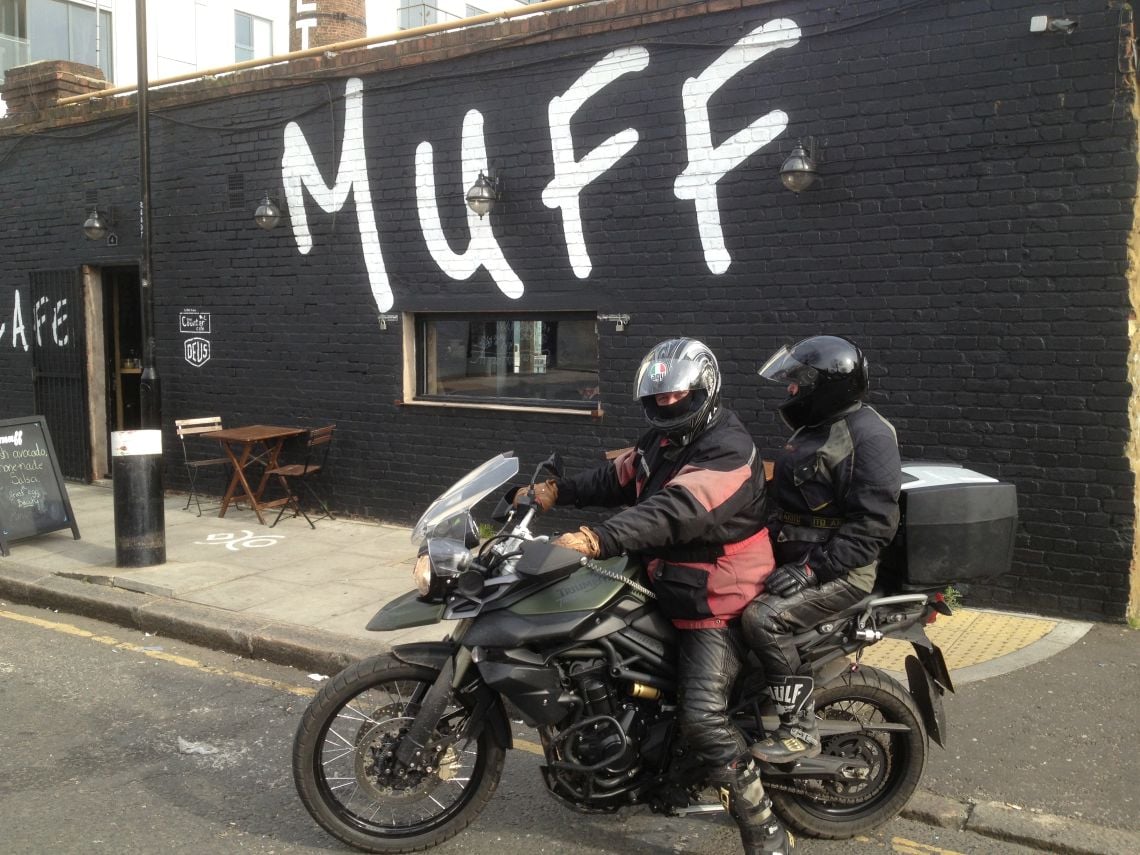 MUFF Cafe
Regular contributor to the ABR forum and author of Wollongong to Woolwich, Will Wilkins, organised a ride out around London back in March, with the event finishing up at the Muff Cafe over in East London, near Hackney, across from the Olympic Stadium.
The place was once just a custom bike shop, building some trick vintage scramblers, but with the gentrification of that part of town going on, the owner and customiser has decided to bolster the business with a licensed cafe, serving breakfast, lunch and dinner.
It's not a big place and compared to the Ace Cafe positively low key, but finding it tucked away down an old industrial estate certainly adds a little mystique to the place, wondering just what you're going to find, then seeing the big painted Muff and realising that surely you must be in the right place.
The staff there are the cool and friendly type, the coffee's excellent and the atmosphere is wholesome.
There's plenty of secure parking around the back, with space, should it become available to hold some decent sized bike gatherings there.
Either way, if you're in the East end of town, certainly worth nipping over a coffee and a look at the custom bikes.