This issue's round-up of DVDs and books…
Somewhere Else Tomorrow (DVD) Daniel Rintz
€17 + p&p www.210.open-explorers.com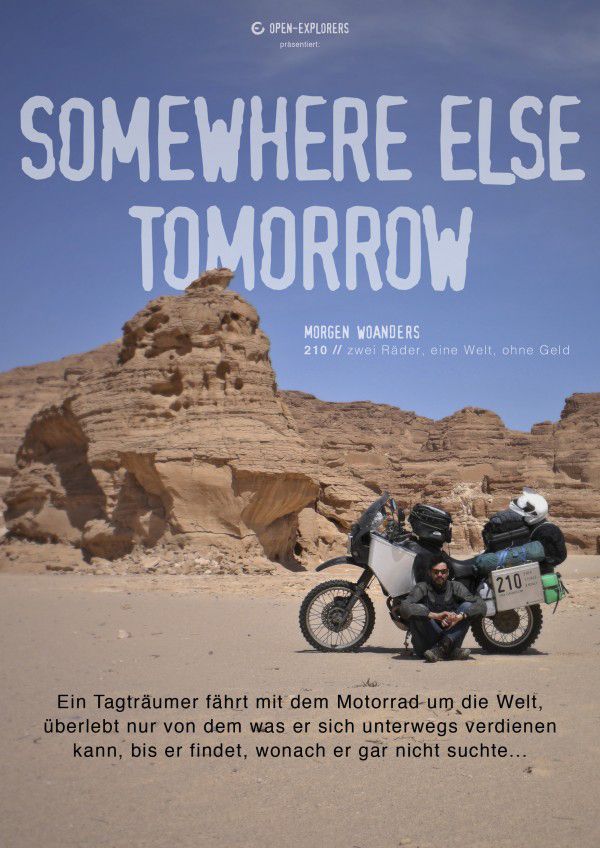 We featured Daniel Rintz in issue 20 of ABR; Daniel recounting his time in Syria and explaining a little about his motorcycle project; 2-Wheels 1-World 0-Limits.
The premise is that Daniel rode from his home town of Berlin to New Zealand on a BMW R80GS starting out with very little money, and earning it as he went by way of his profession as an IT specialist, working remotely on the road.
He had his own unique way of travelling, immersing himself with the cultures he passed through, including parts of Iran, Pakistan and India.
Along the way he intended to make a documentary of the trip, shooting a volume of footage and going on to launch a crowdfunding initiative to get the footage turned into a serious piece of film making, and this is the result; Somewhere Else Tomorrow.
Without a shadow of a doubt, this is some of the best on-location footage ever seen in a self-filmed travel documentary.
Rather than the usual GoPro style helmet cam shots and quick grabs of shaky footage, this has been filmed with a lot of thought, a lot of hard work and some proper equipment.
The Pakistan/India border closing ceremony for example must have been visited several days in a row, just to compile the multiple angles he captures the event from.
It's all shot in 24fps too, so you get that almost movie quality feel to it, as though it's acted and staged, but it's not, it's real, and of all the DVDs released over the years, none capture the world as vividly as this one.
I'm not entirely sure the interview with the American interviewer necessarily worked – interspersed through the documentary as it is – but overall, as a piece of movie-making art, to sit back and enjoy, the bar has certainly been raised by this one.
Arrows of Fire (DVD) Duncan Menge and Josh Evans
$22.95 Lost Highway Productions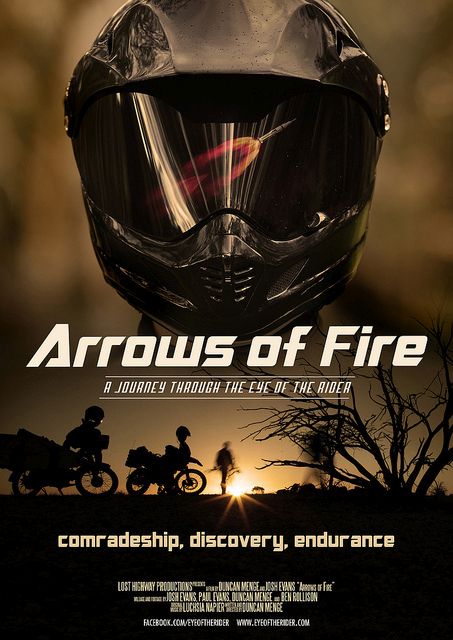 This one's a bit different, but then the Aussies are a bit different. The premise is that four guys are riding out from their home town of Sydney to a bike meet somewhere out bush.
They're on a variety of bikes, a few of which are the fabled Aussie post bikes, or toughened up C90s as they're more accurately described.
The footage is mainly helmet cam, quick shot type, capturing the dust and dirt of riding into the outback, which in itself is a spectacular sight.
Things don't exactly go to plan, however, with one of the riders taking quite a nasty tumble halfway to the destination.
This brings about a whiff of the disaster movie to the documentary, cutting to teary, emotionally strong interviews with the riders involved. At first viewing, you think it's all a bit overdramatic and over-egged, because nobody dies or anything.
But then you watch it again and for whatever reason, it does get under your skin, and whilst the guys have in a way made a mountain out of a molehill (comparing their adventure to the launch of the Apollo landing for example) there is a good deal of open-hearted honesty about the footage and the interviews.
There is stuff on father and son relationships, friendship and bonds, and the reasons behind why we ride.
It's a heart on sleeve kind of documentary and it was a brave decision playing it as they have. But then the Aussies always were big softies beneath that gruff exterior.
So not necessarily the most groundbreaking documentary you'll ever see, but there is something about it that'll make you glad you did…  Another one of Duncan and Josh's documentaries to look out for is Eye of the Rider.
This one was shot a few years before Arrows of Fire and documents a ride up into the Australian Alps mid-winter on the same Aussie post bikes.
The rough cut we saw a while back is a spectacular piece of filmmaking, with good story-telling, excellent footage and a real warmth to the way it was presented.
Perhaps worth ordering as a twin pack. For more info, email; [email protected]
---
Author Interview
Graham Field has a new book coming out…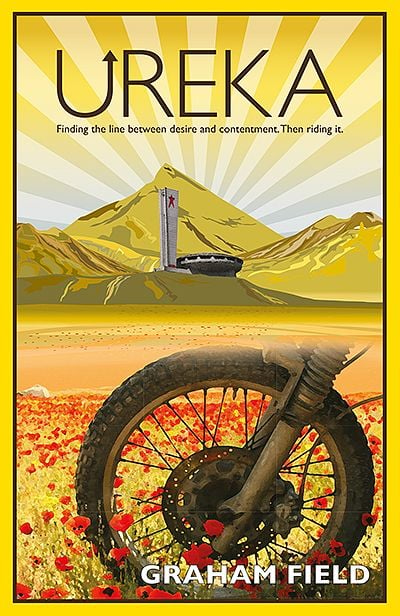 Graham's first book, In Search of Greener Grass, was one of the best bike books of the last few years. Ureka is his latest offering…
What's the book about?
"Ureka is about a trip that didn't go according to plan. Riding east, with the intention of traversing the Stan's, when I got to Azerbaijan there was a pivotal moment when I decided to do a U-turn as I just couldn't find that elusive Overlanding contentment feeling. As soon as I implemented that U-turn, everything just fell into place. In total, the trip was 15,000 miles, 23 countries, with a five grand budget on the same £700 Kawasaki KLR650.
How is it different to your last one?
It's different because last time I had a clear destination. I wanted to reach Mongolia, whereas this trip was always going to be a round trip, and I think it's hard to know when that champagne popping moment of achievement occurs when the endpoint is just back in the garage. In terms of the book, I think it's better written as I'm more experienced, but it perhaps doesn't have the wide eye awe of the first book, which only ever comes with a first trip.
Did you find it easier or harder to write?
In some ways, it was easier, because of the notes I'd made along the way, but in another way, it was harder because I was more aware of what people had said about the first one, and it was hard not to write for an audience, instead of simply writing whatever came to mind.
Who do you think will enjoy it most?
I think it will be enjoyed by those people who have family and work commitments but want to go a bit further than western Europe, the book showing that Turkey is right on the doorstep and easy to get to.
What do you hope people will take from it?
I think a lot of people still see overland adventuring as glamorous, but I think from the book they will see that it's not all glamour and not every day is an enviable, Facebook status updating day.
Is it any good?
How can I possibly say? Only the readers will tell me that!
What next?
Eventually another trip east through Iran and onwards, hopefully in Spring 2015.
———————————
Ureka will be launched at the BMF show in May, costing £12.99 and available at www.grahamfield.co.uk