Leather trousers aren't your first thought when it comes to ABR clothing, but as a tough and versatile form of protection, they still take some beating. Paul Jennison tests ten pairs…
I'm not sure if it's just me, but there seems to be an unwritten rule that says that if you ride an adventure motorcycle, then the staple riding apparel must consist of textiles.
To a large degree, I have to say that textiles are more versatile as they can be cooler in hot weather and by and large they tend to be waterproof, therefore negating the need to carry an over-suit. Overall, textile clothing has a lot of positive points.
But equally, there's nothing wrong with leathers occasionally either. I'm not talking a full one-piece Power Ranger's outfit complete with a hunch back and knee sliders,  but a pair of leather kecks to cover your lower half and complement your textile jacket in a different way.
Blokes of a certain age will agree that members of the opposite gender like a chap in leathers (do not read leather chaps, that's a whole different conversation) But seriously, I like to wear leather trousers from time to time as I find them comfortable both on and off the machine.
I also like that sense of security that I get from wearing hide, that should I come off, the slide down the road is likely to be a little more bearable than in textiles.
Good quality leather is still one of the best natural abrasion-resistant materials out there. After all, racers don't wear textiles, do they…
---
Features We Like
Textile Inserts
More and more leather trousers now feature some kind of stretch textile fabric inserts in the crotch and behind the knees. These have a two-fold purpose; the first being to make them more comfortable, especially in hot weather, allowing cool air in for ventilation and letting warm air and body moisture escape. Secondly, they enhance the fit and keep the trousers snug.
Calf Adjustment
Some of us have wider lower legs than others and either stretch panels or additional zipped panels can make life so much easier and comfortable when we're not struggling to fasten zips over burgeoning calves. Also, it allows for the pants to be worn over boots if preferred.
Stretch Panels
Many of these jeans have an elasticated leather panel, either above the knee, at the hip, or lower back below the waistline; sometimes all three. These allow for better freedom of movement whether in the seated position or when away from the bike.
Connecting Zips
It does seem that the vast majority of manufacturers now allow for jackets and trousers to be zipped together. This is good for two things; firstly, it's a safety thing that in the event of a fall they stay in place over the body and any skin should not get exposed. Secondly, it's a good form of weatherproofing, preventing draughts and moisture from penetrating. Most zips are now compatible between garments, or at least they provide the other half which can be sewn in.
Pockets
When away from the bike the odds are fairly high that you won't always be wearing your jacket, so it is handy to have at least one preferably zipped pocket to keep your bike key and some loose change close to hand.
---
Richa – Drive Trousers
SRP £119.99 www.nevis.co.uk
As with most of my reviews, we always start with the least expensive item and work up the scale. This issue is no different, kicking off with the Richa Drive pants, boasting the lowest retail price of any pair of trousers in this review.
Cheap however should not be a word that is used, as to me that implies inferiority, which the Drive trousers certainly are not. They look and feel as good as anything with a much higher cost, so you are getting a good deal for your buck.
The Richa are a full cowhide leather trouser with textile stretch panels to make them comfortable on a long day's touring. The leather isn't the thickest compared to others in this review, but it is certainly not the thinnest either and will offer a decent level of abrasion resistance in the event of a fall.
The stretch panels are in the crotch and inner thighs and behind the knees, and as well as enhancing the comfort they will provide ventilation on those hot rides. They have an air mesh lining that will wick sweat away from the skin, which should then evaporate because of the fabric stretch panels.
There is CE armour fixed over the knee, but only foam padding in the hip area, with no way of inserting additional guards if required. The lower legs do not taper very much and as a result could be worn either over or inside your boots, whichever you prefer.
The overall cut and fit is ideal as a touring trouser as it has a more relaxed style. They have two zipped pockets and a short jacket connecting zip to complete them.
In a line: a good touring leather trouser at a great price
ABR Rating – 7/10
---
Spada – Road Trousers
SRP £149.99 www.feridax.com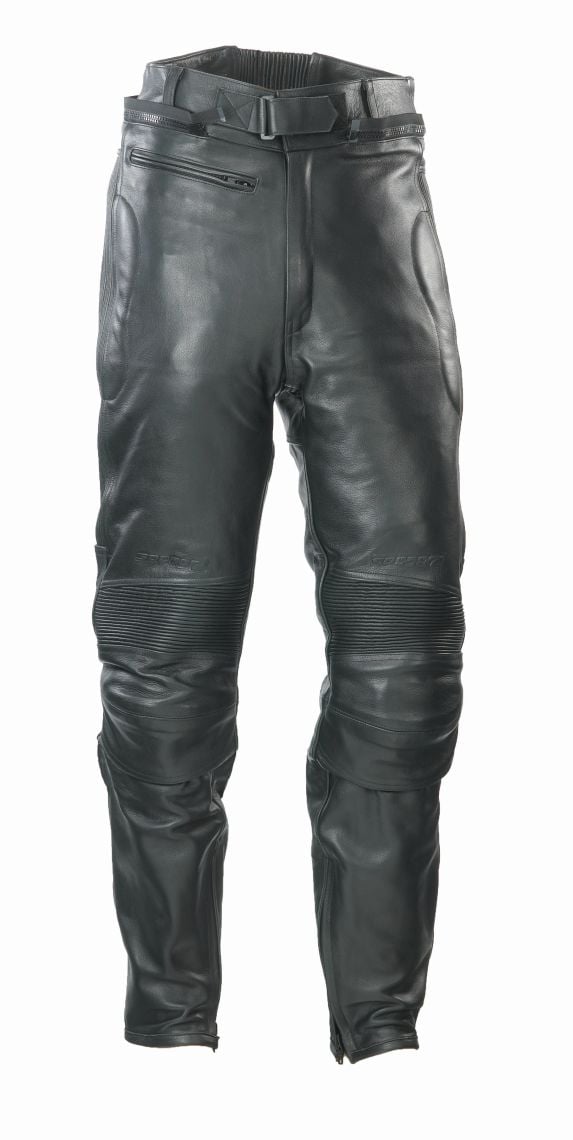 The Road Trousers are well-constructed full leather pants that, whilst aren't the best looking in this test, are great value for money. The styling reminds me of leathers that everyone wore back in the '80s and '90s. The leather is thick and has well-stitched seams which, when combined, should offer high abrasion resistance.
The cut of these trousers is definitely relaxed and ideal for touring. What I did find was that they were on the long side, which made them a little baggy. They do not offer different leg lengths so may suit anyone over six feet a little better.
To aid comfort, the Road Trousers have elasticated leather panels above the knees, along the outer thighs and across the lower back. Behind the knees, Spada has inserted some small fabric panels to enhance comfort and also allow for warmer air and sweat to escape.
The Road Trousers have CE approved armour covering the knees to help absorb any impact force, but there is only thin padding covering the hip areas with no provision to upgrade this to fully approved armour. The seat has a double panel of leather for added protection in this impact area.
The lower legs of the trousers taper down for a snug fit, aided by elastic inserts, which makes them good for people with wide calves. The cut is suited to be worn inside boots, although some may be able to get them over if preferred; and there are the usual zips, which might make this easier.
There is a small stretch panel in the waist and loops to add a belt as well as long and short connection zips for your jacket. There is one zipped pocket for small items like loose change and your earplugs.
In a line: Traditional styling and good value for money
ABR Rating – 8/10
---
Furygan – Highway Pants
SRP £229.99 www.nevism.co.uk
For more than 40 years French motorcycle clothing company Furygan has been producing some pretty good pieces of kit. Their distinctive logo has been around for as long as I can remember, so it's quite bizarre that these Highway pants are the first item of their gear I have actually worn, let alone tested.
Although predominantly leather, there is a reasonable amount of stretch fabric in the form of Cordura, making them an ideal touring trouser, as the fabric will allow air to circulate keeping you comfortable on hotter days as well as enhancing the comfort while riding or walking around.
The leather has a water repellent treatment; great for if you get caught in a light shower, but not fully waterproof. The leather is a little on the thin side and also a little stiff, but nevertheless, the trousers are comfortable once on and should provide adequate protection in a spill, as the leather and Cordura have good abrasion resistance.
Furygan is working with British protection company D3o for their CE armour. It is thinner and more flexible than some armours, with the polymers in the construction becoming active and locking together upon impact to give good protection.
This is used in the knee areas, with pockets over the hip region for additional guards if required. A downside is a lack of pockets, which for a touring pant is a little odd. They have however given you a short and long connection zip for your jacket, scant consolation I'm afraid.
The lower leg fit is reasonably loose and could be worn either inside or outside your boots. Overall the Furygan pants are a comfortable fit and work well on and off the bike.
In a line: good pants, let down by the lack of pockets
ABR Rating – 7/10
---
Bering – Serum Trousers
SRP £259.99 www.tranam.co.uk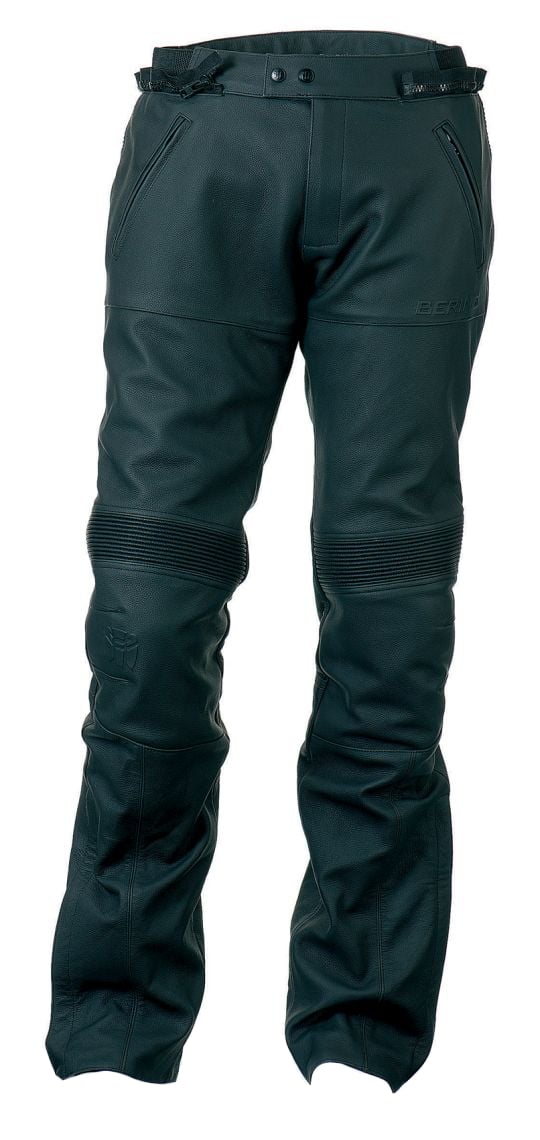 Despite not hearing much about Bering, I like what they do, and the quality at affordable prices should be appealing to the masses. These are their Serum trousers, which are waterproof, and great for those European tours where the weather can change in an instant. Unlike a lot of pants in this review, the Serum does not have any textile inserts. However, they do have expansion panels above the knee and across the back.
The hide itself has a matt and slightly grained finish that is of good thickness and quality, with strongly stitched seams that should hold up well in any tumble. The fit is quite snug from new, but within a short while, the leather began to give and mould to my body shape and felt comfortable straight away.
The weatherproofing in the Serum jeans comes from a fixed breathable, wind and waterproof membrane, which sits behind the leather outer and extends to all the extremities of the garment, so water shouldn't be able to get around it. This is then backed by a mesh lining to wick body moisture from the skin while keeping the clammy membrane away from your body.
The trousers have a short and long connecting zip to attach to a jacket and there are two zipped pockets that are not waterproof. There is CE armour in the knee, extending down the shin a little way, leaving little or no gap between it and normal length boots. They have included small hip guards too.
The cut on the lower leg is loose and designed to go over normal boots, which it does quite easily. Overall the fit is good and the trousers look stylish without being obtrusive.
In a line: a great touring trouser for all weathers
ABR Rating – 8/10
---
Dainese – Pony Leather Trousers
SRP £259.99 www.bikestop.co.uk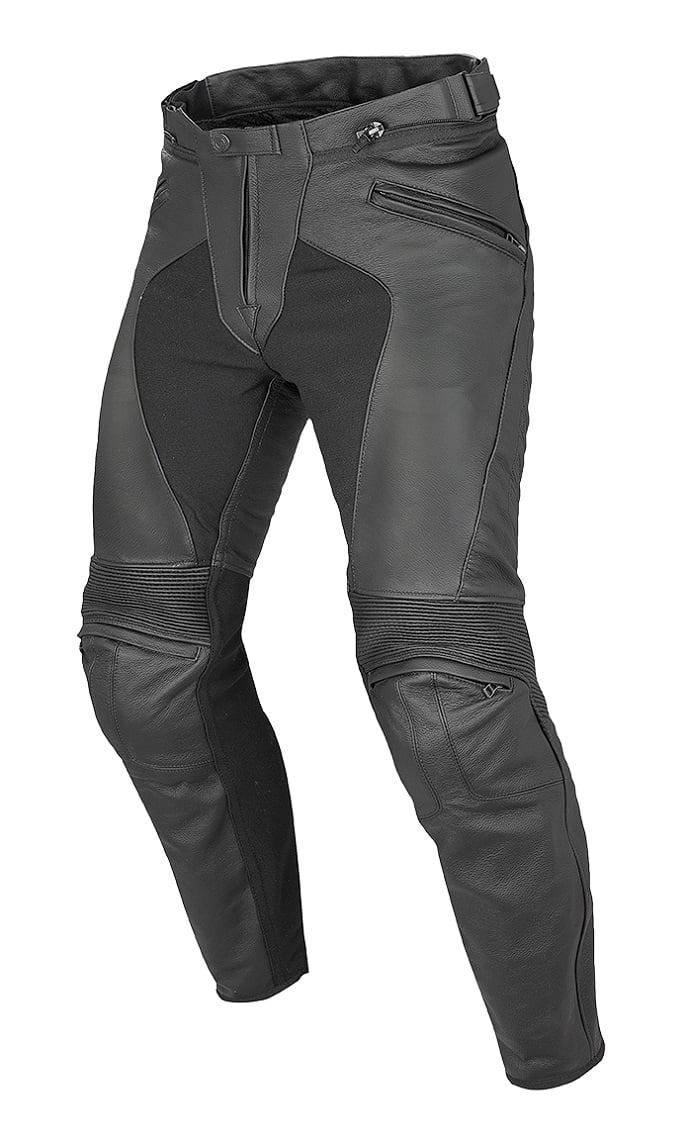 Dainese motorcycle clothing has been the choice of many riders for a good few years, whether it's just day to day riding or on the track. In my previous career as a bike cop, I wore a lot of Dainese clothing; I preferred it to anything else because it not only performed and fitted well, it looked good too.
I have tried several times (unsuccessfully) to get hold of their gear for my various reviews but now thanks to Martin at Bike Stop I have been able to obtain some to show you what I mean.
The Pony Trousers are not quite a full leather pant as they have a stretch fabric insert in the crotch and inner thigh, as well as behind the knee for improved comfort and ventilation. The hide is a standard cowhide, of high quality, that should give high abrasion resistance whilst not being too stiff to wear from new.
There is CE armour in the knees, extending a good way down the shin to provide good protection. The fit of the trousers is narrow, although they have double zips to cater for the larger calves and would normally be worn with your boots over them.
You will however need to make sure that your boots can accommodate the longer armour. There is also soft padding over the hips that can be replaced by CE armour if required.
The pants have two zipped pockets of a decent size, but I wouldn't stuff too much in them if the trousers are a snug fit as it could be uncomfortable. There is fit adjustment on the waist and a connecting zip for your jacket. For me, it was good to be wearing Dainese again, quality and protection in a great fitting pant.
In a line: Quality leather trousers I'd recommend to anyone
ABR Rating – 9/10
---
Rev'it – Gear 2 Trousers
SRP £259.99 www.revit.eu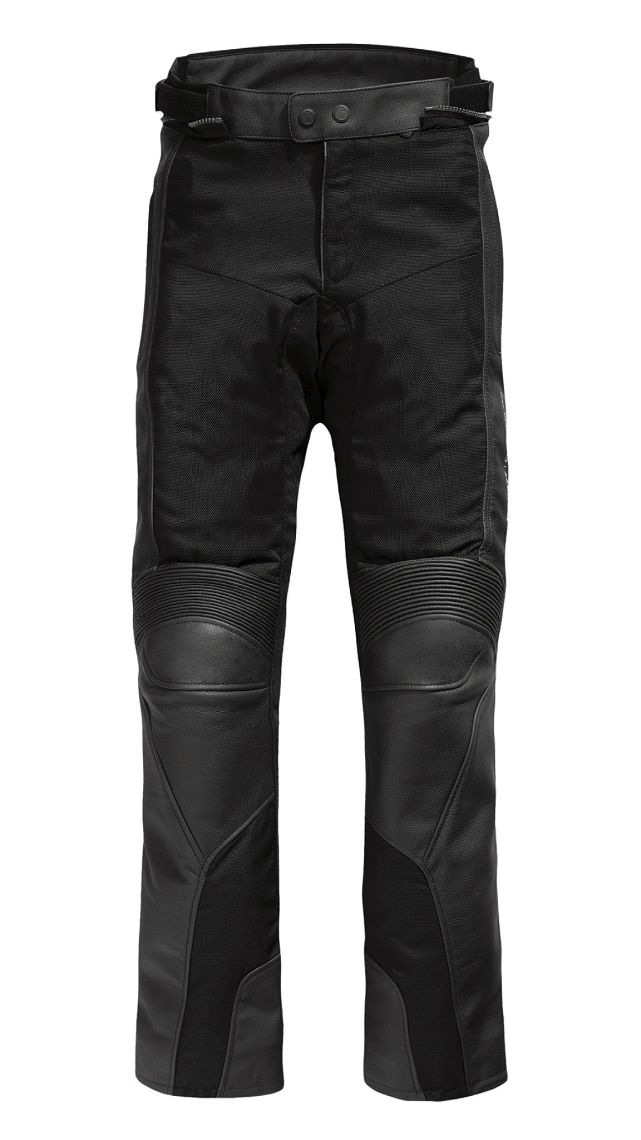 Rather than go for the full leather trouser option, you can opt for the best of both worlds with the Gear 2 Trousers from Rev'it. These pants have the hide on the impact/friction areas to give you the best protection, whilst the rest of the trousers are a mix of different textiles for ventilation and stretch panels.
There is also a removable waterproof lining. The hide is a good thickness for higher friction resistance and the seams feature safety stitching to prevent them from ripping apart upon impact. Stretch and mesh is employed in the crotch and inner thighs for enhanced comfort and to allow cool air to circulate in hotter weather.
The rest of the fabric is a wax-coated Cordura type material, offering good abrasion resistance. All the fabrics have polyamide yarn woven into them for even greater abrasion resistance. The detachable Hydra-tex waterproof liner sits next to the skin, so can be a bit clammy in warmer weather, but it does give you the option of using these in wet weather.
There is CE armour in the knee area, and hip armour can be added if required. There are short and long zip attachments for your jacket, two zipped non-waterproof pockets, whilst there is an unobtrusive reflective strip on the lower leg for safety.
The cut on the lower leg is loose fit and easily allows for the pants being worn over your boots, and, although they are not baggy, they fit over my Sidi Adventures quite comfortably. I really like these trousers, they are comfy on and off the bike and warm enough in cooler conditions and allow for cool air to circulate in warmer weather. And what's more, they look good.
In a line: a waterproof leather trouser how good is that!
ABR Rating – 9/10
---
Wolf – Titanium Leather Jeans
SRP £319.99 www.moto-direct.com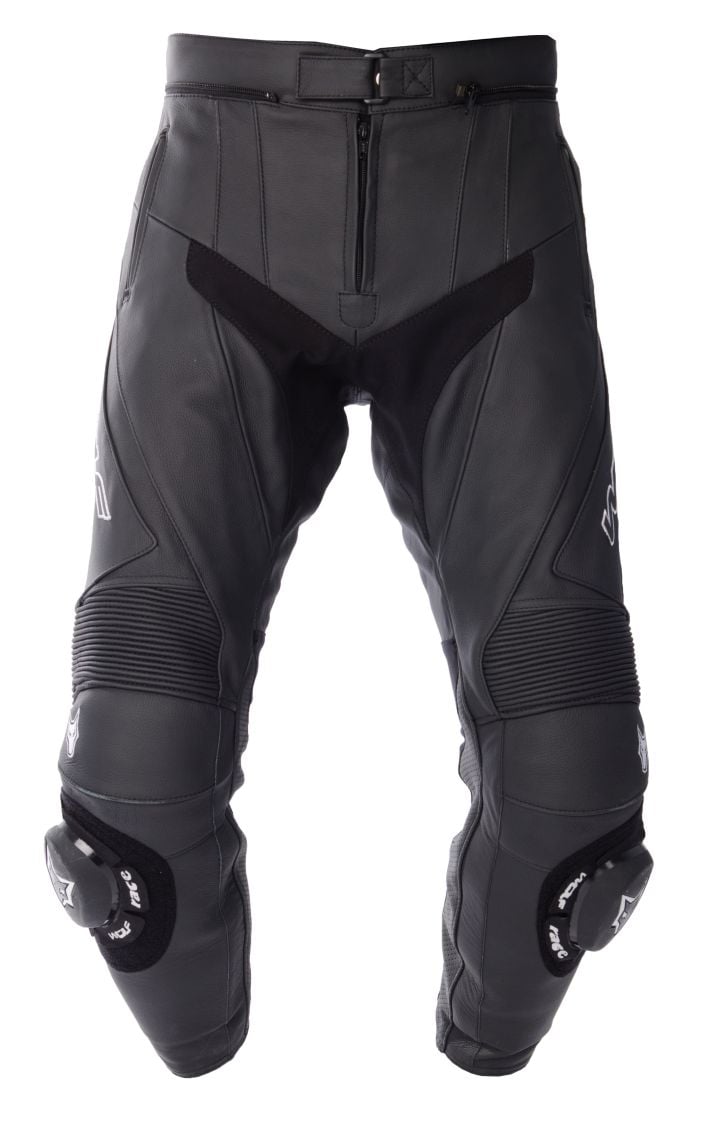 I will concede that these are more of a race pant adorned with detachable sliders, but unless you are into hanging off your large trailie and dragging your knee on the deck then I would consign the plastic sliders to the man draw until the day you will swing your leg back over that Fireblade.
The hide in these jeans is 1.3mm Brazilian cowhide, which has a smooth supple finish (stop sniggering!). The seams are double and triple stitched, meaning that they are not going to come apart once you hit the tarmac.
They have stretch Kevlar fabric inserts in the crotch and inner thighs for ventilation and comfort and this is repeated behind the knees and down over the back of the lower legs. Should the worst happen you can expect excellent abrasion resistance, coupled with strong manufacturing qualities to minimise the potential gravel rash.
These pants have a mesh lining to help wick sweat away from your skin and the textile inserts should allow plenty of opportunity for the moisture to evaporate. They have a long connecting zip to attach to your jacket and there are a couple of zipped pockets for your loose change.
As potential track pants, they have CE armour over the knees and shins, but only foam padding fixed in the hips with no provision to upgrade it. The lower leg is narrow and intended to be worn inside your boots as is the norm with this style of trouser. The fit is comfortable even on an upright adventure bike, but I wouldn't fancy walking around sightseeing in them for very long.
In a Line: If you still fancy that race bike look, these are for you
ABR Rating – 7/10
---
Alpinestars – Track Leather Trousers
SRP £329.99 www.alpinestars.com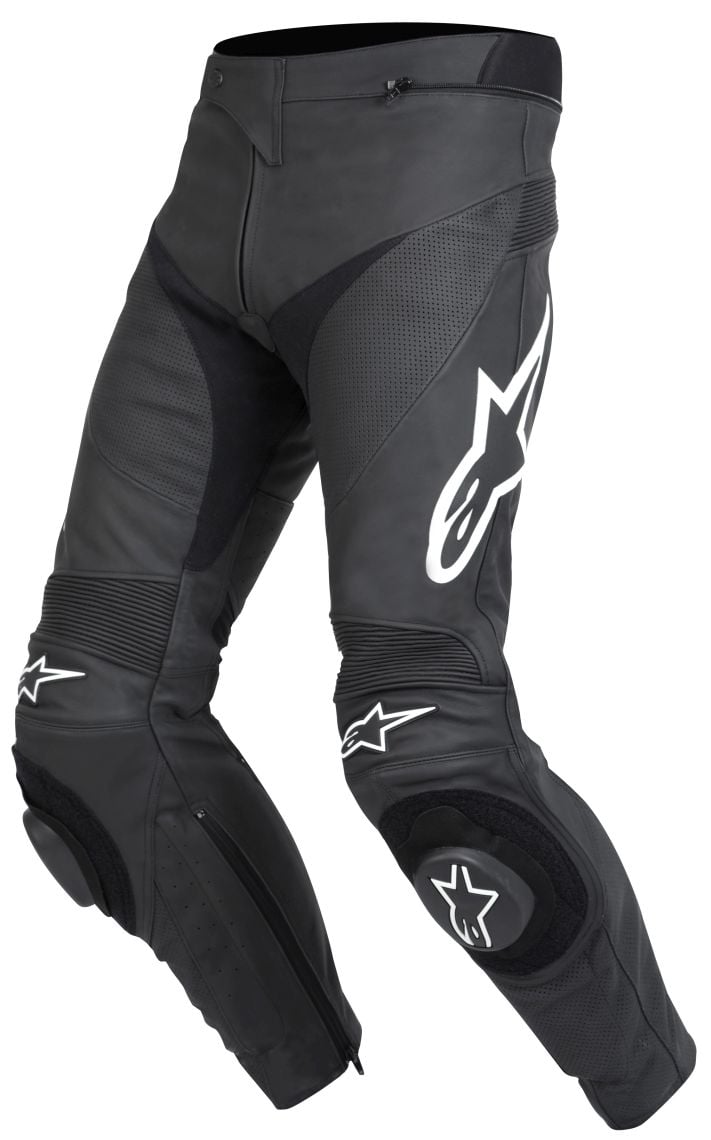 There are certain brand names that I put into what I call the A-list, being that they have a well-established following because of their quality and the fact they have been around a long time. Alpinestars is one of those brands. They have been around for over 50 years and are hugely popular the world over in all genres of motorsport.
Unfortunately, their range of touring apparel does not include any full leather trousers and the nearest thing they do are these road/sport biased track pants. The specification however is high, with 1.3mm full-grain leather offering high abrasion resistance. The seams have multiple stitching for strength to give maximum tear resistance.
In the crotch, inner thigh and behind the knee you'll find fabric stretch panels reinforced with DuPont Kevlar fibres giving some ventilation, as well as enhancing the comfort when riding. The ventilation is also aided by perforations in the leather over the hip and lower leg areas.
A mesh lining will help wick away moisture. CE approved knee armour extends down the shin to almost the end of the legs. There is foam padding over the hips, though it is not approved armour, with no provision for any to be added.
A 360 degree connecting zipper is in place to attach trousers to your jacket, whilst the lower legs have double zip adjustment to allow for larger calves. The fit is designed to go inside your boots, although they could be worn over certain styles of boots.
There are no pockets in the trousers and to be honest I didn't expect there to be any. Even riding an adventure styled bike the fit is comfortable and to me, they don't look too out of place, but it'll be down to individual tastes I guess.
In a Line: One for the label-conscious ABR
ABR Rating –  8/10
---
Halvarssons – DeDe Pants
SRP £369 www.jofama.se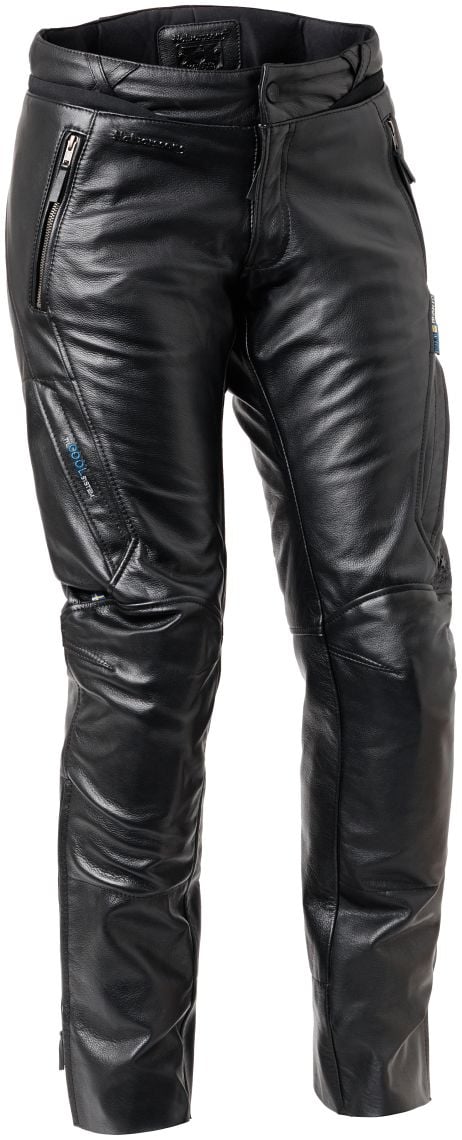 The DeDe is a full leather touring trouser made from hide that is strong but very supple, making these trousers comfortable straight from the hanger. The leather has a water repellent treatment that resists light showers, but the beauty of these jeans is that among the linings they have a Dryway membrane, making them fully waterproof.
The leather also has a high abrasion resistance, reinforced by HI-ART (Kevlar) in the impact areas. The DeDe's have an Outlast temperature regulating lining that does make them a little bulky and therefore too warm in the summer, or so you would think, but that's the great thing about Outlast technology, they keep you warm in the cold weather and cool in hot.
If there is a downside it's that these linings are fixed to stay in place. The trousers also have zipped air vents in the thighs, allowing cooler air to get inside, but with limited effect, as the waterproof membrane blocks most of the airflow.
There is height adjustable CE approved armour in the knees and hips. They have two zipped pockets that are slanted for easier access. The waistband has a long connecting zipper to attach to your jacket and there are loops to feed a belt through if required.
The cut of the DeDe trousers is a comfort fit, being not too baggy, or too tight, which is just right for touring. The lower legs are designed to go over the boots and the leg length is long, however, the zip closure and inner liner stop a few inches short of the hem so the leather could be trimmed back if needed.
In a Line: Quality kecks at a top price. Worth saving up for
ABR Rating – 9/10
---
Hideout – Tourer Jeans
SRP £375 www.hideout-leather.co.uk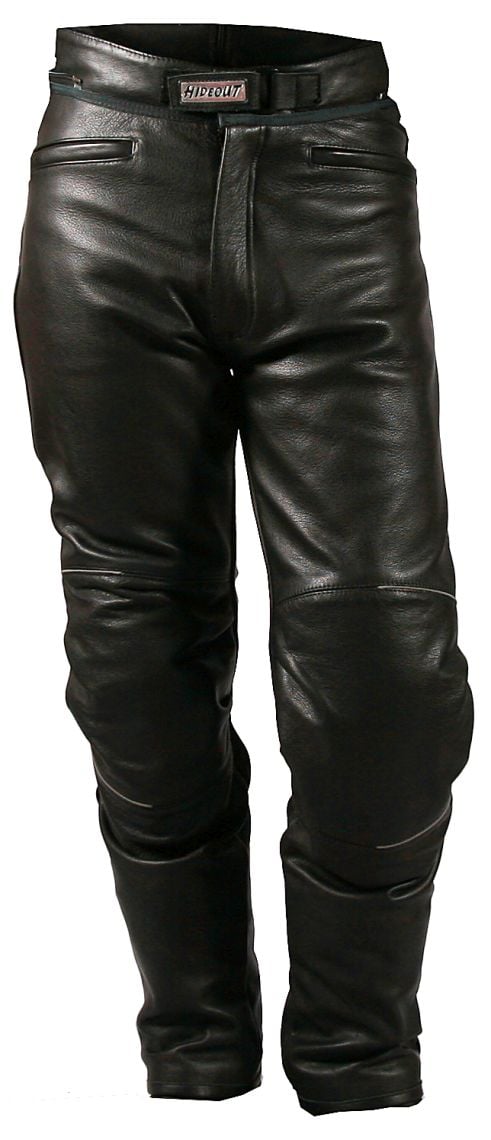 I was born in the Midlands and the town where I grew up was famous for its leather goods, even the local football team was nicknamed the 'Saddlers'. That was when quality leather goods were made in Britain. I would guess that very few are made here these days with them being produced overseas at a lower cost and often poorer quality.
So for me, it's good to see that Hideout leathers are upholding the tradition and producing top-quality motorcycle leathers right here in the UK. The Tourer Jeans are made from high-grade thick leather that should offer excellent abrasion resistance, especially with added Kevlar panels behind the hide in the likely impact areas (seat and knees).
The air mesh lining will wick body moisture away and is also removable for cleaning, a feature very few trousers have. Hideout has inserted Forcefield armour in the knees and hips, conforming to the latest CE standards. The external knee panels have reflective piping for added hi-viz safety. With the loose fit extending the whole length of these trousers they are meant to be worn over your boots and I found that they went over my adventure style boots easily and were not overly tight, but nor did they flap around in the breeze.
There is an elasticated stretch panel in the waist for enhanced comfort, with a 360-degree zip to connect to a jacket, with two zipped pockets for your loose change. Being made in Britain (and being top quality), the Hideouts do come with a hefty price tag. But you are getting what you pay for.
These trousers are a comfortable fit and offer a high level of protection.
In a line: British cra­ftsmanship in leather doesn't come much better than these
ABR Rating – 9/10