That's the question we asked the ABR Facebook page
We posed that very question to the subscribers to our Facebook page and in return, we had one of our best responses to a Facebook feed ever.
It certainly got people talking, many just one-word answers of which of the four they'd choose should they have the chance.
It's perhaps a touch unsurprising that the V-Strom came fourth, with 5 percent of the votes, some of which came from America, where the Suzuki seems to be winning massive plaudits, one magazine giving it a full ten out of ten.
It's really gone down well across the Atlantic, and hopefully for Suzuki that translates into sales.
In a respectable third place, with a healthy 23 percent of votes was the Ténéré, with us quite taken aback by the popularity of the big Yamaha, as at times it really ran the BMW and KTM close.
You always felt these two would be the ones fighting for the top spot, and so it was, neck at times, with it ultimately the KTM that won top votes, with 32 percent, against the BMW's 27 percent.
So a clear win for the 1190 Adventure R, which really goes to show that in terms pure of desire the KTM is the new adventure bike of 2014 that stirs the most emotions.
Worth noting were the rogue votes for four other bikes. They were the Triumph Explorer, notching up 6 percent of votes.
The Ducati Multistrada also received a few nominations at just over 1 percent of the votes, whilst the Honda Crosstourer and Aprilia Caponord both received exactly 1 percent each.
Next issue we aim to look at those four bikes in a little more detail and see how they compare to this issue's winner…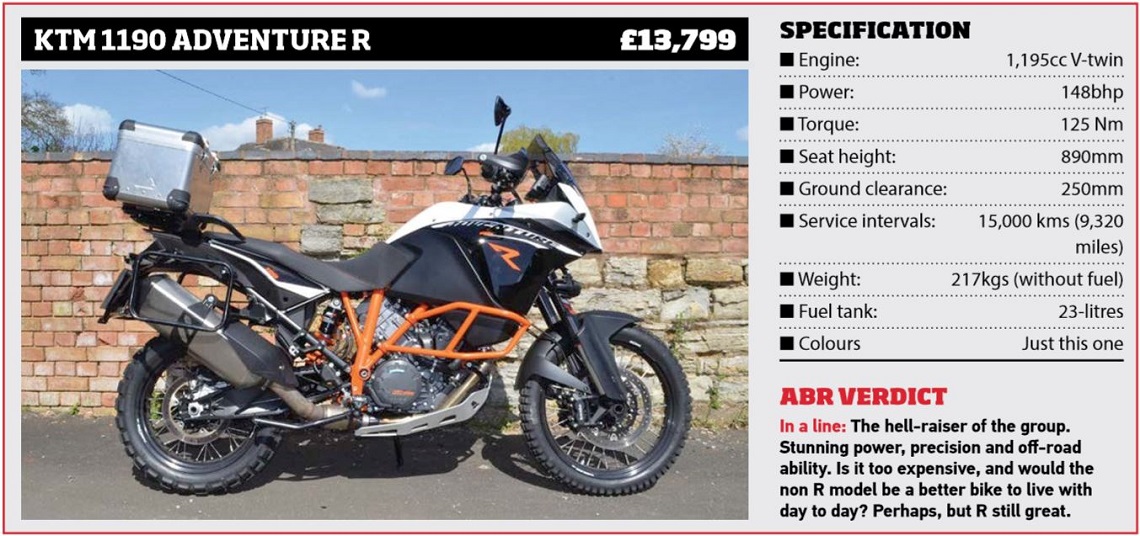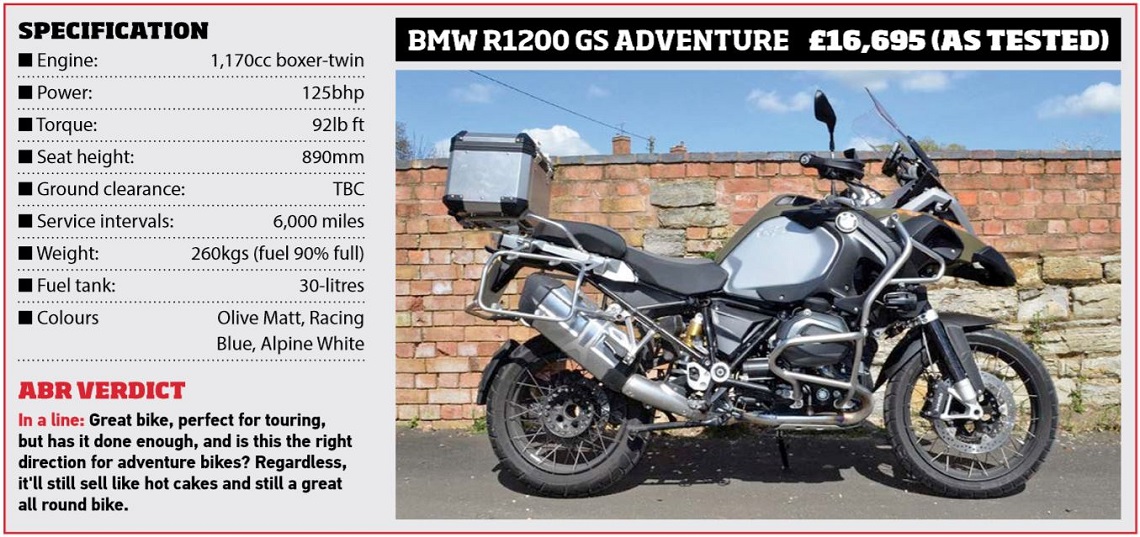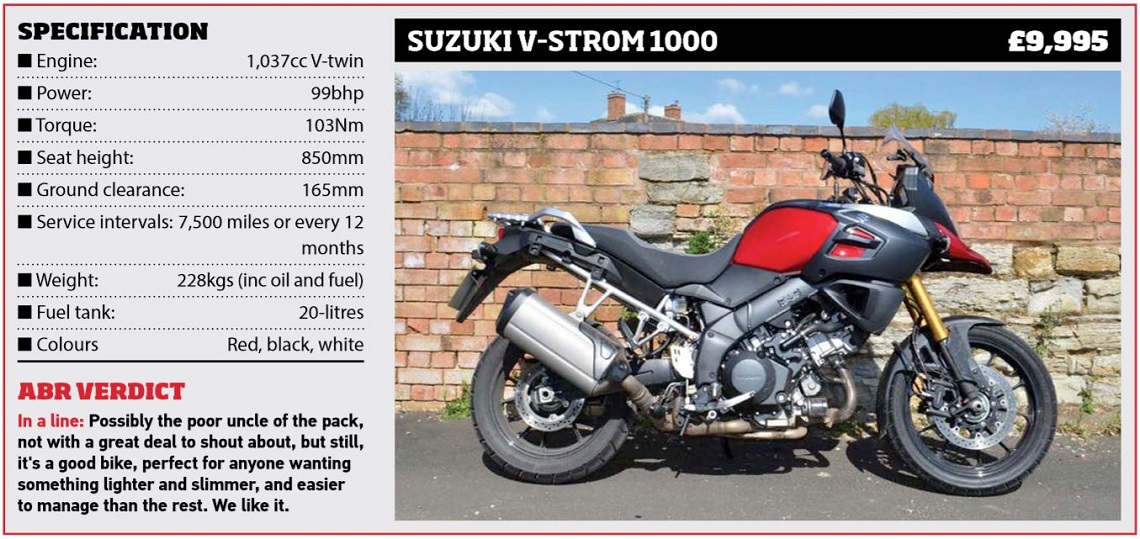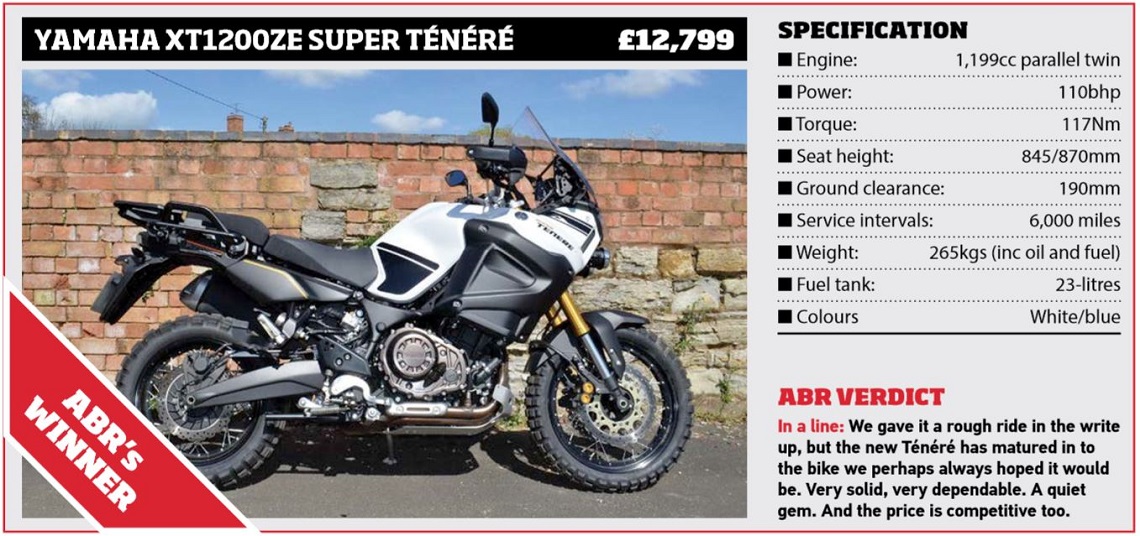 ABR Verdict
We don't normally do this, but here goes…
The chance meeting of these four bikes certainly proved food for thought, especially as they just so happened to be the four newest bikes of 2014 (the KTM included in that due to the new ABS added to this year's model).
What is clear to see is just how much the adventure market is splitting and heading off in different directions.
The GSA is clearly pushing in the direction of Adventure Touring and in that regard, it has become the complete and almost unbeatable package.
The trade off of that is the increasing loss of its off-road ability and soon the day must come when we stop holding it in that regard full stop. What we hope for is a modern-day HP2.
The KTM is probably the biggest surprise of the four. It's easy to read the headline figures and accept that it's going to be fast, but when you're on it and revving it through until the warning light comes on at 9,000rpm you do really get a sense that the power war has been won, and this much power is about all a pair of knobblies will take.
It's a great fun bike though, truly capable off-road and far more light, nimble and direct than any of the others here.
It is then a serious bike, designed for serious business and if you're the sort of rider capable of exploiting it then there won't be too many places the bike can't take you. It does lose out on motorways and long cruises.
It is in that sense the antithesis of the GSA, and the ideal solution would be one of each in the garage.
The Suzuki is intriguing. It's intriguing because when you look at it and study it, even take it for that initial ride, you can't help but wonder where the ten grand went.
It's old technology, with awkward looks, and nothing really to shout about. It doesn't do anything better than any other bike on the market and it'd be easy to discount it on first impressions.
But in the 2,000 miles I've done on the bike in the last few months, I've really warmed to it. It has a simple charm and ease of use that makes going for a ride on it after the other three a breath fresh of air. It's a back to basics bike.
It doesn't ask too much of you. It's not hard to manhandle and that engine, despite lacking the power of the others, is a real peach, and gives it a bit of a hooligan edge, especially when you throw into the mix the stiff suspension and agile handling.
It's an adventure sports bike, and as said before, should hold real appeal for those new to the adventure market who aren't quite ready, or don't want the full-fat adventure styling and expectation.
Which leaves us with the Ténéré, a bike that was lukewarm in the first few hours of the press launch in Italy. It was all just a little bland and uninspiring. It didn't do anything particularly well and was just another bike you get on and off. Forgettable even.
But spending time with it in the UK, and also on the off-road school, really brought out its depth of ability. It is a very solid, dependable bike, that you would never question its ability to do what you asked it to do.
With that soft, low suspension it's also a very accessible bike. You don't get tired in traffic, and that engine is one that isn't endlessly encouraging you to rev the nuts off it.
The bike instead encourages you to reduce the pace somewhat, take in the scenery, and in the corners, it's light, nimble and non-threatening. There is no sense of excess weight.
That only comes in off-road conditions, where it isn't as competent as a stock GS, but with the right tyres, and the right patience, it will get you through the worst of it.
The new technology also adds a new level of depth, but if there's one thing that sets the Yamaha apart from the rest would be its simple sense of integrity, almost reminiscent of those old trail bikes from the eighties, still going strong, that were on display at the Ace.
You can imagine this new Ténéré still going strong in thirty years time, and for that reason, and for many others, we award it best new adventure bike of 2014.