The story of Steven Kirk…
Back in issue 19 of ABR we featured the story of Scotsman Steven Kirk, a family man now living in Australia who rode 29,000 kilometres from Perth Scotland to Perth Australia on a Triumph Tiger 1050 Sport. It was a great story of an epic solo adventure, completed in just four and a half months.
This is the DVD to accompany the trip, self-filmed and self-edited, with the result being something that slowly sucks you in and makes you feel like you've been on Steve's shoulder the whole way. Some of the footage is raw and shaky. It isn't always the highest quality, but you can't deny the time and effort that's gone into not only the filming but the editing too.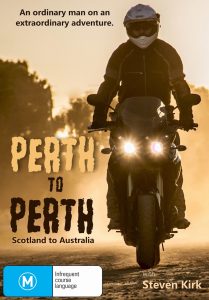 The trip is broken down into six 25-minute chapters: Perth to Croatia; Turkey; Iran; Pakistan; Pakistan to Nepal, and Bangkok to Perth, with the first ten minutes making you wonder what you're watching as he tours castles in Scotland and various other locations throughout the UK. He even rides a Segway.
The trip then moves into Europe and from Turkey, the adventure really begins.
Rather than rely on great footage to keep you watching, the DVD is instead about the narrative, and the interactions Steve has with the people around him, that he captures perfectly. Like in Pakistan when tensions were running high and, as we say, it feels like you're there with him, in the thick of the action.
For anyone curious to know what life is like on the road and would rather watch it than read about it, this DVD is a must.