Technical problems blighted our first ride, but this time with greater success we tackle Rudland Rigg on the Honley Venturer 250
We come to this review with apprehension. The first time we attempted to ride the Honley 250cc Venturer we made it ten miles out the door before something went wrong with the fueling and back to the dealer it went. A 'prototype' is what it was put down to, with the blame being placed on a fuel sensor being power-washed too aggressively, the failure of which causing the bike to flood.
First lesson of the day; it's safer to clean a bike by hand than it is by jet-wash. The second lesson of the day is always give someone or something a second chance as they might just surprise you, and so it was for that reason that we traipsed back up to Huddersfield in a van in order to collect the Honley and spend a few weeks with it in Warwickshire. For the first week it was overlooked completely by the W800 Scrambler, with the Honley only given a proper run out at the Midlands Rally, where a few people rode it around the field and most declared it not up to much.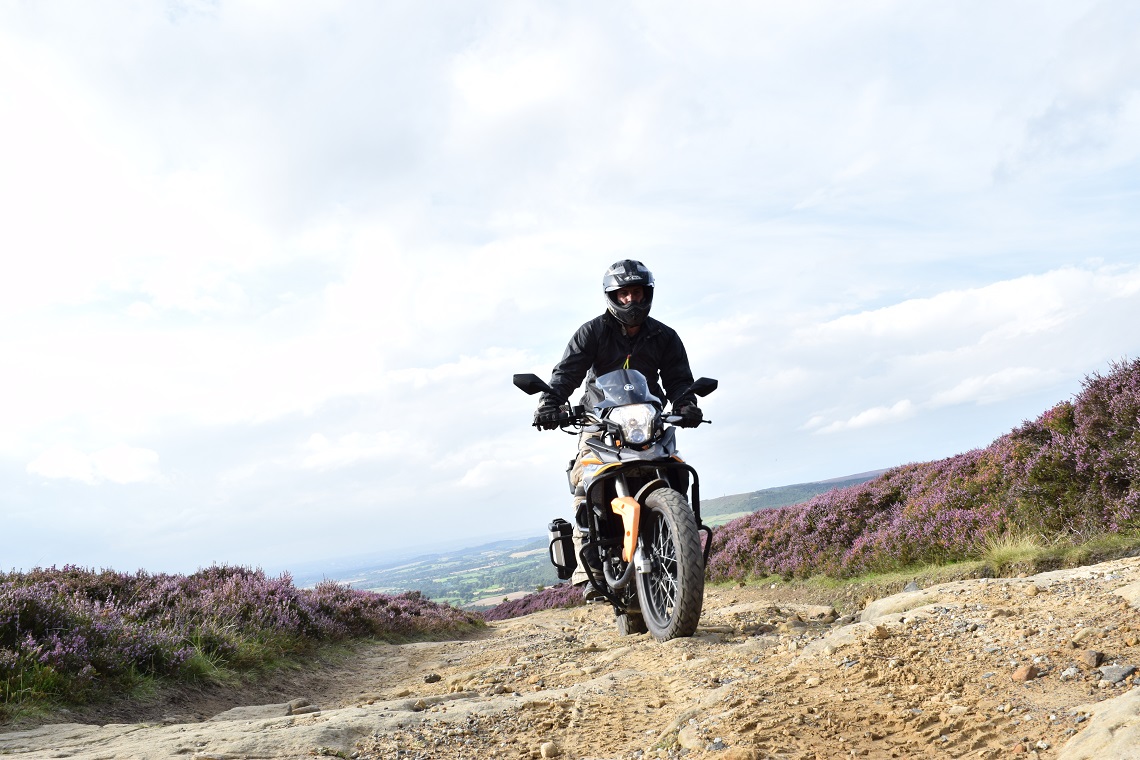 Taking it for a ride ourselves we also didn't think much to the lack of control at the front end, with seemingly very little rebound damping meaning the bike soon got out of shape. But taking things more gingerly on the off-road section and with patience, you could actually get it to go where most of the other bikes were going. The riding position whilst up on the pegs was plenty comfortable enough, with the wide bars aiding manoeuvrability.
The tyres that come with the bike have a slight off-road edge to them and again, when ridden with respect, offered plenty enough grip. In truth, once you'd slowed your pace the Honley was surprisingly pleasant to ride along the lanes, with the rather hefty weight of 175kgs still some way down on most of the other bikes being ridden that day. For an off-road novice wanting to get out and enjoy the lanes, the bike is accessible and easy to ride.
| | |
| --- | --- |
David Angel of F2 Motorcycles, a distributor of Honley, recently took a Venturer apart. He had this to say: "The Honley really impressed. Good quality O-ring chain, the very latest sealed wire connectors, well-routed wiring with everything clipped in place, lots of stainless steel fasteners, magnetic sump plug, proper oil filter rather than just a cheap mesh and a quality feel to all the controls. Individually none of these things are a big deal, but to see all this during our preparation of a budget bike really is a huge step forward compared with many other Chinese bikes".
In reality, this is more a road bike. And it was in these conditions that we spent most time with the bike. Starting with the riding position the seat initially feels on the firm side, something we grew accustomed to over time, though it could give trouble over longer distances. The reach to the bars and the stretch to the pegs however impressed from the off. This does not feel like a small bike and even 6'2" Bryn was said to have been comfortable on the bike.
Ahead is a very simple instrument cluster showing revs, speed, gear indicator, fuel level (broken into four bars), temperature gauge and time. Much like the first bike we rode, the rev counter isn't the most accurate, with us suspecting it guilty of sitting too high at mid-throttle. The speedo also overreads dramatically. At an indicated 70mph you're actually doing 57mph.
The headlights are not automatic, with a switch on the right-hand control taking it from off, to sidelights, to main beam. A side stand cut off switch is also absent, meaning you can accidentally set off with the side stand down (we've since learned the bike is sold with a suicide stand). The stand seems to be off of something much lower in height and takes a fair bit of lean for it to make contact with the ground. The stand also lacks a decent foot, meaning that it will sink into soft ground.
The indicator switch is also less than positive, not always cancelling when you think you've pressed it fully. Looking around the bike there are also a few exposed wire ends but nothing unruly. Overall, the first impressions of sitting and prodding around the bike are positive.
Universally, people seem to think it looks good, and the accusations of a direct copy of a BMW are somewhat unfounded. The bike does have its own identity and profile, and in the orange of this test bike is certainly different to the norm. One could argue that more effort – and success – can be found in this design than that of the V-Strom, but as always, looks are purely subjective.
We're not sure about the side cases and top box (a total of 48-litres). We left them on for the test as they're part of the package, but in reality, we'd probably take the side boxes off and leave on the handy top box. After all, the right-side pannier will carry a round of sandwiches and not much else. They let water in too, which is to be expected given the absence of any real seal. On a more positive note, the nuts and bolts holding the bike together look like they should keep rust at bay for a while and the front brake hose appears to be braided.
The final examination at standstill is the tyres, which are an odd size of 100/90/18 at the front, and 130/90/15 at the rear. The tyres are made in China and don't give great confidence in the wet or when crossing painted lines on the road.
Fire up the single-cylinder, liquid-cooled 249cc engine and on initial impressions, there's certainly not much bark to it. On paper it produces 24.8bhp and 22.5Nm of torque, the performance hampered slightly by the bike's weight.
In times of maintenance, a sight glass is found on the right-hand side of the engine, with the oil filler hole inconveniently fouled by the routing of the exhaust. The exhaust, interestingly, bares the name of this bike's true identity; Zongshen.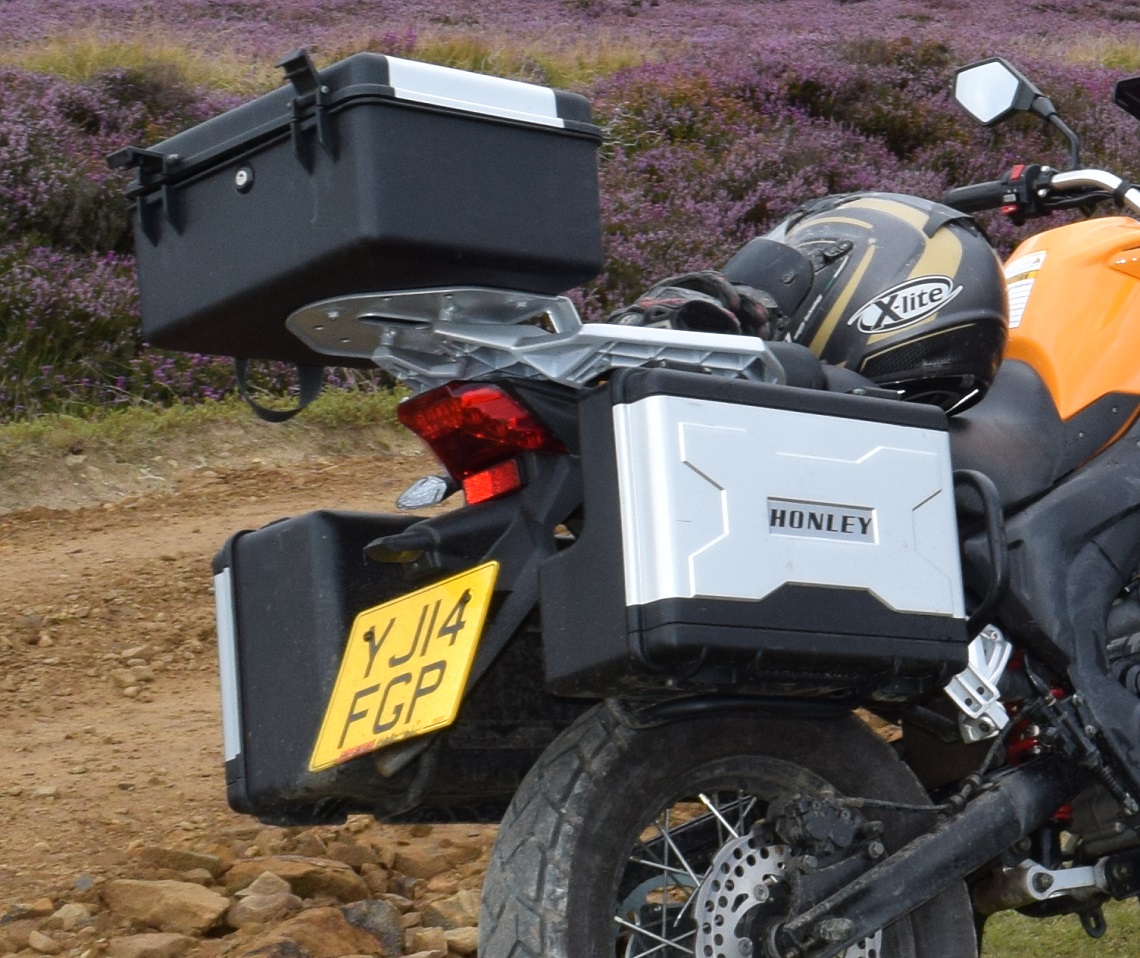 Zongshen is a Chinese motorcycle manufacturer founded in 1992 by Zuo Zongshen, swiftly becoming a major player in the Chinese motorcycle industry and currently producing as many as four million units per year. The company has partnerships with Piaggio, Harley Davidson and even connections with BMW, and when you look at their website (en.zongshenmotor.com) they seem to know what they're on about. This certainly isn't a tin pot operation.
There is a bike advertised on their website called the ZS250GY-3 (RX3). It looks remarkably like the Honley, that's because it is the Honley. Jason of Earnshaws Kawasaki simply brings in the bike and rebrands it, in this case after the town of Honley not far from the Huddersfield dealership. He's not the only one to be doing this; currently, M1NSK is selling the bike in Belarus badged up as TRX300 and Lexmoto have also been looking into bringing the bike to the UK (the engine is also used by AJP and Gas Gas in their enduro products).
So a simple case of rebadging a Chinese product. A product built in China screams of poor quality, but with many companies now manufacturing outside their home countries (see Triumph build story last issue), the notion of a national identity has long since evaporated, and if one thing strikes us it is that if the Chinese keep on improving and the Japanese keep on lowering the tactile quality of their product (which some of them seem to be doing) then at some point they're all going to meet in the middle.
With this bike, it's also clear to see just how quickly the Chinese can move on a new market and get the bike out quickly. This could be the Chinese manufacturer's trump card in the coming years; that ability to react more quickly to changing market demands. Talk to a product planner from Honda and they're thinking of bikes for 2020. We imagine the Chinese are thinking, and are able to think, much more short term than that.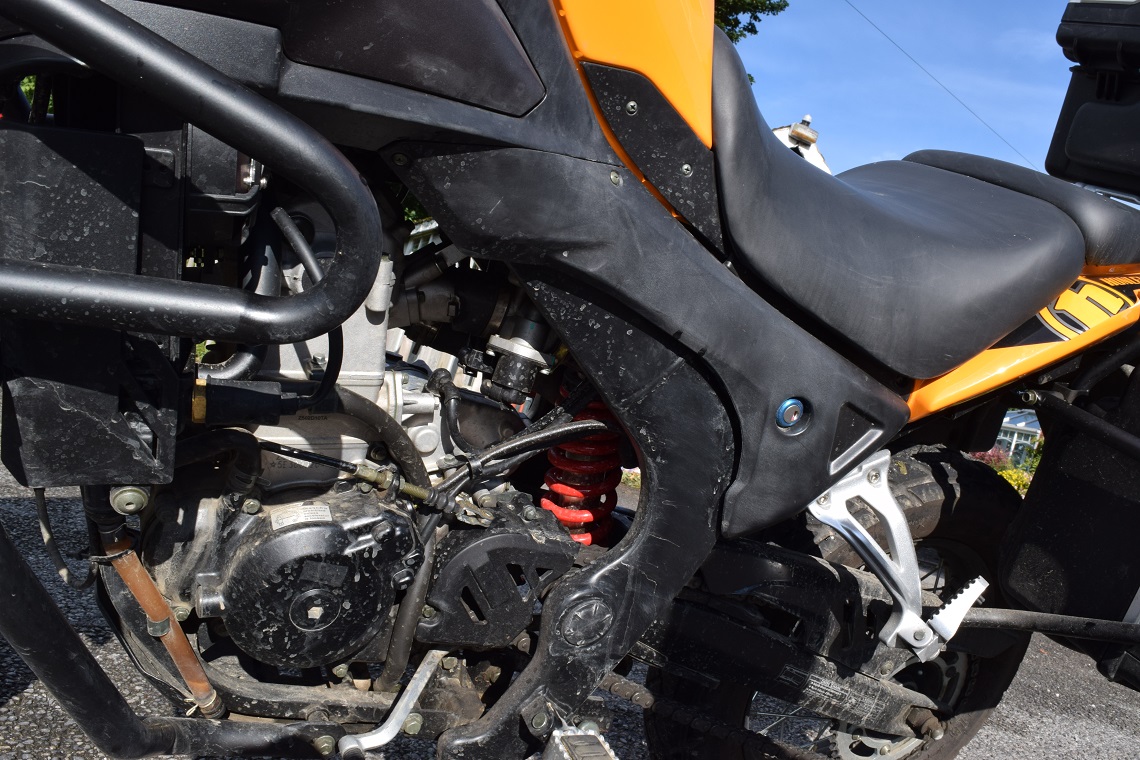 All that aside, what is the bloody thing like to ride? I hate to say it, but not too bad actually. There's a bit of chatter from the drivetrain when you pull away and in a recent comparison, the Honley was smoked away from a junction by a 1.5-litre Kia Rio diesel. So, quick it is not. What it is instead is nicely balanced and poised. That saggy suspension that spoils it off-road is nowhere to be seen on the tarmac.
The bike rides well, it corners accurately and the brakes (single disc front and back) give enough stopping power to aid your relaxation at the comfortable 65mph cruising speed the bike is best capable of. There are six gears. The gearbox is clean and foul free. The clutch lever also offers plenty of feel and overall the hand and foot controls of the bike feel that of a more premium bike, only neutral is difficult to engage.
The manufacturer claims the bike will do 135km/h though I don't think it would get close. But then again it doesn't need to. What this bike does so well is slow you down. As a commuter bike for short to medium non-motorway distances, it's ideal. In fact, during our time with the bike, it was often favoured as a commuter vehicle over the V-Strom 1000, simply because it takes the pace out of the ride.
More statistics; ground clearance is a reasonable 210mm, seat height is a learner-friendly 795mm and max load is 150kgs. In terms of fuel economy, we achieved a reasonable 78mpg with the 16-litre tank suggesting 277 miles as an achievable distance, though we think the figure of 16-litres is optimistic as with the fuel light flashing the bike only took 9-litres to fill. A 7-litre reserve seems unlikely, as does a 277-mile range.
The bike comes with a two-year warranty and is available in either orange or blue. And then we come on to price, which at £3,800 gives you some thinking to do. On one hand, you could say that's reasonable as what other bike can you get for that sort of money that seems so well equipped, but then if you think second hand you could be looking at a very decent V-Strom 650 or Honda CB500X for that, which would, we have to be honest, offer a lot more bike for your money than the Honley.
The bike doesn't benefit from the boundaries of current test legislation either, as learner riders are still restricted to 125cc and anyone who passes their test is able to get on much bigger machinery, so in a way, who is this bike aimed at? Perhaps what would have been more useful would have been a 125 version; that way your 17-year-old lad could have had one (instead of the now discontinued Varadero 125) and turned up at the sixth form gates a bit of a hero. Instead, we imagine this bike is more likely to appeal to the older rider wanting something more manageable than what they've currently got.
Whether this bike represents good value would be for them to decide. It is after all untested, and the bike is not backed by a manufacturer with a huge UK presence. And who's to say how long the bike will last. Chinese bikes until now have been seen as disposable, which they almost are when you're paying around a grand for a brand new 125, but almost £4,000 for a bike is no longer disposable at all. It has to last a good few years and be worth something at the end of it. Only time will tell on that front.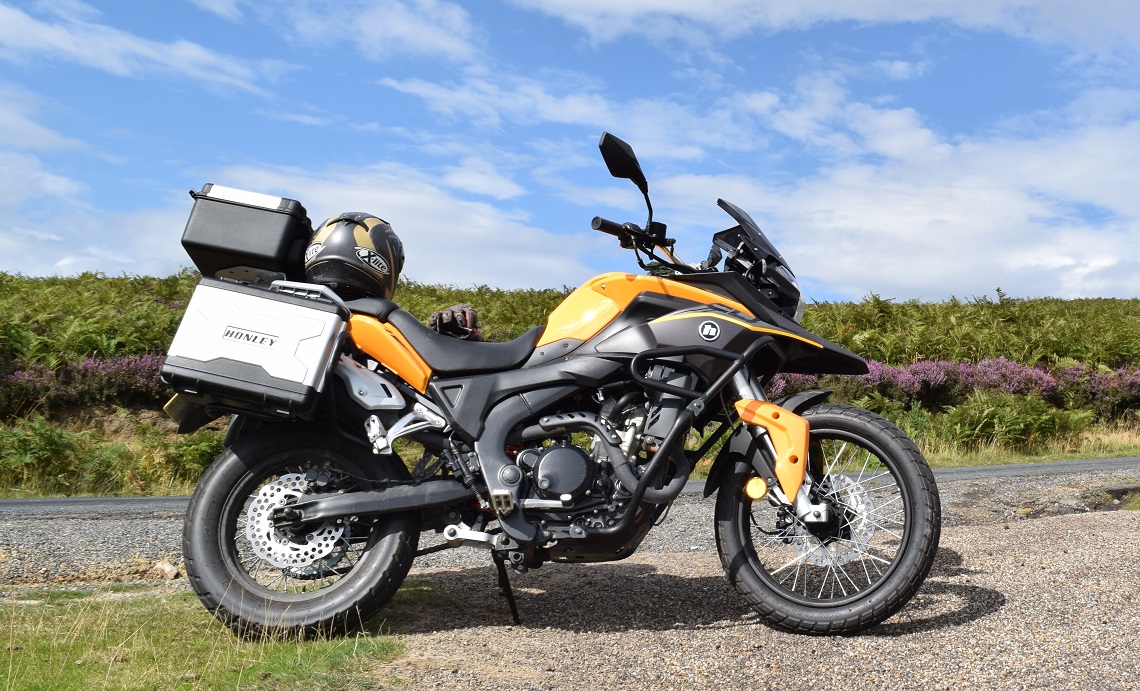 That said, we were impressed with this bike. It was better than we were expecting. Equally more likeable than we were expecting. We also think it's a necessary bike and a step in the right direction, our only wish being that more mainstream manufacturers were moving in the same direction. The market is crying out for something small, light and useable (a Honda CRF in touring trim perhaps).
The Honley isn't the most perfect solution to that request, but this bike, much like the CCM GP450, is at least getting people talking, and thinking, about what else is possible. And even if this bike makes the big players stand up and take notice, then from our point of view that's a success. From Jason's point of view, we also hope he sells a boatload of them too. As they say, fortune favours the brave. But that applies equally to the buyer.
---
PRICE UPDATE
On the eve of going to press we got word that the price of the Honley has dropped to £2,999 plus OTR costs. This we feel is more reasonable and certainly offers food for thought. See www.honley.com bike for more information and for a list of dealers.