Bryn Davies rounds up a selection of new products and puts them to the test…
Moto-One Softmusic Jacket

(Feature image above)
£149.99 – www.moto61.com
What is it? A softshell jacket with armour inserts and a music control panel on the arm:
A few weeks ago we received a Moto-One Softmusic Jacket to test. This is a softshell jacket with CE approved armour inserts on the elbows, shoulders and back, with the unique twist being that you can plug your phone/mp3 player into the jacket and control the device via some buttons on the arm.
Granted, this isn't a jacket that's been designed for long-distance touring, nor is it a cold-weather jacket, but for those days when you want to pop out for a mini-adventure into town or down to Tesco whilst listening to music then it's ideal.
The armour inserts also means the jacket offers more protection than a 'normal' casual jacket, though don't bank on the soft shell providing too much protection. The jacket has been designed for use specifically with Apple products, but if you have another device it'll still work; there'll just be a loss of some functions (on my Android phone I couldn't change the sound levels).
The positioning of the controls on the left arm means that you have to take your hand off the throttle to change tracks, but we've been told that this was intentional to stop people paying more attention to changing their tracks while riding than to the road.
BMW Rallye GS Pro
£300.00 – www.bmw-motorrad.com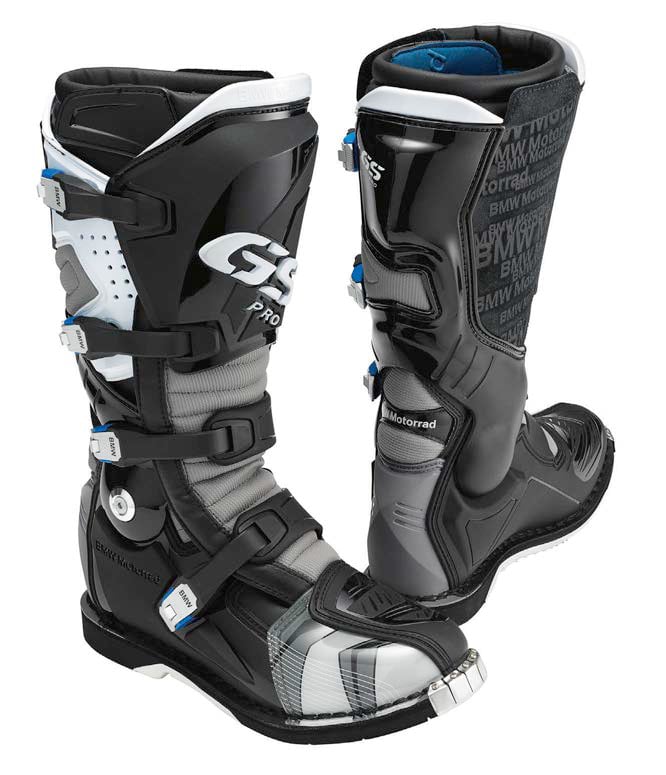 What are they? Seriously protective boots for the toughest off-road conditions:
If you're in the market for a new pair of comfortable, long-distance touring boots then look away (and read issue 23 of ABR), but if you're into your off-road riding and you want the sort of protection that only a nuclear shelter can offer, you might want to take a look at the latest Rallye GS Pro.
They're rugged, almost knee-high and rock hard. Granted, in terms of comfort they're lacking, and there's also no waterproof lining, further rendering them undesirable to long-distance touring (at least in locations where you might encounter rain), but that just highlights what these are for – serious off-road riding, with the exclusion of a waterproof lining making the GS Pros ideal for river crossings and deep puddles (they'll dry out faster after they've gotten wet).
The amount of overall protection and support provided is impressive, with suppleness sacrificed for this foot saving shell that certainly takes some getting used to before you can effectively operate the gear shifter and rear break, but once you get the hang of it and the boots have been worn in it's all worth it. Normal adventure boots will suit you fine on gentle trails, but if you're going to be doing anything a little more serious and you want the best protection available, these are the boots for you.
Lindstrand Quirzo Jacket – £339
Q Pants – £289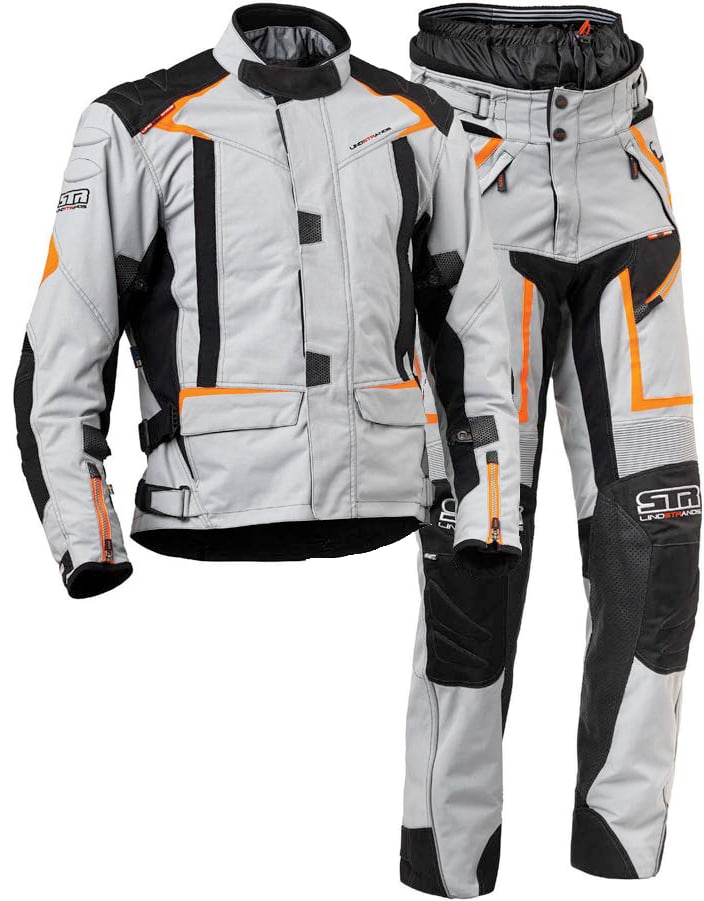 What are they? A new textile adventure suit from Swedish manufacturer Lindstrand:
Over the last few months, I've been wearing the Quirzo and Q pants from Swedish manufacturer Lindstrand. They come together to form a textile suit with adjustable CE approved armour and HI-ART reinforcements in areas that are likely to be in contact with the ground in the case of an off. In terms of looks, the grey suit with bright orange piping is certainly an acquired taste and there's no denying that the longer you wear it and the muddier and dirtier it gets; the better it looks (it's also available in a more conservative black).
The jacket and pants have three layers; a Texdura outer, a Dryway + waterproof drop liner and a thermal liner. In order to reduce the overall bulk of the jacket, Lindstrand has made the upper thermal liner armless and in the trousers, it's 3/4 length. This definitely results in a less bulky suit, but in practice, it leaves the arms and lower legs vulnerable to the cold when riding, something to be aware of, and perhaps you'd be best pairing the suit up with alternative thermal options.
There are a useful amount of pockets for stashing your close to hand items, just beware that the pockets will get damp when it rains. On the other hand, when the temperatures soar and you start to overheat there are two vents on the legs and four large vents on the jacket, of course, these will be blocked by the waterproof (and windproof) lining, so when it starts to get warm and there's little likelihood of rain you'll want to take the Dryway + lining out for more effective ventilation.
NB. When riding through The Alps this Summer I was unfortunate enough to have an off when I slipped on some diesel while banking around a hairpin. The resulting fall saw me and the bike sliding about 10 metres down the road – I was wearing the Quirzo and Q pants and I can report that the armour did its job and the HI-ART fabric offered me complete protection from tarmac friction. I was going round about 30mph and while there are some noticeable tears in the textile outer, I'd put my trust in it if I were to have another slide down the road.
Dogcam Bullet R+
£179.95 – www.dogcam.co.uk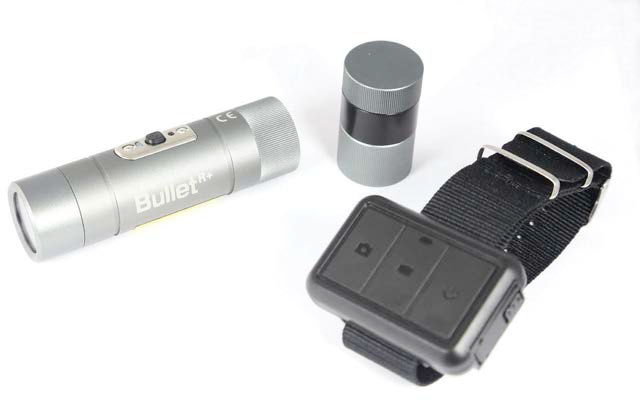 What is it? Another helmet cam, this one claiming to be the smallest HD1080p cam:
The Dogcam Bullet R+ is claimed to be the World's smallest and lightest HD 1080p bullet camera at 62g and 84mm x 23mm. I'm sure you'll agree, it's pretty damn small.
The camera comes with an array of attachments and mounts (handlebars, helmet and a lanyard), two different screw-on cases to suit different noise conditions and a wireless wrist strap remote for controlling the operations while the camera is set up out of sight or out of reach. For such a small device the video quality is impressive, rivalling the Garmin Virb Elite and the battery life will give you on average 1-2 hours of recording.
As standard the device comes with an 8GB micro SD card, with it suggested that this size card will hold up to two hours of 1080p recordings – and if you want more space the Bullet R+ is compatible with 4GB and 32GB micro SD cards as well. Usability is easy enough with vibration feedback and flashing LED lights to help you determine which mode you're in, and while it's a little confusing at first you'll soon get the hang of knowing when you're recording and when you're not.
A laser pointer also helps you align the camera, as well as a Dogcam app for your computer allowing you to change the settings of the camera easily – the only downside being that it's the only way to change the settings so if you need to switch things up on the fly you'd better have your laptop with you. The Dogcam is also virtually indestructible (within reason), surviving a drop onto concrete out of a second-story window, and is also fully waterproof down to 10m.
The only complaint we have with the device is the poor sound quality. Even with the case that's supposed to enhance the sound it's muffled and voices are hard to hear, there's also no provision for plugging in an external mic. In all, the Dogcam is a decent little bullet camera, recording quality is excellent and the battery life is acceptable (though it can be improved by using an external battery pack) and it's virtually indestructible.
---
Hot Stuff Extra
A few more of the products we've been using or investigating in the making of this issue…
WD40Chain Lube
£9.99 – www.wd40.co.uk
We picked up a can of this from Halfords to use on the Vstrom chain prior to fitting the Scottoiler.
Initially, impressions were poor as it comes out very wet, but we had no issues with fling and it lasted a good 500 miles before needing to be reapplied. Recommended.
---
Quick Straps
£9.99 – www.quickloader.com
We were sent in these to try and were very impressed, using them to secure a pair of Karoo 3s to the back of the V-Strom. Perhaps not as versatile as a regular bungee but these rubber straps are handy to have, and can be attached together to give extra length.
---
Klim Latitude trousers
£384.46 down from £513.95
www.adventure-spec.com (or www.adventurebikeshop.co.uk)
We put these trousers to good use at the recent GS Trophy where there was plenty of rain and the off-road section deep with mud.
The Latitude proved an excellent trouser, keeping the elements out. A decent amount of protection in the knee and thigh too.
---
Forcefield Blade Backprotector
£99.99 – www.forcefieldbodyarmour.com
For those in need of back protection, this is proving a comfortable and unobtrusive garment, even aiding those suffering lower back problems as it supports the back and keeps posture good. It also covers much more of the spine than protectors that come with most jackets.
---
Nikon D5300 DSLR
£599.99 – store.nikon.co.uk
Many of this issue's features were shot on this camera; a mid-level SLR with the USP of featuring wi-fi, allowing you to sync it to a smart phone for photo transfer and for remote shutter release. The camera is also compact and light. Overall a decent bit of kit.
---
Scottoiler V-Strom 1000
£94.75 – www.scottoiler.com
We're still to fit the Scottoiler to the V-Strom, mainly because the centre stand has arrived making lubing the chain much easier. To fit the Scottoiler you also need to cut the airline and drill it to the frame so a job for when there's more time and tools at hand.
---
Mudsling for R1200 GS
£134.00 – www.nippynormans.com
Fitted to the GSA, the Mudsling is a common attachment to an adventure bike being ridden off-road, or in general winter conditions, protecting the shock and rear of the engine from getting covered in crud. Not cheap but easy to fit; just a few clips and tie-warps.