PERTH TO PERTH
At the age of 52 and with encouragement from his wife, Steven Kirk decided to ride his Triumph Tiger 1050 across the world…
One night, whilst on a wine tasting excursion in my kitchen – as I was heading to the fridge for some more – I got to thinking about such things as how difficult was it for the pioneers who first went to Australia across land, or on ships towards the newfound colony and the new town of Perth. Perth, Australia is, after all, named after its Scottish namesake. So with wine-induced daftness, I brought out my idea. I thought, "How hard would it be to go the same way overland," and other such nonsense. By my third glass of Sauvignon Blanc, it seemed like a brilliant idea, a real possibility. My long suffering wife just smiled and nodded.
Then it was whirring away; why not take a trip from Perth to Perth on my bike? Scotland to Australia. On waking the next day it dawned on me, I realised it was a plan and everyone knew. (via a wine-induced Facebook rant). I had to own up now and get on with it.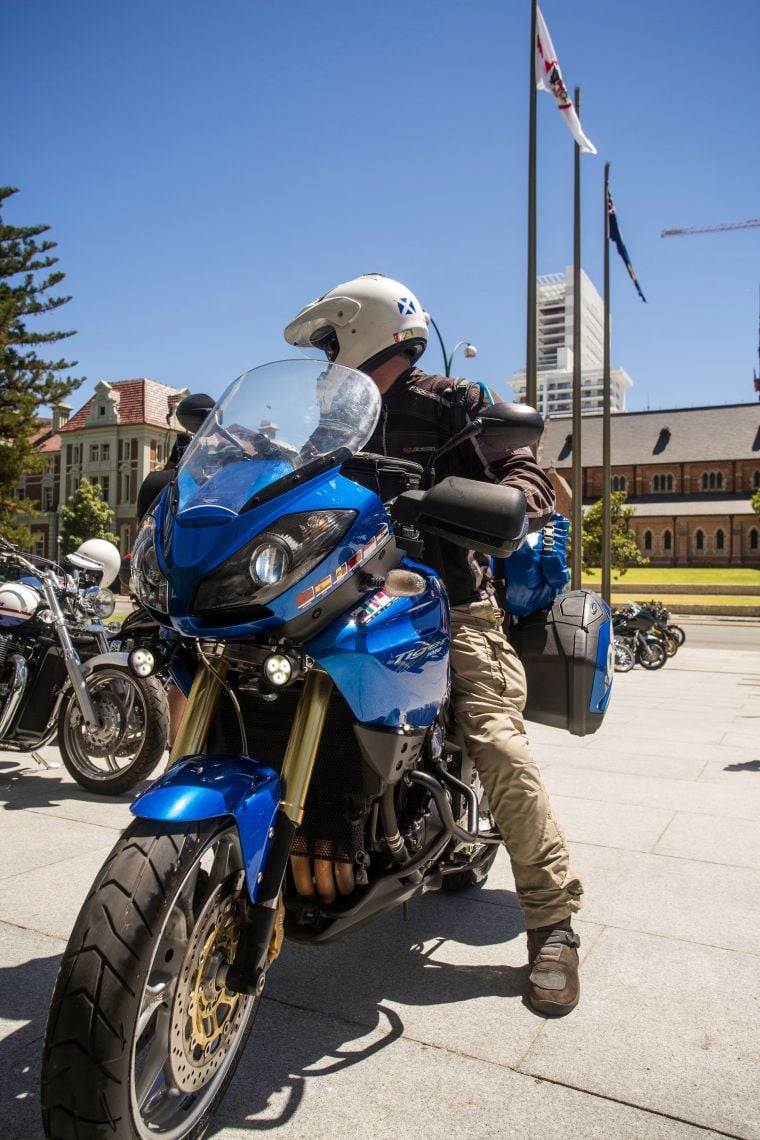 Now living in Australia, I'm originally from Scotland, 52 years of age, run my own business, happily married, have millions of kids, three motorbikes, two pedal bikes and a car or two.
I love riding my bike, I love the freedom, the peace and quiet in my helmet away from work, bills and the inevitable mortgage. In the last 10 years or so I've been lucky enough to go on a few short bike trips in different parts of the world. I've seen some wonderful places, met some amazing people and travelled on some fantastic challenging roads and tracks.
Like many people my age, I'd been re-inspired by Ewan and Charley to rekindle my youth, reclaim the fun I had as a teenager on my bike. With so many people I meet and talk to, their eyes glaze over as they recall their first motorbike, the fun they had, the places they got to, the odd unfortunate accident, fixing and maintaining their machine. Sadly the conversation usually ends with, 'well yeah, got married, had kids, got a mortgage, too late to get another bike now, I'm too old or the worst, the wife won't allow me!'
In actual fact, my wife was very important in this. There I was, um'ing and ahh'ing and she just said get your shit together and go! Maybe the milkman was more interesting than me but I took the boost nonetheless. I was starting to worry about how this would affect home life and so on, but she was insistent I do what I said I would. Having the support of my wife lifted an immense pressure from me as I could stop worrying about how she felt and actually focus on the trip itself. She didn't want me to get to my old age and regret not doing something I really wanted to do.
So the planning began, which bike, what gear etc. The shopping list grew and so did the amount of stuff now stored in my study. This was in November 2011, 9 months before leaving.
The Bike
The big question was; 'what bike?' I already had bikes in Australia and in the UK but thought they were no good for world travel. Then I read about a guy going around the world on a Yamaha R1 (see page 8) and thought if he can do it on a sports machine, so can I. I must also mention a hero of mine, Ted Simon, who I'd heard about when I was just 14. Although others had gone before, I considered Ted to be the pioneer of adventure bike travel, for me he started it all when he rode around the world in 1974.
However, I was more impressed that Ted had chosen to take a Triumph Tiger. I thought what better choice for me too, only a more reliable and modern version. Conveniently I had a lovely 2007 Triumph Tiger stuck in the garage in the UK doing nothing, and hence the decision was sealed.
The Plan
I bought a world map and plotted a rough route from Europe to Australia. The only problem seemed to be Burma, no way to ride through. They don't allow foreign vehicles to enter (things starting to change as we saw in the last issue). Realising time was limited I settled on the much-used solution others have, and that is to fly across Burma from Nepal to Bangkok in Thailand.
If everything went to plan I figured it would take me three to four months to complete the trip. I didn't plan it down to every detail. I used Google maps to total the mileage and divided it by a comfortable distance per day. So I read books, bought all the gear I thought I'd need and everything was perfect…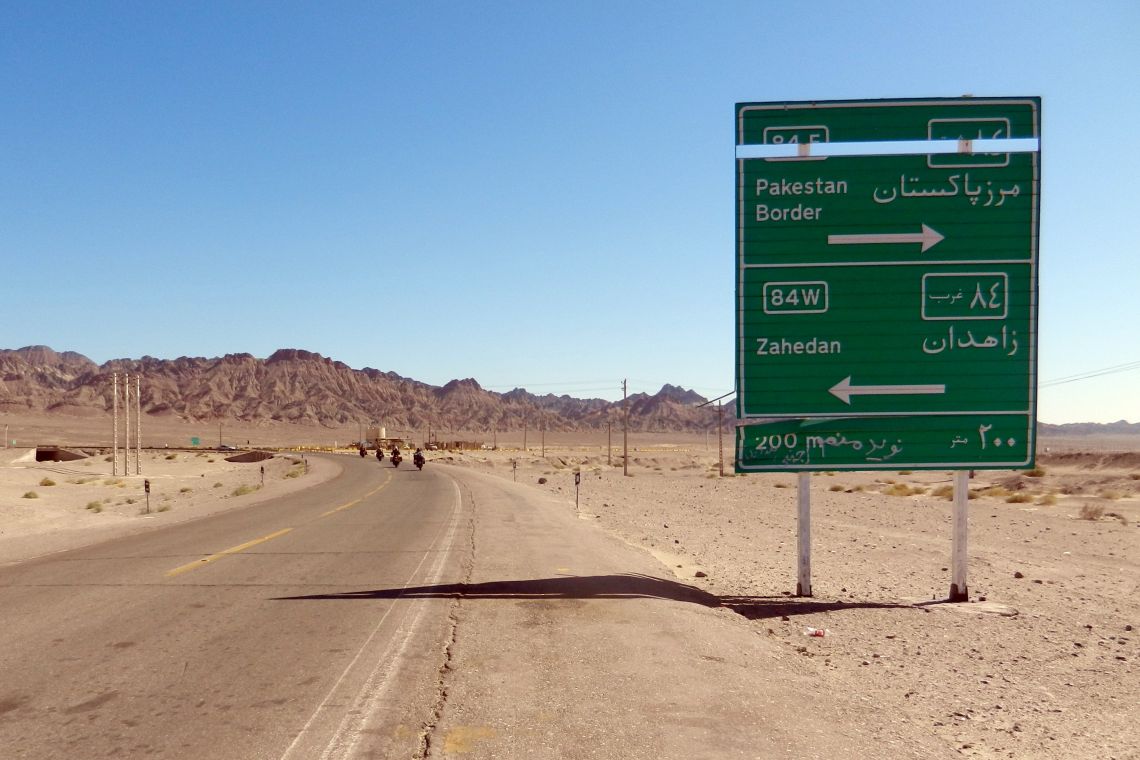 The Journey
Leaving Perth on the 12th of August 2012 after nine months of planning, bike heavily laden with everything I could carry, I tentatively nursed my baby through Scotland, England and down through Europe to Turkey. I experienced some unexpected gravel sections in Albania and learned very quickly that all the weight on the back would help destroy the suspension if I had some really challenging roads to come. In empathy with the bike, I felt every pothole and bump as if it was painful.
Travelling through Europe was relatively easy and stress-free, everywhere is modern, there are no security issues, food is good and readily available. Petrol is always good quality, roads are well maintained and I didn't really stand out in the crowd. If it wasn't for the UK numberplate no one would have known that I wasn't local, just going to or from work. It was clear to me by then that I'd lost all thoughts of work, responsibility and had an immense feeling of freedom.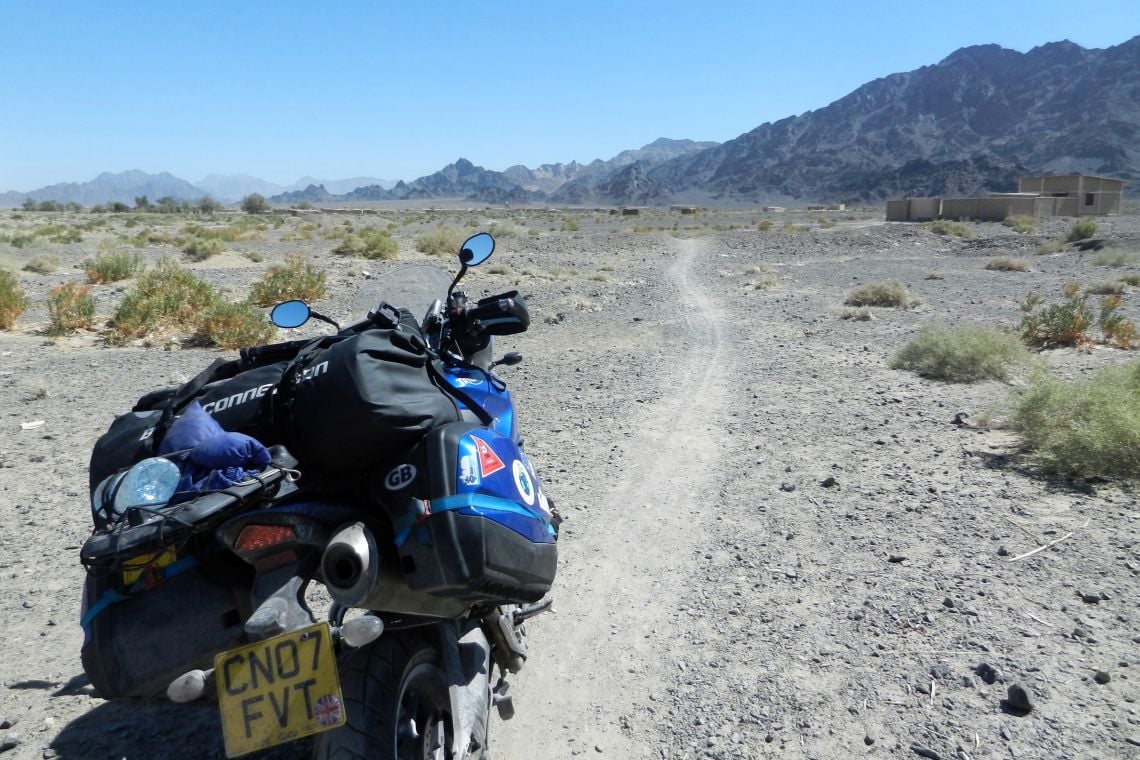 I was smiling in my helmet at this amazing experience. I was singing along to the earphones in my head like a teenager again. Why on earth would I not want to do this?
After a wonderful few weeks on the road, I reached Antalya, Southern Turkey, where I made the momentous and best decision so far, and that was to dump all the stuff I didn't need. The huge tent which I used rarely (I slept in cheap hotels and the occasional free bed after this), the coffee grinder, spare shoes, clothes, the camp stove and even the portable kitchen sink. What was I thinking? It's the lesson I had to learn. Now I was down to very few clothes, a camera, credit cards and a passport.
Leaving Turkey and crossing into Iran, things changed drastically. Everyone everywhere seemed to take an interest in me. At petrol stations I attracted small crowds, truck drivers waved. Many people wound down windows and shouted, "Welcome to Iran!" I often felt confused or bemused, this was not the terrifying regime I'd been warned about. I'd envisaged the police locking me up, torturing the life from me until I agreed to drop the Western life. In complete contrast, the police stopped me to chat, welcoming me to their country and wishing me luck. I constantly thought, `this can't be right', but it was. Their friendliness and openness was a complete and utter surprise. I was offered food and often somewhere to sleep. This was to become the norm until I returned to the western world.
However, in my safe little world, I was concerned that things were about to change.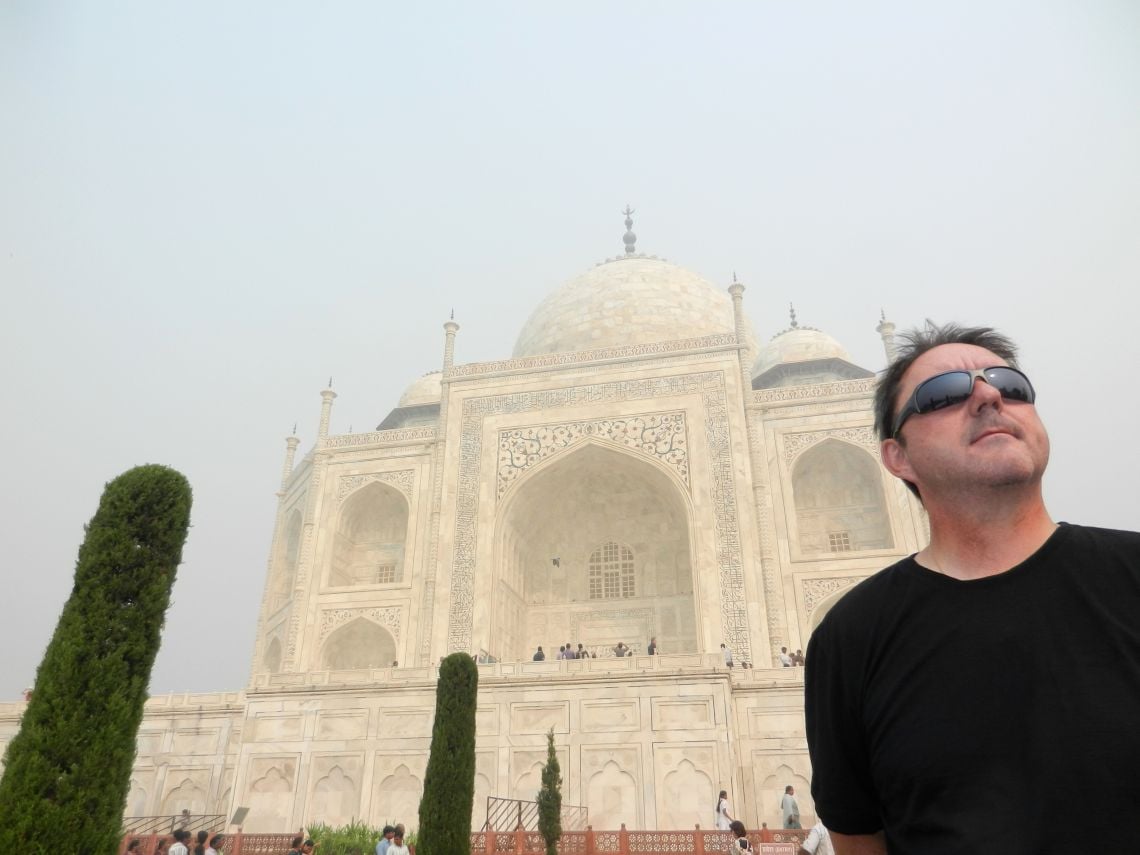 Along the way, I'd been lucky enough to meet up with an old mate in Tehran who just dropped work to come along for the ride. We also met some other guys like me heading the same way in Eastern Iran. Pakistan was looming and we all thought it a good idea to go together. It turned out that at this point we had to follow police escorts, apparently for our own safety. This unnerved us all a little at first, not knowing what to expect.
As it turns out, I don't think we ever really felt unsafe. Yet again, we'd been told to expect to be travelling through a potential `dangerous zone', yet it turned out to be a refreshing change to some extent. As we crossed the bare Baluchistan desert I'd become totally comfortable in this way of life, the simple life. All I needed was a bike, petrol, some food and with a bit of luck buy some black market beer. This is the life indeed.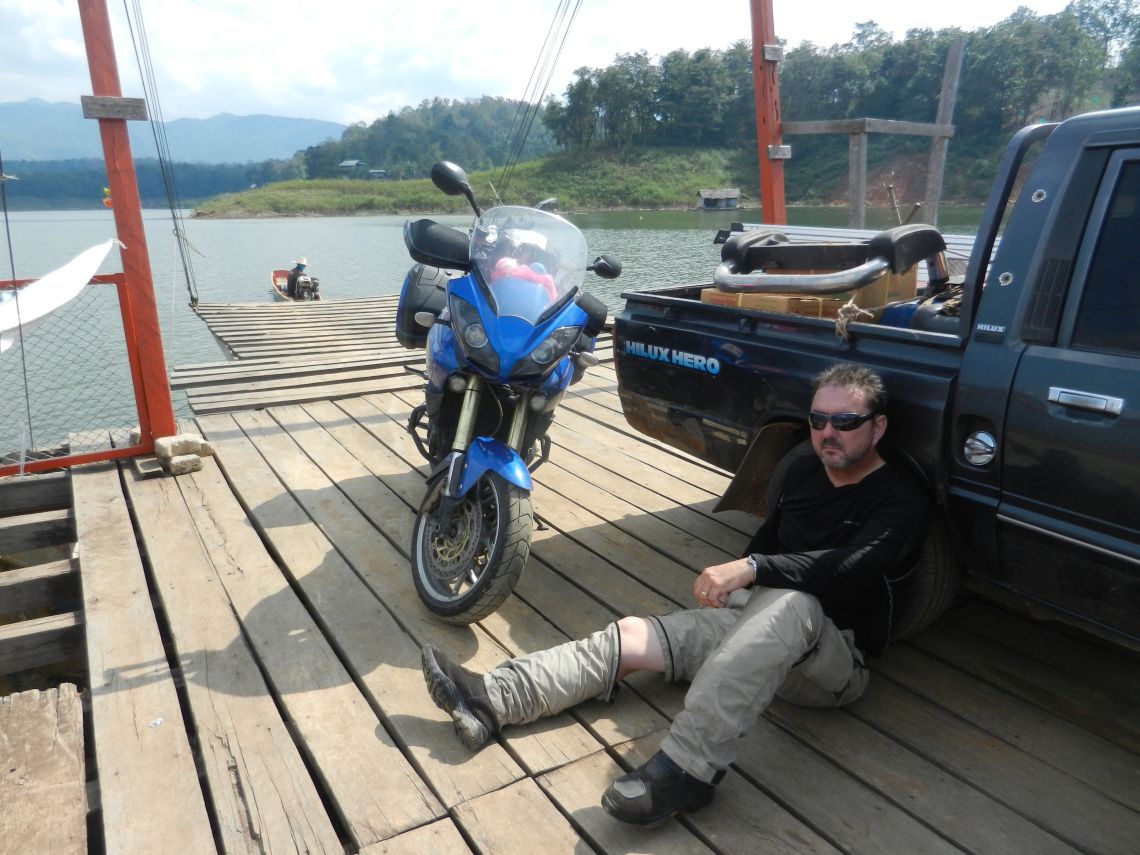 Western Pakistan had a brilliant atmosphere, and despite the apparent safety risks and constant police escort, this was exciting and wonderful. However, the escorts started to slow our progress. Due to checkpoints and several police guard changes, attempting 200 miles in one day was not possible. It took three days to travel the same distance we would normally cover in a few hours. We slept in police stations, rough and dirty hotels until we reached the halfway point of Quetta. There was a heavy police and army presence everywhere and as we learned later, a bomb had exploded in a bus killing one and injuring seventeen passengers.
Our route was supposed to take us North-East towards the Indian border. The commissioner of police issued our permit to travel. Not to the city of Multan in the north, but to Karachi, 500 miles in the wrong direction! We had no choice but to get on with it. This is when my love affair with Pakistan ended. The detour of 1,000 miles took us north again through some of the dirtiest parts of the world I'd seen. Just rubbish everywhere, for no other reason it seemed to me that no one cared. This was also apparent in food stops and dirty hotels. Some soap and water are definitely lacking here. In the spirit of things we aimed for the border, but were delayed and had to find a place to stay in Okara, just south of Lahore.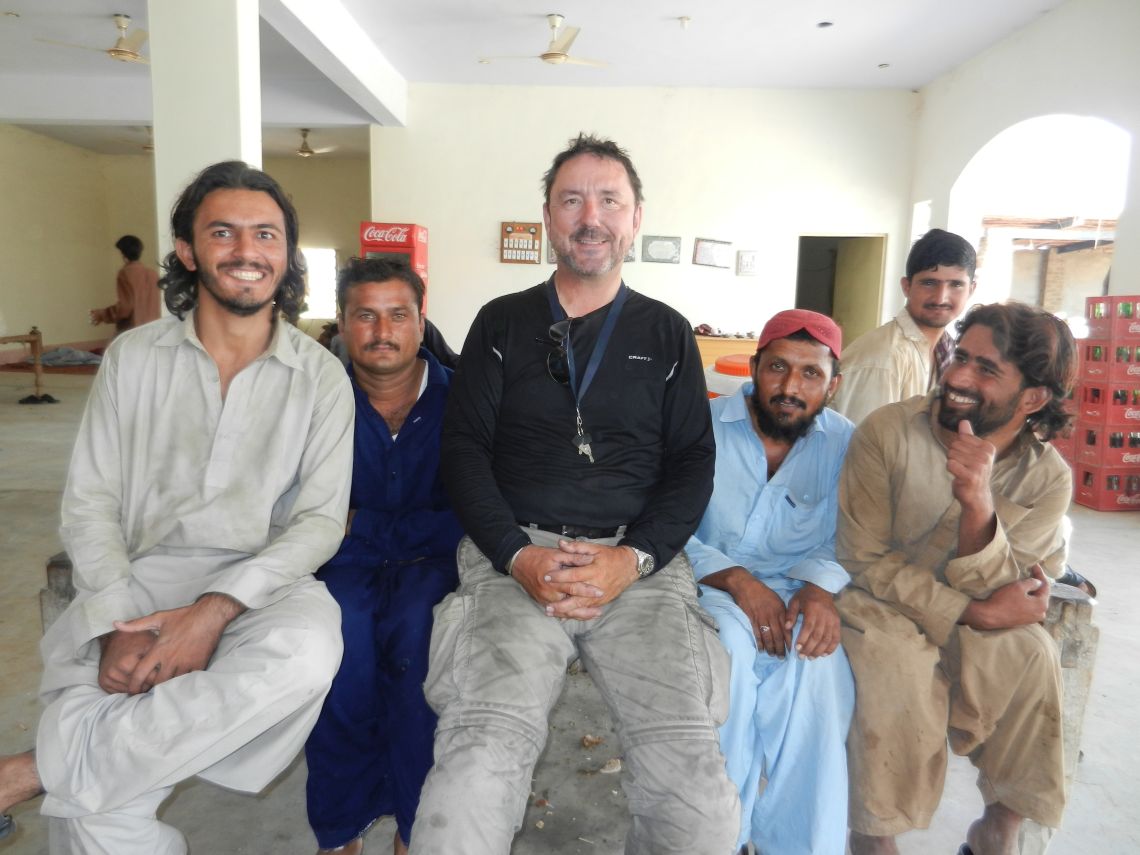 This town looked like a landfill site with buildings placed on top. I was not impressed. We found Okara's dirtiest and most expensive hotel, we had to crash here as the previous two places refused the westerners a bed for the night. This was the only time I was nervous, as we'd been swamped by hundreds of locals, all friendly at first but our weariness of the long day and the darkness and being crowded seemed to amplify some fear of the unknown. We'd lost our police escort earlier and no one in the western world knew where we were. A giant brown cockroach crawled into my helmet and I left Okara the next morning not knowing if I'd successfully evicted him.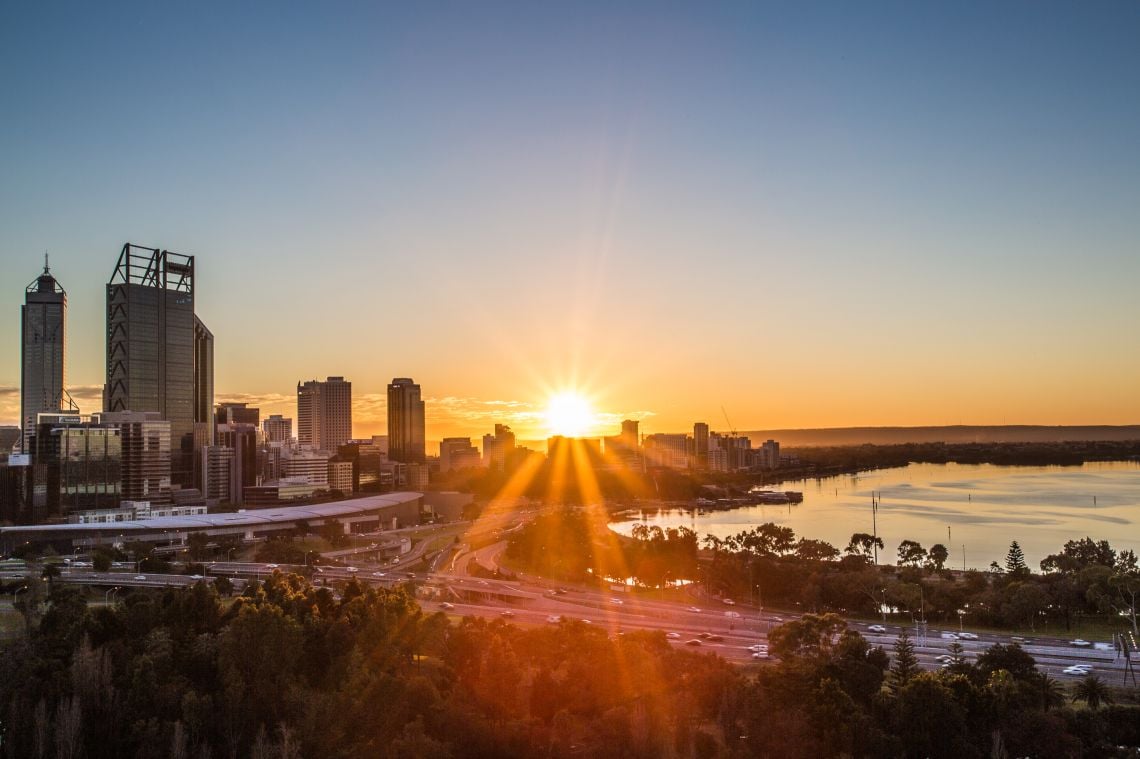 I was pleased to see the border into 'Incredible India', beer was readily available, food was good and once again I could relax. My plan was to head to Kashmir and the Himalayas and all was going well until I had battery and chain problems (see the Q&A), forcing a diversion south to Delhi to sort it out. Having fixed it I did some tourist stuff and made it to the border with Nepal. It was then that I got the call that my dad had passed away in Scotland.
He'd been diagnosed with terminal cancer earlier in the year and I flew over to spend some precious time with him. We had a few nice moments on excursions from the hospital prior to the trip, but we all knew that the outlook was bleak. I had to face the reality that he may pass away whilst I was on the road.
When he did, I was stuck in limbo, alone and despondent.
We'd spoken by phone a few weeks earlier. Inside I knew this was the last time I would ever speak to him. It was the worst call I have ever made, it was also strangely beautiful. I'd told my dad I loved him, he told me he was proud of me and don't even think about coming back. It was a very special moment that will stay with me forever.
I flew home for the funeral, returning to the adventure and upon leaving Bangkok found the journey fairly easy from that point on.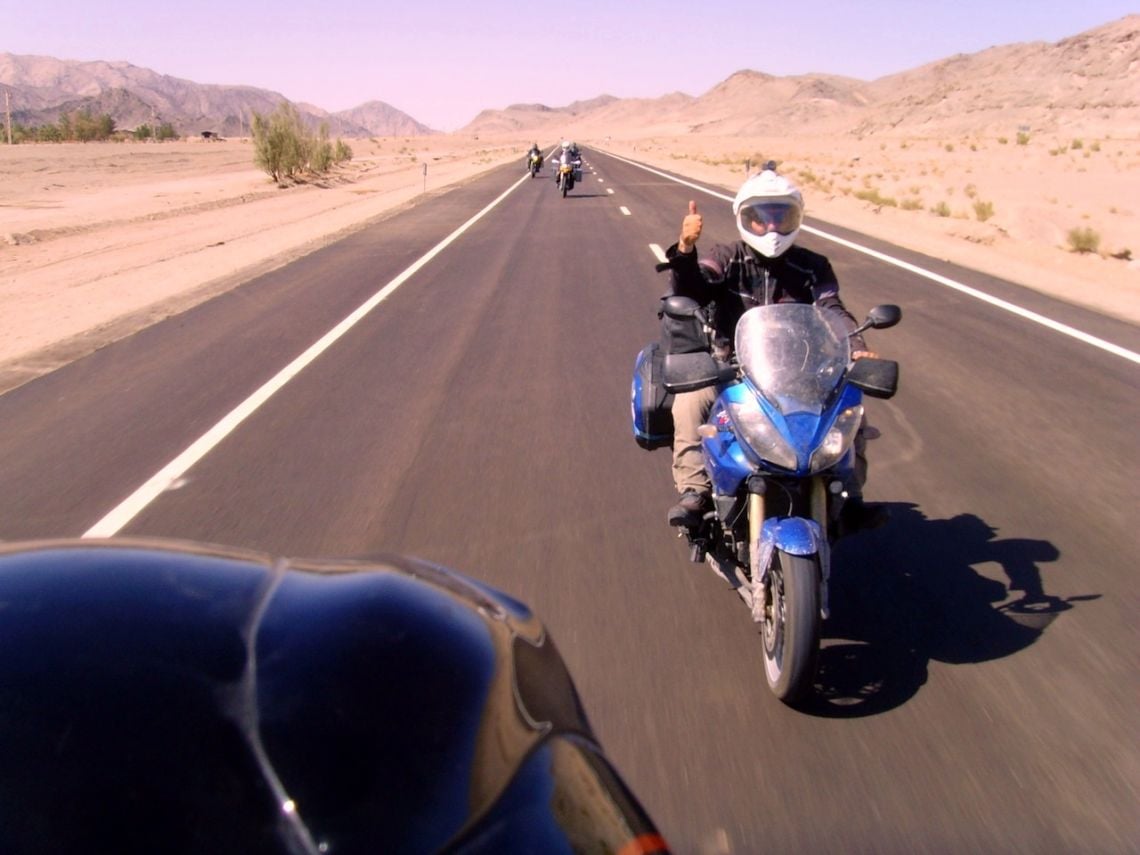 I spent time on the usual tourist places and arrived in Singapore ready to crate my well-loved machine onto Darwin. Arriving in Australia was a weird feeling. I was close to my destination, about 3,000 miles to go but was still so engrossed in this trip, I wasn't so sure I wanted it to end.
One week later I was approaching Perth. By now I'd become so used to this way of life and was anxious as to how I'd fit into normal existence again. I even considered turning around and heading back the way I'd just travelled. But I needed to see my family, return to work and get on with normal life.
I was over the moon to be escorted like a rock star for the last part of my journey by around 50 other bikers. In front of around 100 people, local TV and press, I handed over a small gift from the Lord Provost of Perth in Scotland to the Mayor of Perth Australia that I'd carried all the way, a symbol to connect the two cities.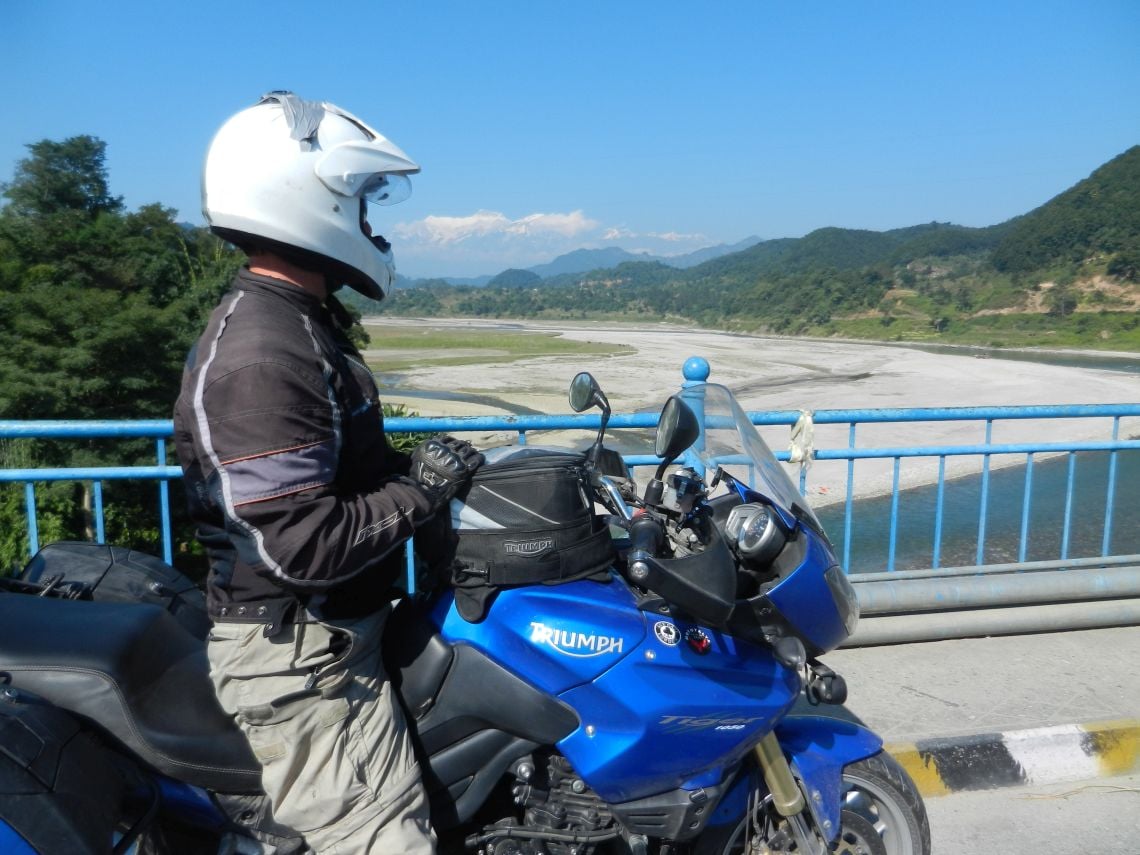 I thought this trip would have cured me of biking adventures for good. I thought my arse would be eternally numb. But, as well as losing weight and my cynicism, I'd also regained a joy for life. I realised people everywhere were nice, they had the same needs and desires, the same insecurities and fears, they were happy to see people from other lands, were willing to share their food, their house, and time with someone they've never met, and probably, would never see again. This was the end but something had changed. My faith in humanity had been restored.
As the crowd dispersed and I headed home I realised that I'd failed. I thought this would cure me of adventure bike travel, but when I got home and stared at the map I'd pinned to the wall two years earlier I noticed there were no pins or stickers in America.
Steven has a website with a video series from his travels. View at http://www.perthtoperth.com/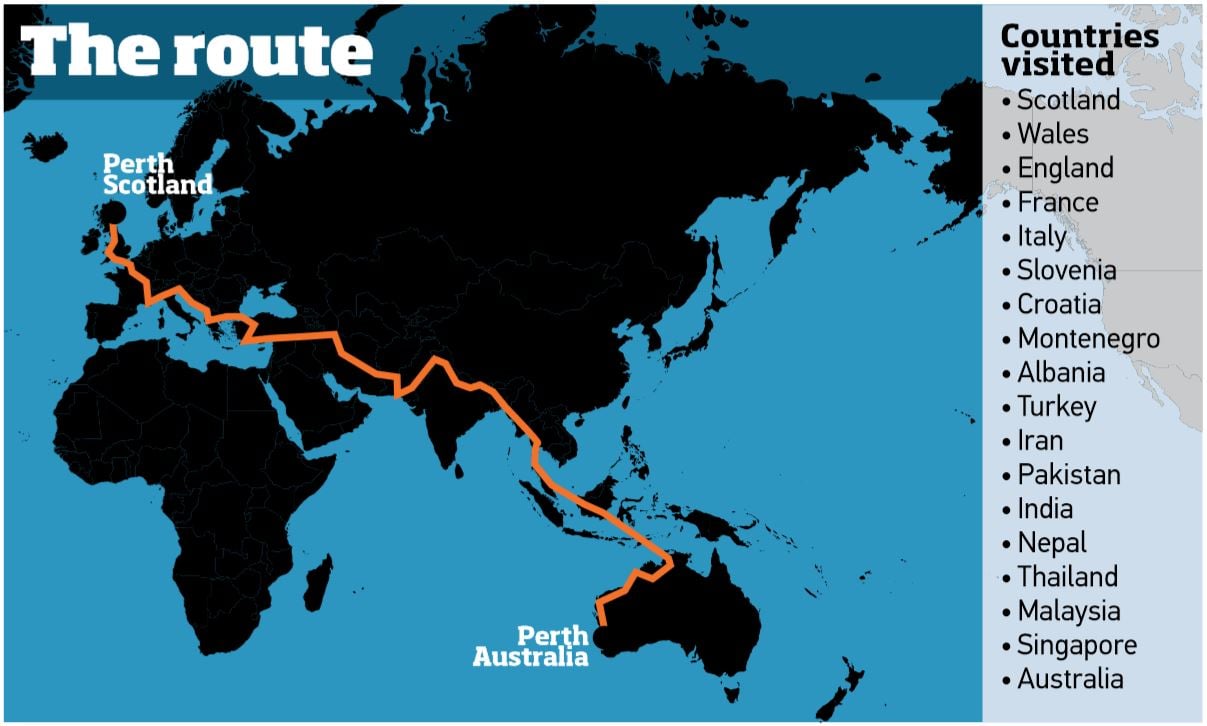 Q&A
How long did you think it would take?
Original plan was 3 1/2 months. Delays and detours stretched this to 4 1/2 months.
Was that amount of time long enough?
You could do it in less if you had no delays or wandered off. But then you'd miss so much.
If no, how long would you have liked?
I would have preferred a year really. More time to stop and see things, meet people etc.
What modifications to the bike?
Very little; crash bars on engine, handguards, radiator guard, tool holders, LED lights and headlight protectors. The light protectors fell off, the plastic tool holders were dumped and the heavy top box sent home.
How many miles did you ride per day?
It depended on where I was heading and if I could get there well before dark. Some days were as little as 50, others 700.
What happened to the chain and battery?
The battery simply died in Kashmir out of the blue. The chain and sprockets were good but the link was worn. In the end, I changed the lot to save me from carrying stuff around. With the Scotoiler the chain lasted over 30,000 miles and would have gone on another 20,000.
What tyres did you use?
I set off with the standard Michelin Pilot 3. They were changed in Turkey for tyres more suited for off-road sections, Pirelli Scorpion Trails. Excellent tyre for general purpose.
Did they last?
Yes. Turkey to Australia or 10,000 + miles, including some dirt roads on the way.
Where and how did you change them?
Bought tyres in Istanbul and shipped to Antalya in the south. Fitted in a bike workshop. Changed again in Broome, my support crew (wife) hid them in her suitcase and flew them up to top of Australia for me.
How often did you do an oil change?
Every 6,000. Funny thing, a complete stranger in Turkey turned up with tools and did oil and filter change for me for free then walked away happy.
Where did you sleep?
Mostly in cheap or even decent hotels when I could. Some hotels were just slightly more expensive than campsites and since the tent took too long to erect and dismantle I saved an hour per day if I used a hotel. Made too much sense to me.
What was your budget?
No idea. I reckoned I'd spend around £15,000, turned out probably £20,000. I think. I'm too scared to look. I did splash out occasionally, so I'm sure it could be done for half that price.
Did you stick to it?
Nope. life's too short!
Why was the bike suitable?
I looked at a few but It's the one I already had for touring Europe, the carnet would be cheaper than buying new, and everyone and their dog has a BMW GS, which I find industrial and soulless. I love the Tiger and love sports bikes. And if a Tiger is good enough for Steve McQueen and Ted Simon, it's good enough for me.
Why wasn't it suitable?
Great bike on winding roads and long long days, but the suspension is way too hard and short for off-road and occasional potholes. I'm amazed the bike is intact considering the abuse it suffered. It didn't miss a beat. Brilliant machine!
How much for the carnet?
Around £2,800. I got back £1200 at the end.
How did you keep in contact with home?
Occasional phone call but mostly email. I had a business to keep an eye on as well at first but cared less for it as I went. Very liberating!
What gear did you ride in?
The only thing I bought new for this trip were boots. MX style were too clumsy so picked up a pair of waterproof W2 with Vibram soles in Manchester. Easy to walk around in and very comfortable. The rest I'd used before on other rides. The helmet is Shoei Hornet, very comfortable. All now well faded and worn out.
What did you eat?
Anything. From anywhere. Where there are people, there's food as they say, fairly cheap and delicious as well. However, one piece of advice, avoid uncooked chicken wraps in Turkey or dodgy water in Delhi unless you want to lose 10 kgs, mostly out of your arse.
What luggage system did you use?
Standard-Triumph panniers that came with the bike. They are crap but did the job. I bought a top box but it was too big and way too top-heavy. I kept my video and camera in a Triumph tank bag which worked a treat.
Anything you'd have done differently?
Yes, go through Sumatra and Java in Indonesia, I simply ran out of time.
What did you learn on this trip?
Travel as light as possible, you really don't need lots of clothes. Oh and shoes take up so much space. Also, there are many meanings when people say 'that's a good road'. People are nice. Not to worry, all will work out.
Best bit?
Every morning when packed, the tank was full, I was full and the day was in front of me.
Worst Bit?
Leaving a case with all video and photographs, computer and documents in a Kathmandu taxi on way to dads funeral – sounds like a country-western song. Miraculously got them all back though, apart from Dad, sadly.
Photos: Steven Kirk