Bryn Davies rounds up a selection of sleeping bags for your next adventure
If you're heading off on a multi-day tour and you're not planning on staying in a hotel then chances are one of the first things you pack into your panniers is your sleeping bag. The sleeping bag you decide to bring can either make or break your adventure as it doesn't matter if you're stopping off at a campsite in Snowdonia or roughing it in the wilds of Siberia, a good night's sleep is essential.
When buying a sleeping bag the first thing you should consider is whether it's going to keep you warm. Forget all the technical mumbo-jumbo for a minute and just remember that a sleeping bag's main purpose is to keep you warm during the night. Your bag must perform down to the lowest temperatures you expect to encounter on your adventures. If it doesn't then prepare for some long, cold and uncomfortable nights at best, but if it's cold enough the consequences could be fatal.
After you've considered whether your sleeping bag will keep you warm when you need it to, the next thing you'll need to decide on is weight and pack size. The main criteria here is whether the sleeping bag will fit into your panniers. In this case, you'll want a bag that packs down as small as possible while still maintaining thermal qualities.
However, lightweight kit is expensive and if you're travelling solo and don't mind bungee cording your bag onto the back of your bike then weight and pack size is less important.
In this review we're looking at three-season sleeping bags from across the price range, we've also included a mix of down and synthetic bags so you can get the best idea of what's out there and what you can get for your hard-earned cash. It's good to note though, every bag in this review is fit for a purpose, whether it's camping at an ABR rally in Warwickshire or snuggling down on the side of the Pamir Highway.
---
DOWN

VS

SYNTHETIC
The sleeping bags we have on test here either have a down or synthetic fill, neither one is inferior and they're both great for certain situations. Down is more expensive than its synthetic counterpart, but it generally packs down smaller, has a better warmth-to-weight ratio and will last longer (though there are exceptions to this).
On the negative side, if you get down wet the feather structure will collapse and it'll lose its thermal insulating properties. Not only that, but it'll take a long time to dry. Advances in technology have led to the development of 'hydrophobic' down, which is said to perform better when wet, but it's not widely used yet.
Synthetic bags aren't going to be like ovens if they get wet, but they'll still maintain some of their thermal properties, plus they'll dry out a lot quicker than down and they're generally cheaper. Most bags have a water repellent coating but this isn't enough to completely stop the fill getting wet so if you're in a cold and dry environment consider down, whereas cold and damp, like the UK, is better handled by synthetic.
---
TEMPERATURE RATINGS
All sleeping bags will come with temperature ratings, although these are guides to performance rather than an absolute measure (in the past we've found that manufacturer's claims can be a little overdone). In general bags come with four figures; upper limit, comfort rating, lower limit and extreme rating. Understanding these will help you pick a bag that's right for you and your adventure.

Upper limit: The upper limit is the maximum temperature at which a 'standard' adult will be able to have a comfortable night's sleep without excess sweating. In other words, how warm it has to be before your bag becomes to hot for the job.
Comfort rating: As the name implies, this is the temperature at which you'll find your sleeping bag most comfortable and be able to have a decent night's sleep – not too warm and not too cold.
Lower limit: The lowest temperature at which a 'standard' adult can have a comfortable night's sleep. If the temperature gets below the lower limit then consider wearing additional clothing.
Extreme rating: You'd be best not to rely on the sleeping bag's extreme rating as it's the 'survival only' rating. If you have to use your bag in its extreme rating then be prepared for a cold, cold night.
---
Sprayway Challenger 350
£50 –  www.sprayway.com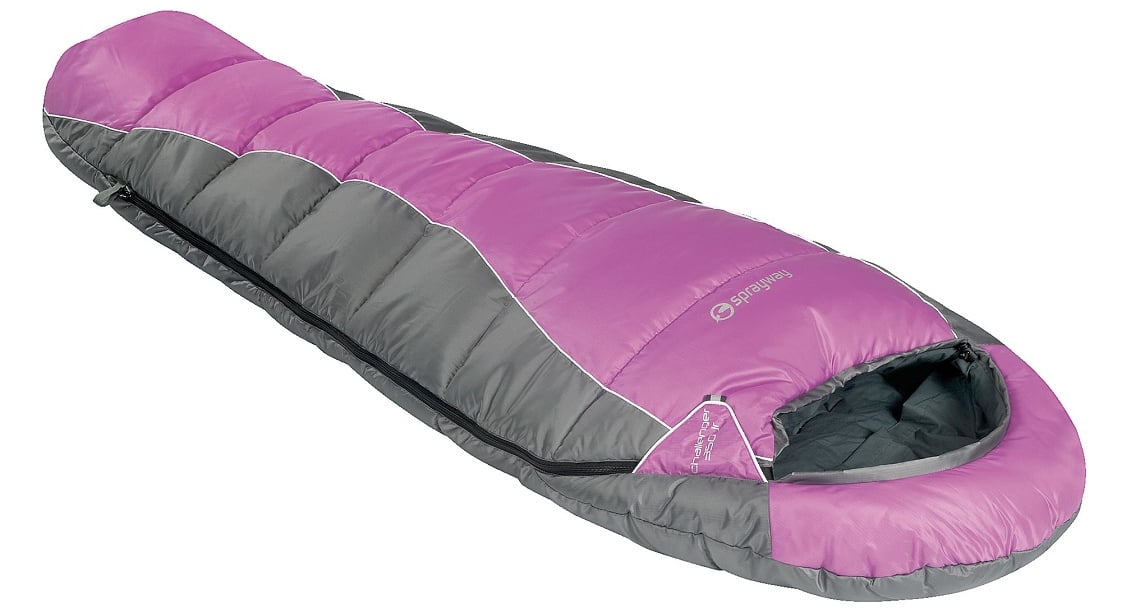 At £50 the Sprayway Challenger 350 is the cheapest bag in this review (and I've found it for £30 online) but is it a worthwhile buy? Well, yes and no. At one end of the scale it represents a bag that is affordable and comfortable, but from a different point of view its large pack size, heavyweight and presence of cold spots will put more serious users off, especially those who don't want to strap their bag to their bike outside of their panniers.
The Challenger 350 uses a double layer Monofibre synthetic fill to provide insulation and warmth and the figures provided by Sprayway state that the bag will be comfortable from 14C to -12C (which is a huge temperature range). The presence of a fleece liner on the foot box is a lovely touch and it certainly does its job to add a little bit more warmth and comfort. That said, it's also partly responsible for the heavyweight and large pack size.
While the bag will keep you warm for the most part there are areas where cold spots will be allowed to develop due to a lack of insulating fill, in particular down the side, running the length of the zip. If you're a big guy then you'll be pleased to know that the Challenger 350 will cater for you. In all, if you're looking for a sleeping bag with a small pack size that you can fit into your panniers then the Challenger 350 isn't for you, if you're looking for a cheap bag that you can bungee to the back of your bike then check it out.
Weight: 2.20kg
Pack size: 46x28cm
Comfort limit: -1C
Extreme limit: -12C
ABR Rating – 6/10
---
Quechua 0° Light Hiking Sleeping Bag
£59.99 –  www.decathlon.co.uk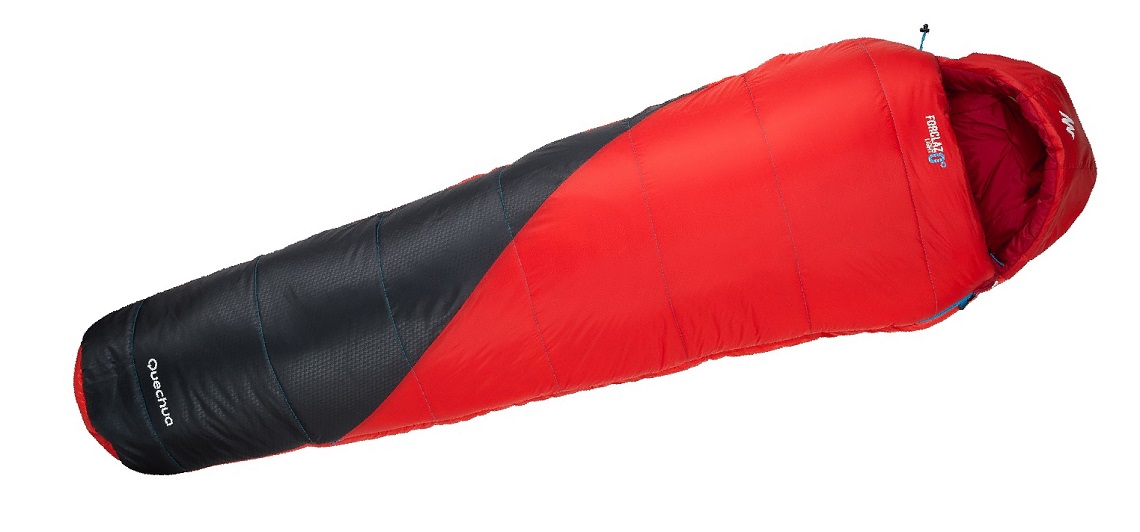 Much like the Sprayway Challenger 350 the Quechua 0° Light Hiking Sleeping Bag has a price that will appeal to everyone and, again, I've found it for much cheaper on the net (at the time of writing it's on sale on the Decathlon website for £27.99). Don't let that cheap price tag influence your perception of the overall quality of this product though, for such a small amount of money you're getting one hell of a great bag here.
While not exactly the smallest in pack size or the lightest in weight the 0o Light Hiking Sleeping Bag just about fits into the bottom of our Touratech 38 litre Zega Pro panniers and with a better compression sack, you'll be able to get it even smaller. When unpacked and laying down in all its glory it's pleasant to see that there's plenty of room inside, even for guys on the larger side of life.
The bag uses an unbranded synthetic fill to keep you warm and, as the name might suggest, it'll allow you to comfortably sleep in temperatures around the 0C mark. A 3/4 length two-way zip allows for ventilation if you start to overheat, there's a sufficiently sized baffle over the zip to prevent cold spots and the bag can be cinched in where it's needed to prevent cold drafts from entering. For such a low price you can't go wrong with this bag. If you're in the market for one and you're looking for a bargain: this is it.
Weight: 1.71kg
Packsize: 35x22cm
Comfort limit: 0C
Extreme limit: -5C
ABR Rating – 8/10

(Best Budget Buy)
---
Snugpak Chrysalis 3
£89.95 – www.snugpak.com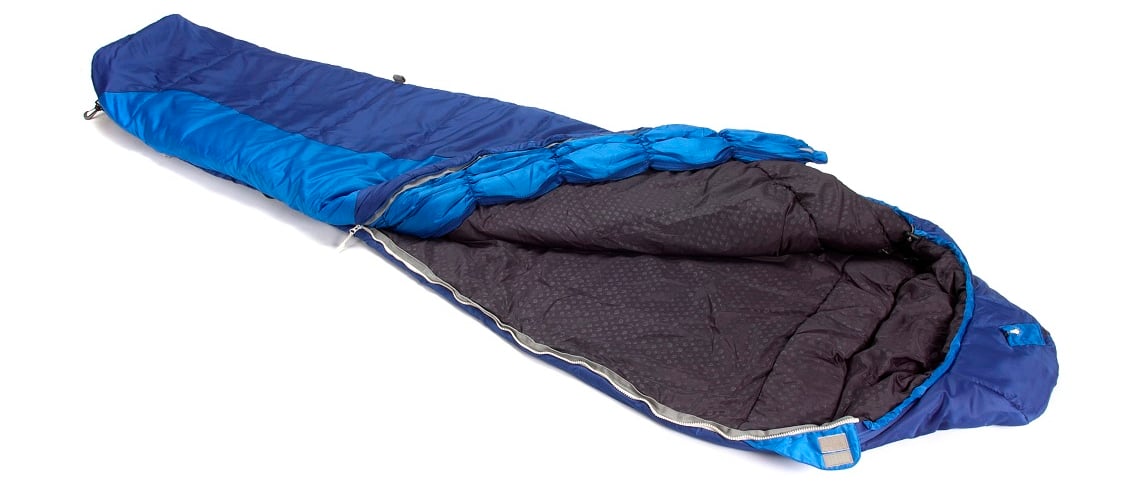 Over the years we've come to know Snugpak for their great quality sleeping bags and insulated jackets, and the fact that they still manufacture some of their products in the UK makes us like the brand that little bit more. The Chrysalis 3 is their offering to this review and it uses Snugpak's Softie synthetic fill to help keep you warm; a tried and tested insulation that is used by the British military in the Snugpak sleeping bags that they use.
The bag's not the lightest at 1.69kg, nor is it the most packable in this test, but you should be able to fit it in most large panniers. Despite that fact, there does appear to be a lack of room inside the bag and I found it difficult to actually do the zip up, even when using the second zip, which is there to expand the size. Of course, this isn't exactly a fault with the bag itself, more something you should look out for if you're on the larger side of things (I'm 6'2 and 53 inches around the chest and shoulders).
Included with the bag is an LED torch that attaches to the hood (a genius idea). The bag can be cinched in where it needs to be and it has a comfort rating that will suit you for a wide variety of three-season adventures; even some winter excursions. All in all, try the bag for size and if it fits you get it!
Weight: 1.69kg
Packsize: 30x23cm
Comfort limit: -5C
Extreme limit: -10C
ABR Rating – 8/10
---
Rab Ignition 2
£120 – www.rab.uk.com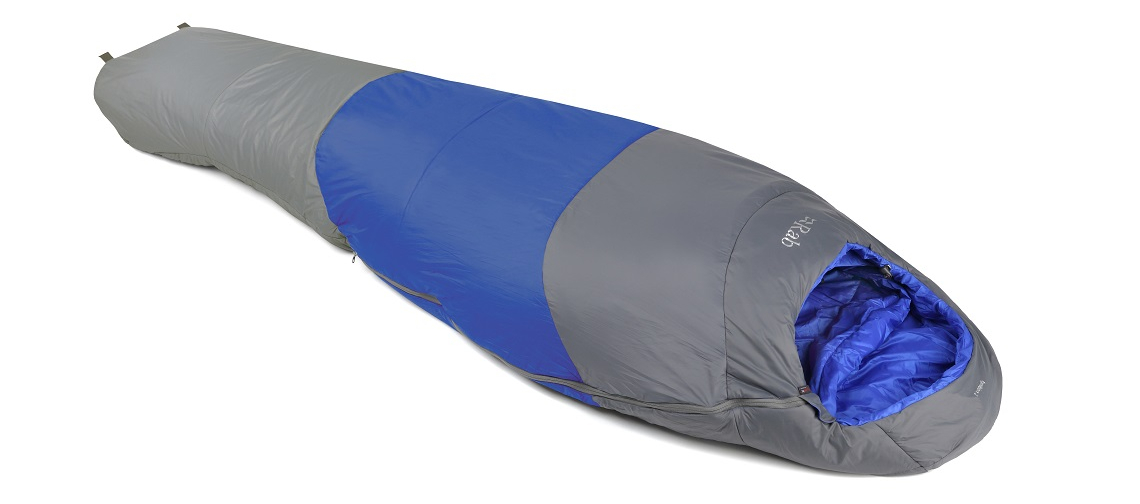 I've got a bit of a 'thing' for Rab gear, over the years when I've been testing kit I've yet to come across one of their products that hasn't performed well in use and the Ignition 2 certainly lived up to my expectations for the brand. For £120 you get a bag that uses Pyrotec synthetic insulation and packs down to about the size of a small loaf of bread making it perfect for packing unnoticed into your panniers.
Despite the bag's tiny pack size, there's a surprising amount of room inside it and I found there to be no problems with zipping the bag up. The polyester inner lining of the Ignition 2 feels luxuriously soft and comfortable against the skin and, again despite its small pack size, in terms of thermal properties it performs well and kept me at a comfortable temperature while camping in about 6-8C.
Additional features include a 3/4 length two-way zip, a zipped pocket for stashing your valuable in and draft baffles where you need them. The Ignition is also available to cater for those venturing into colder temperatures with the Ignition 3 offering a comfort rating down to -3.5C and the 4 down to -7C. In all the Ignition 2 is an excellent bag if it covers your thermal requirements. A superb compression sack gives it a small pack size and this, combined with the lightweight, makes it ideal for stuffing in your panniers and it's comfortable to boot.
Weight: 1.05kg
Packsize: 28x18cm
Comfort limit: 5C
Extreme limit: -15C
ABR Rating – 9/10

(Best in test)
---
Robens Caucasus 600
£169.99 – www.robens.de

The Robens Caucasus 600 is the first of four down sleeping bags we have in this review and there's no surprise that they're also four of the five most expensive, but at £169.99 the Robens Caucasus 600 represents good value for money for those looking for a down sleeping bag. Indeed, over the years Robens camping kit has been building quite a reputation within the ABR office: if you want good quality at affordable prices then you can bet that Robens will have something for you.
While the price of the Caucasus may be low, the quality is not and for your money, you get a very nice bag indeed. The weight and pack size is one of the most attractive features of the Caucasus 600 with it packing down to a small 33cm x 18cm and weighing in at 1.3kg. At this size it fits nicely into most panniers and the stuff sack which comes as standard is excellent, being fully waterproof with taped seams. The temperature rating given will cover you for all but the coldest three-season adventures and you'll likely get away with using it overwinter in milder countries.
You get all of the features you'd expect from a bag of this price; internal pockets for stashing valuables, tension adjustable face and neck baffles, a near full-length zip for ventilation and you also get an ergonomic footbed and an anti-snag zip guard which actually works. In all, the Caucasus 600 is an excellent down bag for the price.
Weight: 1.71kg
Packsize: 35x22cm
Comfort limit: 0C
Extreme limit: -5C
ABR Rating – 8/10
---
Montane Prism
£175 –  www.montane.co.uk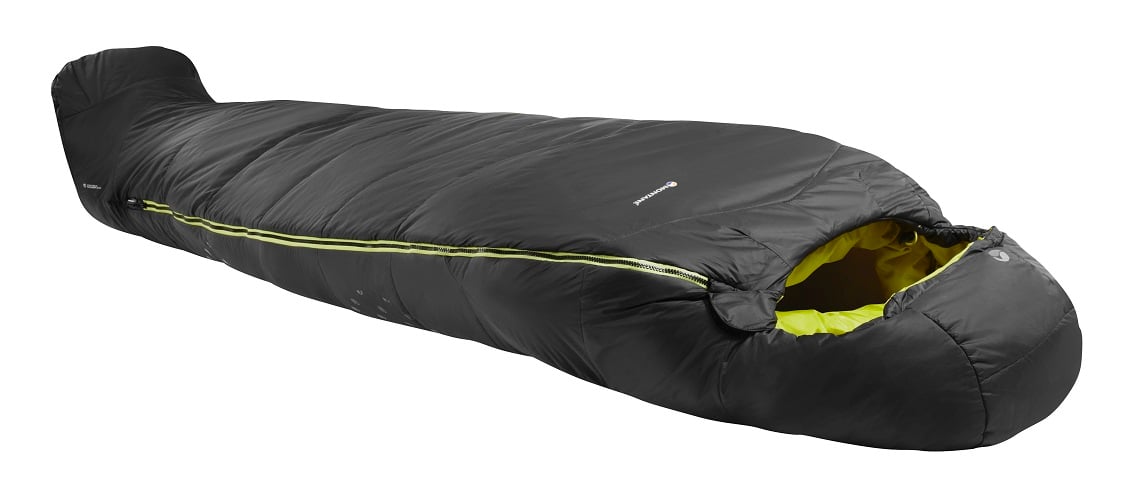 The Prism is a sleeping bag that's been designed by British company Montane for use in 'rough and tough' conditions and over the years we've come to know the brand for their excellent apparel. The combination of Primaloft Eco synthetic fill and a Pertex Microlight fabric make it an ideal choice for those hiking in the UK and Northern Europe or other similarly 'damp' locations. At £175 it may be painful on the wallet, but if you're looking for comfort, durability and a good night's sleep you can't go wrong.
Aside from the excellent, tried and tested Primaloft fill and the light but durable and windproof/water-resistant Pertex fabric there are a number of features which combine together to make this a superb sleeping bag. You get two internal pockets, non-slip tabs on the back to help keep you on your sleeping mat, a quality two-way 3/4 length YKK zip with glow in the dark zip pulls, an ergonomically designed footbed to help reduce cold spots in that area and the stuff sack is waterproof with the seams being taped.
It's hard to find fault with the Prism but it can't be ignored that it has a slightly large pack size, while it'll fit in our 38-litre Touratech Zega Pro it takes up a lot of room and if you're a large guy then you might find it a little tight around the shoulders. In all though, the Prism is an excellent sleeping bag and one that comes highly recommended.
Weight: 1.32kg
Packsize: 27x28cm
Comfort limit: 0C
Extreme limit: -16C
ABR Rating – 9/10

(Highly Recommended)
---
Kelty Ignite DriDown
£199.99 – www.kelty.com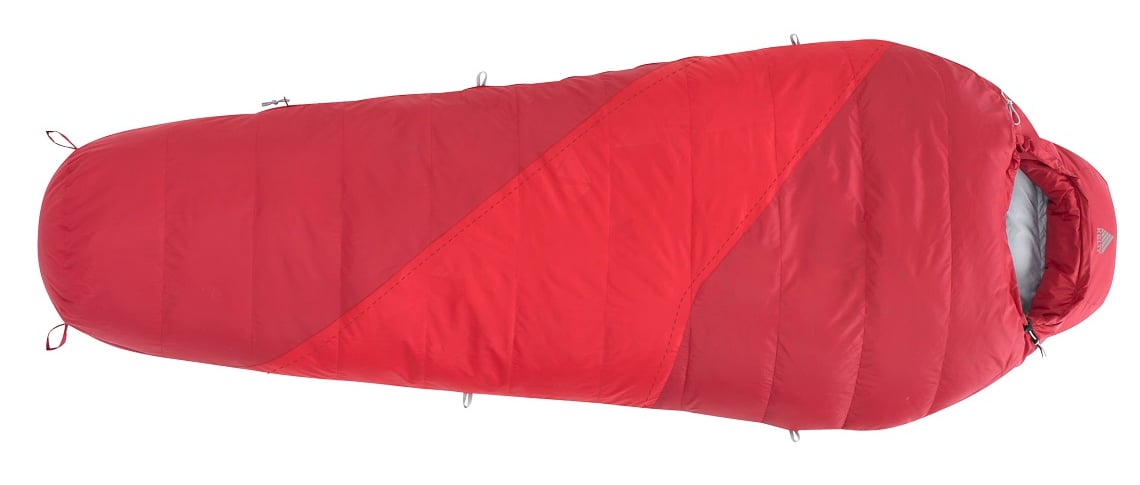 The big talking point about the Kelty Ignite DriDown is that the down insulating fill it uses has been treated on a molecular level to make it hydrophobic (that's water-resistant to you and I). What this means is that DriDown is able to stay dry for longer (according to Kelty 10-times longer), retain its loft when wet (170% more loft than untreated down) and, if it does get wet, dry faster (33% faster), while I've yet to get the Ignite wet enough to test this out, my previous experience of hydrophobic down has been extremely positive so its inclusion in this bag can only be a good thing.
This treatment essentially takes away the main disadvantages associated with down with the only stumbling block now being the price tag, though at £199.99 it's the cheaper of the three down options in this review. The DriDown functions exactly like untreated down when dry as well and the bag packs down small and has a luxurious, soft feel with a nice, high loft which makes for a comfortable night's sleep.
Additional features include a near full-length zip to offer a great amount of ventilation for times when it gets too warm, a great fitting hood, draft excluding baffles and cold spots are kept to a minimum with the box-wall baffles preventing migration of the insulating fill. In all the Ignite is a brilliant sleeping bag, and the DriDown in the bag is excellent as it removes most of the limitations of down while still maintaining the benefits. Highly recommended.
Weight: 1.15kg
Packsize: 34x20cm
Comfort limit: -2C
Extreme limit: -9C
Note: weights and measurements given are for the women's version
ABR Rating – 9/10
---
The North Face Blue Kazoo
£250 –  www.thenorthface.co.uk

The Blue Kazoo sleeping bag has been part of The North Face's range for a long while now (since 1977) with many outdoor enthusiasts choosing the bag because of its warmth-to-weight ratio, small pack size and the amount of comfort it provides. It's a great sleeping bag there's no doubt about that, but at £250 it may be out of many people's price range, but if you've got the cash, is it worth the buy?
Recent changes to the Blue Kazoo have seen The North Face using a quality 650 fill Hungarian goose down as the insulation to keep you warm (Hungarian down has a great reputation in the world of insulating fills) and there's an impressive loft to the bag once it's been allowed time to air out. The down insulates exceptionally well and it's distributed evenly throughout with the box-wall baffles preventing any migration and cold spots occurring.
To further prevent cold spots, areas which are likely to be in contact with the ground (feet, butt and shoulders) have been reinforced with compression-resistant Climashield Prism thermal pads for added insulation – a great touch. You get all the other features you'd expect from a sleeping bag (two-way main zip, internal pockets) and the zips come with glow-in-the-dark pulls so you won't have to reach for your head torch every time you want to adjust them. In all the Blue Kazoo is an excellent bag, it packs down small, has minimal cold spots and if you look after it it'll last a long, long time.
Weight: 1.25kg
Packsize: 26x23cm
Comfort limit: -2C
Extreme limit: -9C
ABR Rating – 9/10
---
Therm-a-Rest Mira
£330 – www.cascadedesigns.com
Coming in at an eye-watering £330 is the Mira sleeping bag from Therm-a-rest. The brand is probably more well known for its excellent sleeping pads (the Neoair XLite is a particular favourite in the ABR offices) but as the Mira shows, they sure know how to make a good sleeping bag as well. The Mira is a lightweight three-season bag which uses a 750+ fill goose down to offer warmth at a small pack size. The Mira is actually the lady's specific version of the sleeping bag with the Antares being the unisex model.
The first thing you'll notice about the Mira is the tiny weight and pack size, even though this is the lady's version and we would expect it to pack down smaller than the rest it's still impressive. At 898g and a tiny 18cm x 31cm (with the pack size of the Antares being the same) you'll have no problems fitting it into your panniers making it ideal for multi-day adventures. And for such a packable bag it still manages to maintain its thermal properties thanks to the 750+ fill down and the presence of a few other features which aid in performance.
In particular the ThermaCapture Radiant Heat Technology and the zoned insulation which puts the insulation in the places where you need it most. A lovely feature is the SynergyLink Connectors which allow you to attach your sleeping bag to your sleeping mat for a more comfortable, less slipping all over the tent, night's sleep. In all, a superb bag with a thermal range that will be perfect for a wide variety of three-season adventures and even some winter excursions.
Weight: 898g
Packsize: 18x31cm
Comfortlimit: -3C
Extremelimit: -9C
Note: This review is of the women's Thermarest Mira, the unisex version of the bag is called the Antares.
ABR Rating – 9/10