Paul Jennison rounds up a selection of this issue's products and puts them to the test…
Powermonkey Extreme 
SRP £120 | www.powertraveller.com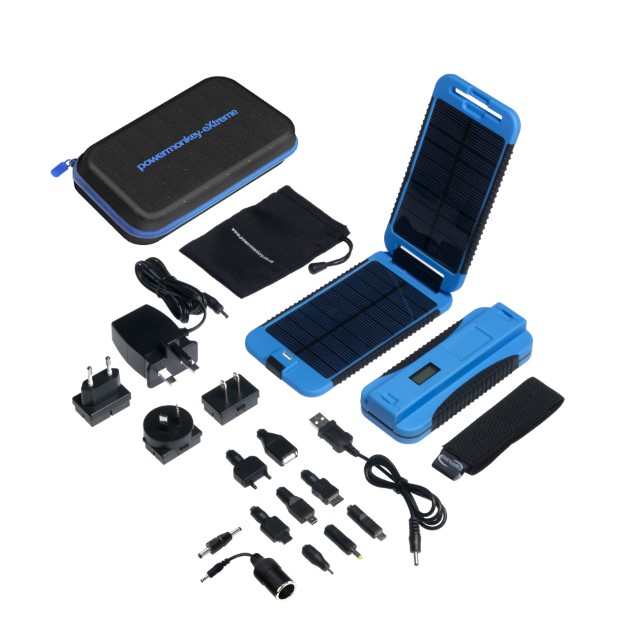 WHAT IS IT? A solar powered pack to charge your gadgets. The Extreme is a useful piece of kit for charging phones, tablets, cameras and the like if you are planning to be away from regular power sources for any period of time. The unit has its own folding solar panel (171x90x18mm) to charge the power pack should it require topping up, although the unit will retain up to 75% of its capacity for up to a year if left unused. This is down to the 9000mAh capacity lithium polymer battery that has retained roughly the same dimensions in size as the old unit at 152×59.5x28mm; the Powermonkey Extreme. As well as the standard 5V USB charging port this model will also accommodate 12V DC in-car charging devices via an included adapter. The LCD screen now indicates the battery level and the working status from 01 (needs charging) to 99 (fully charged). The on/off switch has been changed to a friction swipe rather that a rocker to reduce the risk of accidental operation. The unit is rugged and waterproof so will endure a hard life on the road. PJ 
In a line: Bulky, but worth making room for.
Hideout Adventure Pro Suit 
SRP Jacket £850 Trousers £650 (add 20% for made to measure) www.hideout-leather.co.uk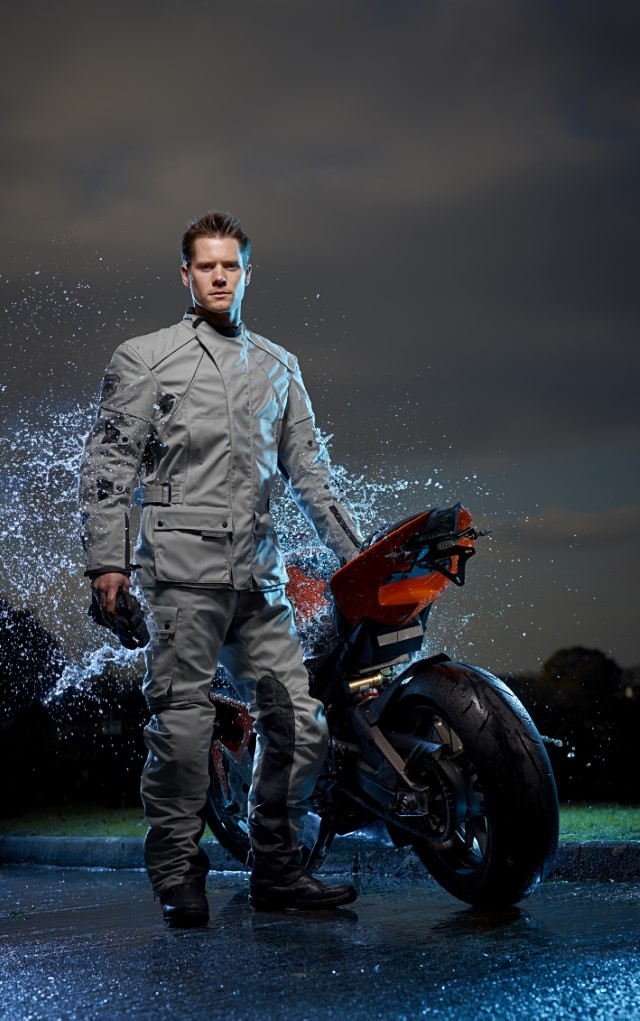 WHAT IS IT? A bespoke adventure suit that will withstand everything your trip will throw at it. Hideout Leathers is a UK manufacturer of motorcycle leather and textile clothing. For their new adventure suit, Hideout has focused a lot of its attention on 'fit', tailoring the cut of the suit to the average British biker (we are different apparently). Of course the mythical 'Holy Grail' for us bikers is to find the ultimate waterproof kit. Hideout believes that a waterproof membrane laminated to the inside of the outer shell is the best way to go, as this prevents the outer layer from absorbing water, giving it no place to go. 
The suit is also breathable, with two large underarm pit vents allowing fresh air in and a back vent to let hot air out. For protection, Hideout has incorporated an inner-liner behind the outer textile to give it a high friction resistance in the event of a fall. There's also Forcefield armour in all the major zones and a system to keep it all in place should the worst happen. 
The front of the jacket has a full water resistant zip with a storm flap. It has two cargo and two slip pockets that are waterproof. There is extra adjustment in the sleeves and body to fine tune the fit if required and the cuffs have zip and Velcro flap fasteners allowing a glove to go underneath. The trousers can be joined to the jacket with a 360 degree zip, ensuring they stay together in the event of a fall. The pants have one small front waterproof and two cargo pockets, with zip and Velcro fasteners at the ankles designed to take the larger than average boots. 
The fabric from new is quite stiff , but very quickly softened and moulded to my body shape. On its very first outing the suit was put to the test with regards to its weather proofing. Since then it has had to endure some pretty dire conditions and I am happy to state that it has withstood everything and kept me dry and comfortable. PJ 
In a line: Yes it is expensive, but if you want a well-made suit that fits to a tee and has excellent weather resistance and protection properties it is one that is worth the outlay.
Helinox Chair One 
SRP £79.99 | www.adventurebikeshop.co.uk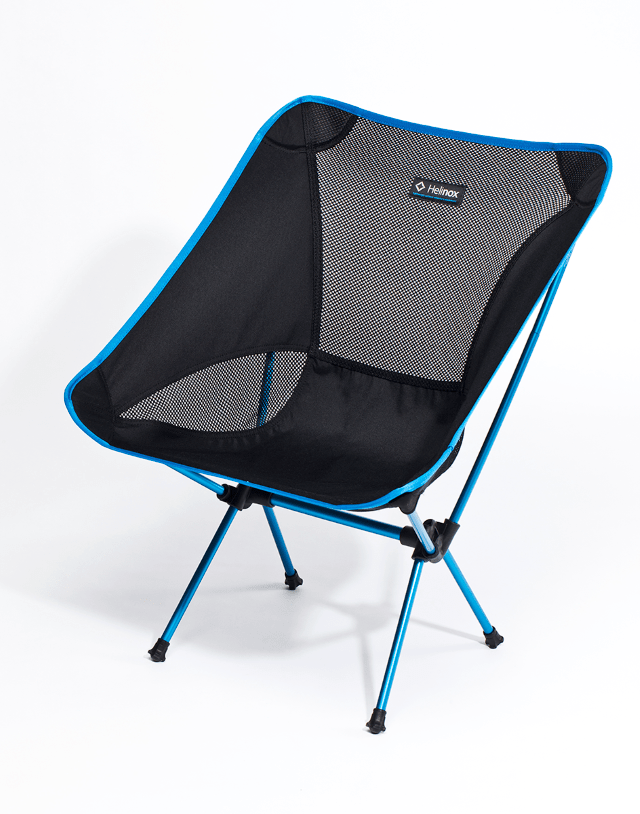 WHAT IS IT? A collapsible chair to strap on the back of the bike. I had to make a double take at the price tag because I thought it would have to be one hell of a chair to have me spending 80 hard earned quid on one. Saying said, it does come in a small lightweight package (35x10x12cm and 850grams), which is handy for the bike. The load capacity is impressive too at 145kg (just under 23 stones), which could well appeal to the more robust ABR. 
The pole structure is made by DAC, a leading tent pole manufacturer. The frame is linked with shock cord and is a one piece affair with assembly being like putting tent poles together – the chair is together in seconds. It's then just a matter of putting the fabric onto the frame; a simple process of feeding the reinforced sleeves onto the pole ends. It is quite a low seating position at just 35cm from the ground and a 23-stone biker might struggle to fit his or her not so slim backside into the chair as it isn't the widest of seats. It is a comfortable sitting position however, the only possible snag being the quite small leg stoppers that could have you sinking into the ground – I know mine did (I'm 15 stone by the way) – and before you know it you are sat on the ground. PJ 
In a line: Overall a good chair if you can justify spending eighty pounds on it…
Triumph Newchurch Jacket 
£310 (We've seen it at £275)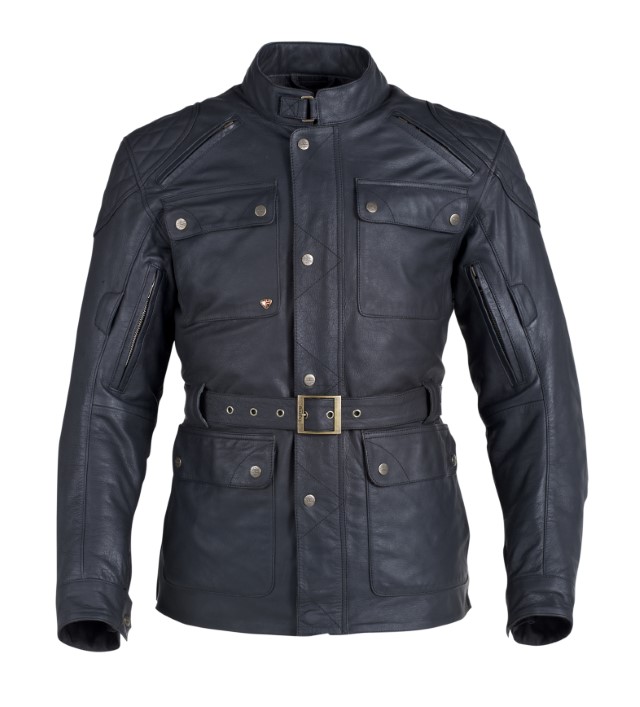 WHAT IS IT? Barbour style leather jacket without the scandalous Barbour price tag. First off, you'll know if this jacket's for you just by looking at the photo. You'll either go weak at the knees and put your name down for the re-make of 'On Any Sunday', or you'll mutter something along the lines of, 'what knob would wear one of those'. Well, this knob for one. The Triumph Newchurch could do with a swankier sounding name, but we'll overlook that in favour of its style and value when measured against similar products. As a bit of a leather junkie I've always had an eye out for a full grain jacket that looks good, suits the adventure bike style and doesn't make me look like a casualty of Sons of Anarchy. The Newchurch does just that. 
This is not a practical jacket; there are studs where velcro fastenings would be more efficient; the zipped vents could run cooler; the quilted insulation is not removable and whilst it'll survive the odd light shower both you and anything in the pockets will look as if you've just returned from swimming the Channel in anything heavier. That said, a low cost, lightweight waterproof over-jacket would sort that out. 
The Newchurch is well made, the leather is good quality, it comes fitted with top spec components (CE approved Knox armour at elbows and shoulders; a chunky YKK zip at the front), has twin zipped inner security pockets, adjustable side zippers for those apres massive curry moments, reflective piping and they'll zip in to all Triumph jeans. But I'll end where I started; it's the looks that'll get you on this one, and if you've the spare cash then the details are but a piffle. A fantastic leather alternative to the traditional style 'adventure' textile jacket. AD 
In a line: Hello, I'm Steve McQueen