Bryn Davies packs his panniers with the latest camping gear
Primus ETA Lite (Feature Image Above)
www.primus.eu | £109/£119 (without/with the coffee press)
At ABR we love stoves, so much so that the first ABR Rally, The First to the Boil, was named after a proposed competition where entrants would see who's camp stove would bring a pot of water to the boil the fastest.

Unfortunately, the boil-off never took place, but if it did then the person with the Primus ETA Lite would probably be crowned champion.
The ETA Lite is a personal stove from Swedish stove manufacturer Primus and it's both efficient and simple to use.
It's not the sort of thing that you're going to want to take with you if you're planning on cooking up a full English breakfast in the morning (due to the small pot), but for boiling water and cooking camping food (like the AdventureMenu meals right) it's an excellent piece of kit to stick in your panniers.
The stove offers a brilliant heat efficiency of 78% (as opposed to standard stoves which typically offer 40-50%) and it'll retain this efficiency when it's blowing a hooly as the burner is sheltered from the wind. In the past personal stoves have tended to be quite unstable and they tend to end up tilting or falling over.
Primus worked at solving this issue with the ETA Lite and they've managed to significantly lower the height of the burner resulting in a more stable device.
The burner features a piezo-igniter and the 0.5-litre pot simply twists and clicks into place above the flame, further adding to the stability of the stove.
A lovely touch is the felt cover which wraps around the pot, acting both as an insulator and a handle to help you lift it without burning your hands.
At £109 it may seem expensive when you consider that you can get some top quality gas stoves for £30-40, but if you're looking for a very well built, fuel-efficient stove for solo adventures then the ETA Lite is certainly one to consider.
---
SteriPEN Freedom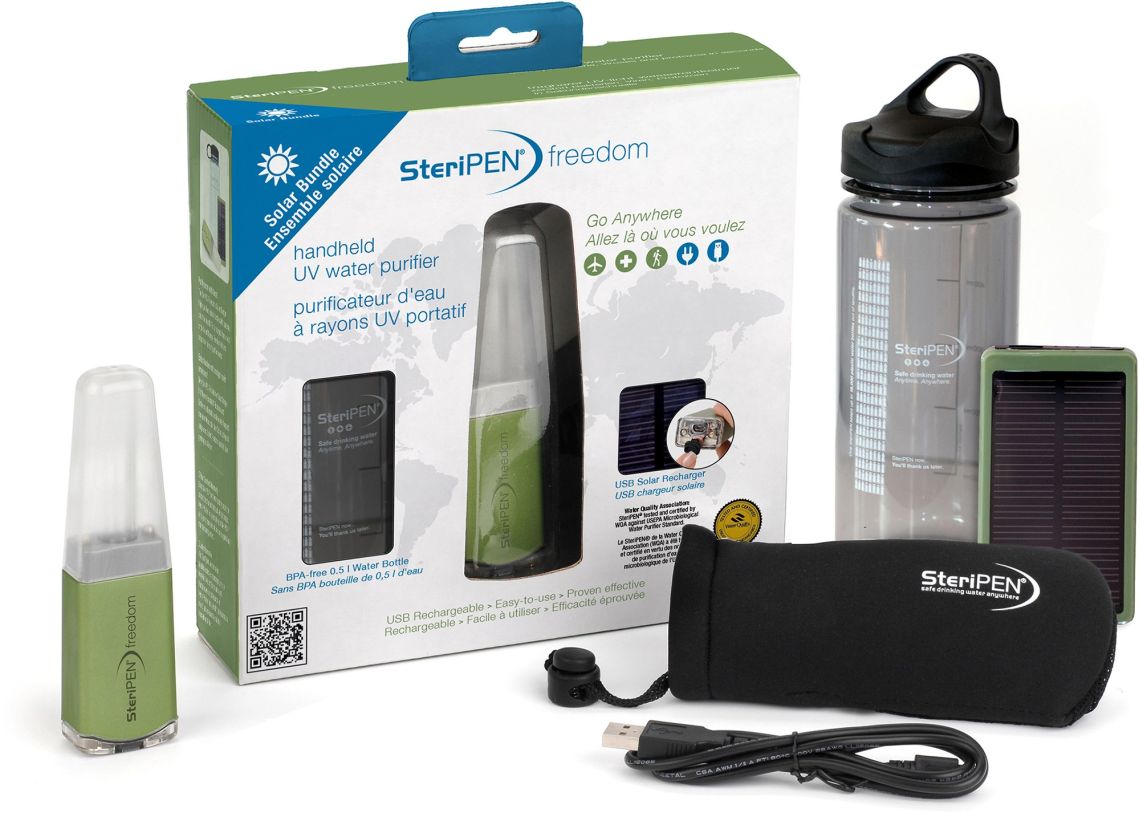 It can be easy to forget the importance of clean drinking water when planning your next trip, but whether you realise it or not it's one of the most important things to consider if you're travelling outside of Western nations where tap and bottled water can be a bit dodgy.
The SteriPEN Freedom is, as SteriPEN claim, the world's smallest UV water purifier – it's about the size of a Mars Bar and it uses ultraviolet rays to break down 99.9% of bad bacteria in water making it safe to drink.
At £118 it may seem like a lot of money to pay for water purification when you consider that you can get tablets for a fraction of the price and boiling water does pretty much the same thing.
So, is the Freedom worth it? Yes and no. It does make purifying water incredibly quick (about 45 seconds) and easy affair, but there are a few downsides.
In order for any UV pen to work effectively the water, you're attempting to disinfect needs to be as clear as possible so that the UV rays can penetrate all of the water, so if you're purifying particularly dirty water you'll need to filter it first.
It's also probably worth taking a backup method of purifying as well, while the SteriPEN Freedom feels well made and hasn't given me any problems so far, I know of people who have had their UV pen malfunction just when they needed it most, leaving them without any method of getting clean water.
Having some water purification tablets as a backup will help keep your mind at rest.
Fully charged the SteriPEN Freedom will purify up to 20 litres of water and when you need to top up the juice you can do so easily with the included USB cable (make sure you buy an adaptor for your bike, though!).
All in all, the SteriPEN Freedom is a bit hit and miss.
It performs exactly how you'd expect a UV water purifying device to perform, but at £118 it's a costly piece of kit.
---
AdventureMenu camping food
www.tlsportuk.com From £4 per meal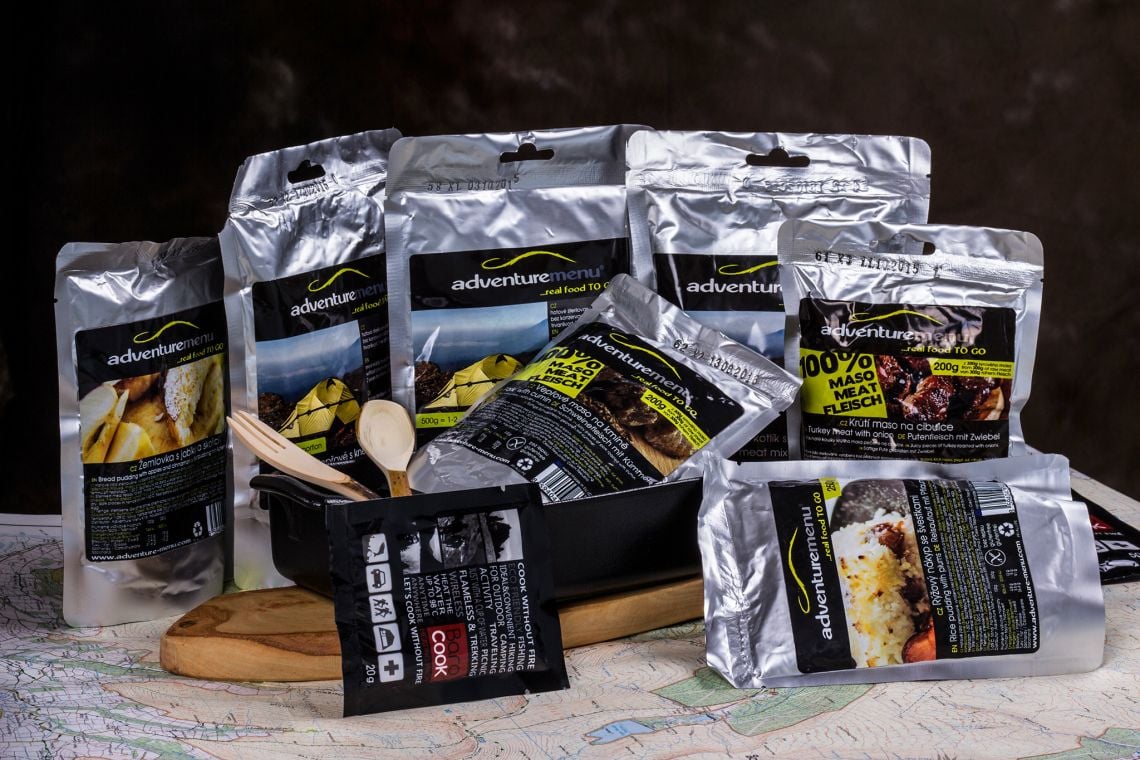 While it's not very likely that you'll be far away from food shops on your next tour or adventure if you're venturing off the beaten track it can be a good idea to have some food stored in your panniers.
Raw ingredients take up a lot of space, take time to prepare and perish if left unused for long enough. Tin food is equally cumbersome. That's where camping food comes in handy.
Camping foods are basically pre-made meals that don't need refrigerating, have a shelf life of a few years and only need to be heated up on a stove for a few minutes before they're ready to eat.
It used to be that these pre-made meals weren't particularly appetizing, but over the last few years camping meals have been coming on leaps and bounds in terms of taste.
AdventureMenu is a relative newcomer to the outdoor food market. The Czech Republic-based company offer handmade pre-prepared meals with a three-year shelf life and an average of 600kcal per meal.
They have a variety of main courses and desserts to choose from and after trying a few of their packs I can do nothing but recommend them.
They offer a very simple and hassle-free way of heating their products as well.
Of course, there's the old fashioned stove and pot method, but AdventureMenu also offers a flameless heating option requiring a small amount of water, a flameless ration heater pack and a zipper bag (all of which can be bought from their website).
Your food is heated by a chemical reaction. The packs provide enough heat to warm your food thoroughly in 20 minutes and it really is a hassle-free way of cooking – there's no washing up and the zipper bag is re-useable.
How does the food taste? Pretty damn good actually! I tried the chicken and rice in wild sauce and rice pudding with plums, both were fulfilling to eat and are definitely tasty enough to get excited over after a long day in the saddle.