After an exciting week at Motorcycle Live, Bryn Davies reflects on what's new for the world of motorcycling…
During the making of issue 32 of Adventure Bike Rider magazine we took a week out of our schedule to man our stand at the UK's biggest show for motorcycle enthusiasts, Motorcycle Live. Over the week of 28 November – 6 December, 110,512 people descended on Birmingham's National Exhibition Centre for nine days of two-wheeled entertainment.
Over 180 exhibitors, including the biggest names from the world of motorcycle manufacturing, had a presence and while the number of visitors may have been slightly down from last year (bad weather certainly didn't help) it was once again an excellent show of support for the motorcycle industry in the UK.
Nestled amongst the exhibitors in hall four was the ABR stand, where it was humbling to meet so many subscribers and readers, new and old, who support the magazine and all that we do. For anyone who popped on to the stand to say hi, thank you!
There was a positive energy around the four halls of the show despite the 6% drop in attendance from last year, and it was great to get to meet the faces behind not just the biggest brands in the industry, but the smaller, more unique companies too. While it was hard to get away from the ABR stand, we managed to dash around the halls and here's what we found:
Every now and then a small drone would fly over our stand, and after following its flight path we came across Micro Drone. The company manufactures the impressively small, stable and competent Micro Drone 2.0 Quadcopter, which is no bigger than a side plate and comes equipped with a fully removable camera for just £120, or £130 for the 640p HD version. The Micro Drone looked like it'd be a great piece of kit for filming some cool bike shots!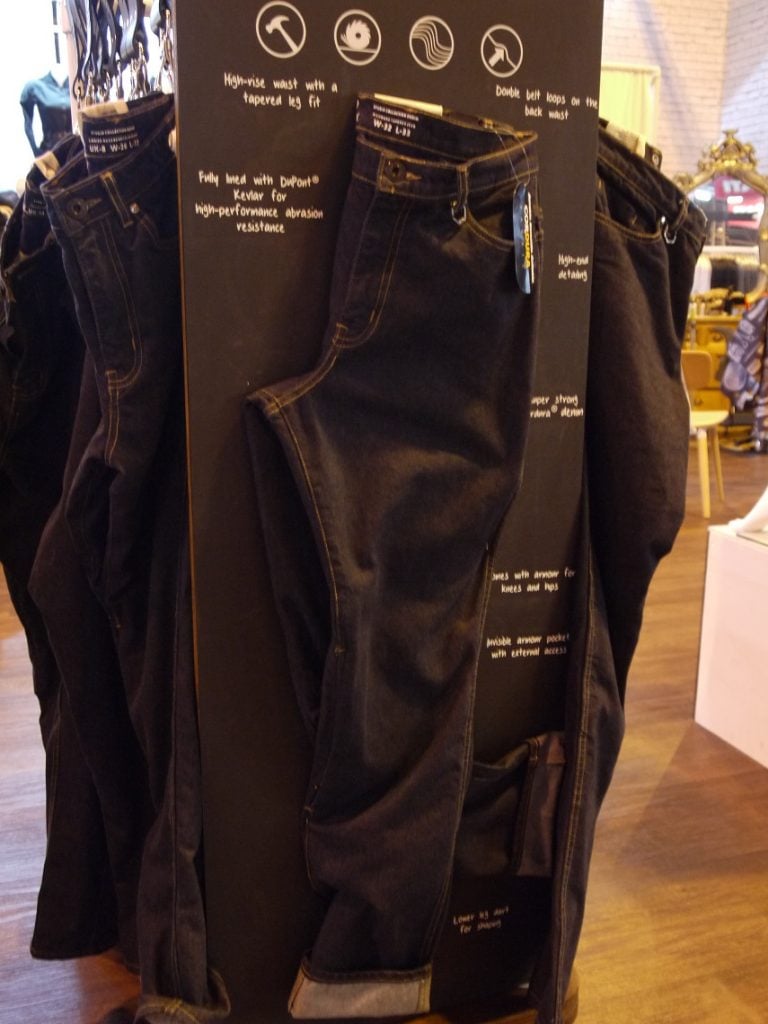 As always, the Knox stand was beautifully designed, though this year it had a barbers (yes, you read that right) on site so customers could get a fresh trim. Quirkiness aside, it was great to see new additions to the company's fantastic Studio Collection in the form of the Richmond Jeans and the Zephyr Jacket, two products that will fit seamlessly into the ethos of the stylish yet functional and protective collection.
Potentially one of the coolest products we got to see was from HybridX, a new brand which has spent seven years developing an advanced nano-coating to protect your bike's plastics from all of the grime and dirt that seems to be magnetically attracted to your pride and joy.
EX1 is a cleaner and conditioner that utilises nanotechnology to work its way under the dirt and lift it off the surface of your bike, a feat that was demonstrated when engine oil was squirted onto my hand and then lifted off by the product.
Next in line is, confusingly, EX6, which HybridX describes as stage 2 protection, and then finally you add EX3 which forms a barrier with negative polarity to actively repel dirt and dust. If you want to keep your bike looking sparkling clean, then this is the product for you.
In the world of helmet cams, it's quite hard to look beyond the market leader, GoPro, though there are some awesome new devices emerging. The MycroCam is one of those. A visit to the company's stand revealed what has to be one of the smallest and lightest helmet cameras in production, at just 17g in weight.
Top-tier adventure motorcycle clothing brand, Klim was showing off an array of jackets and pants, but it was particularly interesting to get a glimpse of the company's new glove range. Klim has introduced a replacement for the popular Element glove, the Quest, as well as the Adventure Glove. Both models will be incorporating GoreTex's new Gore Grip technology to offer a supposed superior tactility and dexterity while maintaining waterproofing and warmth. Both gloves will retail at the £150 mark and we'll be looking to get our hands in them in a future issue of ABR.
Masters of protection and armour, Forcefield, were showcasing several new additions to their range, including an updated version of the already so well received CE Level 2 Pro Back Inserts.
A brief stop at the SHARP stand, the government funded helmet safety scheme, revealed that there are no plans to test adventure styled helmets. It was the same story as last year with the reason behind the choice being a lack of funding and the capacity to test just 30 lids a year. With adventure motorcycling becoming so popular, and adventure-styled helmets being seen more and more on the roads, we'd like to see SHARP providing their brilliant service to this sector.
Rumours from the Bell stand suggested that there will be a new, highly spec-ed adventure-style helmet in the pipeline for 2016. The new model will make use of Bell's exciting three-layer impact liner which helps to provide a 'progressive' energy management system to absorb impact and lessen rotational forces. It's expected to retail upwards of £450.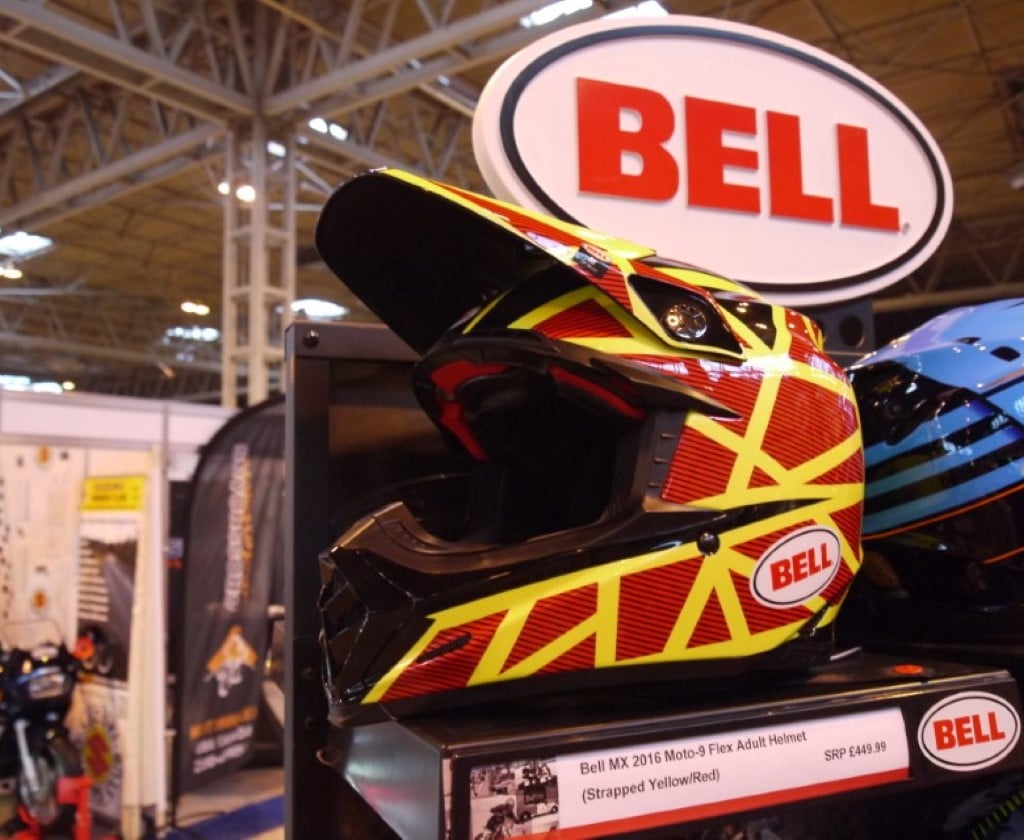 A short stroll over the aisle from Bell and we were standing on the LS2 stand, looking at the company's new Pioneer MX436 adventure helmet. At just £99.99 the lid looks to represent astounding value for money and it comes in three awesome colourways, the black and neon green being particularly eye-catching. We'll have a full review of the Pioneer in a future edition of ABR.
To complement the ever-popular E-10, Mitas has released the Terra Force-R, a tyre that's bound to be of interest to any adventure rider who likes to stick mainly to tarmac while having the option to nip down a green lane if the desire takes over. With a 90/10 on/off-road split it'll compete with the likes of Dunlop's Trail Smart and sizes available for the initial launch will be 110, 140 and 150 with a model to fit the GS out later in the year. Speaking of the GS, Mitas will also be launching the E-10 to fit new water-cooled models.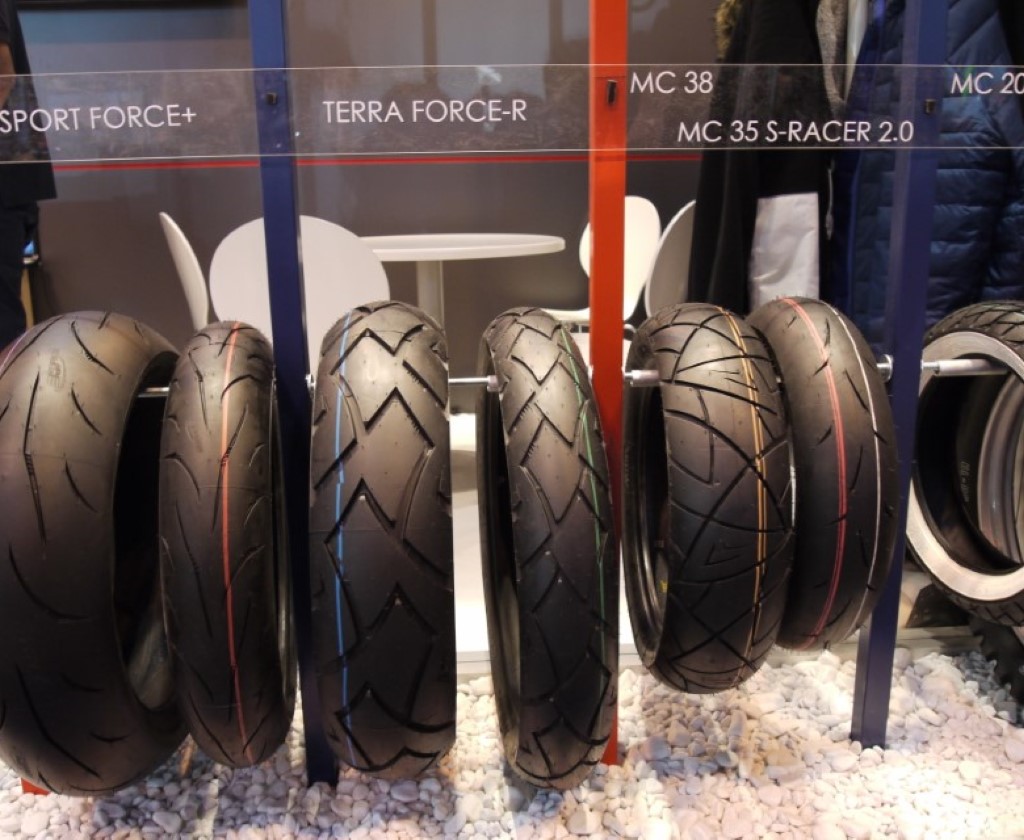 Adorning the side of the Hideout stand was Rebecca Ferguson in some awesome looking leathers which Hideout produced for the filming of Mission Impossible 5. While that alone was interesting to see, we were also told about a partnership with Helite to include airbag technology in the brand's new ranges, a great advancement in safety.
Hideout was also showing off its beautiful range of made-to-measure leather jackets and textile suits, including the HiPro which will retail at £950 for the jacket and £650 for the pants. We'll be heading down the British manufacturer's factory to see first-hand how the clothing is made, so keep an eye out for that.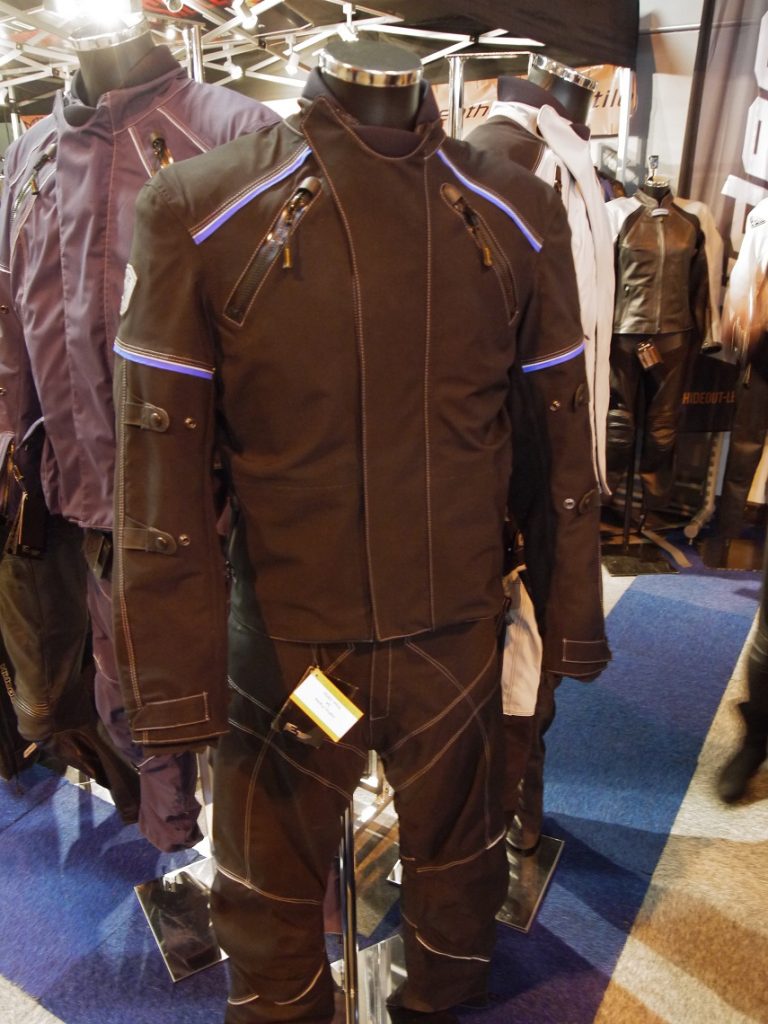 It was great to see a presence from the Trail Riders Fellowship as they continue their excellent work in conserving the country's green lanes for our enjoyment.
GSB has a new budget adventure-style helmet out which will be attractive to those looking to get into riding on a shoestring, the X-Touring which will retail at £69.
I then stumbled across a brand that I had never heard of when I walked onto the MBS Moto stand and was shown the MJ21 James textile jacket. It seems that the company is aiming to provide riders with unbelievably affordable kit, with the three-layer jacket costing just £100.
Around the corner, Uclear was demonstrating its two-way boomless helmet communication device. The HBC100+, isolates the rider's voice to eliminate wind noise using technology that has previously been used by the military. At £123 for a single headset, and £207 for a double, it looks like a good option for those who travel with a partner and don't like a microphone boom pressing into their face.
Riders For Health were raising awareness of what they do, training health workers in Africa how to ride and maintain motorcycles to deliver healthcare in the wilds of the continent. After hearing the passion with which the workers spoke, it was hard not to be enthused.
Chain oiler specialists, Scottoiler were present, giving technical support and talking customers through the installation of its incredibly useful chain oiling systems. The company was also celebrating its 30th birthday in style, giving away 30th-anniversary t-shirts and goody bags.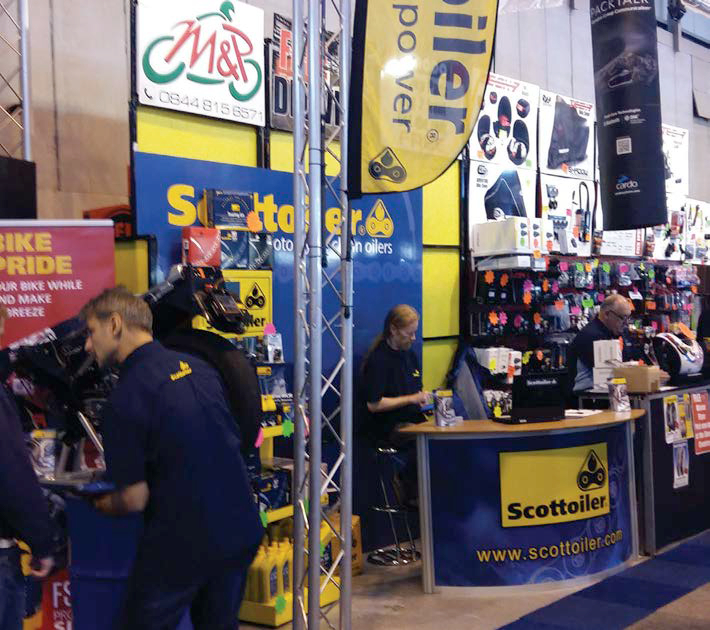 It was great to see that Shark has shown a desire to please its customers by listening to feedback and it has updated the Evo 1.0 helmet by making it smaller in volume and easier to operate. The Skwal helmet was also on display, showing off its neat built-in LED lighting.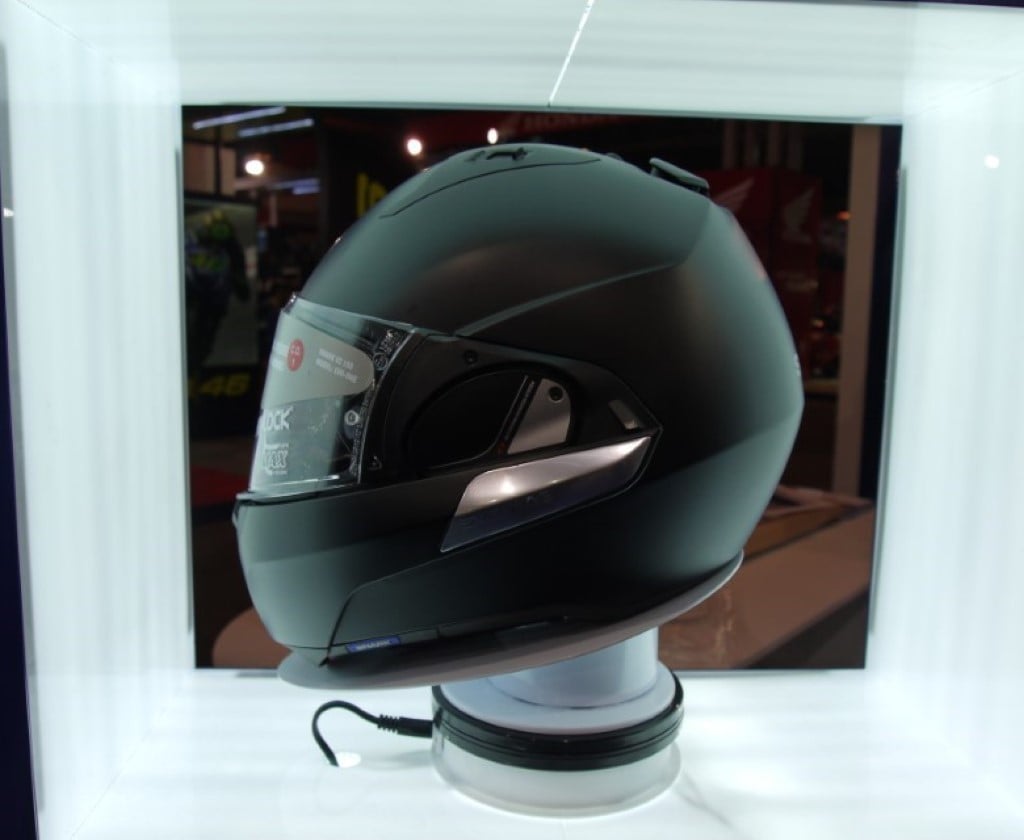 To coincide with the massively anticipated launch of the Africa Twin, Honda is looking to capitalise on the wave on excitement by releasing a clothing range. While not much is known about the specifics just yet, on display at the NEC were Alpinestar Toucan boots, an Arai Tour-X helmet and a full textile suit, all with the Africa Twin branding.
Halvarssons is continuing with the highly-rated Quirzo textile jacket and Q Pants, though for this year they've introduced a new dark green colour that looks gorgeous.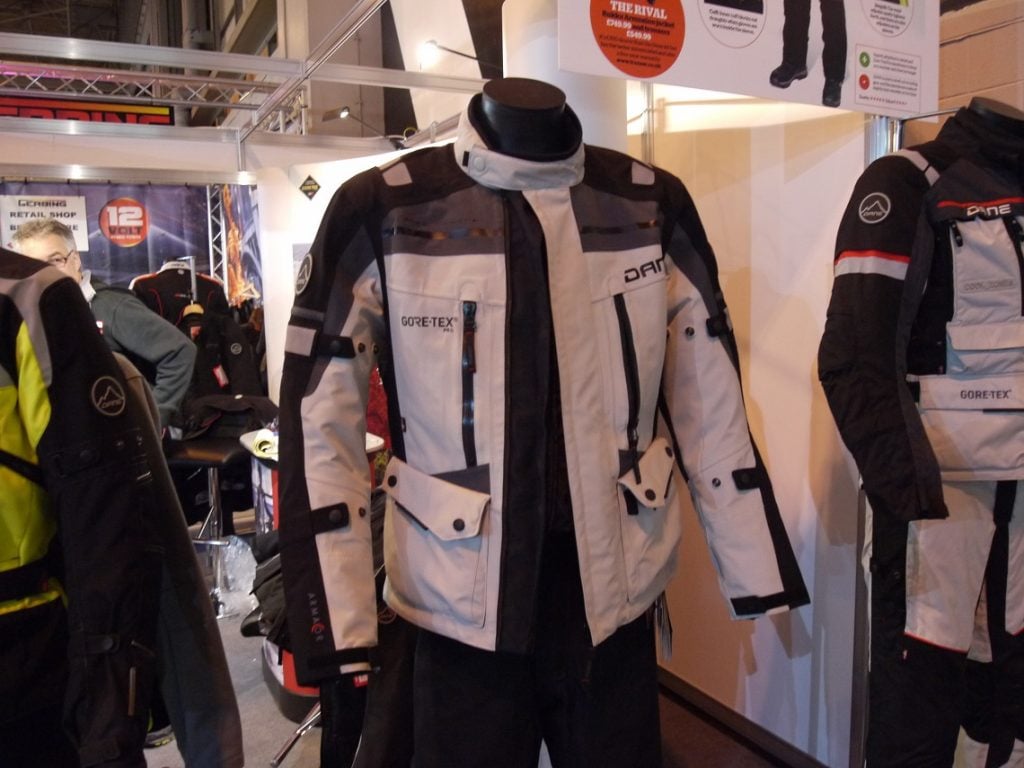 It was great to see a presence from Dane as I've been using the company's kit quite a bit recently. Based on the feedback of the Osted jacket Dane has released the Sealander laminated jacket which looks like a brilliant piece of kit.
While it was hard to move on the packed BMW stand I managed to get a glimpse of the company's new Rallye Suit. The updated model makes use of an incredibly soft and supple wool and Cordura mix to offer abrasion resistance that's claimed to be up there with the best, while also allowing the flexibility and comfort of a 'normal' jacket.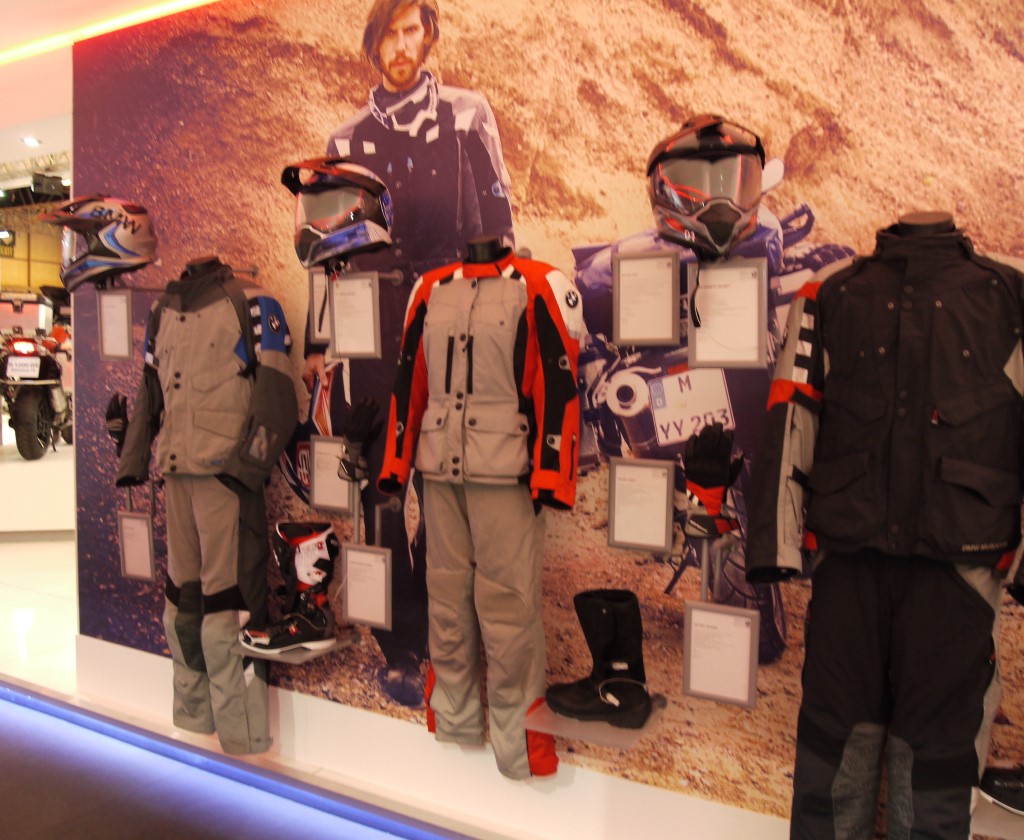 These will retail at £550 for the jacket and £455 for the pants. Excitingly, BMW has also partnered up with Alpinestars to make use of the Street Air cordless airbag technology and will be incorporating it into the BMW Airbag Jacket, it won't come cheap though and you'll have to be prepared to fork out £1220 for the jacket.
All in all, it was an exceptionally enjoyable show. It was great to see so many happy faces strolling around the halls and popping over to the ABR stand to say hi. The manufacturers had some beautiful kit and machines on display with, unsurprisingly, the Honda Africa Twin stealing the show. We'll be getting our hands on much of the kit mentioned above in future issues of Adventure Bike Rider magazine to give you a full rundown of what you can expect.