With the realisation that his BMW GSA was too tall and heavy for him, Duncan Evans set out to build his own custom R65Gs
For me, and I'm sure for many others, adventure riding involves far more tarmac than Moroccan desert. Don't get me wrong, I still hope to one day ride in the more extreme adventure environments, but for now, my rides are within Europe. Having toured on a number of motorcycles I couldn't help but notice that the BMW GS seemed to be eating the miles painlessly; I had to have one.
On the move, the bike was effortless: chewing up big distances and providing all-round comfort. However, working the fully loaded bike in traffic or manoeuvring on foot to park or getting onto a ferry proved a challenge With the realisation that his BMW Gsa was too tall and heavy for him, Duncan Evans set out to build his own custom R65Gs due to the height and weight of my Adventure model. This got me thinking about the earlier GS range. They were designed to provide the owner with the ability to go off-road but had much more of a trail bike feel about them and had yet to evolve into the fully blown battleships of the desert that we see today.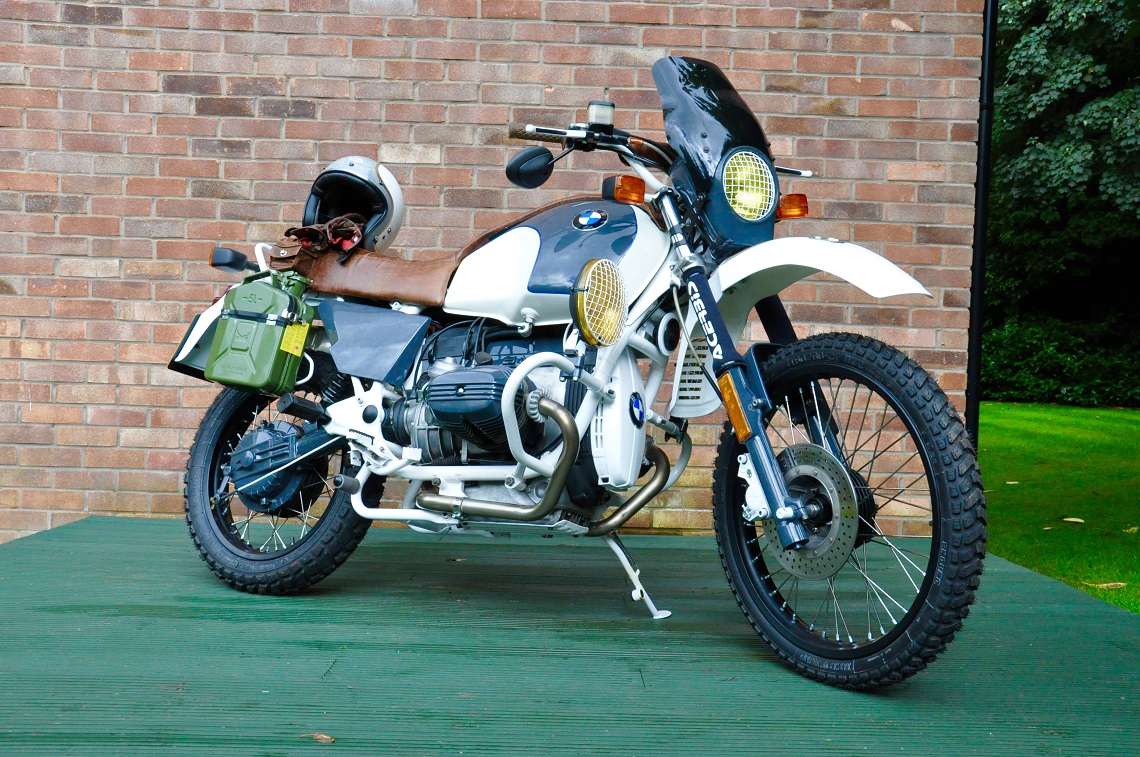 Looking into the history of these earlier models I noticed those used by the factory to prove just how capable these bikes were. The look of these early enduro models convinced me that this was the style of bike I wanted to build.
I set about finding an early R80GS and ended up with an R65GS. This was a very early model, not made in huge numbers and mostly used by the French police and the Belgium military. It had been used for green laning and had seen quite a bit of action. The engine and box seemed fine, no noisier than all the others I had heard. The rest of the bike was tired, to say the least, with the ugliest aftermarket side stand I had ever seen. So, with the decision made the bike was stripped completely.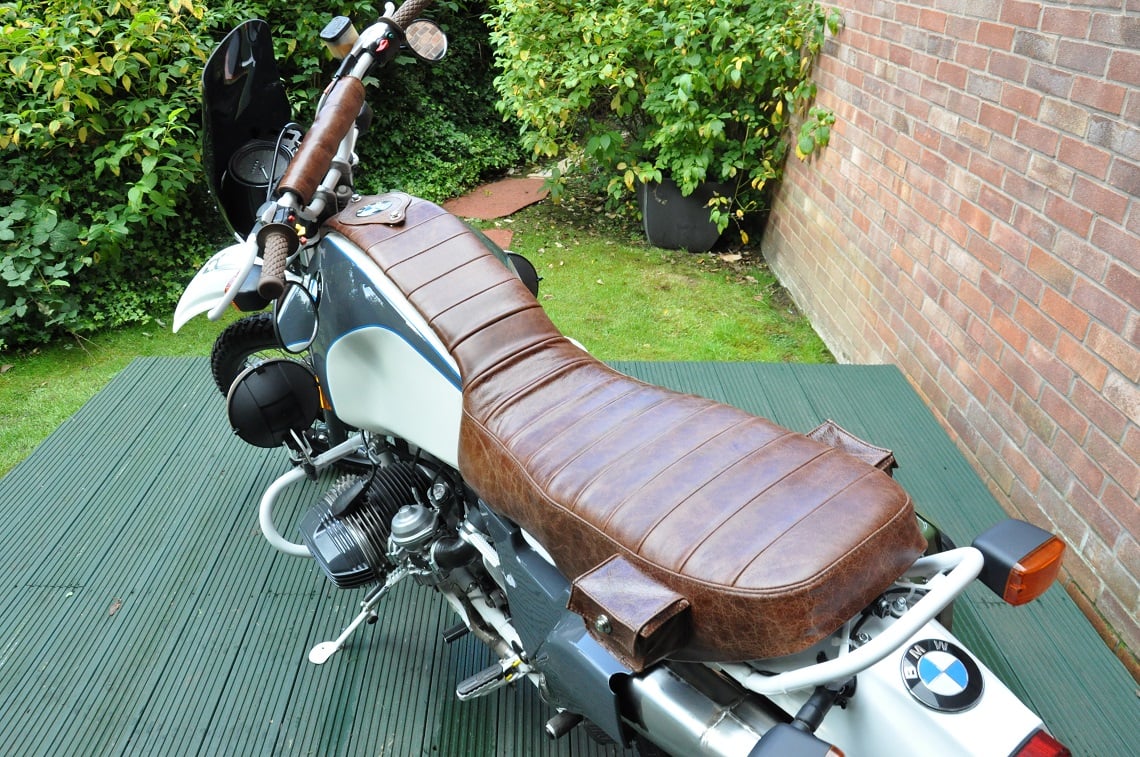 I had to decide how it would look, handle and sound. This machine would be used mostly for commuting and day to day enjoyment riding. I felt that a subtle change in design and the addition of some uniquely styled items would give me a great urban adventure bike. It should look and be finished as well as any road bike and have features worthy of inclusion in the Shoreditch Bike Shed Show. It should also not be overly noisy as I live in a flat and start work early, I don't want to wake my neighbours.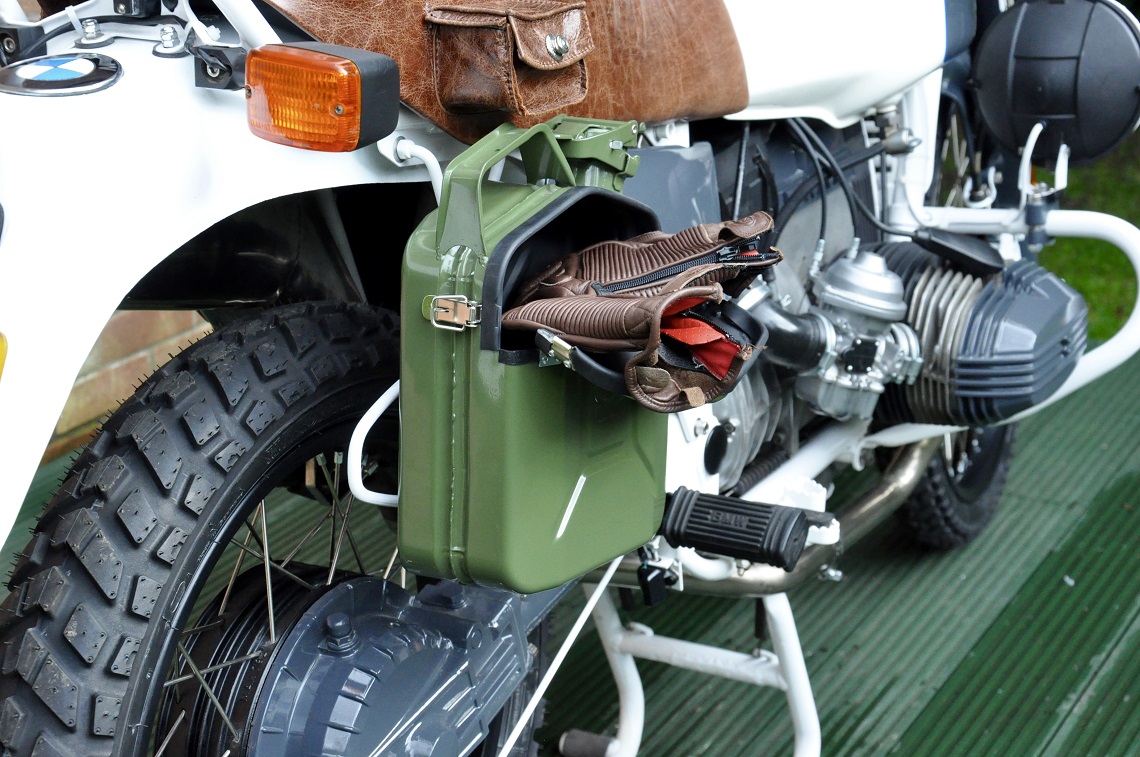 Once I had stripped the bike down I split everything into groups: items for powder coating (wheels, frame, bars and brackets); items for painting (tank, side panels, fork legs, rocker covers, and nacelle) and items for overhaul (starter motor, brakes, lights, forks, loom). The saddle needed to be constructed from two saddles (this tested my fibreglassing skills), one to fit the tank, running up it, and one to fit the sub-frame (the previous owner had forced a saddle to fit).
Over the next few months, parts started to move to the cleanroom (my flat). With all bearings and seals replaced, final assembly began. Putting the bike back together was a pleasure. Even replacing the newly coated rims with stainless steel spokes was surprisingly fun! New Heidenau dual-purpose tyres were fitted and with the engine and loom back in the frame I had a rolling chassis, all wiring completed (including a micro switch for the rally lights) and tank in place.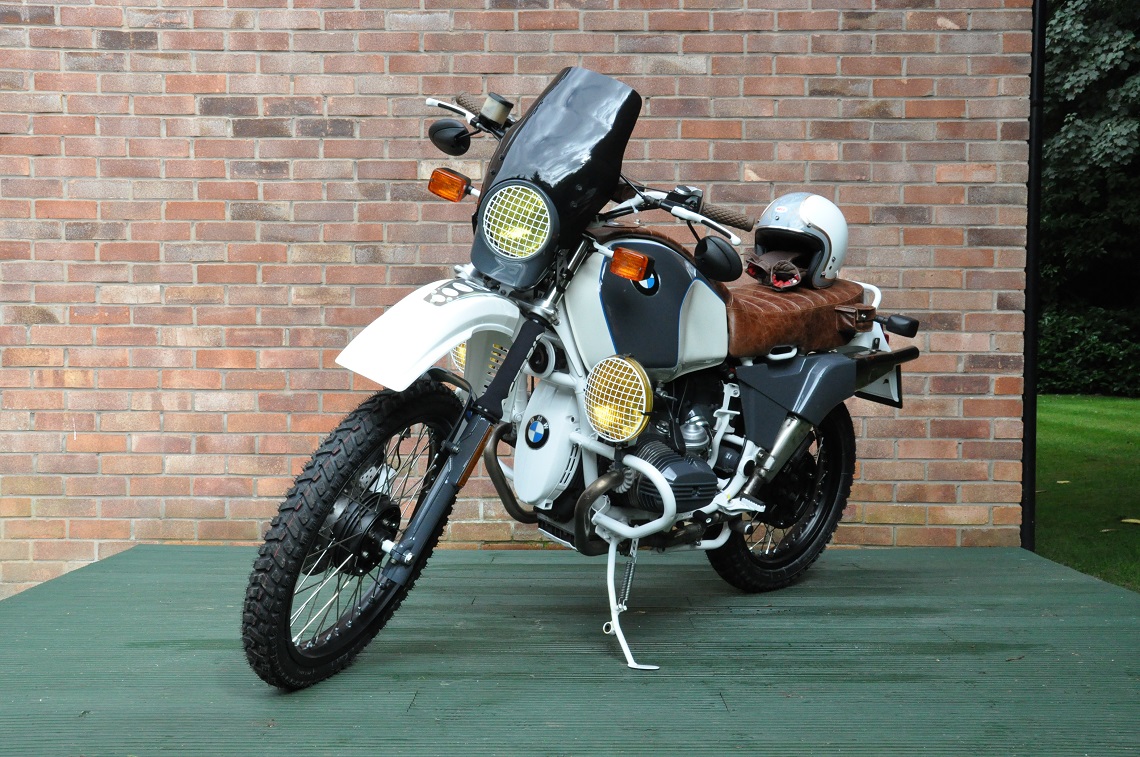 The trimmer was finally able to measure up and complete the saddle. I decide a pannier was needed but couldn't find one in keeping with the look, so I decided to make one from a 10-litre fuel can. All new fluids installed and bled and the R65 Urban Adventure was finished. It passed the MOT, and she is a great ride.
Soon to be up for sale, to make way for the next project (hopefully a Yamaha TT 500).
---
Do you have your
head
 i
n the shed
?
If you've got a DIY bike project to share, email details to [email protected] with a few pics of your handiwork, and if it's featured we'll send you some stickers for your pimped up steed.