Bryn Davies takes our long term Tiger 800XCx on a ride north in sub-zero conditions
With the turn of the year there's a lot of excitement around a raft of new adventure bikes being launched (whether they be all-new, like Honda's CRF1000L, or updates on existing models), and so it can be quite easy to forget about the great machines that already grace the show-rooms and listing pages of online auction sites. This issue marks the twelfth month that we've had our long term Triumph Tiger 800XCx, and in that time we've taken it on some pretty interesting trips around the UK.
This time we took the Tiger up to Bar-ton-upon-Humber for a ride of the Viking Way.
While this winter has been a mild one for the most part (at least in Warwickshire), there were two or three days that saw the mercury dip below 0C.
As it happened, it was on those days which we rode north to the Humber estuary.
In the last issue of the magazine I praised the Tiger's hand guards and heated grips, but the wimp in me, and a coincidental group test, saw me fitting bar muffs to further protect my hands from the elements.
I decided to go one further still and wire up my Powerlet heated jacket for the journey, the same heated jacket that had incapacitated the ABR 2011 Suzuki V-Strom 650 on a previous ride to Wales, by draining its battery.
As it transpired, on what was the coldest day of the year so far, I had never been warmer on a motorcycle. My hands were almost too warm, and man was my torso on fire! Admittedly, and as you might expect, the handguards impeded the fit of the muffs somewhat, with them slipping out of position every now and then.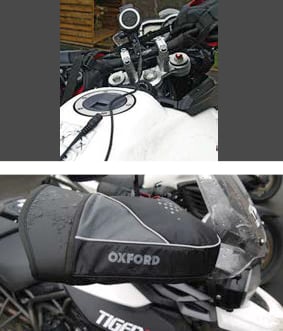 In fitting the bar muffs, I noticed something about the Tiger that had gone unappreciated for the last few months. The controls are all easy to reach and the positioning of them is intuitive to the point where I could operate them effectively blindfolded by the muff s. I also fitted a tank bag to the Tiger and found the bulbous tank to make for quite an awkward fit.
During the ride, I got to appreciate how stable the 800XCx, despite being touted as the more off-road Tiger 800, is at high motorway speeds in blustery weather. I would expect the XR to be even more stable still, but you'll not feel uncomfortable on the XCx when the wind starts a'blowin.