The ugly duckling that's grown into a swan. Alun Davies takes a grand tour aboard the rather dashing new version of Kawasaki's Versys 1000
'What kind of dog is that?' asked the Western explorer. After much thought, the Chief replied, 'he's a good dog'.
Whilst there are certain values in dividing things up and labelling them in boxes – Quality Street, for example – the recent trend in UK weather forecasting to tag climate systems as hysteria-inducing headline brands, such as 'super-storms' and 'vortexs', is having an unhealthy effect.
What used to be advised as a 'wet and windy Thursday' by bespectacled middle-aged men in starched white collars has now become 'Super-Storm Clive' and 'Gertrude the Vortex' to a younger generation of presenters high on Hollywood dentistry. This, in turn, has opened the front-page editorial window for the likes of the Daily Express, The Daily Mail and Mirror to predict a meteorological armageddon twice weekly between the months of October and April.
The UK media in general is hell-bent on squeezing every last cataclysmic metaphor out of a weather prediction that's slightly north of 'average temperatures with a spot of drizzle in Basingstoke'. And rarely, if ever, do events turn out to be anything remotely as bad as the rampant tempest of the prediction.
Just the other day, for example, the MET office and BBC adopted this comic book style narrative with 'Storm Barney' where all but a parting of the waters were prophesised to hit a forlorn UK. Some of you may be detecting an element of Michael Fish in these words but on my reckoning, modern-day weather presentations come with a level of accuracy more akin to a nuclear fusion thesis knocked out by a two-year-old using soft crayons in a sandpit.
I yearn for the trusted forecasts of old based on empirical data, sound science and sticking a finger out of the window presented with the flash of crisp neckline and a modicum of decorum.
I was weighing up just this very thought as a vicious 65mph crosswind stuck the Kawasaki Versys 1000 close to the Welsh border. Storm Barney was in full force al-right to the point that I wasn't exactly sure if I was riding on the M5 or surfing down the River Severn, only the severity of the current offered a clue.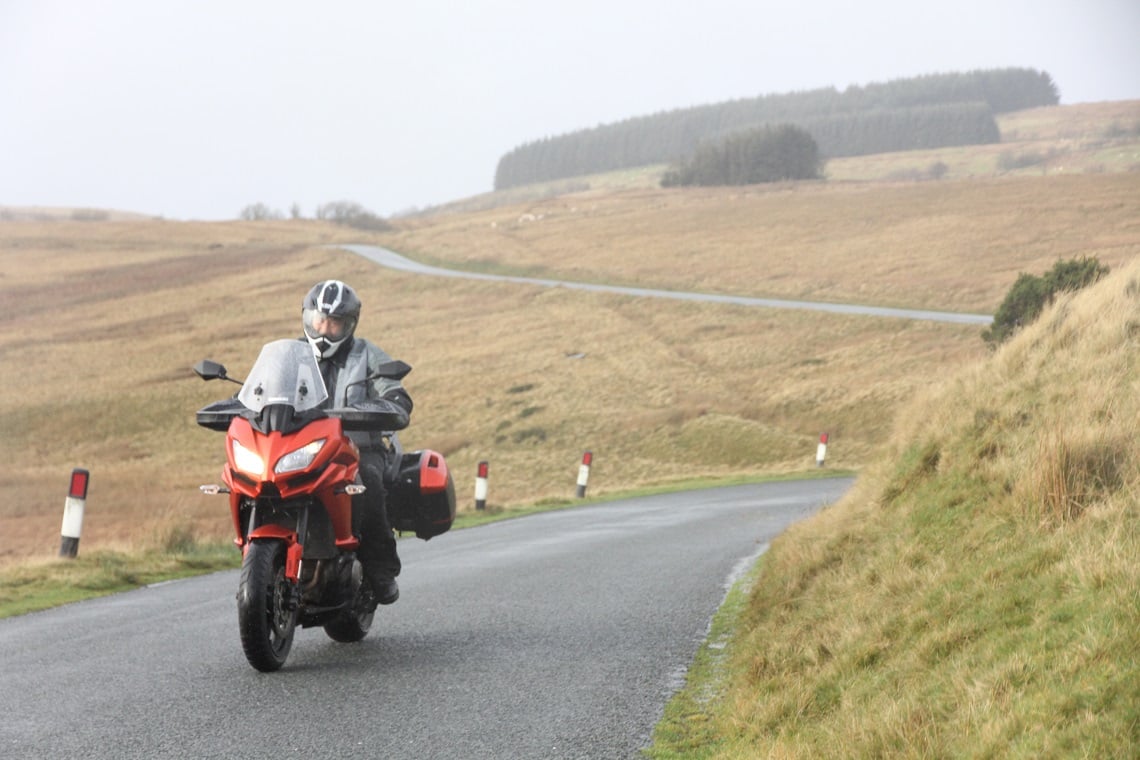 The second thought that passed between my ears was 'I've been here before'. About two years previous, on a Versys 1000 test ride to Wales, I bumped into Moses limbering up in the storm-lashed service station overlooking the Seven Estuary. Wind, rain, Wales and a Versys. I'm sure there's a book there somewhere or at least a new chapter in the Old Testament.
Anyway, on arrival at Miskin Manor, just north of Cardiff, I can happily report that despite the Biblical nature of the storm en-route I'd actually enjoyed the ride. The new higher screen and front end on the Kawasaki had offered considerable protection from the elements and even in such high winds, the Versys was as stable and predictable as I could expect.
It was only the lack of heated grips and wind deflectors on the test (standard) bike that caused any discomfort which was made tolerable by the last-minute fitting of a set of Oxford Muffs and a doubling up on gloves.
It's not the first time I've said this, and Kawasaki are not the only guilty party, but to tag a bike as a 'tourer' and not include such basic long-distance travelling features as heated grips and wind deflectors as standard is on a par with selling a touring caravan without a roof and a bed. With the exception of the dedicated masochist, both are essential for rider comfort when touring in the UK as they are for summer trips to Europe, where it's not uncommon to experience freezing temperatures in the Alps during August.
The next morning things had calmed down to a mainstream Tornado so I took the opportunity to spend a few moments getting to grips with the visual delights of the Kawasaki. It has to be said that the original Versys 1000 was about as far away from being a looker as my weather fore-casting allegiance was to making any intellectual sense. The previous version of the Versys will, in time, be very near the top of a retrospective Top Ten magazine feature entitled 'What were the designers on?'
The good news is that the new Versys has left the ugly bug ball and morphed into a dashing cavalier that I'm more than happy to report draws admiring glances from young and old. The visual transformation is immense and sets the scene for early-stage bonding with a machine that always was, and still is, a very good adventure styled sports touring motorcycle.
From the off the seat is immediately comfortable and stays that way until you decide to call an end to a long day on the road. As I sit here typing this I'm genuinely struggling to think of a more comfortable perch and therefore quite happy to state that I reckon it's the top in its class. Added to this the ergonomics are spot on with the pegs and grip positions perfectly complementing the first-class saddle. If it's comfort you're after then even at this stage of the review the Kawasaki is worth a test ride.
Here's another compliment I'm going to throw Kawasaki's way; despite this essentially being a new bike to me and the fact that I had fitted bar muffs and was therefore operating the controls blind, with the added distraction of a torrential storm, I was able to operate all the handlebar controls with confidence from the off. And to put that into perspective there have been a few bikes of late where I've still been trying to work out the controls and their relationship with the bike and dash display when handing the keys back to the manufacturers. Well done Kawasaki, but please, next time heated grips and wind deflectors.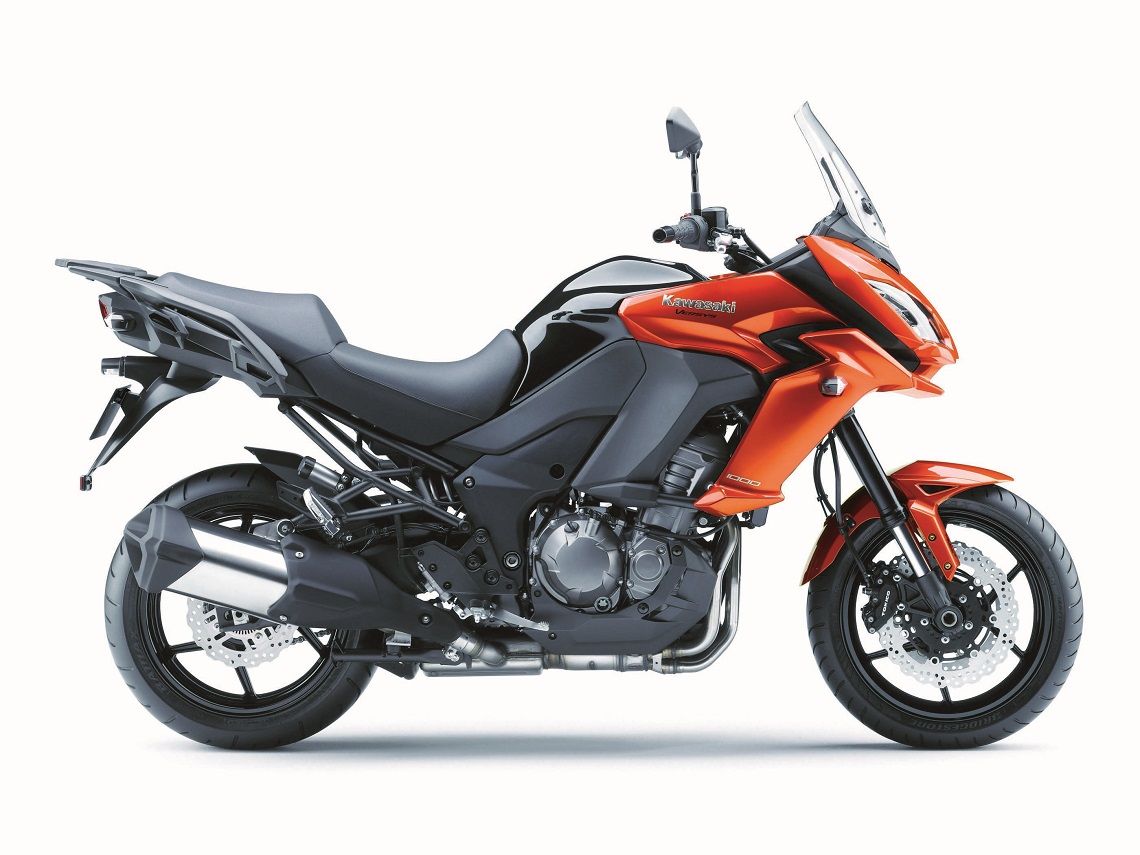 A seat height of 840mm offers a com-manding view and will allow riders above 5ft 7in to place both feet on the ground. At 6ft 2in my boots were planted firmly from heel to toe which makes moving the extra bulk (11kg more than the previous version) of the bike a no-sweat operation.
By modern hi-tech motorcycle standards, the Versys is old school though it does come with two ABS power settings (full and low) and three-stage traction control – four if you include 'off '. Prior experience of the Kawasaki intervention settings have told me that both the ABS and traction control are well up to the job and there's been nothing other than confirmation of that on the new Versys. Better still, and in keeping with the rider-friendly controls, it's a very simple and intuitive operation to switch between the various settings.
The suspension on the new Versys has been upgraded offering 150mm of travel both front and rear and you can alter the pre-load and rebound damping.
In use I found the suspension a little soft for the 'sportier' side of the equation but absolutely spot-on for the more relaxed 'touring' sections of the ride.
Overall, and in the real world, I've no complaints; from sweeping around fast-paced A roads to negotiating gravel-strewn single tracks in Mid Wales to blasting down motorways the Kawasaki never felt anything other than stable, precise and comfortable.
Returning to the unfortunate appearance of the original Versys, the old bike did possess one endearing feature of such great appeal that it could make even the most ego-driven rider rise above the skin-deep nature of lust and settle down into a long term loving partnership. And fortunately, that can still be found on the new Versys 1000.
The Z1000RS derived inline-four engine is one of my most favoured power plants on the road. The internal modifications made by Kawasaki engineers have produced an engine that, in my mind, is one of the most rider-friendly in production. It is simply stunning how this machine can tipple along at under 30mph in sixth gear and then when demanded, pull smoothly and quickly without hesitation or complaint right up to speeds you'll not want to be doing anywhere other than an unrestricted autobahn.
The low and mid-range torque of the Versys is smack bang where just about every rider is going to want it. There's not many bikes where I could confidently state this but I'd eat my five-year-old adventure boots if any ABR reader that's looking for an adventure sports tourer answered the question 'what do you think about the Versys engine?' in any terms other than 'it's a peach'.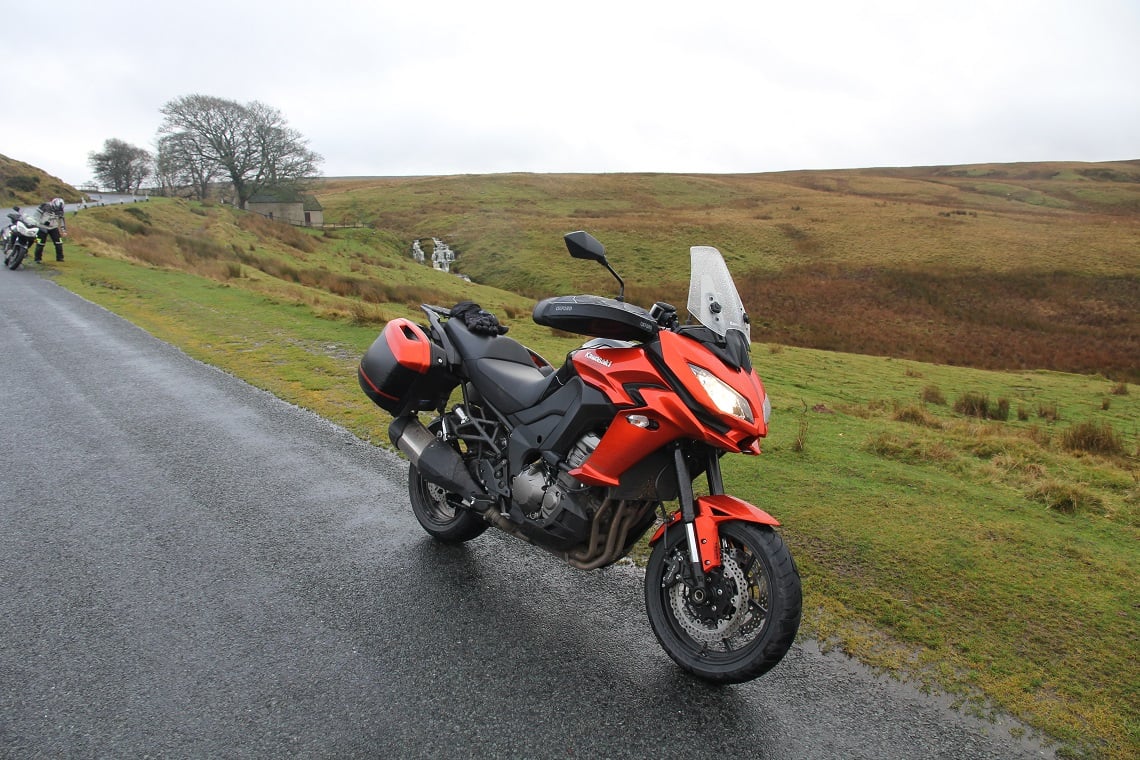 If you appreciate the wheel lifting side of riding, this bike will do it straight off the throttle. If you admire a machine that'll pull you smoothly from 1,500rpm in top gear up to speeds in excess of 130mph (and above, but I detected a wobble creeping in at 130mph) the Kawasaki will delight. If you value touring in a relaxed scene ad-miring mode, then ditto. Such is the broad spread of the torque (120bhp), gear changing on the Versys is as close to optional as you are going to get it.
And speaking of gear changing the Versys comes with an assist slipper clutch which in use produces a light feel – if you bother using the clutch – and reduces the back-torque at the rear which if needed in extreme down changes stops the back end from locking up and producing unnerving bunny hops.
I've been riding the new Kawasaki Versys for over a month now but that two-day trip in Wales told me all I needed to know. If you're looking for an adventure sports tourer and you've no aspirations of heading off-road then the Versys is definitely worth a test ride. It may not have the pizazz, giz-mo's or outright performance of machines such as the BMW Z1000XR or Ducati Multistrada but in everyday use, this bike will delight, it'll even part the occasional sea or two. I know so.
---
ABR Verdict
As a commuter
If I have a complaint then it's that my commute to work is too short. Despite being a large adventure sports touring bike there was never an occasion where I felt I'd rather be on something else. The big Versys is surprisingly agile and comes with a stance that provides good visibility and yet is still low enough to plant both feet firmly on the ground. I keep looking for longer ways to the office.
As a weekend tourer
Excellent comfort, bags of usable power and that holds true when stacked with a pillion and luggage. No stress high-speed motorways capability is backed up with handling and the kind of low and mid-range power that makes sweeping down country A-roads an effortless blast. There's not a more comfortable or practical (when equipped with essential add ons) adventure sports style bike for a weekend battery re-charge.
As an off-roader
There's a one-word answer I could have used here but I'll stretch it into 26 and see if the sub-editor cuts it down…No.
As a continental tourer
Good fuel consumption, a tank range of over 200 miles, probably the most comfortable seat on the market – short of upgrading to a top of the range divan – means the Versys 1000 has all the essentials that make for a great continental cruiser. The beefed-up sub-frame will take the extra weight of a pillion and luggage with ease and that 1000cc engine is one of the best out there for long-distance trips.
As a pillion carrier
Reports from the back perch have consistently been delivered with a smile. The seat is so comfortable that I'd not be surprised to find it in the lounge in front of the TV and the settee in a skip. With little to zero buffeting, this is a bike that'll drag your two-wheeled partnership back into the honeymoon phase.
As an around the world traveller
If your RTW plans include any off-tarmac episodes then look elsewhere. But not every globe-trotting adventure includes mud plugging and piste bashing and for those instances, I can't think of any reason why you could not head off into a setting sun on a Versys 1000.