Fresh from a few thousand miles blasting around Spain and Portugal, Dave Reynolds tells us how he's getting on with his long term Explorer…
If you'd told me a few years ago that cruise control on a motorbike was useful I'd have laughed at you. But having given it a proper chance, I'm converted. Riding down the M5 on the way to Plymouth to catch the ferry to Santander gave me the opportunity to try it, and man was it nice to relax the throttle hand for a while. The 2016 Explorer XCA has many more of these electronic gizmos.
The weather in Spain and Portugal was wall to wall sunshine so I left the power setting in sport most of the time, only trying off-road on some loose and rocky trails. It seemed to calm things down a little, and I'd say it worked well. I'll give some feedback on other settings after I've had more time to ride in normal blighty weather, including the heated seats which my other half thinks are the best idea ever.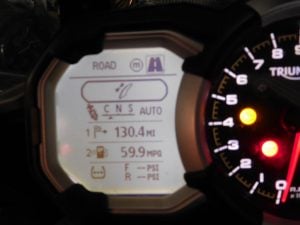 This bike is all about the electronics, so why not make the most of them?
Being able to alter suspension settings as the road changes without even stopping is clever.
Same for the screen when a refreshing blast of air is needed.
This was a solo tour, but I'll be doing a few two-up weekends soon to see how the big Triumph stands up to being fully loaded. Which brings me on nicely to the luggage.
The Explorer came with the expedition panniers and top box, made by the Italian masters of luggage, Givi. I can't praise the quality enough, they're robust and watertight with access gained by locks that match the ignition key. They're also very easy to remove and have plenty of places to strap kit to. Easily as good as any top of the range aftermarket kit.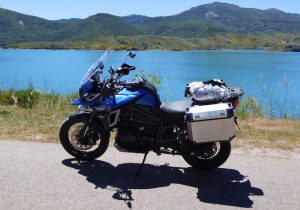 I can't be as positive about the tank bag though. It's obviously very well made, but a right faff when stopping for fuel and trying to gain access to the tank.
So, what was it like to ride for a couple of thousand-plus miles around northern Spain and Portugal?
Triumph has always been praised for the triple engines and the 1215cc in the XCA is no exception. Smooth, torquey and eye blinkingly quick when you want it. The fly-by-wire throttle is light and makes it so easy to enjoy the power of that luscious engine.
But I still managed to record an MPG of 59.9 over the trip, which was far better than I expected.
Apart from adjusting the gear lever position, I've found the seat to bars to footpeg position suits me perfectly, with there being no cramping at all. It's just comfortable all the way. Must be a good seat if I didn't suffer any discomfort, even on longer riding days.
A mention must be made about the Triumph adventure suit they sent over. It fits great, it's supremely comfortable to wear all day, and is very well ventilated for the hot weather, though I didn't get to check out how waterproof it is as it never rained (poor me!), so I'll report back on that in the next issue.