The bike that just keeps getting better…
In this issue of ABR, there's a feature on our time spent discovering the North East of England (Northumberland in particular) and what a fantastic time we had. It would be true to say that out of all our Discover Britain trips, this has been the highlight – and coincidently the only one where we were not deluged with rain.
Our second day was a classic and worthy of the 'adventure' riding tag. Kicking off with a few green lanes and deep fords south of the market town of Wooler followed by a ride over the Otterburn Ranges. This was topped off with a 12-mile ride down the UK's legal version of a Canadian logging trail – the Kielder Forest Drive.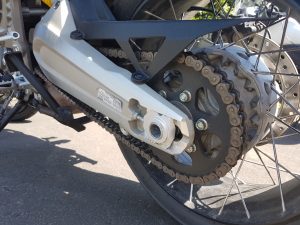 We had no idea how gnarly the green lanes would be nor if we'd have permission to enter the MOD land in the Otterburn section of the Cheviots, or what the conditions would be like. Such was the scarcity of information to hand, even in these days of online information overload.
Even so, I was confident enough in the ability of the Ducati Multistrada Enduro, if not my own off-road credentials to tackle what we'd find. As it happened, the green lanes were reasonably dry which was a blessing considering the Enduro is fitted with Pirelli Scorpion II tyres.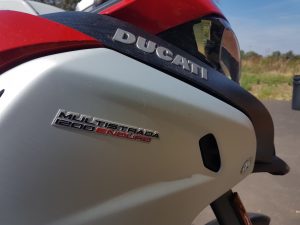 The last of the trails was a full-mountain traverse up and over a pass with rocky, rutted, steep and greasy sections.
Just the sort of conditions where I'd be happier on a 400cc dirt bike rather than a 225kg behemoth with full panniers and no crash bars.
For such a big, heavy bike the Ducati is a revelation in its off-road prowess. So much so I reckon that the Italian company have done themselves no favours by including the word Multistrada in the description of the machine.
When you consider that over 30% of the components on this bike are unique to the Enduro, and that includes most of the main components (with the exception of the engine and mainframe) the company could be considered guilty of misleading the buying public into thinking this is nothing other than the existing road bike with a new haircut.
The Enduro continues to prove its all-round worth as a true big adventure bike for such a varied day spent on mountain trails, single tracks and gravel roads. And when we were done, the long-distance comfort on the ride home was second to none.
The more I ride this bike the more I like it, I just wish the Italians would come up with a shaft drive version to better suit the rider and market it's aimed at.