When Jon Thorne-Taylor decided that he wanted to tour Europe with his dog and best pal, Skipper, he set out on a quest to make a dog-friendly pannier system…
For 10 years, ever since I got Skipper (my Jack Russell), we have been on adventures together and have generally been inseparable during day-to-day life. We have sailed the Atlantic and cruised 20,000 miles of the world's oceans together, we have climbed the three peaks many times, flown long haul, short-haul, in fixed-wing and rotor, travelled by car, van, camper, boat, paddleboat, kayak, dumper truck, quad bike, and golf buggy. And we've also been shooting, fishing, snowboarding, paddleboarding, windsurfing, skateboarding, mountain biking and camping together.
The fact that Skipper has been with me on all of these adventures has become a bit of a standing joke to anyone who knows me, and people always ask what adventure he's planning next.
Well, this year I took him on a 2,650-mile trip around Europe, stopping off at the BMW Festival in Garmisch before doing the Stella Alpina Rally in Bardonecchia, Italy. Skipper was aiming to be the first dog in the event's history to reach the highest point on the Col du Sommeiller on a motorcycle, so after buying a BMW R 1200 GSA I was presented with an important problem to solve. Where does Skipper ride so that he is comfortable, and we are both as safe as possible?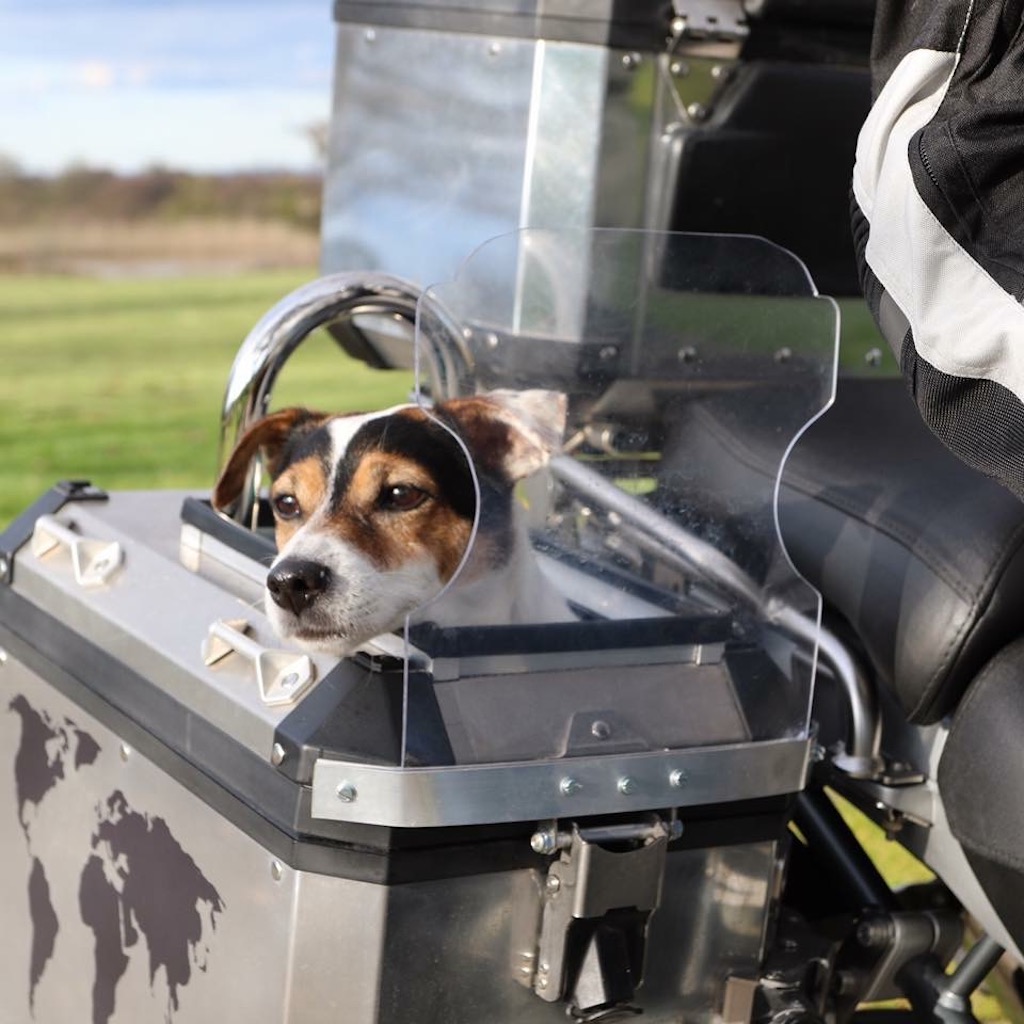 I had seen a great looking, purpose-made dog box that fitted onto a top box rack, so I trawled the internet to see if I could get one. As it turned out, the company that made them was no longer in business, so I thought I'd design one myself and get a fabricator to make it.
I took my drawings to a couple of places and they all looked at me as if I had fell from the moon. Dog on a motorbike?! After that, I gave the project a lot of consideration and shelved the rear box option as I didn't like the idea of not being able to see Skipper to check up on him.
My thoughts moved to making a tank bag, but he'd be too big, plus it would be uncomfortable and there'd be no real protection. So, left with only one realistic solution, I looked at the right-hand pannier, as this would be big enough as there's no exhaust cut out, and it wouldn't get too hot for him.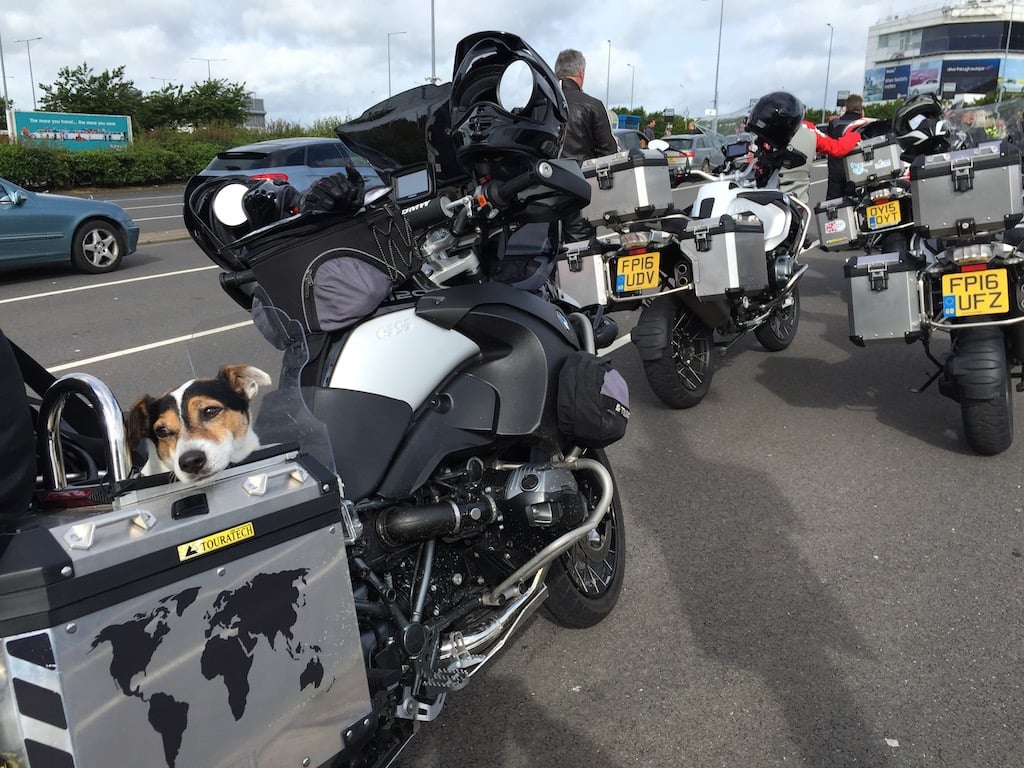 I had initially shied away from using the pannier due to concerns over stability if he were to move around, but it would be possible to equalise his 9kg body weight by compensating the opposite pannier. All I needed next was a spare lid and I could get started on the design, cutting a hole in it big enough for him to get in and out of. I did the obvious and searched eBay and the like, but to no avail. Up to the local BMW dealership we went and, would you believe it, they had one knocking around in the back.
When I got home I cut out the two locking bars and replaced them with a 6mm stainless tube sleeved over a threaded bar with a locking nut on either end. Next was to cut a hole for Skipper, adding extra padding for his neck and to allow him to rest his chin (which he likes to do).
Next, I created a watertight cover which could be placed over him if it rained and a sunshade for the sunny European weather. For this, I used an aluminium angle sealed with marine Sikaflex and bolted on. I then felt the need to fit a roll bar behind his head, and I got this from a company that makes high-quality stainless steel tube products. For eye protection, I built a small windscreen for the lid from toughened perspex that had been recommended for the purpose.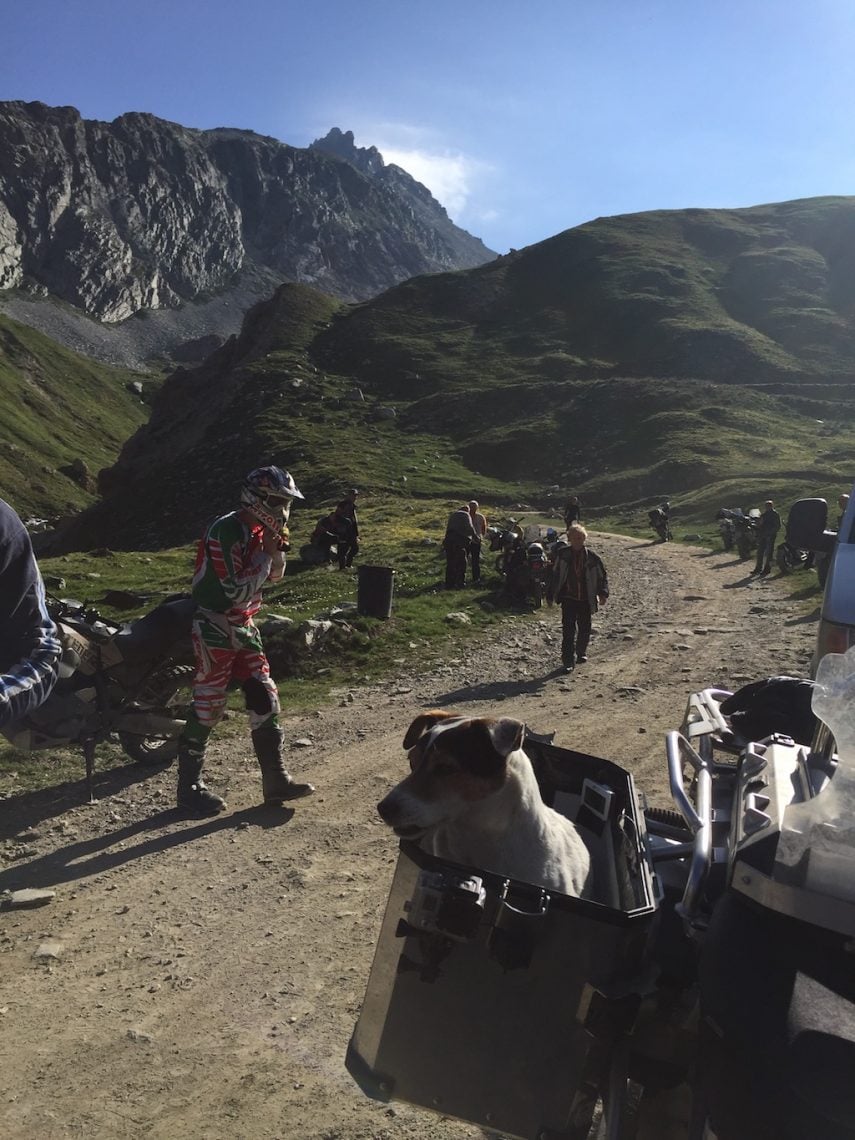 The big question was 'would Skipper like it?' He had been in and out of the pannier several times during construction, and he was not disturbed by the fact that he was enclosed in the box, but the proof would be when we mounted it to the bike and went for a spin. On the initial outing, I took my girlfriend, Fran, as pillion so that she could check his reactions. We rode for about 10 minutes and only up to 50mph, and then increased the speed until I was certain that he was happy with adventure riding.
I didn't notice any difference in the handling of the bike with him in the pannier, it was just as if I had any other kit in it. The thing I really like about where he rides is that the pillion can see and check on him all the time and I can see him in the mirror when I stand on the pegs.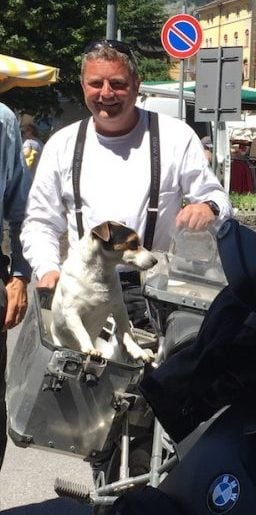 After fitting foam padding and air intake vents on Skipper's box we did a few 250-350 mile runs to make sure everything and everyone was happy. Before we set off on the 28 June for the channel tunnel, I added a digital thermometer to the inside of the pannier to monitor Skipper's body temperature.
On the 29th we crossed under the channel and went through France, Belgium, Luxembourg, Austria and Germany before arriving in Garmisch on the 30th. We camped and enjoyed the BMW festival for three days. Before leaving Garmisch we had new tyres fitted as rain was forecast in the mountains and most of the way to Lake Garda, our next stop.
After three nights camping by the lake we set off for Bardonaccia and the Stella Alpina Rally.
We based ourselves down in the town three days before the event allowing me to make two runs up to the base camp to get a feel for what was in store. On Sunday 10 July, the day of the event, Skipper and I set off from the town at 6.45 am and, after a few stops along the way, arrived at the highest point possible due to the snow line.
It was 8.30 am and we were delighted to be greeted by excited adventure bikers of all nationalities who were surprised to see Skipper in his pannier right up there amongst them all. Although elated to have risen right up the Col du Sommeiller with Skipper, I could feel the lack of oxygen in the air taking effect.
Well aware of the task of getting us back down safely, we stayed just 10 minutes or so. We were safely back in the town by 9.30 and already there were lots more bikes and cars heading up the mountain.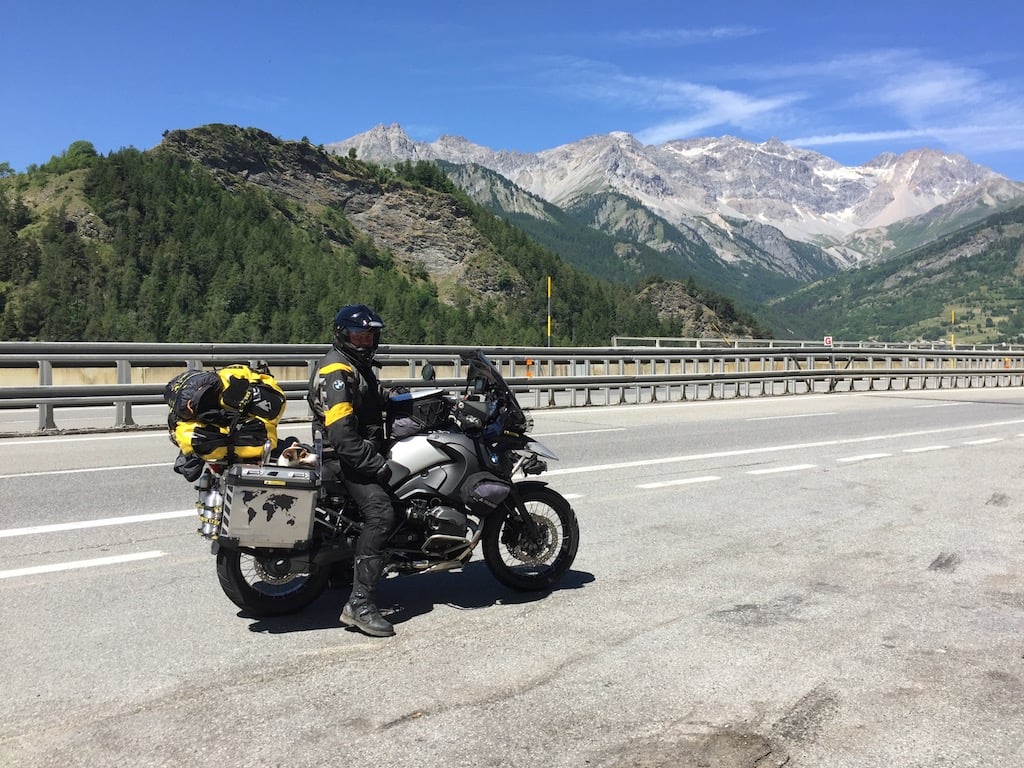 Skipper travelled very well in the pannier, having plenty of stops along the way to do his wee mails etc. Fran did a great job as pillion and Skipper observer, so all in
all he's happy riding along with us and it's great to be able to take him.
How Skipper's screen was made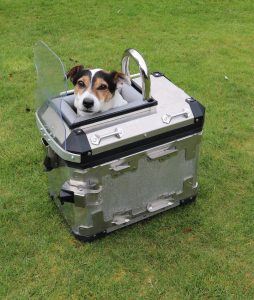 I've seen pics of dogs with goggles and helmets which looks cool in pictures, but I'm not convinced that they would be ideal in hot weather or actually stay on the dog for long anyway.
So I made a windscreen for the lid from toughened perspex recommended for the purpose.
I simply made a template, traced it onto the perspex and cut it out with a fine-toothed jigsaw blade.
I used aluminium strips to sandwich the windscreen at the bottom for mounting, drilled two holes through the centre of the aluminium strips and Perspex and bolted them through the lid to hold it in place while I heated the screen up with a hairdryer.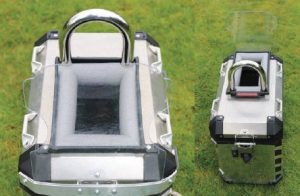 I then bent the ends round with clamps, drilled the two ends and bolted it uptight. It looked alright and felt solid, but to be sure it would not be affected under wind pressure I rode the bike without Skipper in the pannier to test it, up to the legal limit-ish on the motorway and it was fine.
I fitted sound recording kit to make sure there was no drumming noise which would distress him. The windshield had minimal flex, but it seemed to spill the wind nicely.