In part two of our adventure-styled helmet test, Bryn Davies takes a look at the cream of the crop, in helmets over £200.
In the last issue of ABR we took a look at the best adventure-styled helmets on the market for under £200. We found there to be some excellent value for money at the budget end of the price scale in products such as the LS2 MX436 Pioneer (which retails at £99) and the Held Makan (£189.99).
But there seems to be a definite divide in the products on offer above and below this price range, both in terms of standard of manufacturing and the quality of components used, when you breach the £200 mark.
Most obviously is the introduction of lighter, more protective shell construction methods and materials, moving away from the thermoplastics that are found in all of the helmets under the £200 category and using materials such as carbon glass and fibreglass. While that's not to say the lids from last issue won't protect you in the event of an off, if you're after the best protection on the market, then you're going to have to pay for it.
When it comes to buying a helmet over £200, the considerations you should take are much the same as if you were buying lower-priced lids and, as always, the paramount consideration is fit. If the lid doesn't fit the shape of your head, or if you buy the wrong size, it's going to be a miserably uncomfortable journey whenever you get in the saddle. Too small and you'll get pressure points causing headaches, too large and the protectiveness on offer, and your safety will be compromised.
With this in mind we urge you to get out and try helmets on before you buy them, read these reviews, pick the ones that match your buying criteria and then head down to your local motorcycle clothing dealership and speak to the staff there. They'll usually be able to measure your head and point you in the direction of brands that will suit your shape.
We covered the criteria of what to look for in your new helmet in the last issue, but for those who didn't have the chance to get their hands on a copy, let's have a recap. Adventure-styled helmets will come with a peak, which is both for styling and practical purposes.
Make sure this is well positioned for you, adjustable peaks are preferable, and the ability to remove them for motorway miles is desirable. Besides from the peak, look for effective ventilation for those warm summer days, a good field of vision to maximise your view of your surroundings and potential hazards and make sure you're not put off by the weight of the lid. Just as important as the rest is your personal preference of styling, pick one that you like the look of.
In all honesty, in this category of helmets there really isn't a bad apple among the bunch. All are manufactured to high standards, with superb quality of finishing throughout, though some are better suited for certain situations, while others will perform better in others i.e. off-road Vs mainly on-road.
When it comes to decision time, we suggest making a checklist of features you want your helmet to offer, consider your realistic end use (will you be riding across the Sahara, or are you mainly using it for Sunday afternoon ride outs with the mates?), and then buy the one that fits the criteria, and most importantly, fits your head.
---
Why buy an Adventure Helmet
Adventure-styled helmets are characterised by their extended chin bar (think motocross-style) and addition of a peak. If you're planning a worldcrossing voyage on two wheels where you'll be working hard off-road, or if you take your adventure bike green laning, then the benefits of a peak and extended chin bar are obvious – improved ventilation and sun/dust protection when riding the trails. But what about if you're mostly a road rider? What's the point of an adventure helmet then?
There is truth behind the claim that a peak is a bit of an annoying addition if you're going to be riding long motorway distances. As they tend to catch the wind at speed and cause tedious head-shaking, but that's why they can often be removed easily. In reality, a peak is just as useful on-road as it is off-road if you're riding with sun overhead, especially so if you're riding into the sunset.
Internal tinted visors will do a job, but they never block out the type of glare that has you squinting all day. In a similar fashion, when out riding in the summer it's so easy to overheat, and so any and all ventilation is welcome, and extended chin bars help provide this in abundance. Plus there's the small, but significant fact that adventure helmets look damn cool, especially when used in conjunction with an aggressively styled adventure bike!
---
AGV AX-8 Dual Evo Karakum
£299 | www.agv.co.uk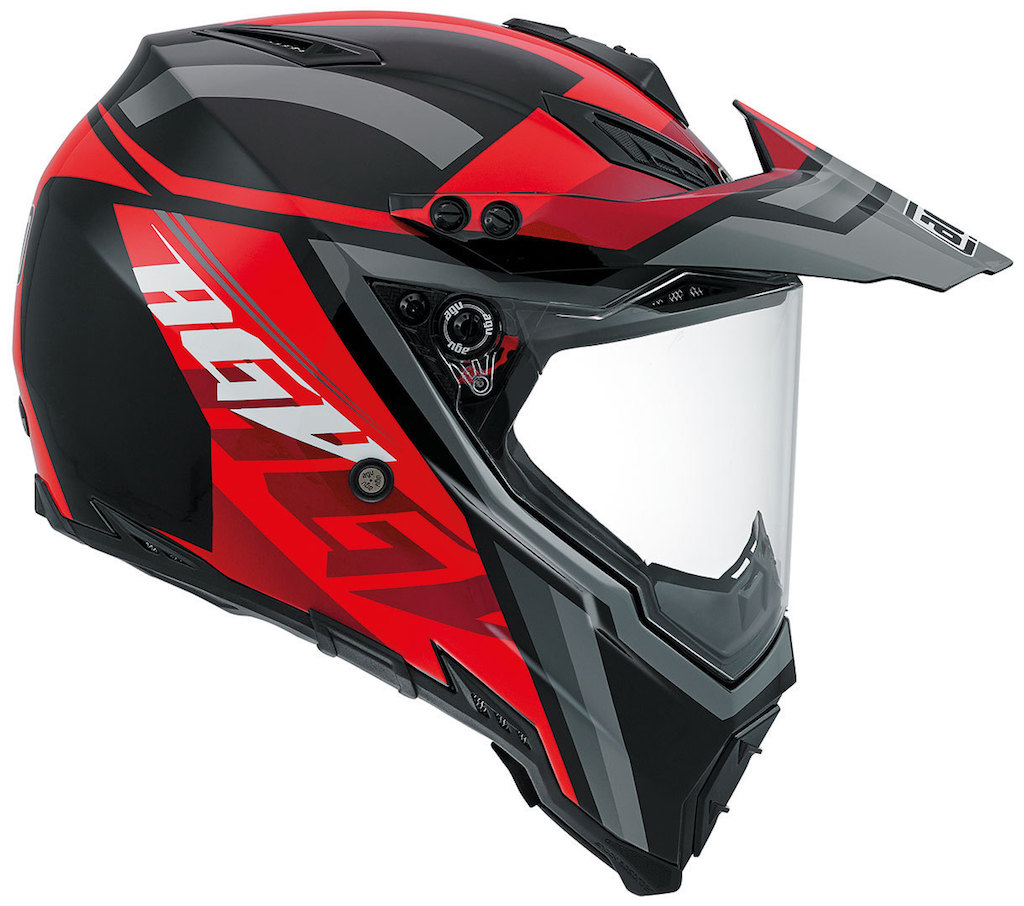 AGV has a rich heritage in manufacturing motorcycle helmets, having made them since 1947, with the company's knowledge and experience shining through on the AX-8 Dual Evo. With a definite nod in the direction of off-road riding, the helmet benefits from a huge visor, a lightweight and a well designed chin bar that provides ample ventilation.
The shell is a strong and impact-resistant mix of carbon, aramid and fibreglass to make what AGV calls the SSL shell. SSL stands for super-super light and we can't argue with that, as at 1.3kg for a size L, it's one of the lightest helmets on test.
The padding inside the helmet is made from Dri-Lex, a breathable fabric that wicks moisture away from the skin and is incredibly comfortable. There are numerous vents throughout the helmet; a large, closable chin vent, and closable brow and head vents as well as a further eight, yes eight, exhaust vents that help to provide a very effective venting system that's suited to intense warm weather riding. The main draw is the impressively large visor that provides an unrivalled field of vision.
It has an anti-scratch and anti-mist treatment, but it's disappointing to note that it doesn't have Pinlock attachment points. In use, we've found the opening tab to be a little on the small, fiddly side, and with the visor opened fully it slightly impedes the wearer's view. The peak is non-adjustable but can be removed if need be and we'd advise doing so on long motorway rides as it causes turbulence at speeds in excess of 50mph.
IN A LINE: A great adventure helmet that'll perform well off-road.
Pros:
– Huge field of vision
– Great ventilation
– Lightweight
Cons:
– No pin lock provision
– Peak catches the wind
– Fiddly visor opening tab

| | | |
| --- | --- | --- |
| Non-Adjustable Peak | Small opening tab hard to use with gloves | We love the huge visor |
Shark Explore-R
£299 | www.nevis.uk.com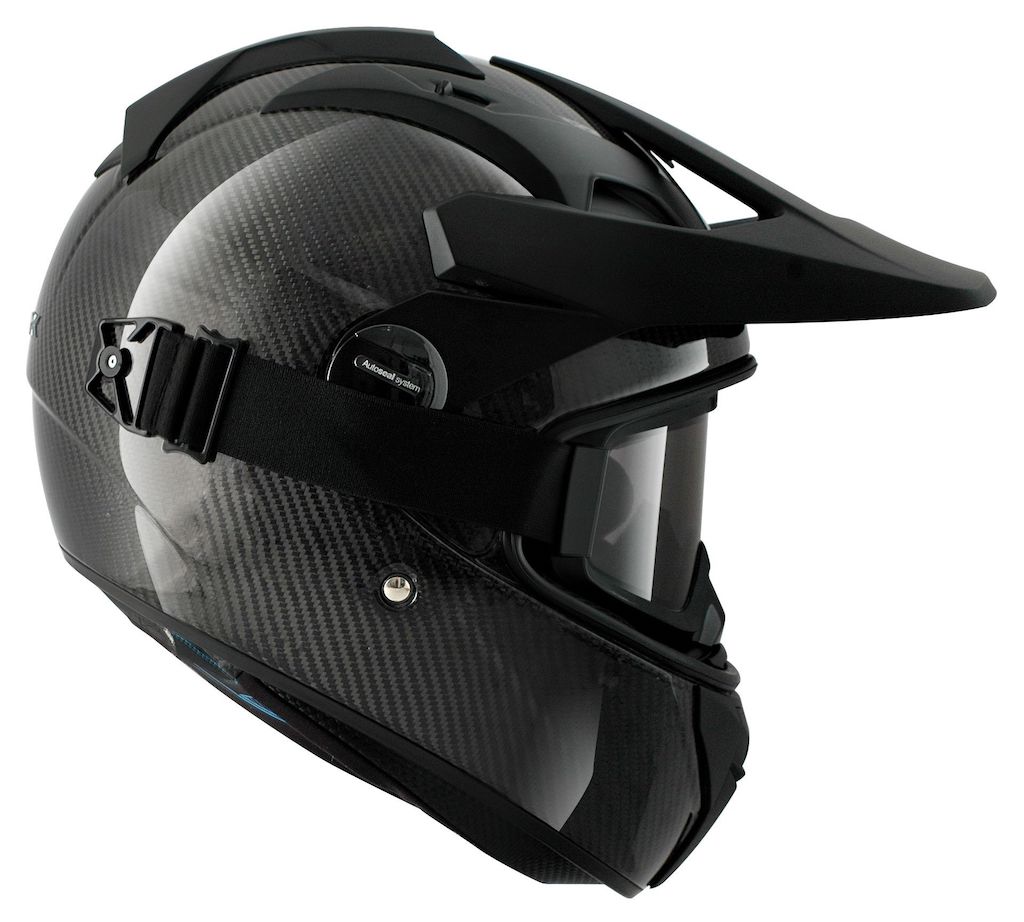 If you're after a versatile helmet to do it all then you've probably come across the Explore-R. With its removable peak and visor and included goggles, the Explore-R is truly customisable, allowing you to switch between full-face road helmet and off-road lid in an instant.
In previous tests, the main criticism we've had is that it wasn't possible to wear the peak and the visor together. Shark seems to have listened to feedback and this is now one of the possible configurations along with just the visor, just the peak, just the goggles or goggles and peak. Great stuff.
With that in mind, as standard you get a pair of goggles with Carl Zeiss lenses, a removable peak, a visor and an integral sun visor. The all-in-one style is going to be perfect for those who only have the budget for the one lid, though in becoming a jack of all trades the Explore-R isn't particularly a master of any, with the peak being inferior to those found on helmets of a similar price, and the chin bar being more like those found on a full face road helmet, not allowing much ventilation which can be a deal-breaker when you're working hard off-road.
The shell of the helmet is constructed from a carbon aramid fibre and multiaxial glass fibre, so it'll be stronger and provide more protection than your standard thermoplastic lid, and ours came with the carbon skin which makes it look superb.
Ventilation options on offer come in the form of a closable chin vent, two brow vents and a larger exhaust vent – this would be fine if you weren't planning on using the visor, but on warmer days it starts to get stuffy. A really nice touch is the inclusion of a neck scarf that can be zipped away if not required.
IN A LINE: A jack of all trades helmet.
Pros:
– Truly modular
– Carbon skin looks great
– Handy neck scarf
Cons:
– Jack of all trades, master of none
– Runs very warm
– Peak feels poor

Peak and Visor can now
be used together
Small chin vent
Peak feels cheap
Nexx X.D1 Baja
£346.37 | www.nexx-helmets.com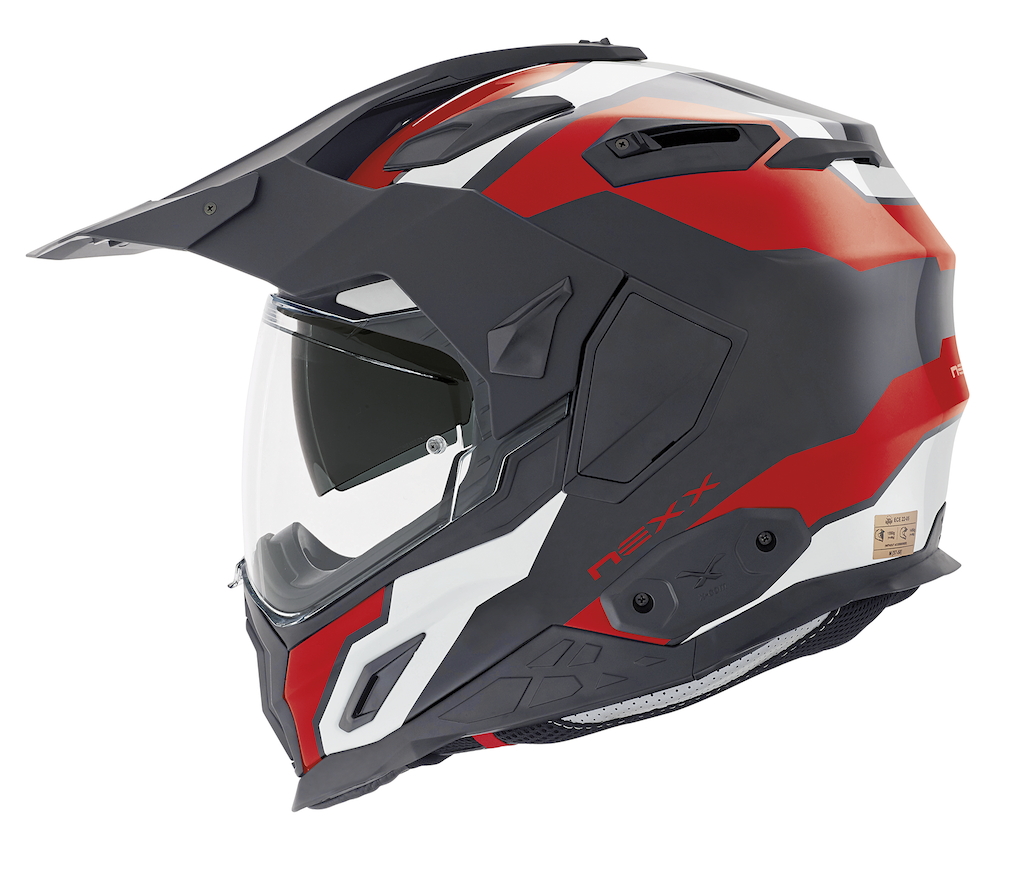 The Nexx X.D1 is the helmet that Touratech has based the Aventuro on, and while both reviews will mostly read the same, there are a few differences between the two, notably the inclusion of an internal sun visor on the X.D1 a different shell material and a few different colour schemes. The X.D1 has a multi-axial fibreglass shell with 3D organic fibres, special aramid fibres and carbon reinforcement.
The Nexx X.D1 is a popular helmet amongst the adventure riding community. It has great, aggressive styling that compliments the world traveller look that dual sport riders aim for, and on top of that, it performs well. The peak is well implemented, and while it's not adjustable, it comes with an optional extendable tip which works great. I found the peak to be good at lower speeds, but as you move to motorway cruising you may find yourself pulling over to remove it.
Ventilation is provided via a large chin vent (which can be swapped for a larger mesh cover for more airflow), two brow vents and an exhaust vent. It's not the best set, but it's effective in most situations, even more so if you ditch the visor in favour of goggles.
The visor provides a great field of vision, though it falls just short of the superb Shoei Hornet, and the three detents allow you to ride with it half open for extra ventilation. The internal sun visor is well designed, with the slider being easy to operate. In terms of comfort, the inner padding is lovely and so.
The Nexx X.D1 Baja comes well specced for the price, with a host of goodies included in the box. You get a bag full of add-ons, such as various helmet cam mounting points and a Pinlock insert as standard, which is definitely needed as without it the visor mists up almost instantly.
IN A LINE: Fantastic styling and some useful features make this one to consider.
Pros:
– Lots of attachments
– Lightweight
– Great styling
Cons:
– Peak catches wind
– Ventilation could be better

| | | |
| --- | --- | --- |
| Matt | Pearson | Large Field of vision |
Shoei Hornet ADV
£369.99 | www.feridax.com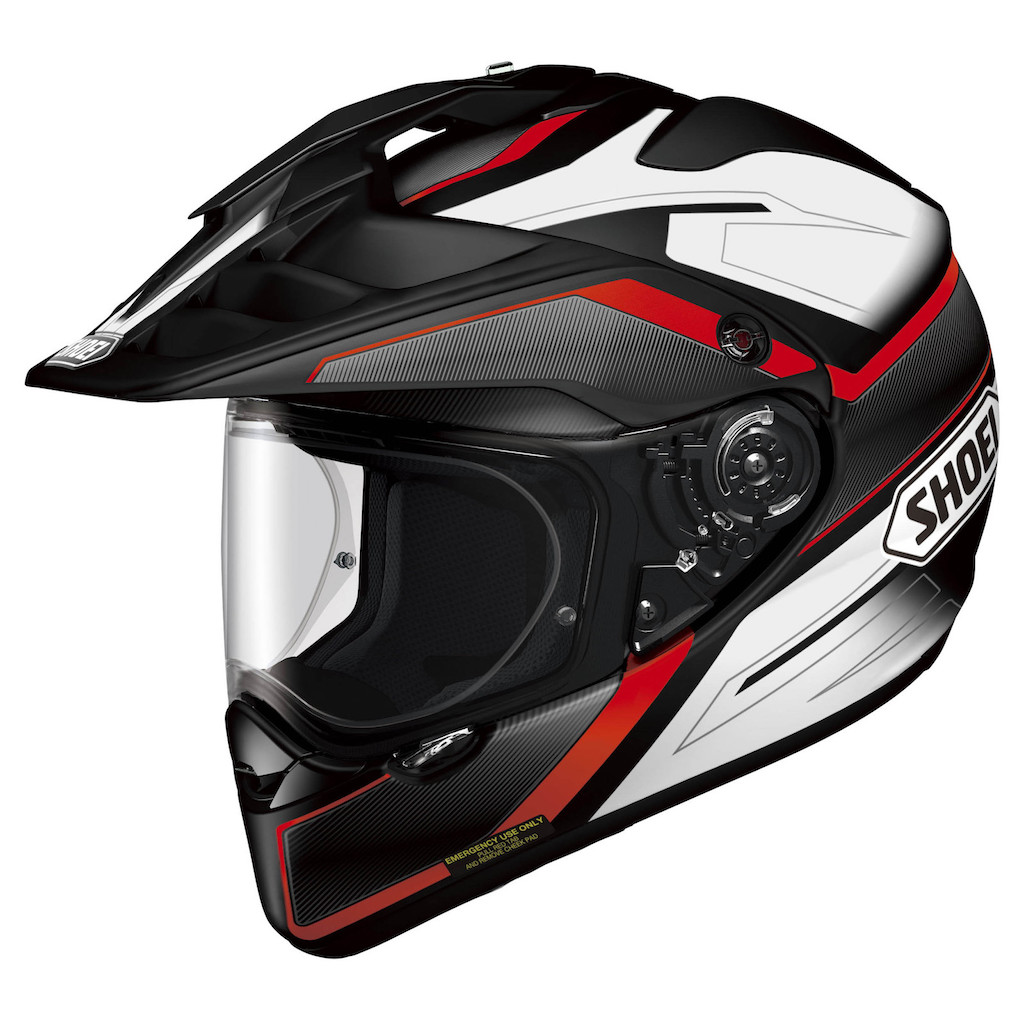 Japanese brand Shoei has been one of the leading helmet manufacturers for close to 60 years, and the Hornet ADV is their flagship adventure-styled helmet, taking over from the Hornet DS. At £369 (or £449.99 if you want the fancy graphics) it's placed near the upper end of the price scale, though there's undoubted quality throughout.
The Hornet ADV makes use of an organic fibre, multi-composite shell in various layers to provide shock absorption and a multi-density EPS liner for added protection, while the interior is lined with Shoei's 3D Max-Dry liner.
In terms of ventilation, the Hornet excels. The chin vent is effortless to operate and the chin bar is extended just enough to allow air intake from this vent to dissipate around the face. Two brow vents allow for more air intake (though the switch can be a bit fiddly) and an excellent vent located on the top of the peak channels air from this area over the head of the wearer. All of this is complemented by two very effective exhaust vents on the rear.
The peak on the Hornet is arguably the best in the adventure class. It's superbly designed when it comes to positioning and streamlining. You'll have to travel at some pretty high speeds (in excess of legal UK speed limits) for it to start to cause any turbulence, and it's designed to be in fitting with the rest of the helmet's looks and aesthetics. Perhaps the only slight downside is that it's non-adjustable.
All in all, with the Hornet Adv, Shoei has made a superb adventure-styled helmet. It has a fantastic field of vision (and it comes with a Pinlock insert as standard), I found it supremely comfortable, the peak is the best around and it's got ample ventilation, though those looking for a helmet with an integral sun visor may be put off.
IN A LINE: Fantastic adventure-styled helmet, it won't disappoint.
Pros:
– Huge field of vision
– Superb peak
– Great ventilation
Cons:
– No internal visor

| | | |
| --- | --- | --- |
| The brilliant peak | Huge field of vision | Great Styling |
Touratech Aventuro Carbon
£369 | www.touratech.co.uk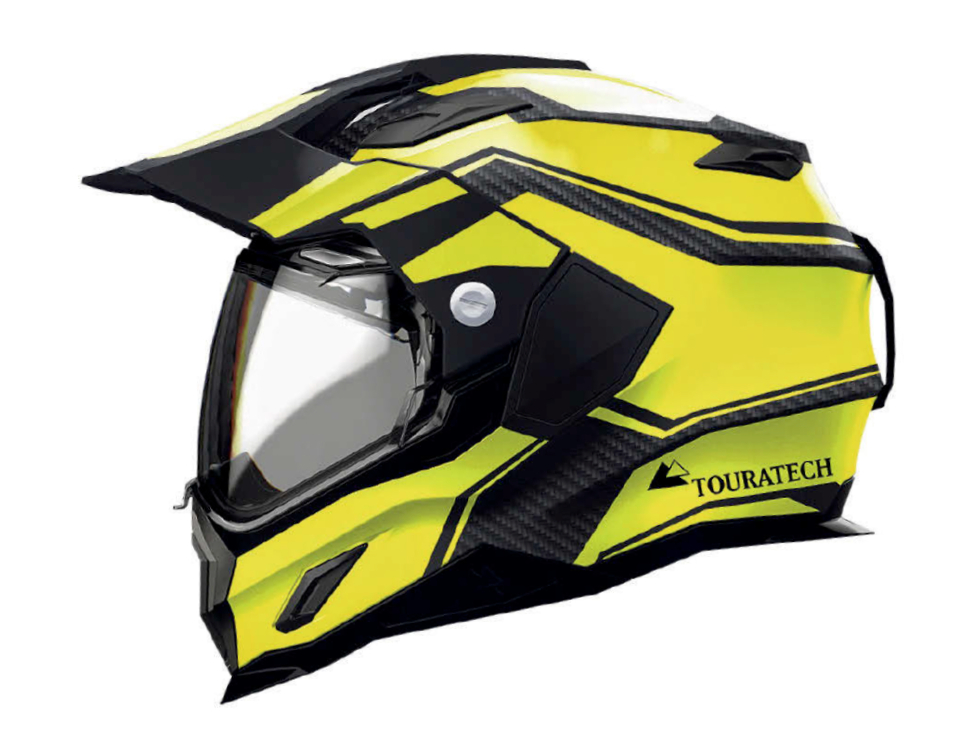 If the Touratech Aventuro Carbon looks familiar, that's because you've read the Nexx X.D1 review two pages back. The Aventuro is based on that, and so this review will seemingly read the same. But this isn't just a like-for-like copy, the Touratech version comes with a few differences, a carbon shell and it foregoes the inclusion of an internal sun visor to offer a helmet that weighs in at just 1.52kg (as opposed to the 1.69kg of the Nexx) in a size L.
The Aventuro is one of the lightest adventure-styled helmets on the market. If you prefer your lid to have an internal sun visor then you'd be better off opting for the X.D1 as, in reality, the extra 100g isn't really going to make a difference. Other changes include a clip on the rear to hold your goggles in place and a few cool-looking colour schemes that are exclusive to Touratech.
As far as the differences between the Aventuro and the X.D1 go, that's about it. You'll get the same excellent field of vision, the visor comes with a Pinlock insert and the ventilation on offer is good, but not great.
The Aventuro comes with some nifty accessories in the box, including various mounting points for action cams, and you also get a replacement peak tip, which extends to adapt the length of the peak to the conditions you're in. As with the X.D1, the peak is OK at most speeds, though causes turbulence when cruising on the motorway.
So, why would you buy this over the Nexx X.D1? Setting aside the prestige that comes with wearing a Touratech branded helmet, the Aventuro is better suited for those who take their off-road riding more seriously. The weight saving, while not monumental, will appeal and the goggle clip is a useful addition.
IN A LINE: A good looking helmet that can walk the walk.
Pros:
– Lightweight
– Lots of attachments
– Great field of vision
Cons:
– Peak catches wind
– Ventilation could be better
– No integral sun visor

Goggle clip
Front vent can be swapped
for mesh
Touratech Detailing
X-Lite X-551 Adventure
£379.99 | www.motogear.co.uk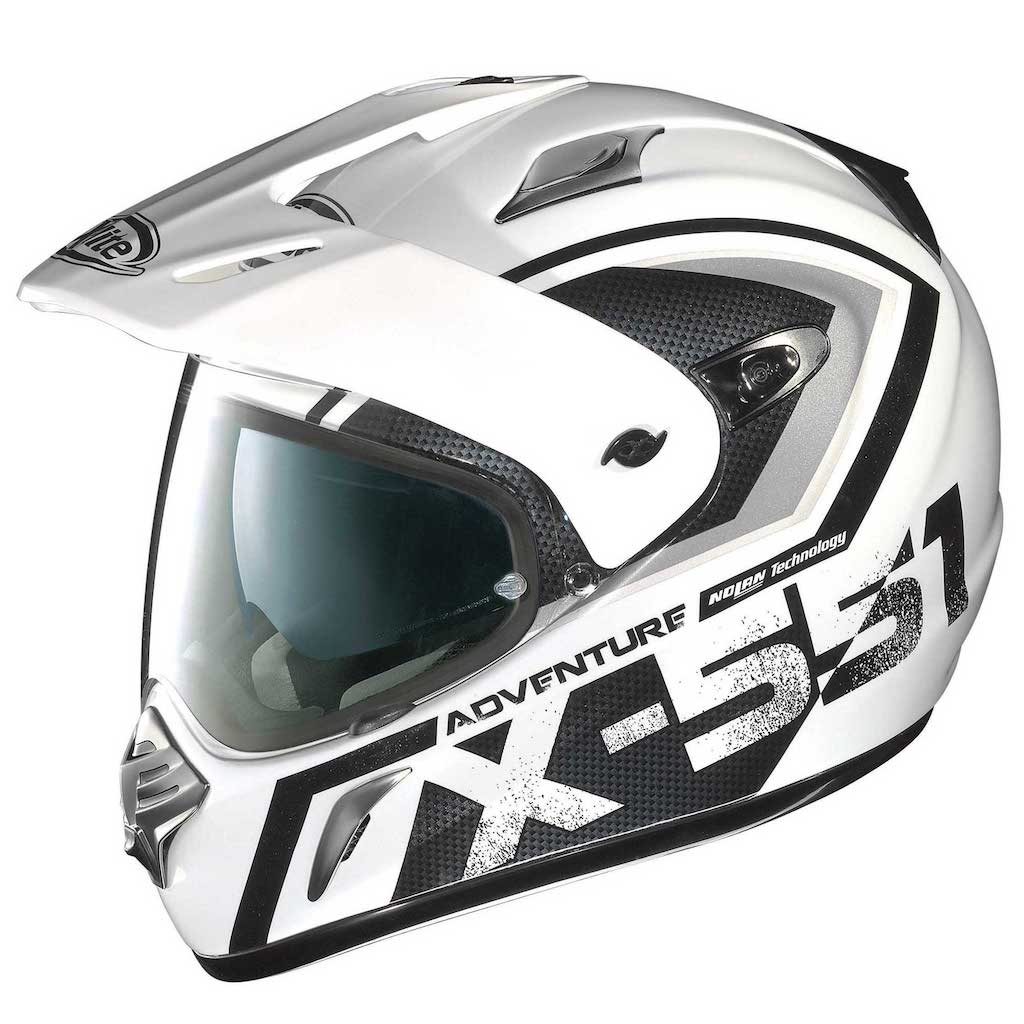 The X-Lite X-551 Adventure has long been a favourite in the Adventure Bike Rider offices. At £379.99 it's near the top of the price range, and at that price you'd expect quality.
Fortunately enough, from the off it's clear to see that the helmet has been crafted by a company that knows a thing or two about manufacturing good lids. X-Lite, which is a subsidiary of Italian brand Nolan, has been around since 1997, offering top-quality helmets, specifically.
The shell is made from a hard-wearing composite fibre and the lightweight construction along with the smooth and soft removable inner make it a pleasure to wear. In terms of aesthetic appeal, in my eye it's one of the best looking adventure-styled helmets out there, with multiple graphic options available.
The visor on the X-551 is both scratch and fog-resistant though it comes with an included Pinlock insert which works perfectly at preventing visor fog. It has four detents on the ratchet allowing for a variety of open positions and once in place, it stays there. The visor also has a nice, wide field of vision.
There's plenty of ventilation on the X-551 making it great for warm weather riding; you get some very effective chin bar vents, two closable brow inlets and a further two closable crown vents as well as exhaust vents behind the rear spoiler to allow for a good cross-flow of air. The adjustable peak is also very well designed and it doesn't catch the air too much when blasting along the motorway.
IN A LINE: A favourite in the ABR offices, and for good reason.
Pros:
– Great Ventilation
– Useful peak
– Good styling
Cons:
– Visor gasket can sometimes catch on the pin lock insert

Easy to use opening tab
on the visor
Peak has a large amount
of adjustment
The excellent ventilation
BMW GS Helmet
£400 | www.bmw-motorrad.co.uk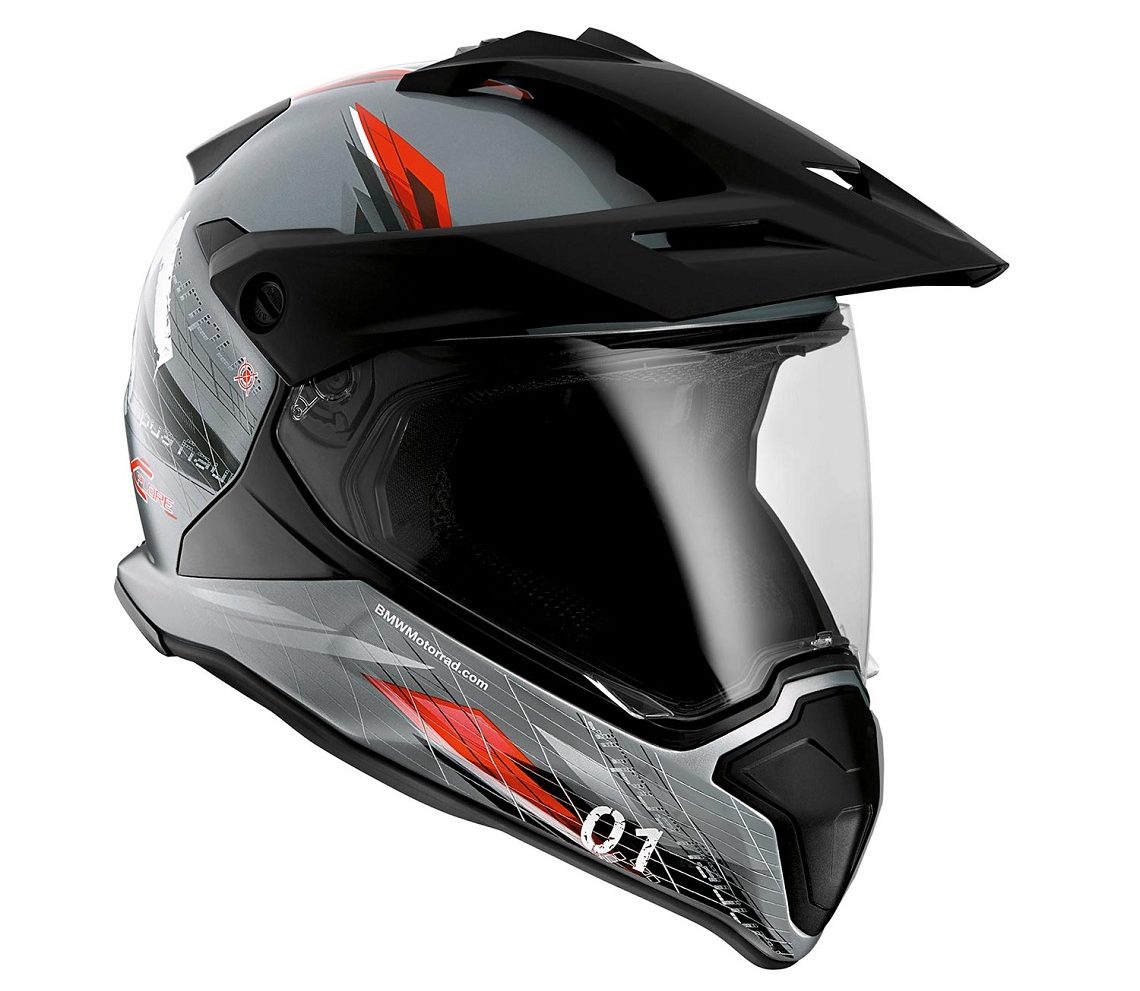 With the GS being the bike of choice for many adventure riders, it only makes sense that BMW offers a whole range of kit to complement its machine. Along with GS boots and the Rallye Suit, the GS helmet is a great addition for those who want to proudly display their brand loyalty, though the quality of the lid and the subtle BMW branding make it a viable choice for those who aren't too bothered about being part of 'team BMW'. The GS retails at £400, making it the third most expensive product in this test.
The GS offers a fantastic field of vision and the visor comes with an anti-scratch and anti-mist coating, though you're also supplied with a Pinlock insert as standard. The inner of the helmet has a soft lining and well placed cushioning to provide a comfortable fit.
The GS appears to be designed with off-road use as its main focus, with the extended chin bar offering ample ventilation, and at 1.53kg for a size L it's one of the lightest on test. The peak seems sub-standard given the price you'll be forking out for the lid. Despite it being well vented, it begins to cause turbulence at around 50mph, and the quality of the plastic feels at odds with the fantastic quality throughout the rest of the helmet. What the peak does have going for it, however, is how effective it is at doing its job of keeping the sun out of your eyes, with plenty of adjustment on offer. It's also removable.
When it comes to ventilation, the GS performs well. I wore the helmet in warm conditions on multiple occasions, and for a full face adventure helmet, I stayed relatively cool. The large chin vent can be removed to allow ample air through the inlet, and a large brow vent provides a decent amount of cooling to the top of the head. The exhaust vent, which is located at the neck of the lid, does a good job of creating a cool airflow as well.
IN A LINE: Lightweight and comfortable to wear, give it a go.
Pros:
– Fantastic field of vision
– Great ventilation
– Comfortable inner
Cons:
– No integral sun visor
– Peak could be better

| | | |
| --- | --- | --- |
| Good chin ventilation | Adjustable peak | Unusually placed exhaust vent |
Arai Tour X4
£440 | www.whyarai.com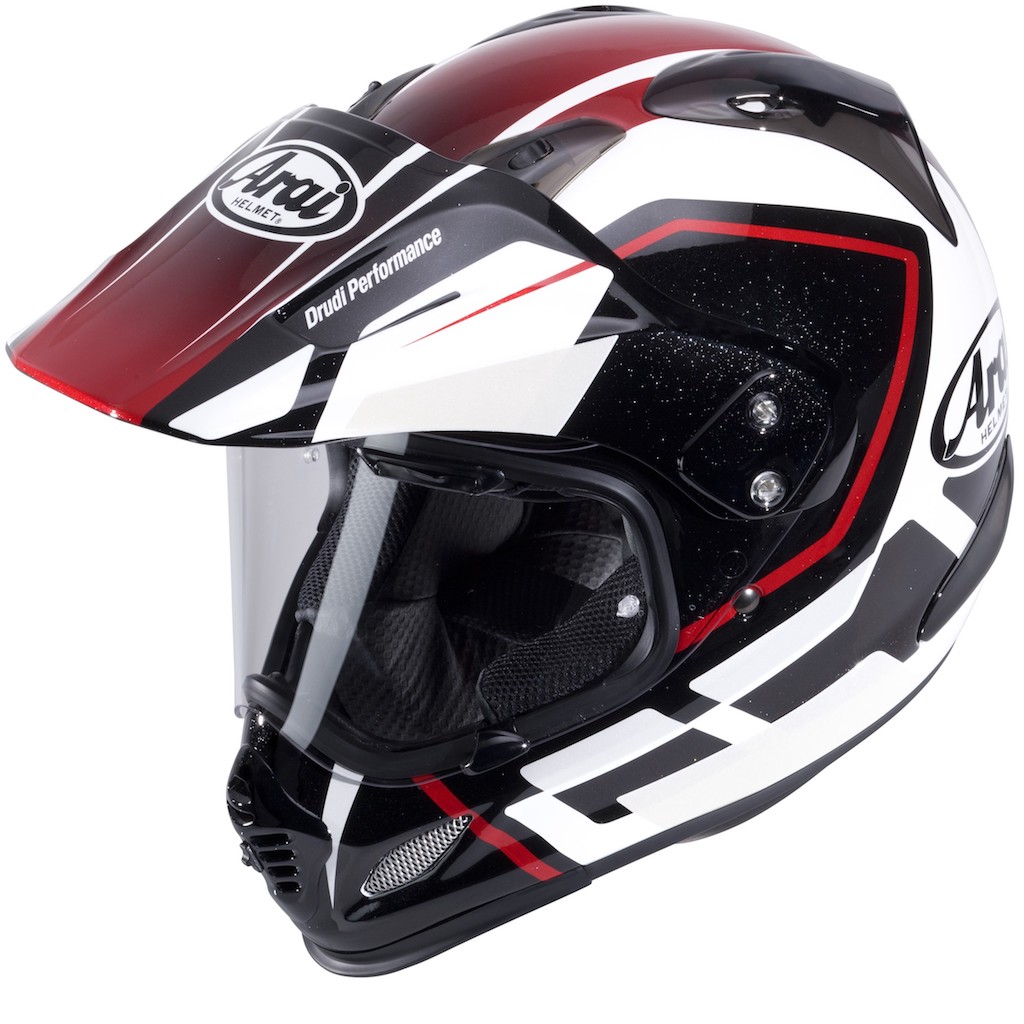 If there's an item that's set the benchmark over the last few years for what an adventure lid should be, then it's the Tour X4. At £439.99 it's the second most expensive helmet in our test, but man it's a good helmet.
When you compare the helmets at the other end of the price scale to this Arai you begin to understand and appreciate why you pay such a premium. The quality of components, the feel of the helmet in your hands and on your head, the luxuriously smooth lining against your skin, the attractive and well thought out design… I'm drooling as I type this.
Each helmet feels like a carefully crafted work of art, and in a way that's what it is as each Arai helmet is hand made.
The shell is made from a Super Fibre Construction that is highly impact-resistant, with a triple density inner shell to further protect your head in the case of an off. The inner lining is exceptionally comfortable against the skin and there's a 5mm layer of foam on the cheek pads and temple pads that be removed to enhance the fit.
There's ventilation aplenty making the Tour X4 ideal for warm weather riding and the visor will accommodate a Pinlock insert to prevent misting up (a Pinlock insert is included ). The peak on the Tour X4 is incredibly well designed when it comes to streamlining, with very little-to-no buffeting or turbulence even at motorway speeds.
Perhaps my only criticism of the helmet, however, came from the whistling noise that the peak seems to create when travelling at these speeds.
There's no denying that the Arai Tour X4 is one of the best adventure-styled helmets on the market, and it has been for some years. The only question is, can you afford it? If you can't I suggest you start saving because you won't be disappointed.
IN A LINE: If you've got the money, buy one.
Pros:
– Good field of vision
– Fantastic peak
– Superb build quality
Cons:
– Pricey
– Peak tends to whistle at speed

| | | |
| --- | --- | --- |
| Brilliant peak | Good field of vision | Effective exhaust vents |
Schuberth E1 Helmet
£540 | www.tranam.co.uk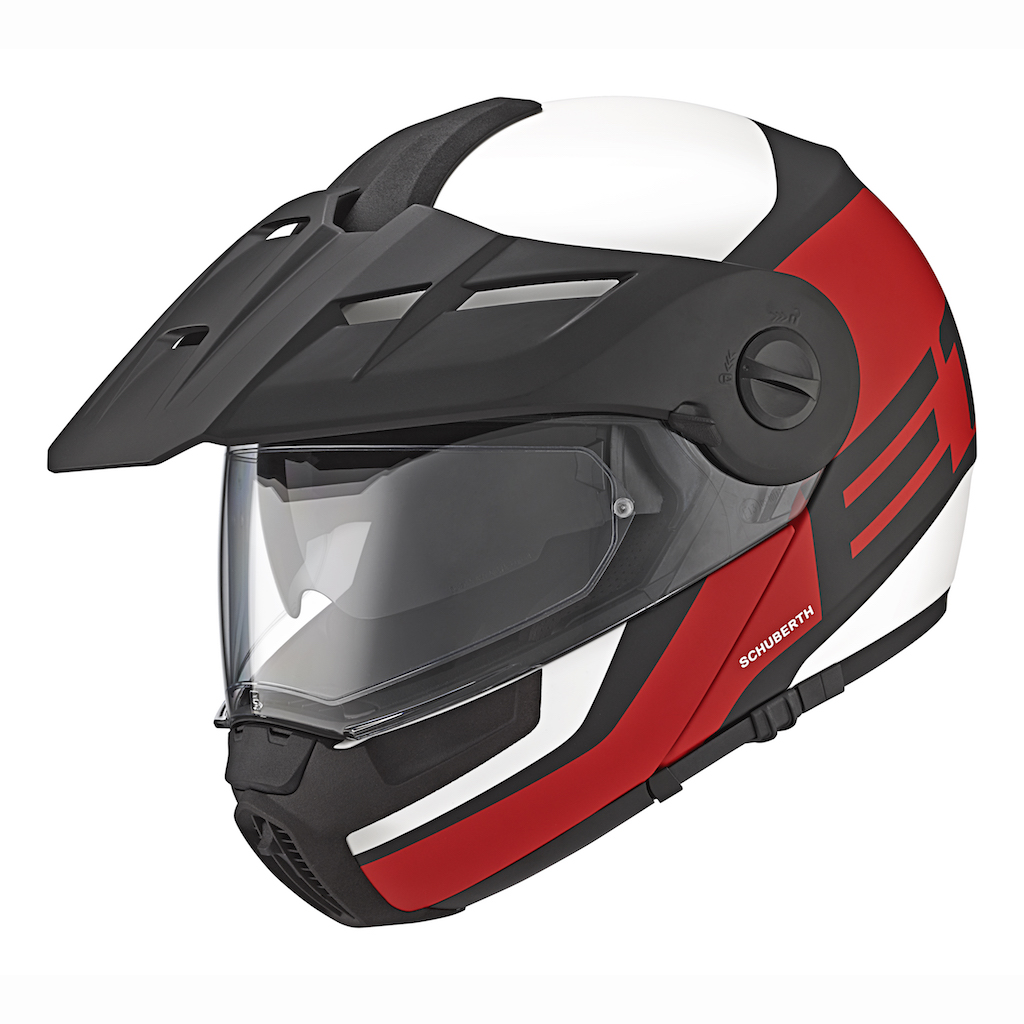 If you thought the Arai Tour X4 was expensive you've probably just had a heart attack reading the whopping great price tag that the E1 commands. It's £100 more expensive than the Arai, but that's mainly down to the flip-front technology and the amount of development that's gone into making this wonderfully versatile lid.
Out of all of the helmets on test, the E1 was the one I most rigorously tested. I wore it on a Metzeler tyre launch where I took it around an oval track at speeds of 160mph and on twisting German roads, I wore it across the Alps for a few thousand miles and I also used it on a two-day course at the Honda Adventure Centre for some intense off-road action.
It's safe to say that in all situations the E1 is a good helmet, and the flip front just adds to its versatility and comfort. It performed well in all conditions, but didn't truly excel in any. At high speeds the peak was responsible for head shaking resonance, and on the off-road trails the lid is too warm. There are ventilation points aplenty, but the chin bar isn't as pronounced as on other adventure helmets, cutting off a major source of fresh, cooling air.
Despite this, on the A-roads, it was a pleasure to wear, and I suspect that this is where most users are going to take it. The integral sun visor is quality and simple to use, the peak offers a good amount of sun protection, and the comfort, at least for me, is top class. As you would expect, a Pinlock insert comes included.
All in all, if you want the convenience of a flip front helmet, then the E1 is the best on the market in this class. It's one hell of an investment though, and you'll have to decide whether you're willing to pay such a premium for that feature alone.
IN A LINE: The price is eye-watering, but the quality is clear to see.
Pros:
– Flip front
– Comfortable to wear
– Superb build quality
Cons:
– Eye-watering price
– Peak could be better
– Lacks effective ventilation

| | | |
| --- | --- | --- |
| Flip front in action | Short chin bar | Easy to use sun visor slider |