Alun Davies checks out Kawasaki's big sports tourer
have long harboured a profound distrust of statistics. In many ways, I'm what you'd call a 'gut' man, preferring elasticated waistbands and prone to observe what's going on rather than rely on a set of figures knocked up by a shiny suit with a vested interest in either my vote, money or conscience.
Statistics, as the old saying goes, are usually presented in the same manner as a drunk would rely on a lamppost – for support rather than illumination. On the other hand, empirical facts backed by personal observations are less pliable and usually point somewhere near the truth as in the case of the Motorcycle Industry Association (MCIA) sales figures and my own eyes when it comes to sports touring motorcycles.
When ABR launched in July 2010, the sales figures from the MCIA showed that over the previous year 5,345 sports touring machines were sold. For the year ending July 2016, that number had dropped to 2,613. With total annual motorcycle sales increasing from a lowly 53,877 to 77,073 over the same timeline the, decline in sales of sports tourers is at odds with the general state of the market.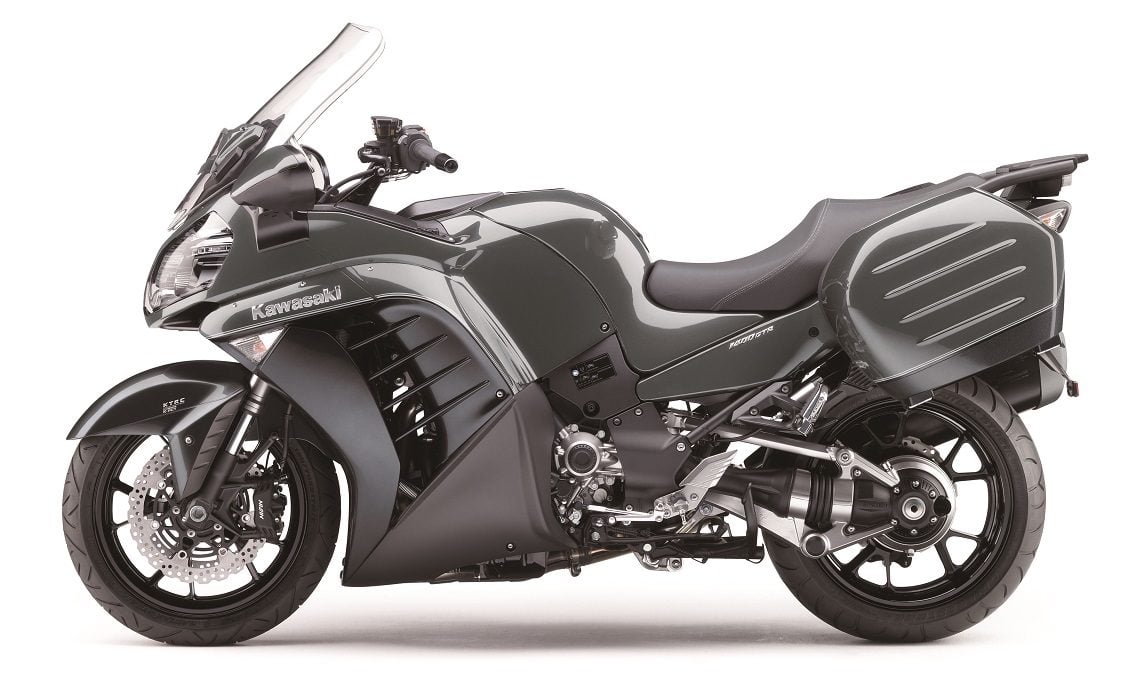 Conversely, adventure bike sales have increased from 6,007 to 12,049 over the same period, and I've little doubt that some of that increase has been at the expense of sports tourers. It's easy to see why. The essential requirements of a sports tourer are long distance comfort, effective wind protection, excellent luggage and pillion carrying capacity, plus a good fuel range and a no-stress high
torque engine.
There are adventure bikes which offer all of the above and then some, and with the launch of models such as the Ducati Multistrada and BMW S1000XR, there's no shortage of sportier performance either.
The big question these days is not so much which sports tourer, but why buy a sports tourer in the first place?
Perhaps the stand out reasons are as follows; sports tourers offer absolutely no off-road promise or ability and are therefore designed, without compromise, with a single road going purpose in mind. Secondly, they offer a lower seat height and, consequently, more stability and surety with low speed manoeuvres, especially with a pillion on board. Plus, not being as lofty as their adventure counterparts, mounting the machine requires less high stepping ballet skills.
With the average age of the biker approaching the point where a high swing of the leg in tight pants is more likely to result in a couple of weeks in hospital recovering from a slipped disk rather than a two-week tour of Europe, this will appeal to some. Plus, when you consider that the majority of adventure bikes are never taken offroad, the case for a sports tourer becomes clearer.
With that in mind, let me introduce you to the Kawasaki GTR 1400. My first impressions of the GTR were, man, that's a huge bike, swiftly followed by a desire to go on a long, make that very long, tour. The 1400 just looks the part; a big, comfortable tourer built for distance.
Hauling a leg over the 815mm seat was far less traumatic than I'm used to, though it still took some thought and care to avoid scraping the panniers with a low swinging heel. And speaking of panniers, the GTR comes with a couple of 35L plastic boxes attached and styled to match the look of the machine.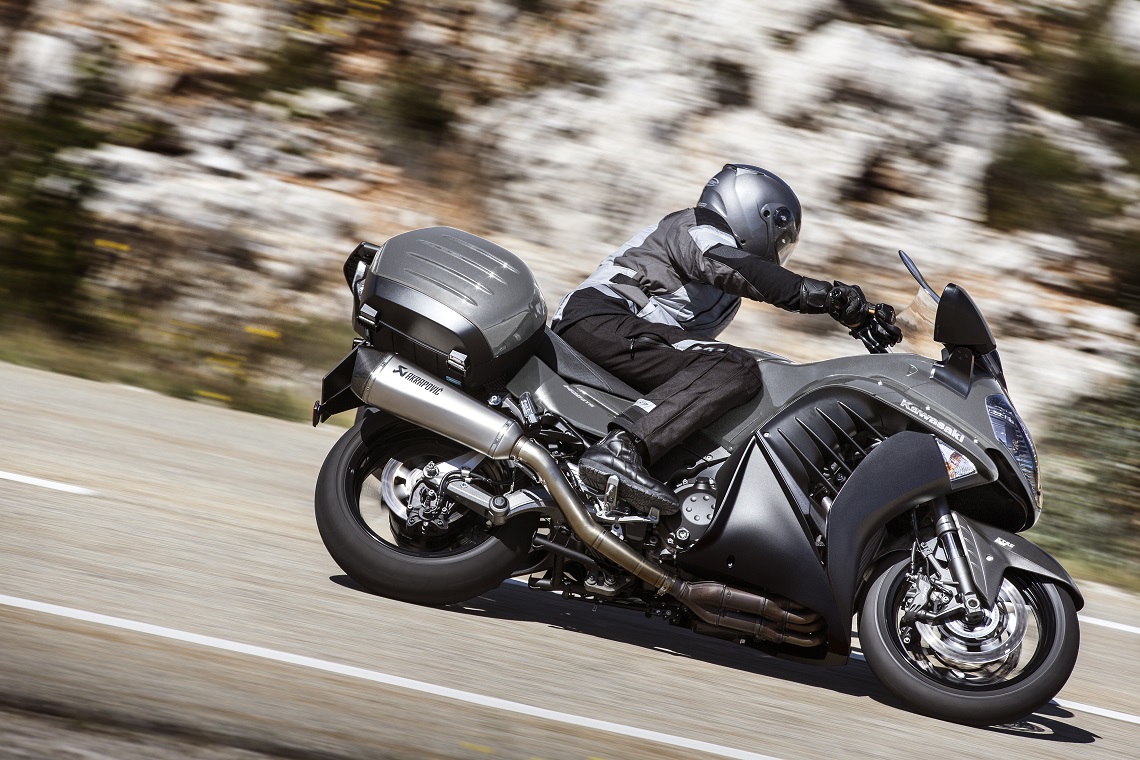 The boxes are simple to take off and claim to be water-resistant, (as opposed to fully waterproof) so I'd be looking at stashing valuables in waterproof liners. Kawasaki claims that they'll hold a full-face helmet, though I struggled with an XL. The panniers are closely mounted to the bike and the pillion didn't find them intrusive whatsoever.
Sticking with luggage, the test bike also featured a colour coded 47L top box, complete with a padded backrest which I can tell you was exceptionally well received by the pillion. In summary, I've never been a fan of side opening panniers, but that aside, the GTR offers plenty of packing space for stashing touring essentials and they compliment the look and nature of the bike rather than appearing an afterthought.
The stance on the GTR is more upright than other sports tourers like the Yamaha FJR 1300, but it's no sit up and beg adventure bike either. I'd say it's midway between the BMW GS and the FJR, so whilst there is a definite forward lean, the stress on hands and wrists is minimal and this is mostly down to the huge bar risers fitted to the bike.
I found the seat instantly comfortable and whilst there's no getting away from the 305kg bulk of the machine, I was able to place both feet on the ground, with some knee bend in reserve, and slow speed paddling and manoeuvring is not such a big deal. For reference, I'm 6'2″ tall. It also helps that the weight of the GTR is centred lower than on most adventure bikes, so it doesn't feel like it always going to topple over should the weight pass either side of the perpendicular.
In summary, it might look intimidating, but it's a lot easier to manage in car parks and stop-start traffic than some lighter but higher 1000cc plus machines. The dash is clear and simply laid out with two traditional big clocks and a central LCD display offering additional information such as air temperature, tyre pressure warning and various riding modes. All easy to understand and digest when on the move.
Control switches are positioned where you'd want and expect them, with the exception of the heated grip dial which is forward mounted on the fairing. The circular dial is progressive in control rather than the more common stepped mechanisms and it's easy to operate while wearing gloves.
Upfront you get a keyless ignition which is activated by twisting a centre mounted dial and, whilst it's simple to activate when you know how, it's slightly confusing in the first instance. I'm a big fan of this type of remote ignition when driving a car, but not so taken with the system when riding a bike. Call it personal preference or knowing two riders who've changed jackets after firing up their bikes and left the ignition unit at home. Either way, I prefer a key I can see at all times.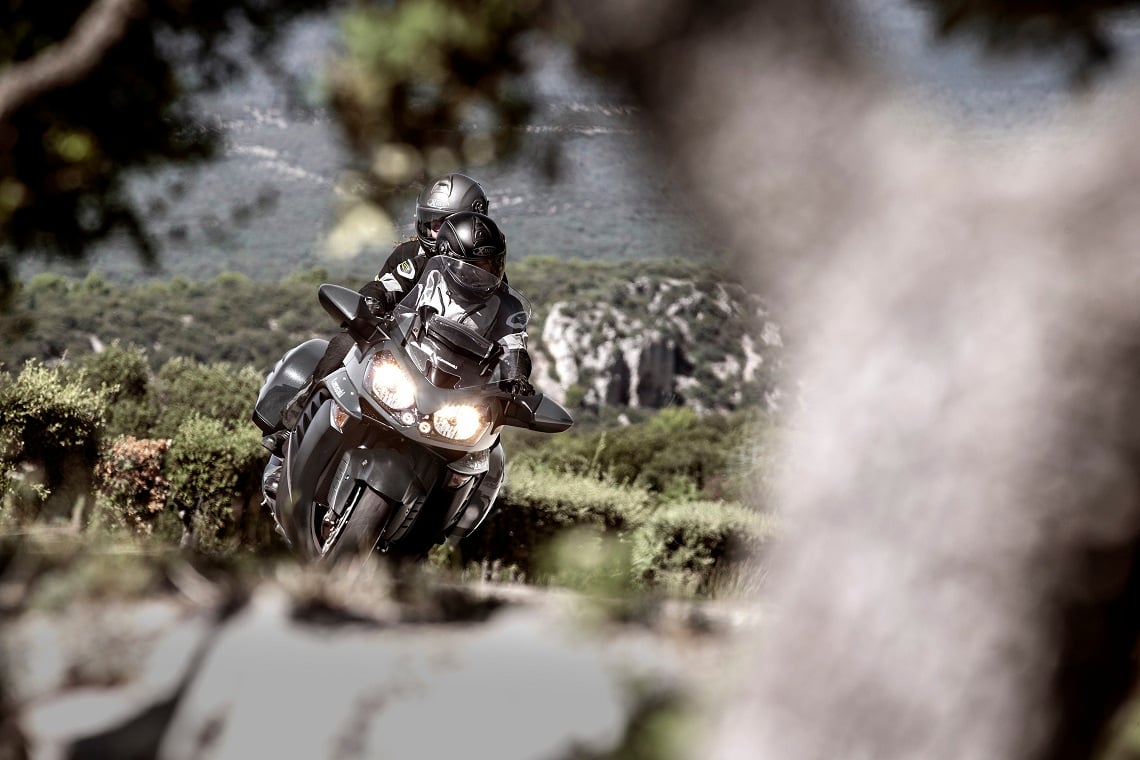 Once the ignition is activated the huge touring screen moves automatically into position – the reverse happens when the ignition is turned off. The screen is electronically adjustable and simple to
operate on the fly. It's also very effective at banishing wind noise and buffeting to the point where this is one of the few machines where I'd be happy with the protection straight out of the crate rather than urgently seeking an after-market screen. Full marks there Kawasaki.
With the bike fired up, a quick check and adjustment of the high visibility forward mounted mirrors, it was almost time for the off. Being used to riding adventure bikes fitted with wind deflecting handguards, I was conscious of the fact that my hands were looking mighty exposed to the elements. However, after having spent time on the bike, both the mirrors and clear plastic winglets fitted to the fairing do a mighty impressive job of diverting airflow off both hands and lower body.
One last thing to point out before moving off is the handy cubby hole in the front left fairing which is perfect for stashing quick to hand essentials such as credit cards or cash on overseas motorways. The compartment also conveniently locks and opens with the ignition so there's no chance of leaving it unlocked when you leave the bike unattended.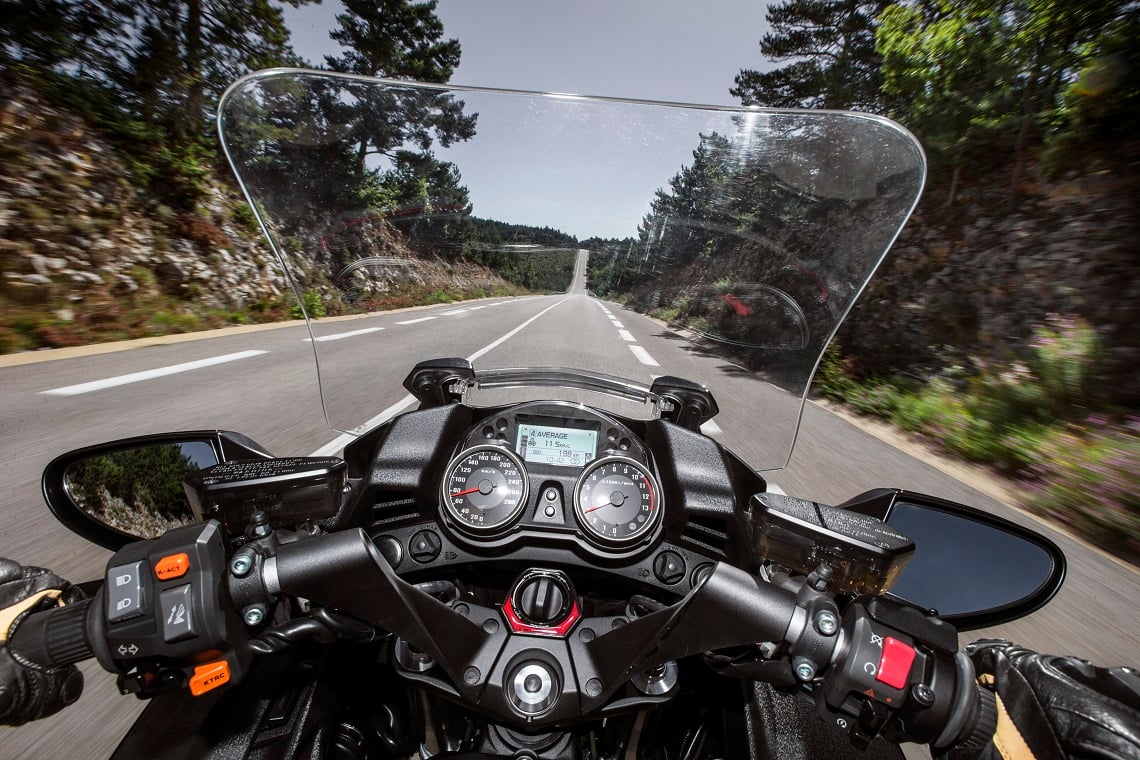 From the off you just know the smooth turbine-like engine is going to be a peach, there really is a lot to be said for the silky characteristics of an in-line four. With 1352cc pumping out 160bhp and 136NM of torque, you'd not know the difference if you were loaded up with full luggage, a pillion and pulling a caravan.
In all gears, the GTR pulls smoothly from 2,000rpm and whilst the acceleration is not as manic as on the Multistrada or KTM 1190, you'll be hitting licence threatening speeds before you've had chance to change into third. Such is the plushness and protection on this bike, the speed and power are seriously deceptive and builds in a seemingly never-ending and effortless tsunami of power that'll have you doing 135mph in fourth whilst your mind is still thinking that'll be about 80mph.
Make no mistake, this is a very fast bike, and I recall getting off the bike after a session on our local airstrip and thinking that opening up the GTR is like drinking from the pint glass that never empties. The power just keeps coming and coming. Wonderful stuff.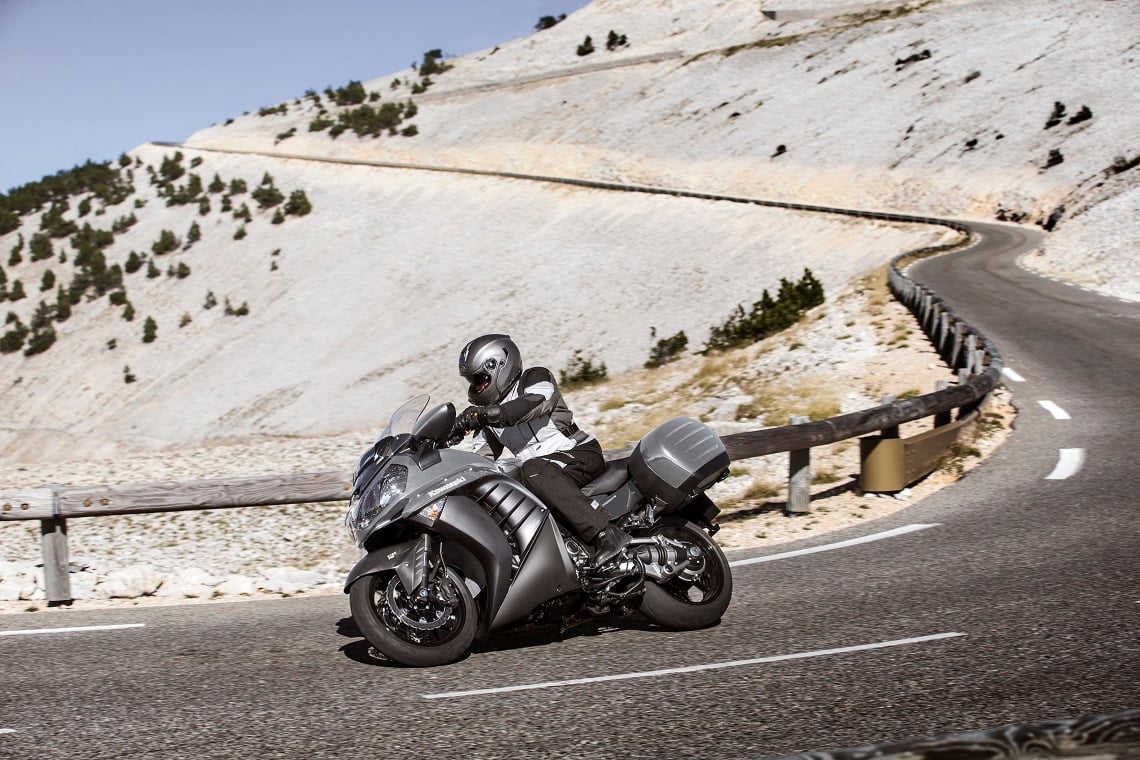 At legal motorway speeds, the ride is as stress-free as it gets. In fact, 70mph feels more like 50mph on some other 1000cc plus machines I've tested. What's more, the GTR is rock solid and holds a straight, steady line when solo or with a pillion and full luggage. The suspension also has that plush, non-jarring feel that, in my book, is spot on for effortless, long distances…
Added to that, the Kawasaki has a maintenance-free shaft drive, plus a sixth gear overdrive, both of which add to its touring credentials. With these long distance features, it's even more of a mystery why Kawasaki didn't think the GTR worthy of cruise control, which I have to say is a glaring omission.
On fast A-roads, it doesn't take much of a lean to remind you that the ground clearance is less than you'd find on an adventure bike and you'd be wise to either move your feet further back on the pegs or take things a little gentler.
Equally so, the 'plush' suspension starts to feel a little squidgy when pushing things along on faster country roads with uneven surfaces.
In the technology department, the GTR comes with a sophisticated ABS system, traction control and economy assistance mode which switches to a leaner fuel map offering extended MPG.
In modern day terms that's a pretty short list when you consider that most big touring and adventure bikes are loaded with electronic wizardry which, on the whole, offer the rider far more flexibility, control and comfort. Electronically adjustable suspension being a case in point.
As a pillion carrier, the GTR received a rave review from the back seat, being comfortable with plenty of legroom and not a hint of buffeting. When asked for a quote the reply was, "such a smooth
and comfortable ride, just like a very fast magic carpet with no neck jarring." My chest swelled with the compliment.
Conclusion
The comfort and effortless power of the GTR are undoubted and it's all too easy to recommend this machine as a superb long distance tourer, or if you're one to share the saddle with the better half regularly. On the other hand, £13,699 is not cheap when you consider the alternatives on offer and if you've any off-road adventure aspirations then it's a definite no-no.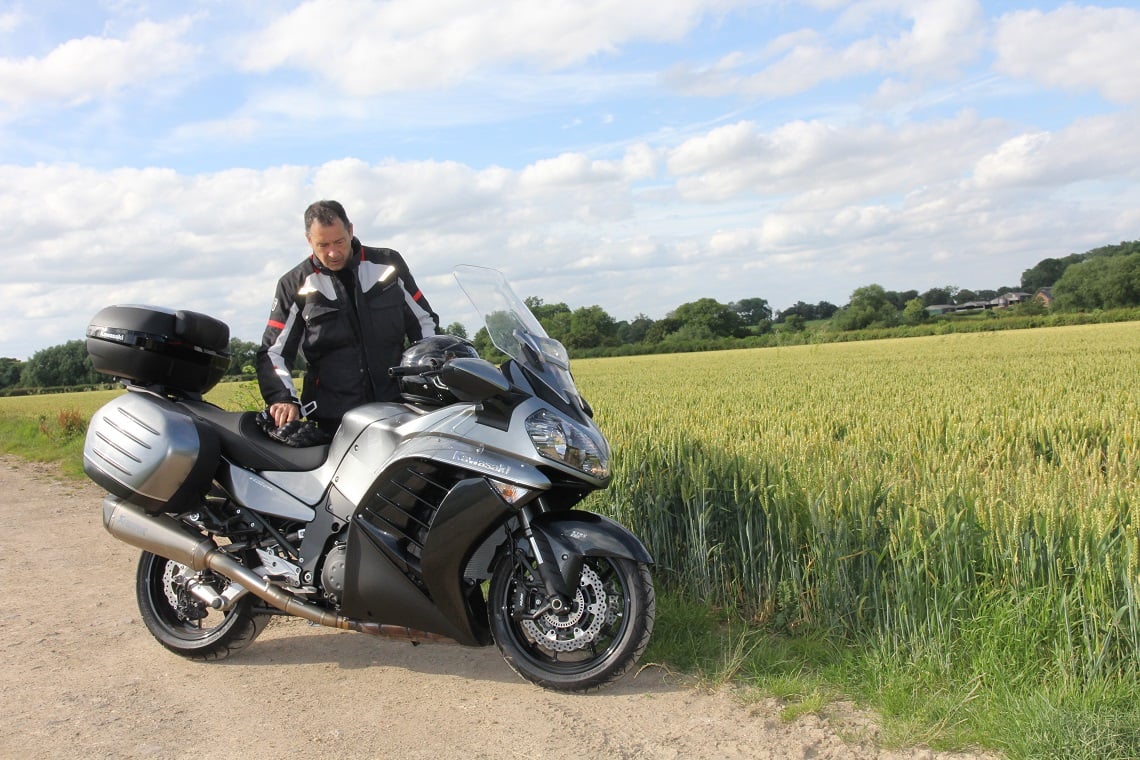 As I said at the start of this review, there's a reason why the sports touring sector is in decline and adventure bike models are on the rise. In my opinion, adventure bikes offer a similar level of comfort and power with the added attractions of off-road performance and 'image' – and let's not underestimate the power of that last point.
The real-world advantage of a sports tourer is that they come with a more manageable height and the resulting low-speed stability and manoeuvrability. I might yet consider one sooner than I think.
---
ABR Verdict
As a commuter
Commuting is not the first thing that pops into my head when I think of the GTR 1400 but there's no reason why not. It's a huge, heavy machine but the upright stance is good for visibility and the seat height means both feet on the ground stability.
As a weekend tourer
Perfect for those long weekends in the Lakes, Mid Wales or Scotland where you need a bike capable of knocking off high motorway miles with minimum stress and the handling and performance credentials to make the A-roads fun when you arrive.
As an off-roader
If you have any off-road aspirations then the Kawasaki GTR 1400 is not your next purchase.
As a continental road tourer
Just one look at this bike tells you those long continental motorway miles are going to be a breeze. Ditto when you hit the no speed limit autobahns. Long-distance on-road comfort is what this bike is all about. I'd like to see a bigger tank range though.
As an RTW overlander
There are many accounts of riders spanning the globe on bikes as diverse as Yamaha R1s and Harley Davidson cruisers so, should you have a mind too, there's nothing to stop you spreading your RTW wings on a Kawasaki GTR 1400 with the proviso that you take the all tarmac route.
As a pillion carrier
In my experience, your pillion will thank you for buying a GTR. Absolutely no complaints in that department. The bike is spacious and powerful enough for you not to notice you've got a passenger.