TOOL HARDY
Bryn Davies puts the top pocket-sized multi-tools through their paces and the best part is that they're all under 50 quid. Bargain
If there's ever a time to carry a multitool it's when you're adventuring by bike. Whether you need a knife for cutting, scissors for opening or a screwdriver for screwing, a multi-tool will probably do the job. In ancient Rome, multi-tools were mainly used for eating, comprising a folding spoon and fork, but these days they can offer more equipment than the tool box in your garage.
Scissors, bottle openers, pliers, knives, tweezers, files, saws, to name but a few, are just as useful in the country lanes of Warwickshire as they are in the jungles of Brazil, and the ability to carry all of these implements in one handy pocket-sized device is what makes multi- tools such a great accessory.
In this review we're going to be looking at multi-tools under £50. There are more expensive, better quality ones out there, but in a time when you have to take out a small loan every time you want to fill up your tank we thought budget would be the best way to go.
We asked the question 'What do you consider to be essential in a multi-tool?' over on the ABR forum and the general consensus was that apart from having someone who knows how to use it, the essential tools would be scissors, screwdrivers and knives. You'll find that most of the multi-tools in this review have screwdrivers and all of them have knives, but only a few have the useful set of scissors.
It's no use buying the most fully featured multi-tool out there if you're only going to leave it in your toolbox at home. What use is it there when you're out in the bush trying to skin a rabbit for dinner!? With this in mind, it's worth making sure your multi-tool is neat, light and easy to pack.
How we're looking at them
Before I go in to this review I'll just clarify that we're looking at multi-tools with a view to using them while camping, rather than using them to fix the bike. Obviously it's a bonus if one of these tools has a function to help you change a tyre, but if one lacks a bike-friendly feature I'm not going to mark it down.
The law and multi-tools
Since the Criminal Justice Act was introduced in 1988 it's an offence to carry a bladed instrument in public. So where does this leave you if you're carrying a multi-tool? If the blade on your tool is under three-inches long and it doesn't lock in to place you'll be fine. If it's over three inches however, you're going to have to explain to the police why you're carrying it on your person. If you have a legitimate reason, ie cutting firewood, they'll let you off with nothing more than a warning.
Features of a multi-tool
Wire cutters/strippers Great to have for cutting and stripping wires and thin metal (like chicken wire or barbed wire fences)
Locking mechanisms Mechanisms to hold tools in place once they're unfolded are brilliant, providing they're easy enough to unlock as well. Textured levers work best and are effective even in the wet
Lanyard loops These are there so you can attach your multi-tool to your keyring or to a belt loop, for instance
Files Can be used to file down wood, metal, or your nails…
Screwdrivers Phillips and flat-head screwdrivers are brilliant attachments and most multi-tools tend to have them. Ideally they should have long shafts to help you reach recessed screws
Knife You'll find a main blade on all of these multi tools on test. Ideally we'd want our blades to be sharp out of the packet and ready for use. It's useful if blades lock in to place for safety purposes, to prevent them from closing on your hands while in use, but ones that snap in to place and offer some resistance when folding up are also good. Some multi-tools also have a second smaller blade
Handles Ergonomic handles are great if you don't want a painful hand while gripping your tool tightly. It's also useful if the handle features a rubberised grip, to help you hold the tool when it's wet
Saw Saws are brilliant for cutting up pieces of wood for building fires as well as doubling as a bread knife. You'll see that some manufacturers' ideas of what constitutes a saw have more in common with the latter
Needle nose pliers You'll find these at the tip of the pliers on most multi-tools. They're useful for gripping and bending wires and other materials
Regular pliers These are found in the middle of the pliers and are useful for gripping, compressing, twisting and bending metals, screws or other objects
Rulers Some multi-tools have units of measurement along their handles. They're handy little additions and I was surprised at how often I used it.
Spring loaded pliers These allow you to use the pliers more easily with one hand by opening the pliers for you. Most in this test will feature an external spring that can be removed if you so wish, but they can also pop out when you don't wish; it's swings and roundabouts
Bottle / can opener Like scissors, openers are arguably among the most important features of a multi-tool. If you can't get your beers open, you're in for bad times. Similarly with can openers, a good can opener will be sharp enough to easily pierce the lid of a tin can without you breaking a sweat
Scissors Some may say that scissors are the most useful instruments to have on a multi-tool as they have so many uses, however not all multi-tool manufacturers seem to agree
TREKMATES OMEGA 10-IN-1 – £14.99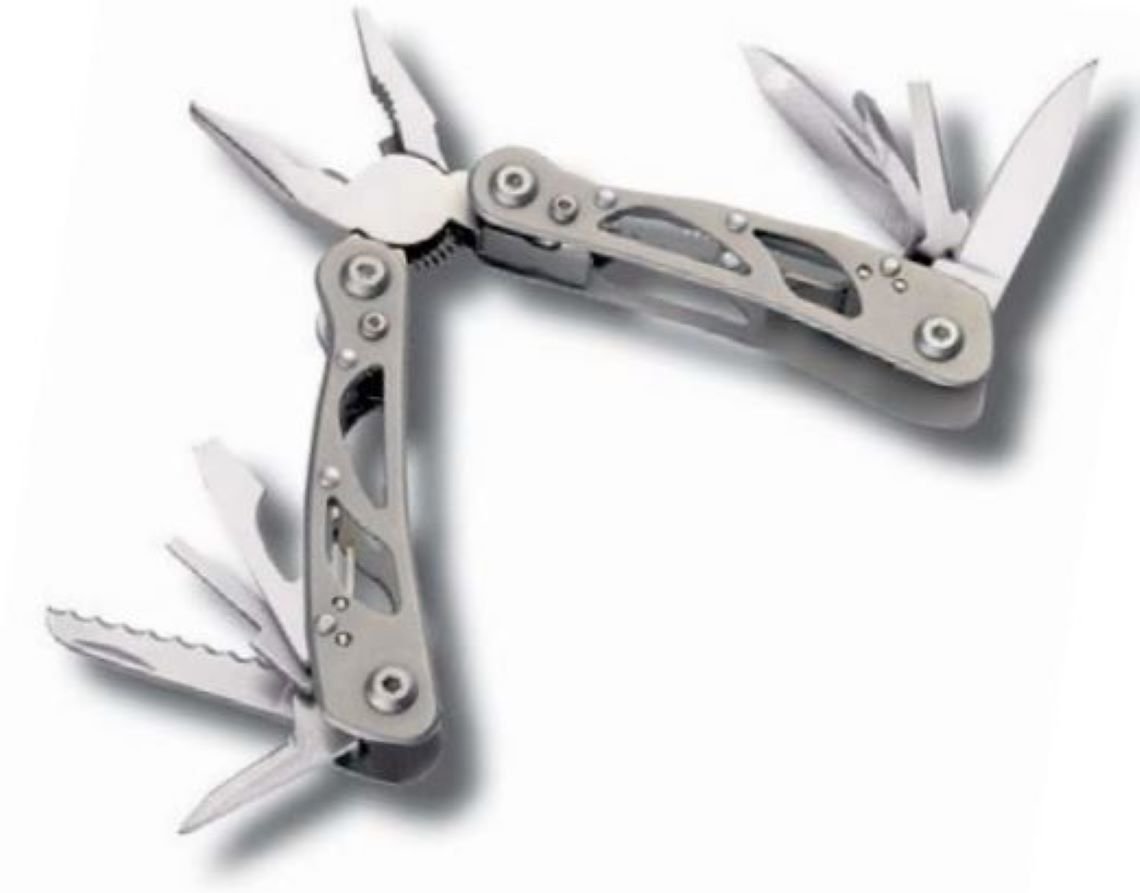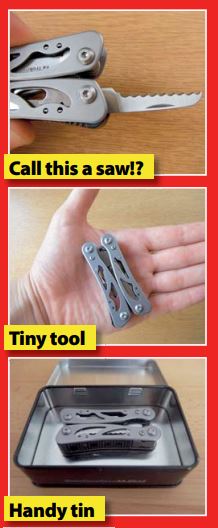 If you were looking at the Trekmates Omega 10-in-1 multi-tool you'd be forgiven for thinking that it's a toy, such is the size of it when compared to other tools on test. It's a miniature piece of kit that features 10 different useful tools including a straight-edged knife, a serrated knife (or 'saw' as the manufacturer calls it – both are under three inches), pliers, a few screw drivers and a file.
Initial thoughts on the Omega are that it'd be great as a keychain multi-tool, it's about the right size for it and the blades are all below the legal length, however there's one stumbling block – the lack of a key chain loop means that you can't use it for this and that's a shame.
The two blades that are provided are useful for cutting open food packaging or sawing through meats, but for anything more substantial (ie rope or sticks) you'd be better off with a bigger, sharper blade.
The other tools on the Omega work well and the pliers and wire cutters are strong enough to cut through chicken wire with ease,
anything more substantial will require a bit of jiggling about and a firm grip, which will leave your hand sore as it's not the most comfortable tool to hold. The pliers have been loaded with a spring to make them easier to use.
All in all if you're looking for a cheap multi-tool that'll be used mostly for opening bottles of beer and cutting open food packets, you can't really go wrong with this. If, however, you're after a more substantial tool that'll put up with heavy duty use and be capable of cutting through more than string, you'd be better off looking elsewhere.
In a line: A great price but small and toy-like
ABR Rating 6/10
HIGHLANDER CONDOR SOCKET TOOL SET – £16.99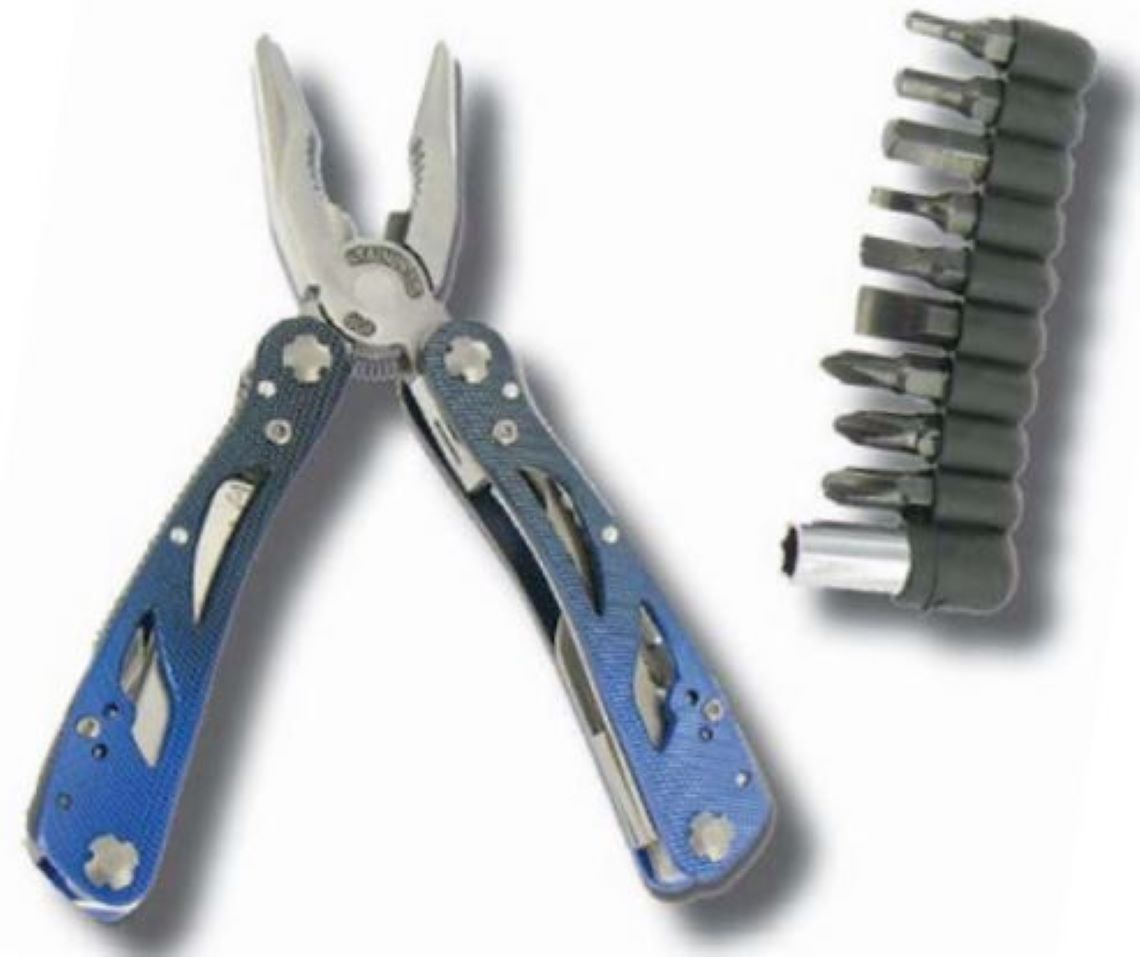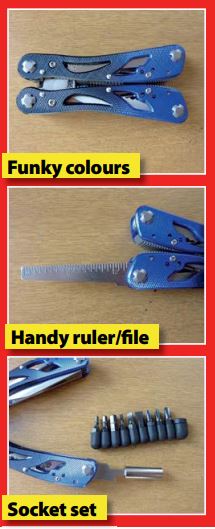 Despite its cheap price the Highlander Condor Socket Tool set offers a hell of a lot in terms of practicality. Not only does it come with your standard multi-tool attachments but it also has a socket tool set with it which comes with nine types of screw heads from Phillips to Torx.
It comes with a tough-feeling pouch that can be attached to your belt and there's also a little stowaway pocket for the screwdriver attachments so you don't lose them. If we were marking on style, the Highlander would score high as its metallic blue and black coating makes it a funky piece of kit. This coating, however, is prone to scuffs and after some tough usage it might start to look tatty.
The tool itself has a nice, strong weighty feel to it and it's smooth to open and close. The tools are all on the outside so you don't have to open the pliers to get at them and they're nice and easy to pull out, some may argue too easy, and they can have a tendency to flop out when not in use. Once you've selected the tool you want it'll snap in to place (it won't lock, though) which is a nice touch.
The pliers are spring loaded to make them easier to use and the spring feels a lot more substantial than those in the other tools on test. When the pliers are in use the tool is also comfortable to hold and doesn't dig in to the hands.
For all its great points though, the Highlander shares something in common with the other cheaper tools in this test: both the serrated knife and the straight-edge knife aren't as sharp as they could be and the mini knife is practically blunt.
In a line: Very nice price, lovely socket set and an overall good buy
ABR Rating 8/10
OUTWELL SQUEEZE MULTI Tool – £19.99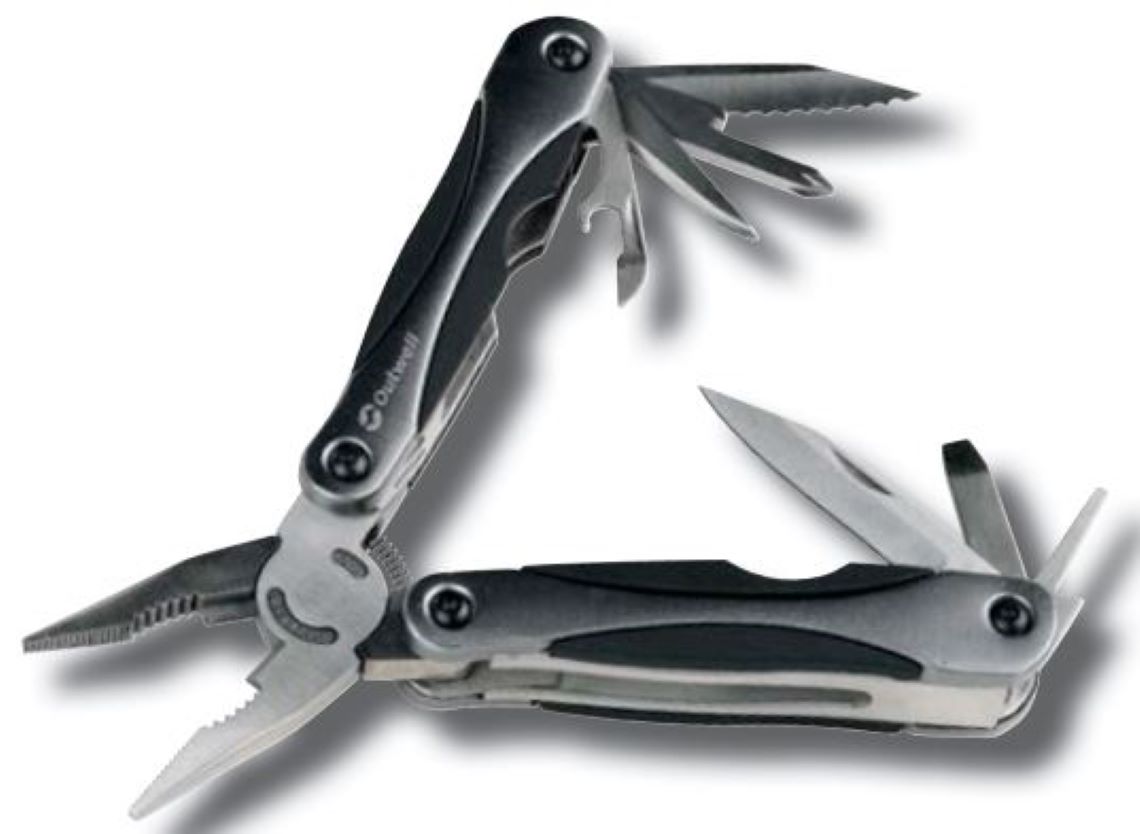 If you're after a cheap multi-tool then the Outwell Squeeze is a good place to start looking. Its £19.99 price tag wont set you back too much and you can no doubt get it cheaper online, but is the Squeeze a tool that's worth buying or not?
For starters it comes with a carrying pouch, which you can attach to your belt for easy storage and access. This pouch isn't intended for lifelong use, however, and some heavy handling saw it ripping. While this doesn't affect the actual performance of the tool I think it's safe to say that we'd all want a pouch that didn't rip.
The Squeeze itself has 10 different tools for you to play around with and they all fold out smoothly and click into place (though they don't lock). The two knives you get (one saw and one straight-edged knife) are both a useful two-inches long so they're small enough to carry around day to day, yet big enough to feel substantial. They could do with sharpening, though, as they're none too clever out of the box and the mini knife is virtually blunt.
The pliers are spring loaded so they automatically open themselves making them easier to use, however the spring is easy to dislodge and I can see it coming out sooner rather than later. This isn't a problem however, as the tool itself is still fully functional without the spring, but I'd like a sturdier one.
The tool feels weighty and comfortable in the hands, but despite its stainless steel coating it still feels plasticy and not as tough as others on test. There's a bit of vertical play in the handles when they're folded down and I can see this being a weakness if you squeeze this tool hard.
In a line: A cheap and cheerful tool if you're on a tight budget
ABR Rating 6/10
VICTORINOX OUTRIDER – £38.99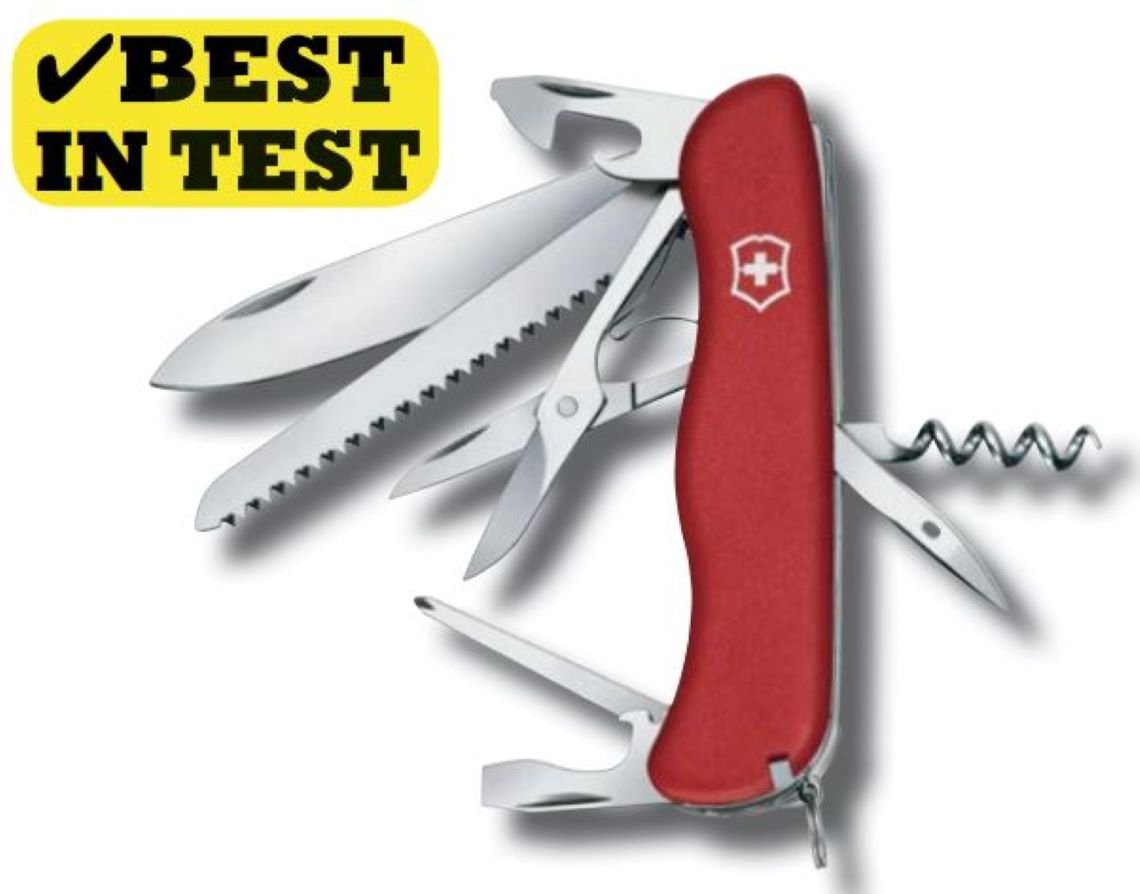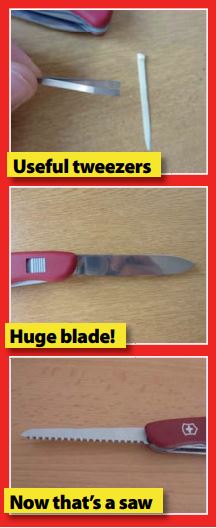 There's something written on the box of the Victorinox Out- rider that's very reassuring to read: 'Made in Switzerland', and like all things Swiss the Outrider looks like an efficient piece of kit. It's unlike the other products in this review in that it doesn't have a pair of pliers, but I'm not going to count that as a weakness as these Swiss Army Knives aren't designed to be used as pliers.
The first tool I pulled out of the Outrider was the monstrous blade, which is roughly three-and-a-half inches long and locks into place. This means that you'll have to have a good reason for carrying the Outrider in public, but beyond all the legal mumbo-jumbo we're looking at a brilliant and useful knife. It's very sharp and well made, although there's a little bit of blade play when it's locked in place. To unlock the knife you slide a release button and this is easy to use even when wet thanks to some well-placed ridges.
Like the knife, the Outrider's saw is spot on; unlike the other serrated blades on test here, it actually resembles a saw and will not easily get mistaken for a breadknife. Again it's roughly 3.5 inches but it doesn't lock in to place like the blade. This isn't a problem as long as you're careful while using it.
Other tools include a lanyard attachment, bottle opener, a reamer with sewing eye, tweezers, toothpick, two flathead screwdrivers, a Phillips screwdriver, pair of scissors and a brilliant can opener. If you can forego a pair of pliers, the Outrider is definitely a tool to consider.
In a line: A well-made tool with a brilliant knife and saw
ABR Rating 9/10
LEATHERMAN KICK – £39. 95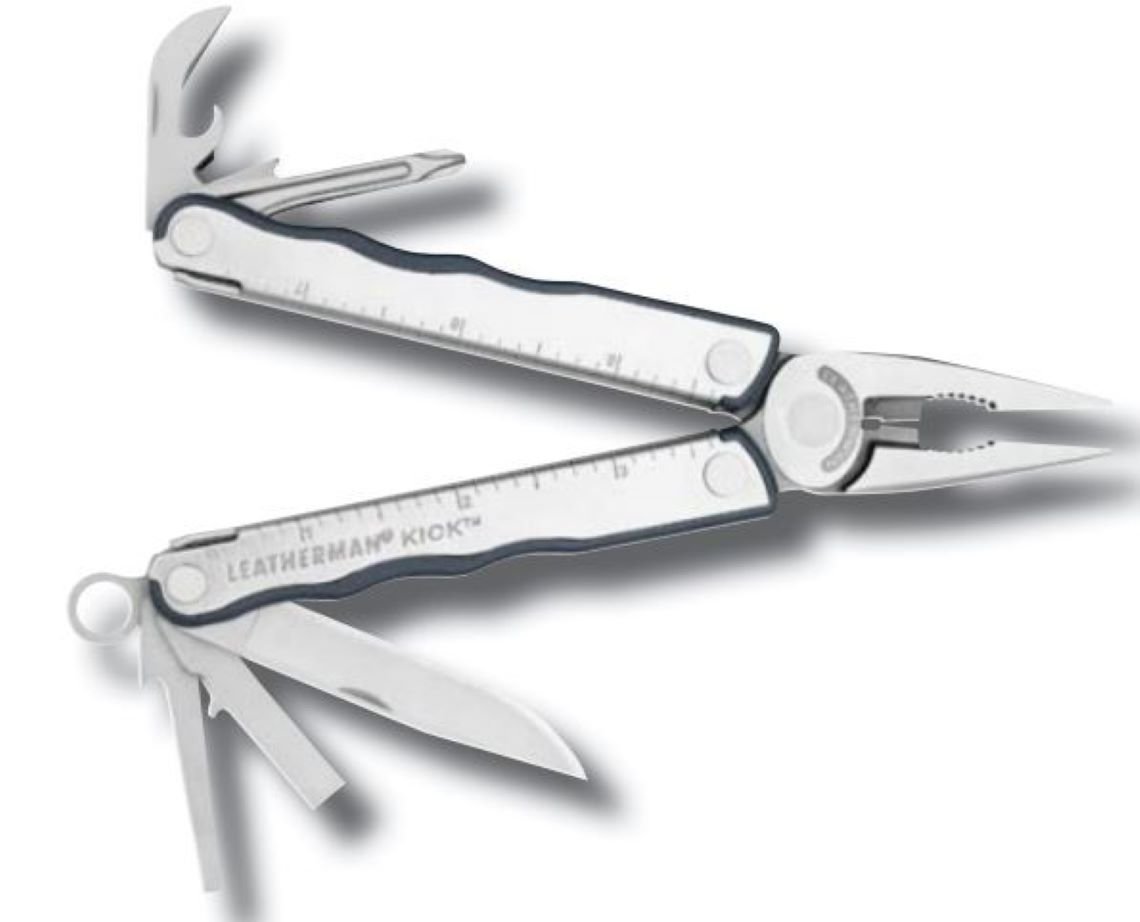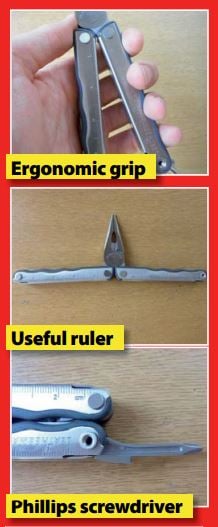 Leathermans were created back in 1983 by a guy called Tim Leatherman. He wanted to design a 'Boy Scout knife with pliers' after he travelled around Europe and the Middle East with his wife. The resulting invention was the Pocket Survival Tool, the first Leatherman made. Since then, in the way that Hoover became synonymous with the vacuum cleaner, Leatherman has become a generic term for multi-tools. The Kick is one of the most basic Leatherman's on the market, and that's reflected in its £39.95 price tag, however that's not to say that it doesn't hold up to Leatherman's usually brilliant reputation.
As with all Leathermans you get a 25-year guarantee with the Kick, this speaks volumes about how confident Leatherman must be in the build quality of its products. Certainly just from handling the tool you can tell that it's a step up from others in the price range. It feels good quality, strong and well made.
Feature-wise the Kick isn't going to set the world alight, though you get a total of seven instruments, including the pliers. These tools are all of a high quality and little details make them all exceptionally user friendly; the screw driver, for example, has a longer shaft than the other models on test (with the exception of the Gerber) which allows you to reach recessed screws more easily. The knife is also incredibly sharp straight from the box. If the standard tools aren't enough for you, Leatherman does an attachment called a Removable Bit Driver that can be bought for £22.95 and adds 10 additional tools to the Kick.
Despite its high build quality and tough feel the Kick suffers from a problem that seems to be common with Leathermans, the tools tend to clump together and all come out when you only want to select one. It's not enough of a problem to put us off the Kick though.
In a line: Basic tools but an affordable quality Leatherman
ABR Rating 9/10
GERBER BEAR GRYLLS SURVIVAL SERIES ULTIMATE MULTI Tool – £49.99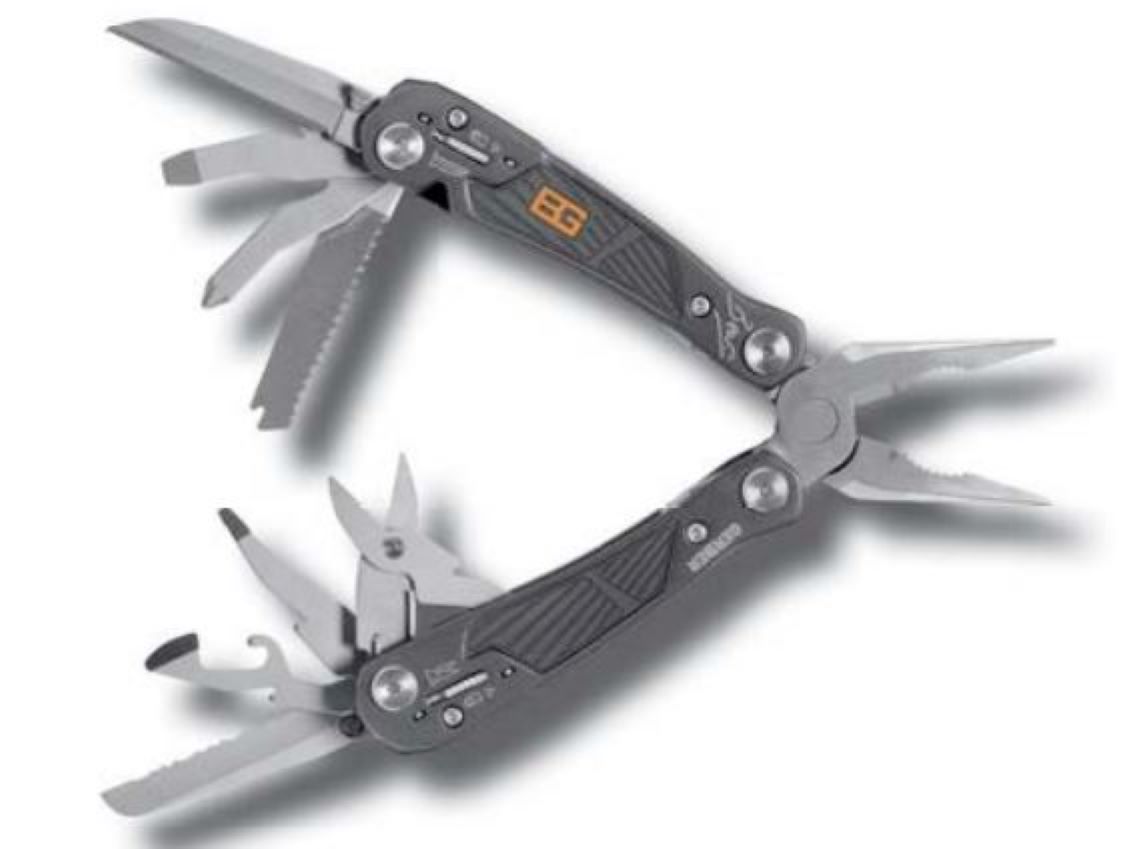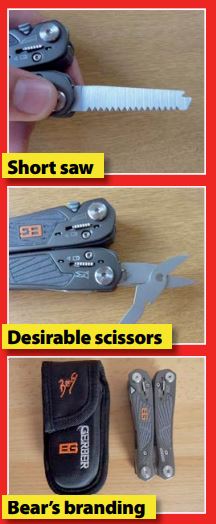 At £49.99 the Gerber Bear Grylls Ultimate Multi-Tool is the most expensive tool in our test. It's part of a new range of equipment from Gerber and Bear Grylls (y'know, the survival guy on TV).
The tool comes with a survival guide and although you probably won't use it it's a nice addition and includes tips on collecting water, starting fires and building shelters. You also get a nylon sheath with two pockets, one for the multi-tool and one for the survival guide, however the survival guide pocket is behind the tool pocket, and this will catch on the tool if you're trying to holster it. It's not a deal breaker, but it's annoying.
The tool itself comes with 12 implements and a spring-loaded set of pliers. Unlike the others in this test, the Gerber pliers' spring is internal so you can't lose it. To assist you further the handles feature rubberised sections for extra grip and in use it feels comfortable without any points digging in to you. All of the tools included in the Ultimate Multi-Tool lock in to place, however the unlocking mechanism is pretty stiff and with excessive use it can hurt your fingers.
The blades included (knife, saw and serrated knife) are of a good quality and sharp out of the box but the saw is a bit small if you're planning on using it for anything bigger than a stick.
All in all the Gerber Bear Grylls Ultimate Multi-Tool is a functional piece of kit that'll do the job. I'd have preferred longer blades, a better Phillips screwdriver and a sharper can opener, but aside from that you'll have a great tool if you can put up with having Bear Grylls' name on your gear.
In a line: A tad more expensive, but all the tools you might need and a handy survival guide
ABR Rating 8/10