Cool gear that's good to go riding with
NIKWAX TX. DIRECT WASH-IN WATER-PROOFING £8.25 (300ml)

What is it? It makes your waterproofs almost as good as new
New waterproofs usually come treated with a Durable Water Repellent (DWR) finish which causes rain to bead up and roll off the clothing. However, DWR is not a permanent feature and given enough time the coating wears off and the material soaks up water like a sponge. This 'wetting out' inhibits breathability, plus it causes clothing to become heavy and cold even in light showers.
The solution to the problem of wetting out is to reproof your clothing and top up its DWR coating by washing it in a reproofing solution. Nikwax, one of the market leaders in the re-proofing business, has launched a new and updated version of its popular TX. Direct reproofer for waterproof jackets and pants.
The new 11.1 formula is claimed to last up to five times longer than previous versions, surviving more than 40 washes in lab tests, and that's pretty impressive. This means you'll have to reproof less often, saving you the hassle and some cash. If applied as per the instructions you can wash and reproof three garments per bottle (100ml per garment) in a washing machine, or if you're into hand washing your gear, you'll get up to six washes (50ml per garment). More information: www.nikwax.com
SOTO MUKA NON-PRIMING STOVE £175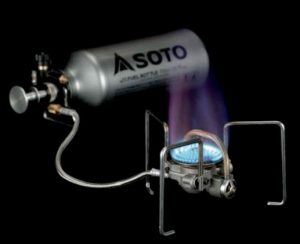 What is it? The world's first multi-fuel stove that needs no priming
The SOTO Muka multi-fuel stove is, according to SOTO, the world's first non-priming (pre-heating of fuel) liquid multi-fuel stove and as we've not come across any others we reckon they just might be right.
The Muka doesn't require priming as it works with the fuel under a very high pressure causing it to vaporise and burn more efficiently. This means the Muka has the ease of use of a gas stove, but due to the high pressure required it needs to be pumped more times than other multi-fuel stoves. In fact our tests revealed roughly 240-250 pumps, which is, in our opinion, almost enough to make you want to hike to the nearest cafe and be done with it.
It's not just the non-priming that's appealing about the Muka though. It requires minimal cleaning and maintenance and that always makes for a happy camper. Petrol and other fuels burn more cleanly and efficiently under high pressure, though working with such pressurised fuel can be dangerous so you also get an emergency stop button which instantly shuts off the flow. There's also a handy pressure indicator so you know when you've pumped enough.
In testing the stove's ignition, flame control and fuel valve worked spot on and it brought a litre of water to the boil in just over four minutes; the pan supports are also wide enough and stable enough to hold large pots, which is a bonus. We'd have preferred more fine-tuning ability for gentle simmering, though.
For £175 you get: the stove, reflective ground stand for improved heat retention, wind shield, maintenance kit, storage bag and the SOTO fuel container, which is specific to this stove only – you can't use other brand fuel bottles. More info: www.sotooutdoors.com
FORCEFIELD TORNADO+ SHIRT £64.99
What is it? A technical base layer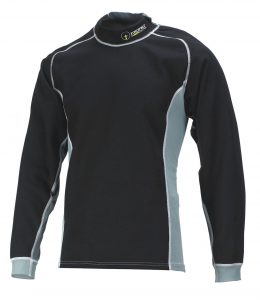 You can spend £1,000 on the most breathable motorcycle jacket but if you wear the wrong base layer you may as well have stuffed your cash up an exhaust. Base layers play a vital role in the layering principle which is accepted as being the most efficient way of temperature regulation and comfort.
For a base layer to play its part it has to be efficient at transporting sweat away from the body to mid and outer layers (wicking), be warm when wet, be highly breathable and it needs to dry quickly. Cotton base layers breathe but are next to useless in all other aspects, which means you need to be looking at a product made from Merino wool or a manmade fibre.
The Forcefield Tornado+ Shirt is a base layer cut from a blend of Polyester, Polyuretane and Polypropylene (all manmade) and without getting too involved in the chemistry that all means you get a next-to-skin shirt which wicks, is warm when wet, breathes and dries quickly when it does wet out. Plus, it comes with the well-respected Thermolite brand name. A good start.
Forcefield is better known in the ABR office for its excellent body armour so it was with great interest that we checked out the new clothing from the company's Climate Control range and our first impression was 'beam me up Scottie' – the styling is more hi-tech Star Trek than pie and pint biker chic. That said, we quite like it.
The Tornado+ is windproof at the front of the body and arms, a feature that'll help if your jacket has cold spots but also makes for a section of the garment that will not breathe so well. Fortunately the back, sides and underarm regions are all highly breathable so, in our opinion, the mix is as good a compromise for touring as you're going to get.
You get a high neck collar, full-length sleeves and a long cut body to keep out drafts. There's a short zip at the neck for easier access and ventilation and the sleeve cuffs are elasticated and comfortable. All the seams are flat stitched, something we like to see on base layers as it eliminates the possibility of chaffing.
In use, the front of the Tornado+ has that sort of crisp packet feel which is hard to avoid when you introduce a technical windshield material though the inside (front) is lined with a fine fleece scrim which means it's comfy next to skin. The rest of the shirt is lightweight, highly breathable and comfy and very reminiscent of Lowe Alpine Dryflo, a respected fabric well known in outdoor sports.
The stretchy material means that the overall fit is spot on, snug but not too tight though it is a touch 'athletic' in style so you may need to go up a size, or two. In use the technical performance was top draw; it wicked well, was comfortable when damp and dried quickly when wet.
Other features include a stain-resistant finish and it comes with anti-bacterial properties, but in reality there's no manmade material going to stay pong free for long on hot sweaty days in the saddle.
The price is high but then the quality of this shirt is top draw, too. More information: www.forcefieldbodyarmour.com
SOL ORIGIN SURVIVAL TOOL £56.49
What is it? It might just save your life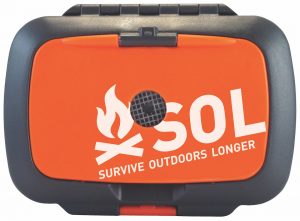 The Sol Origin Survival Tool is a tobacco tin-sized survival kit full of all the stuff that'll bring out the never say die in every biker. With gadgets and tools aplenty you'll be able to rig up a fishing line or a radiant heat snow melt contraption and keep the home fires burning with prepared tinder and flint. In fact all the sort of gear you'll need to keep you in tip top condition if you get a flat on the M6 or, for that matter, when attending an ABR Rally.
In reality, these kits are the commercial answer to a self-assembled survival tin featuring everything from a signalling mirror, compass, blade, torch, parachute cord, etc. There's also a handy little leaflet covering 62 life-saving techniques by a guy called Buck Tilton who sounds and looks like (he has a nice bushy beard) he knows his stuff.
It's a bit pricey but also the stuff of wet dreams if you're a tin foil hatter. And as luck would have it, check out page 140 of this issue of ABR where there's a competition to win one of four Sol Origin Survival Tools. Oh, and here's a little known fact: Gloria Gaynor slept with one of these under her pillow. More information: www.burton-mccall.co.uk