Imagine being given 12 months' free reign to ride wherever you want. Money and time are no objects, and neither is the boss… Craig Watt, this is your grown-up Gap Year
Who?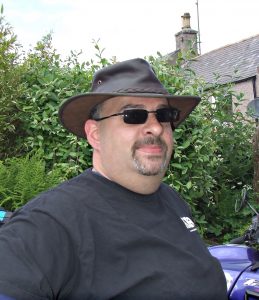 NAME: Craig Watt aka LargeWayRound
AGE: 44
FROM: Aberdeen , Scotland
STATUS: Married
JOB: Canine Appearance Technician
BIKE: Transalp 650 (2007)
Where?
I want to ride Canada, from east to west. Starting from the Dramatic Lighthouse located at Cape Spear, on the Island of Newfoundland and the most Easterly point of Canada, we'd spend a few days exploring the St Johns area. George Street, which harbours the most pubs per square foot of any street in north America would, of course, garner special attention. We'd then spend a few days riding along the coast, to get in some Sea Kayaking, a whale-watching trip, and some fishing and hiking before we head north-west on the Trans-Canada Highway, stopping to visit Gros Morne National Park and the Viking Trail before heading north to the Viking Settlement of L'anse aux Meadows. Then it's over to Port aux Basques to catch the ferry to North Sydney on the Cape Breton Island.
Heading out on the Trans-Canada Highway, we'd take a detour at South Haven and follow the Cabot Trail north, around the coast to Cape Breton Highlands National Park, where the outstanding scenery and camping spots abound. During the early 19th Century, the island experienced a large influx of Highland Scots, numbering approximately 50,000 as result of the highland clearances and today the descendants of the Scots dominate the Island's culture. It's well known for its traditional fiddle music and ceilidhs which would be a big hit for us.
Picking up the Trans-Canadian Highway again (no need for ferry off Cape Breton Island as you can drive over the Canso Causeway which will takes us over to Nova Scotia), we'd take a week or so to explore Halifax, the Halifax Citadel, St. Paul's Cathedral (1749) and maybe even catch a Mooseheads hockey game.
Hitting the road again, Quebec is the next destination, the crown jewel of French Canada . The old town is completely surrounded by fortifications, cobble streets and lined with 17th-18th Century houses. There's so much to see; Montmorency Falls, Canyon Ste-Anne, Hotel de Glace (The Ice Hotel) and of course the Quebec Ghost Tours to name a few. I would plan on spending up to a month exploring the area around Quebec including the Quartier Petit Champlain with all its excellent food and coffees on offer.
Skirting the Canadian Border we would then head into Toronto and make a beeline for its most famous landmark, the CN Tower, taking the Sky Pod another 33 storeys to the top. The sky pod gives awe-inspiring 360-degree view of the surrounding region; on a clear day it's possible to see up to 100 miles. You can sometimes see Niagara Falls in the distance, which is our next destination. One of the most famous waterfalls in the world, Niagara Falls is a tourist trap but well worth braving the throngs for the awesome spectacle. The Maid of the Mist boat tour is legendary while in season and in the off season you can take the amazing close-up 'Journey behind the Falls'.
Breaking free of the tourist hordes we get back on the Trans-Canadian Highway and head east to explore Old Fort William, home of the Hudson Bay Company. Our next stop is Winnipeg's Royal Canadian Mint with daily tours to see the processes involved. We'd make time for a day trip to Fort Gibralter for a look into the past. The fort, which was originally built by the North West Company as a trading post in 1809, has been lovingly recreated after the original building was destroyed in 1852.
Next we'd head across the vast plains of Saskatchewan, which are about the size of France. There are no huge cities or mountains but miles upon miles of prairie. Then into Alberta, we'd next head for Calgary, in time to spend a week at the world renowned Calgary Stampede.
We're getting close to the end of the trip now. Breaking into British Columbia, a region four times the size of the UK, there's an awesome array of wilderness to explore. Towering mountain ranges, massive forests, hundreds of lakes, vast coastline, islands and wildlife everywhere.
We'd make for Prince George where my wife's Uncle lives, a keen motorbike rider himself. Surely a boost for the weary traveller – a guided tour of the general area around Prince George?
This is the province that we would most like to move to someday, so we would spend the greatest amount of time here, seeking that perfect area to dream about when we return home to Scotland. Plenty of our time would be spent camping in places such as Kootenay Lake, Valhalla Provincial Park, Wells Grey Provincial Park and Sugarbowl Grizzly Den Park. If you're like us and enjoy the outdoors then BC is the perfect area to explore, just remember that when winter does come it hangs around for some time. Maybe not so good for riding the bike during these winter days, but by all accounts residents are well prepared for snow, unlike the UK. Winter sports abound here – skiing , snow mobiles, ice fishing to name a few.
Heading west on Route 16, we'd make for Prince Rupert. At the edge of the wilderness on the west coast of BC, in its sheltered harbour. Attractions include fishing, wildlife viewing, trails, flightseeing, kayaking, with adventure at every turn. No better place to end an epic trip in an epic country, or we could continue onwards to Vancouver… or North to Alaska… why not!?
Why?
My wife was born and raised in BC, Canada, and her stories of the special times she had when growing up, the bears, the beautiful scenery, the remoteness, have inspired this dream trip. There was no TV, no running water (Jenifer was sent to collect water from the pump!) and no nosey neighbours – bliss.
You need to be a special kind of person to enjoy the remoteness and solitude, while not craving the nearest town for a Big Mac.
One of my favourite survivalists, Ray Mears, is passionate about Canada and watching his DVDs Inspired me further. His series Northern Wilderness is highly recommended, not so much from the survivalist point of view, more about the history of Canada. It's been played over and over in our house I enjoyed it so much! A while ago I also stumbled on a great website, which features HD videos, onboard footage, and still photos of the roads around Canada. From the east to the west you can get a real sense of the beauty of the place (see, www.vridetv.com).
My wife and I are looking at retiring to Canada someday, so we're constantly looking up info, pricing land, watching DVDs and dreaming of the days ahead.
A Canadian gap year by motorbike would be an opportunity to explore not only places but the people, culture and to fully experience the country.
On What?
I'd take a Transalp 650. I could say a BMW 1200, but I've grown accustomed to my Transalp, having done 21,000 miles on her in four years. Never letting me down once, she just plods away. Of course, finding a Transalp 650 with low mileage then preparing her for the trip would not be too hard. I've already got most of the farkels; crashbars, engine guard, heated grips, airhawk, panniers etc. I'd maybe add a Zumo satnav, extra fuel can, a set of bar risers, uprated suspension, change of sprockets and chain, full service and fuel up. Then I'd be ready, I reckon.
The somewhat sedate pace of the Transalp matches perfectly with my outlook on life. I have a whole year! Doing long miles every day would not be on the cards; better to relax and enjoy the trip.
With?
My wonderful wife, Jenifer. We've been married for almost 10 years this year, and I have not been apart from her for more than four days at any one time. We work together in our business and do everything together. She is the most amazing cook, especially when camping. Jenifer can whip up a special meal from scratch in no time at all. Also, being a Canadian, born and raised in the wilds of British Columbia she knows her way around – especially when it comes to wildlife. A year without my wife!? I'd rather stay at home.