A bit of a brute she may be, but that wouldn't stop Mark Hagerty eloping with his beloved BMW 1150 GS
Bayerische Motoren Werke Gelande Strasse, five words that don't exactly trip off the tongue in poetic rhythm. Let's face it, they're hard enough to say let alone conjuring up images of motorbikes. So how about this: BMW GS? 'Aha!' I hear you say. 'That's more like it'. The BMW GS is synonymous with adventure Dakaresque bikes, far-flung places, and of course, the Long Way Round (never more so since I sold my satnav).
My machine is the 1150 variant; a beast which by any stretch of the imagination wouldn't take first place in a beauty contest. But there are other bikes to take care of beauty aspect, this GS was built with a purpose: to do all things asked of it well, and in my somewhat biased opinion, it does just that and then some. Regarding her looks, I'd call them functional, with just a hint of brute – and no, not Our 'Enry splash-it-on-all-over brute. I'm talking hard-as-nails in a reserved way; a gentleman Rugby player perhaps.
Over the years I've been privileged to own and ride some decent kit. R1's Blades, Hadley, Dukes, MVs. I've had bikes that are duel sport, pure sport, off road, on-road and various permutations in between. I could go on all day about looks, character, speed… blah blah, blah. But at the end of the day all things considered they were, apart from a couple of exceptions, just machines to which I felt no real attachment.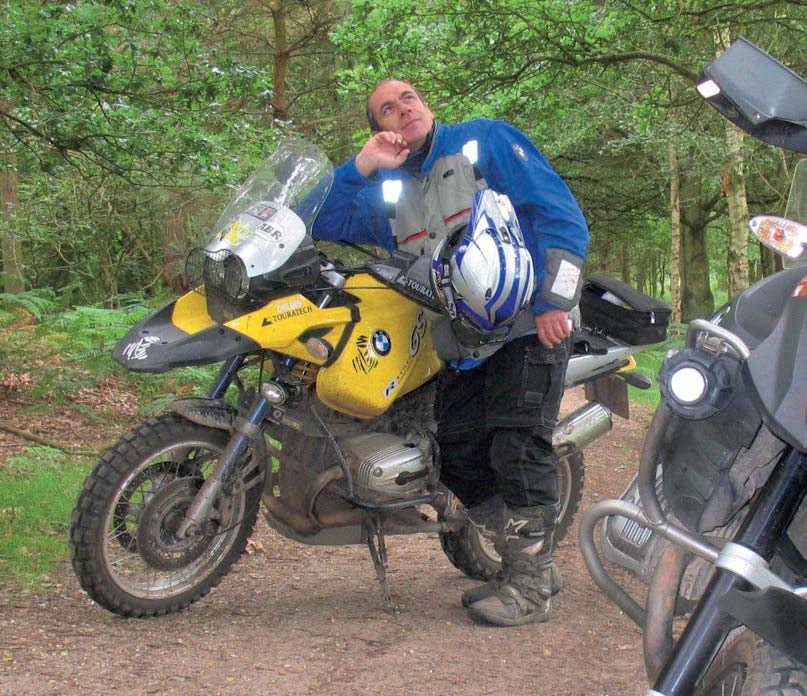 The GS, however, is different. When I get aboard, everything and anywhere is possible, despite its hulking proportions (with a cylinder sticking out from each side, its large petrol tank, and the factory panniers fitted, it's the width of a London bus) it can slip effortlessly through traffic and offers a riding position that not only cossets me but gives a clear view of the road ahead. Steering is a breeze, and the suspension is first class. I can ride all day and not look forward to the journey's end, which for me is a huge plus.
As some readers may know, the BMW has a different take on suspension, Telelever and Paralever, and for me it didn't, as some of the bike journos suggest, take any getting used to at all. From the first ride out it was a case of get on, turn key, go. The bike just seemed to fit (I've done the contortionist bit on previous bikes and it ain't fun anymore). It's also basic tech, so there aren't any servicing worries; air-cooled, so no worries with cooling systems, and it's shaft driven, so maintenance is minimal.
All my farkles have been added to do a job. They're not just bling for bling's sake; I don't do bike jewellery. The Touratech hard-part steering-stop has proved its value on – ahem – a couple of occasions. I've also added a Touratech sump guard, rack extension, headlight guard, and BMW GSA beak extension, as well as de-catting her and adding some Swedish porn in the form of front and rear Ohlins. There also are Hepco & Becker crash bars fitted and the obligatory spotlights. I made my own side-stand extender (big foot or camel toe) and also adapted a decent sized bag for the rear, to carry my camera, water and tools. At the moment I'm considering a can, but I don't see it adding much more than a change of exhaust note, so I'm in no rush. As far as luggage goes, the bike spends most of its time not wearing panniers, so I haven't bothered going down the aluminium route. The BMW stuff is great quality and water tight, so at the moment I don't see the point.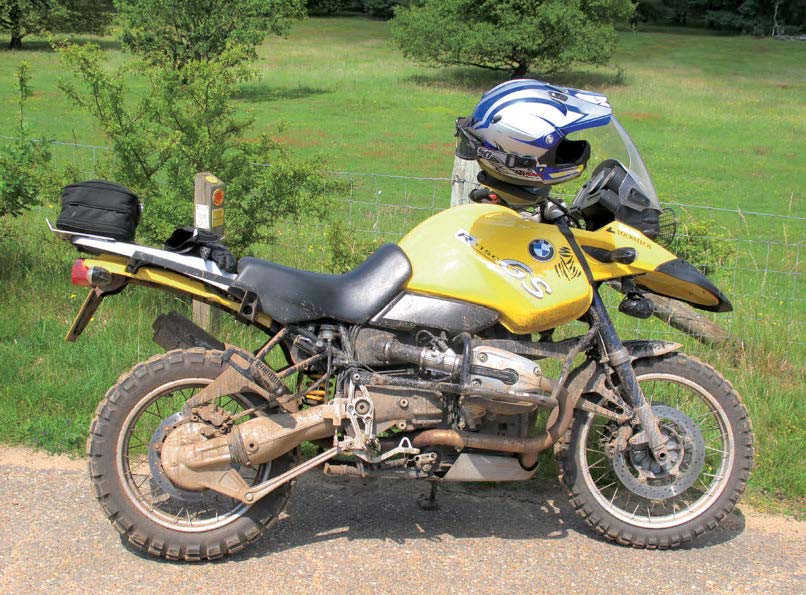 The 1150 has a lot in common with a Swiss Army Knife. Solo or two-up, with or without luggage, off-road, on road Gelade Strasse it will do it all, with one exception; it can't take a stone out of a horse's hoof. At the moment, road work has been limited to a means of getting to the trail heads where the fun begins. Sure, due to her size and weight she can be a handful, but truth be known she's more capable when the going gets tough and dirtier than her pilot.
The saddle is a clever configuration of two separate units. I tend to use the solo saddle as it gives a greater space to the rear where a pillion would normally be, which in effect makes an extended rack. Pillions report that the seat is comfortable and spacious, so I believe them, But Mrs H won't get on, so 99.9 percent of my riding is solo.
Trust her on fire roads, open the throttle, point and squirt and she will reward with a plush ride and one that has the potential to hurt you if it all goes wrong. When the going is soft, take it easy and she'll pull you through. Fancy a swim? No problem. She's reliable, durable, tough, comfortable, capable, with timeless looks. In fact, slap a bit of lippy and a wedding dress on her and I'd take it up the aisle in a heartbeat.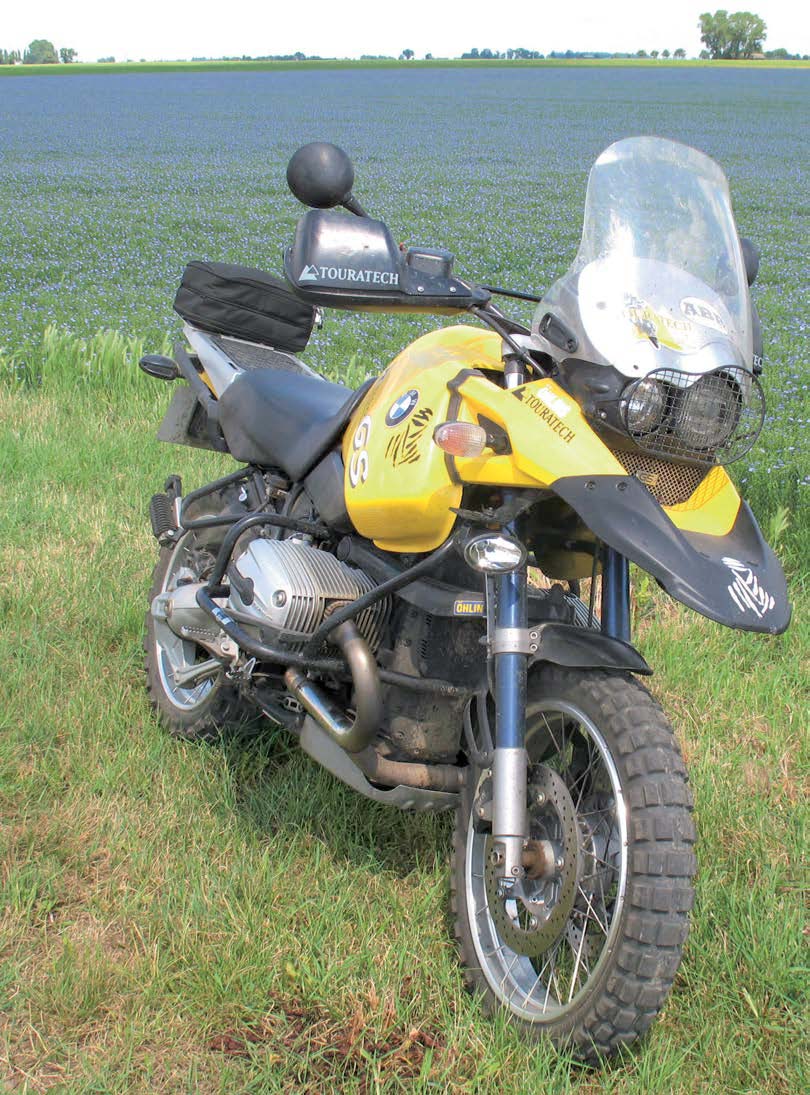 The 1150 On Mark…
First off, I'm not wearing a wedding dress, because that's just wrong on so many levels, and anyway, have you seen some of the places he takes me? It wouldn't be white for long, put it that way!
In all seriousness we have a mutual respect for each other; I won't hurt him if he doesn't hurt me. So far so good. Oh, and I'm far better at this adventuring malarky than he is, only don't tell him. In his mind he's a riding god.
Other than the mud, he does look after me. Mark's set me up in some nice accommodation; he greases my nipples, services me regularly and rides me hard – what more could a girl want!?
Photos: Mark Hagerty