Spencer Grey was determined not to fall in with the Long Way Posse, and he's a man not easily swayed. So just what is it about the R 1200 GS Adventure that's finally changed his mind?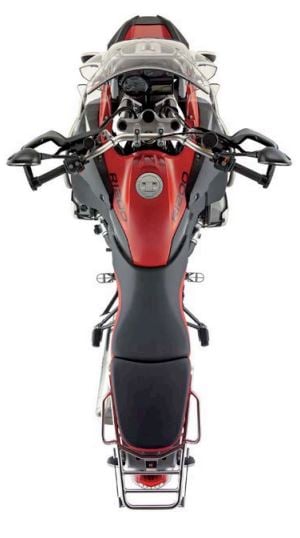 I got my first BMW four years ago – an F800 GS. I bought it completely blind and trusted its reputation to deliver. It did in fact exceed many of my expectations and endeared itself to a lot of my riding buddies as well.
It never excelled at anything but always delivered a nine out of 10 for anything it was measured up to. BMW ownership had been good to me, no repair costs or break downs in four years and 9,000 miles was a good start, so it was natural progression that led me to the R 1200 GS Adventure.
Essentially the BMW 1200 GS Adventure is captain of the illustrious BMW team, which cuts a clear divide among the ABR community. You can't deny the GSA's gravitas, which most bikers will either grant kudos or blow raspberries at. Simply put, you're either interested as to why so many riders seem to choose one, or you're determined not to be one of those Beamer clones who can't think for themselves. I suppose I set out anti-BMW although I cannot give a clear reason as to why that seems credible in truth. I guess I was riding in the 'anti circles', which cover devotion to other makes and brands that are also very good. Then one day the light bulb flickered briefly on and I needed to know why all these Johnny foreigners I was riding with had the same badge on their bike.
Comfort
One of the main reasons for upgrading to the GSA was to increase long-distance comfort and it's certainly one of the bike's strengths. The bike has a broad, deep-chested feel and with the lateral cylinder design synonymous with BMW twins it all adds to the feeling that you're riding on the back of a tame gorilla. It isn't too tall with the standard settings for a bike of its capacity and the riding position is set back further than anything else I've ridden. Wind protection behind the screens is impervious and the tunnels shaped into the tank allow you to tuck your legs in snugly when your feet are on the pegs. The only criticism I have over the comfort is that, like so many manufacturers' bikes, the seat is best replaced with a more forgiving alternative.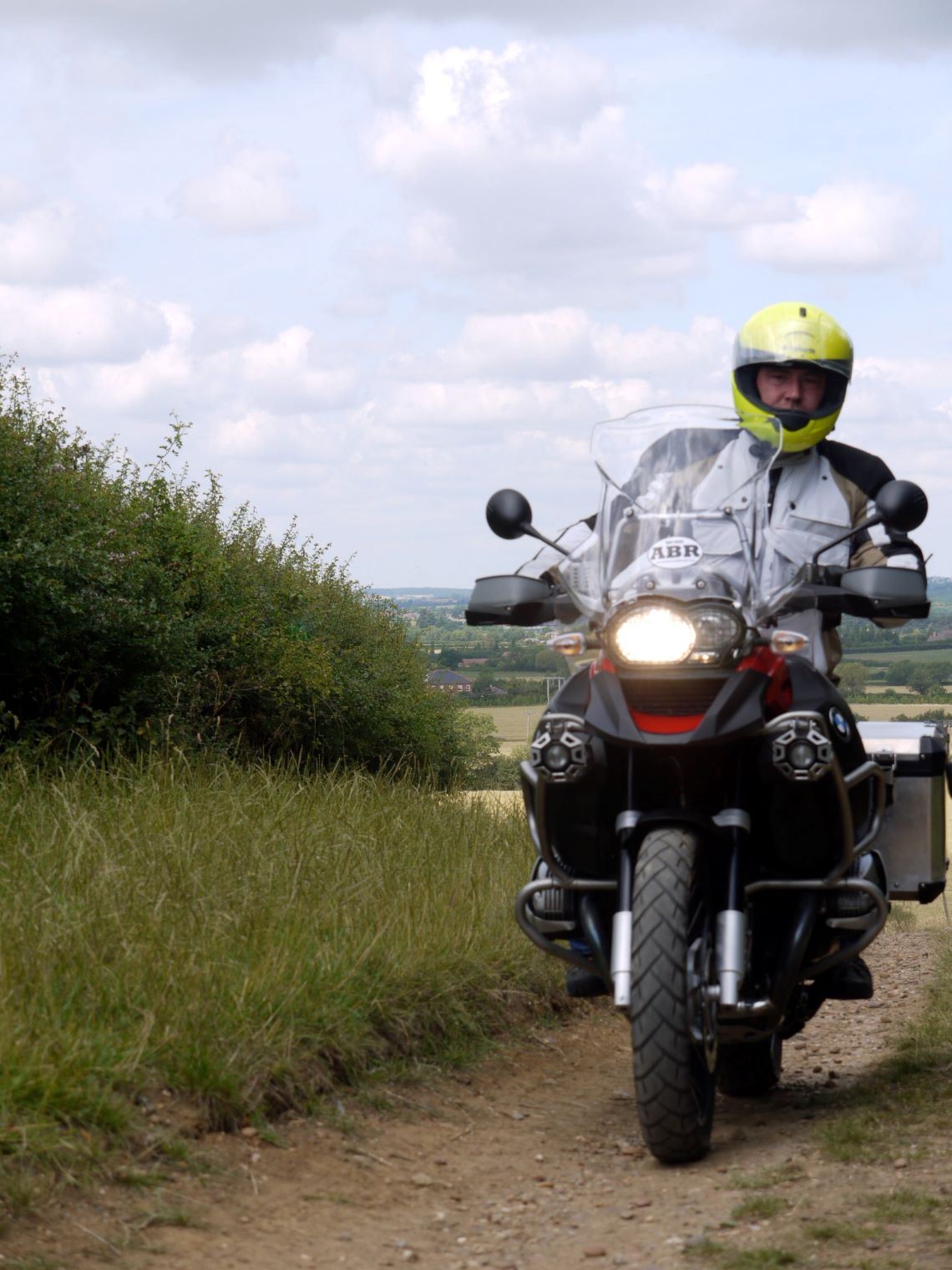 Performance
Off the mark the bike is sprightly and as soon as you get into the big twin's torque band, it powers through all the gears and leaves no area for complaint. You do need to take time to understand the bike's gearing, however, as she will stall at junctions without the appropriate level of throttle encouragement. At speed it's like piloting a flying carpet, and concentration is your only concern as the bike will induce a sleepy, effortless riding experience which can catch you out if circumstances work against you. Two-up is no different to riding alone and the chassis and adjustable suspension do exactly what you'd hope they should; solid front end, no balance disturbances and the same rider inputs result in the same outcomes with or without a pillion – quite a feat of engineering for a stock product. If you want a bike for two people then this is it bar none.

Handling
The biggest surprise which also answers that they were two-up and totally un flustered by the whole thing. I always thought he was simply great on the pegs, but having since bought one, it turns out that the bike is just deceptively well balanced at speed and handles so much better than you can imagine for its sheer bulk. If you haven't ridden one then it's very different to most other bikes and it is very competent on the tarmac, including the twisties.
Off-road
I have been, and the bike was very supple and absorbent, especially with a pillion. This was riding green lanes though, and I would suggest that limitations would be evident as the terrain gets rougher or softer. Fundamentally I work on one key principle for off-road usage of bikes: if you can't pick it up when you're a bit tired and sweaty then it's the wrong bike, end of story. This is the case for the GS1200 Adventure. Long-distance semi-rough riding across African plains, or a quick run down gravel tracks are no problem, but up the Stella Alpina? Not for me. The sheer weight and mass make it too big to manoeuvre under power at lows speeds and tight turning angles. For something like the Stella, I'd leave the GS at home and jump on the KTM990.
Options and farkling
This bike is luggage and accessory heaven if you are so inclined, and I am! BMW ownership opens up the largest array of options and goodies for any bike; if it's made then there will be a version to fit a GS 1200 Adventure.
With a rack and side panniers as standard items the bike comes ready to go, and the BMW panniers are as good as (and in many cases, better than) other manufacturer's boxes. Operation by the same ignition key saves additional locks and keys, and attachment and use is very straightforward. As these items are standard, make sure you add them into the equation when you're comparing prices against other bikes that don't include luggage. It might help soften the blow.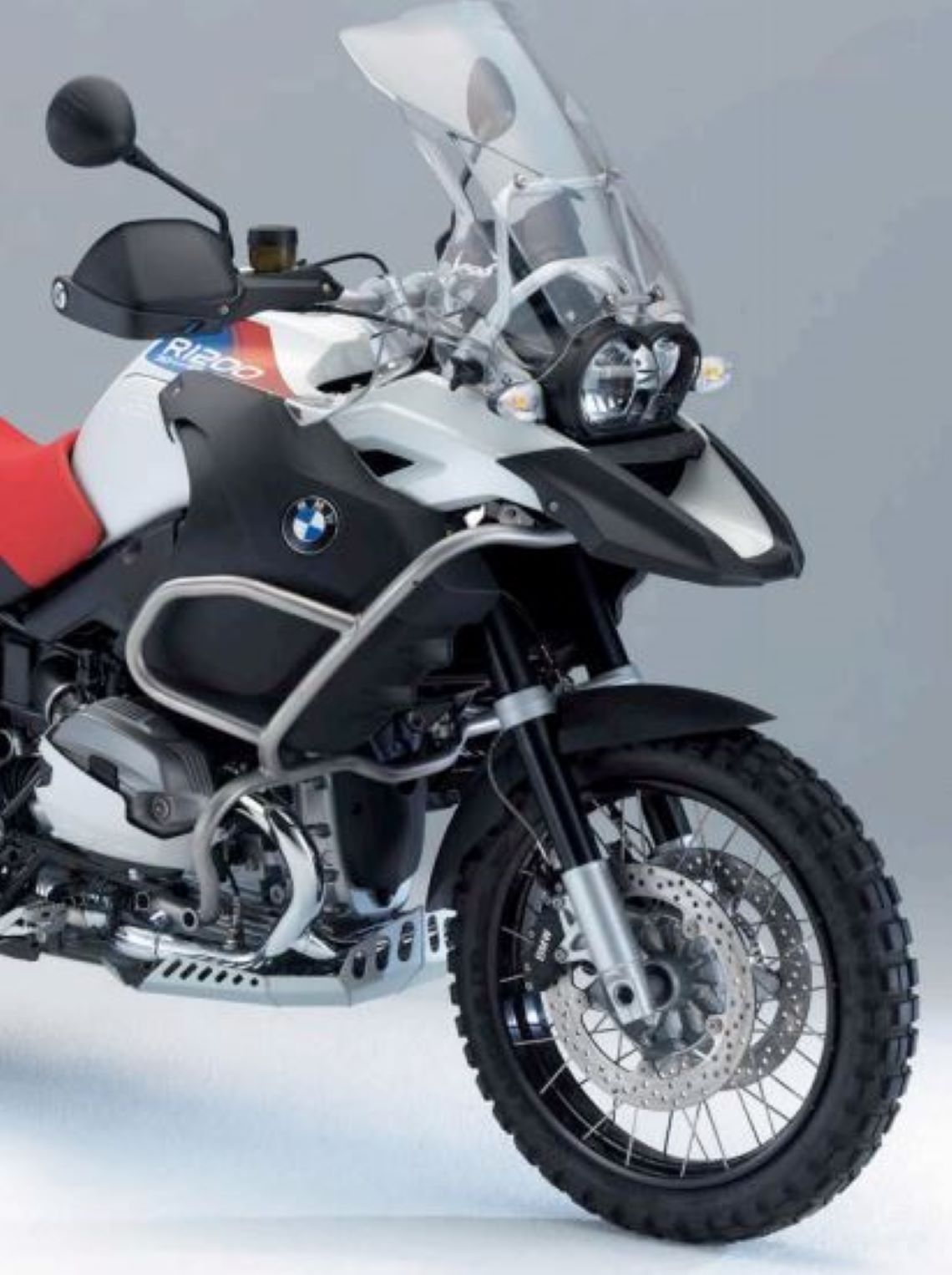 Verdict
I now understand why so many people ride past on a BMW GS1200 Adventure. I get it. It excels at comfort and ease of use, with plenty of power and enough personality not to get bored and it handles really well on the tight tarmac. It's got to be the best two-person two- wheeled option for adventure riders.
But that's not the end. It's the total ownership that grips you, the mechanical aspects of the bike are as good as any, but it's the other things that propel it further ahead. Reliability, residual value, build quality, a strong worldwide dealer network, and all the goodies that you could imagine bolting on to your bike are made first for the GS1200 Adventure. I don't blow raspberries at them as they pass me anymore. I just nod and think, 'he gets it'.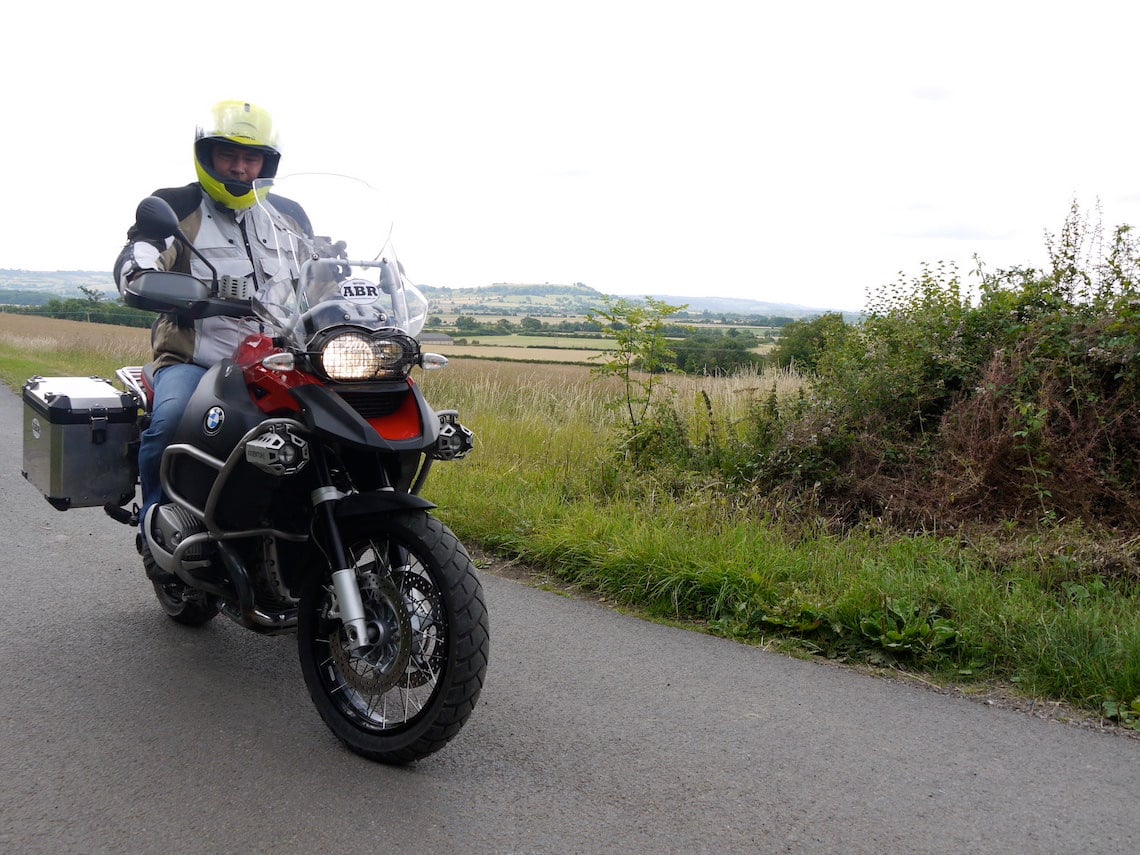 TIME OWNED 1 year
MILAGE 5,000 miles
I LIKE a lot of it
I DISLIKE standard seat, heavy for more serious off road use
IN A LINE now I own one I understand what all the fuss is about
RATINGS (OUT OF 5)
As a long-distance tourer 5
Off road capability 3
Around town 4
Accessory availability 5
Reliability 5
Handling 4
Engine 4
Economy 4
Value for money 4 
OVERALL RATING 4
THE STATS
Manufacturer: BMW
Model: R 1200 GS Adventure
List Price: £11,600 on the road
Top Speed: Over 200km/h
Engine size: 1,170 cc
Engine type: Air/oil-cooled flat twin ('Boxer') four-stroke
Compression ratio: 12.0 : 1
Power: 81 kW (110 hp) at 7,750 rpm
Torque: 120 Nm at 6,000 rpm
Gears: 6
Fuel capacity: 33 ltrs
Seat height: Adjustable between 890 / 910 mm
Dry weight: 223 kg
Front suspension: BMW Motorrad Telelever
Rear suspension: Cast aluminium single-sided swing arm with BMW Motorrad Paralever
Front tyre: 110/80 R 19
Rear tyre: 150/70 R 17
Front brakes: Dual disc, floating brake discs, 305 mm diameter, four-piston fixed calipers
Rear brakes: Single disc brake, diameter 265 mm, double-piston floating caliper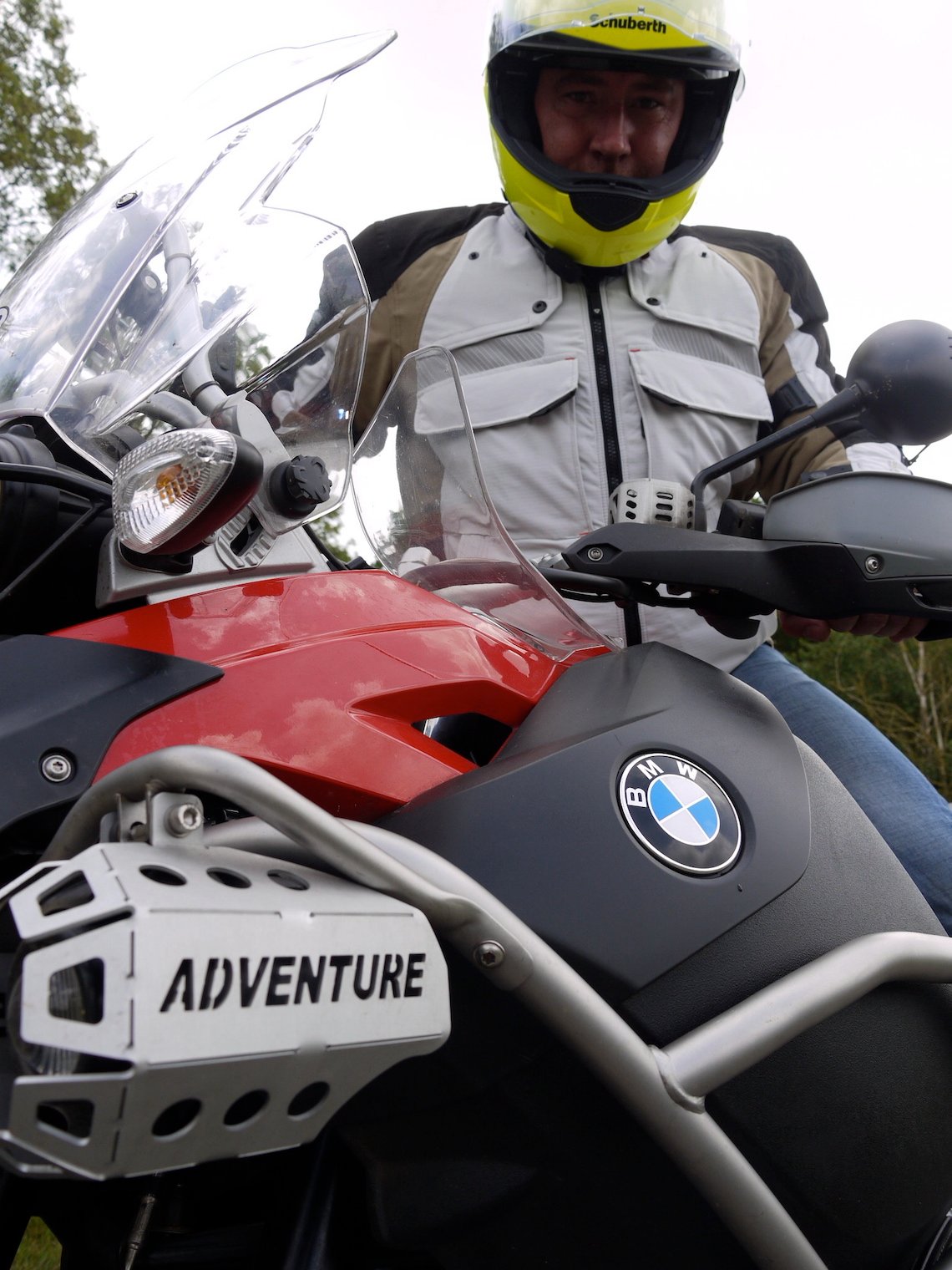 TOP 5 POINTS OF OWNERSHIP
Reliability
Best bike for pillions and two-up riding
Second-to-none for bolt-on options
Comfort and handling at speed
It looks the nuts