GRAB YOUR ADVENTURE PANTS!
Alun Davies rounds up and rates the best textile touring pants for all-year-round comfort, protection and, of course, style.
Motorcycle pants (aka trousers in the real world) are usually bought as an accessory to the matching jacket with little thought given to anything other than 'do they fit?' While a comfortable fit is essential, other more mundane features, such as being waterproof, wind-proof and warm tend to make for a happier rider, as does being able to put on your boots without looking as if you're engaged in a tortuous game of twister.
Coming back to the fit, in my opinion, getting the right fitting pants is more crucial than it is with a jacket. Look at it this way: when you've parked up the bike to go walk about, you can unzip or even take off your jacket if it's too restrictive. Do the same with your pants, however, and it might just be the beginning of a new phase in your life. What I'm getting at is you'll be wearing your pants more than your jacket, especially so when touring, and a comfortable fit offering as close to unrestricted movement as you can get is what you should be looking for. So with that in mind, don't think you need to buy a pair of pants just because they colour co-ordinate with the jacket; it does help if the zips correspond though, so that you can zip them together.
Waistbands A waistband that offers a high level of adjustment is near the top of our most desirable feature list. Let's just say we like our curry and beer too much to consider anything else. Adjustable Velcro fasteners and belts are what to look for, and some element of elastication in the waist is better still.

Zips Having spent the best part of two decades testing protective clothing, it sometimes appears that there has been a race to the bottom in the quality of zips. Cheap zips are a pain so it's worth checking out the smooth operation and quality before buying. The more modern zips are being marketed as waterproof and come with no covering stormflap. They are very close to being waterproof, but when pressed, the manufacturers will only claim they are 'water-resistant', so be aware.
Pockets Pockets are not essential but a couple of well-placed, easy to access pockets are handy. Ideally they need to be waterproof and big enough for your needs.
Ventilation It's important for comfort that your pants come with ventilation options. The 'breathability' of a fabric is generally oversold as a temperature regulating feature where as in reality the breathability matters little (see our box on breathability). A set of well-positioned vents will be invaluable in hot conditions. It's worth checking that the vents are well sealed when closed as they are potential weak points for letting in the elements.
Braces Braces help prevent biker's bum, though they can be a pain when you need to visit the potty. Some pants come with braces attached and we tend to use them when they do, which means, we reckon, that the upside of wearing braces scores higher than the downside of not wearing them. That said, not everyone would agree.
Comfort, fit and cut There's something very odd going on in the minds of clothing designers when it comes to the sizing of motorcycle pants. In our experience there is a total lack of any, and I mean <any>, consistency in the sizing of the products even with pants carrying the same brand name. The problem appears to be the result of brands buying their products from a range of Far East manufacturers which all have a different view on what XL actually means. In practice it's best to try before you buy and make sure you take along the clothing you're likely to wear underneath. And just remember, a good comfy fit which also allows unrestricted movement when off the bike is the single most important feature.
Price No surprises here in so much as you get what you pay for. That said, some of the budget brands are offering gear on a par with the mid-priced brands where you're essentially being charged for a more fashionable name. Products which feature Goretex are prone to being more expensive than cheaper brand 'texs' offering just as good waterproofing, but the construction methods used in Goretex jackets are usually superior and more expensive processes.
Insulation Most adventure and touring pants come with a detachable thermal inner layer. These tend to be lightweight but offer a good warmth-to-weight ratio and are spot on for winter riding; they can be uncomfortably warm in summer use, though. Are they essential? In a word, no, but they do save you from packing and wearing an extra layer of long johns in cold conditions.
Reflective material Hi-vis colours or reflective inserts are there for good reason. They help other motorists to see you.
Features We like…
DWR (Durable Water Repellent) DWR is a coating applied at the manufacturing stage to help prevent a fabric becoming saturated with water. The noticeable effect of fabric treated with DWR is that drops of water bead up and roll off the fabric rather than soaking in and 'wetting out' the garment. The DWR wears off over time. It can be re-applied but it'll never be as effective as the factory treatment.
Ankle closure A Velcro closure adjustment offers greater versatility for fit and a well-cut bellows with a generous zip helps with fitting over bulky calves, putting on boots and avoids bunching of the fabric.
Vents Venting channels that have a fixed waterproof/windproof layer of fabric behind them are less effective – a lot of pants come like this. Venting flaps that can be secured in the open position via a press stud or some other fix are the most effective.
Storm flaps Zips are weak points through which the elements will eventually pass. In our opinion a single, well-secured and substantial storm flap over a zip is essential and a double storm flap is better still. Vents and pockets are also weak points and would benefit from a storm flap or a water-resistant zip.
Zips Water-resistant-zips are very effective at keeping out rain; a storm flap is not classed as essential but be aware that they are not 100% effective (no zip is fully waterproof ). Standard zips need to be protected by a storm flap, period. A glove-friendly zip pull is better than a small fiddly one.
Waist adjusters You'll regret not taking time to get a good fitting waistband that provides a high level of adjustment, even more so if your physique is less than athletic and your waistline has a tendency to expand and contract like the tide. Velcro waist pull adjusters are the most user-friendly and comfy – most other variants are a pain.
MUST READ!
Waterproof laminates or drop liner – what's best?
The more expensive pants will have a waterproof laminate bonded to the inside of the outer fabric (think Goretex) while others will come with a detachable waterproof drop liner. In both instances the outer fabric of a water-proof pants will eventually wet out in extended periods of rain, even if treated with a top quality DWR treatment.
The advantage of a laminate is that there is generally less material to wet out and the uncomfortable cooling effect of soaked material is kept further away from the wearer, plus the pants are more likely to dry quickly.
The advantage of a drop liner is that it is removable and therefore offers pants which will be a lot cooler running in hot weather; something to consider if you're planning a trip to North Africa.
There's also a third method of construction where the waterproof drop liner is permanently sewn in, making it non-detachable. In theory, this style offers the worst of both worlds for multi-day touring – heavy saturation of the outer shell in wet weather and hot and sticky in warm weather. However, this style of legwear does have a place in the UK market as they are warmer than a laminated shell and fine for day rides in cooler weather.
So what's best when it comes to a bonded laminate or a drop liner? In our opinion, a well-ventilated, bonded laminate every time, though they are usually far more expensive.
No matter what the manufacturers would have you believe, the only way to keep your motorcycle trousers from wetting out in extended periods of wet weather is to wear a cheap, lightweight waterproof over the top. The need for an additional level of protection in prolonged wet weather is more crucial with pants that come with a drop liner as there will always be areas of weakness where the waterproof liner does not correspond to the outer (most noticeable around waistbands and ankle cuffs) where moisture will eventually find its way in and the wearer will feel damp and cold from the additional conductive heat loss.
Breathability
Do your waterproof pants 'breathe'? Sure they do, but consider the following: for a breathable fabric to work there needs to be a pressure difference between the conditions inside the jacket and those on the outside. The perfect conditions for a fabric to breathe would be those found at the summit of a high-altitude mountain where it is cold and dry on the outside and hot and steamy on the inside of the pants.
In a more conventional setting ie the M6 on a wet Sunday afternoon, the breathability is seriously compromised. Further still if your pants are not cleaned on a regular basis and if you use your pockets as intended, the breathability is further downgraded. Features such as venting and wearing the correct base/mid layers play a far more practical role in regulating temperature and keeping you comfy.
Protection: Armour and clothing
The European Personal Protective Equipment (PPE) Directive 1989, states that any clothing or personal equipment sold with the purpose of providing protection from injury – such as motorcycle pants – must comply with the relevant European Standard. To comply, the gear has to be independently tested and certified. The manufacturer is then issued with a CE (Conformité Européenne) label which shows that the motorcycle clothing conforms to the relevant European standard. The clothing or gear must carry a permanently attached CE label with the number of the Standard.
Remember to check what the CE label applies to, as it could be there to certify only a small part of a garment. Motorcycle trousers carry CE EN 13595 and impact protectors and body armour CE EN 1621.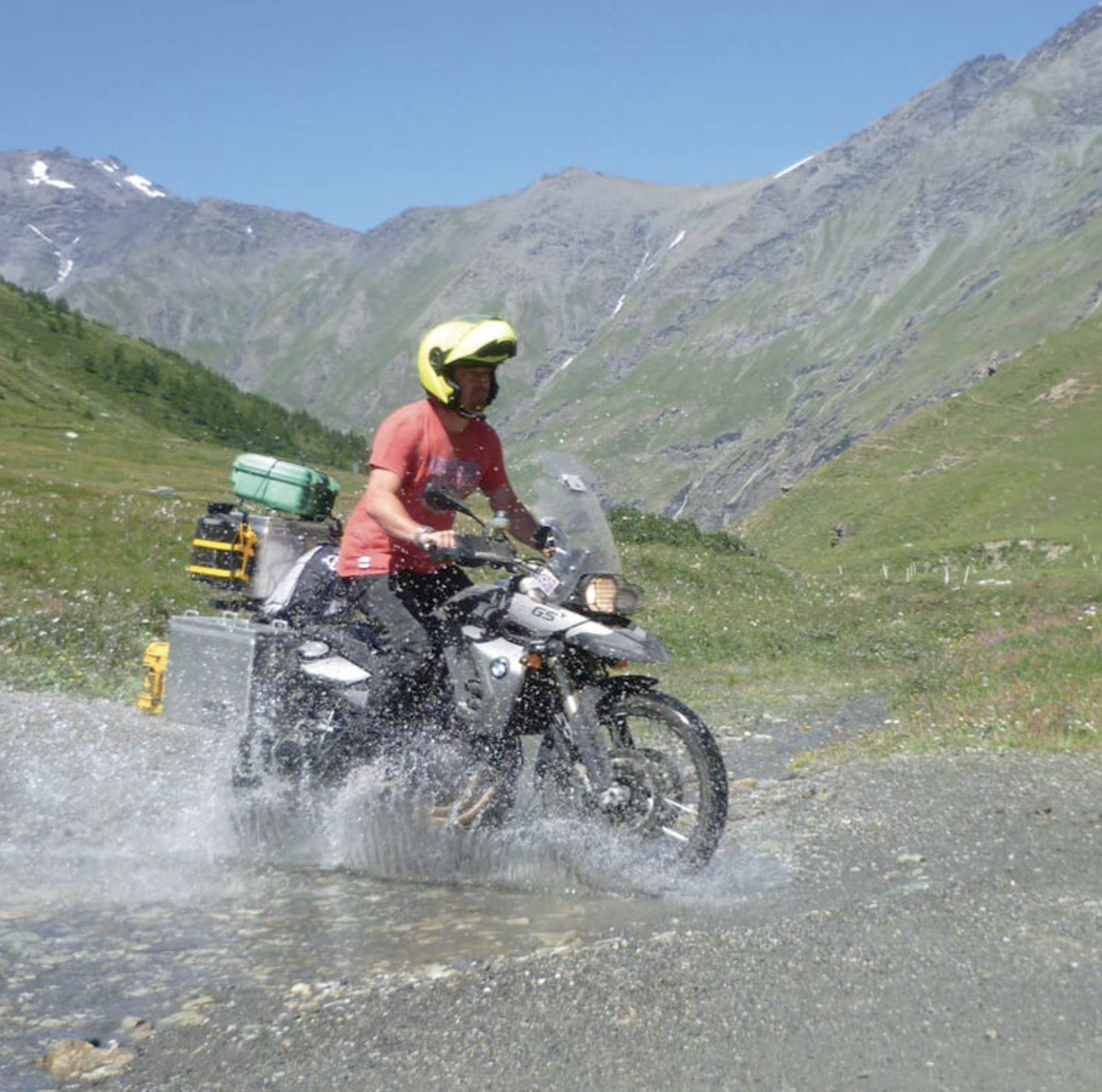 BONE DRY
Price: SRP £79.99
Style: Switch Desert Pants

What we think… The phrase 'you get what you pay for' comes to the fore with the Switch Desert pants. They are the least expensive leg- wear on test but in almost every aspect of construction and performance they score below average. That said, if you're on a tight budget they'll do a job of sorts, but we have to stress that these are a strict budget buy only.
The Switch are of a two-part construction (curiously the company website says three) with a detachable three-quarter length thermal liner and a waterproof liner sewn into the outer shell. The shell is not as robust as others on test and the DWR coating is less effective, which means it wets out in even light rain and quickly becomes saturated and cold in longer downpours: you'll need to buy waterproof over-trousers in addition to the Switch.
The waistband is elasticated, padded at the back and comes with our favoured double Velcro fine tuning adjuster system, plus it zips into the corresponding Bone-dry jacket. However, due to the construction techniques used, the waistband has no waterproof liner.

The fit and cut of the pants is good and they are comfortable for all-day use, plus a quick check on the website shows sizes up to XXXXXL, so if you're a big lad…
Features include protectors at the knees and padding at the hips; a couple of cargo pockets on the outer thighs – they are not waterproof, elasticated knees to aid on-bike comfort, reflective inserts and robust inserts at high-wear areas. You also get a couple of small vents on the thigh, however they have minimal if any effect (there's a sewn-in windproof barrier between the vents and your legs) and as the vent zips are vulnerable and not water-resistant they are also a weak spot for letting in the elements.
The zipped ankle gussets, in our opinion, could be longer to allow for fuss-free boot fitting and a Velcro tab to secure loose fabric would also be a welcome addition.
In short; you've probably picked up from this review that there are far, far better adventure and touring pants on the market but then if price is your only buying criteria…
In a line: Budget buy only
ABR Rating 4/10
www.oxprod.com
SPADA
Price: SRP £84.99
Style: Dakar pants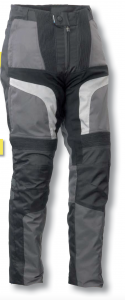 What we think… The Dakar are three-layer pants which zip into the Spada jacket of the same name. By three-layer we mean the outer fabric comes with an inner detachable waterproof/windproof liner and a zip-out thermal liner. These pants suffer from the drawback common to all motorcycle clothing with an inner detachable waterproof liner, and that is the non-waterproof outer soon becomes saturated in extended wet weather resulting in the rider feeling the cold more. Add to this a couple of weak spots, especially where the waterproof liner does not correspond to the top hem of the waistband and the potential for getting damp and experiencing additional conductive heat loss is a concern. That said, the same is true for trousers costing four times as much as the Dakar. The fact is, given enough time in wet conditions, all and any clothing with a detachable liner will eventually become cold, damp and uncomfortable to wear. The answer is to pack an additional set of low-cost, low-weight waterproof legwear for periods of extended rain.
Once you come to terms with the above there's not much more to knock on the Dakar, certainly at the price. The waistband is elasticated allowing for a reasonable level of comfortable expansion, though we'd have preferred to have had a Velcro adjustable system as well.

You get a couple of zipped pockets, which are handy, but they are not water-proof and the thigh vents are, in our opinion, too small to offer any great cooling effect. There's a zipped gusset at the ankles which is long enough to make putting on boots less of a chore but the way the inner liners are attached to the outer is not the most user friendly.
The fabric is beefed up at high-wear points (we put these to the test on an off-road spill) plus you get hi-vis reflecting strips and stretch panels for comfort. In use, we found them comfortable enough on the bike and when walking around town.
There are CE-approved armour pads at the knees, plus additional pads at the hips which we were thankful for when we hit the ground on a test run.
In a line: Good value for money
ABR Rating 6/10
www.feridex.com
BUFFALO
Price: SRP £100
Style: Endurance pants in black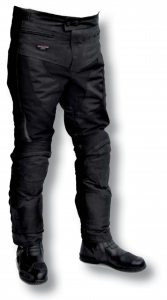 What we think… As with the Endurance jacket, these Buffalo pants produced the most conflict in the ABR office. There's no denying that these stylish, tapered black textile and leather trousers punched the 'I look like a sex god in them' button (yes, delusion is a feature found in abundance in the office) but once again it's the performance that came into question, especially so for wet weather riding.
Before moving on to the features it would be fair to say that the Endurance come with the sort of fit that the rider who enjoys beer and curry a couple of times a week might just as well stop reading now. They are, when measured against most on test, a slim fit.
The two-piece construction of the Endurance is different from most other pants we've been checking out. They come with a fully detachable thermal liner and a non-detachable sewn-in waterproof drop liner (rather than a laminate bonded to the outer). This style is an odd choice, as it does not offer the protective advantages of a two-piece pant with a laminate, nor does it offer the versatility of a three-piece pant with a detachable waterproof layer. When you add to the equation the lack of any ventilation you effectively get the worst of both worlds: it'll wet out in inclement weather and be hot and sweaty in warm conditions.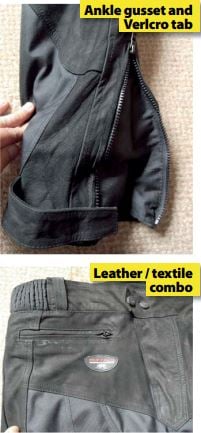 Taking into account the above it's going to be difficult to recommend the Buffalo for multi-day touring other than when the temperatures are too cold for it to rain, which in our opinion (and probably yours) is not a good enough reason to buy. On the other hand if your pocket is deep enough to support a second set of pants that just look the part for day rides and you've got the figure to pull 'em off, the Buffalo could be worth a fit test.
Features include and elasticated waistband, which we like, two pockets with water-resistant (not waterproof) zips, reflective inserts, CE-approved armour at the knees and pads at the hips, and ankle gussets wide enough not to trouble most boot fittings. In use we found the Endurance comfy with user-friendly stretch panels offering unrestricted movement
In a line: Great-looking pants but not for multi-day touring
ABR Rating 5/10
www.bifax.co.uk
FURYGAN £119.99 Preston pants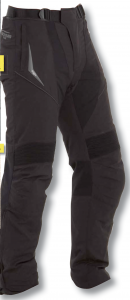 What we think… As with the Furygan jacket we tested in the last issue of ABR there's nothing flash about these pants. They look like box-standard black 'outdoor' waterproof legwear and the inclusion of a gaiter-style strap that secures under the boot only adds to that image.
The Preston, like the less expensive Buffalo Endurance, are two-piece pants comprising a detachable thermal lining and a sewn-in waterproof drop liner, permanently attached to the outer shell. Once again, we question the logic of this design for a touring pant as you get the disadvantage of an outer which totally wets out in extended wet weather, plus the overheating associated with a non-removable waterproof liner when the temperature hots up. As there are no ventilation features, there's a good chance you'd be uncomfortable in these pants on a summer European tour or a sunny Sunday ride out in the UK.
The first thing we liked about these pants was the fit, unlike many on test the XL size was spot on and allowed for good freedom of movement and comfort. The waistband comes with twin jacket attachment zips, is elasticated and features a superb double-pull belt system for adjustment. The belt system is like that found on upmarket rucksack waist bands and, in our opinion, is the most user-friendly and easily adjustable waistband mechanism bar none. Top marks.

Moving down from the waistband you get a couple of easy-to-access zipped pockets but they are not waterproof, so you'll need to be careful about what you stash in them. You get reflective inserts, sewn-in stretch panels (good for unrestricted movement off and on the bike), CE-approved armour at the knees (plus hip pouches, but no pads, in the liner), plus the knees are well articulated.
The ankle gusset is wide and high enough to accommodate boot fitting and any spare material is kept from flapping around by a Velcro adjuster. The pants also come with a detachable under boot strap which will stop the trousers riding up when sat on the bike, a nice touch. The detachable thermal liner offers a good warmth-to-weight ratio
In a line: Quality pants but limited features for multi-day long-distance touring
ABR Rating 6/10
www.nevis.uk.com
RICHA
Price: £139.99
Style: Camargue pants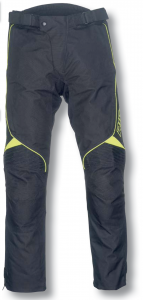 What we think… The Camargue are of a three-piece construction featuring an outer shell, a removable waterproof liner and detachable thermal liner. With the two liners removed the shell is backed by a sewn-in wicking mesh liner which makes it more comfortable next to skin and does not affect ventilation or compromise breathability to a level that concerns us.
The first thing we noticed about these Richa pants is that they feel far more robust than anything (less expensive) we've tested so far. The fabric is far heavier and more abrasion resistant, plus it's beefed up in all the right high-wear places.
The fit is slightly on the small size so you may need to go up a notch from what you'd normally buy and our testers found the CE-approved knee protectors to sit slightly lower than we'd have liked. Other than that on-and off-bike comfort was good with minimal intrusion.
Starting at the waistband you get short and long jacket connection zips, elasticated panels to accommodate waist size fluctuations and an excellent double-pull Velcro adjustable belt system – same as found on the Furygan. Staying with the waistband, the cut extends up the back to block out drafts. It's a stiffer construction than most, though we did not find it intrusive. Quite the opposite in fact.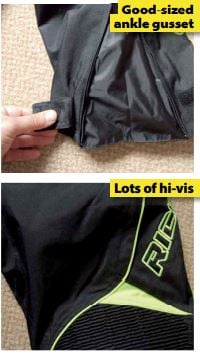 You get a couple of well-positioned zipped pockets – they're not waterproof – and twin vent slots at thigh level. With the waterproof lining removed the vents helped cool down the legs, a nice touch for those hot, sweaty days in the saddle.
The stretch panels at the knees and below the waistband help with comfort, fit and movement and there's a lot more hi-vis dayglo yellow piping and logos on these pants, which some will like and others will not. The ankle gusset allows unrestricted boot fitting and there's a Velcro tab to secure loose fabric from flapping around.
The waterproof and thermal liners can be removed both at the same time or individually, which saves a bit of faffing and we've no complaints about the thermal retention performance of these pants.
In a line: Tough, versatile and good unrestricted movement
ABR Rating 8/10
www.nevis.uk.com
WEISE
Price: £139.99
Style: Psycho jeans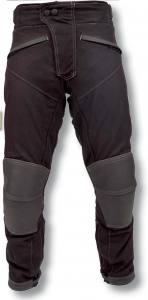 What we think… A mix of leather and textile, the Psycho jeans are of a two-piece construction with a removable thermal liner and a sewn-in waterproof drop liner permanently attached to the outer shell. As far as looks and style go we're fans of the leather/textile mix, but then we have our reservations when it comes to sewn-in waterproof liners for multi-day touring. With no venting options these pants run a little too hot for our liking on sunny summer days.
First impressions were good; well constructed and leather patches in all the right high-wear areas. Unlike the Weise jacket we tested in ABR issue 5 which conformed to what we would class as UK sizing, the Psycho jeans are a small fit… a very small fit in fact. We needed to go up two sizes from our usual, so if you're buying mail order, bear that in mind.
The waistband has a high-cut padded back which is both comfy and protective and you get a dual-option long and short zip to connect to a jacket. The waist is elasticated, which helps with comfort, but the scope to fine tune with the Velcro adjustment tabs is so minimal it's hardly worth including the feature or Weise going to the extra expense of building it in – a cost which is passed onto you, the buyer, of course.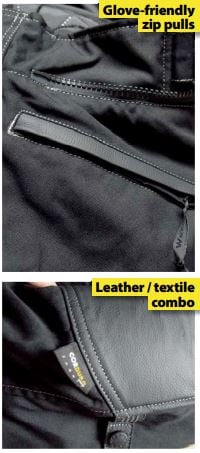 You get a couple of hip pockets which are not particularly easy to access, despite the sizeable zip pulls, but there has been a notable attempt to weatherproof the zips with a sort of double storm flap combination, which works okay in the short term but will allow water to penetrate in long downpours. There are a couple of CE-approved knee protectors and decent hip pads to help with any unplanned dismounts.
The ankle gussets are wide enough to take books with little fuss and the cuffs are secured by press studs (why not Velcro? we have to ask). The detachable thermal liner feels thinner that most on test but overall these pants run hot so we'd be happy enough wearing the Psycho on cold winter days.
In a line: Good looking leather/textile combo lacking in versatility
ABR Rating 6/10
www.weise-clothing.co.uk
HEIN GERICKE
Price: £149.99
Style: Desert pants in black / beige
What we think… In summary, we think pretty much the same as we did with the Hein Gericke Desert jacket – the company do better products than the Desert pants but that's not to say you should write them off just yet.
These pants have been styled to provide the 'adventure look' with a twin colour (black/beige) scheme and bulky cargo pockets on the thighs. This will immediately appeal to some and others might want to run a mile now.
The Desert pants are of a two-piece construction with a zip-out thermal layer and a sewn-in waterproof drop liner permanently attached to the outer shell. The net effect is, despite the two thigh vents, these pants are going to be overly sweaty in desert conditions and warm running on hot summer rides in Grimsby, too. As a point of design, we're still trying to work out why manufacturers include vents on the outer shell if there's an impenetrable windproof barrier lining underneath. In our opinion it adds to the cost and provides little to no benefit.
The waistband is not elasticated, though it does feature our favoured twin Velcro adjustment system for fine tuning. You'll also find a full-length zip to attach to the jacket. There are four pockets, two good-sized useful cargo, and a couple of zipped pockets. All pockets are water resistant rather than waterproof. As mentioned above you also get two zipped thigh vents protected by storm flaps which are too small and unsecured to be effective, making the zips weak spots.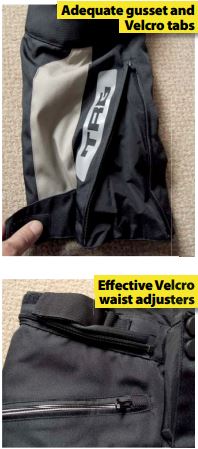 You get CE-approved armour at the knees and elsewhere the pants are beefed up in high-wear areas.
We've no complaints with the ankle gussets which are large enough to accommodate boots with minimal fuss and spare fabric is battened down with an adjustable Velcro tab – just how we like it.
The detachable thermal liner is easy to remove and refit and provides adequate insulation. The overall fit is as you'd expect from UK sizing and we found them comfortable both on and off the bike. The price is not bad, but as we pointed out in the first paragraph, HG offers better clothing than the Desert, in our opinion.
In a line: Okay, but check out Hein Gericke's other pants
ABR Rating 6/10
www.hein-gericke.co.uk
HELD
Price:£216.99
Style: Matata pants