THE BODYGUARD
Paul Jennison checks out body armour options for the trails and warm-weather riding
On a recent visit to a local motorcycle clothing retailer, I couldn't help but be amazed at the range of jackets and pants that are available nowadays. They range in prices, from entry-level to the mega-money top brands, which for some of us would mean taking out a second mortgage before we could afford them, let alone justifying it to the missus!
There's no doubt that ABRs are spoilt for choice when it comes to clothing and a lot of its even colour coordinated to match our machines. Weather protection is probably at the top of most riders' lists when it comes to buying a new bit of clobber. Sure, that's important, but to my mind, the armour that's fitted into it is also a top consideration.
How many of us check the CE marking to satisfy ourselves that the protection will absorb an impact should the worst happen? All motorcycle clothing, if it claims to offer protection and not just look cool, must comply with EU standards.
These standards were upgraded in 2012 and now give rides increased impact protection as well as ensuring the armour performs well in all weather conditions. Some brands offer adjustment in the body and sleeves, to fine-tune the fit of the armour, and it's important to check that this armour will stay in place should it be called upon to do its job in a spill.
If your jacket or pants are loose-fitting, the armour won't cover the zone it's designed to protect. A lot of riders choose to wear separate body armour when taking to the dirt as the likelihood of an off is greater, even if the landing is softer.
The benefit of this type of jacket is that it fits snugly over a base layer and has several straps to hold everything in the right place. But would we ever consider wearing this type of garment under a jacket when road riding? Probably not.
They do tend to make you look a bit like Robocop when you take the outer jacket off. However, there are other types of body armour which are less obtrusive and do the same job.
In fact some contain a higher specification of armour than the standard off-road vest and are generally more flexible and comfortable. I've taken to stripping the conventional pads out of my outer jacket, so I still have a weather-resistant top with good venting and abrasion protection, and wearing an armoured mesh jacket underneath, which incorporates shoulder, elbow, back and chest pads that fit comfortably and stay in place.
The more traditional off-road armoured mesh jackets can be used in this fashion too, especially if you're thinking of an off-piste sortie to Morocco where the temperatures are likely to soar. Taking the outer jacket off could also be an option while riding off-piste while still retaining a high level of protection.
Here we've tested five body armour vests that are suitable for on-and off-road use. They might not be to everyone's taste on the road, but they're a versatile alternative to the conventional jacket and the armour stays where it should be.
We'd love to test all the gear out there, but unfortunately, we contacted Knox Armour, Excelsior and Fox Racing and the companies either declined to take part in this review or didn't respond.
New EU Standards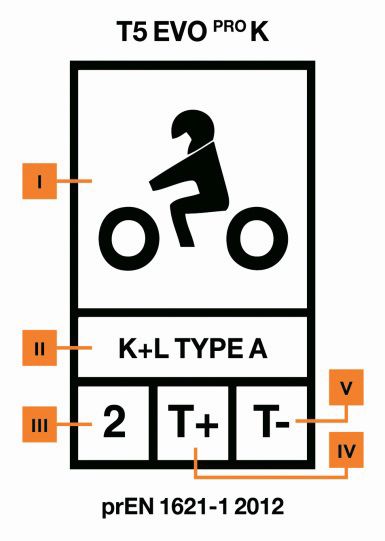 The new standards EN 1621-1:2012 supersede the previous standards EN 1621-1:1997 and were introduced in 2012 to ensure that resultant impact forces to the wearer's body are less than they previously were. There are two levels to the standard; one and two. To satisfy old standards, the average peak transmitted force was less than 35kN during impact tests.
Under the new standard, a level one protector must achieve less than 35kN and level two protectors must achieve less than 20kN. New standards also require motorcycle limb protectors to perform in both ambient and wet conditions, to ensure protection isn't impaired at varying temperatures and if it absorbs water.
Manufacturers can also optionally test limb protectors in hot conditions at +40°C and cold conditions at -10°C. Back protectors bear the same EN marking as before, but the new standard requires a higher transmitted force resistance for this critical area of the body; level one 18kN and level two is 9kN.
Under the new CE standard, the following markings should be visible on all products, so check before you buy:
I. Protective equipment for motorcycle riders.
II. Category and type of protector, this denotes where the armour would be sited and the type is for the size of the pad.
III. Performance level including mandatory wet test (Level 2 <20kN in all tests claimed) IV. Optional hot test (40°C) V. Optional cold test (-10°C)
Achieving the standard
During safety standard tests on motorcycle armour, a force of 50 joules is exerted on the protector under laboratory conditions. This is roughly the same amount of force exerted by a 2.5kg house brick when dropped from a height of 2m.
The armour then has to transfer the impact energy into resultant energy, which is measured in KiloNewtons (kN) A KiloNewton is a measurement of the amount of transmitted force that enters the body following an impact. It's this amount of transmitted force that determines the severity of the injury when receiving a blow. The armour's job is to lessen this force, so the lower the kN measurement the more effective the armour.
Features we like
What to look for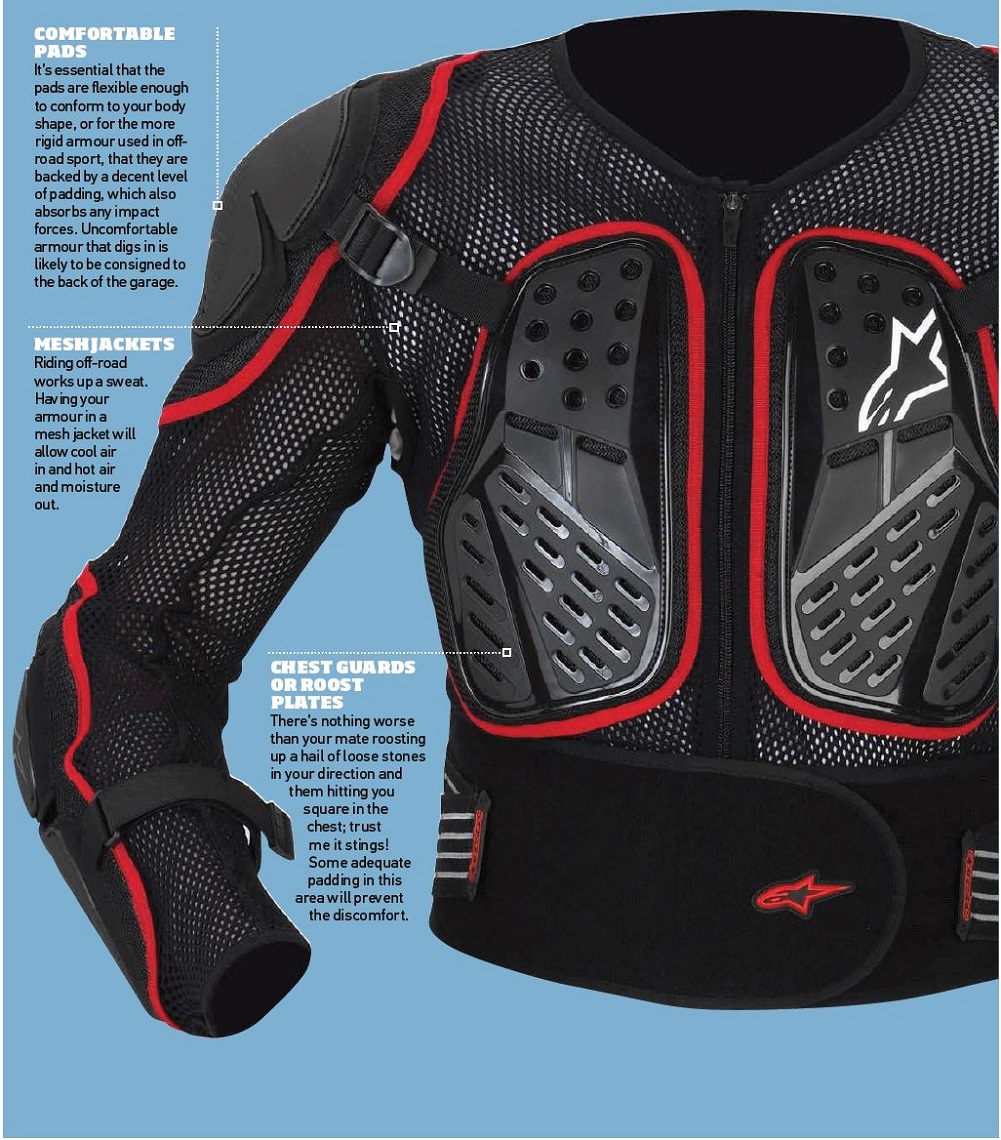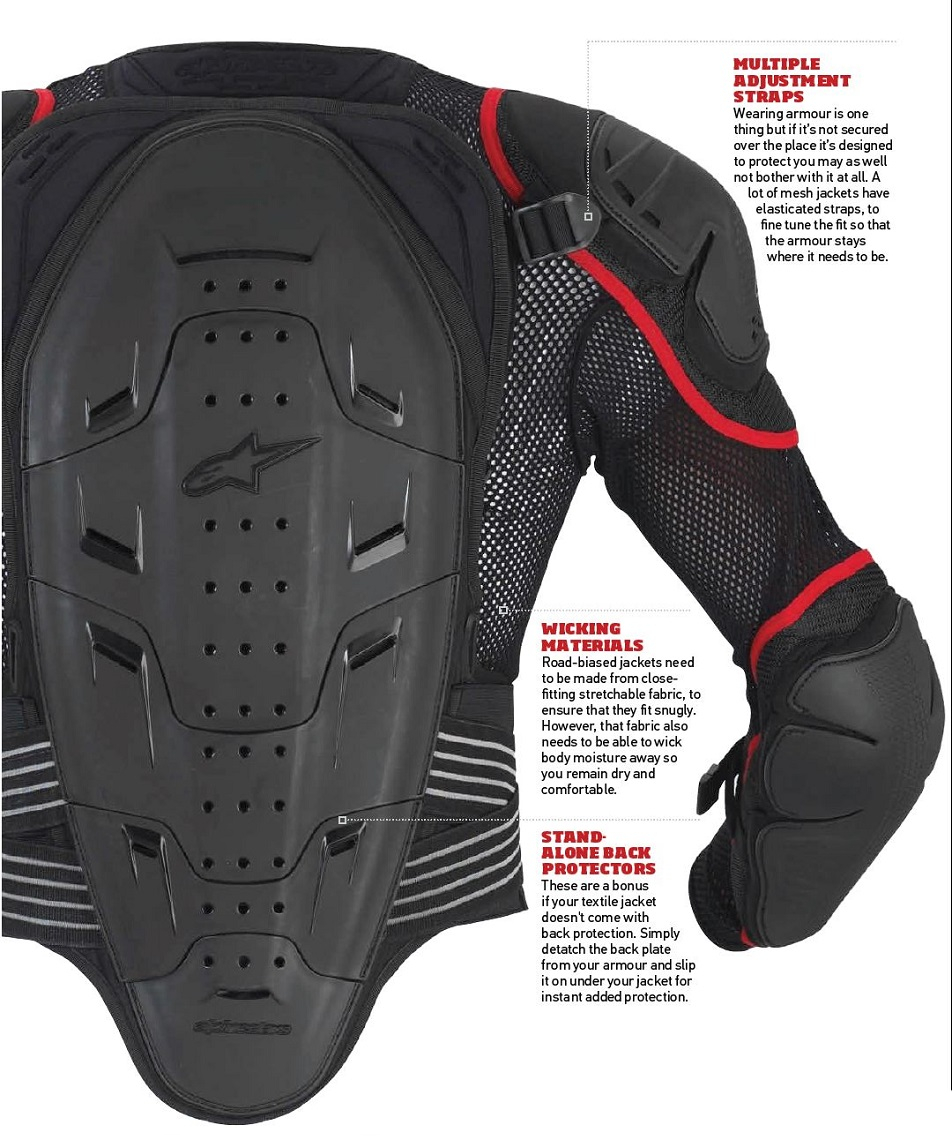 Wulfsport Deflector Jacket
£59.95 www.wulfsport.info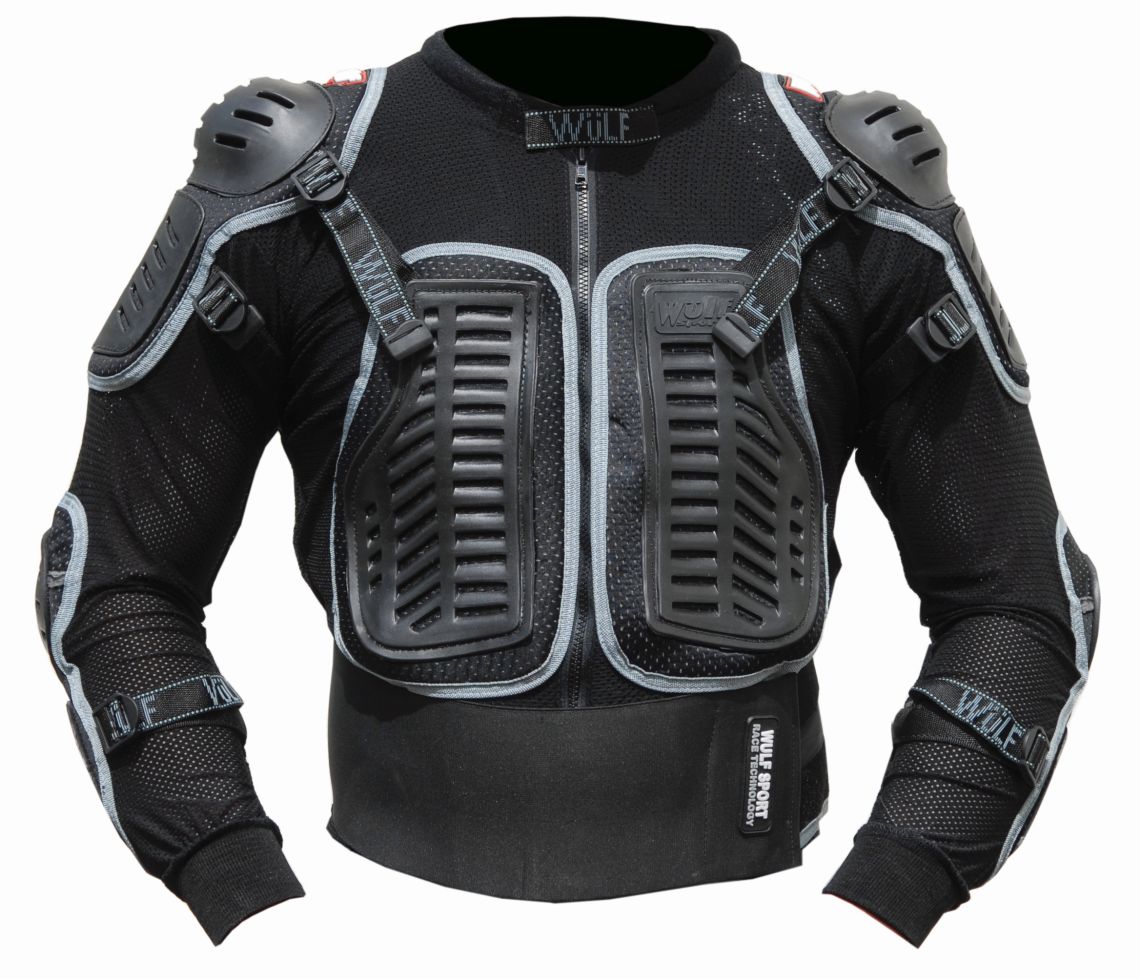 Wulfsport is a brand that's well known for its off-road motorcycling gear. It produces everything a rider could need for having fun in the dirt. The Deflector jacket is a full upper body protective jacket that's more suited to a day on the green lanes or going the whole hog riding in an Enduro rather than slipping under your textiles for a road ride.
That said, there's no reason that this piece of kit wouldn't serve you well on a trip to warmer climes where you wanted to venture off-piste, too. The jacket itself is made with a stretch nylon mesh, which allows plenty of cool air through to keep you well ventilated.
There's a full zip at the front of the jacket and the cuffs and neckline have a ribbed edging for a comfortable, snug fit. The back protector incorporates an elasticated body belt with a Velcro fastener, to hold your belly in while keeping the backplate in position. The belt also sits over the bottom of the jacket, to stop it from riding up.
The jacket also has adjustable straps on the sleeves and shoulders, to enhance the fit and ensure the armour stays in place. Cleaning this vest may not be as easy as some others on the test as the pads don't detach, so care will be needed not to damage the plastic guards in front of the padding.
As with a lot of generic off-road protection, the armour is a rigid plastic covering over comfort padding, which looks fine for deflecting small stones but doesn't look as though it would absorb impact onto a hard surface.
However, all the armour is CE approved to the basic level one, so it should be up to the job, and that includes the roost plates on the chest. As I said earlier, the Deflector jacket is great for use on the trails and I found it comfortable enough to wear under an outer jacket for this purpose.
The rigid plates did start to dig in after a while, though, and there are comfier jackets for wearing over long distances; I wouldn't choose this one for an overland road trip.
ABR Rating: 6/10
In a line: A good one for the trails
| | | |
| --- | --- | --- |
| Back protector | Forearm adjustment | Shoulder pads with adjustment straps |
Halvarssons Torso Vest
£99 (secure L2 backplate £54) www.jofama.se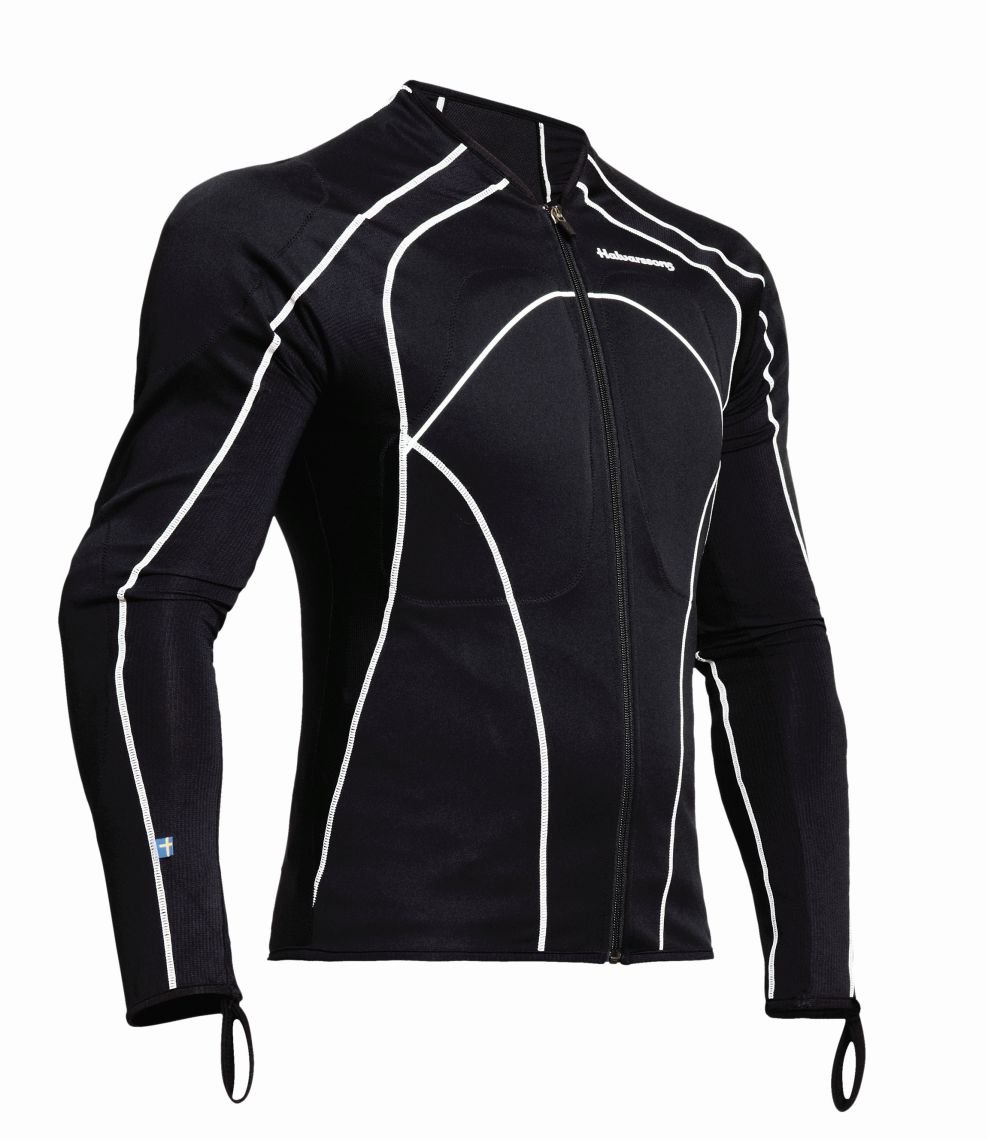 If you're looking for a body armour vest that ticks all the boxes and can be used on and off the tarmac then the Torso will see you right. However, you'll need to purchase the Secure L2 back plate at an additional £54 to complete the jacket. Still, £150 for complete upper body protection that's suitable for use just about anywhere isn't bad.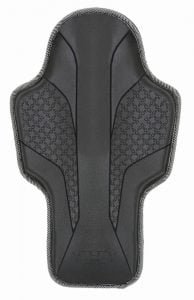 The vest itself is made from a mixture of spandex and mesh that not only ensures a snug fit and holds the protective plates in the right position it also allows cool air to circulate and wick away sweat. The added beauty of this type of garment is that all the pads can be removed so it can be laundered, to freshen it up.
There are also thumb loops, which keep the sleeve cuffs from riding up. A front zip runs the length of the jacket. This is spring-loaded and can be locked into place at any point on the runner, which is useful if you want to open the front of the jacket to get more ventilation, but don't want it completely undone.
The armour in the shoulders, elbows, and back has full CE certification to the latest standard. It's also comfortable and conforms to the shape of your body's contours within a short period of time, so you hardly notice you're wearing it.
It has chest pads, which although not CE marked will withstand being struck by flying objects without the impact being felt to any great degree. I've found this vest to be very comfortable when riding and the armour stayed in place under my outer jacket.
The vest was warm enough to wear in cool temperatures without having to add any extra layers, and when temperatures rose, I didn't feel as though I'd overheat. The vest doesn't have a high collar, so your textile outer jacket won't feel bulky in this area.
ABR Rating: 9/10
In a line: Comfortable jacket and armour well worth considering
| | | |
| --- | --- | --- |
| With backplate | Thumb loop | Unobtrusive armour |
Shot Protector Jacket
£107.99 www.feridax.com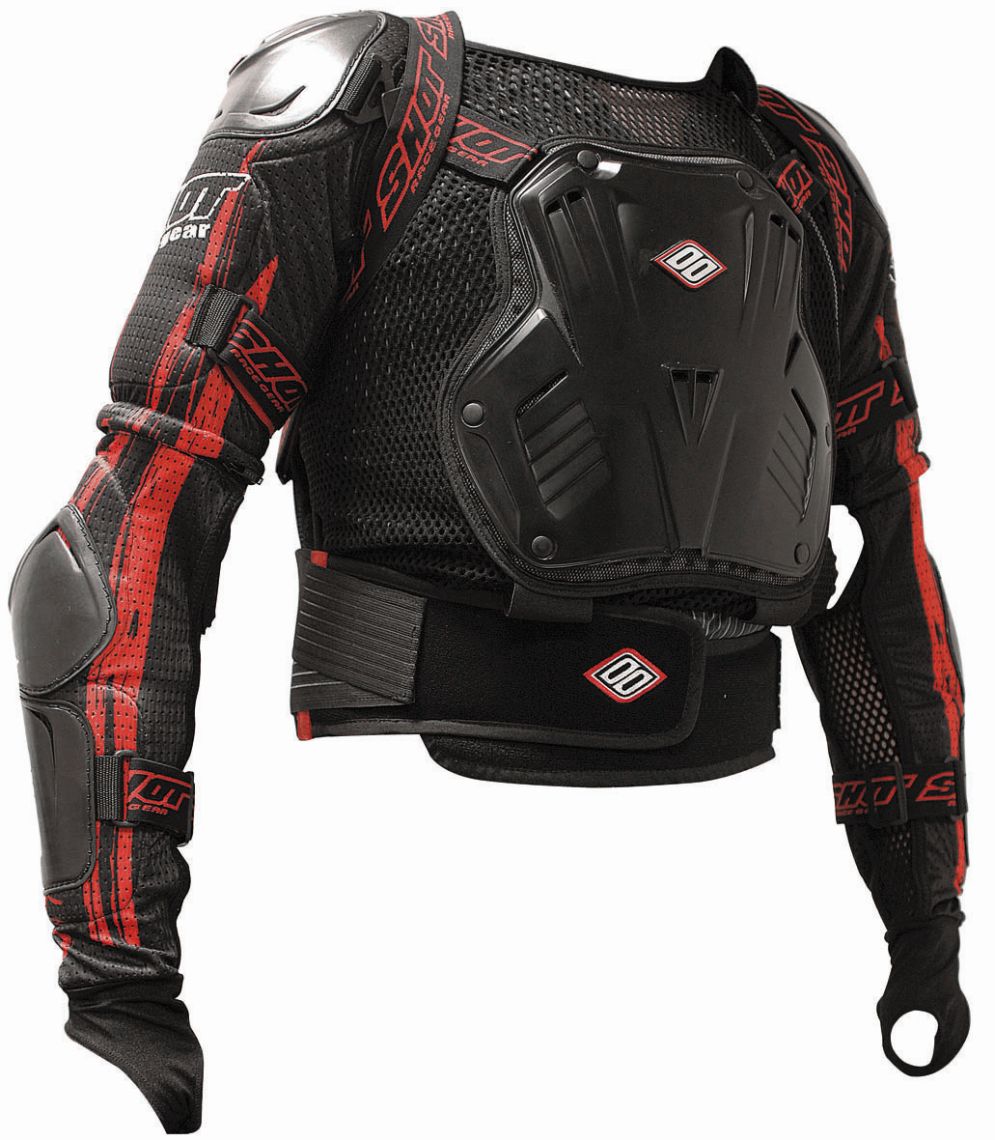 I liked the versatility of the Shot Protector jacket as soon as I saw it. From the fully detachable backplate to the zip-off sleeves it has everything you need in a flexible piece of kit for off-road use and enough comfort to be worn for prolonged use on road without it becoming obtrusive.
The super-soft, stretchy nylon mesh fabric in the body of the jacket allows cool air to enter, keeping you well ventilated, and the snug adjustable fit means comfort is a priority.
The body of the jacket is short, but the longer back armour extends the protection further and with its own detachable kidney belt that wraps around the front and attaches to the main jacket with Velcro, the whole package covers the torso securely making it a full-length affair.
As the chest/roost plate is bulkier than the others on test and is a one-piece unit, the front zip is located over to the left side and there are shoulder, bicep, and forearm adjustment straps to fine-tune the fit while holding the protection in the right place. The sleeves extend with Lycra thumb loops, too.
There are additional shoulder straps that attach to the backplate so when it's detached from the rest of the jacket it makes for a good-fitting back protector in its own right. The elbow/forearm protection can also be zipped off from bicep level should you decide that you want to get a bit of a tan going on.
Obviously, this diminishes protection in that area when they are removed. All the pads are CE level one tested apart from the back protector, which is level two approved. The Shot jacket is versatile and comfortable for day-long use. The fit is good and even with the chunky chest guard, it fits under a traditional outer without restricting movement.
The Shot could easily be worn for that long-distance ride where you want to take to the trails when you get there.
ABR Rating: 7/10
In a line: A good-fitting protective jacket
| | | |
| --- | --- | --- |
| Backplate | Thumb loops | Zip-off sleeve |
Forcefield Pro Shirt
£189.99 www.forcefieldbodyarmour.com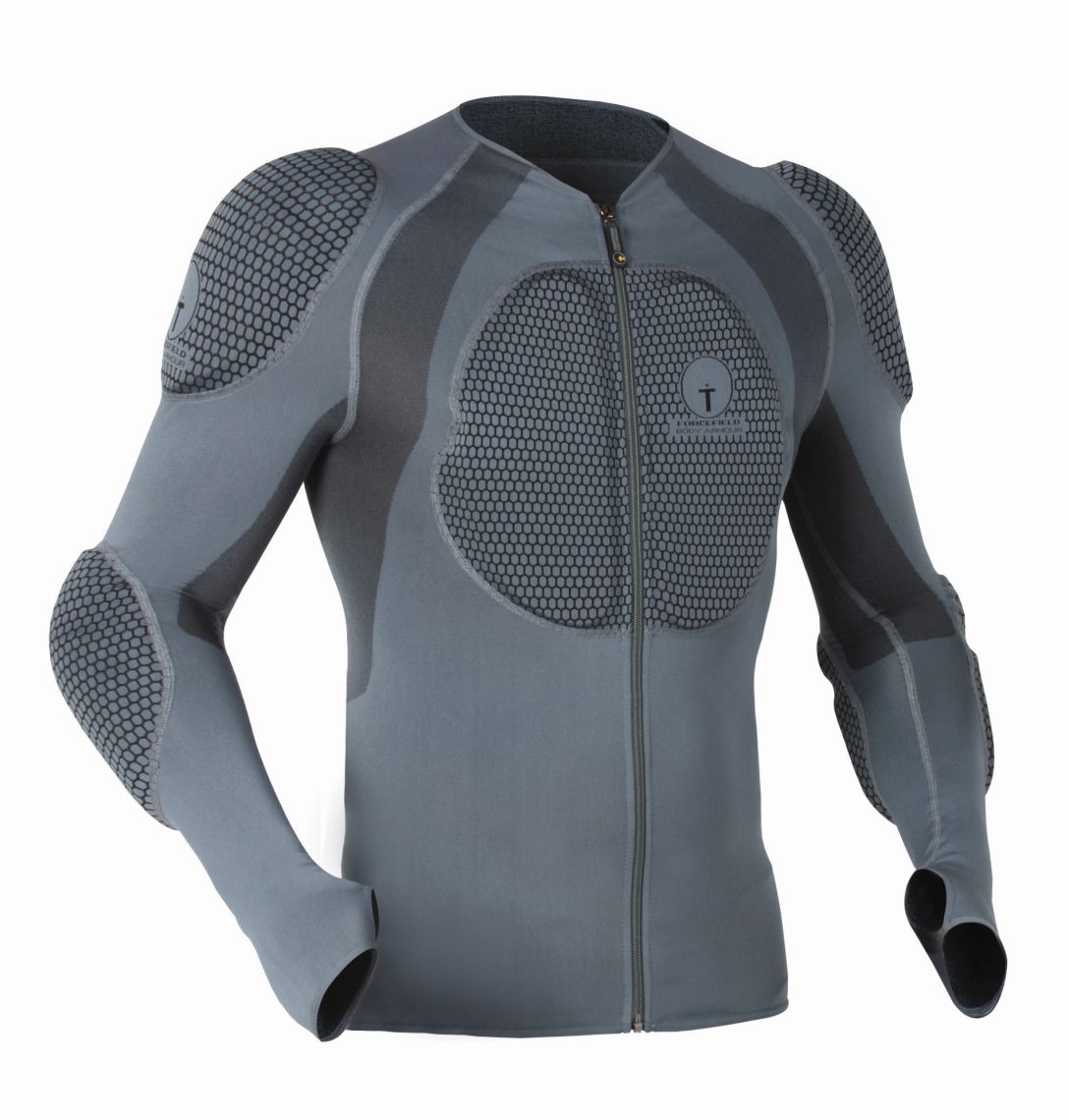 Forcefield is one of the biggest manufacturers of protective armour. Its products are used in a multitude of motorcycle garments and are the protection of choice for many professional road racers. It's good stuff. Nuff said.
I'd seen the Pro Shirt in use by quite a few motorcyclists, both on-and off-road before I got my grubby paws on one, and now I've had the chance to try it out, I can fully understand why so many riders choose to put their faith in such a product.
The shirt is made from BeCool fibre, a close-fitting fabric that ensures the armour stays where it should be; it's also breathable, to allow body heat and moisture to escape and fresh air to circulate. The sleeves feature thumb loops, which stop the cuffs from riding up and essentially keep the elbow pads secure.
As Forcefield manufactures the armour it stands to reason that all the pads used in the Pro Shirt conform to the latest CE standards, which includes the shoulder, elbow, back and even the chest pads.
Not that anyone would intentionally want to test the armour, but it also features RPT (Repeat Performance Technology), which means the pads offer the same level of protection after multiple impacts unlike, say, a helmet, which is compromised after an impact and would need replacing.
The pads are also easily removed, to enable the garment to be machine washed. The fit of the Pro Shirt is spot-on; the armour sits exactly where it should and very quickly moulds to the wearer's body shape.
Worn under a conventional outer jacket (armour removed) it's hardly noticeable and the low collar doesn't hamper the fit of your top layer either. The BeCool fabric works well to keep you dry and comfortable when it's warm but on cooler rides, it acts as an extra layer. I didn't feel as though I needed anything else to keep out the chill.
ABR Rating: 10/10
In a line: All-round protection with all-day comfort. Recommended.
| | | |
| --- | --- | --- |
| Back protection | Thumb loops | Shoulder pads and chest plate |
Alpinestars Bionic 2 Protection Jacket
£199.99 www.alpinestars.com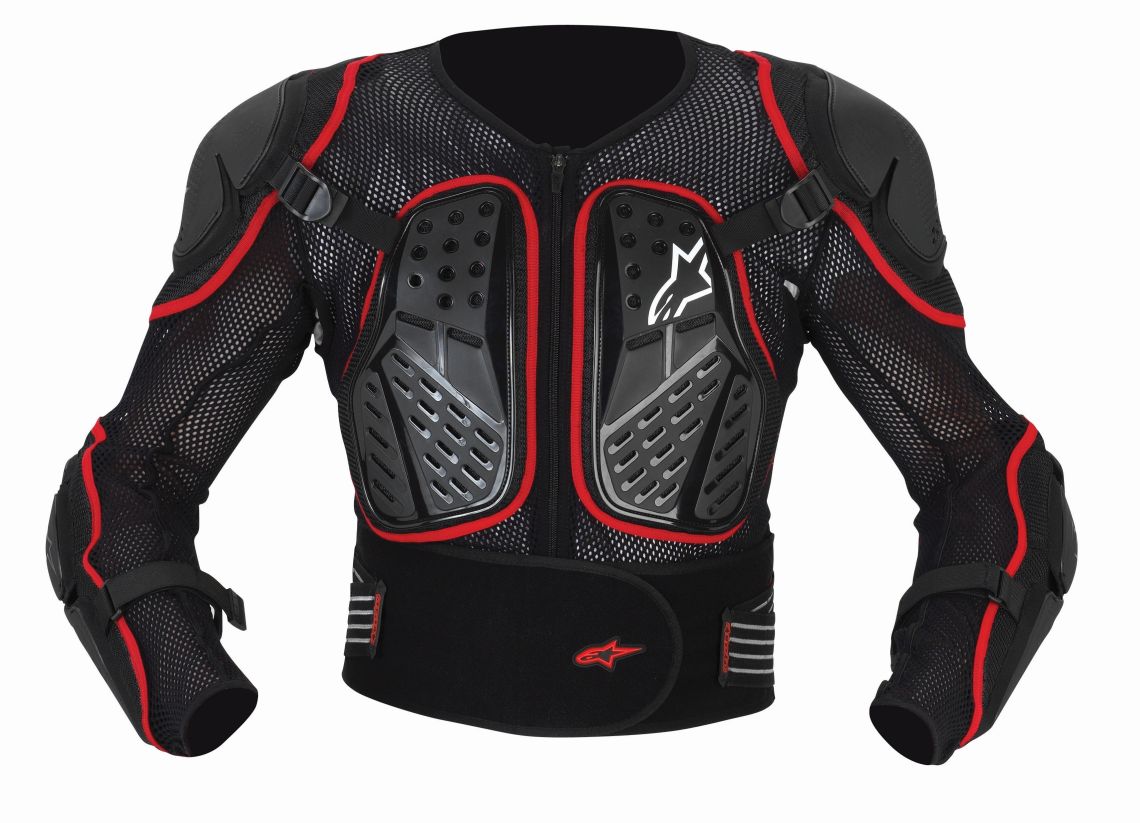 What looks like and is labelled as a protective jacket for off-road pursuits comes with a hefty price tag. But I've always expected to pay a premium when it comes from a manufacturer like Alpinestars because it has a heritage of using top-quality components tested to the highest level and the Bionic 2 protection jacket is no exception to this. If you want the best you have to pay for it.
The jacket features DFD (dynamic force dispersion) technology, which means that although the protector is lightweight and isn't too bulky it conforms to the latest CE standards that afford the wearer the best protection when riding away from the tarmac.
Constructed from stretch mesh fabric with a stretch Cordura panel on the back, the jacket has a snug comfortable fit which offers plenty of ventilation to keep you cool.
The main body of the jacket is short, but the detachable backplate extends beyond this and its dual kidney/body belt then wraps around the front of the jacket and is attached with two small Velcro tabs.
There are adjustment tabs on the forearms and the shoulders, to fine tune the fit, but more importantly, they also hold the armour in place. As mentioned the back armour is detachable from the jacket and can be worn as a stand-alone garment.
It features a five-plate construction, which is contoured for a natural fit. The plates lock to prevent overextension of the back, which is crucial in certain accident situations.
The shoulder, elbow, and back pads are CE approved to level two, but the chest/ roost plates are not; this is because they are ventilated so cannot offer the same level of protection as the rest of the pads. That said, they will offer protection from flying debris.
I've worn the Bionic 2 both on-road and off it and I have to say I found the fit was spot on and was comfortable for all-day use on the trails. This would be a suitable alternative to wear on that off-piste adventure to Morocco.
ABR Rating: 8/10
In a line: Top quality for top dollar
| | | |
| --- | --- | --- |
| Back protection | Forearm adjustment and armour | Shoulder and chest armour with adjustment |