TICKET TO FREERIDE
Paul Jennison signs up for Patsy Quick's Adventure Riding Academy, to test out the KTM Freeride 350 in its natural habitat
I've done a bit of off-road riding over the years, starting on a Suzuki DR 350 a few years ago and more recently a DRZ 400, negotiating the tracks and trails around the west country, all self-taught and usually with my legs flailing all over the place in an effort to stay upright. I even dared to take my BMW 1150 GS Adventure along a muddy track one day (on-road tyres) and apart from a dalliance with a grass bank and a bush, I emerged relatively unscathed.
I've often thought about getting some sort of professional off-road training, so at least I might look as if I know what I'm doing, and in preparation for trips to Morocco and the like. I never bothered with the training before hitting North Africa the last time, but I did venture onto the loose stuff.
My limited experience in riding away from the tarmac helped, but did I really know what I was doing and would I have benefitted from actually knowing? The answer to that is 'no' and 'probably'. So when the opportunity came my way to have a day's off-road training with Dakar legend Patsy Quick, I was all up for it.
Add to that the chance to do it on a KTM Freeride 350, a relatively new bike from a company that really knows how to make machines for playing in the dirt, the deal was sealed.
The venue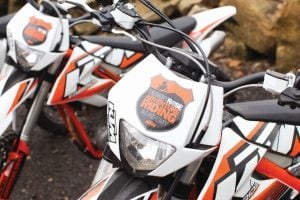 Desert Rose Adventure Riding Academy uses an 80-acre site in the West Sussex countryside. The centre is run by Patsy Quick, who won notoriety by becoming the first British woman to complete the infamous Dakar Rally as well as being a British and European Women's Enduro Champion.
The academy was founded back in 2009 when Patsy recognised the demand for off-road tutelage by people who wanted to leave the tarmac behind but needed the necessary skills to achieve their dirt dreams.
Ably assisted by fellow Dakar finisher Clive 'Zippy' Town, the academy runs various programmes from a one-day stage-one course aimed at total novices to Rally Raiding, which teaches Dakar hopefuls road-book reading as well as riding techniques for such an event.
The bike
When the Freeride was launched last year, KTM's aim was to produce a bike that wasn't an extreme competition machine but could cope equally with the challenges of off-road riding without the effort and energy needed for handling a full-blooded enduro bike.
The result is a lightweight bike with a low seat that's versatile, with easy precise handling and manageable power delivery, making riding it in the dirt a satisfying experience for both newbies and experienced riders alike. The downside to the Freeride as I see it is the hefty price tag. Coming up just short of £6,300 it's £2,300 more than Honda's comparable CRF 250 L – a lot of dosh for an extra 100ccs. So is it worth the additional outlay? Let's see.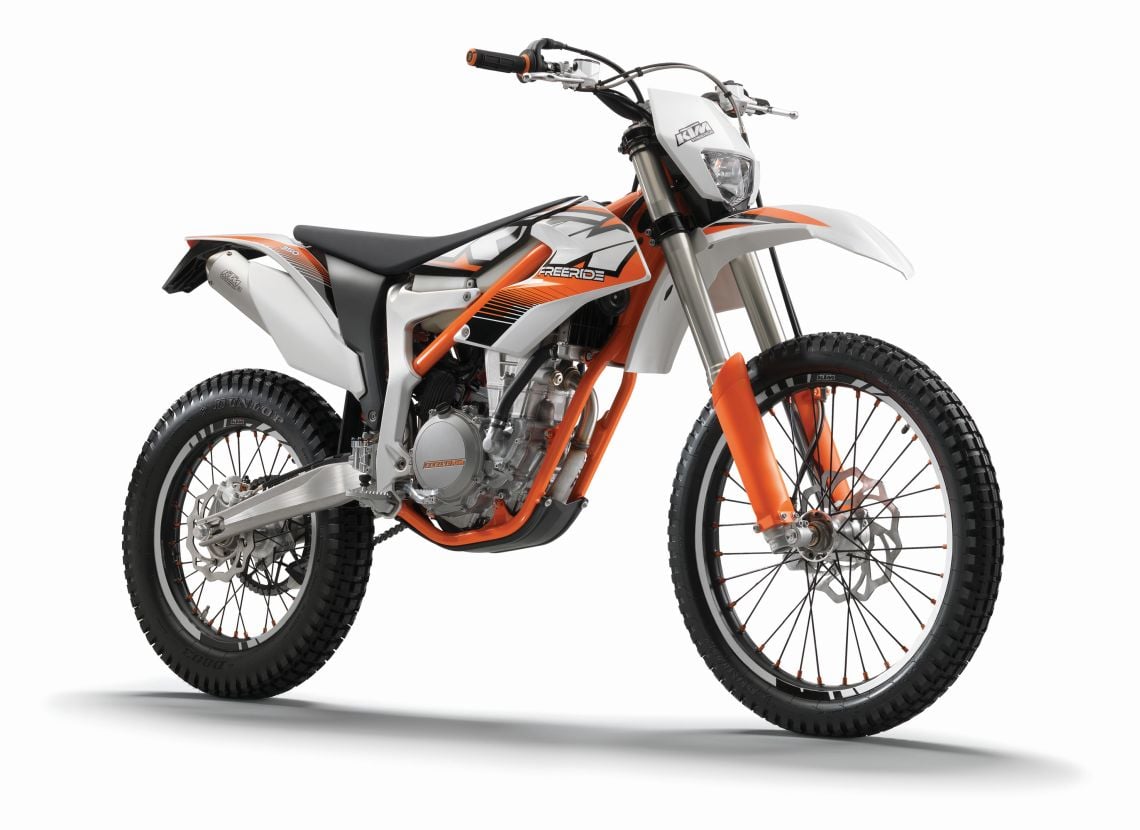 When KTM says 'lightweight' they mean it. At 99.5kg without a fuel load, the Freeride is 44.5kg lighter than a Honda CRF 250 L, which is one hell of a saving when you're working up a sweat on the trails. The seat height at 895mm is also 40mm lower than a Suzuki DRZ 400, which means you don't need legs like Kate Moss when sticking out a foot or two for balance; there's even a lower seat option available if required.
The Freeride is quite a slim bike, especially in the seat area, which isn't the most comfortable for longer rides but does make things easier when reaching for the ground. I like the styling; the plastics are minimal and well-shaped, to cover the contact points, and the solid plastic rear sub-frame has grip recesses, which are useful for pulling the rear out if it gets stuck in the mud.
What is noticeable is that the see-through polyethene fuel tank is housed within the frame for protection and helps keeps the weight lower, complementing the balance of the bike. Being transparent, it makes seeing the fuel level easier and in addition, there's a low-fuel light between the steering head and seat for quick reference.
A composite frame made from tubular chrome-molybdenum steel is combined with a forged aluminium mid-section, which as well as providing a stable and sturdy platform is also part of the weight-saving strategy. The frame also houses the single-cylinder four-stroke DOHC engine, which is based on the power plant used in the KTM 350 EXC-F enduro machines.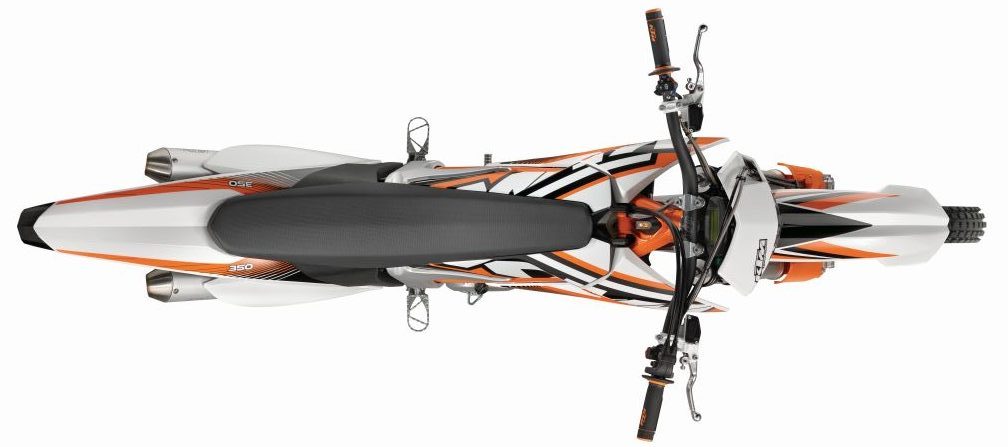 The engine case has been made from lighter materials and the kick-start mechanism has been removed and replaced with an electric starter, to reduce the weight further. Race performance has been replaced with more useable torque, giving higher traction in rough terrain by keeping the power lower and smoother.
This is helped by the engine management system (EMS), controlling electronic fuel injection that delivers smooth fuel-efficient power, bolstered by a six-speed gearbox with a multi-plate wet clutch that's hydraulically operated and delivers smooth and positive gear changes.
The cooling system is linked from the cylinder head directly to a radiator, which is protected behind the frame tube and has an electric fan, to keep the temperature in check. To keep noise levels and emissions to a minimum (while retaining the high-torque engine characteristics), the exhaust system has been designed with a single header pipe, routed under the engine, but within the frame and protected further by a sump guard, linking into two slim aluminium silencers, each housing a catalytic converter.
The cans are mounted high at the tail, to minimise the risk of them getting submerged and drawing in water. KTM's in-house suspension specialist, WP, has made a new system for the Freeride with upside-down front forks that have 250mm of suspension travel, delivering great damping and enhancing the stability at the front of the bike. This is complemented by the rear shock absorber, which is linked directly onto the swingarm. It has 260mm of travel that is adjustable to increase or decrease the rebound and compression to suit the rider and the conditions, which again delivers great stability over the roughest ground.
| See-through fuel tank | Cans set high to keep them dry |
| --- | --- |
| Grab handles in the rear subframe | Happy trail riding |
In standard form, the very light but strong spoked wheels have trials-type Dunlop D803 tyres fitted, which are great for all-round use on the road and trails without churning up the ground, but weren't really up to the wet, muddy conditions we encountered on the day, so it was just as well they were changed to knobblies to cope with the boggy ground. This small change made all the difference for the inexperienced rider who didn't need the added complication of slithering around when grip is a premium requirement for growing confidence.
The front and rear wavy brake discs look the part and I can tell you that the feedback from the front four-piston calliper is really good when applying measured braking on tricky ground. This is essential when it's only a fine line between reducing speed and having the front locking up and washing out. The rear calliper is a two-piston affair and again works well, giving an excellent all-round braking performance.
Although the seat isn't the most comfortable for longer distances, it's certainly adequate for a day's riding on the trails as you spend a lot of the time standing. The bar width is spot on, giving the rider a comfortable but commanding position, making steering easier. This is aided by the footpegs, which are at a good height being set slightly higher than the bottom of the frame. They are easily adjusted by turning them through 180 degrees, which then resets the pegs 8mm further back, to aid rear traction.
The riding position on the Freeride is verging on perfect, especially when you're constantly changing your body position to negotiate narrow trails. It's small, lightweight and has a good engine that should cope with just about anything. The ideal package to enjoy a day's off-roading? Let's find out…
Quick Spec:
| | |
| --- | --- |
| Model: | KTM Freeride 350 |
| Price: | £6,295 |
| Engine: | 349cc single cylinder 4 stroke |
| Power: | 23bhp |
| Transmission: | 6 Speed |
| Seat Height: | 895mm (unloaded) |
| Dry Weight: | 99.5kg |
| Tank Size: | 5.5litres |
| Ground Clearance: | 325mm (unloaded) |
| Wheel Size: | 21″ front, 18″ rear |
Price Comparison:
| | |
| --- | --- |
| Honda CRF 250 L | £3,999 |
| Kawasaki KLX 250 | £4,799 |
| CCM C-XR 230-E | £2,384 |
| AJP PR 5 | £3,650 |
| Husqvarna TE 125 | £3,740 |
| KTM enters a competitive field, against cheaper rivals, with a great product | |
Off-road
It was really a case of back to basics when Zippy started the coaching session. I'd never thought too much about taking a bike off its stand before swinging my leg over it, but it makes perfect sense. The suspension is designed to compresses when you sit on the bike, but with the stand in place, it doesn't, and as the stand is only designed to hold the bike's weight, adding another 90kg is going to put a lot of stress on such a small component. So, lesson one was getting on and off the bike from both sides with the stand retracted. I never even broke sweat.
Firing up the Freeride, we took the bikes to the top field for our first taste of how it handles on soft, loose surfaces. I was immediately impressed with how light and smooth the bike felt. Gear changes were hardly necessary as second and third gear were just right for the terrain and pace. The Freeride's first gear is short and only really useful for controlled descents when maximum engine breaking is needed.
The second lesson was steering and looking far enough ahead to where you wanted to go. When riding on the road, I always look as far ahead as possible, to get the best view and plan for the approaching conditions, but off-road, the temptation to shorten my gaze to the front wheel is overwhelming. This in itself is a big mistake, but the Freeride's agile steering and excellent suspension system inspires belief that the bike can cope with just about anything in its path, making it much easier to keep your focus on the terrain ahead.
The light and agile KTM is so effortless to ride that turning figure of eights from lock to lock was achieved in no time at all. Moving my whole torso from the waist and looking in the direction I wanted to turn had the bike turning with me; with the smooth power delivery riding in a slow controlled fashion was never a problem. My riding was flowing and I was having fun.
The Freeride was doing everything I wanted it to do and I was in total control of the bike. Or was it the other way round? Either way, this just added to the grin factor. We then had a bit more coaching from Zippy and Patsy on how to ride up steep hills, which has never really bothered me, but what goes up must come down and descending steep hills off-road has never been my forte.
I usually stick it in first gear and then use the back brake to scrub off speed, even locking the back on occasions and letting it slide down, which is bad form, apparently, so I was in dire need of a lesson on how to do it properly.
The gearing on the KTM is so flexible that second gear is perfect for powering up steep hills, and I was even snicking it into third as I neared the top of the rise. My first descent was done entirely using engine braking. First gear engaged and over the top I went. It felt like the bike was running away from me and I had to fight the urge to hit the back brake, but the flexible engine kept everything in check. About halfway down, the engine braking was controlling the speed and I was satisfied enough to unclench my bum cheeks and stop fishing for the back brake.
On the second descent, Zippy suggested using a little front brake just to see how it felt. Now, this was a totally alien concept to me, but it works, as long as you don't use too much. Just a little gentle pressure on the front brake and I could tell that this descent was even smoother and more controlled than the first. I could also feel exactly what was going on with the bike; the feedback from the brakes is really good.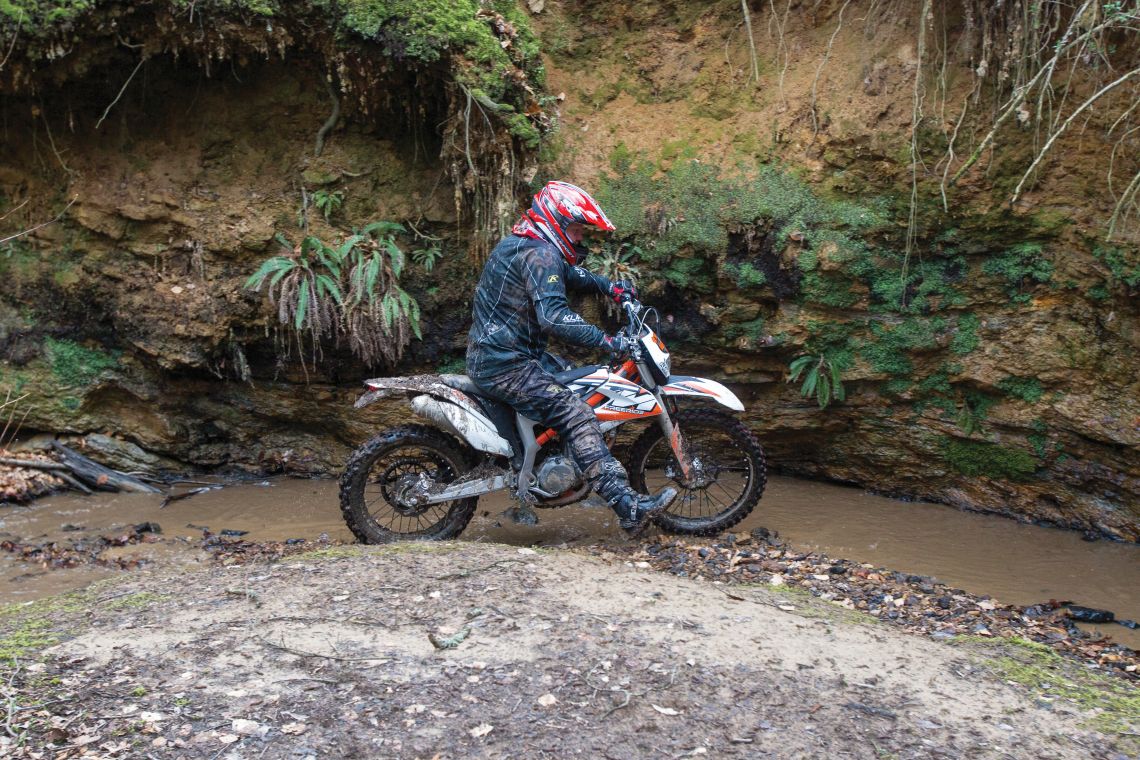 On my fourth attempt, however, a bit of hesitation from the rider in front cause me to grab a big handful of front brake. He didn't stop, but I did, and as the front locked and washed out I was thrown off. Bugger! Luckily I had a soft landing. This was definitely a case of human error and nothing to do with the bike, though.
The more I feathered the front brake, the more I realised how good they were and being able to ease myself downhill using just the front brake was a revelation to me. If nothing else, my untimely dismount at least provided an opportunity to see how easily a 99kg bike can be righted on a steep hill.
I can happily say that it is at such times a lightweight bike like the Freeride is a blessing, and with very little effort, we were vertical and on our way again. I was really enjoying my newfound skills and my confidence was high.
The little KTM handled the tasks easily and I was impressed at how comfortable and stable it felt over such varied terrain. The engine has so much usable torque that it feels like it will ride over almost anything, and in the right hands, I dare say it would.
Technique
Early advice was to steer
with the upper body

Use back brake and feather
the clutch to aid slow speed control

Soft knees, lean
forward on incline

Balance is crucial; stay
relaxed, focus on the path ahead
Conclusion
As I said earlier I was a self-taught off-roader who'd survived more by luck than judgement. However, with just a day's coaching from Patsy and Zippy I'd learned a lot. The basics, which I'd previously just ignored were well implanted in me and as a result I felt much more at ease on the trail and happy to take on pretty much anything. I'd certainly like to go back on the stage-two course to learn a bit more.
The KTM is the perfect tool for the beginner or for someone like me who's done a bit of dirt riding and come back to it after a long break. Likewise, the Freeride is the perfect tool for anyone already into riding the trails. Its mix of low weight and torque make it one of the most usable bikes to have fun in the dirt.
There's nothing to fault on the bike. It has a great combination of power in a lightweight package and with a suspension set-up that soaks up the rough ground leaving the rider to enjoy the experience rather than hanging on for dear life. I'd certainly love to have one to start practising my new-found skills on the byways. However, despite having experienced just how good this bike is off-road, I'd struggle to justify spending over 6k on something that would inevitably for me be a bit of occasional fun and nothing more.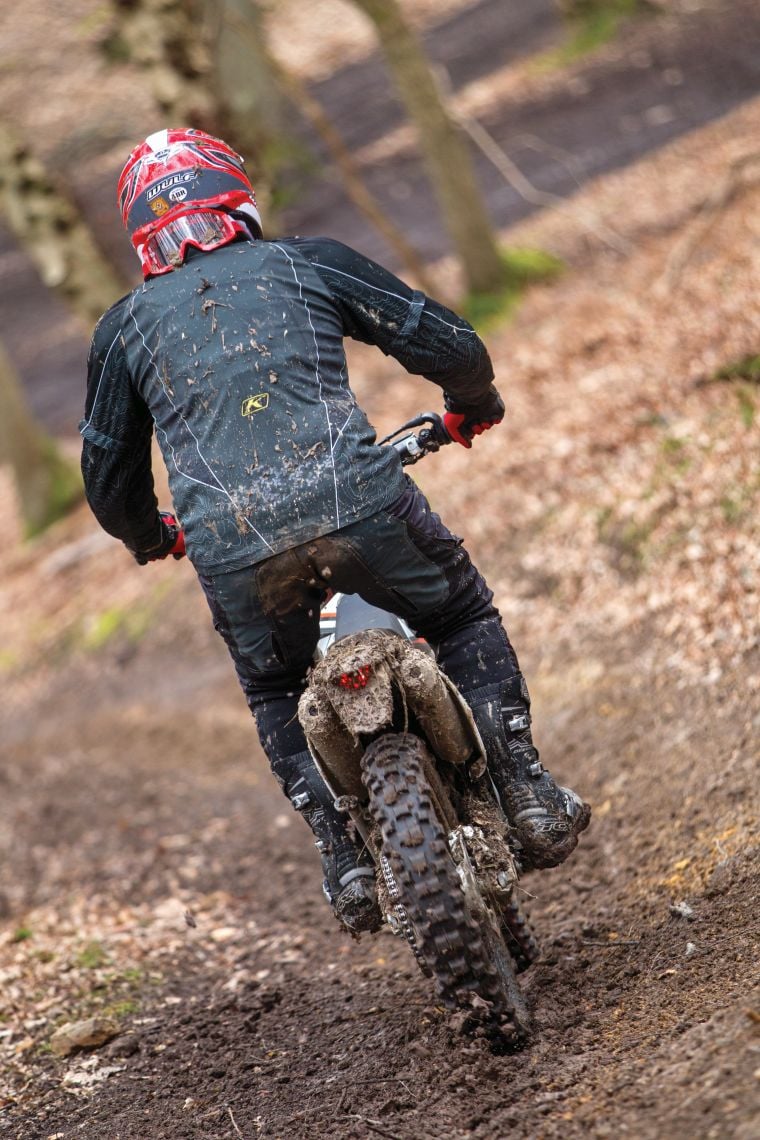 ABR Verdict
■ How versatile is the Freeride… As a commuter?
If you live in the town or just outside, it's small enough to zip around through the traffic. Further than that, you could take in some lanes to give your backside a bit of respite. Otherwise, take the bus!
■ As a weekend tourer?
Not at all what it's built for, unless you intend to do it via a lot of green lanes. You could carry a small amount of luggage. But you wouldn't buy a Freeride for touring purposes… would you?
■ As an off-roader?
Of course! The Freeride is the ideal bike for a Sunday ride along the byways. Very useable for the novice and the more experienced off-roader alike.
■ As a Continental road tourer?
If you have time on your side and an iron butt then maybe. People would either admire your fortitude or just think you're plain mad. Personally, I'd want something a bit bigger and with a better seat.
■ As an RTW overlander?
Take a couple of years out and a few months to plan a route with as many back roads as possible, and yeah, it's probably a goer. You're sure to see more of the countries you pass through by going away from the tarmac. Just be sure to pack a satellite phone to keep in touch with the support vehicle that's carrying all your belongings.
■ As a pillion carrier?
Definitely not, the seat takes one person and there's no rear pegs. They wouldn't thank you for the experience anyway.
Want to do this?
Desert Rose Adventure Riding Academy is aimed at anyone who wants to learn the basics of off-road riding or improve on what they already know. There's no age limit and you don't even need a bike licence as all the riding is done on private land. To date, the oldest participant is 86, so what's your excuse?
The stage-one course aims to teach:
■ Clutch, throttle and brake control
■ Correct riding position and balance
■ Ascending and descending slopes
■ Manoeuvring the bike safely in different situations
■ Control on mud, grass and in water
All teaching is done on the go; there's no classroom time, so you spend maximum time on the bike.
The stage-one 'Leave the tarmac behind' course costs £245, which includes tuition, bike, kit, lunch and third party insurance.
For more, see www.adventureridingacademy.com