Paul Jennison rounds up cool gear that's good to go riding with
Michelin Anakee III Tyres
Prices vary but average £78 front and £96 rear
www.michelin.co.uk
What is it?
New generation Anakee with a bent towards the black stuff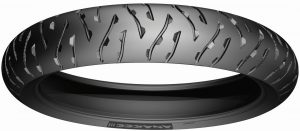 I wanted new rubber for my BMW R 1200 GSA and was contemplating a change from the usual. I'd eyed up the Michelin Anakee 2s that I know a lot of ABRs rave about. I cover a lot of road miles on this bike and very rarely venture away from the black stuff, so I wanted something that would give me longevity with decent grip characteristics in all weathers. It was at this point that Michelin launched its new Anakee III.
The tyre has been designed for 90 percent on-road and 10 percent off-road use. After 800 miles in a lot of varied weather, I like the Anakees. Even at 70mph, on a motorway where the surface water was so bad the lane markings had disappeared, grip was never compromised.
Cornering at speed and under hard braking, they hold their lines exceptionally well; these are confidence-inspiring tyres. Michelin reckons with the silica-based compounds it's using, the Anakee IIIs should last 20 percent longer than the earlier model Anakee, which I'm told is around 10,000 miles on a GS, so only time will tell.
In a Line: If you're a tarmac adventurer, this could be the rubber for you.
Stahlkoffer Soft Luggage System
SRP from £144
www.stahlkoffer.com
What is it?
A new soft luggage option from bespoke British manufacturer Stahlkoffer
Stahlkoffer makes top-quality boxes and racks right here in the UK. The brand is very popular with ABRs and MD Bernie Brinkmann and his team will go all out to meet customers' individual requirements. The success and popularity of the company's metal boxes have led Stahlkoffer to develop and produce a new range of soft luggage.
Although these robust, waterproof bags can be purchased on their own, the company produces (and recommends) a metal backplate and support plate that mount onto your existing rails. These not only stop the bags getting caught up in the bike's moving parts but also help keep the bags in shape and secure while in use.
The plates can be made to fit a variety of frames and are worth the investment. They also fit inside the bags for storage when not in use. The bags have a capacity of about 30 litres but the capacity can be tailored to suit the individual.
They are padded throughout, to protect the contents, and have a zipped top, which is covered by a full lid with reflective detail for safety. The lid is secured by Velcro all round to prevent any water ingress. The bags are attached to the bike via webbing straps that are fed through the rack.
The fastening buckles are located on top of the bags, so in the event of a fall, they're unlikely to get damaged. I like the bags because of their rugged simplicity and being waterproof makes them an ideal alternative to boxes if soft luggage is your thing. They can also be used as liners for metal boxes, so unpacking the bike needn't be a chore.
In a Line: An excellent alternative for the daily commute or mini-tour.
Visorcat
SRP £30
www.visorcat.com
What is it?
A visor wash/wipe cleaning system that does the job on the move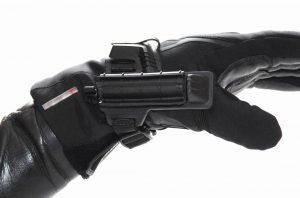 If there's one thing I hate when I'm riding it's a visor covered in crap impairing my vision. Why is it that when kamikaze bugs decide to end it all they do so right in my eye line? It has been known for me to pull over and clear the crud before continuing. OCD? Maybe, but I want a perfectly clear view when I'm riding. A simple visor wipe fixed into a glove doesn't always do the trick.
That's why I like the Visorcat. This visor wash/wipe fits to your left glove and is held in place by a wrist and thumb strap. Although it looks a little bulky it surprisingly isn't a problem once it's on and you hardly notice it until you need it.
To use, wipe the Visorcat across your visor from left to right. This exposes the thumb sponge, which is kept moist via its own reservoir filled with cleaner fluid. The first pass of the sponge is designed to loosen the grime; reverse the action and the rubber wiper blades remove the residue from your now spotless visor.
If you wear an Enduro-style helmet with a peak, it can be a bit fiddly to access the whole visor, because the peak may obstruct your thumb, but with other helmets, it's a simple procedure that leaves a clear view.
In a Line: When the weather is filthy, your visor doesn't need to be.
Shoei GT-Air Full-Face Helmet
SRP from £399.99
www.feridax.com
What is it?
Another Shoei favourite gets the visor treatment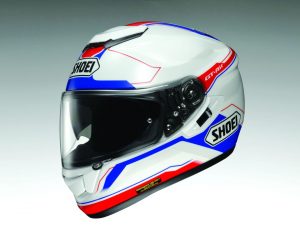 Once Shoei had gone to the trouble of introducing a helmet with an integral sun shield in the shape of the Neotec flip front, I guessed it wouldn't be long before its other helmets got the same treatment; I was right. The GT-Air full-face features an injection-moulded windshield with the Pinlock fog-free system fitted as standard.
It's watertight even in heavy rain and with the visor cracked open for better ventilation, the water doesn't run down the inside. The click-down inner sun visor is operated via a small slide lever, to give instant protection from sudden sun glare or changing light conditions.
The GT-Air uses Shoei's AIM (Advanced Integrated Matrix) shell structure, comprising complex layers of glass and organic fibres and two liners of different hardness. The shell design has been wind-tunnel tested, to provide stability, ventilation and noise suppression in all riding conditions, which should help reduce rider fatigue. And it really is a quiet lid.
It's available in four shell sizes and two-liner thicknesses for the optimum fit in plain and multi-colours.
In a Line: A smooth operator with stand-out features.