Emily-Jane cave rounds up the who's doing what where of the motorcycle touring world
Wild about Brazil
Mato Grosso Do Sul is a state in the Central Western region of Brazil, known for its outstanding natural beauty; the name literally translates as 'thick forest of the south' and the area is teeming with indigenous wildlife. The Pantanal occupies a large portion of the state, roughly 87,000 square miles, and extends into the neighbouring countries of Bolivia and Paraguay.
During the dry season, the land is covered with grass and trees, but from November to March, the Pantanal comes alive with beautiful baias (bays) as the whole area floods. The Southern Pantanal is considered to be the best conserved and untouched ecosystem on the planet, inhabited by 650 species of birds, 264 species of fish, 50 types of reptiles and over 80 different kinds of mammal; if you want to experience Brazil's wild side then this is the place to be.
Boxer Moto Adventure runs a 10-day motorcycle tour of this unique region. Comprising time spent exploring both on and off the bike, the Bonito and Pantanal tour is aimed at competent tarmac riders who can spend a fair few hours in the saddle and incorporates some gravel riding.
Riders can choose from one of BMW's G 650, F 800 or R 1200 GS models and pillions are welcome.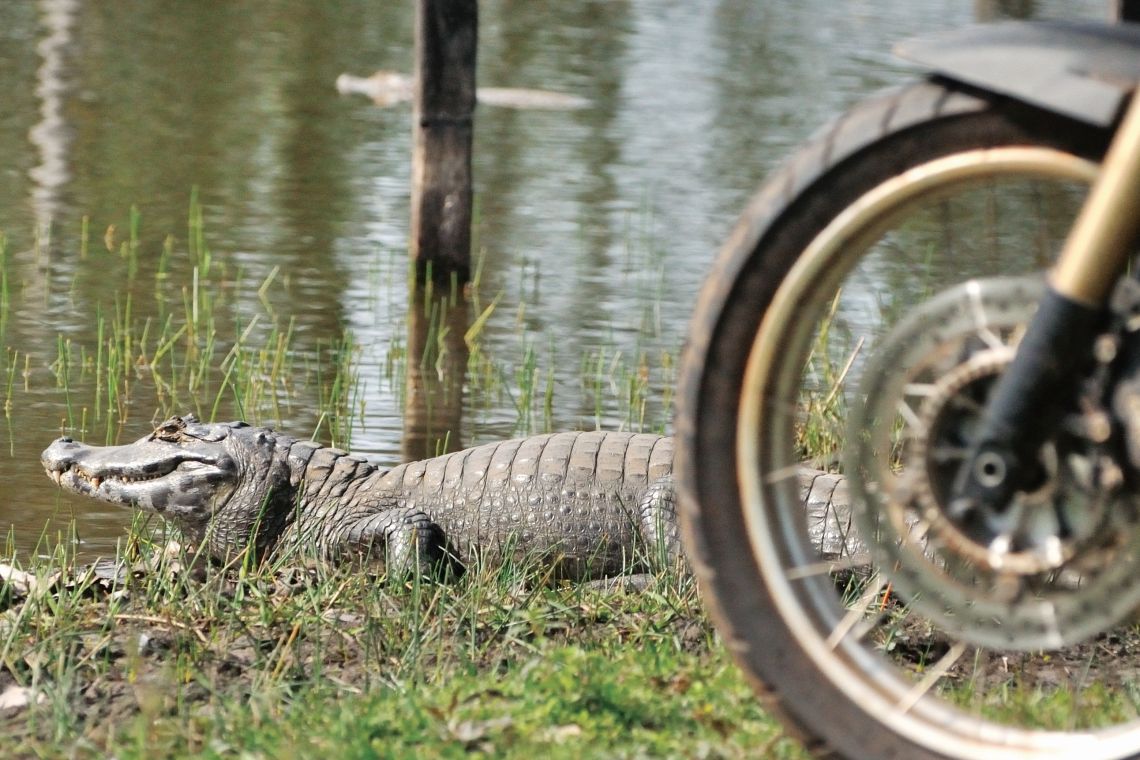 The circular tour kicks off in São Paulo before departing for Presidente Epitácio, 400 miles away at the border of the Paraná River. Riders then head for Bonito in the state of Mato Grosso do Sul via the enormous 8-mile Hélio Serejo Bridge and the Buraco das Araras where thousands of macaws live.
Bonito is known as the capital of ecotourism in Brazil and the following day, ABRs will have the chance to explore this breathtaking place with a visit to the Gruta Azul – one of the biggest flooded caves on the planet – and a chance to dive the river waters.
Next, up is a 100-mile ride out towards Panatal through the Serra da Bodoquena Mountains for a taste of traditional Pantaneira food in the city of Miranda – piranha-fish stew, anyone!? Another day off the bikes sees ABRs on safari in the heart of the Panatal, including a boat trip and a night tour for those feeling brave enough.
A 70-mile bimble the following day takes riders on exotic roads to Aquidauana. Two days' hard riding follow as ABRs make their way to Três Lagoas on the border of Mato Grosso do Sul 300 miles away before crossing the 400-mile western São Paulo state.
Prices start from $3,395 (£2,190) and the next available tour departs 5 October 2013. For bookings see, www.boxeradventure.com.br
Three ways to ride… France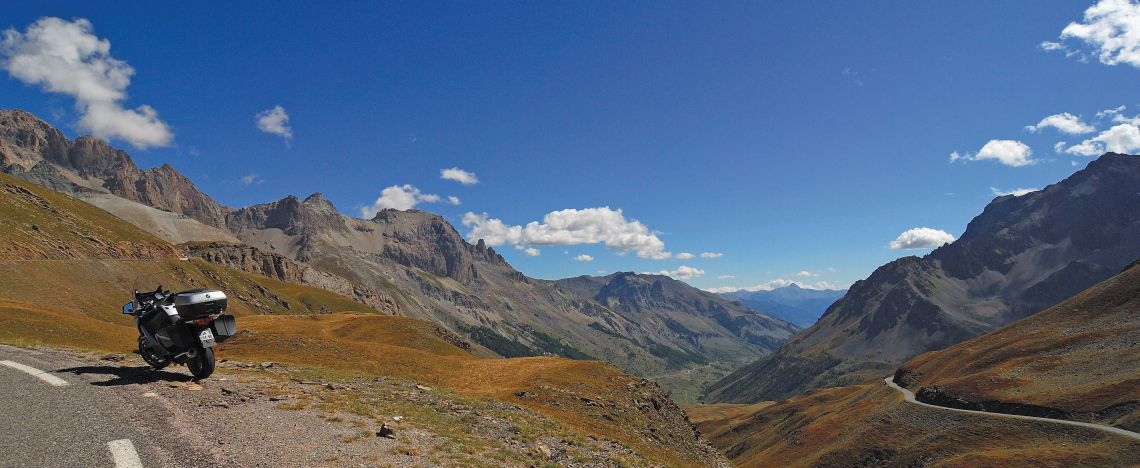 Alpine Splendour
Combining spectacular scenery with challenging roads, the Alps are a bikers' paradise. Global Motorcycle Tours' Grandes Alps and Napoleon Route takes in the best the Alps have to offer. From Calais, the tour heads south to Reims and the Champagne region.
The following day is a blast through the Jura Mountains to the medieval lakeside town of Annecy. From here, riders experience the Grandes Alps over the Col des Aravis, Col des Saisies and Col de L'lseran. Next up is the Route Napoleon. Taken by the famous French leader in 1815, it runs from the Mediterranean town of Golfe-Juan to Grenoble. Riders pick it up in Gap and ride to the 16th century town of Castellane.
From this base, riders explore the southern section of the Grandes Alps, Route napoleon and the Gorges of Verdon. Travelling north over the Routes Grandes Alps, the tour takes in Col de Vars, Col D'izoard and Col du Galibier before heading for the Swiss Alps.
Following the valley floor, riders pass the Furka Pass and the Rhone Glacier before arriving at the Oberalppass. Ride outs incorporating Susten, Nufenen and Grimsel Passes leave from here. ABRs exit Switzerland via Liechtenstein for Germany's Black Forest and the Swabian Alps, taking in Pfalzer and Saar Hubnsruck National Parks before returning to the UK via Luxembourg and Belgium. The 11-night tour departs 5 August 2013 and prices start from £1,048.
For more, see www.globalmotorcycletours.co.uk
Ride Free
Guided tours and organised routes aren't for everyone, so if you want to grab a bike and just go for it then French company Moto Plaisir can provide you with everything you need for a no-fuss break in France, from riding gear to the bike itself.
This is the ideal solution for a cheap weekend getaway, especially if you can snag a bargain flight to Geneva where the company does pick-ups. Moto Plaisir is based near Geneva and has a selection of hire bikes available, all of them BMWs, including F 800 Rs, F 700 and 650 GSs and the R 1200 GS and RT models. Prices start from €90 (£67) for a day's hire up to €149 (£126).
The company can provide helmet, glove and jacket hire from €15 (£13), helping keep your on-flight baggage to a minimum, and also offers HD camera hire. Although not quite a guided tour, riders can choose to select one of Moto Plaisir's pre-programmed satnav tours, which are available to download from the company's website.
These feature various Alpine routes, lakeside and countryside rides from one to seven days; local areas of interest include Ardèche, Provence, les Cévennes (Viaduc de Millau), la Bourgogne and l'Alsace, l'Auvergne.
The company also offers a bespoke trip-planning service, which can help you organise your stay in France, offer assistance en route and arrange special motorcycle deliveries if your chosen point of arrival isn't covered.
For more, see www.moto-plaisir.fr.
French Class
If you're relatively new to motorcycling or haven't ridden abroad before, this unique five-day 'learn-as-you-ride' experience could help you battle first-time tour nerves and improve your riding skills.
Run by UK-based company RMT Motorcycle Training, the Normandy Tour is led by advanced riding instructors and is designed to help ABRs develop their riding while taking in some of the best biking roads Normandy has to offer.
Meeting at the school's base in Redditch, riders are briefed en route to France on the nuances of group riding as well as having the chance to meet the other ABRs on the trip and discuss the riding programme with instructors.
Arriving in Caen, day two is a 120-mile jaunt along Normandy's northern coast before returning to the chateaux for oysters and wine. Days three and four incorporate much longer rides, venturing up to 200 miles inland.
As well as stunning scenery riders will train in group riding, cornering and overtaking techniques. There will also be an opportunity in the evening for debriefing with instructors and tips for improving your riding.
Day five is a blast along the Normandy beaches and some sightseeing before heading home. Riders will receive an ERS certificate, which could lower the cost of bike insurance, and also a follow-up rider development report, to help you progress with your training. The tour departs 5-9 September 2013 and costs £699 per rider.
For more, see www.rmtnet.co.uk