Mike Beddows hits the Brecon Beacons and the Lakes for some super-scenic green laning
Green lane 17 – Brecon Beacons
Mynydd Bach Trecastle Roman Road – 3.58 MILES
This area is a treasure trove of ancient remains. As you ride over the Roman Road, you'll find what's left of two Roman marching camps, as well the sites of hafods (Iron Age summer dwellings), a small Norman motte and evidence of later quarrying activities.
There are also the remains of stone circles. These are thought to have been constructed in the late Neolithic and early Bronze Age. During this time, people were developing early farming techniques, like keeping domestic animals, and skills such as weaving and pottery. Stone Circles are believed to have been built for ceremonial and religious worship.
The positioning of the circles suggests they were likely aligned according to the movement of the sun and stars. These fascinating remains are easily missed as you ride past too quickly, but take the time to stop and have a look. They really are interesting.
The trail is fairly easy and if care is taken can be attempted by novice riders. The Roman road is fairly short at 1.84 miles so an additional trail can be found 2.5 miles along a tarmac road section. This section is 1.74 miles long, and again, is fairly straightforward for novice riders.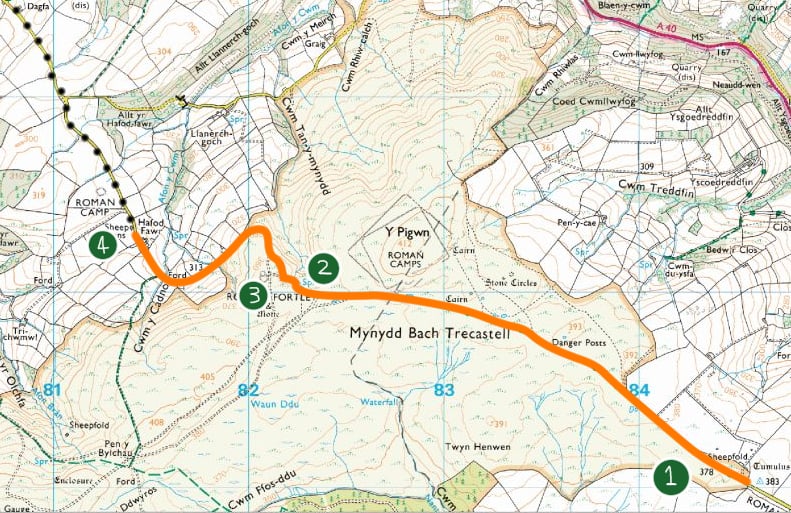 1-2
The Roman Road starts as a 4×4 track. There are some deeply rutted sections and some of the water splashes are up to knee-deep. The surface is a mixture of hard, gravely stone with some mud thrown in for good measure. The surrounding area is open moorland. (ABR difficulty rating 2)
2-3
The track goes round a left-hand bend and starts to descend. This section is a bit trickier and is also rockier. Take care; it's slippery in the wet. Proceed through the gate.
3-4
The trail has an easy finish along a farm track. Continue to house on right where the trail ends.
4-5
Road section for approximately 2.5 miles.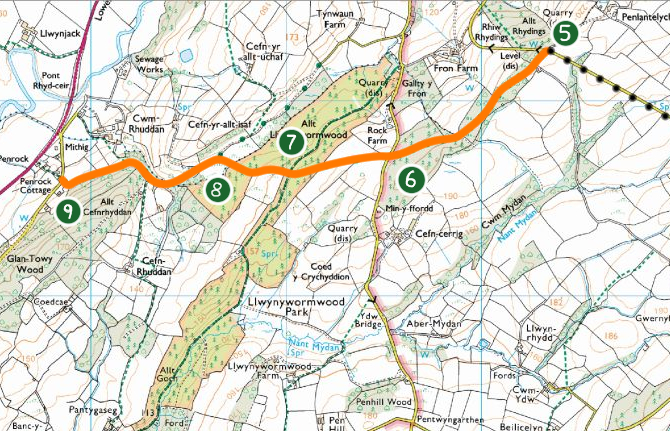 5-6
Turn Left and head up a rocky slope. This section isn't too difficult. Proceed along an easy farm trail. Take care when approaching point 6. You need to cross over a road, so make sure the traffic is clear before proceeding. Go through the gate.
6-7
Continue to the next gate. This section used to be really muddy but has been recently graded.
7-8
This section used to be made up of very deep ruts, but these have now been filled in and the going is easy.
8-9
At point 8 there is a simple ford. Proceed through the gate, then on to an easy finish along a broken tarmac road.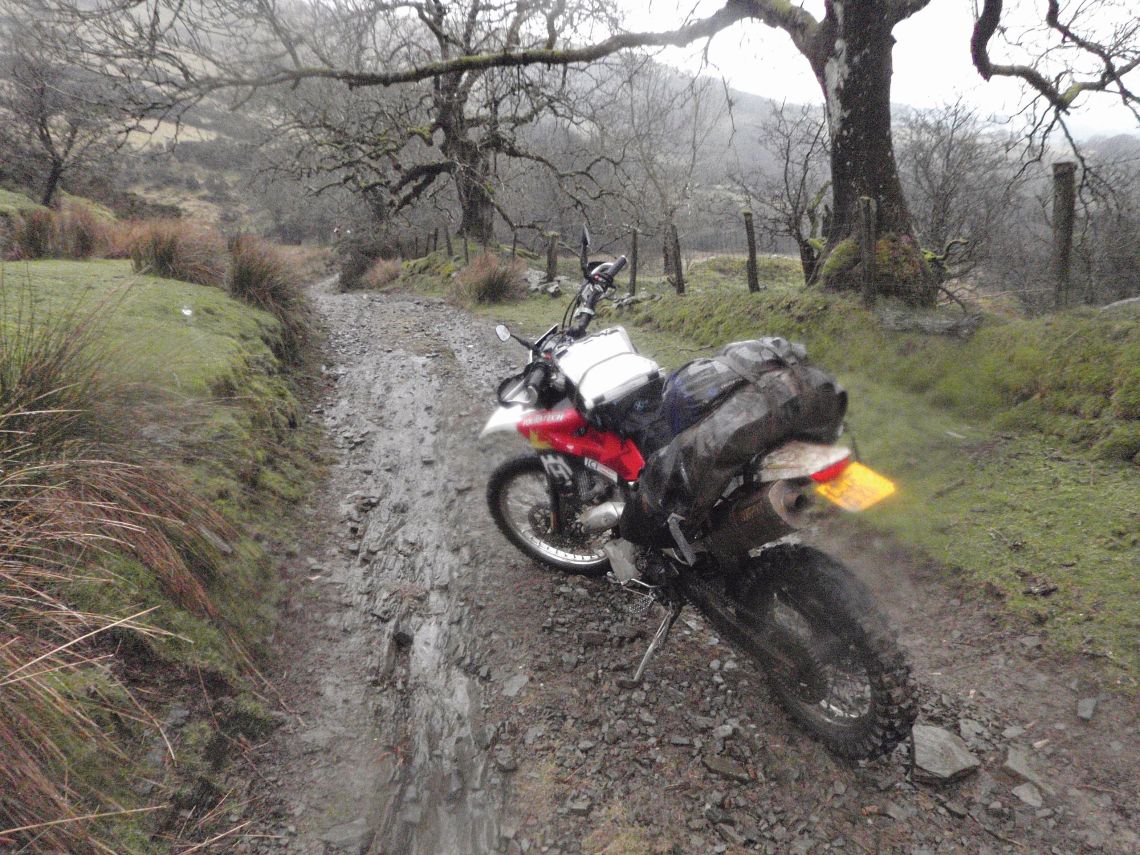 Route Facts:
| | |
| --- | --- |
| Distance: | 3.58 Miles |
| Nearest Town: | Sennybridge to the east; Llandovery to the west |
| Maps: | OS Explorer Map OL12 Brecon Beacons National Park |
| Start/End grid reference: | SN846300 /SN759326 |
| ABR Difficulty Rating: | 2 (out of 5) |
| Other trails: | There are lots of trails in the Brecon Beacons; see www.adventurebikerider.com for member-organised ride outs |
WOW Factor :
★★★
★
★
Did you know?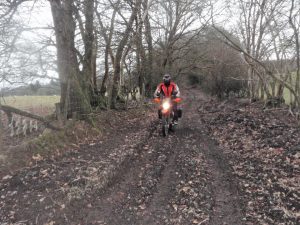 Mynydd Bach Trecastell is a hill on the border between the counties of Carmarthenshire and Powys in southwest Wales. It lies within the Black Mountain region of the Brecon Beacons National Park and Forest Fawr Geopark. Its summit is plateau-like and reaches a height of 412m at Y Pigwn. The name means 'little hill of castle town'.
Green lane 18 – Lake District
Little Langdale – 2.8 MILES
The Lake District is a fantastic place for a weekend's trail riding. Most of the best trails are located around Lake Windermere and towards Coniston Water; the following trail is one of the best in Cumbria. There are some tricky sections and these should only be attempted by competent riders. The trail has lots of large rocks and obstacles, and a fall here would definitely hurt – a lot.
The Great Langdale National Trust Campsite (www.nationaltrust.org.uk) is a fantastic base for a weekend's trail riding, located among breath-taking mountain scenery. There are also three great pubs within walking distance, and the trails are all local to this site. What more could you ask for?
While in the Lakes, it would be a shame to miss riding over the Wrynose and Hardknott passes. These follow a single tarmac road that is very Alpine-like in the way the hairpins twist up and down the mountains. These passes can be found by turning left at the end of the trail.
This trail is fantastic in the dry and is a lot more difficult in the wet as there are several slippery rocks to negotiate. It can be attempted in both directions. The trail is 2.82 miles from beginning to end, with the optional section at 0.91 miles, (ABR difficulty rating 4) and the same in reverse.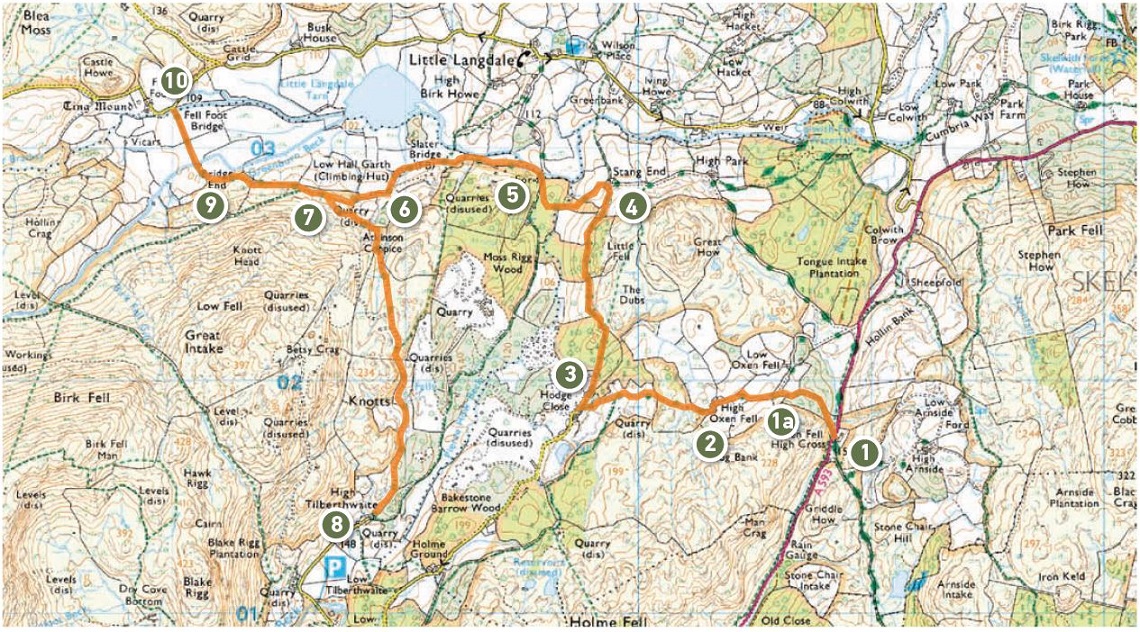 1-2
Start on a single tarmac road. At point 1a, continue straight on. Do not take the right-hand turn.
2-3
Go slowly past the houses. The trail starts here. The first part of the trail is a rocky uphill section. There is a large rock step to ride up. This will be very slippery in the wet. When you approach this, it's best not to think about it and just go for it. Immediately after there are some 180-degree switchbacks that are also very rocky and will require commitment from the start to get up. Proceed through the next gate and through the woods. The trail is fairly straightforward.
3-4
Go through the gate and turn right going past Hodge Close (on the left). Proceed through the next gate. This section is easier and leads you through woodland. There are some rocky steps and a few muddy puddles but nothing too taxing. Continue through the next gate. Towards the end of this section, there is another gate. Go through the final gate on this stretch and proceed onto tarmac road.
4-5
Turn left and continue past the houses. The tarmac will turn into a forest trail, which is easy to negotiate. At the ford, bear left.
5-6
Continue past the ford and along the deteriorating lane of broken tarmac. Take it steady as you pass some houses. Go left past the houses and uphill. The rocks on the slope will be slippery in the wet. Go right past the next house. Continue on to the gate.
6-7
After the gate, the trail becomes very rocky. There are large rock boulders to bounce over. At the intersection, you have a choice:
7-8
Going le is an advanced route. The trail is extremely rocky and there are a few tricky sections. To start with there are some rock slabs to ride over; these are very slippery and difficult in the wet. After this section, there are plenty of rocks and steps all the way to the top of the rise where it levels out.
The downhill section is no easier. There are lots more rocks and steps with some large drops. At the bottom, proceed through a gate and into a farmyard. Take care as you pass through the farm's courtyard. To continue this trail you will have to do this section in reverse – and it's just as much fun heading the other way.
8-9
Continue straight on along a rocky trail. There are lots of fist-sized rocks and the going is tricky. Speed helps along this section.
9-10
Go past a house, over a packhorse bridge and through a gate. Continue down the farm access track to the gate where the trail ends.
Route Facts:
Distance:
2.82 miles, plus 0.91-mile optional section

(ABR difficulty rating 4)

Nearest Town:
Ambleside to the northeast; Coniston to the south
Maps:
OS Explorer Map OL7 The English Lakes (South Eastern area)
Start/End grid reference:
SE851908 / SE903903
ABR Difficulty Rating:
3 (points 7-8 are rated 4)
Other trails:
The Lakes has a fantastic network of trails all in the local area, more than enough for a full weekend's riding.
WOW Factor :
★★★★
★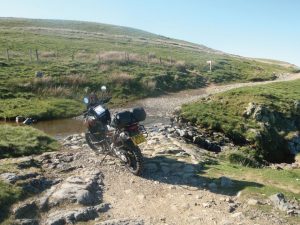 Did you know?
Another fantastic trail that's near to here is the Old Coach Road, which was featured in ABR Issue 13. This trail is located approximately 15 miles from Little Langdale and well worth the tarmac stretch to get to it.
Photos: Mike Beddows