The launch for the KTM 1290 Super Adventure R took place in Peru and Adventure Bike Rider were on the invite list. Alun Davies posts up a full review.
By all accounts, a good day for my ancestors consisted of plastering their bodies in woad, running naked through mountains and slicing open visitors from Rome. There's always been a warm welcome in the Welsh hillsides.
At the same time as my uncle Caradog was spilling Italian entrails and covering his wife and kids in blue tattoos, a little-known race in what is now Peru were busy solving complex irrigation and engineering projects whilst producing some of the most intricate, ornate and finely woven textiles known to man. I know all this to be true as I spoke to Caradog yesterday having just flown back from the Paracas National Reserve in Peru.
The Paracas region is a four-hour drive south from the capital Lima. It consists of the rugged Paracas Peninsula in the north and extends down the Pacific coast to Punta Caiman. It's an extraordinary place, being one of the driest regions on Earth and the location of a spectacular tropical desert. It also possesses a flourishing marine ecosystem, the largest concentration of birds on the planet and is the location of Cabezas Largas, a prehistoric site of huge significance.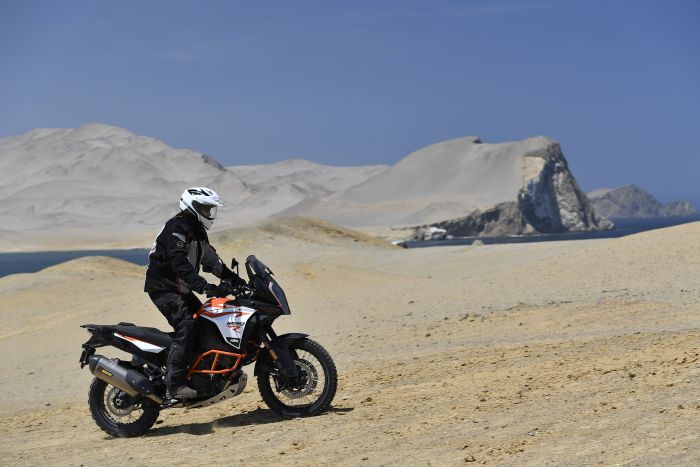 It was here in 1927 that Peruvian archaeologist Julio C Tello made a discovery on a par with the better-known Machu Pichu. With a story line that reads more like an Indiana Jones script, Tello had followed a trail which began in 1915 when he had purchased ancient textiles in Pisco. By 1927 the clues pointed him to the Paracas Peninsula where he uncovered the first of 429 mummified bundles in a burial chamber dating back to 1200BC.
The corpses had been placed in baskets in a sitting position and each was covered by multiple large woven textile sheets embroidered in cotton and wool to create incredibly elaborate and intricate designs.
Anyway, the temperature was nudging 39C, I was sweating like a burst pipe, I'd just drunk my last drop of water and the main group of riders were long gone and out of sight. I'd stopped to take some pictures of the spectacular surroundings, and had just started to feel the early effects of dehydration when a thought struck me.
If I were to ride just a little way off the trail, cut the engine and just wait it out then in a few thousand years' time someone of Tello's ilk could be writing a paper for the Archaeological Society about a mummy covered in a complex mesh of waterproof and breathable man-made textile, who was found sitting on a KTM 1290 R in the Paracas Desert. A shortcut to fame, eh.
My trip to Peru as a guest of KTM started with the merest of hints of something special to launch the 1290 R back at Motorcycle Live at the NEC, Birmingham in November 2016. I recall sitting astride the mighty machine on the orange stand when Ross from marketing approached and said something like 'you lucky bastard'.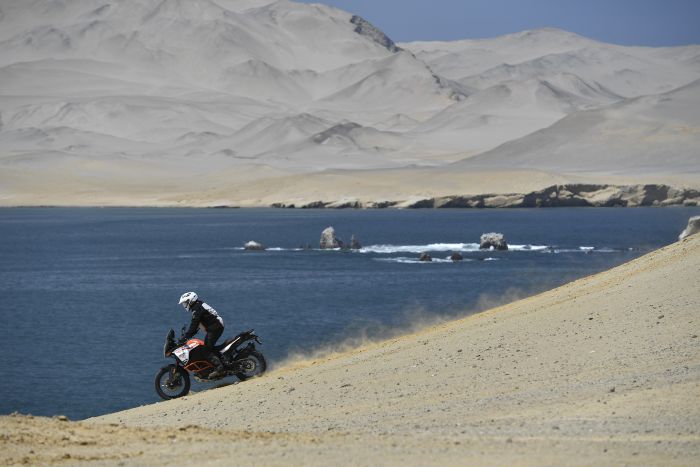 He actually said, "you'll have a big smile on your face when you find out where the launch is taking place," but I understood the sentiment. Anyway, when Ross told me it was Peru I had thoughts about riding over high, cloud-covered mountain passes in hot, humid temperatures and on the kind of mud that clogs up the gap between the tyre and guard.
I was busy getting into character by reading up on the Inca civilisation, listening to panpipe downloads and roasting guinea pigs on the barbecue when the email came through mentioning the destination as the Paracas Desert. I swiftly cancelled my weekly dead pet subscription with Ocado and, as background reading, consulted Google with a search for 'how South American necropolis discoveries had affected the development of the motorcycle industry'.
The top search result came back 'Motorcycle Market in Latin America Booming'. Give it a try, it's true, and being a smart sort of guy I'm buying shares in the motorcycle industry when the Holy Grail is finally unearthed.
Now, let's go back a few paragraphs to where I was sitting on the 1290 R, sweating rivers and having thoughts of creating a legacy. All was not as dramatic as it may sound for just a couple of miles away I stumbled upon a huge marquee in the middle of the arid Paracas wilderness. This was of course lunch, the KTM way, complete with a Red Bull branded monster truck with a DJ and full sound system in the rear.
After being served three or four litres of ice-cold drinks by waiters in pressed white shirts, I tapped my foot along to a few funky sounds until I felt at a point where I could start thinking of the KTM 1290 Super Adventure R and the equally remarkable ride and scenery we'd experienced during the morning.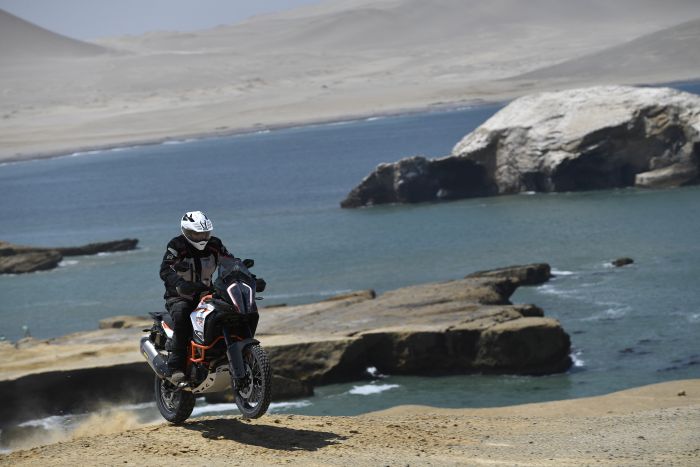 Before I explain why, let me tell you now, the KTM 1290 Super Adventure R is the finest and most off-road capable large capacity adventure bike currently on the market. Period. As I write this review I'm thinking of just how the company could improve the off-road performance of what is an enormous 1300cc machine, and short of reducing it with an axe until it becomes a 250cc I can't think of a way.
The design, poise and handling, the suspension, the power delivery, the technology and the amazing braking capabilities of this machine are sublime, and that's something I don't say very often. This is genuinely a large-capacity adventure bike that will have less-experienced dirt riders performing in a way they'd never believe possible.
The route KTM had chosen for the launch was over 120 miles of off-road riding with a quick 20-mile blast along tarmac back to the hotel. The terrain was typical of that found in desert locations; hard-packed piste cut with hidden wash outs and jumps. There were long sections of rock pavement and, as you might have guessed, this being a desert, miles of deep sand plus a couple of big hill climbs, traverses of steep and loose slopes and descents. All in all, some pretty challenging stuff for a monster-sized adventure bike piloted by an aged, overweight and dehydrated rider.
Added to the above, our group leaders, including the amazingly talented Chris Birch, were all expert enduro riders. And this being a KTM launch, we all pretty much expected the Ready to Race brand line to be at the fore.
With its 890mm seat height and long-travel suspension, climbing aboard the 1290 was always going to be a bit of an effort for an old guy in pants bought for some time in the future when I carry out my threat to go on a serious diet. Once astride the bike, both feet on the floor was no problem (I'm 6ft 2in) and the foot, arse, hands triangle is spot on.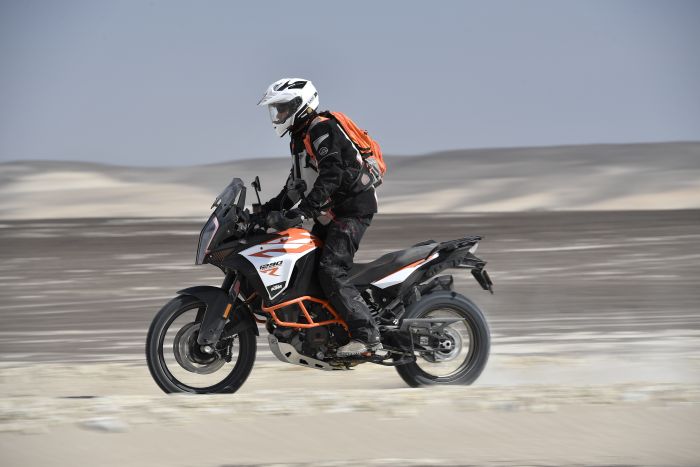 However, what impressed me most at the outset was the excellent dashboard screen. It's been a long time coming but KTM has taken the giant step to move the motorcycle industry from using cast off Space Invader style screens from the tail end of the 70s, and fitted a product that reflects the current available technology. Think premium quality tablet rather than pixilated Pacman handset and you've got it. Here's hoping the rest of the industry takes note. Top marks KTM.
The engine comes with the customary multiple modes ranging from full, brutal 160bhp to a more sedate 100bhp on the off-road setting. 'Sedate' is probably the wrong choice of word to describe 100bhp on loose ground but I'm sure you get my drift.
The ABS brakes and the traction control both come with lean angle sensors which means the ECU knows that you're mid-corner and applies the controls in a manner that should keep you upright. We were also informed that unlike the 'S' version, which comes with semi-active suspension, the 'R' has conventional long-travel WP forks with the rear featuring a progressive dual-piston shock as found on dedicated off-road machines. Apparently, this is a first for road-going bikes.
A few miles on tarmac from the hotel we turned onto the piste and the entertainment started. Kicking off at a reasonable pace to build confidence in both man and machine, it wasn't long before we were hitting speeds of 90mph on hard-packed rock-strewn trails where the thought of anything other than rubber side up was a terrifying prospect for skin tone and retention.
But here's the thing, the poise and handling of the big 1290 was nothing other than superb and it was pretty clear to me that if I kept my focus and ability in check then this bike would see me okay.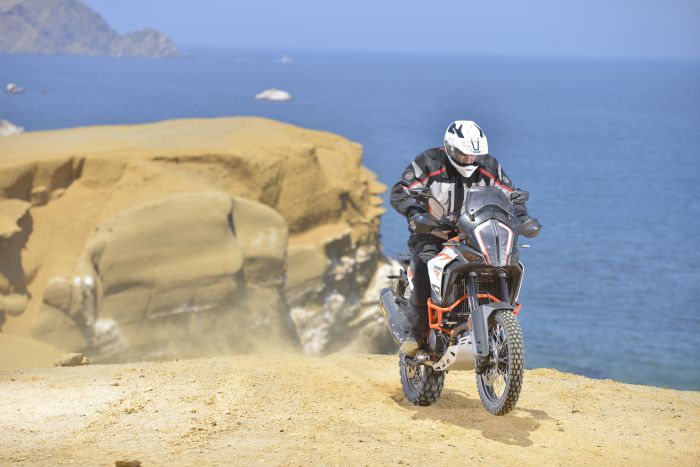 The power delivery was smooth and predictable, the suspension absolutely top-notch and, coupled with the high-performance traction control and ABS, I can safely say I've never ridden a 240kg bike over unpredictable, loose terrain with anything approaching the confidence and style I was experiencing.
Special praise must be reserved for the braking system which exceeded all my performance expectations. With the bike set in off-road mode and travelling on loose gravel and shifting sand, they were faultless and offered controlled stopping power in the most testing of conditions. Most memorable was a steep downhill section at a photo shoot where we were instructed to turn mid descent and ride back up the hill. The ground conditions were a mix of dust, gravel and sand and yet, when I applied the front brake, the forks compressed and the bike slowed with zero juddering or sliding. I was not the only journalist amazed at this excellent level of performance.
After lunch it was more of the same; hard, fast and thrilling riding along gravel trails and sand in unrelenting temperatures. By now we were so confident in the ability and technology of the 1290 that no bend was taken without a back-end steering drift safe in the knowledge that before the point of disaster the traction control would kick in. We were all starting to ride like veterans of multiple desert campaigns rather than slightly nervous blokes from a temperate island in the North Atlantic.
Our group leader saved the best for last when he stopped at the base of a long, steep mountain of dust, gravel and sand. I've ridden enduro bikes to the summit of huge sand dunes in the Sahara and Namibia but never have I been sat at the bottom of such a monster on a 1300cc machine and thought attack.
The 1290 cracked up the slope with ease and equally as impressive, in fact more so, tackled the trickier descent in style. The perfect end to a fantastic day, riding through magnificent scenery on a motorcycle that is simply the best in its sector.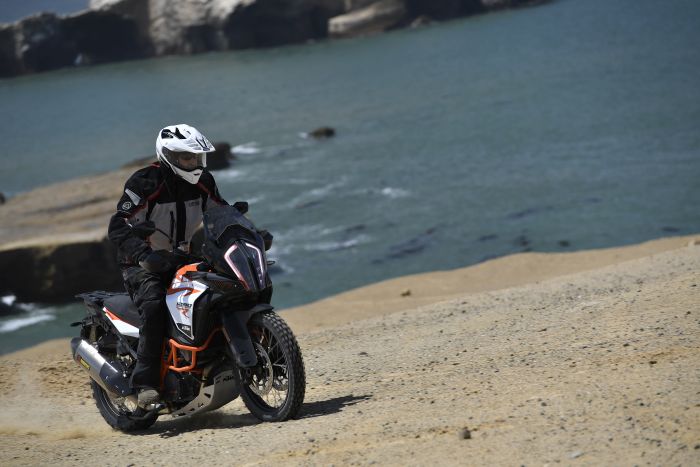 KTM 1290 Super Adventure R – Conclusion
With the 1290 Super Adventure R, KTM has produced a machine which is world beating for its stated aim. That being 'the most extreme off-road big adventure bike'.
Back in the real world it's a very brave buyer who's going to fork out £14,499 on this bike and then thrash it in the sort of conditions we experienced on the launch. But make no mistake, should this person be you then the bike is up to it.
The word 'adventure' means different things to different riders based on past experience and ability. If your definition starts with far, fast and hard and your aspirations include the toughest of routes then your search for a bike ends here. The KTM 1290 Super Adventure R is the new benchmark for 1000cc-plus dual-purpose motorcycles.
KTM 1290 Super Adventure R – ABR Verdict
As a commuter
I can't think of a reason why the 1290 R would not make going to work a pleasurable experience – though with its 890mm seat height, shorter riders might take issue. A high, commanding view for city commutes and ballistic power for longer distance trips.
As a weekend tourer
If you've no or limited off-road aspirations then the S or T are more likely to be your style of KTM. If you're the sort of rider whose idea of a great weekend in the Lake District or Mid Wales has to include taking on a few green lanes then it's time to test ride the 1290 R. It's a brave man who's going to spend £14,499 on a new bike and then open it up to serious repair bills but this is the bike to chance it on.
As an off-roader
I'm impressed. This bike is capable of doing stuff the average rider would need a helicopter to accomplish. However, when all is said and done this is a big, heavy machine and is just as likely to intimidate the less experienced rider. Not many are going to be bought and used to their full potential, they are far too expensive for such things.
As a continental road tourer
We had very little time on road during the launch in Peru, however, I've spent enough time on the 1290 S to know that even with the 21/18 wheel sizes the R is going to be a hyper-speed continental mile muncher and a hoot on Alpine twisties. Better still this is the model I'd prefer to have when exploring the off-tarmac military roads and passes in Europe.
As an RTW overlander
The 1290 R would be my current pick of the large capacity adventure bikes on the market for taking on the likes of The Road of Bones and some of the more remote regions of Africa. It's also a comfy, ultra-fast paced road tourer. If your plans include going off the grid and you just have to do it on a big heavy machine then this is it.
As a pillion carrier
We've no experience of riding with a pillion but the engine, suspension and handling are not (or unlikely) going to be problems. The single-seat might not be the most comfortable for a passenger, and if a pillion is likely to be a regular feature then you'd probably be better off looking at the S or T.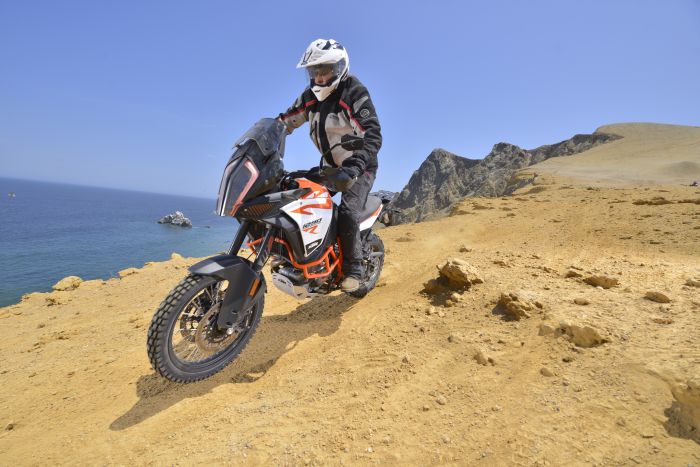 KTM 1290 Super Adventure R – The Wow Feature
If Carlsberg decided to make motorcycle braking systems then they'd better be prepared to settle for second best. The system on the KTM 1290 Super Adventure R is stunning in its ability to let the rider grab a handful of front brake on the loosest of off-road surfaces and come to a halt in safety. I've not experienced anything quite like this before.