We've teamed up with TomTom to showcase 100 of the greatest riding routes around Europe
Throughout 2017, we're going to be looking at the 100 greatest routes in Europe, as featured on the TomTom Rider 410 Great Rides Edition. We've already covered Great Britain and Ireland, Scandinavia, Italy and France, and so for this issue, we're keeping it central and delving into the two fantastic motorcycling countries of Italy and Austria.
No tour of Central Europe would be complete without a trip into the Alps, and the two routes we've highlighted will add some incredible riding onto any tour. First of all, we have the spectacular Grossglockner High Alpine Pass, a road that was built with motorsport enthusiasts in mind, and specifically bikers. Secondly, there's an incredibly scenic and exciting route through the most stunning areas of the world-famous Dolomite mountain range.
Grossglockner Circuit, Austria
The hills are alive with the sound of… motorcycles! Austria is a haven for bikers seeking epic riding routes on top quality roads. While you can't really go wrong no matter where you head in the country, these 10 routes will allow you to sample the best that it has to offer.
In particular, we've decided to focus on a route that many will have heard of, the Grossglockner High Alpine Pass, which is included in this magnificent circuit which starts and ends in Lienz.
Named after the tallest mountain in Austria, the Grossglockner High Alpine Pass is one of the highest mountain roads in Europe. Unlike most other mountain passes, you'll have to pay to use it (€25 per day per bike, more information on this, and opening hours of the pass can be found at www.grossglockner.at), but because of this fact the road is extremely well maintained, and it's packed full of exciting features and bends that make it one of Europe's most exciting routes. From start to finish, the High Alpine Pass takes riders on a 30-mile breathtaking journey through the heart of the Hohe Tauern National Park.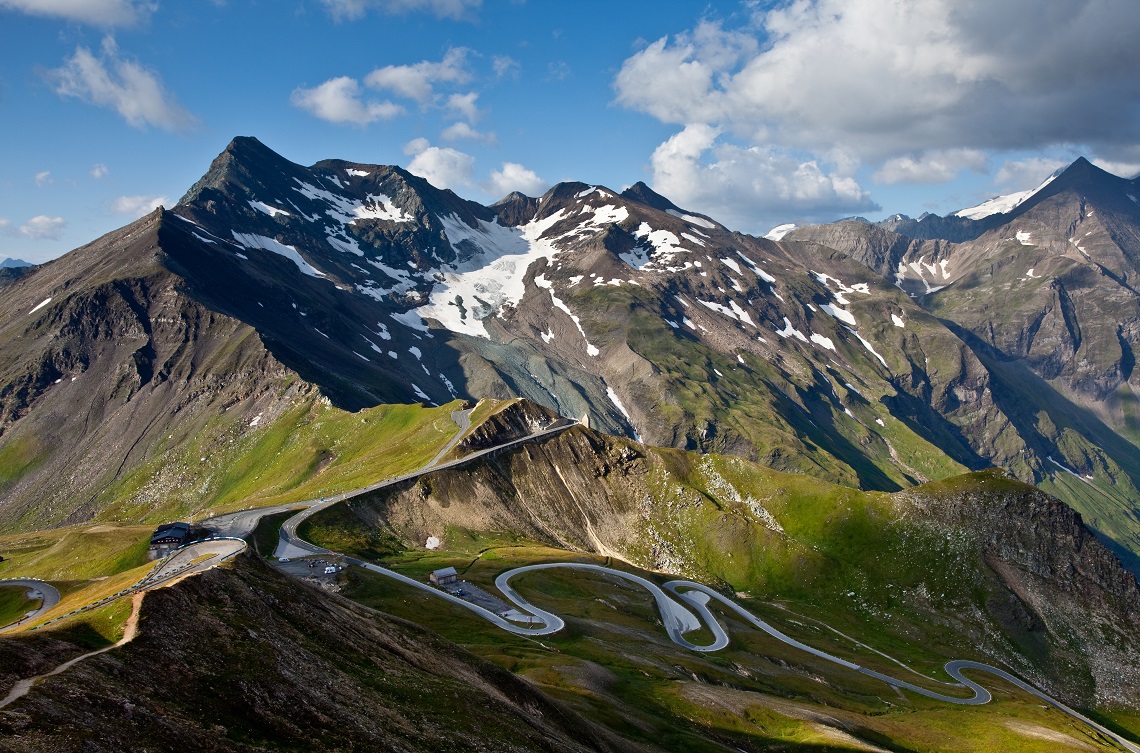 With 36 hairpins and an ascent that takes you over 2,500m, the route is often described as 'biker heaven', and in my mind, anyone who calls it that isn't too far off the mark. Over 50 million people have crossed this epic Alpine road since it opened in 1935, and on this fantastic route that's mapped out below, you'll get to enjoy every single bit of it.
Considering the relatively short distance of the route, there's so, so much to take in, including one of the most symmetrical and beautiful glaciers in the Alps, the Pasterze, Alpine meadows and mountain forests that line the side of the road, and crossing the 'Alpine Divide' through a road tunnel.
It's also often referred to as the most motorcycle-friendly pass in the Alps after a program commenced in 2003 to make the road more comfortable and suitable for bikers. As such, you'll now find the stunning Biker's Point, an exclusive meeting point which provides incredible views over 30 3,000m peaks.
Better yet, the road surface is specifically built to offer maximum grip, which only adds to the enjoyment of this stretch of road, and when the weather can change in an instant, as it does in the mountains, you'll still be able to ride in confidence.
The twists, turns and themed trails that can be found on this fantastic route in Austria leave us lost for words, and makes us doubt that any other route can be as enjoyable, or welcoming, to the motorcyclist looking to explore the Alps.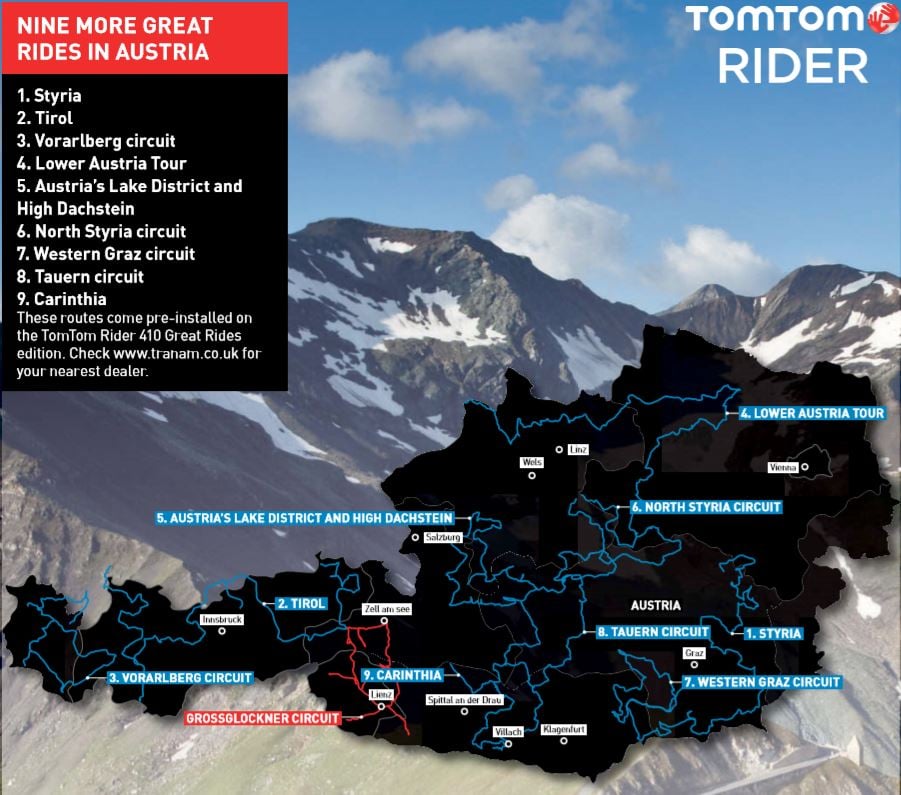 Want to ride these routes? Here's what you'll need to know…
When to go?
Any time in the spring, summer or autumn is good riding weather in Austria. Summers are mild, rarely exceeding 25C. In the Alps, snow starts falling in early October and may linger until April, especially on the mountain passes, so make sure you check this before you go.
How long to take off work?
It's advisable to take two weeks off, allowing two-three days for travelling there and back. If travelling from the UK, you'll be best off getting the ferry to Calais and making the journey as enjoyable as possible by taking in some of Europe's other great routes. If flying in from any country, there are 10 airports in Austria.
How much?
You can get hotel rooms and hostels from about €60–90 (£50-£75) per person. Austria also has a host of hostels, guest houses, self-catering mountain huts and campsites for cheaper options.
Is it for you?
If you're after big mountain passes, green rolling landscapes and lush farmland then you will love Austria.
What gear?
The mountains may attract rain any time of year, which may last a few days, so on top of your usual riding attire, waterproof over gear is essential. Well ventilated kit is also recommended.
Any advice?
Firstly, it might sound obvious, but remember that vehicles in Austria drive on the right. On the spot fines are standard and a GB or Country code sticker must be displayed unless you have European licence plates.
Make sure you get a motorway vignette (a toll sticker) if you plan to ride on any motorways and expressways (these can be easily purchased at designated stations on entry into the country) otherwise you'll be in for a hefty fine if you're stopped.
Useful information
Tourists from most countries (EU, USA, etc) do not need visa and only a valid passport is required only.
For more information visit: www.austria.info/uk
---
A tour of the Dolomites, Italy
I never believed in love at first sight, until I rode a multi-day tour in the Dolomites. I also never thought I'd harbour such strong feelings towards igneous formations, but that's the effect that this wonderful mountain range in Italy has on you.
Italy is a wonderful country, and trying to choose 10 of the best routes here was like trying to choose which child you love most. Trying to whittle it down further to one route to rule them all was like then telling the other nine children that they need to move out, while the favoured sibling is sat playing on his new Xbox. That being said, tough decisions were made, and I decided that this tour of the Dolomites was the one.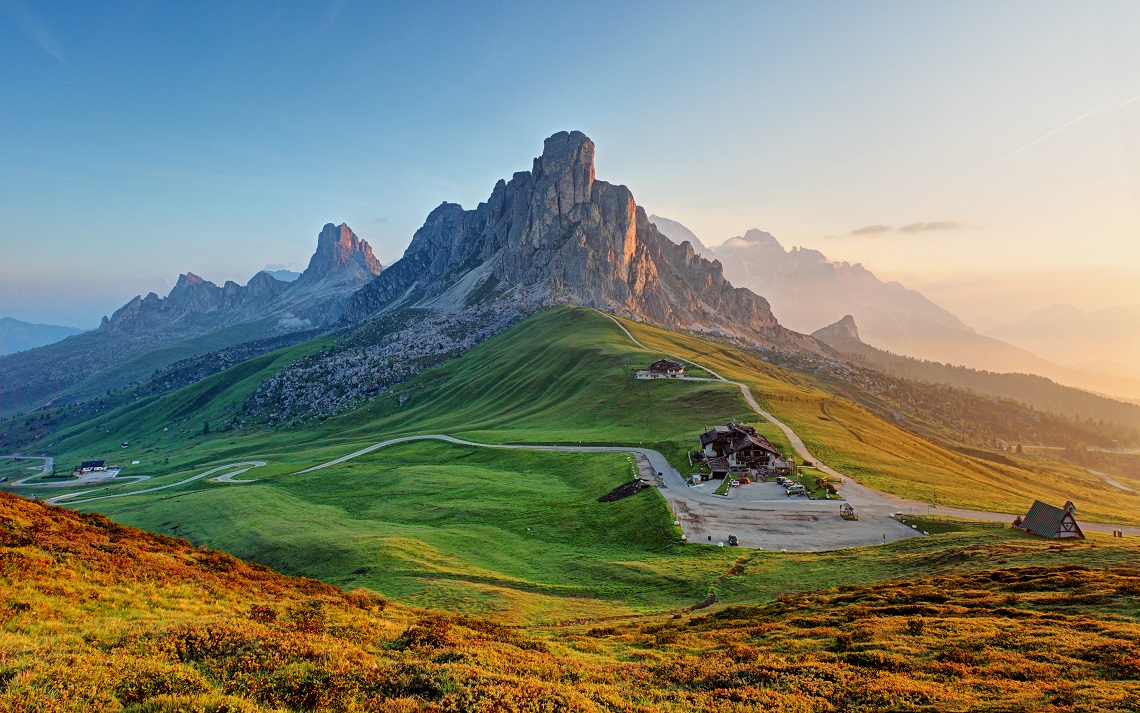 If you're planning a tour of Europe, then it must be said if you're looking for a combination of roads that will excite and energise you, and scenery so visually stunning that you'll want to take your time and savour every minute, then you have to visit the Dolomites.
It's an area where slivers of tarmac carve their way through, over and around monolithic dolostone formations that look as though they were crafted by Michelangelo himself, and this fantastic route takes you right through the best of it.
It's near impossible to pick out one single area of this route that stands out above the rest, but special mention has to go to the incredible Sella Pass. Starting from its southern end in Canazei, the road rises through the treeline until you're riding at the foot of some of the most imposing rock faces you'll see from the comfort of your bike.
At the crest of the pass you'll find a lively and friendly restaurant which you'll want to stop for a coffee in as you bask in the glory of the mighty Sella Towers, as can be seen in the picture to the left. After you've prised yourself away from your seat, and managed to stop looking at the scenery for long enough to pull your gloves and helmet on, it's back on the road for an almost endless amount of amazement and enjoyment.
If you're heading to the Alps this year, trust me, you'll want to add this circuit to the itinerary.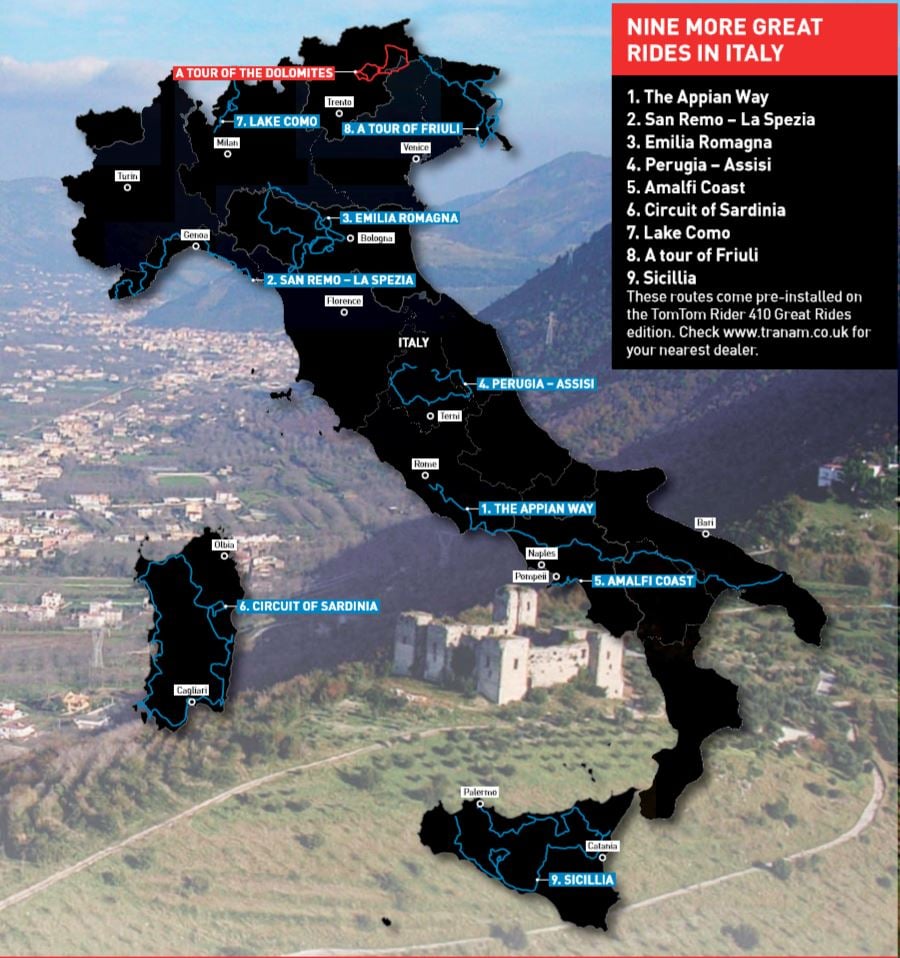 Want to ride these routes? Here's what you'll need to know…
When to go?
Depending on where you're planning on riding in Italy, any time of the year is good. Towards the south, you'll find temperate weather year-round, but if you're planning on exploring the mountain ranges any time in the spring, summer or autumn is good. If you're travelling in Spring, or towards the end of Autumn, make sure you check the status of the mountain passes as they may be closed due to snowfall…
How long to take off work?
To really make the most of your trip to Italy you'll want to take a minimum of two weeks off work, though it's doable in one if you're looking for a swift visit.
Is it for you?
Italy offers such a great variety of scenery and roads that there's something for just about everyone, though due to the more aggressive nature of Italian driving, I'd recommend you ensure that you're confident in the saddle before setting off.
What gear?
In the summer, Italy is usually swelteringly hot. As such, you'll want to make sure you've got decent summer gear that provides plenty of ventilation as well as protection. If you're heading into the mountains, remember that the higher up you go, the colder it usually gets, so a good insulating mid-layer is also recommended.