When heading to the Alps for your summer tour it's all too easy to aim for the popular routes and ignore the rest, but think outside the box and you can find some real gems, as John Norris found out in the Jura Alps
The Suzuki DR 650 motor was pulling strongly up the Col des Montets as I left the Chamonix Valley heading for the Swiss border. Hairpin bends swept me around to face the Chaine du Mont Blanc mountains, before turning me away again, leaving them as miniaturised versions in the mirrors. Dropping down to the frontier the air-cooled noticeably in the trees by the river.
No one was around at the border and I was soon climbing back up in bright sunshine to Col de la Forclaz, a favourite with both local Martigny bikers and touring riders from all over Europe. The descent down towards the Rhone Valley always inspires and the temperatures rise as you drop down through the vineyards to Martigny.
These two cols were just a bonus as my main plan was to make a traverse of the Haut-Jura mountains which straddle the border between Switzerland and France. The Jura are not a large area and nor are they particularly high, but scenically and culturally they are a unique, and in some ways, isolated region that shares elements of both countries.
In the winter, they become a white world of frost, snow and freezing winds, and have an avid following of winter sports enthusiasts – especially cross-country skiers. In the summer, they come to life as a land of forests, lakes and farmland crisscrossed by a maze of twisting roads.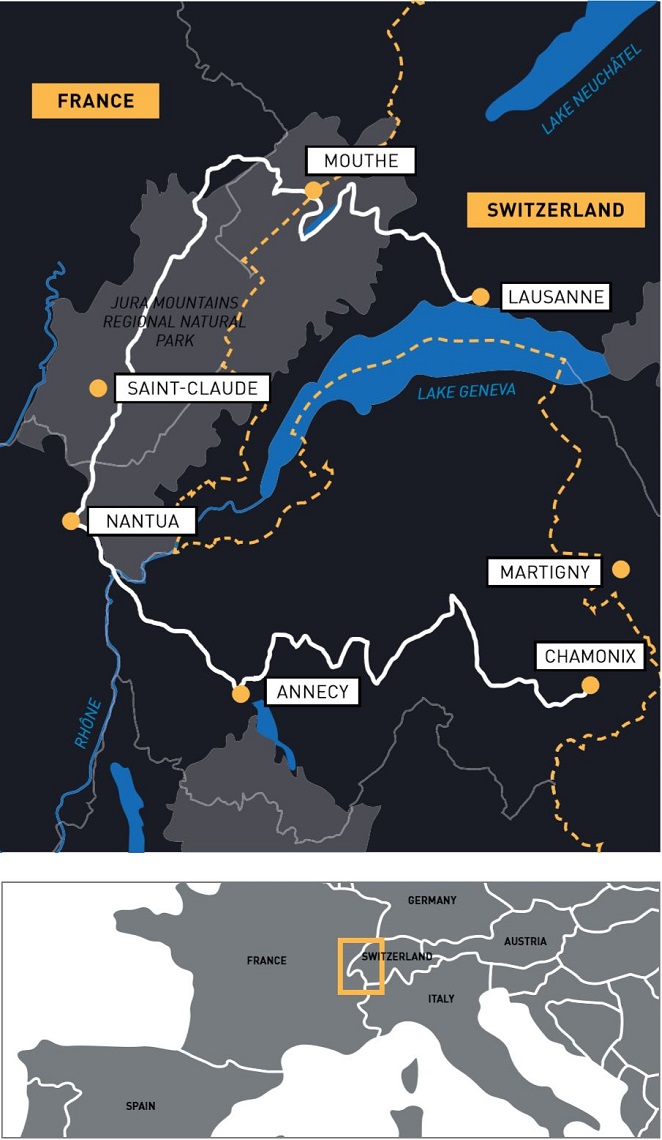 Like many bikers perhaps, I had often skirted around the Jura on my way to and from other biking destinations further south in Europe. More recently I had taken to cutting a corner off the motorway route using the main 'N' roads then rejoining the motorway near Geneva.
This time I wanted to get into the heart of these quiet mountains and explore the back lanes and, referring to Michelin map colours, I would avoid the red, stay on the yellow and the white and perhaps even go onto the single dashed black lines! The bike I was on, I hoped, would be the perfect companion for this trip.
After all there was only an hour or so of motorway from Martigny to the north shore of Lake Geneva, but the rest would be perfect for my old school big trailie, the Suzuki DR 650, circa 1994.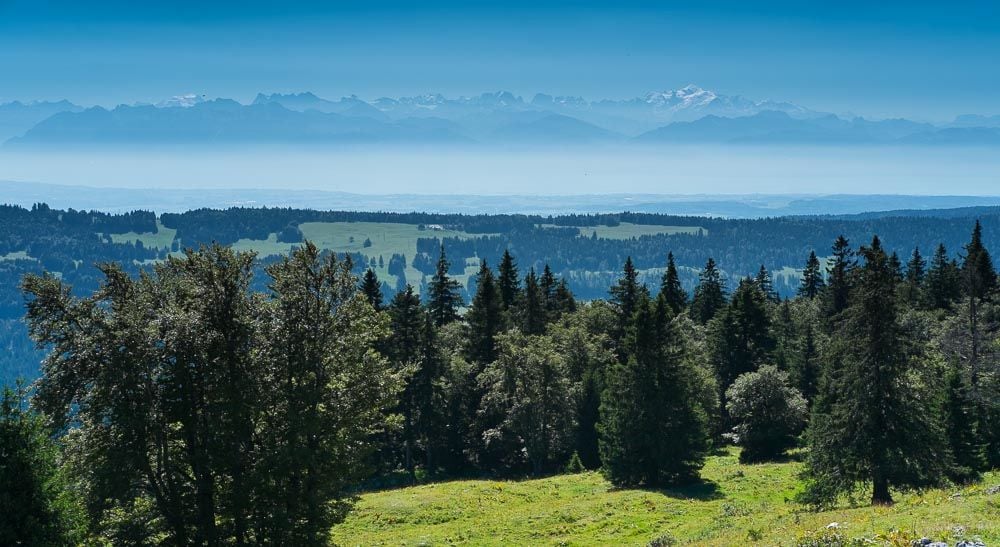 This DR however was an unknown quantity, a phoenix of a motorcycle that had been given a reprieve from certain death at the hands of a motorcycle breaker. After two hard trips to Africa and almost no real maintenance, it was given to me by a friend to clear space in his garage.
It was in a truly neglected state and, when a local bike dealer told him it would be cheaper to buy a new DRZ400 than renovate it, he passed it my way instead of scrapping it. To skip the details, I'd rebuilt it after many hours in the shed, and here it was now on the steady climb into the Jura having left the motorway behind near Lausanne.
It seemed logical to start my traverse from Mont Vaulion which is in the northeast of the Jura. The peak is approached by a single-track road climbing through farms and woods. I parked up where the road ended and hiked the short distance up to the summit.
I have seen the Alps from some fabulous viewpoints over the years, but I must say, this rated among the best. Across Lake Geneva, in the blue midday heat haze, was an exceptional panorama of the Alps stretching from Mont Blanc, Monte Rosa and the iconic Matterhorn all the way across to the formidable Eiger.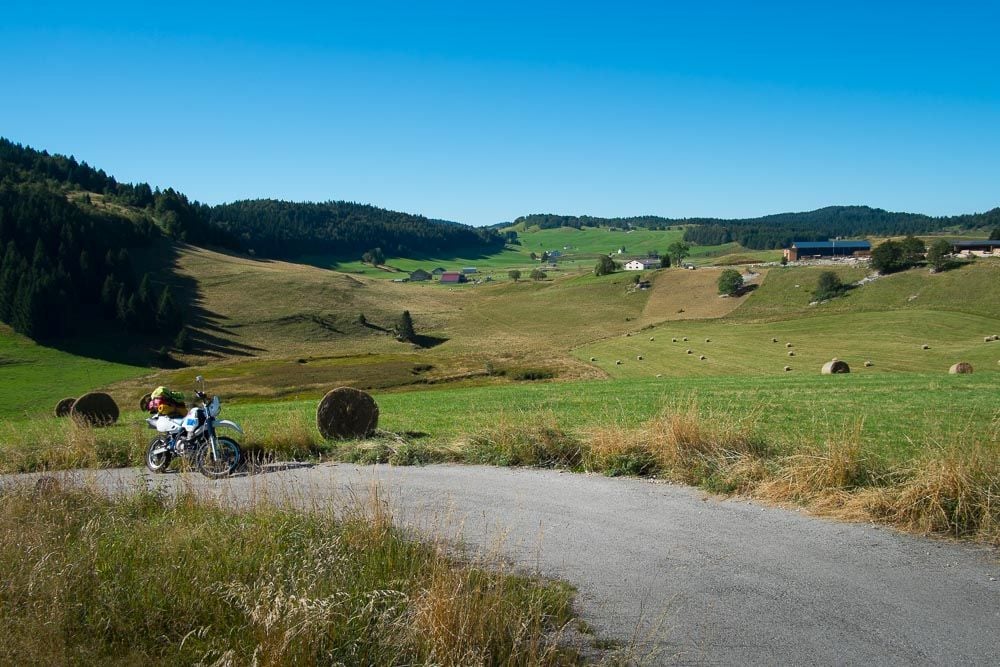 I rode down to the Lac de Joux below Mont Vaulion, passing restaurants where affluent Swiss bikers tucked into their three course 'menu du jour' of 'perche du lac' and 'crème brûlée'… All a far cry from the bacon butties and burgers favoured by the traditional British motorcyclist.
There are so many single-lane roads and tracks up into the hills from around Lac de Joux that, on impulse, I decided to go exploring. Unleashing my inner anarchist, I followed a road which from my map and the ambiguous signposts, I was not quite sure was or was not restricted access. Anyhow, after winding through fields it cut into thick forest.
The day was now so baking hot that stopping to take photos or even slowing down brought on instant soaking sweat, despite my light ventilated jacket. As I climbed there was now greenery sprouting through the middle of the tarmac and then it became a stoney track encroached on by overhanging branches. I came to a junction of four tracks with only a walking path sign showing where three of the routes went.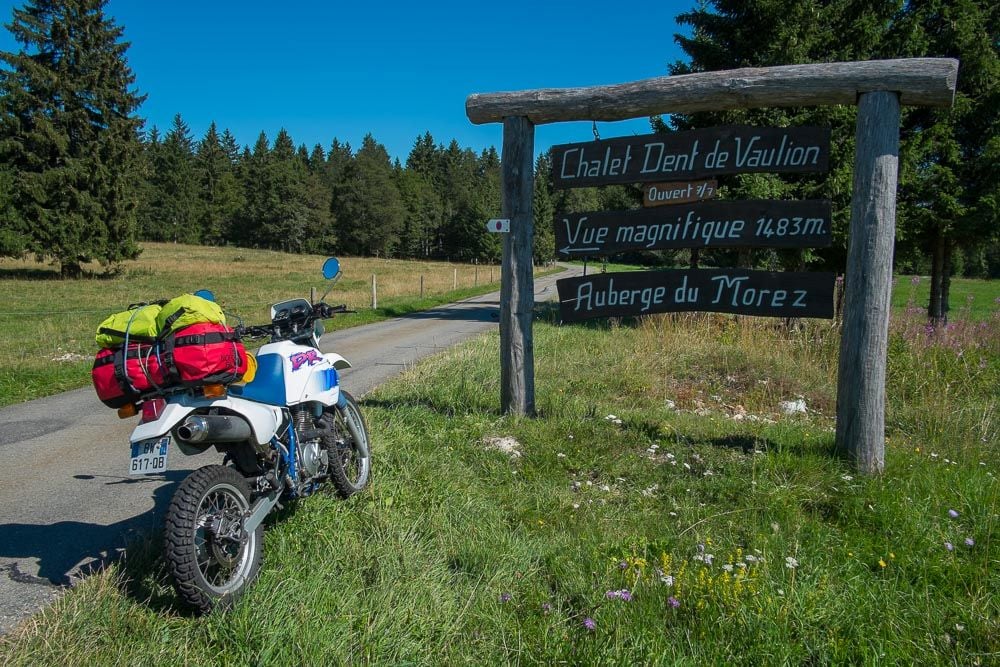 I stopped and hung my kit on the bike to dry out and sat in the shade to drink, eat and savour the complete silence of the place. I realised the Jura must have innumerable tracks like this, used only by the occasional 4X4 or otherwise by walkers, hunters, mountain bikers or off-season trail bike riders, and they stretch right across a truly huge area of national forest.
My journey was a spur of the moment two-day trip from Chamonix. For riding gear, I had to make do with a pair of trainers, a pair of jeans, some work gloves, an old helmet and a wholly un-tested bike! The lack of proper gear or pre-ride research turned out to be part of the fun, though.
It was spontaneous and unpredictable, so as this junction was not even on my map I figured it didn't really matter which track I took and picked one at random. The greenery got thicker, brushwood and branches rattled against the bike as I pressed on eventually, reaching a forgotten border crossing.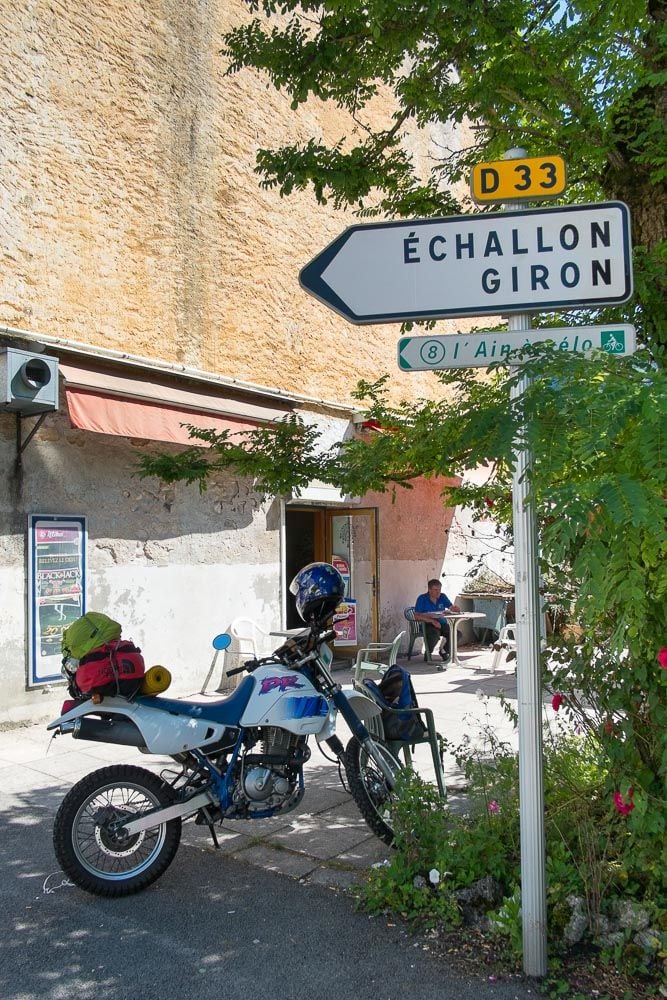 It seemed I had arrived at the border with France where, in a somewhat surreal scene, green mould covered a sign that proclaimed 'Attention Douane….Passage Interdit!' (Customs attention… passage is forbidden). The road disappeared into the woods, probably to some farm road on the French side but in these times of heightened security and given that the DR with its Devil exhaust was hardly a stealth machine, I thought it best to turn back.
On another branch off the same track, I came upon a hut called, strangely, 'Le Kennedy'.
The hut was unlocked (how Swiss!) with a table and chairs inside and a stove with ample firewood. It crossed my mind to bivvy overnight but my two-day schedule meant it was too early to stop and besides, I had no water left. I would plan to go back one day but I'm not sure I'd ever find it again!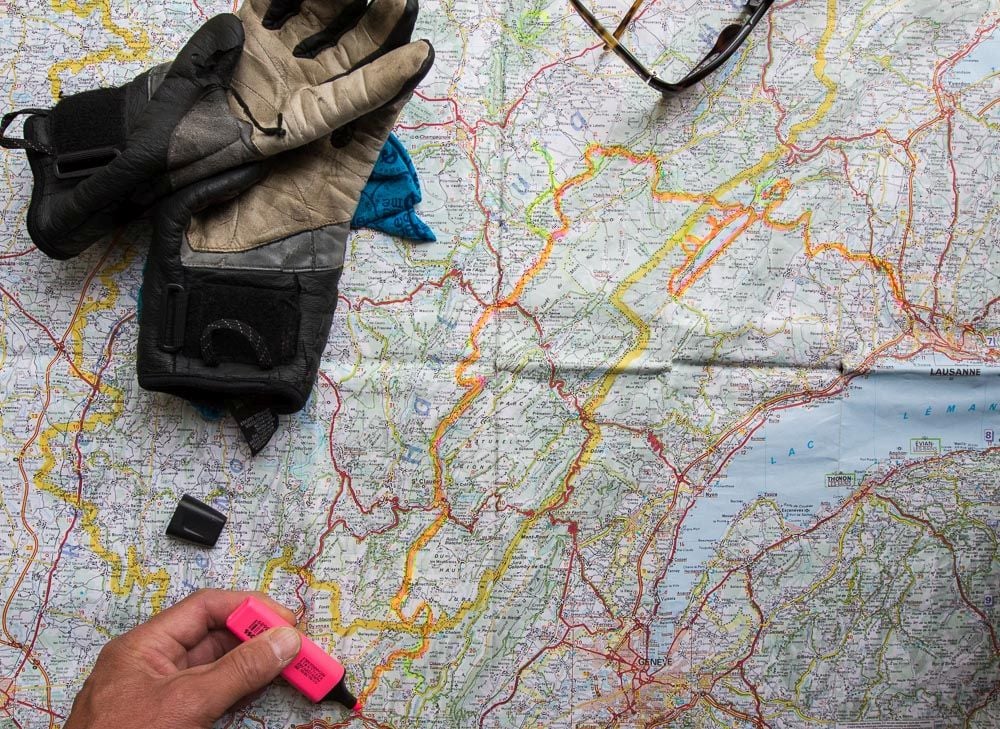 Several hours after I'd left tarmac I returned to civilisation in the form of a little hamlet and a paved road. Some of the roads near Mouthe were superb as I circled around and headed due southwest again.
In trying to cross between two valleys over a ridge I took another tiny road which changed, first to really rough asphalt, then to dirt. Maybe I'd missed a Route Forestière (forest road) sign which would have warned me to turn back, but I pressed on up to the ridge with huge drop-offs below the narrow road and no safety barriers.
Right in front of me a huge bird of prey flew out of the trees before flying away again. The encounter made me think how out of the way I was, and if something went wrong it would be a very long push for help! Just as I pondered if going back was a more sensible option, the track began dropping down into farmland again and eventually became a tarmac road.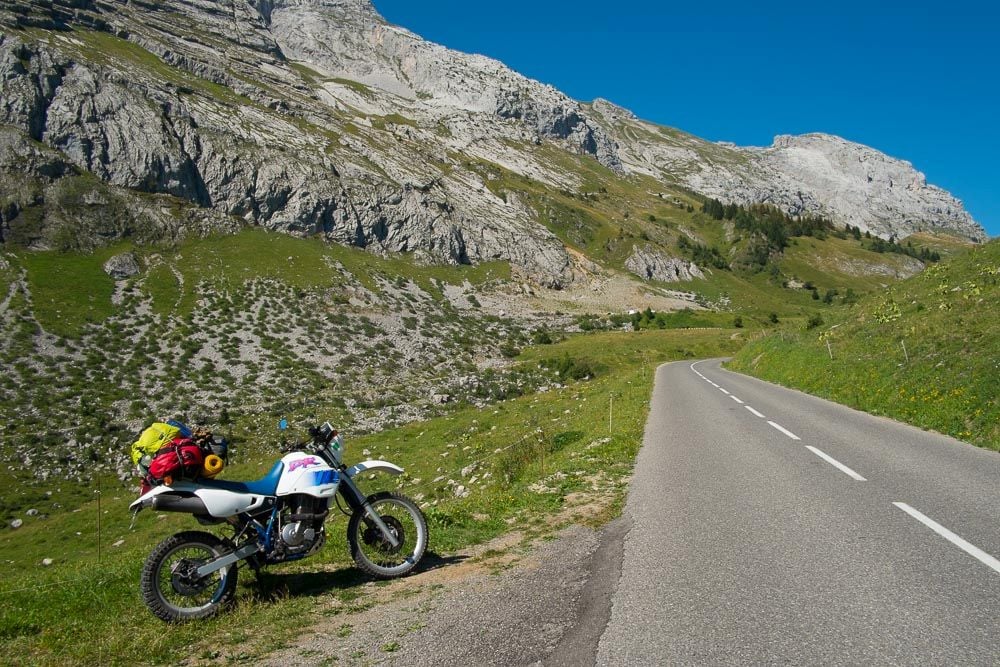 At around 5 pm while the sun was still warm I came to an ancient church at Lac de l'Abbaye. The whole village was down by the shore swimming or playing with their kids, or just drinking wine and chilling out. It looked so idyllic that I pulled over, got the sweaty gear off and went straight in, swimming out into the middle of the lake, enjoying the sensation of a warm surface and icy-cold layers in the water.
In the evening, I hit a good fast road and smooth tarmac so I opened up the DR, which felt great until, while changing down for a bend, I pulled the clutch lever and it wouldn't move.
I took the bend a lot faster than intended and luckily the knobblies held their grip. While riding slowly I checked the cable run down to the crankcase, it seemed ok. 'Hell!' I thought. 'Does this mean something has self-destructed inside the engine casings?'
Like most bike breakdowns, one minute you are riding along elated, the next minute a problem hits and that sinking feeling when all the dire scenarios enter your mind of how you will get out of the situation by the side of the road in a foreign country… The expense, the disappointment… It all hits in a rush of thoughts. This was going to be a serious hassle to fix on the roadside so I knew I had to try and get to a town.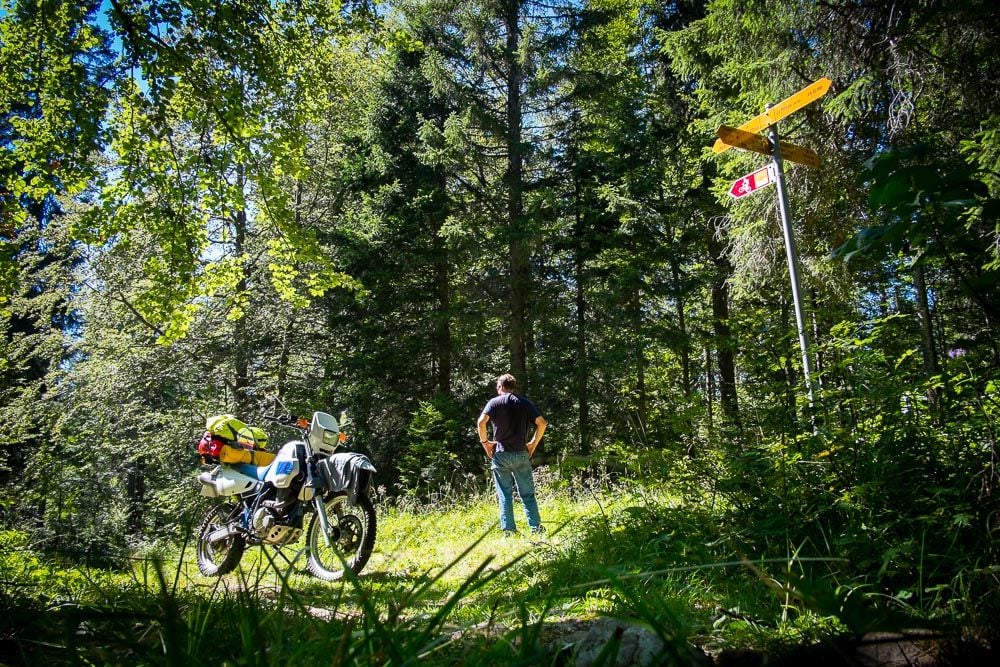 After changing clutch-less, for several miles I came to a small village with a campsite. I worked carefully down through the gears to neutral and glided to a stop to have the first stationery look. I just could not figure what had broken or jammed inside the casing. The campsite was rubbish so I needed to get to SaintClaude where at least there might be a decent campground, a bike shop if I was lucky, and perhaps I could drop the oil and look inside.
With the lever still solid I made it to Saint-Claude taking it steady and getting much better at working through the box without being too brutal too it.
Only after putting the tent up did I take another look and peered under the downpipe as I pulled the handlebar lever, and this time there was a loud click from down by the motor and out popped a stone. It had lodged right down where the lever pivoted and had been jamming it solid against a crankcase moulding.
The stone was the same colour as the casing and almost invisible in a dark recess, no way to spot it while riding and well-hidden even when stationary. Whew! A good result. The trip could continue in the morning without leaving oily pools in the campground or requiring impromptu bodgery.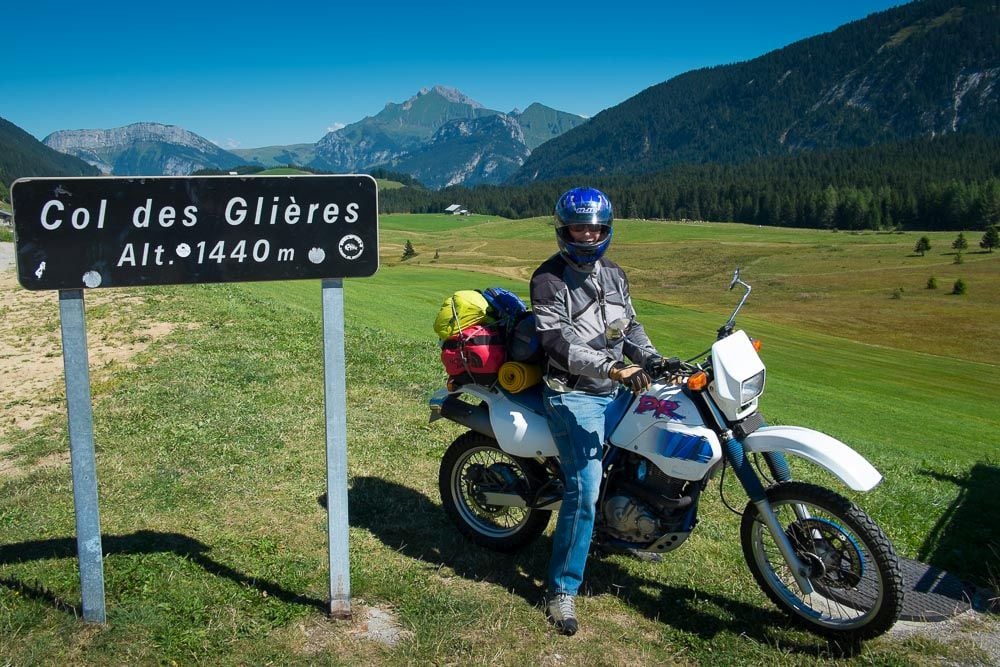 Saint-Claude is on the main road that crosses the Jura north-south, it is a busy, fairly ugly old railway town and I was glad to get out and onto a minor road that climbed out of the deep gorge that the town is squeezed into. What a road too! Climbing and twisting as it gained altitude passing Les Bouchoux, eventually breaking out onto a high plateau. The seasonal changes are extreme here. It must be a wild windswept place in mid-winter.
Around midday, without even seeing a border I realised I was back in France near Nantua, on the southwestern fringe of the Jura. I blasted along the main road towards Annecy as I wanted to go home via one of my favourite lesser-known alpine passes, and also the more famous Col de la Colombière. From ThorensGlières there is a great road into a narrow, wooded valley. By a series of numerous hairpins, it tops out on the Col des Glières, more of a plateau, that during the war was the haunt of the French resistance. The road turns to rough gravel but it is easy to cross the alpine meadows and link up with a tarmac road on the other side.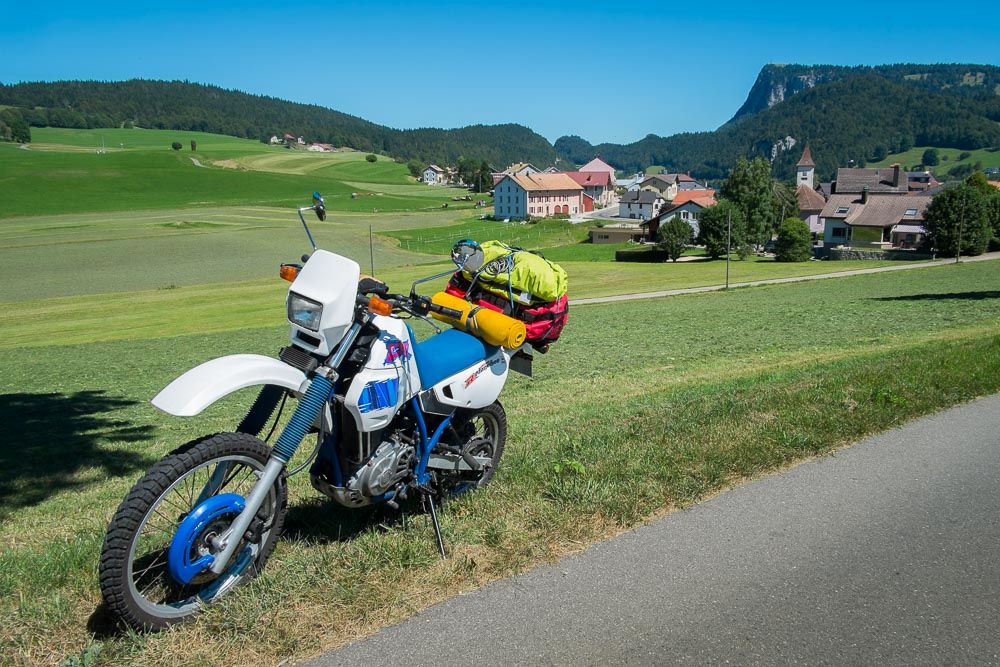 I stopped at an old farmhouse that's now a small restaurant called 'Chez Constance'. Over an omelette and a coffee, I sat back and listened to cowbells and birds singing in the alpage, and reflected. This had been a memorable trip with so much riding crammed into two, long, dawn to dusk days on the DR. I had come away having explored a region that previously I had either blasted through or around without stopping. I had discovered a rich biking region, the HautJura… Circled by motorways and major towns, seemingly hidden in plain sight.
---
Don't miss…
The Col des Glières (alt 1,440m), which can be found between Le Petit-Bornand-les- Glières and Thorens-Glières, is a real gem of a ride. A cracking run up a valley followed by a set of numerous hairpins climbing through the woods. Views to mountains are followed by a scenic stretch of dirt linking to a very, very steep and narrow tight hair pinned descent to another great road, the better known Col des Aravis.
---
Want to do this?
When to go
September offers an ideal balance of traffic density and good weather, but you could probably still get away with early October. Late May and early June would also be OK, though if you decide on early spring, make sure you check that the cols are snow-free. July and August offer the best in terms of weather, but they are also the busiest months of the summer.
How long to take off work
The route that John did takes two days at a leisurely pace, but while you're on the continent it would be a good idea to explore some of the other regions of the Alps. Within a day of riding from the Haut-Jura, you can be riding some of Europe's most well-known mountain passes, including the Stelvio Pass, Splugen Pass and the Furka, Susten, Grimsel triangle. With this in mind, if you're planning on riding over, I'd allow for two weeks if you want to make the most of the ride, though John's Jura route can be done by taking a single week off work.
How to get there
There are a few options when it comes to riding in the Jura Alps. You either get the ferry from Dover to Calais/Dunkirk and spend a day or two making your way east, or you get your bike transported to Geneva and fly over to meet it. Bike Shuttle (www.bikeshuttle.co.uk) will securely transport your bike, along with panniers and riding gear, in a purpose-built lorry, to a hotel about 10 minutes taxi ride from Geneva Airport.