Mike Beddows puts 10 two-man tents to the test to see which is best for your motorcycling needs
With summer fast approaching, many of you will have plans to jump on the bike and head away for long weekends, or multi-day tours both at home or abroad. When the weather's good, there's nothing finer in my mind than packing the bike up and heading away for a camping trip, whether this be a wild camp somewhere (which I absolutely love) or pitched in a campsite. One thing's for sure if you want to camp you will certainly require a decent tent. In this issue we put 10 two-man tents to the test, all ranging in price from a cheap £40 to a wallet-busting £919.
Regardless of if you are wild camping, in a campsite, on a trail trip or sticking to the roads the tent will have to perform the same functionality. There's been many discussions on the ABR forum and amongst bikers around the globe regarding tents, and no doubt more to come in the future. Everyone has a different opinion, and they are all right, and for many it all depends on their budget. Everyone has their own requirements from a tent.
Some prefer a smaller, compact, lightweight design and some prefer to sacrifice the aforementioned for a larger, heavier pack size but a bigger, more spacious tent. I consider a decent tent for one person to be a two-man tent. You can get away with single man tents but there won't be much room inside for you, and you'll struggle to find space for your gear. I prefer all my gear inside the tent with me (preferably in a porch). This way I know it's safe, and away from the elements. The same goes for a two-man tent. If you are heading away as a couple then a three-man tent is essential for the same reasons.
When camping on your motorcycle travels, porch space is of utmost importance. Any wet gear I have stays in the porch, leaving the inside of my tent nice and dry. You can also cook in the porch if the weather is lousy (although be very careful with any open flame in a tent, as well as poisonous fumes produced by camping stoves, it really isn't recommended at all).
Another crucial factor is pack size and weight. All my riding involves trails and it's a great pastime to load the bike up with camping gear and head out for a few days, wild camping along the way. But I need my bike to be as lightweight as possible so I'm reluctant to have a heavy tent. I'd prefer to sacrifice a few things in the tent's design over pack size and lightness all the time. That being said, if you're going to be spending most of your time on tarmac, and you pack wisely, you can get away with carrying the extra weight in exchange for a roomier tent with more features.
A freestanding tent (i.e. one that stands erect without having to be pegged out) is ideal for ease of use and practicality. It enables you to pitch on rocky terrain where sticking tent pegs in the ground would be near impossible, or in very sandy places for the same reason. The alternative is having to use heavy (rocks) objects to pin your tent out, and this is far from ideal. I've had to endure a few damp nights in the past as my previous tent required pitching out.
This meant that whilst all my mates with freestanding tents could choose their pitching site easily, I was left with soft ground where I could peg the tent out. It just so happened this soft ground got really waterlogged in the heavy rain that persisted through the night.
A tent should be quick and easy to erect with minimal fuss, and the best tents always pitch as one. There's a few on the market that pitch inner first but this is no good in a rainstorm. The inside will be wet before you apply the over sheet. And finally, I like a tent that can be taken down and stuffed away quickly. There's nothing worse than having to try and stuff into a really tight stuff sack.
Features we like to see on a two-man tent
Pitch as one (that is, inner and outer together)
Small pack size
Lightweight
Large porch (preferably a double porch)
Porch groundsheet
Two entrances (means you can get out at night without waking your camping buddy)
Gear loft (mesh hanging pouch on the inside of the tent that allows storage of kit)
Internal pockets
Freestanding
Exoskeleton Design
Quick pitch
Easy stuff sack
Ventilation
---
Coleman Darwin 2
£59.99 www.simplyhike.co.uk
Weight: 2.8 KG
Pack size: 2.8 KG
Poles in Panniers: YES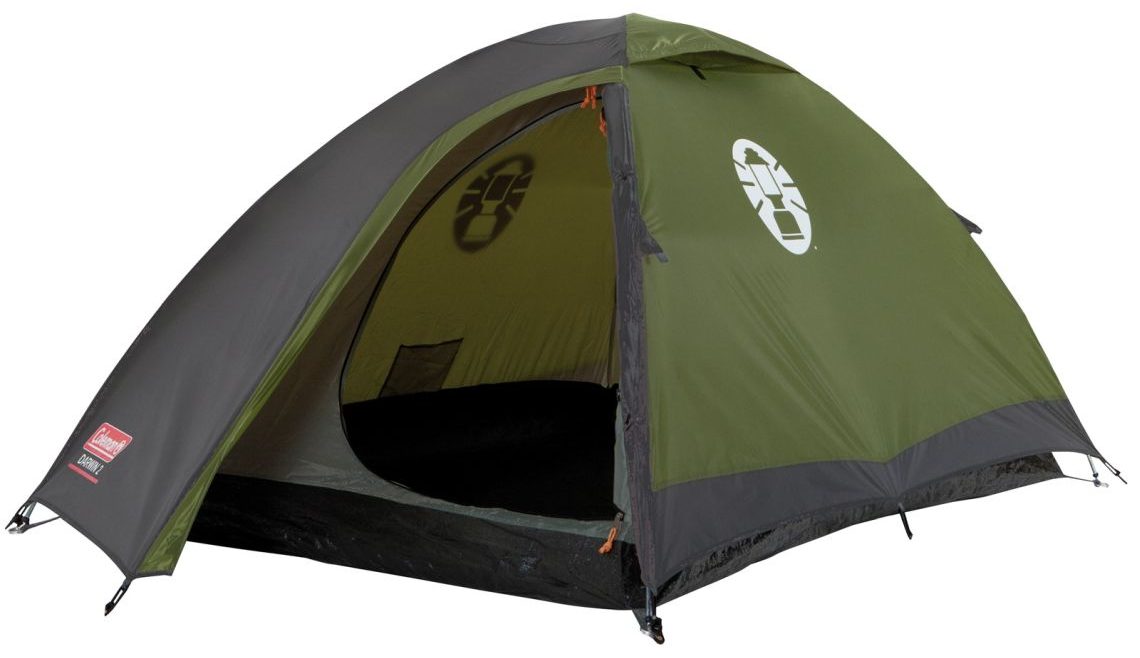 My mistake with this tent was reviewing the day after spending the night in a far more expensive one. The previous evening I had a tent that oozed class and quality. This one, however, unfortunately, failed to ignite a spark.
That being said, let's not forget that this tent is £500 cheaper than the other one that I am referring to, so it would be unfair to draw direct comparisons. So, to put the Coleman Darwin 2 into context, for a mere £59.99 this is an absolute bargain for someone who is looking to get into camping and wants their first starter tent.
Not everyone enjoys spending time under canvas, and anyone with basic common sense will be dipping their toes into the experience of camping with a budget tent. In fact, the Darwin 2 reminds me of my very first £20 Argos tent that I purchased 20 years ago, and that tent did me fine for plenty of festivals and even a week away camping on the bike. I am a fan of Coleman tents and have personally owned the slightly more expensive Coleman Avior 2, which is another fantastic tent that ticks a lot of boxes.
The Darwin 2 was erected in approximately seven minutes and was very simple to attach the two poles that clipped to the inner flysheet, with the poles securing with a ring and pin system. So far so good. The inner fly pitches first which means that in any bad weather the inside of the tent will be exposed to the elements.
This does mean there is potential for the inside to get wet before you attach the outer waterproof layer. With the two main poles attached, the inner tent is free standing which is great and makes the Darwin 2 ideal if you're going to be camping in extremely hot weather and, if you pitch in the wrong location for any reason, it can quickly and easily be moved.
The porch is minimalistic, and not much use other than for storing a pair of boots. This means the rest of your luggage must go inside the tent with you, which is not ideal, especially if you have a lot of wet biking gear. Inside there is plenty of room for one person and luggage, and there are a few storage pockets for valuables or items that you want to reach quickly and easily. If you should forget how to erect the tent there are instructions attached to the main stuff sack which are easy to understand.
There are a couple of support struts at the top of the tent that can be erected to help ventilation on a warm day, and the tent door also has a mesh zip out to aid with this further. All the contents come in a great carrier sack that is easy to access and can be carried using two carry handles.
PROS
– Cheap
– Easy to erect
– Small weight and pack size
CONS
– Very basic
– Pitches inner first
– Tiny porch area
IN A LINE: Cheap budget tent that'll be good for your first camping trip.

| | | |
| --- | --- | --- |
| Decent Vents | Handy Storage | Small pack size |
Vango Tempest 200
£150 www.vango.co.uk
Weight: 2.8 KG
Pack size: 43 x 15 (cm)
Poles in Panniers: YES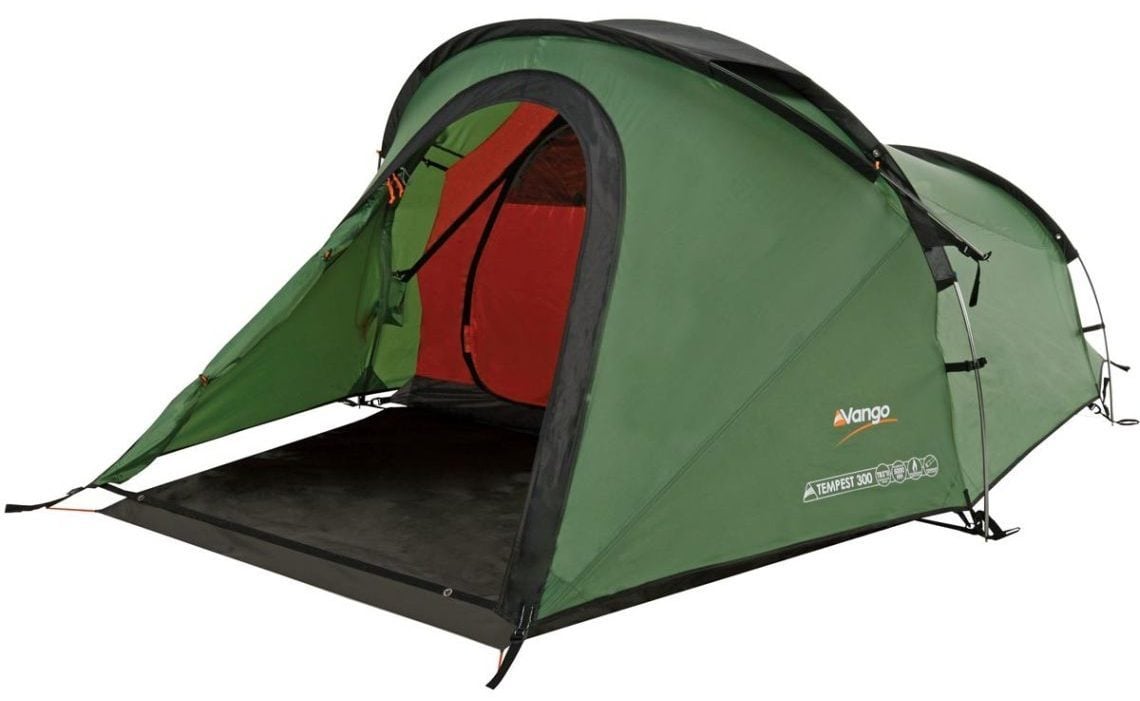 This is a reasonably priced tent from popular camping kit manufacturer Vango. I'm a fan of Vango products, after being the proud owner of a Vango Banshee 300 for a few years, and the Tempest 200 reviewed here doesn't disappoint either. It's in a price bracket achievable for most and took me just over eight minutes 30 seconds to erect. The tent comes with three poles that all have a different coloured middle section.
This coincides with a small colour-coded tab where the pole is required to be inserted. This intuitive system helps with user-friendliness, and you shouldn't have any trouble figuring out which pole goes where. The Tempest 200 is a long tunnel tent, and as such is not freestanding.
This means you need to get your camp position right before erecting, and while this isn't a major issue, it does rule out rocky or sandy areas where you will struggle to insert a peg unless you're creative with your means of stabilising it. A great benefit is that the inner and outer pitch as one, meaning there is less chance of getting the interior wet whilst pitching in bad weather. The two main poles form the tunnel shape that then requires pegging out to give it stability.
The third pole is a lot smaller and sits near the front to form the porch area. The tent is advertised as having rain stop flysheet doors that are structured so that water will not drop into the inner when opened. I'm assuming that this statement refers to the inner tent, and not the inside of the porch area. Once you open the porch door, if it's raining I can't see how anything will stop rain from entering.
I don't like porch areas that don't have some kind of floor covering as I'm not keen on placing my gear directly onto any wet or dirty floor, and the Tempest comes with a groundsheet for the porch area which is a great idea. The Tempest comes with a Venturi Vent System, a venting technology which aims to create a more comfortable in-tent environment by reducing the build-up of condensation. Air in the porch is drawn upwards as wind flows through the vent, and moves from the rear of the tent to replace displaced air, and in use, this works well.
The porch area is substantial, giving a great area to store your bike gear, whilst the inside of the tent is large as well and comes with storage pockets down both sides of the tunnel which is a fantastic feature. The main selling point, for me, with the Tempest 2 is the stuff sack. It is a piece of cake to get the tent stuffed back in, and the drawstring pulls tight with two straps that secure everything neatly. The only thing missing is any carry handles, but this is only a minor criticism.
PROS
– Good Price
– Decent sized porch
– Great stuff sack
CONS
– Not freestanding
IN A LINE: Well priced tent with a decently sized porch.

| | | |
| --- | --- | --- |
| Mesh Doors | Enough room for two | Internal storage |
Marmot Vapour 2P
£220 www.marmot.de
Weight: 2.5 KG
Pack size: 45 x 18 (cm)
Poles in Panniers: NO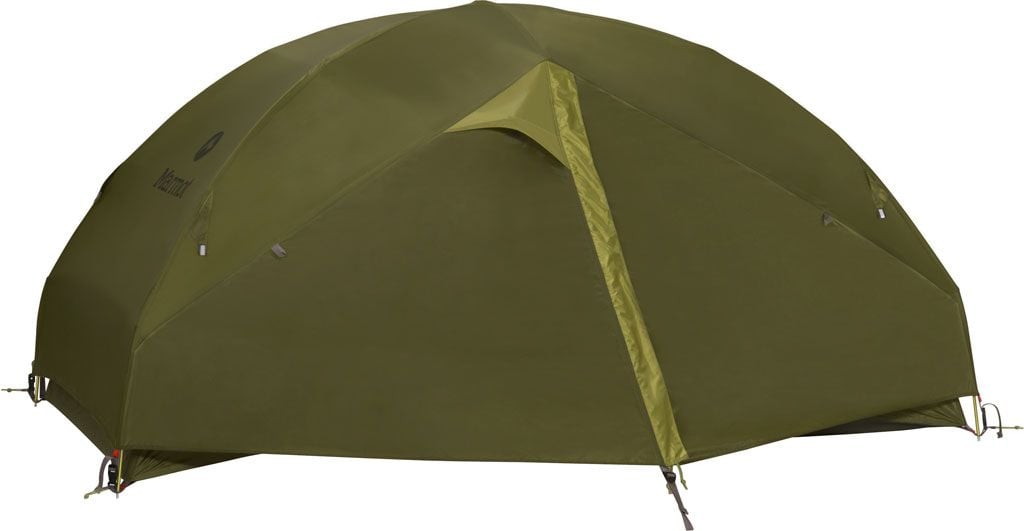 The Marmot Vapour 2 was the quickest tent to erect out of all the products reviewed here. It went up in a quick six minutes 30 seconds, and it was very straightforward to put up. There are two main poles, but these are attached together by a clip so, in theory, it's just one spider-like pole.
They simply connect up and each of the four ends go to each of the four corners of the inner flysheet to form a free-standing frame. The fly is then lifted up and attached to the exoskeleton frame using clips. There is a shorter pole that pushes through where the main poles cross and this is to make the front and back of the tent sit upright more to offer more headroom. The Vapour 2 pitches inner first, and as it was snowing during my review, the inner got slightly wet, but due to the quick erecting time is wasn't too bad inside once the snow thawed.
The outer is thrown over the exoskeleton and clips to each corner, securing it entirely in place. The clips can be tightened easily to make sure everything is tight and no flapping of the outer occurs in wind. The tent is freestanding which is a major benefit (are there any others at this price?). The packaging only contained six tent pegs, and this is not enough.
By the time I'd used four pegging the corners out it only left two to peg out the outer, which is enough to get you started, but this left none to peg any of the guy ropes out which may be needed in strong winds. I'd suggest an extra six pegs are needed to complete the tent. The Vapour 2 is small and compact and comes with a reasonable pack size and weight. There is ventilation on one side, and there are two entrances to the tent, on either side with two small porches.
This makes it suitable for two people, but it would be a bit tight inside. It's far better for one plus luggage. The entrance to the tent is good in that both sides can be opened and rolled up, so if it's raining and the wind is blowing in a particular direction, it is possible to open the tent at the opposite side to reduce any rain getting into the tent. Inside, there is a hook which is ideal for hanging torches from and two pockets for quick, easy access to items.
The tent is easy to dismantle and I didn't have any trouble getting it back in the stuff sack. The Marmot Vapour 2 has ticked all boxes I look for in a tent, bar pitching as one, which is a shame. I like this tent for all the features it has and it would suit a person wanting a tent for wild camping that's compact and light.
PROS
– Double porch
– Freestanding
– Reasonably priced
CONS
– Pitches inner first
– Not enough pegs
IN A LINE: Reasonably priced with some great features.

| | | |
| --- | --- | --- |
| Pitches inner first | Ventilation Options | Spacious Interior |
Robens Voyager 2EX
£239.99 www.robens.de
Weight: 3.4 KG
Pack size: 45 x 16 (cm)
Poles in Panniers: YES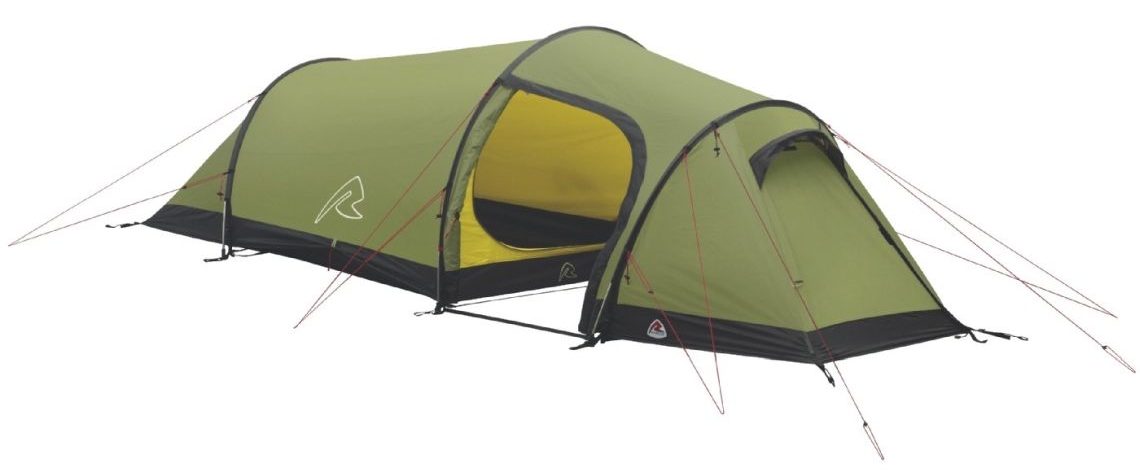 The Voyager 2EX is a large tunnel tent that would suit being pitched in the same location for a period of days, or for someone who likes to take everything with them on a bike trip. The porch is huge and can fit a great deal of kit inside, and is a great place to change out of any wet gear before entering the sleeping compartment. It's a shame the tent has a low head height, as the porch is seriously big enough for a couple to sit in.
Considering it's such a big tent, it was erected in eight minutes which surprised me. There are three poles, and each is colour coded to the correct sleeves, making it easy to know which pole goes where. It's a case of sliding each pole through and then sliding the end into a T socket to secure. The tent is then pegged out to form a structure. There are loads of guy ropes but only a few were needed to give confidence that the tent would withstand any high winds.
The Voyager 2EX pitches as one, or if required you can remove the outer easily by unclipping the toggles that hold the inner and outer together. This makes the tent a viable option if you're looking to tour in hot, dry countries where you're unlikely to see any rain and you need as much ventilation as possible. As stated, the porch area is huge, and there are two entrances into it, from the side and from the front. A major downside for me was that there is no groundsheet in the porch area.
It does mean that whatever you store is straight onto whatever ground you have pitched on, which has to be soft ground as the tent is not freestanding and needs pegging. There's a vent at the front of the tent and one at the rear to allow sufficient airflow. The main door to the sleeping area is large and does have a mesh zip down section to aid in the ventilation without letting any creepy crawlies or flies in.
Inside there is plenty of room for two people, but as it is a tunnel tent, both have to gain access through the same door opening. There are three internal pockets and a clothesline which is handy for hanging gear over. As it's such a large tent, I did struggle putting it back into the small stuff sack. It is heavier than others on test and a slightly bigger pack size, but for the size, it is a reasonable buy. Due to the footprint, I wouldn't really want to be wild camping with this kind of tent, although there's no reason why you can't with virtually any tent, but for stays at campsites, it's spot on.
PROS
– Large Porch
– Plenty of space inside
CONS
– Not freestanding
IN A LINE: Massive sleeping area and porch with two entrances.

| | | |
| --- | --- | --- |
| Plenty of storage | Great ventilation | Huge porch |
Jack Wolfskin Exolight II
Weight: 2 KG
Pack size: 45 x 13 (cm)
Poles in Panniers: YES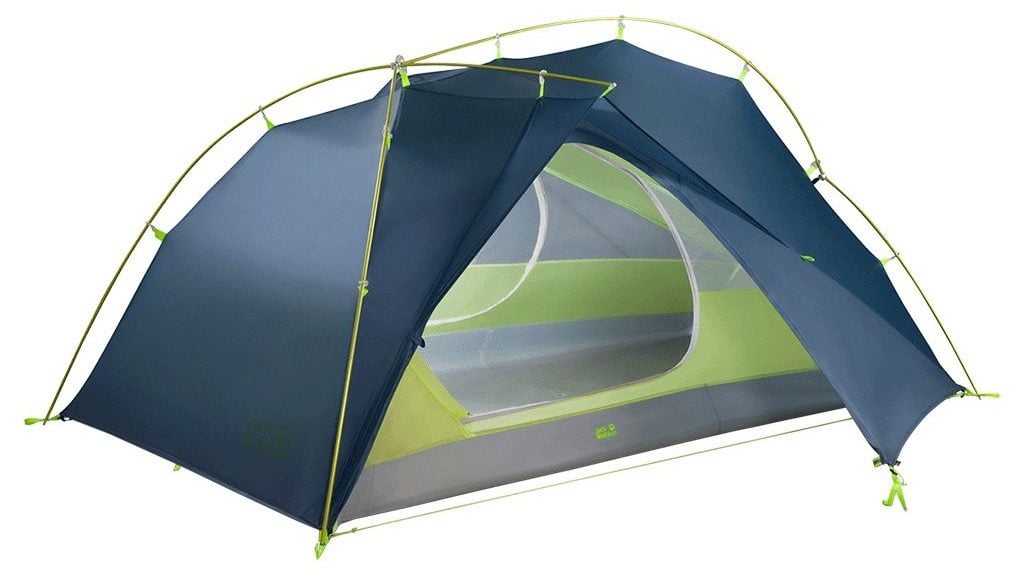 I've only had experience with one other Jack Wolfskin product, and that was a hydration pack reviewed in issue 38 that didn't score too well, so I wasn't expecting much from the Exolight II. How wrong I was. The pack size is small and it is very lightweight. Removing the tent from the stuff sack, I instantly realised that this was a quality product.
It had a different feel to a lot of the other tents and I'd suggest that at the price, this would be a good step up for those that have a cheaper tent and want to upgrade, and having seen this for as low as £340 on the web I'd suggest it's a fantastic buy. The inner and outer pitch together which is how I like it, and there's only one pole that folds out to form a giant exoskeleton. This is easily attached to each of the four tent corners to form a free-standing frame. It's then a simple job of attaching the clips to the frame from the tent which lifts into place.
In the middle of the tent, there are a couple of pole segments that attach to the roof of the porches, but these are connected to the main pole, hence the need for only one pole in this setup. Due to the exoskeleton nature, the tent is 100% free standing. I erected in high winds in about seven minutes 30 seconds, although it wasn't that easy as the tent kept blowing it about until I had it all clipped into place. Once erected, it only needed four pegs to secure and it really was stable in strong winds.
The guy ropes pre-attached to the tent were a bit confusing and I couldn't see the point. It also came with five further loose guy ropes, but I never felt that they needed connecting. There are two porches, one on each side of the tent, both of which are identical and big enough to fit a large bag, so ideal for motorbike jackets, boots and the like to keep your gear separate from the sleeping compartment. Each porch also has its own entrance to the tent.
This is fantastic and means two people can use the tent without having to bother each other by clambering over one another to exit the tent. Inside there's plenty of room for two people and it's very light and airy. There are four internal pockets, two on each side, and a ceiling loft for storing easy to reach items. There are zipped air vents on each door to help with ventilation, and these work well to create a nice cross-flow of cooling air. The tent is easily rolled up and fits back into the stuff sack with ease. I really like the Exolight II, it is well suited for the biker who wants a compact tent well suited to wild camping.
PROS
– High quality
– Fantastic double porch
– Freestanding
CONS
– Not the largest of inners
IN A LINE: A great tent, best in test.

| | | |
| --- | --- | --- |
| Easy to erect | Decent sized porches | Light and airy inside |
Vaude Taurus UL 2P
£390 www.vaude.co.uk
Weight: 1.9 KG
Pack size: 50 x 16 (cm)
Poles in Panniers: YES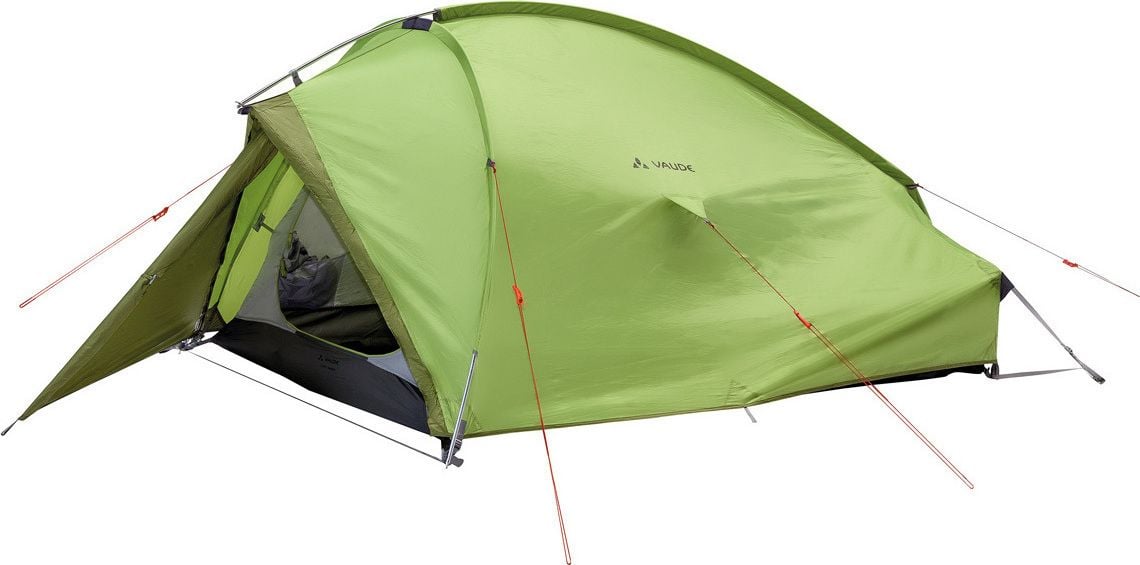 The Vaude Taurus is a lightweight tent advertised as a three-season tent suitable for the mountains. It certainly is lightweight at sub-2kg (also making it the lightest on test), but I was disappointed when I found out the price. At £390, it is in direct competition with the Jack Wolfskin Exolight II, also reviewed in this issue. And this tent was brilliant, so the Taurus has a lot to compete with, and in my opinion, doesn't quite live up to the price tag it commands.
The Taurus is fairly easy to erect, but it did take eight minutes 30 seconds on my first attempt. Both the inner and outer pitch together which is great. There are two poles, but neither are colour coded and for this price, I really expected the best. The poles slide into sleeves in the tent, and while this isn't a negative as such, after testing so many I really prefer the exoskeleton approach that the more expensive type of tents seem to have. It just seems a faff to have to thread a pole through a tent now.
The two poles thread through lengthways and widthways to form a structure, but it does need pegging out which means it is not freestanding. I also struggled a bit in high winds, hence the longer than anticipated time to pitch. Once pegged out, there are four guy ropes to help secure it in the wind and, when fully secured it was extremely stable.
The Taurus has an adequate porch that can be unzipped on both sides to give access and this is the only entrance to the sleeping compartment, which is a shame as inside there is plenty of room for two people. Both would struggle getting out of the tent without disturbing the other.
The porch does not have a groundsheet which is a shame. Once inside the tent, it is light and airy. There are two internal pockets, one either side and there is a clothesline at the top to hang objects over which is a good feature. The tent is extremely easy to stuff back into its sack which is a great bonus.
All in all, the Taurus UL 2P is a great tent when considered in isolation, but when compared to the competition around the same price, it lacks features. Where it does come out on top, however, is its tiny weight and pack size, making it a good choice if you're looking for a tent that'll take up minimal space in your panniers or when strapped to the bike.
PROS
– Lightweight
CONS
– Expensive
– Not free-standing
IN A LINE: Incredibly lightweight, but lacks some features that similarly priced tents have.

| | | |
| --- | --- | --- |
| Adequate porch space | Light and airy | Two internal pockets |
MSR Hubba Tour 2
Weight: 2.47 KG
Poles in Panniers: YES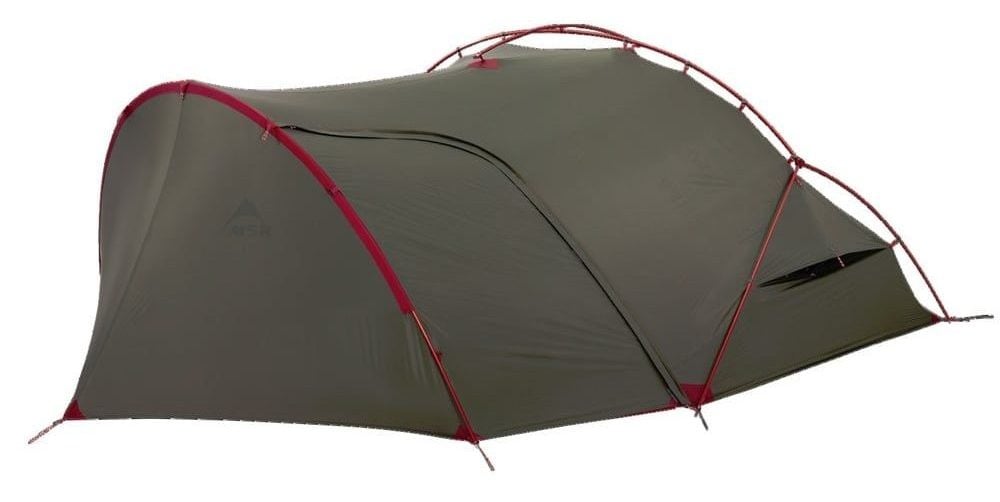 The MSR Hubba Tour 2 is a seriously nice bit of kit. It has a compact and lightweight pack size making it ideal for including in your motorbike luggage. In fact, it's hard to believe what you actually get in the way of a tent. It's so big for such a small pack size. The porch is, simply put, bloody huge.
It took me seven minutes to erect the tent which is a fantastic time for a first attempt. It really is simple and straightforward to put up. There are two poles, one large exoskeleton pole that attaches to each corner of the sleeping area, which then makes it a simple exercise of clipping the tent to the structure.
The inner and outer pitch as one meaning you can pitch in any weather with the knowledge of not compromising a dry sleeping area. The second pole is required to construct the porch. It threads through the tent and you do need to peg this section out. The tent comes with plenty of quality pegs and lots of guy lines to secure it in really bad weather. The stuff sack is fantastic and means the tent can be put away quickly with ease, unlike some tents that require a fight to pack away.
The porch area is huge. You enter it from the side and this leaves the front free to have an internal groundsheet which is a great addition. In my opinion, all tents should have an optional porch groundsheet for some luggage and the MSR doesn't fail here. The bedroom of the Hubba Tour 2 is big enough for two people and can be accessed by the front door meaning you do not have to go through the porch.
It also means that both occupants have their own door, so no disturbing your sleeping partner if you have to exit (and as the porch doesn't have a full groundsheet and is fully enclosed it makes a great emergency toilet for the ladies out there).
There's a huge internal pocket on one side of the internal area, and three segmented pockets on the other. At the top, there are two smallish roof loft s which are great for storing torches and anything you may need to hand quickly in the night. It may sound ridiculous, but the MSR Tour 2 may just be too big for the wild campers. The footprint of the tent is massive. However, it really is unfair to criticise for such a great benefit and if I were going on a tour where I would be in a campsite each night then the Hubba Tour 2 would be top of my list. A quality tent that oozes class.
PROS
– Large porch
– Quality product
– Easy to erect
CONS
– Not freestanding
– Pricey
IN A LINE: Fantastic touring tent that offers just about everything the camping biker would need.

| | | |
| --- | --- | --- |
| Huge porch | Colour coded poles | Roomy inner |
Terra Nova Southern Cross 2
£530 www.terra-nova.co.uk
Weight: 2.29 KG
Pack size: 47 x 16 (cm)
Poles in Panniers: YES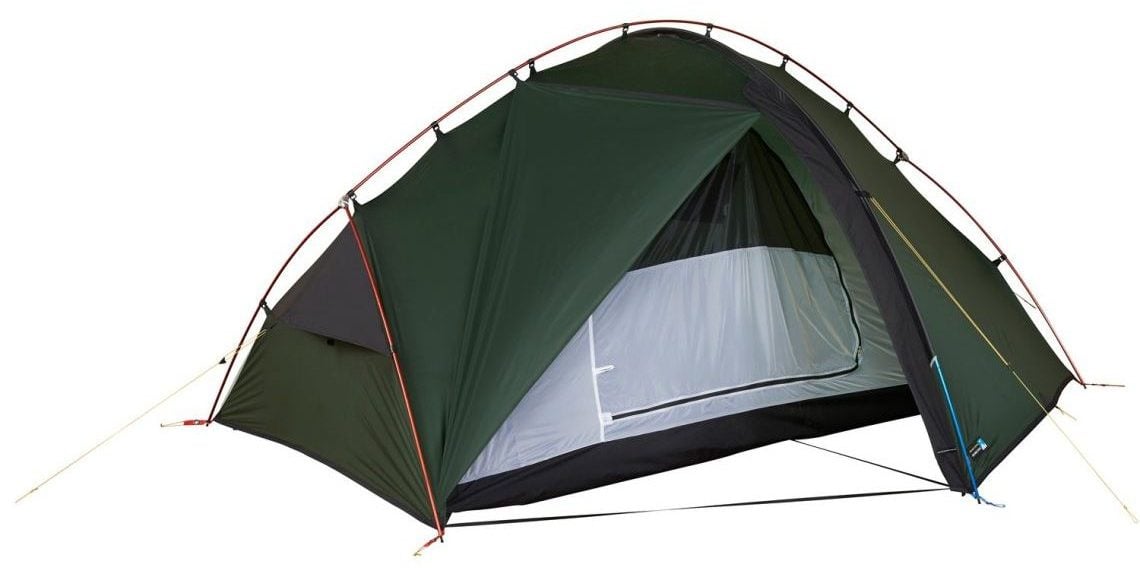 This was the first tent I tested during the review, and it was only after the test that I actually found out how much it was. £530 is a hell of a lot of money, but this tent is fantastic. I know exactly what I want in a tent, and this ticks all boxes. From taking the tent out of the bag it was eight minutes before it was erect, and this was not following any instructions.
It is simple to put up, and the estimated five minutes pitching time advertised will be spot on after a bit of practice. There are two poles, one that you thread through the width of the tent, and an exoskeleton one that you clip the tent to.
Both are colour coded for ease, hence no need for instructions, although minimal instructions are on a tag in the stuff sack if you require them. The main selling point for me is the freestanding nature. Not every pitching site is ideal, and I've had to suffer a few waterlogged nights in tents due to it being the only place that had soft ground for pegging. If I'd had a freestanding tent I could have avoided this.
There are guy ropes to peg out if required. The Southern Cross 2 pitches as one (the flysheet and inner are attached) meaning it can be put up in the rain without risking the inside getting wet. There is loads of space inside. When I look at a two-person tent I always assume it will be a squeeze, but two could easily use this tent. There are two doors, one on either side, and there is a very decent sized porch on both sides.
This means each person (assuming there are two of you) can enter and exit the tent and store their own gear without bothering the other. Inside, you can sit up with plenty of headroom, and at nearly six-foot-five, I could lay down with ease. The pack size and weight are very good and you shouldn't have trouble strapping this to your bike. All the features are great, it has everything you would expect from a high-quality tent.
The only thing that lets this tent down is the price tag. A lot of people won't consider £530 in their budget for a two-man tent (and if you think this is expensive, note that the most expensive Terra Nova 2 man tent is an eye-watering £1,400). Shop around as I have seen this tent £100 cheaper than the RRP. Still expensive, but it's a lot of tent for the money. If I was being really critical, I'd suggest that a groundsheet be available in both porches. I hate putting my gear directly onto the muddy ground.
PROS
– Oozes class
– Fantastic double porch
– Freestanding
CONS
– High price tag
IN A LINE: Fantastic tent, but expensive.

| | | |
| --- | --- | --- |
| Colour coded poles | Two decent porches | Surprisingly spacious |
Hillberg Staika
£949 www.hilleberg.com
Weight: 4 KG
Pack size: 50 x 17.5 (cm)
Poles in Panniers: YES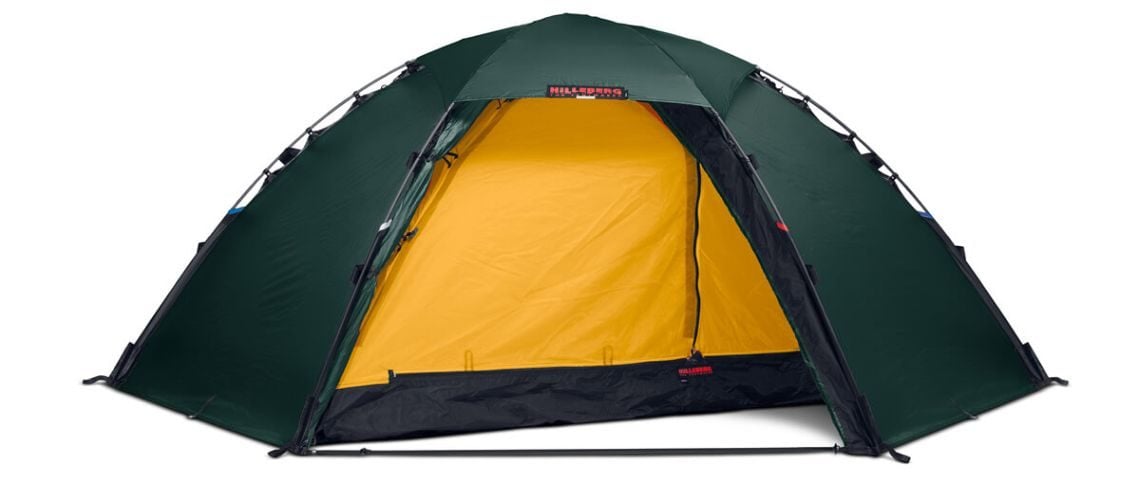 The Hillberg Staika commands an eye-watering £949 price tag, making it the most expensive in this issue's reviews by a long shot. I deliberately left this tent to the last when I was testing as I was expecting a mind-blowing experience and didn't want it to cloud my judgement over any other of the tents. I'm afraid it didn't live up to the expectation that I had built up in my mind. To start with the weight and pack size was noticeably different than all the others on test, due to this being the only four-season tent.
It was bulkier and a lot heavier. The pack size may be verging on being a bit too big in my opinion for stuffing into a pannier. It comes with three poles and 16 tent pegs, and pitches inner and outer together which is good. All the poles are the same length and it's obvious where they go. There's a colour-coded sleeve on the side, and the pole pushes into a sleeve on the other side which is also the same colour. With the poles in place, a free-standing dome is formed. It's now a case of lifting the tent up and clipping it to the poles.
This is best done by clipping all the way around the tent at the same height level. It's a large dome tent, so expect a lot of walking around as the height increases. As you near the top you may find it a struggle to reach to the middle to clip the final few, and I'm tall, so expect a shorter person will really struggle. The correct way is to open the tent door and step inside the tent to gain access to the middle section. To finish, there's a ventilation flap that stretches over the top and clips into place.
The Staika is pretty quick to erect and it took me seven minutes to complete the operation. The result is a six-sided dome tent that is extremely stable and free-standing. There are plenty of pegs to peg it out if required and six guy lines as an extra precaution in high winds. There are two entrances on opposite sides which is great, as it means that two people can use it without disturbing their companion. These entrances have their own porches, but these are on the small size compared to the size of the tent.
There is plenty of room inside, but it's a bit sparse with features. You get pockets, one on either side, but that's it. The internal tent openings are huge and the entire side can be unzipped if required. Overall, while the quality of construction and components used by Hilleberg is unquestionable, I was pretty disappointed with the tent and feel there are cheaper options that satisfy what an ABR will want in a two-person tent. But if you have the cash, and want a prestige brand, then this is it.
PROS
– Double porch
– Freestanding
– 4 Season tent
CONS
– High price tag
IN A LINE: Great tent, but it's hard to justify the sky-high price tag.

| | | |
| --- | --- | --- |
| Sturdy poles | Quick to erect | Large porch |
Redverz Atacama Expedition Tent
£539 www.redverz.com
Weight: 6.5 kg
Pack size: 53 x 23 (cm)
Poles in Panniers: NO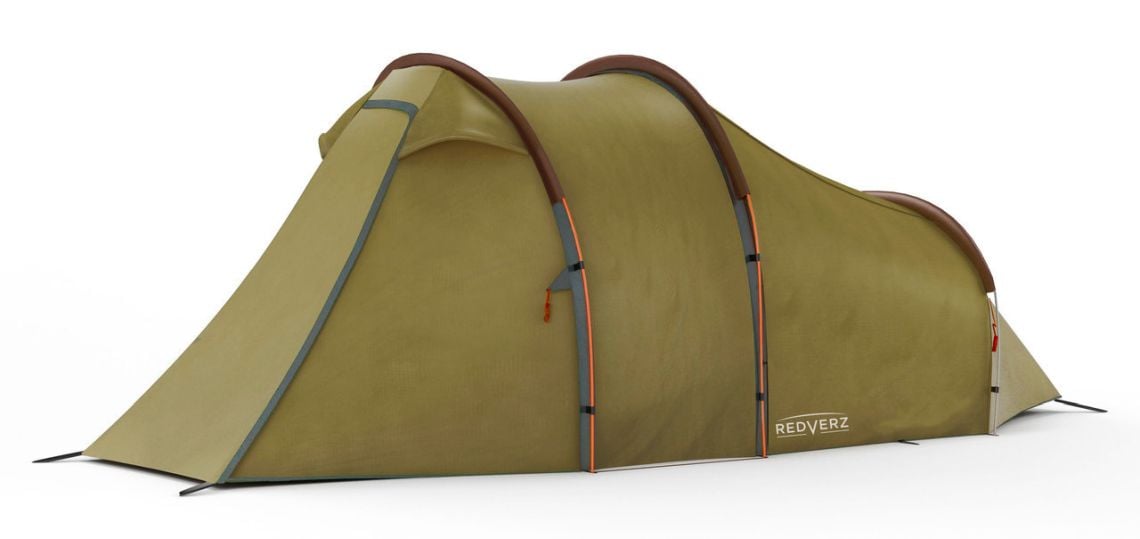 The other tents reviewed here are all classified as two-man backpacking/ touring tents, and one of the main criteria was pack size and weight. Not everyone has the same limitations when it comes to selecting a tent, and some like a large space to live in whilst on their travels. This is where the Redverz Atacama comes in. It would be unfair to score it side by side with the other tents hence why it's been left out of the main tent reviews and reviewed as a standalone tent.
There's no getting past the pack size and weight. It's fairly heavy at 6.5KG and bulky with a 53x23cm pack size. However, in real terms, it's not that big or heavy for what you get. You get a sleeping area that's advertised for three, along with a massive porch area suitable for storing your bike in. Pitching the tent may look daunting, but it only has three poles that are colour coded. It was a simple case of threading all three poles through and pushing them into the eyelets at the base of the tent.
This formed three loops that then need pegging out. There are plenty of guy ropes in their own neat Velcro pouches if you need them. It only took me eight minutes to pitch which is fantastic for a tent of this size. Not a lot of tents give the opportunity to accommodate your pride and joy as well. Whether it's to keep your bike safe from prying eyes or out of the elements whilst you perform some maintenance, there's no getting round the fact that having such a large porch is a fantastic benefit.
My bike's tall at 150cm and it fitted into the specially designed porch with ease. And even then, there was still plenty of space to move around inside. Take the bike out and you are left with a porch you can virtually stand up fully in (I'm six-foot-five so get used to ducking everywhere). It would be perfect with a couple of chairs and would be a great place to chill.
The porch has three openings and all can be used to wheel your bike in. Into the sleeping area, and you'll find two large openings at the front and one at the rear, so if three people are sleeping they all have their own entry point if required. For two, the space is simply luxurious.
There's plenty of height in the sleeping area, not as much as the porch, but you can still sit up with ease, and even stand in a crouching position for getting changed. All doors come with fly mesh screens in case you want to unzip the main cover for added ventilation. My only real gripe was putting the tent away. Although the stuff sack has a large opening I still struggled to pack it away neatly. This tent would be at the top of my list if I was going on a two-up touring trip.
PROS
– Huge porch
– Large sleeping AREA
– Multiple entrances
CONS
– Not free standing
IN A LINE: If you want a tent with loads of space this is it.

| | | |
| --- | --- | --- |
| Colour coded poles | Inner storage | Park your bike in the porch |