Mike Beddows puts 10 hydration packs to the test.
Whether you're riding on tarmac or off-road, the constant concentration that's required and, if you're green laning, the physical demands put on the body can be thirsty work. There's nothing wrong with carrying a few bottles of water in your panniers, but it's always a bit of a faff to take your helmet off, remove your gloves and then go rooting around for your water if you just want a sip. That's when hydration packs come in really handy.
For those who are thinking 'what on earth is a hydration pack?' Put simply it's a small rucksack that contains a bladder which you fill with water. A hose can then be routed from the bladder to the front of your body, allowing you to easily sip on water while you're riding, without having to remove your helmet.
As the primary function of a hydration system is to provide you with enough liquid to stave off dehydration, a good pack must satisfy the basic criteria of allowing you to easily take a sip whilst on the move and have sufficient liquid carrying capacity for whatever riding you have planned. I consider sufficient liquid to be a minimum of two litres for a normal day's trail riding or riding in warmer climates. Of course, three-litres is even better.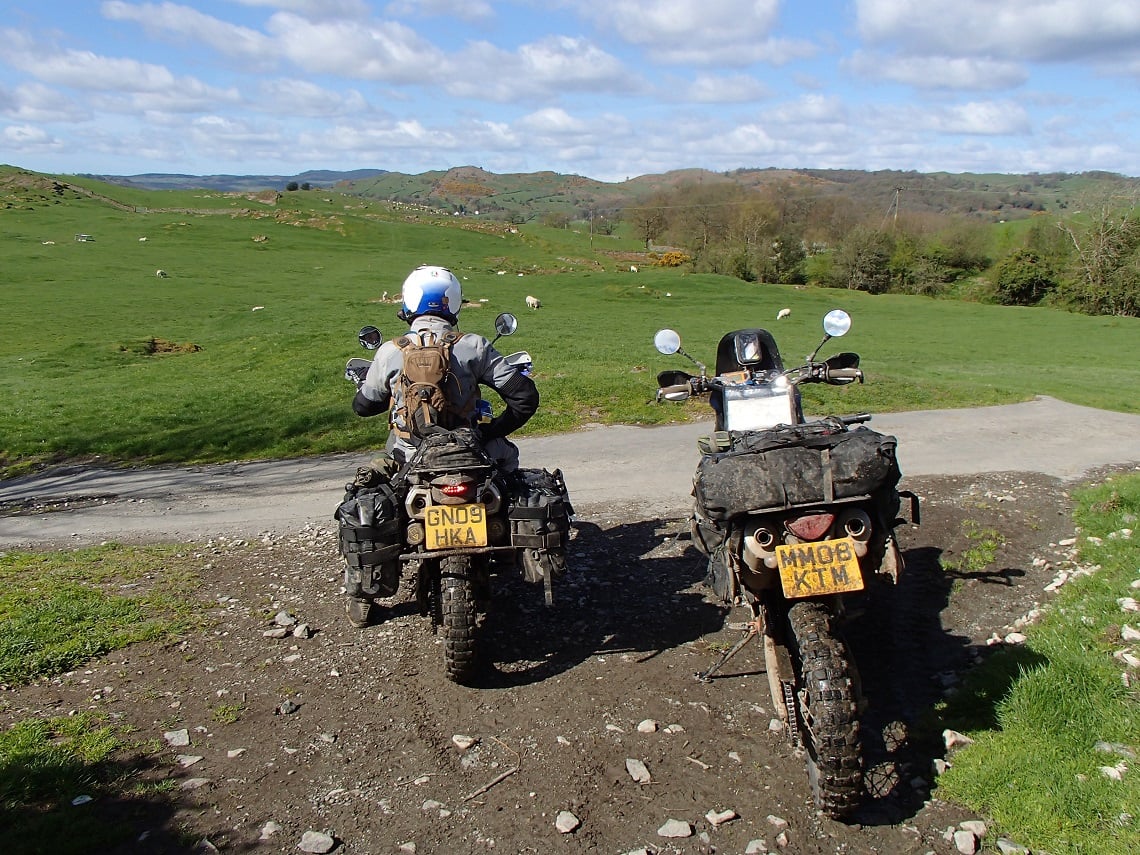 A lot of people won't bother with hydration systems and prefer to stop and enjoy a nice relaxed drink, in a café or pub perhaps. But for the energetic out there, and especially trail riders, having a hydration system is essential. One of the worst thing you can do to your body is to allow it to become dehydrated.
And by the time you notice the symptoms (e.g. excessive thirst, headaches, tiredness) it is too late, and with this in mind, it is essential to keep your fluid intake up. One of the easiest ways to monitor this is by the colour of your pee, if it's clear you are drinking enough. The darker the colour the more dehydrated you are becoming. 
A secondary function of a hydration pack is to provide the wearer with valuable storage space. This is why bladders are normally placed into rucksack type products. Some people (me included) don't like too much weight on their backs whilst riding (remember one-litre of water is equal to 1kg).
Over time, even the lightest packs can take their toll if heavy objects are placed there. However, I do like the space there in case I need it, so I normally ride with a fairly empty backpack with full bladder inside. The temptation is to fill it with gear, but this defeats the object for me.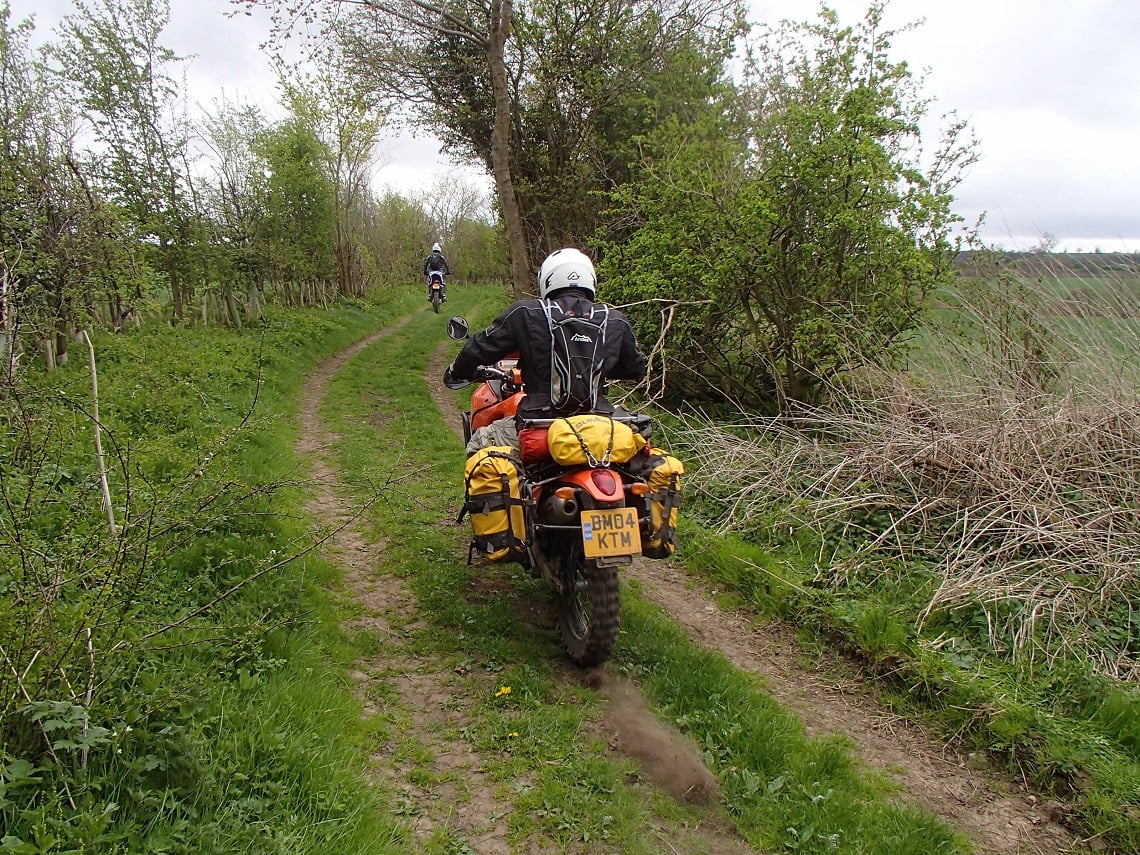 I like the space in case I need it when on the move, and it's great for stocking up on food and drink when doing a wild camp. Many people stop before looking for a camp spot to stock up, only then to realise they have no space to carry anything. This is where having unused space really comes into its own. 
It's essential the hydration system is comfortable to wear and not restrictive. You have to be able to drink effortlessly with minimal fuss whilst on the move. You also have to be able to easily fill the bladder with liquid, and in a lot of cases this means removing it from the pack. Whilst wearing a hydration pack, it is essential for the system to have good ventilation to help reduce sweating and warm patches. 
This is achieved with ridges or padding at the rear of the backpack. This makes the backpack sit away from your body and enables airflow in-between. Also, the rucksack straps are another point where you may sweat, so good ventilation here is always ideal, this could take the form of mesh straps to allow the air to flow straight through. 
When it comes to storing your hydration bladder, it can be quite hard to combat mould build-ups as the inner remains moist. A good way to counter this is by storing the empty bladder in the freezer. If you freeze it when you return home no mould can form and the bladder is preserved. It only takes a few minutes to thaw out when it's time to use. 
---
What we like
Large bladder
Easy to fill bladder
Easy to remove bladder
Easy to turn on and off the mouthpiece
Storage space
Good ventilation
Waist and chest straps for stability
Internal pockets and pouches
---
How we're scoring them
The following criteria have been applied to each of the products on test. Although I like space in my hydration systems, I have not scored on this category as different people have different requirements. Some people like storage space, some do not. 
WATERPROOFNESS: How does the pack stand up to a one-minute heavy shower? Some packs have waterproof covers but if it starts to rain not everyone will stop immediately to attach it. 
BLADDER: The following has been taken into account: size, hose attachments, mouthpiece, easy of filling, ease of operation. 
COMFORT: How comfy is the hydration system to wear. Is it comfortable against the back, will there be adequate ventilation? 
VALUE: Is it really worth the asking price? 
OVERALL: Taking everything into account.
---
Vango Rapide 20
£37.50 | www.vango.co.uk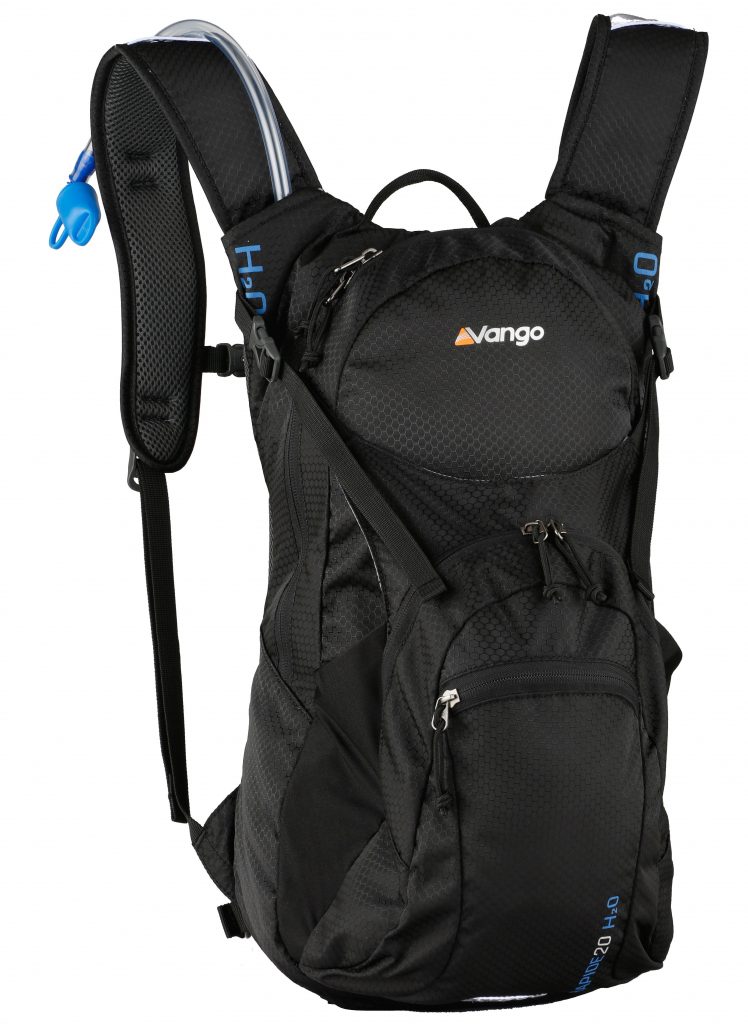 The Vango Rapide can hold a massive 20-litres of luggage and it comes with a two-litre bladder as standard. The pack utilises Vango's Airforce back system, which uses contoured foam channels to increase air circulation across your back, helping to prevent warm spots and subsequent discomfort. 
A similar technology is found in the straps, where AirMesh has been used to also allow airflow beneath the material. The pack comes with waist and chest straps to help you get a good, secure fit, and these come with quality, robust buckles. The front of the pack has a small, zipped pocket, while there are some mesh pouches in the main compartment to help you organise your kit.
There's also a large external pouch which is ideal for stuffing your gloves into when you're not on the bike. 
At the rear, the Airmesh section, which is secured by Velcro, is pulled forward to access the two-litre bladder pouch. This is an acceptable size for a day on the trails. The hose attaches to the bladder via plastic screw threads which, in my experience, aren't the most leak-proof way of fitting the two together – though there were no leaks in the time I used it. 
The mouthpiece is opened by gently biting the teat, which begins waterflow. I like this way of doing it as it means you don't have to fiddle around with on and off toggles, which can be especially annoying if you're wearing dirty gloves! The mouthpiece comes complete with a protective cap for when you're not using it. 
On the bottom of the pack, you'll find a rain cover that unravels quickly and easily covers the whole pack. Additionally, at the bottom of the bladder pouch, there's a well-placed overflow hole that'll allow any spillage or leakage to flow out of the bag without getting its contents wet. 
IN A LINE Fantastic price with a huge amount of storage.

| | | |
| --- | --- | --- |
| The Back Ventilation System | Well Designed bladder | Weather Protection |
Givi EA111 Zaino
£41.72 | www.givi.co.uk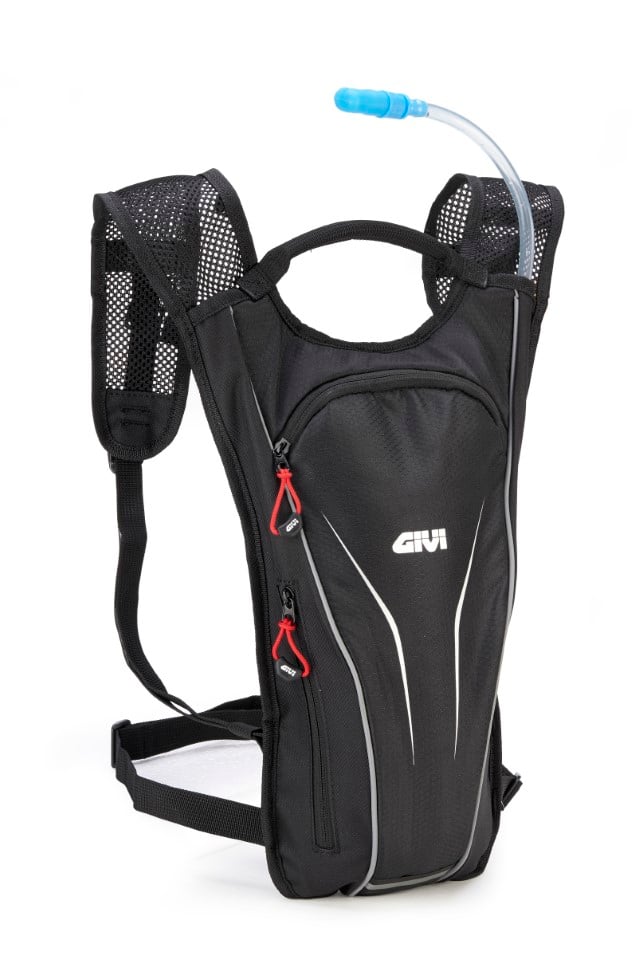 This is a small and compact offering from Italian brand Givi. It holds a two-litre bladder and has one litre of storage space. While I'd personally prefer more storage capacity, I can understand the reasoning behind such small capacity packs.
The weight can take its toll on your back aft­er prolonged periods, so a pack that's this light will have minimal impact on your comfort, and will be ideal for road touring where your supplies will be kept in your panniers or tank bag. 
The one-litre storage is accessed by a small side zip which is opened with glove-friendly toggles. You're not going to fit much in here, but it's possible to use the bladder pouch as additional storage space if required. 
The bladder drops into the main top compartment easily, but the clips that hold it in place are not the most user-friendly. The bladder has a screw-top opening which I'm a big fan of as it's a bit easier to use. The hose connects to the bladder using plastic threads, which is a potential weak point for future leakage.
This also means that disconnecting the hose isn't as straightforward as I'd like, and it's a pain having to unthread the hole and remove the bladder if you want to refill it. 
The mouthpiece is nice and simple to operate, you pull on it to start water flow (which you can do with your mouth), and push it in to stop. It's a large flow opening as well, which is great for those times when you're parched. The mouthpiece cover isn't attached to anything, so I can see this getting easily lost. 
IN A LINE Small, lightweight and fairly cheap, but a good buy.
| | | |
| --- | --- | --- |
| Glove Friendly | Fiddly Clips | Simple to Operate |
Lindstrands Water Pack
£49 | www.jofama.se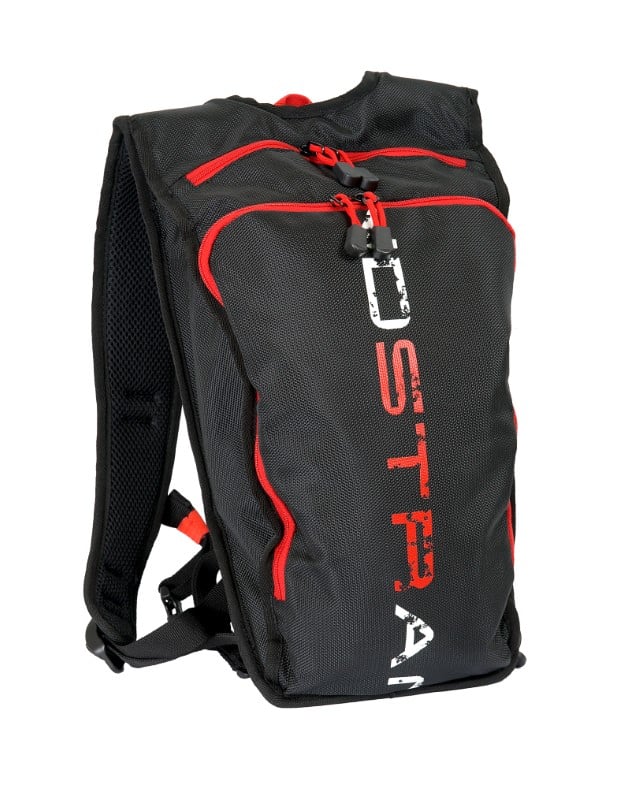 The Linstrands Water Pack is a compact and stylish hydration system which retails at an affordable £49. The bag comes with a 1.5-litre fluid compartment, as well as a five-litre storage compartment.
Seeing as it is a compact system, I initially felt that the fluid to storage ratio was wrong as surely a compact hydration pack should have one main function, and that's to provide hydration over storage. 
With that said, in reality, 1.5-litres proved to be more than enough for me on a spring day's ride out and the five litres of storage was handy, with enough space for my wallet, keys, camera and even a rain jacket. I would, however, prefer a larger bladder for hotter summer days when you're more likely to be building up a sweat and, consequently, a thirst. 
The shoulder straps are easy to adjust to get a perfect fit, with contrasting red elasticated loops to tidy up any excess material being a nice touch. The Water Pack (inventive name) also benefits from a lower strap around the waist that is removable if you don't require that level of support. 
Filling the water bladder is a little messy as it only has a relatively small lid; this will also make cleaning it a difficult task. The hose is long enough and is easy enough to use. Overall it's a great little bag that you can wear all day and forget it's there, unlike some larger hydration packs.
IN A LINE A nice pack from Lindstrands, but perhaps not big enough for warm, summer days.

| | | |
| --- | --- | --- |
| Small mouth opening | Only room for the essentials | Small but good organisation |
Platypus Tokul XC 5.0
£65 | www.platy.com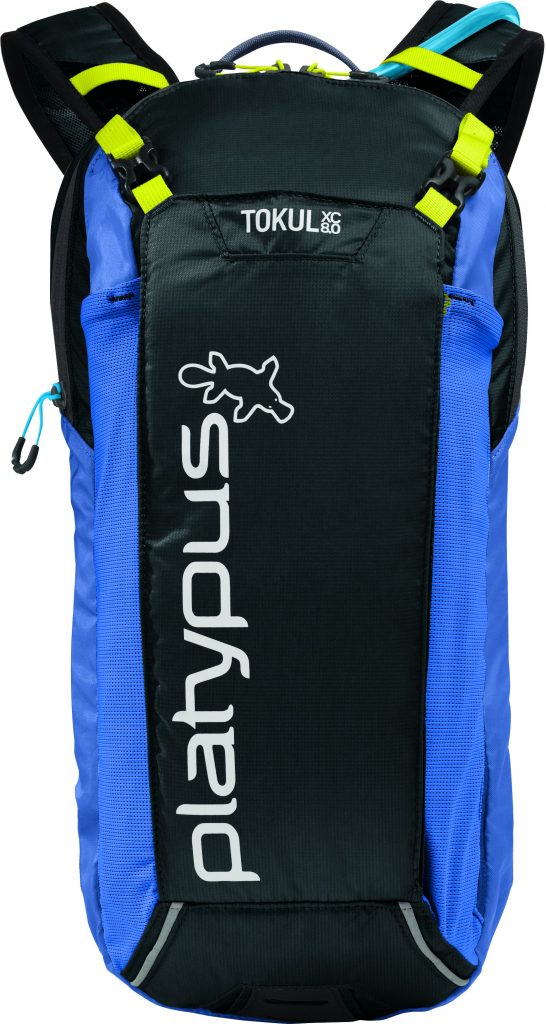 The Platypus Tokul XC 5.0 has a mammoth three-litre bladder, and I'd much rather carry too much water than not enough! The bladder is really easy to fill thanks to a wide opening and the hose is very quick and easy to attach and detach, simply clicking securely into place.
This makes it easy to remove the bladder when refilling is required. The bladder is fixed in the pack by a couple of hooks, and these are easy to locate. The mouthpiece is easy to operate, working by a large twist nozzle that turns the flow on or off. 
The Tokul certainly looks great and is nice and compact. With this in mind, storage comes at a premium, and there's only two litres of space available. I would prefer more space, but there are situations where it's not required, and the lightweight of this pack is always going to be appreciated. 
The pack features what Platypus have called a 'Cool Riding Ridgeair' back system which is basically a system of foam ridges which keep the bulk of the rucksack away from your body.
This allows air to flow underneath the back system, which in turn helps prevent uncomfortable overheating and sweating. In this regard, the Tokul performs exceptionally well and is extremely comfortable to wear. The shoulder straps are super light and are very well-ventilated as well. 
IN A LINE Fantastic hydration system with a great bladder and affordable price.

| | | |
| --- | --- | --- |
| Well ventilated back system | Plenty of pouches | Twist nozzle mouthpiece |
Jack Wolfskin Rock Surfer
£75 | www.jack-wolfskin.co.uk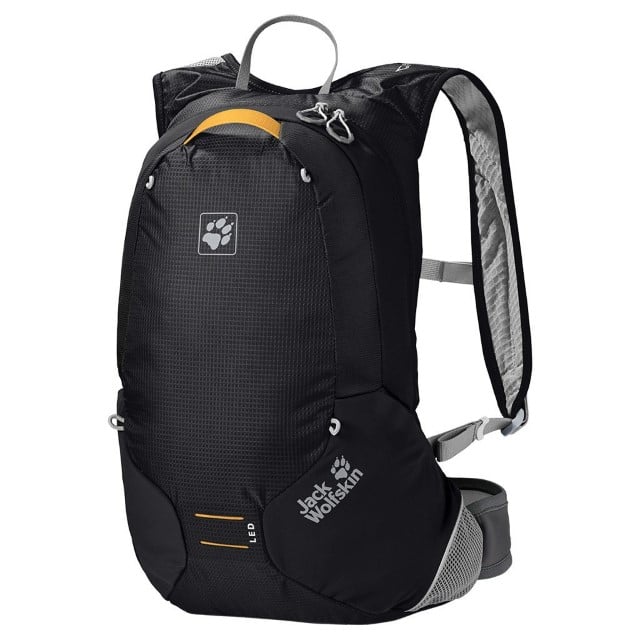 The Rock Surfer is a hydration pack that's aimed at the mountain bike market, but there's no reason it can't be used for motorcycling either. It looks fantastic, and the 18.5-litre carrying capacity, which is accessed via a single zip, is a big selling point (big enough to convince my dad to buy one for a recent trip of his). 
I was disappointed to find out that the pack doesn't come with a bladder as standard (it's an extra £25 for this), and so we chose an additional three-litre bladder that fitted perfectly. The bladder compartment is directly behind the main storage area and is easily accessible.
On the inside of the pack, there's a small internal wallet pocket, but the only additional storage to this comes in the form of two small, unsecured external pouches. While the pack has a large carrying capacity, I would like to have seen more internal pockets to help organise my kit a bit more. 
The Rock Surfer is equipped with Jack Wolfskin's Flex Motion suspension system, which consists of four contact points on the rear which are very flexible and adapt to your body's shape. This means that the pack provides a very good fit, and great ventilation as the air can flow freely between the pack and your back.
The straps are super comfortable to wear, and the Rock Surfer feels great when worn. The waist strap is unique as it's the only offering on test that is fastened using Velcro, and not attached with a clip, and this works well. 
At the base of the pack is an integrated rain cover, and I wasn't too keen on its design. It doesn't secure over the entire bag very well, and a couple of well-placed Velcro straps would have sorted this out. 
IN A LINE A great bag but we'd expect a bladder to be included at this price.

| | | |
| --- | --- | --- |
| The four contact points | Internal Segregation | Bladder Pouch |
Salomon Agile 12
£80 | www.salomon.com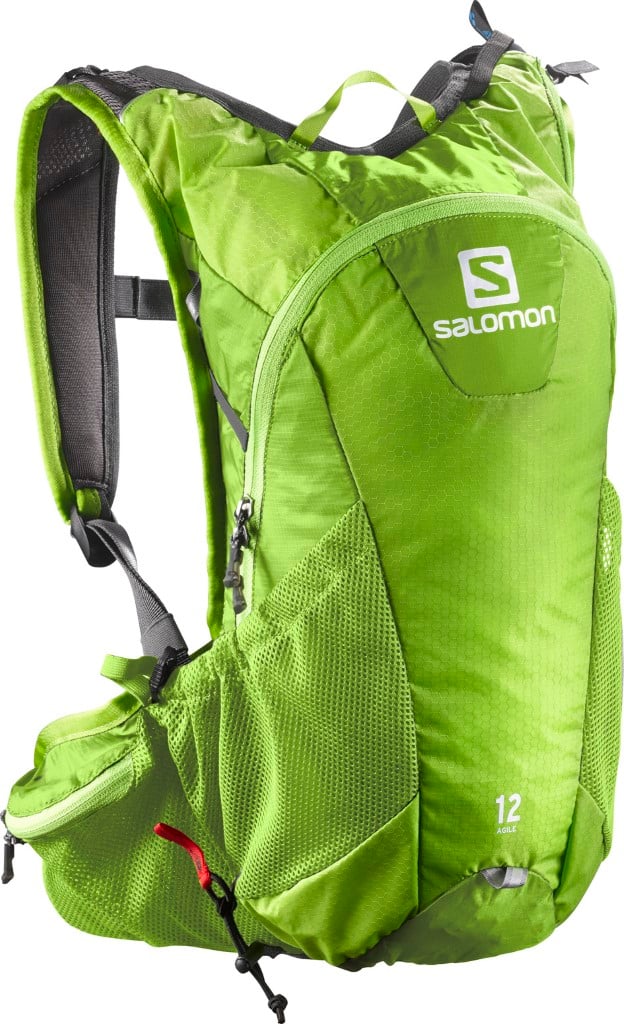 This is a very lightweight backpack that I'd be amazed to see on the back of any adventure bike rider. My research points to this bag being a popular choice in the running community, and its lightweight nature and size make me think that it's probably best left­ for them to have. Saying that it does offer 12-litres of storage, though the 1.5-litre bladder is a little small for my liking. 
As I've said before, I would consider two litres to be the minimum size bladder that I'd take out trail riding with me, though if you like the pack enough, you could always carry extra water in the 12-litre compartment.
There are mesh pockets on either side of the pack, though in testing they seemed to be pretty pointless, being far too small for anything useful (though I'd imagine they're good for holding energy gels when running). 
The main compartment is accessed by a top zip, and with 12-litres of storage capacity, there's plenty of room to put your things. An internal mesh pouch is located inside to help you organise your kit. The chest strap has a bit of an odd design, with four different height settings allowing you to get the best fit. 
The bladder is accessed by a zipped opening in the side of the pack, and while the hose is long, there doesn't seem to be enough flexibility in it to get the hose anywhere near your mouth. It may be OK for running, but not really on a bike where you're decked out in all your kit and you want a drink while on the move.
Despite this, the mouthpiece is well designed and offers a good flow of water, once you get your mouth to it. 
IN A LINE A good hydration pack for its intended purpose, which sadly isn't motorcycling.

| | | |
| --- | --- | --- |
| Simple waist strap | Well designed mouthpiece |  Internal Storage |
Kriega Hydro 3
£89 | www.kriega.com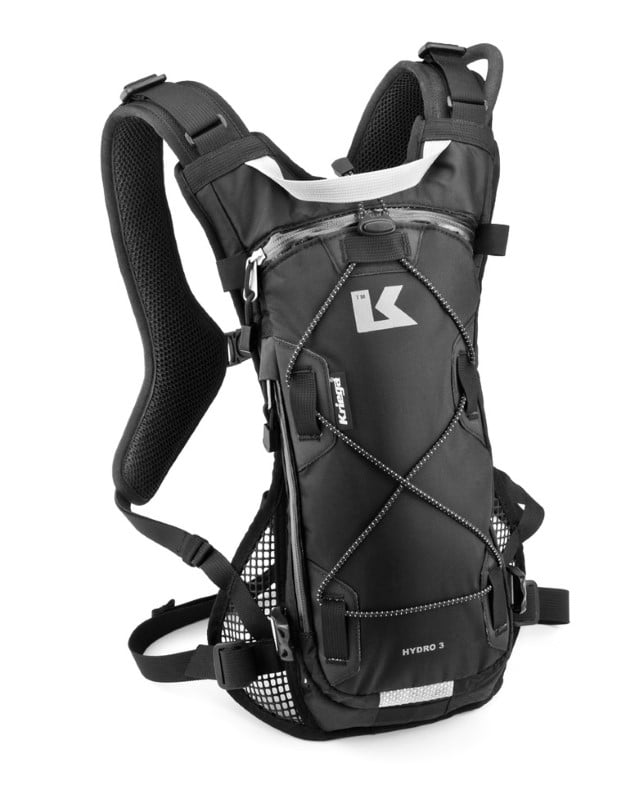 I'm a big fan of Kriega products, and the Hydro 3 on test does not disappoint. It's not cheap, but it is very well made, looks great and comes with a 10-year guarantee. It offers a massive three-litre bladder, which is essential for those long trail riding trips in hotter countries, or if you've got a long motorway ride planned. 
The hose is connected by a quick push mechanism, which is great and enables you to remove the bladder easily and quickly to fill it. The hose is secured in place on the shoulder strap using Velcro so that it can easily be pulled free if you need more length.
The mouthpiece is a bit on the small side and is fiddly to use, requiring two hands to operate initially. Once you get the hang of it it's not so bad, but if you have dirty, gloved hands it could be off-putting. 
The Hydro 3 only has one litre of storage space, but this can be increased by adding the US5 (extra five-litre) or US10 (10-litres) tail packs if required, and these come at an extra cost. On the rear of the pack, you'll find elasticated mesh which is very useful for securing items too, though it doesn't feel very secure and I wouldn't put anything remotely valuable here when riding. 
I found the Kriega extremely comfortable to wear, and it has lots of adjustment if required which helps you to get the perfect fit for your body. I especially liked the way the chest strap attaches with a simple push-button buckle. All zips throughout have glove-friendly toggles. 
Along with the Leatt, this is one of the only backpacks in this test to have waterproof zips, although, with a small capacity of one litre, there won't be much in your pack to worry about getting wet! If you want something that's purely focused on hydration, with minimum storage and weight, then this is ideal. 
IN A LINE Top quality product, but it comes at a price.

| | | |
| --- | --- | --- |
| Bladder to hose attachment | Easy to fill | Velcro holds the hose in place |
Camelbak Mule NV
£94.99 | www.zyro.co.uk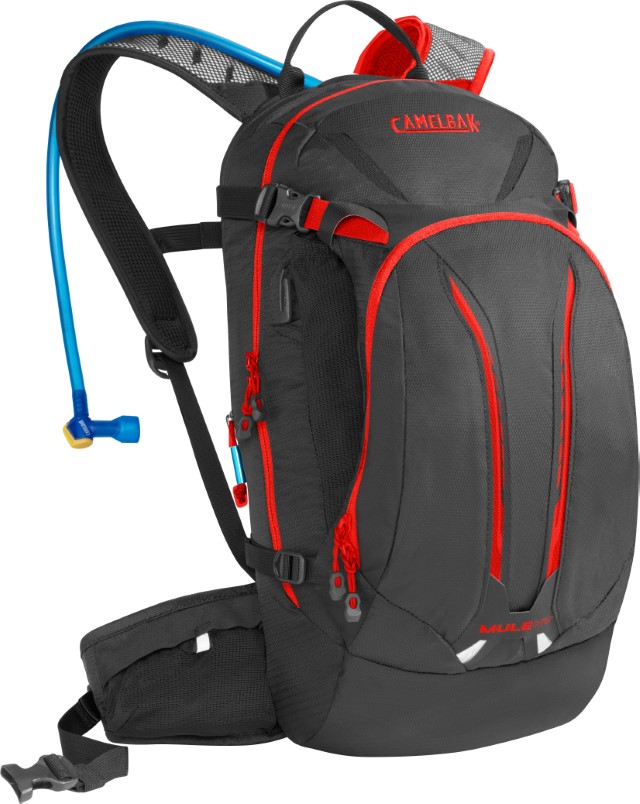 The Camelbak Mule NV is a good bag with an excellent NV back panel, which is advertised by the company as being the most advanced and breathable back panel on the market. The system is designed to hold the bulk of the load away from your back for maximum ventilation, with a special lumbar support that helps distribute weight across the back.
The NV panel pivots and moves with your body in all riding positions, and provides a very stable load. 
The pack has a 12-litre carrying capacity, which is plenty for a day on the trails. The main storage compartment is accessed via a zip which runs along the top of the bag, and once opened you'll see that there are a couple of useful internal pockets.
On the outside, there's another zipped pocket which is great for storing smaller items, like a wallet. A further zipped, and lined pocket at the top is perfectly placed for cameras and phones. 
The shoulder straps are very comfortable, and the waist strap even has a small zipped pocket which you may find useful. You also get an external rain cover which folds out from the bottom of the bag and does a good job of protecting the Mule from the wet stuff. 
The Mule holds a massive three-litre bladder, and this sits in its own compartment at the rear of the bag. This has a nice, wide screw top opening, which makes filling up easy, and the hose attaches through a push fit, and it's easily removed.
The mouthpiece is fairly easy to use, with a yellow on/off toggle that's far enough from the mouth so that you don't contaminate it with your dirty gloves. 
IN A LINE Fantastic hydration system with great bladder and plenty of storage.

| | | |
| --- | --- | --- |
| Well thought out back system | Plenty of storage | Comfortable straps |
Leatt 2.0 Trail WP
£102 | www.leatt.com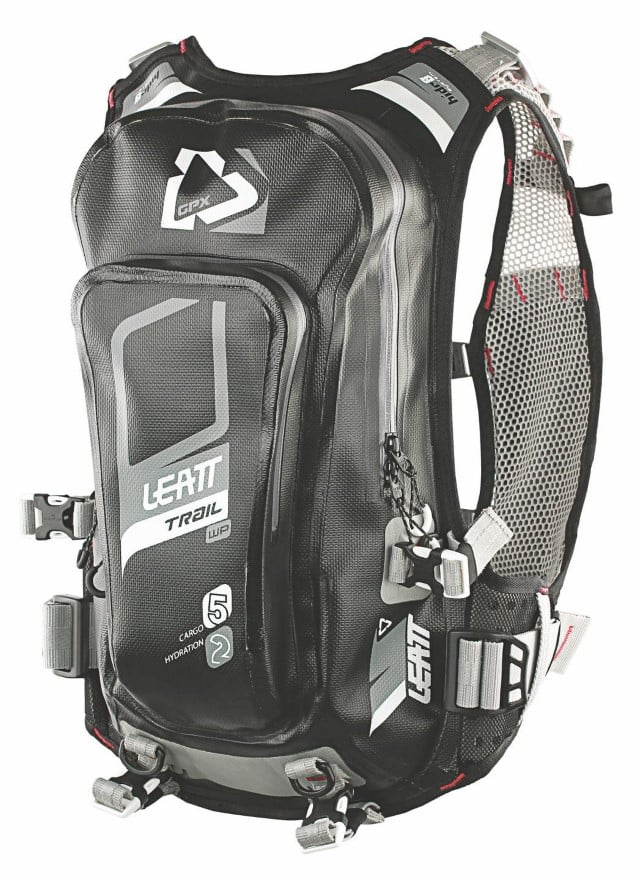 At £102 the Trail WP is the most expensive hydration pack in this review, but as soon as you lay your eyes on it you can see just how much thought has gone into the making of it.
Leatt is a South African brand that has been manufacturing motorcycle accessories since 2004, and the 2.0 Trail has been designed to offer lightweight off-road performance while maintaining full weather protection for your valuables thanks to a fully waterproof system which consists of a tough, durable shell and water-resistant zips. 
Offering enough space for a two-litre bladder (included) and five-litre storage capacity, the 2.0 Trail is ideal for a day out on the bike. The bladder is very easy to fill up and secure, and it's housed in a very well designed pouch that's insulated to keep your water cool in the summer, and ice-free in the winter. 
In terms of comfort, the 2.0 Trail WP excels, being exceptionally comfortable to wear. The back system is designed in such a way that airflow is impeded as little as possible, allowing your back to keep as cool and sweat-free as can be, while the shoulder straps are ergonomic and mesh-backed.
The chest harness is designed with a positive user experience in mind, and comfort is top-notch, while two easily accessible zipped pockets allow you to keep your essentials close to hand. 
The hose is plenty long enough and well designed to avoid leakage, and it really feels as though so much time and effort has been put into the 2.0 Trail to make it an exceptional product. It might be expensive, but it's like the Rolls Royce of the hydration pack world. 
IN A LINE Superbly featured and specced, but this comes at a high price.

| | | |
| --- | --- | --- |
| Unique chest harness | Insulated bladder pouch | Water-resistant zips |