Greg Stone and his wife Jess take some time off with a dramatic ride to Semuc Champey
"There are two guys carrying a pig!" Jess said, breaking in excitedly over the intercom. She was riding up ahead, followed closely by Keith, and I was last in the caravan a few hundred metres behind. I had given them extra room because I had come to a difficult, rocky descent and a handful of my best falls have come when someone in front of me slows or stops unexpectedly on a downhill.
I had extended the distance between us because I had bookmarked this as a, particularly challenging stretch on the previous day during our ride into Semuc Champey, Guatemala. The day before, on our way in, it was a rocky, jostling, pockmarked climb that I was sure would be plenty tricky on the return. As it turned out, two additional complications presented themselves as I emerged from the curve at the top of the crest.

First, a pair of large dogs that had been roused from their midmorning slumber under the shade of a zinc-roofed house by the sound of Jess and Keith's passing, took up furious pursuit. They dashed at me like a pair of hungry piranhas and then wheeled around to snap at my heels.
In response to Jess' announcement about the pigs, my confused response while evading my pursuers was, "A pig? Is it alive or dead?"
"Well, it doesn't have a head," returned Jess matter-of-factly.
I opened up an uncomfortable measure of throttle in order to escape the mongrels and, with the mere quantum of my brain not consumed by the task of riding, I began pondering. 'Why would they be carrying a headless pig? I haven't heard of any strange pig customs in Guatemala.'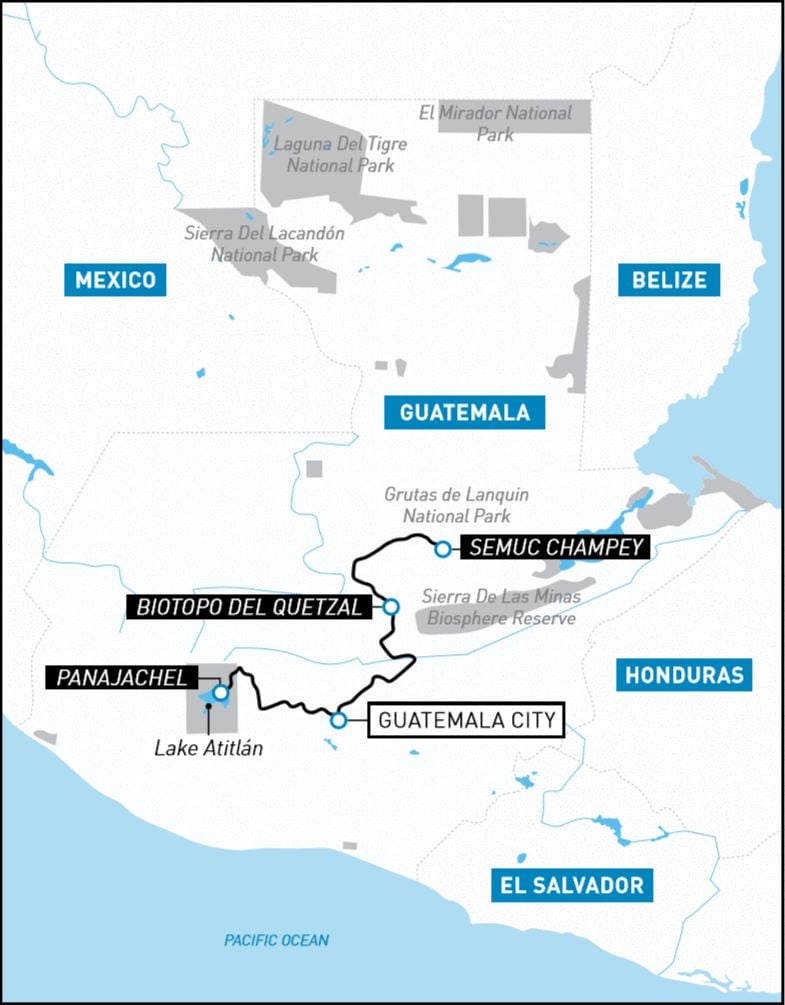 Then I raised my view and discovered a family, including two small children. They were in traditional dress, or traje, and they were fanned out across the breadth of the road.
'No. No bizarre pig customs that I know of in the Mayan culture,' I decided as I drew in my clutch, braked with the rear, and revved the engine as the universal way of saying, 'please scatter.'
The family made no effort to tighten their formation, and by slowing I only emboldened the dogs to draw closer. I let go of the strange question of the headless pig and performed a forced recalculation of my route. The only option was to hug the right margin through the worst of the teeth-clattering rocks and divots.
'Really? A headless pig?' I thought as I finally emerged at the base of the hill. I drew a deep breath, regained speed, and left the dogs to concede their chase. Moments later I was upon two men carrying a headless carcass hanging from a spit.
"Oh, yeah! They´re having a roast!" I said as though I had solved an intricate puzzle.
"Of course," said Jess. "What else would they do with a pig on a stick?"
Our four-day round trip to Semuc Champey began two days earlier in Panajachel. It is a town of some 15,000 nestled along the shore of Lake Atitlán and it is where Jess and I are on an extended stay, taking advantage of the opportunity to work remotely. With only a week between film jobs, our friend, Keith Pokorski, decided to fly down from Atlanta for a visit.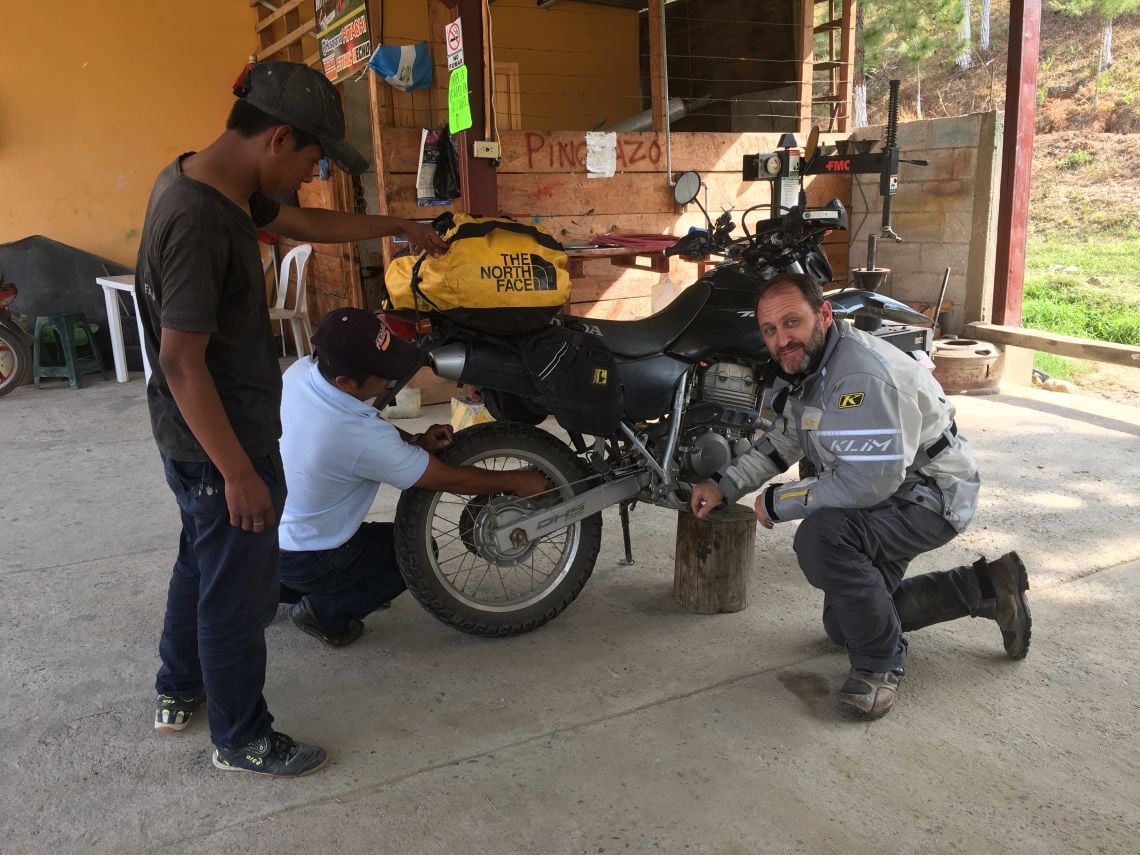 We met Keith a few years ago in New Orleans when he parked himself beside our road-scared GSs outside a bar one night being curious to meet their owners. Back home Keith rides a 2003 Dakar, but this time he arrived at our vacation letting mounted on a 250cc Honda Tornado that he rented from Motorcycle Adventure Guatemala in Antigua.
We only allowed him a day to settle in and absorb the spectacular views of lake and volcanos; the smells of tortillas, pastries, and coffee; and the colourful assortment of Guatemalan handicrafts and backpackers, retirees, and oddball peripatetics like Jess and me. Then on Friday morning before dawn we loaded our bikes – Jess, her 2013 G650GS; me, my F700GS; and Keith on his rented Tornado – and we set off towards Semuc Champey.
Semuc Champey is a national monument where the Río Cahabón river forms into a series of pools of vivid turquoise water and where there are nearby caves outside the town of Lanquín. Semuc Champey is located a mere 90 miles to the northeast as the bird flies, but the overland reality is actually 270 miles and well over 10 hours on Guatemala's sinuous highways and rough mountain roads.
The preferred route sets you going north through Chichicastenango, which is renowned for its local market on Thursdays and Sundays, past Santa Cruz del Quiché and its scenic overlooks, and then wheeling east at Sacapulas with its noisy metal sheeted bridge over the Río Chixoy. Further on between Uspantán and Santa Cruz Verapaz there is a 20-mile stretch of potholed dirt that had caught Jess and I quite by surprise some months prior on our ride into the country.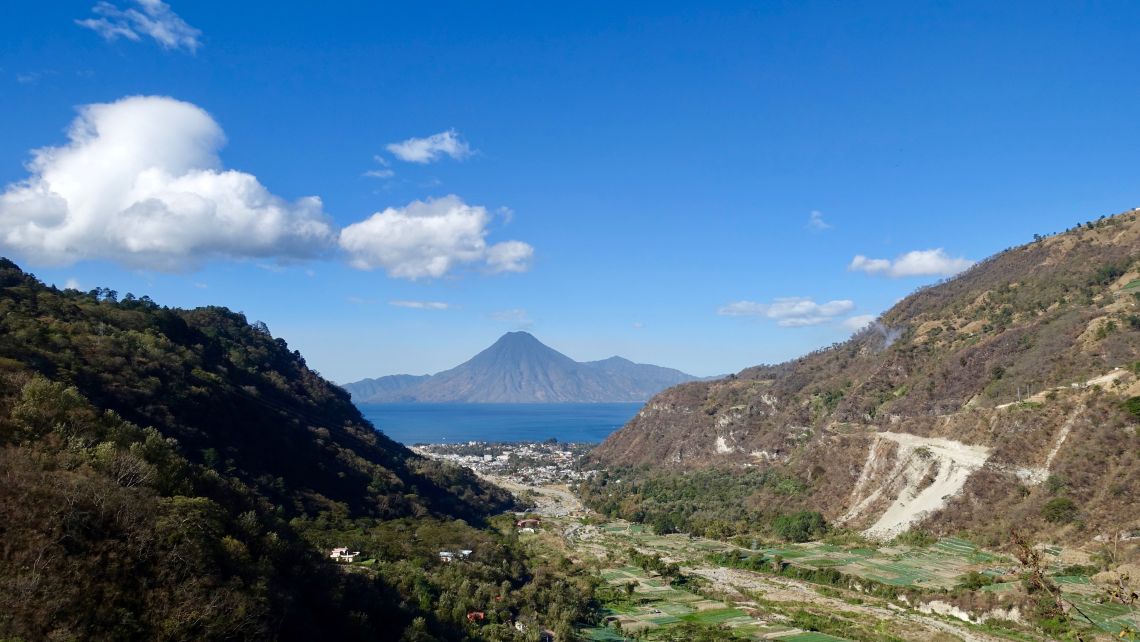 At that time, we selected it as it was 60 miles shorter than the alternative, which, though actually faster, requires traversing Guatemala City. This time, however, the 'City' was a necessary waypoint on our route because Jess needed new tyres.
The Metzler Tourance tyres on Jess's 650 were an ideal pair of rubber boots for the torrential rainstorms that frequently complicated her daily commute back when we lived in New Orleans. But by now they were squared off at the edges, nearly bald of all tread, and too little textured for the terrain that is typical to Guatemala.
After leaving our bikes in the care of Bavaria Motors, we hoofed it a few blocks down Avenida Próceres to the shopping centre. Próceres was once the nicest mall around but has long since been eclipsed by the likes of Paseo Cayala, Oakland Mall, Plaza Fontabella, and La Noria. For us, it was the perfect place to grab some fast food, in which Jess and I shamelessly indulge whenever we find ourselves in the City.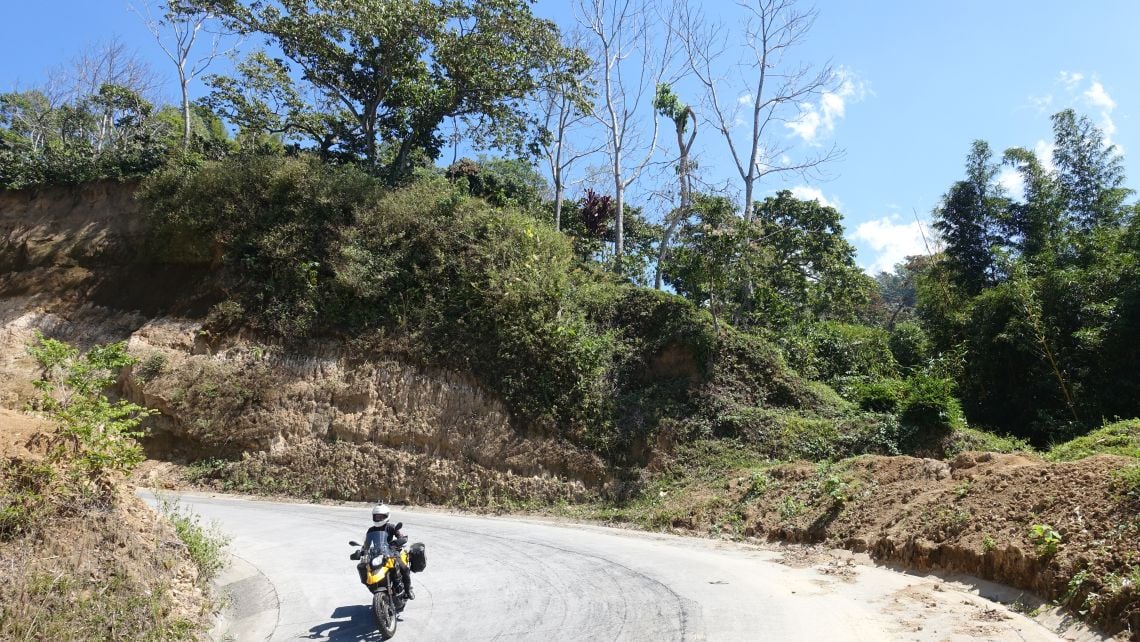 By early afternoon Jess had two new Heidenau tyres and a fresh set of rear brake pads installed and we were suited up and ready to push on. From Bavaria Motors we made our way north through the city traffic towards Carretera Jacobo Árbenz Guzmán.
As we proceeded northeast out of the City, I remembered our friend, Eduardo Santoalla (who owns Chiltepe Speed Shop and had recently completed the transformation of an R1150GS into a scrambler) had warned that the Árbenz Guzmán highway was under major construction and routinely bottlenecks into horrendous delays.
Less than an hour outside the City we came upon the seemingly endless queue of parked vehicles filled with despairing commuters and ambulant vendors hawking bottled water, ice cream, charging cables and plastic mobile phone cases. Taking full advantage of being on motorbikes, we hugged tightly to the imaginary divider and advanced until we came to a tight pack of small motorbikes and a neon vested construction worker.
Our timing was fortuitous because we had only to wait for about 10 minutes. Unfortunately, these were a very uncomfortable 10 minutes for Keith who had to maintain a grasp on the handlebar to support his Honda because the kickstand was too tall for the camber of the highway.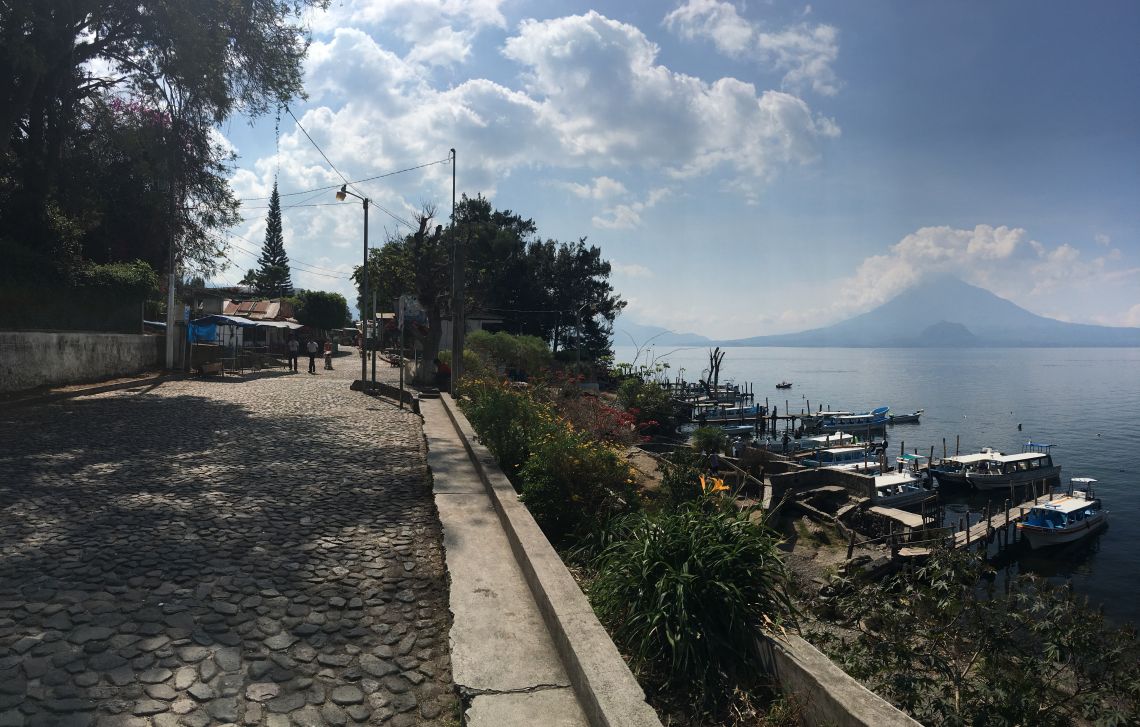 Isn't it always that the signal to go comes entirely without warning when you're stopped for road construction? This time it caught Jess snoozing and in full panic, with an impatient semi bearing down on her, she threw on her helmet and bolted off with earplugs, gloves, and sunglasses stuffed into her riding jacket.
In Guatemalan construction zones, the wait is only half of it. Once on the move again you must contend with gravel, shards of broken tarmac, and impatient truckers dead set on making up lost time. For me, the worst is what the endless dust clouds do to my contact lenses and I closed every vent in my NEXX XD1 helmet to protect from it. Soon, however, we emerged from that travail and turned onto the CA14 highway to meander west and then north past the town of Morazán and into the Biotopo del Quetzal.
This is a natural reserve of cloud forest, which is just what it purports to be: a tropical or subtropical, mountain forest of dense cloud cover at or below the canopy. This particular cloud forest, which is named after Guatemala's national bird, the quetzal, is where you're supposed to be able to catch a glimpse of said awkward, colourful, long-tailed avian but, if the comments on Google Maps are any indication, very few visitors actually do.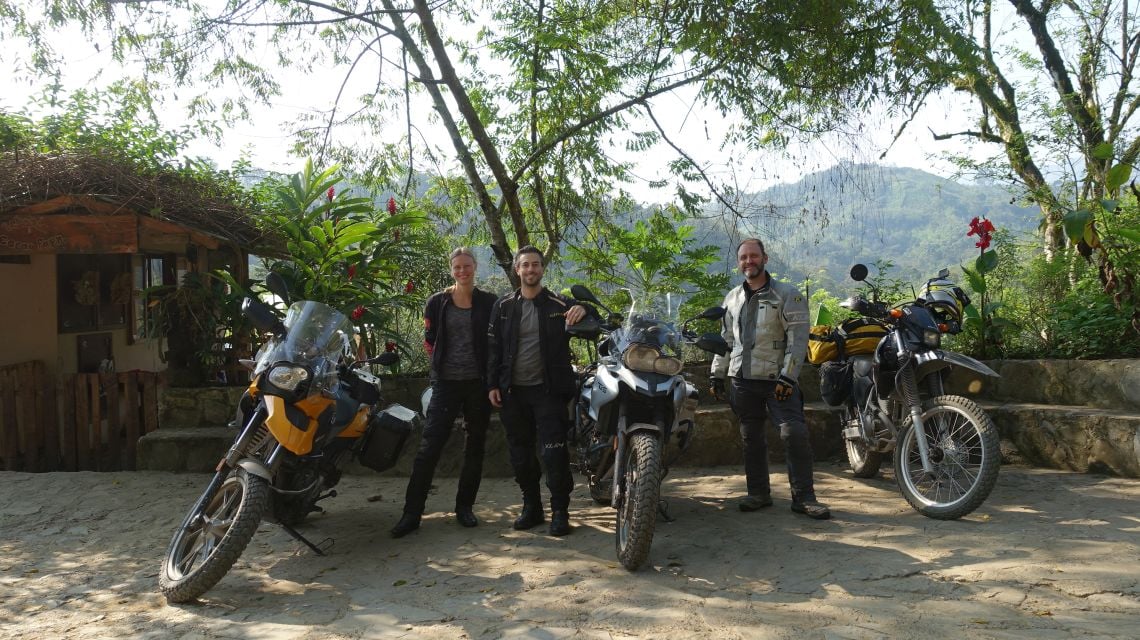 This 45-minute ride through the cloud forest was the highlight of the day, and the point at which I was finally able to transition from the workday to the moto travel mindset. My mechanism is stubborn that way, and it is always near the end of the first day before I can leave the routine preoccupations behind and embrace a this-is-what-you-put-up-with-the-other-shit-for mantra.
Shortly before dusk, and not a moment early for my aching posterior, we arrived at Ram Tzul Resort. As we arrived in loose formation we were greeted by two vigilant watchdogs – a husky and a lumbering mutt – and a façade that greatly underrepresented the idyllic, arboreal paradise we discovered beyond.
We settled into a pair of rooms built into the forested hillside and supported on stilts so that it felt like a mix between treehouse and winter cabin.
"The water is hot and I love the exposed rock!" Jess shouted from inside the shower as though formulating the positive review that she would submit to TripAdvisor.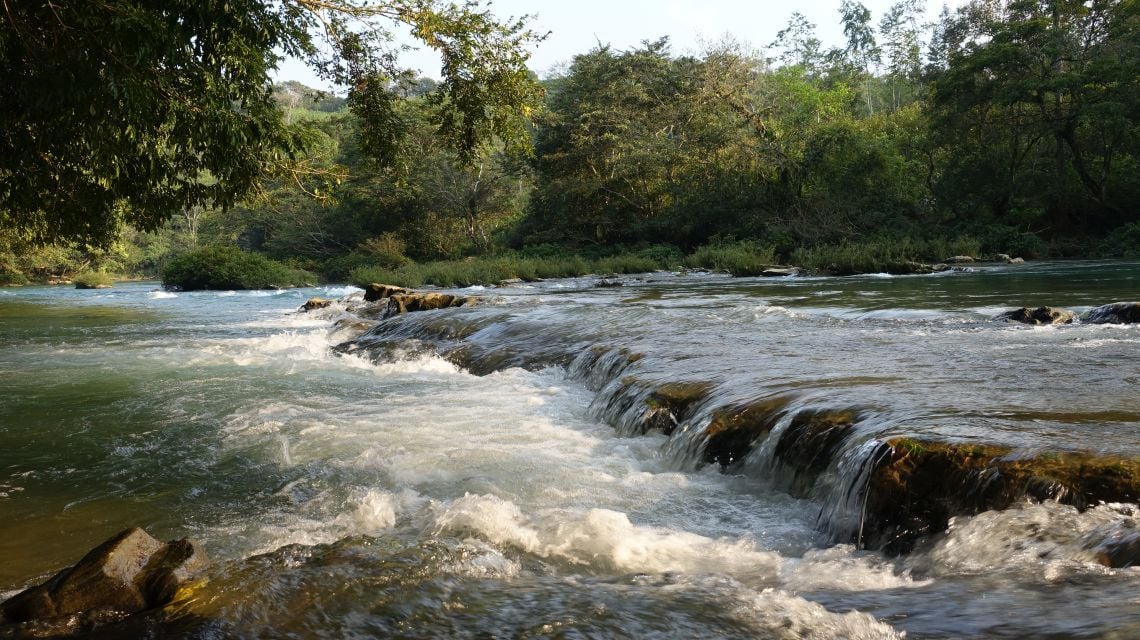 That evening in the hall that doubled as restaurant and reception area, we sat beside a fire and I ordered the homegrown ocellated turkey, which is an indigenous offshoot of the species found only in the Yucatan, Guatemala and Belize and, if somewhat too gamey for my palette, was doubtless an inspiration to Dr. Seuss.
The next morning we enjoyed the light weekend traffic as we descended north out of the cloud forest. Soon we found ourselves in an entirely different microclimate where the trees were stunted and sparse and the hillsides were mostly earth and scraggly bushes. At Tactic the highway sweeps west and then north again. We skirted the hub city of Cobán and followed the CA-5 spoke in a sinuous arc northeast to Pajal where the tarmac stretch of the Highway 5 ends and the rocky CA-6 branches off sharply.
By now we had descended some 500m from the cloud forest but, after a cold drink from the roadside store at the bifurcation, the real plunge would begin. Over the next 15 miles we would descend 800 metres and the cool mountain clime would transform into the searing, humid tropics that you expect of Central America.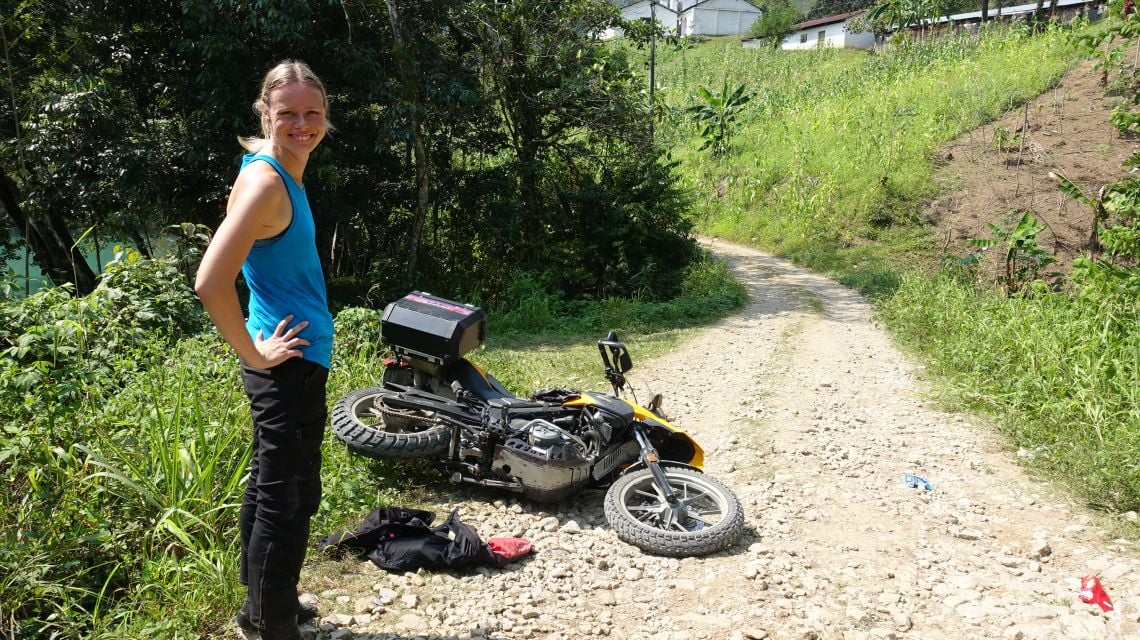 Just off the tarmac, the CA-6 (hardly substantial enough to merit 'highway' status) makes its first prolonged descent southwest before swinging into a sharp U-turn and then a long meander east along the northern hillsides until the town of San Agustín Lanquín.
"De aquí hasta Lanquín está duro pero bien," the young attendant who sold us drinks during our previous break had said. 'From here to Lanquín it's hard but ok.'
True to his description, we found the road here was very rocky, but hard-packed and almost entirely free of sand or gravel so that you could comfortably negotiate the winding descent by maintaining a low gear and occasional light rear braking. What we also found was that after each time the road cut narrowly between the hillsides it then opened onto an idyllic landscape in which the sporadic homesteads and farmhouses did more to enhance rather than spoil the scene.
The first seven miles went by all too quickly, and before long we had regrouped on the cobblestone main road in Lanquín, adjacent to what was decidedly a very modest cathedral. From here we left the so-called 'highway' CA-6 and followed the route in a curvy, southeastern sweep on what I can find no other name for, and so will call 'road to Semuc Champey'.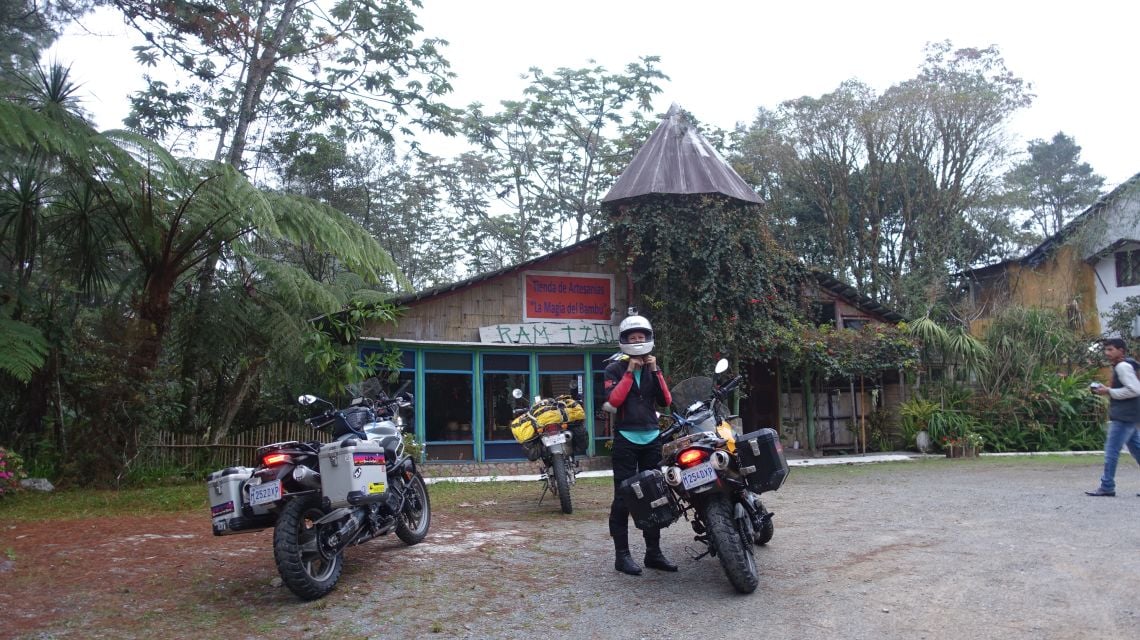 This stretch is what the shop attendant had gravely described as "bastante duro" (quite difficult) "and," he continued, "especially on a moto. People usually use a four-wheel drive."
"Are you sure you want to tackle this?" I asked Jess when I returned to the table with the news from our local informant.
"This is not a have-to, right?"
"I'll see when we get there, but I'm accepting this challenge," she replied, referencing the audiobook she was listening to, and among the themes of which was acknowledging the difference between accepting a challenge and feeling forced into it.
Again, true to our informant's description the, Lanquín-Semuc Champey road was categorically rougher, rockier, and more precipitous in its slopes. This meant riding slower, which, combined with the lower elevation, meant that Jess in her mesh riding jacket was the only one not dripping down her forehead, into her eyes, and off her nose.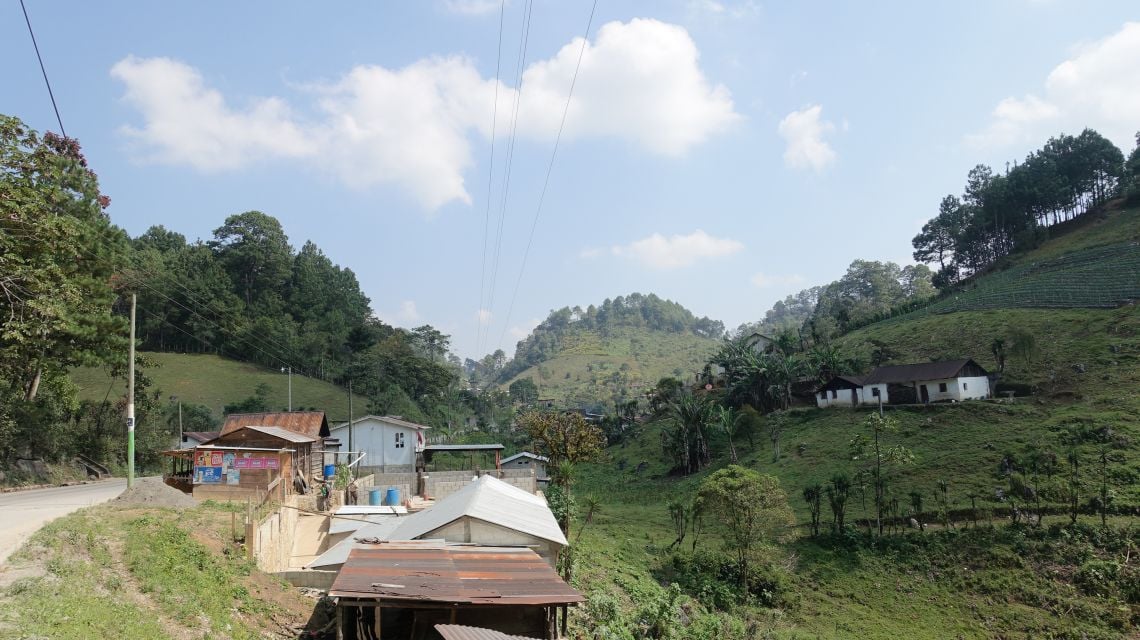 The road was thickly forested and mostly nestled between opposing hillside. So there was little in the way of panoramas, which was just as well because no one had the spare bandwidth to take notice. Also, the most daunting slopes were paved in parallel tracks textured as though passed over by a comb and little wider than the breadth of a truck tire. In our estimation, these did little to spoil the purity of the off-road experience because the untamed road between and on either side hinted at the bone-rattling, suspension-busting brutality that we would have endured otherwise.
"The construction firm said to the municipality, "Look, you've got enough funds to pave a one-mile stretch properly, or a pair of tracks at the nasty bits," I joked over the intercom.
"They made the right choice," Keith replied dryly. "I just came to a pickup that wouldn't yield and I had to cross from one track to the other."
Five nail-biting miles down the 'unnamed road', an offshoot appears and this is the last mile-long gauntlet you must run to reach Utopia Eco Hotel. In our earlier series of exchanges before booking the hotel, Francisco had assured us that "the road is very passable on a motorbike."
His statement is indisputably one of fact, but that belies that this is definitely the hardest part of the trip. A few hundred metres and the road takes a surprise sharp turn that opens into a sudden descent over ferociously jagged rocks. This was the first time in the ride that my sweat tasted more of fear than exertion and I blurted a warning that must have conveyed this.
After this particular gut-wrencher, the route restores your motivation with a tantalising glance of turquoise water through an opening in the trees. Then, just as suddenly, you come to another ugly kink in the ribbon where the ascending rocks look hungry to gobble unwary engine guards and handlebar protectors.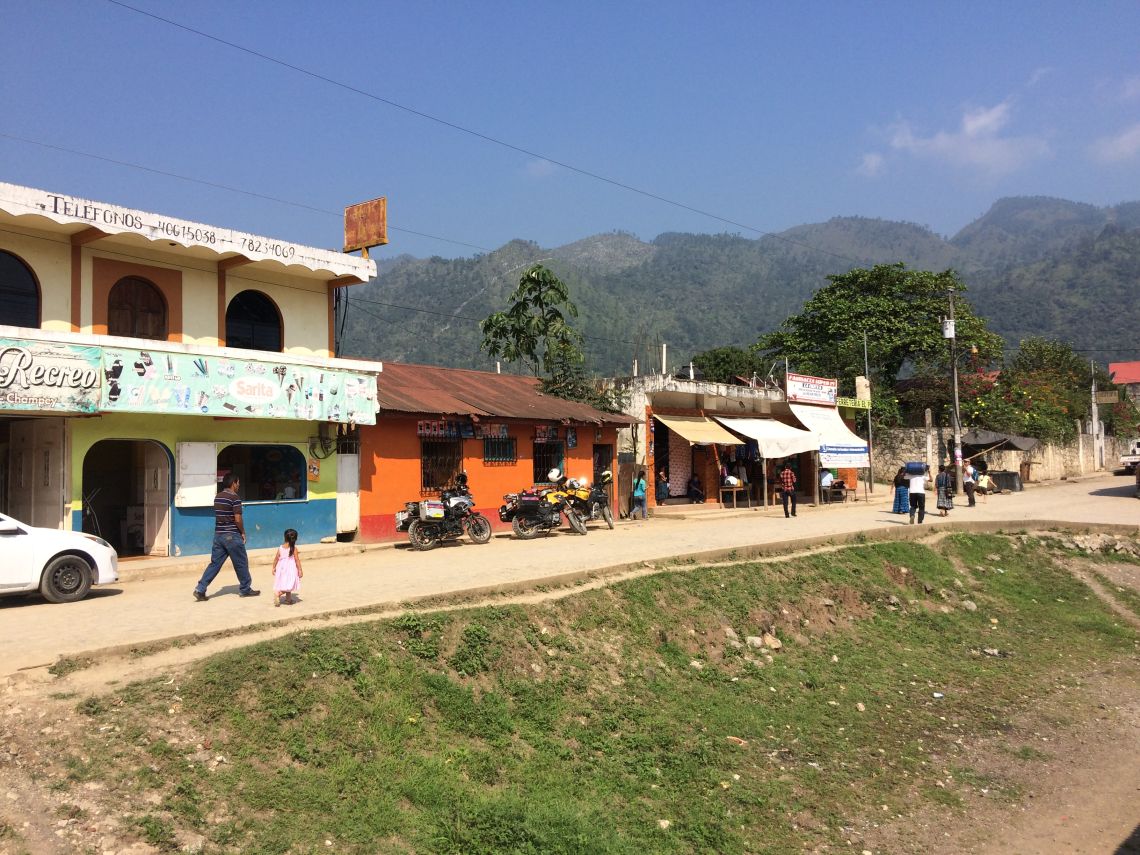 Over the intercom, I heard Keith and then Jess confirms that they had jumped the first hurdle and, after crossing with an oncoming car, a moment later I leapt the second hurdle and was coasting on a smooth ascent. I held my breath until I saw Keith emerge through my mirror, but then we heard Jess express an absent, "Oh, no!" followed a moment later by, "Sí, está bien," Yes, it's ok, in response to an unseen questioner.
Almost immediately I locked my rear wheel and then dashed back on foot as quickly as I could in knee-high dual-sport boots. Jess's G650GS, affectionately named Moxie Thumper, was sprawled on her left flank and propped on a pannier. Jess stood beside her rubbing at a bruised forearm and smiling sheepishly.
"That driver must have thought there was no one else after Keith because he moved forward and cut me off and I must have caught a rock when I avoided him," she explained.
A moment later we had Moxie righted and her Trax pannier re-secured with zip-ties. Engine guard and handlebar protector were unscathed and a bent foot shift-lever was easily straightened with the road tools on hand.
From here, the road exerts one last effort to thwart you: the ascent that would challenge me in the reverse with barking dogs, a phalanx of pedestrians, and 'two guys carrying a pig' the next morning. Then it was over a final summit, down and then up again, and then lastly plunging down along parallel cement tracks made of jarringly gapped segments until we pulled almost screechingly into Utopia Eco Hotel's small carport.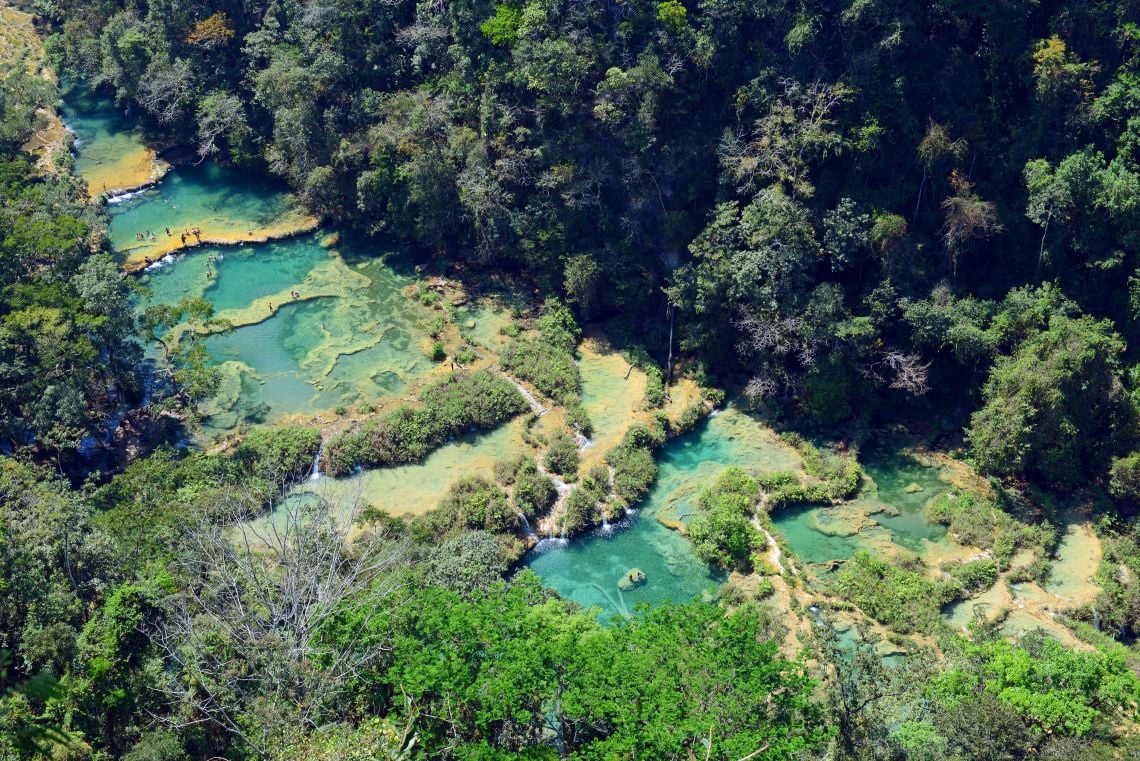 Keith and I sat for a long time on the stone parapet beside the bikes discussing the day's final punishing travails.
"A lot of guys who ride in hire a truck from town to carry them out," suggested the hotel owner's mother with whom we had struck up a conversation."Let's just hope it doesn't rain tonight," was Keith's concluding remark.
It was midafternoon by the time we had lubed the chains, retightened some loose bolts, and slipped out of riding gear and into our swimsuits. The Semuc Champey Visitor Center is another mile on from the turnoff to Utopia. We decided that even that small distance on the hotel's pickup was further than we cared to stray, so we followed a footpath down to a small beach where the river slows at a bend and collects in a deep turquoise pool.
For a long time, we sat top-half hot and bottom-half cool in the water, observed only by a young woman and her daughter who washed clothes on the far bank. Presently, her husband returned with a pair of fish freshly caught from the river using only hook and line. She gathered her washing and the infant and they disappeared together into the trees, leaving us alone in the water.
---
The Bike
I ride BMW's peculiarly-named F700GS, which is actually a detuned 800cc. For me, it had to be a BMW because a borrowed F650GS was my jaw-dropping introduction to adventure riding.
The F700 is my Goldilocks: two cylinders are smoother than a 650 single while the taller F800 would leave me on my tiptoes like an inept ballet dancer. She may be the light adv little sister to the 800 but my F700 has never let me down despite my lack of skill and some rather ill-conceived off-road excursions.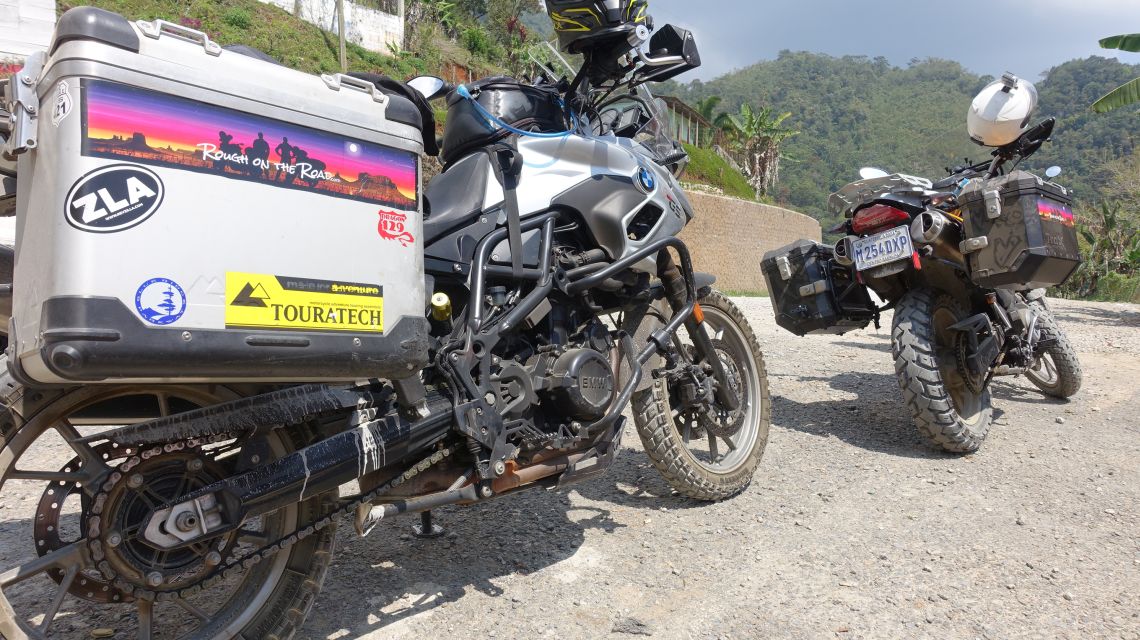 ---
Want to ride to Semuc Champey? Here's how you can…
Get there
At the time of writing, the most reasonable flights we could find to Guatemala City were £806 from Heathrow via Los Angeles, with Delta. You can get cheaper if you're willing to put up with more than one layover, and this will take the cost down to roughly £770.
When to go
The weather in Guatemala varies depending on which area of the country you're visiting, but generally, the dry season (which is when you'll want to visit) is between November and May.
Bike rental
While we rode our own bikes, Keith rented his from Motorcycle Adventure Guatemala (www.rideguatemala.com), where you'll be able to get either a KLR650 or a 250 Honda Tornado. Ask for Evan. If you have a deeper wallet or dogmatically will only ride German, the BMW dealer, Bavaria Motors (www.bit.ly/2neMYiA), offers rentals.
Accommodation
In Guatemala City, we like the Biltmore (roughly £60 per night). In Panajachel, try Hotel Jardines del Lago (£45), Hotel Dos Mundos (£50), Hotel Regis (£25) for a bit more comfort or Mario's Rooms (£13) as a less expensive option. In the Lanquín area, try El Retiro Lodge (£10) but, if you want to make the full off-road ride into Semuc Champey, Hotel/ Hostel Utopia (£38 for a private) is the best we found and does a nice family-style dinner.
Trustworthy mechanic
Let's hope you don't need one but if you do, there's a nice little Suzuki shop in Panajachel and Chiltepe Motors Speed Shop (www.chiltepemotors.com) in Guatemala City is a good choice, and they do restorations too.
Greg's favourite bike mod
Despite 46,000 miles without a break-down (knocking on wood here), I want my road tools, puncture kit, and mini compressor with me even when I go sans panniers. To this end, I discovered two key mods. First, moving a small sensor aside lets my Stop & Go mini-compressor wrapped in a waterproof sack fitting snugly in the registration compartment behind the seat.
Second, the Moto Arbo aluminium tool tube is much better than the ubiquitous plastic sort and, with some key help from a local Guatemalan metalworker, secures solidly to the OEM Vario case rack mounting points.