This Issue: Salisbury Plain, Wiltshire and Shropshire Trails Words and photos: Mike Beddows
57 – Salisbury Plain, Wiltshire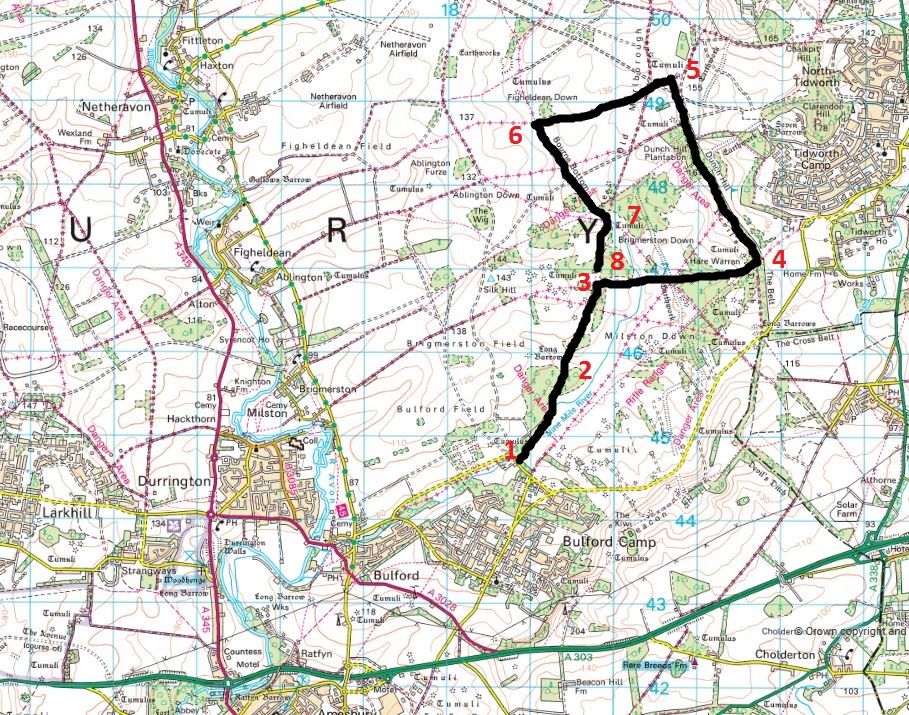 Salisbury Plain has hundreds of miles of legal trails crisscrossing over it, and it is a fantastic place to ride. Some trails are easy and graded (like the perimeter road that encircles the Plain now), some are well rutted and muddy, some are wet and have plenty of puddles, and some lead to tank pit areas. A word of warning, if the puddle looks big and deep, it probably is, so care is required. It's far safer to probe the depth-first with a stick than lose your bike, and I am serious.
There are a few puddles which will swallow your bike up. So, you have been warned. If in doubt, backtrack and find another byway around the obstacle. Don't go off-piste to go around as this behaviour is a problem on the Plain, and if caught you will be severely punished. There are plenty of military patrols in the area. The same goes for any tracks that are not signposted. One good thing about the Plain is that there are 'byway' signs everywhere.
So, if you are not on a signposted track, the chances are you are not on track, so just be careful. That said, stick to the rules and Salisbury Plain is trail riding heaven, and there are no gates which is a fantastic bonus. Red flags can be an issue and if you see a flag flying then it means there is likely to be live firing in the area. Do not venture down byways where there are red flags.
There's still plenty to play on if a section is closed. When I was there a Hercules was doing cargo drops which meant a section was closed and we were directed to ride off-piste to bypass the area by troops on the ground. When the military are on the Plain it's a fantastic sight to see the hardware driving, and flying by. Tanks, 4x4s, trucks, Hercules planes and Merlins were all seen by us during the ride.
We passed a FIBUA (Fighting In Built Up Areas) village and there was an assault going on, so plenty of firing, smoke and flashbangs going off. I've detailed a short eight-mile ride onto the Plain from the south side. Please use this as a start, but I strongly suggest you expand the ride. Just look at the map, there are byways everywhere.
The Route
1-­2
Start near the town of Bulford, about nine miles north of Salisbury. There's a fuel station in Bulford if you need petrol. The trail starts as a wide 4×4 track that heads through woods which soon open up and run at the edge of a farmer's field. It does get a bit muddy (we were riding after Storm Dorris passed through) but isn't difficult.
There are plenty of muddy puddles to splash through, which are nothing more than knee-deep, but if you hit these at speed you will know about it. You pass a track on the left, but there is no byway sign so this isn't legal. Continue down the track. Pass a restricted byway to the right and you enter the plain.
2­-3
The going is fairly fast now. You pass what looks to be a play area on the right. Stay on track, you never know who is around watching. Pass through more trees and the ground becomes harder and faster. Take it steady though, as you never know what's round the next bend or over the next crest. Once out of the trees it's worth stopping and taking in the panorama across the Plain. The views are fantastic in all directions.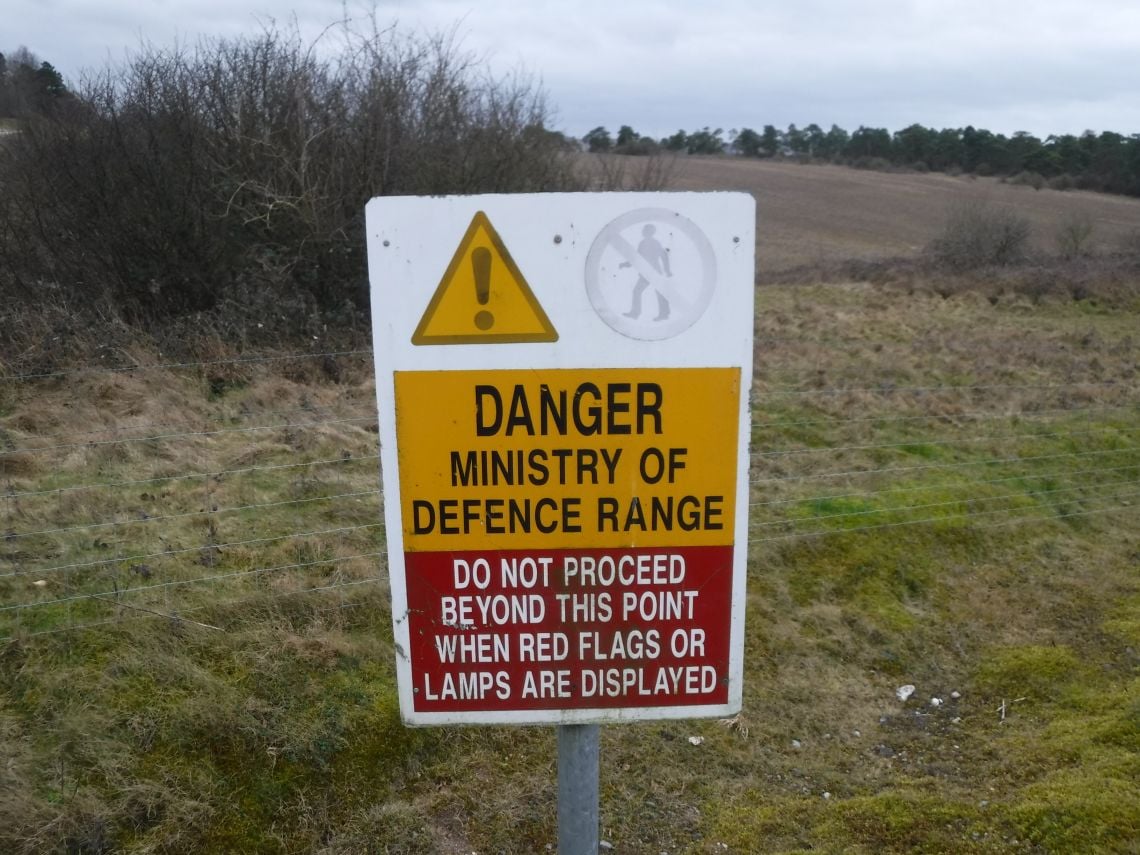 There are muddy shallow ruts now but nothing difficult. Proceed towards the woods in the distance. There's a few nice big muddy puddles which are ok to go through. Stay on track as there are trails heading off all over the place, but these are army tracks. You pass a byway intersection (feel free to go exploring, just keep a note of where you are heading as it can get disorientating with all the byways heading in all directions).
You head between some trees and then as they open up again you come across a really big muddy puddle. Be careful here, it's pretty deep, about thigh deep. It's OK to go through but if in doubt probe it first. Just don't stall or fall off, as one of our group did. Head to the crossroads.
3­-4
You've now reached a gravel road which leads in three directions (straight on, left and right). Proceed to the right. The plan is now to form a loop and get back to this intersection. As it's graded the going will be faster now. It's hard and compact all the way to the end.
As you are going you will pass over a six-byway intersection. Where else do you get an intersection with six byways heading off in all directions? Proceed through the woods and uphill slightly. Stop at the next intersection. Straight on here will lead you off the plain.
4­-5
Turn left. Again the going is fast and the track well graded. There are no muddy puddles. You skirt a woodland to the left and pass a couple of byways on the left leading back into the plain. At the next crossroads turn left.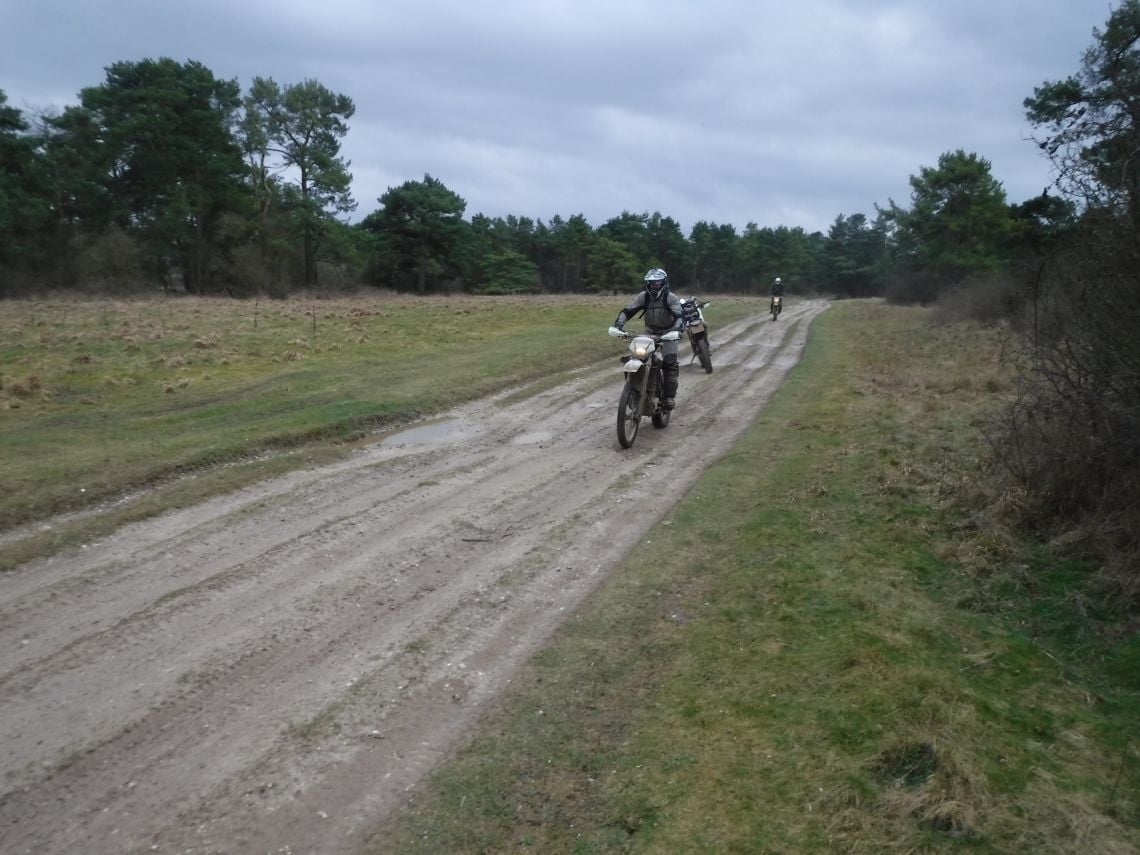 5-­6
Again, you are on a fast gravel road and the views ahead are great. Pass over another byway crossroads and keep going straight ahead. At the next crossroads turn left.
6-­7
There are gates on this lane which may be closed (if they are, either backtrack and find another byway around, or keep going forward and find another way around). After all, it's an adventure.
This leads you along a 4×4 track which is fairly muddy with shallow ruts, a change to the fast riding you have no doubt just been doing. There are a few puddles but nothing to trouble you. Cross over a byway intersection and at the next crossroads turn right.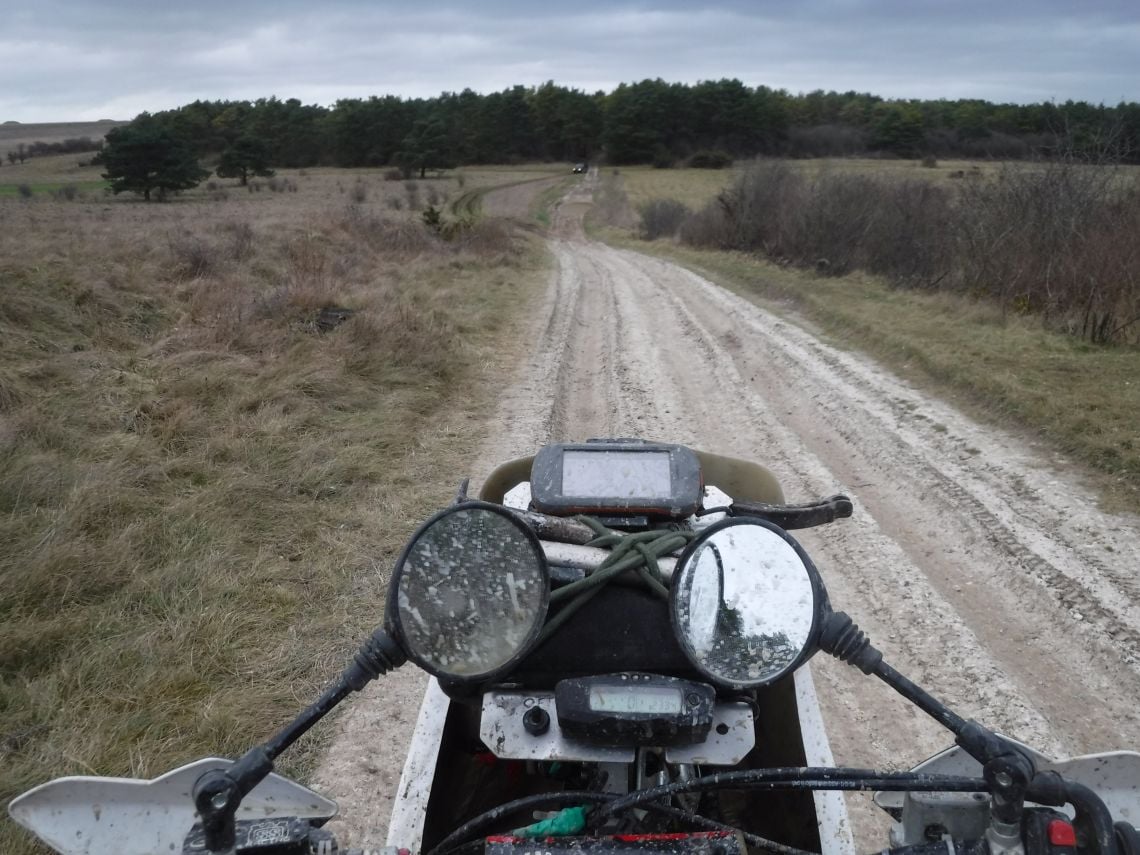 7­-8
After a short section, you will reach point number three again.
3­-1
Complete this section in reverse which will take you safely off the plain. Now go back and explore a few of those byways you passed heading off in all directions.
---
58 – Shropshire Trails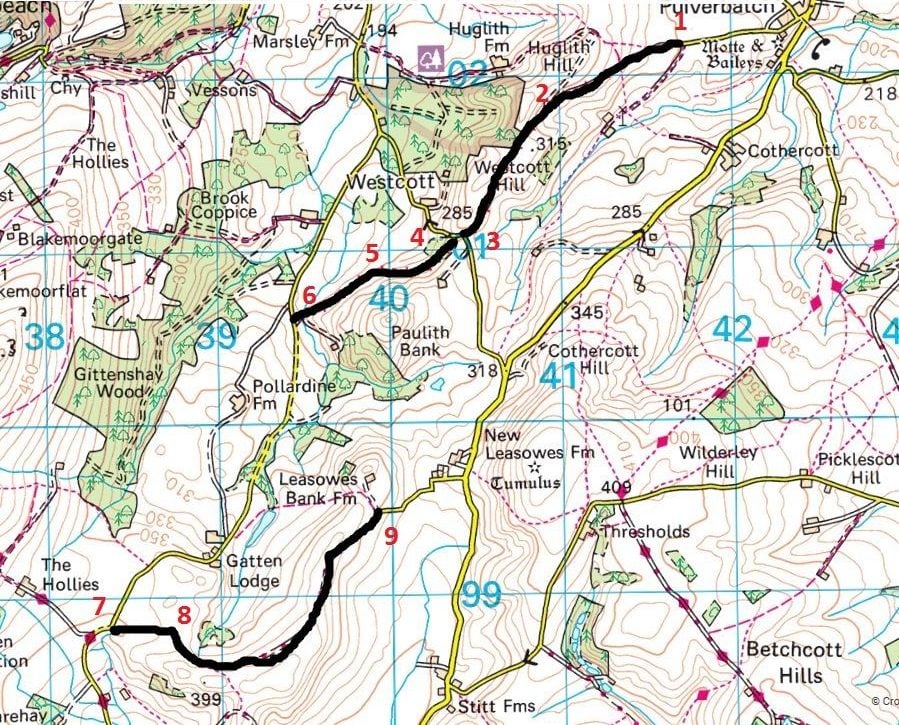 There's a fantastic network of good trails in Shropshire. A loop of 100 – 120 miles can easily be formed around the market town of Bishops Castle. Lukiegar from the ABR forum has run a couple of Shropshire meets here and they have been brilliant.
The three-and-a-half miles of trails detailed here are located approximately eight miles south of Shrewsbury, and I rode them en-route to the last ABC Shropshire meet earlier this year. The first couple are virtually back-to-back and the third is only a short tarmac ride away. The first and third trails are straightforward with the middle one being slightly more difficult, but should not trouble most people if care is taken.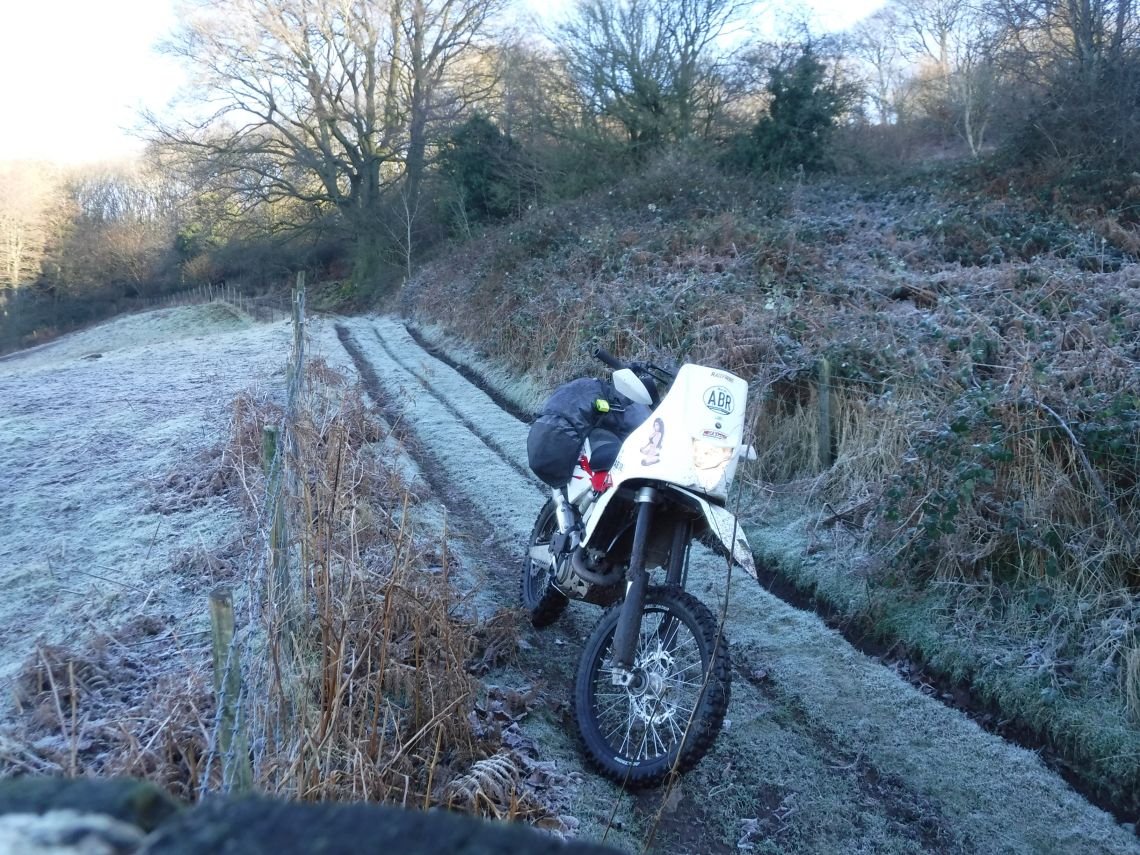 Bishops Castle is an excellent base for exploring the surrounding area, and the bunkhouse/campsite of Fox Holes (www.foxholes-castle.co.uk) is only a short 10-minute walk from the town and is located in an elevated position overlooking the local countryside. A variety of several types of accommodation is available at different budgets if camping isn't your thing.
The Route
1-­2
The trail starts off as a hard compact base running between hedgerows. It's obviously well used by farm traffic and this is evidenced by the number of gates leaving the trail to take farm traffic into the fields.
The trail is signposted with a byway sign winding its way slightly uphill and has a few loose stones. There are magnificent views of the surrounding countryside over the hedgerows that can be seen whilst standing. You pass a derelict building in the field on the right which is a great place for a brew if you carry a brew kit on your trail rides.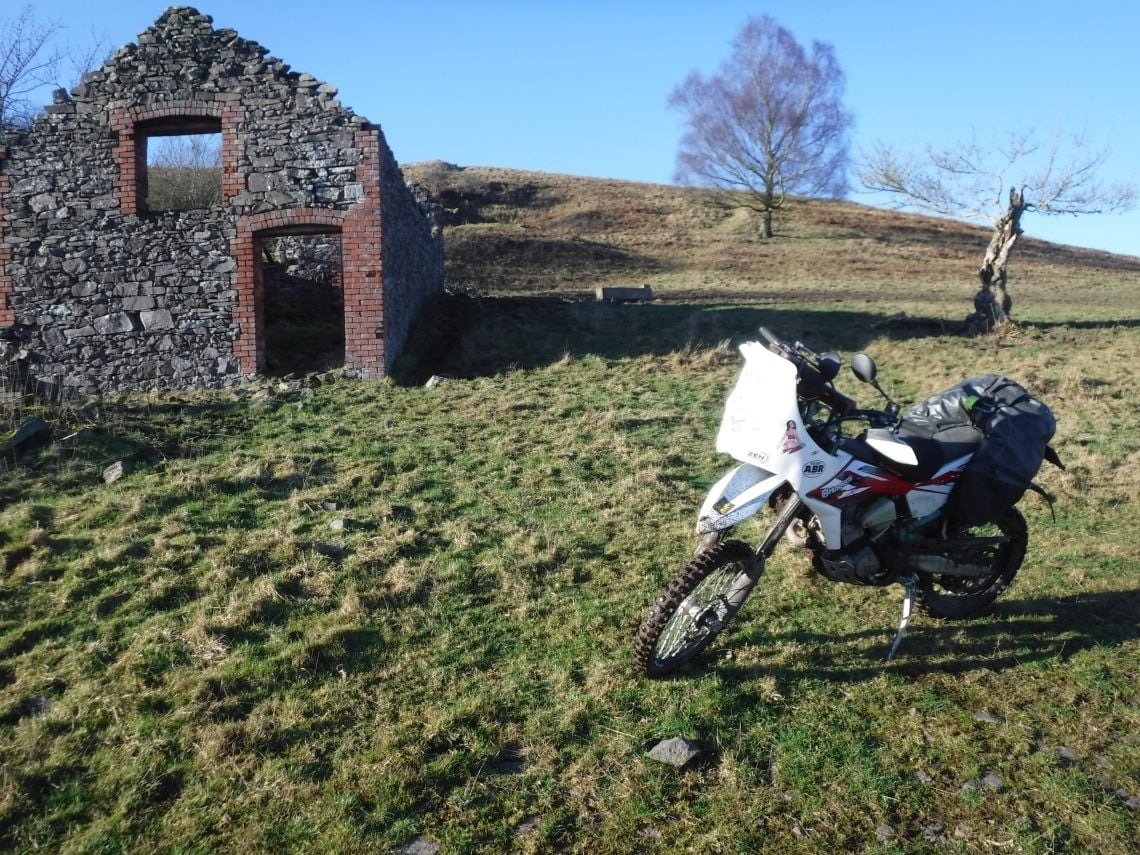 2­-3
The lane continues pretty much as it started. It's still a hard compact track running between hedgerows. Towards the end there is slightly more mud and grass growing in the middle of the track.
3­-4
Turn right and after about just 20 metres of tarmac, the next section starts on the left.
4-­5
There's a muddy entrance and once through the gate the trail appears a lot tighter and gnarlier.  Proceed through woodland but care is required as there is a steep bank to the right. You really don't want to bin it here and end up rolling down the bank.
It would be an adventure trying to recover your bike, that's for sure. There are lots of overhanging branches and muddy ruts. Eventually, the trail opens up to the right, with fields behind a wire fence.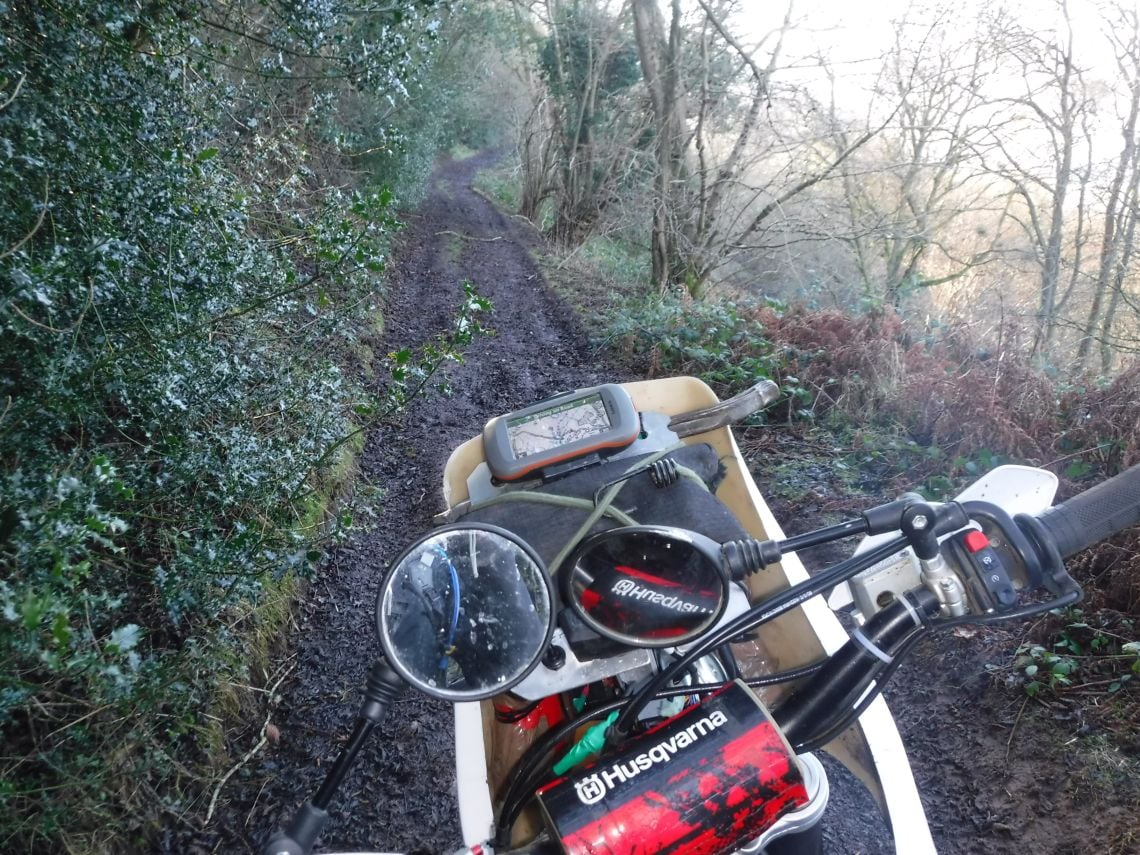 5­-6
It gets ruttier now as you approach the next gate. There are great views into the valley to the right. Through the gate, and there are more ruts with a few muddy puddles, nothing deep though. It's very slippery and the ruts soon narrow and are about six to eight inches deep. The ruts become scarcer, but there's more mud and the going is slippery under a few low trees.
Through another gate, which has a noted red 'Ride UK' sign. The trail is more well-defined now and obviously better used by farm traffic approaching from the opposite direction. Proceed to the end. Turn right onto the tarmac. Go uphill to the main road and turn left.
6­-7
Continue along the short road section.
7-­8
Head through the gate along a farm track that's fairly wide with grass growing in the middle. It's a straight line to the next gate and the going is fairly easy along a hard compact base. At the gate, the trail turns right and heads towards another gate.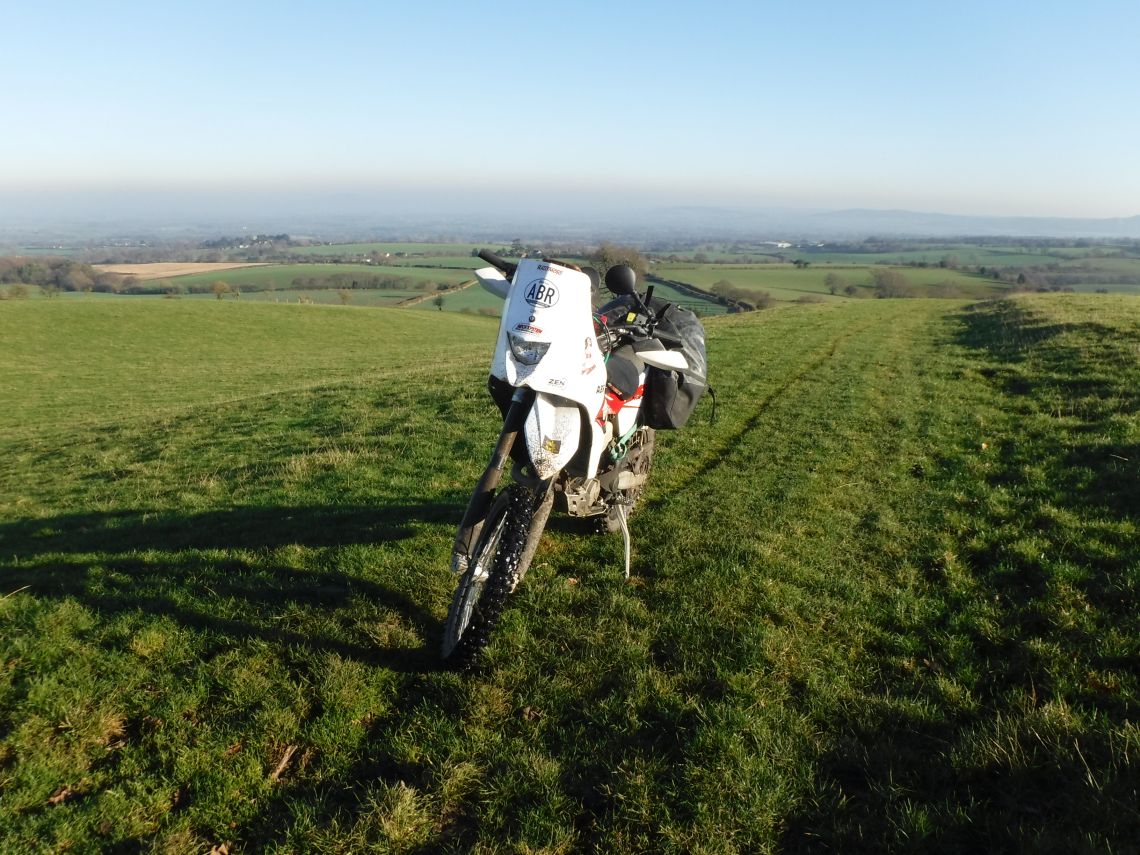 8­-9
Proceed through the farmer's field which is muddy and slippery but not over difficult. There are fantastic views to the left and it's worth stopping for a photo of the rolling hills. Keep going, and ruts start to appear along with some puddles.
Through the next gate and continue straight on. After the next gate there are more defined ruts with grass growing in the middle of the trail. It doesn't appear to get much use from bikes.
Keep going through the next couple of gates and follow the edge of the farmer's field, between trees until you get to the road.
---
Did you know…
There are lots of small 'Ride UK' signs in Shropshire. I had never come across these before. Some state the classification of road, but before I knew this I came across a blue Ride UK sign pointing uphill from the first byway detailed here. I checked my map and there was no legal route heading that way. But I have heard of trails not marked on maps, and so I assumed it was legal. It looked a fantastic trail, a bit trickier than the legal byway I was on, I decided to have a detour and explore.
It was only later that day when discussing with a friend that I was told the blue signs are restricted byways. Whoops. And that Ride UK was either a mountain bike or a horse rider's group sign. I still am none the wiser on what mode of transport the signs are aimed at, but the classifications are (and I came across a lot on the weekends ride around Shropshire) as follows. Some have a classification listed, some don't, but all state Ride UK, with an arrow and are in different colours.
Blue = Restricted byway (not legal for motorbikes)
Red = Byway (legal for motorbikes)
Black = Unclassified country road (legal for motorbikes)