Comfort, performance, looks and pure indulgence.
Words: Alun Davies
Wow, just wow. And let's face it if you don't find yourself saying 'wow' when you first set eyes on this motorcycle then it's very unlikely you're going to splash out £18,995 on what is the most lavish and indulgent adventure bike bar none. 
As I stood outside Ducati's headquarters at Silverstone it was sobering reminder of just how privileged a position it is to be working for ABR magazine. Just ahead of me, parked up outside the heavy-duty roller shutter doors, was the most visually impressive new motorcycle I've ever come across – with the noticeable exception of a 1997 lime green CZ175 Trail, which just so happens to be the first bike I ever bought and therefore a subject only ever viewed through a heavy duty rose coloured microscope.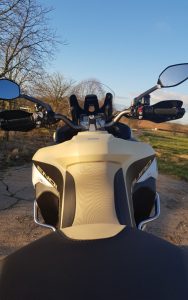 The Ducati Multistrada 1200 Enduro Pro was and is to be my long term press ride for 2018, all £18,995 of it.
And it's not going to stop there, as although there's a button for the heated grips, the actual heated grips cost a further £223, which I can't help thinking is Ducati taking a bit of a liberty on a bike that gives you a fiver change from £19,000. 
And the spending does not stop there, as if you're intending to do any sort of touring (and I am), then the essential addition of Ducati aluminium panniers and top box is going to cost an additional £2,274 making a total outlay of £21,492. 
One thing's for sure, the Multistrada Pro is not going to be a high selling mainstream adventure bike, but then I'm sure Ducati have no illusions about that.
This bike is going to sell to the rider where cash price is a consideration low down on the buying list and looks, panache, performance and indulgence is the essential emotive pull.
Make no mistake, this bike comes with an excess loading in all those departments and, as I've alluded to above, I'm under no illusion of just how lucky I am. 
From the off the huge physical presence of this machine appeals and I never though I'd ever say this, but the sand colour scheme just adds to the opulent and aggressive looks in a way that Ducati Red would not.
Every panel and component, from the rough handle texture of the 30-litre tank to the smallest of components on display, appear to have been designed and crafted in a studio rather than picked from an overloaded spare parts bin. 
If this all sounds as if I've been overdosing on Italian flair and style, then I'm in no position to dispute that I have. I'm so looking forward to 2018, the Multistrada Enduro Pro has already inspired me to want to get out more and ride, and you know what, that's a big chunk of worthwhile value from that £21,492 before I press the starter motor.