I'd been looking forward to the updated 2015 version of the Kawasaki Versys 650 for a number of reasons. First and foremost has been the growing pleasure I've been gaining from the more chilled out experience of riding a 650 twin. While I'm in no way averse to the power and speed of the larger capacity adventure and touring bikes I've certainly, of late, come to appreciate the more gentle and relaxed side of straddling a non-threatening sub-70bhp machine.
It may be an age thing and the emergence of a sense of touching mortality, but I'm getting just as much pleasure from bumbling around the countryside taking in my surroundings as I am from launching from A to B through a blurred landscape. That's not to say you can't take it easy on a larger capacity bike, of course you can, but in my case the temptation to use more of the available power usually wins out and I find that what was going to be a relaxing ride invariably turns into a (thrilling) mad dash to the destination.
The Versys 650 has stiff competition in the mid-range touring sector in the form of the Suzuki 650 V-Strom. The Strom is a bike I've come to hugely appreciate over the past three years of ownership. From the off the Strom was a pleasure to ride in every way possible; comfortable, capable, reliable and economical. The Suzuki is such a relaxing, non-threatening ride, devoid of the aggressive edge and sharpness of more powerful machines that I have a tendency to make it sound as if it's a boring old lump of metal. But don't let that fool you, in the right hands the Strom is capable of staying in touch with most 1000cc adventure bikes, both on A roads and long distance motorways jaunts. However, in my humble opinion, its overall appeal lies in the fact that it's a bike that has a calming effect on the rider, the sort of motorcycle I'd want my son to ride, and he does, far too often.

Reinvented visuals
So, with that in mind the new 650 Versys has a battle on its hands and one it stands up to on first contact. In the past the Versys' (650 and 1000) have both had their fair share of verbal abuse when it comes to the design and looks. Indeed, the old Versys 1000 is right up there in the ugly bike ball but I've never thought of the 650 as being particularly unsightly. Anyway, that's all history now as the cosmetic changes to the 2015 model have produced a bike that, dare I say it, looks very desirable.
With its twin front headlights and re-cast fairing the on-test Kawasaki gained many admiring glances from passers-by and scored exceptionally high marks in the ABR office catwalk contest. Not one member of staff said anything less than, "whoo I like that". The 650 comes in three colour schemes; black, white and the highly distinctive and fetching yellow of our test bike.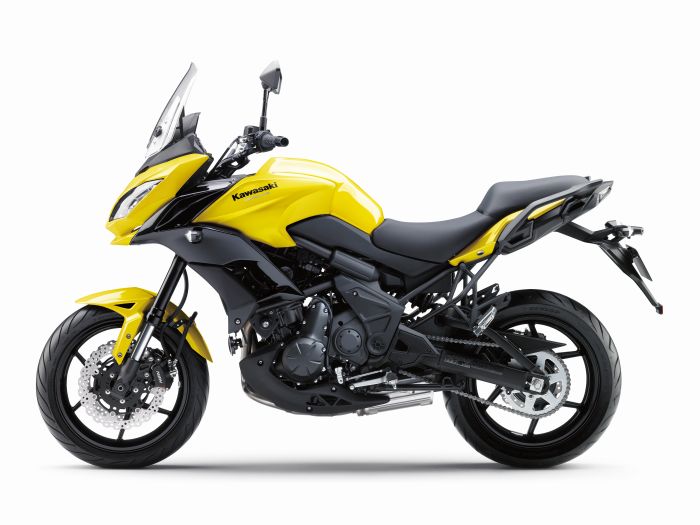 Another area where the Versys scores highly is in the visual quality stakes. Whereas some new bikes have taken a step back and have a cheap look about them, the Kawasaki, to my eye, has the appearance of quality in the way it's been assembled,  the components and a design where everything has been thoughtfully placed and engineered rather than slapped on as an afterthought.
The original Versys 650 was launched in 2007 and updated in 2010. For the 2015 model Kawasaki have made a number of improvements, including the aforementioned cosmetic enhancements. The bike comes with extra rubber mountings to counter the vibrations that have been a feature of past versions of the in-line twin. There's a new, higher and adjustable screen, the suspension has been improved with a remotely adjustable rear shock and front forks that feature split rebound and damping controls – the damping is adjusted on the right fork and the rebound on the left.
The engine comes with an additional 5bhp over the 2010 version and the tank capacity is increased to 21 litres giving an impressive 250 miles between fuel stops. The brakes have been uprated with ABS coming as standard on all models and the rear subframe has been beefed up to better accommodate the weight of a pillion and luggage.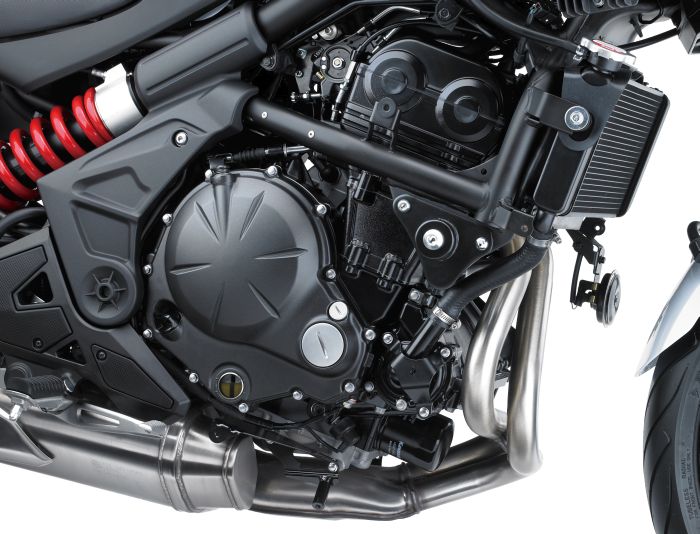 The new 2015 Versys comes in three forms; Standard at £6,749, Tourer at £7,299 (includes hand guards plus hard panniers with internal bags), and the Grand Tourer at £7,999 (as with the Tourer plus a top box, spotlights, gear indicator and a 12v socket).
Comfort is key
The Versys is competitively priced but having used the Standard model over the coldest week of the winter so far it just reminded me that it's a crime to tag a bike with the 'Tourer' moniker without the inclusion of heated grips and handguards as standard.
For comfortable riding, and more so for touring, heated grips are simply essential and should never be classed as an 'accessory' for the UK climate or even when summer touring in the Alpine countries where it can snow and be bitterly cold at any time of the year. So with that in mind, you'd need to add on the cost of grips and deflectors to the base price of £6,749. Kawasaki are not alone in this practice of omitting essentials in the bottom line price.
>>> Kawasaki reveal new colour schemes for 2016 models
Ergonomically the Versys is spot on for my 6ft 2in frame with the hand, backside and foot positions offering a very satisfying upright riding position and the ability to have both feet flat on the floor at stops. The seat proved comfortable enough on test but having been restricted on riding time by poor and dangerous weather conditions I'll reserve further comment for a longer test run.
What I would say though is that the pillion section was thought to be a slightly too high perch by the other half.  She felt a little exposed and experienced some buffeting even at low speeds. On the plus side I felt the stock screen was far better than what I've come to expect with little to no wind blast at legal speeds and only a slight wind disturbance at anything higher.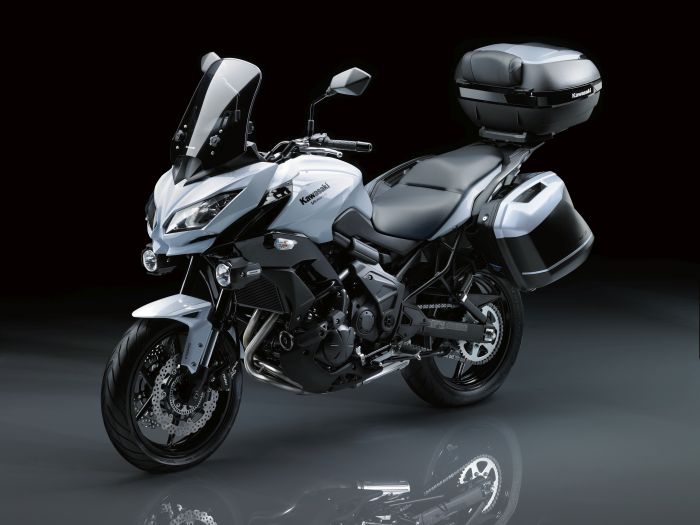 I'm starting to appreciate a simple, easy to understand dash over the more complex computer displays on offer these days and on this feature the Kawasaki is a blessing. A simple, clear display with minimal clutter, it took about 10 seconds to understand all I needed to know – a large analogue tachometer above an easy to read digital display for speedometer, odometer, dual trip meters, clock and fuel gauge.
Starting out on a combination of A and B roads I was immediately impressed by the ride quality and handling of the Versys 650. The bike has a more nimble feel about it than the Suzuki V-Strom 650 offering a sharper throttle response complemented by excellent handling. The suspension is a little on the firm side if you're used to riding an 'adventure' bike but spot-on for comfortable road touring and for spirited rides on twisty backroads. The brakes neither impressed nor disappointed and were fine upfront and adequate at the rear
As the miles increased, the more I appreciated the ride quality of the Versys, I even went as far as starting to consider the 650 in terms of being 'my next bike' when the time arrives to offload the Strom. And that's some praise indeed.
A 35-mile motorway blast was long enough to establish that the Kawasaki is not lacking in its high speed cruising comforts nor ability. The bike is an exceptionally relaxed place to be at 70mph and above with enough umph to make high speed overtakes a non-threatening event. In truth, I doubt if I'd have made faster or more stress-free progress on a 1000cc bike. Once again, the Versys scores highly with little to no complaints from me.
However, despite all the above praise the Kawasaki has an Achilles heel which is exposed when the revs drop below 3,000rpm and the ride quality changes from silky smooth to a lumpy, stuttering cause of frustration. As an example, when rolling off the throttle to keep within lower speed limits passing through country villages the bike was just not happy if the revs dropped below 3,000. The net effect is constant downshifts to keep the tacho above the 3000 mark. It's something you quickly get used to but a pain nonetheless.
What's surprising about this unease at lower revs is that I've yet to read about it in any other Versys review and when returning the bike back to Kawasaki I was told that it has been noticed on a few bikes but not all. Perhaps I had one of the few, and that it's something that can be overcome, at least I'm hoping so.
In conclusion
I'd have liked to have spent longer on the Versys and hopefully will do so during 2015. What I can say now is that the Kawasaki is a serious contender in the mid-range touring market. The company has made improvements where needed and the net result is a bike which is as calming and comfortable to ride as the highly rated V-Strom 650. However, open up the throttle and it has more punch and sharper handling when needed. Make no mistake the Versys 650 in the hands of a competent rider will be more than a match for far bigger bikes. The new 2015 Versys is a top contender as a solo mid-range tourer.
In a line: A good looking, fun, comfortable, adventure-styled mid-range tourer.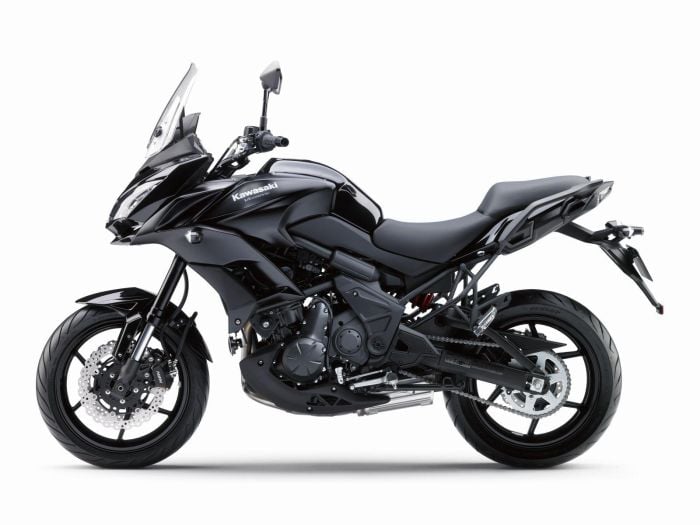 ABR Verdict
As a commuter
Economical, nippy, comfy, reasonably low weight and not so high that getting your feet down is a problem… What's not to like?
As a weekend tourer
This 650 twin is more than adequate for touring unless your plans regularly include a pillion where a larger capacity machine would be a better option.
As an off-roader
You can take any bike off-road, but some are more suited and better at it than others. Best to look elsewhere if you have dirt and mud aspirations.
As a continental road tourer
As a solo tourer I'd be more than happy heading over to the continent on a Versys 650. It's quick enough for high speed motorway cruising, nice and nippy for Alpine roads and has a great tank range.
As an RTW overlander
Why not? As long as your plans stick to the tarmac and not Siberian tundra and African mud the Versys would be just fine.
As a pillion carrier
Adequate but not the best. I'd buy a Versys for solo touring and look elsewhere if a pillion was a permanent feature.
Want to make sure you are kept up to date with all the latest adventure bike features and reviews? Click here to find out how you can get your hands on all new issues and the complete back catalogue of Adventure Bike Rider magazine.