Later this year, Touratech will be celebrating its 25th anniversary, so Adventure Bike Rider caught up with founder Herbert Schwarz, to discover that there is a positive side to globalisation…
How many people do you know that can go travelling to faraway corners of the world, exploring exotic lands and all in the name of work? Well, that's one of the perks of Herbert Schwarz's job.
The laid-back German is Chief Executive of motorcycle accessories firm Touratech, which specialises in making equipment for off-road and adventure bike riders.
From an early age, Herbert's destiny was clear. "I was going to be a world traveller," he says.
In fact, he set off on his first trip to Africa at the tender age of seven, leaving his home town of Villingen-Schwenningen on his push-along scooter and making it almost as far as the next village of Niedereschach – an impressive 12 kilometres away.
"Unfortunately, a neighbour spotted me on that busy road, wondering what the heck I was doing there. Before I knew it she put an end to my RTW trip by taking me back to my parents," Herbert recalls.
"Perhaps my mum and dad are in some way to blame for my wanderlust," he continues. "They used to go backpacking every year, visiting exotic far-flung destinations like China, Australia and South America with nothing but each other for company."
Herbert and his siblings didn't accompany them though – they were shipped off to stay with cousins – but no doubt the seeds of adventure had already been sown.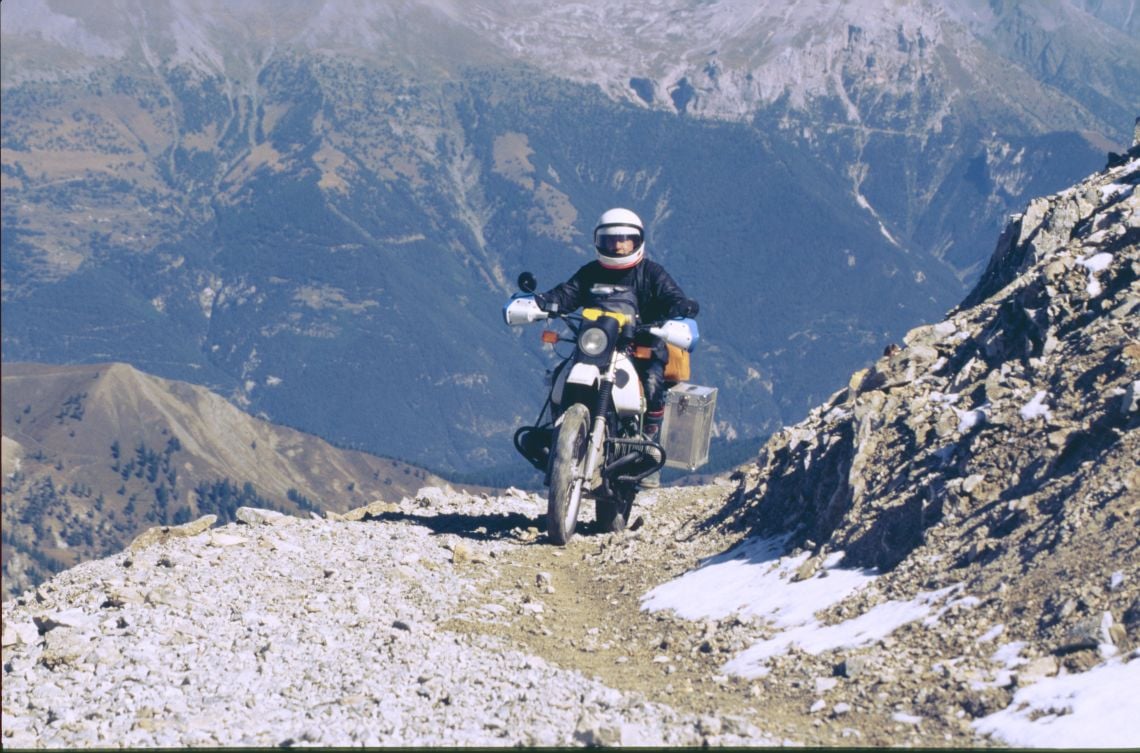 Like a lot of us though, his love of two-wheeled travel developed out of an attraction for the opposite sex – and the need to find a cheap way to get some, however far away that was! In Herbert's case, his first serious girlfriend lived in western France, around 1000 kilometres away, and his wheels at the time were a Mofa from Kreidler.
"With a top speed of just 30 km/h, the only way to get there (and back!) was to ride through the night, but with a range of only 100 kilometres, the real danger was running out of gas in the middle of nowhere," reflects Herbert while reminiscing on his early voyage of love.
Being Herbert though, this constant fear prompted thoughts in his mind of developing an oversized fuel tank… Then there was his first-ever motorcycle tour, around 35 years ago, which involved a seriously cold journey to Scotland on a Suzuki GT 550 with his sister.
"Today's stylish high-tech clothing didn't exist at that time. I wore a two-piece leather suit, while Erika looked great in a denim outfit.
We had heard that it rains quite a bit in Scotland, so we had packed two sets of waterproofs in an old cotton olive-green German army bag.
It held everything you could ever need for a trip," he smirks. Experiencing a distinct lack of suitable equipment and accessories onboard the two-stroke, air-cooled triple, got Herbert thinking about ways to improve the possibilities for motorcycle travel – and sowed the seeds for the beginning of the Touratech company.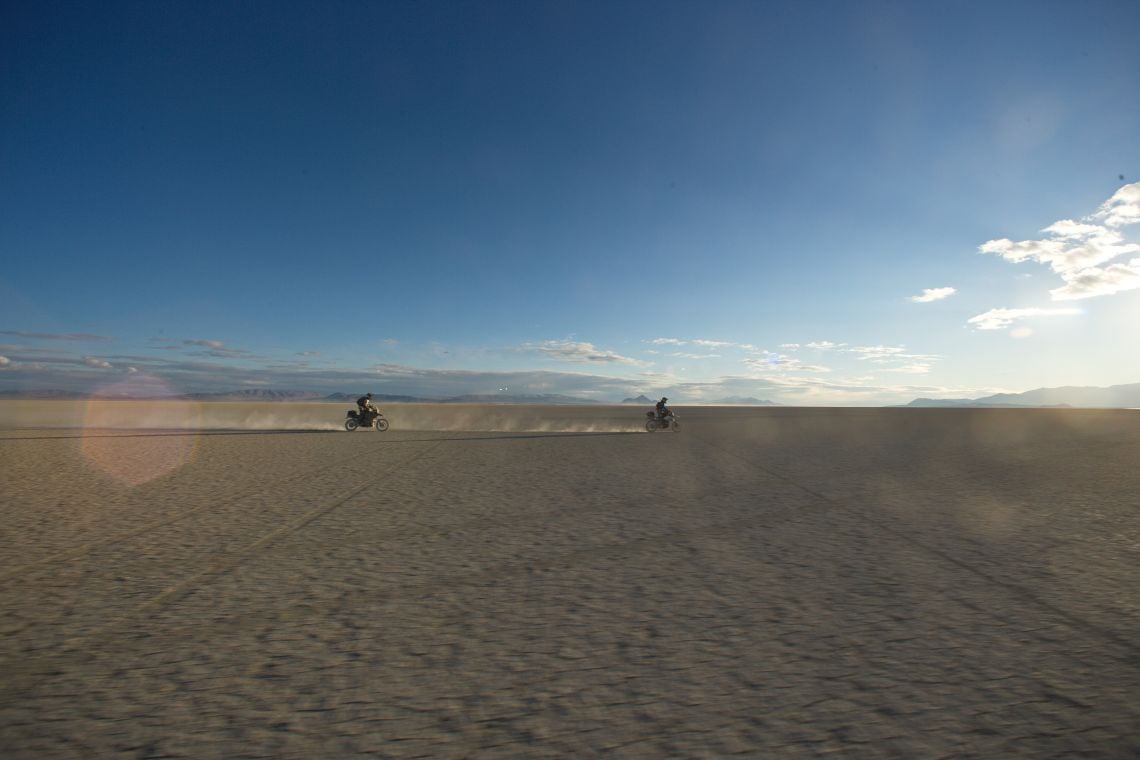 The first product Herbert developed, however, had nothing to do with fuel range or rider comfort but was all about hi-tech functionality – hardly surprising coming from someone who was then making a living as an electronics engineer.
It was a motorcycle computer called IMO and like many Touratech products since, it was developed because nothing like it existed at the time.
Herbert was sure it would be a real 'game-changer' but it wasn't exactly an overnight success – more a slow burner.
"I owned a BMW R100GS in 1989 and had added some special instruments to display oil temperature and various other odometer readings, but I thought that if you could have everything in one little unit, that would be so cool.
I wanted to have lots of information for the rider, such as engine and outside temperatures, battery voltage, speed and distance trip meters etc., so I designed and developed a computer with a friend in 1990.
It had 32 functions and we approached adventure motorcyclists who we thought would appreciate its small size and useful functions.
Our initial production run was 100 and it took us two or three years to sell them, but that was fine because it was never my intention to get a business out of it – I just wanted to sell the units."
Schwarz, like many engineers, had always believed that if a solution to a problem couldn't be bought, it could certainly be made. Although he didn't realise it then, this computer was the first product in what would become a highly successful global motorcycle aftermarket accessories operation.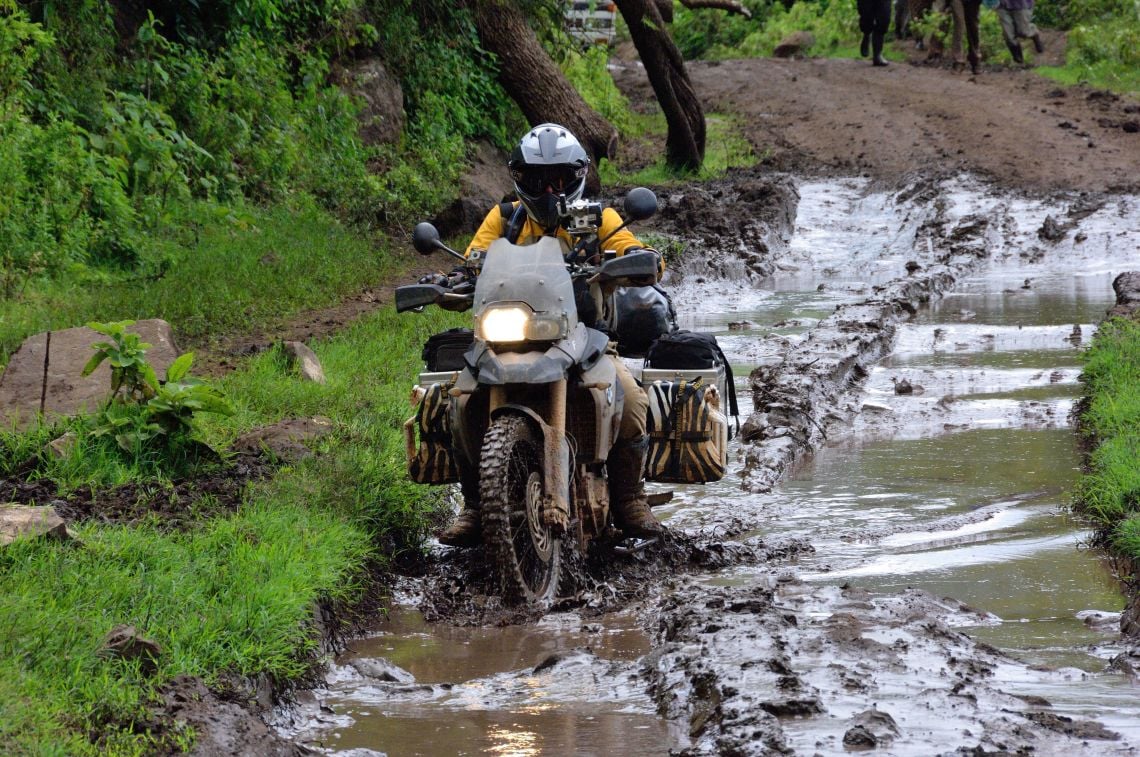 More than 20,000 versions of the IMO have been sold to date and it remained a top seller in the Touratech range for many years.
Prior to developing this computer, Herbert had devised a concept to produce aluminium panniers and had a 12-page 'how-to' manual published in the German motorcycle magazine, Motorrad.
At the time, all panniers were produced in plastic, which were fine for most riders but certainly not robust enough for overland adventure travellers.
"I started making aluminium panniers for personal needs. Then one of my friends saw them, liked them and wanted them. So he asked me if I could produce a set for him. Sure I could. Soon I was making them for lots of people," he remembers.
He knew he was onto something big and in 1992 he began a cooperation with a Swiss firm that he had known from his time as an electronics engineer.
"This company made rigid casings for military equipment and I saw these and was convinced that they could easily become a pannier for a motorcycle. I had to order 100 of them, which was terribly expensive for me at the time, but these became the Zega boxes that we sell today to many motorcyclists." Jochen Schanz, a mechanical engineer, was one of Herbert's first customers.
He started helping Herbert in 1992 with various developments. They soon became equal partners and ever since then, all business decisions are made together. In 1995, Herbert took the brave step of producing his first catalogue.
"It was 12 pages long and printed in quantities of 100 – you have to start somewhere!"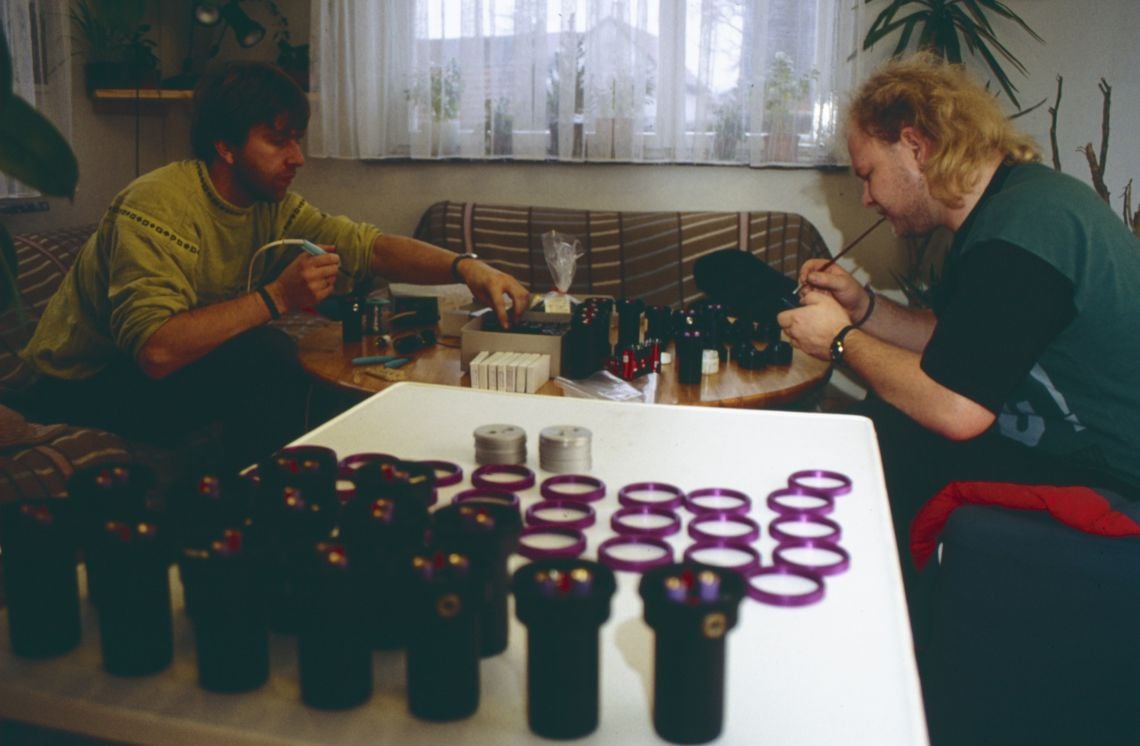 One year later, an order from KTM for 1000 of the IMO computers for its new Adventure model allowed Herbert to leave his job as an electronics engineer and focus on Touratech activities full-time.
What had begun as a night-time soldering project on the coffee table had turned into a real opportunity.
Another big break came in 2004 when he was asked by BMW Motorrad to develop the pannier system for the new R1200GS Adventure.
Originally asked to provide 30 complete units a day, Herbert 'tooled-up' accordingly and started production. After the bike's successful launch, the original estimate was significantly revised upwards, creating a real challenge for Herbert and his team.
"All of a sudden we got orders to supply 200 panniers a day, which was a real worry for us, because we didn't have the capacity or staff to increase production to this extent. But BMW Motorrad was really helpful and fair to us, providing three specialists in enlarging production and helping us to set up a good facility so that we could deliver the required amount."
For BMW's adventure models, Touratech now makes pannier racks, panniers and top cases, as well as various brackets for handguards, windscreen mounts and skid plates.
"The Zega panniers are now easily the most successful Touratech product in the range. We are close to producing half a million of them already," Herbert remarks not without pride.
It's perhaps the one product that adventure riders couldn't do without, although there are around 7,500 other items for sale in the latest catalogue, which is packed with nearly 2,000 pages and has a huge print run of 200,000 copies in five different languages.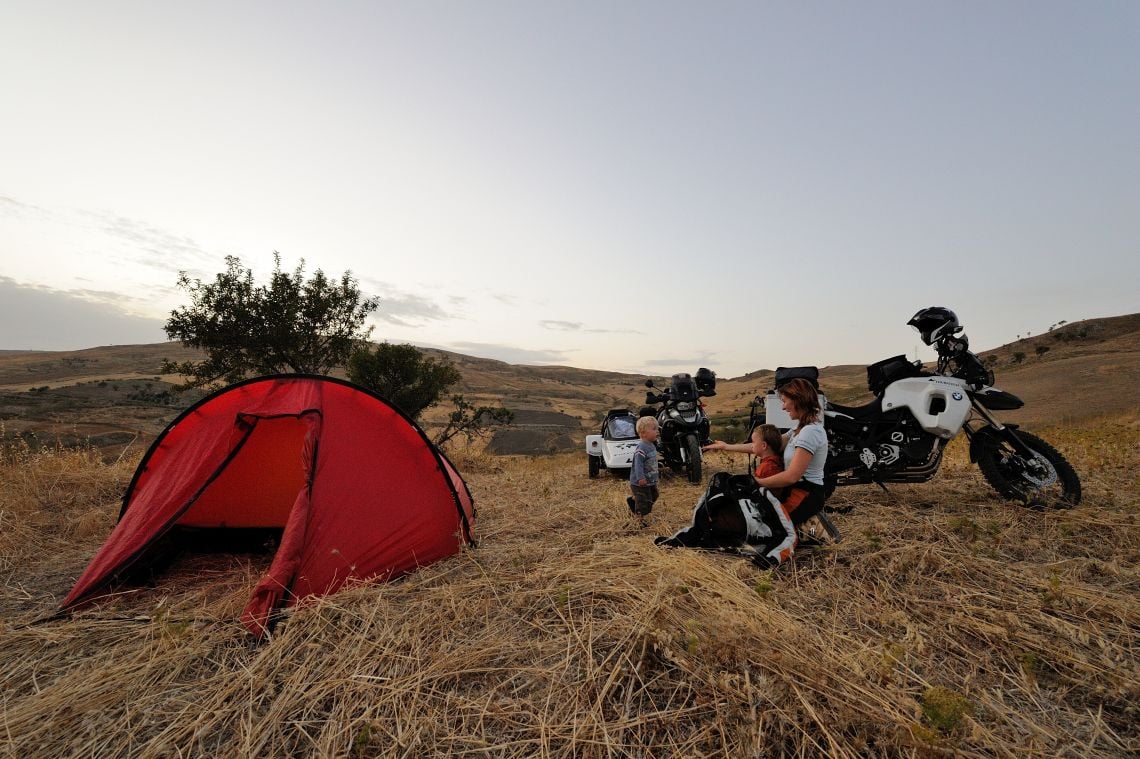 That's a lot of paper and mailing costs but all very necessary, even if Herbert is convinced that without being an early adopter of e-commerce, Touratech would probably not exist today.
There are now more than 20 online shops in eight languages run from Niedereschach, and more Touratech webshops are operated directly by importers in the respective countries.
"Nearly 80 per cent of our current sales are online. However, most people have printed catalogues that they keep throughout the year and then they go to their computers and order online. We started with our first website back in 1996 when the Internet was still in its infancy in Germany. We had a basic presentation of our products and then people could order via email. With the 'shop' system we have now, it's much easier."
So, what started out as a 'sideline' a quarter of a century ago has resulted in a successful business, employing well over 300 people at a headquarters that nestles in the picturesque Black Forest town of Niedereschach, some 90 kilometres south of Stuttgart. The surroundings are beautiful and it's reassuring to know that it is possible to have a company operating on a global level, but one that retains a 'made in Germany' philosophy.
In fact, around 80 per cent of products are still manufactured in-house – that's no mean feat when the range encompasses thousands of items for all sorts of uses and made from lots of different materials.
"Our customers like to have products from Germany as they can see the difference in the quality," says Herbert.
"If we are producing here, we really can have a focus on high quality, and if there is a problem, we can react quickly. If we can't make it locally, then we'll get it made regionally. If that's not possible, then we'll look to get it produced nationally. It's important for us to try to keep the labour where our customers are, and the main market for us is still the EU, then the USA, then South-East Asia. We have good importers in China, Thailand, the Philippines and Malaysia but we want to keep the labour here in Europe."
Such is the success of Touratech and the growth of the adventure market that there are now exclusive importers in 45 countries, all helping prospective globetrotters equip their machines for extreme adventure travel.
From tried-and-tested pannier systems and soft luggage solutions, to shock absorbers; seats for enhanced ride comfort, motorcycle suits and essential motorcycle accessories for tackling the world's most challenging trails, it's now a big business.
Naturally, travel is right at the heart of it – and this is one thing that Herbert is passionate about, and determined never to lose.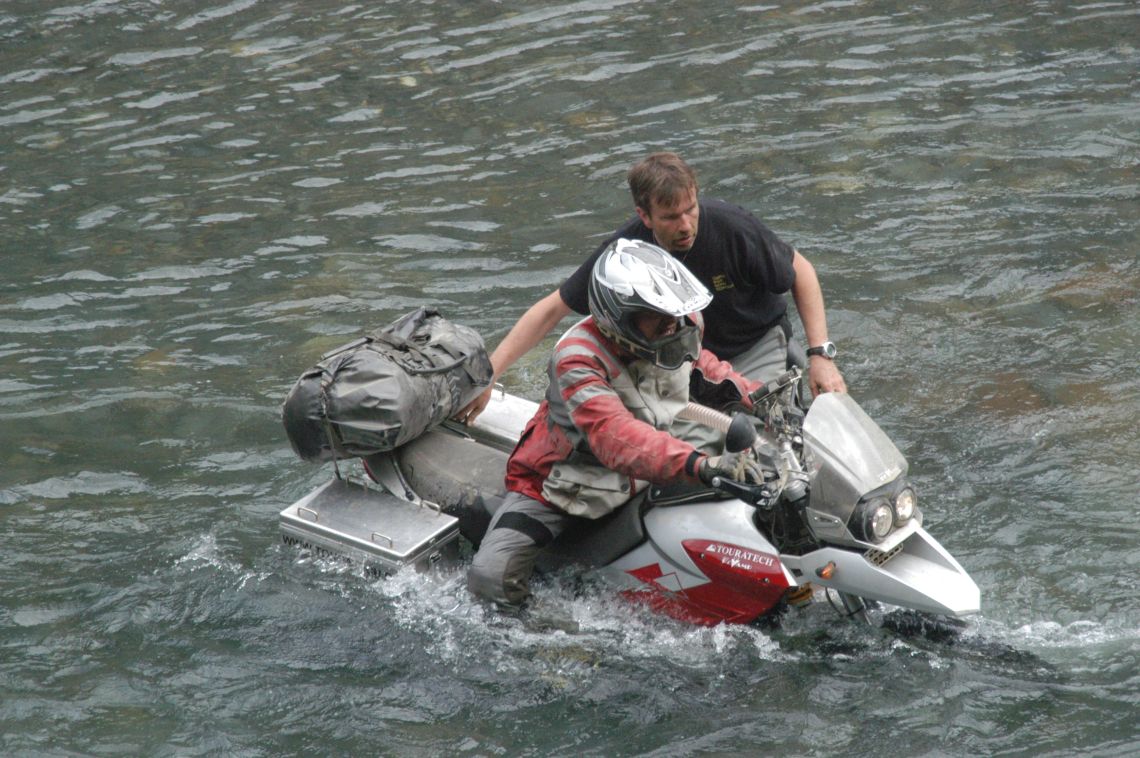 Once wanderlust takes hold, it can be reluctant to let go and when Herbert talks of another 'day in the office', it doesn't usually involve boardrooms and photocopiers.
It is more likely that his daily routine takes in an off-road trail or two, followed by a couple of mountain passes and a remote campsite to finish.
"Our main philosophy is to test the company's range of off-road and adventure motorcycle equipment in the environments they were designed for", he says.
This has taken him and his team across the globe to experience a world of different cultures, amazing scenery and the toughest terrain on which to put Touratech development products to the ultimate test.
"For us, it's always been about riding and travelling. We've always done it like this. We are our first customers. If we have a new product, it's because we need it. We make it for ourselves, test it, refine it and then when we're happy with it, we offer it for sale."
The last 25 years have flown by for Herbert, who plans a big anniversary celebration at this year's annual Travel Event, which takes place from 12-14 June at the company headquarters in Niedereschach, in conjunction with the GS Trophy Germany national qualifying event.
There were well over 11,000 enthusiasts who visited last year's 'breeding ground' for two-wheeled adventures.
With more than 60 exhibitors promised for 2015, as well as extensive test-ride opportunities, group tours, guided factory tours, travel talks by well-known motorcycle adventurers and much more, make sure you come along for a weekend full of action and riding fun.