HOW A-BOOT THAT!?
Alun Davies checks out the latest adventure and touring boots, so that you don't have to
Unless you've a fondness for motorcycle adventures evolving into masochistic foot festivals, buying a boot is all about ­fit, ­ fit and ­ fit. The quality of the components, the cachet of the brand and the features and style will count for nothing when your tootsies resemble raw minced meat and every moment (on- and off-bike) is a brutal test of pain endurance. Believe me, get the ­wrong and even the best of tours can be an exercise in misery.
Over the years I've witnessed many a foot that's been the subject of an ill-fitting boot. Buy footwear that's too tight and you'll restrict blood flow to the lower extremities, which is the quickest way to attain freezing toes in cold conditions. Purchase a pair that are too loose and even a short walk can result in uncomfortable blisters and bruised toes.
So, as you read through the following reviews keep in mind that what's a best buy for ABR may not necessarily be the best buy for you if they don't ­fit well. Make a list of the features you need, a short list of boots that match those needs, and buy the pair that fits you best. Follow that advice and you'll always end up with the best boots for you. Alun Davies checks out the latest adventure and touring boots, so that you don't have to.

The Anatomy Of A Boot
HIGHT
The higher the cut of the boot the heavier and less comfortable it will be. However, a high-cut boot will offer more protection to the shins from flying debris and if they're waterproof, you'll be able to go paddling in deeper bogs and rivers while keeping your feet dry.
CLASPS
Adjustable quick-release clasps can be a godsend when they're good quality and a frustrating pain in the arse when the quality lets them down.
HEEL CUP
A stiffener is inserted between the lining and outer of the boot and molded to form a supportive and protective cup. The pro­file of the heel should hold the foot in place and prevent it from lifting when walking. If it, doesn't it won't be long before you get blisters (when walking) and it'll mean reduced control on the bike. It's important that this area of the boot conforms to your foot shape.
TOE BOX
The manufacturing process used in forming the toe box is similar to the heel cup: a stiffener is inserted between the lining and outer and moulded into shape to provide protection for the toes. The stiffer the toe box the better the protection, though comfort can be compromised.
SOLE
The part of the boot that keeps you and your bike upright. A deeper, aggressive tread is best if you intend doing any off-road riding and essential when taking on snow and mud. It helps if the treads are self-cleaning but even the best will not help a great deal on ice. The sole can be glued or stitched to the upper a combination of both is the most secure.
What's on the inside?
Waterproof linings
Leather is water-resistant as opposed to waterproof, as are most synthetics. What keeps your foot dry is a waterproof lining designed to keep out the wet stuff when the outer (leather or fabric) becomes saturated. Linings are marketed as waterproof and breathable but in reality, the breathability is seriously compromised when the outer of the boots become waterlogged or muddy.
The disadvantage with waterproof linings is that any water that does get in has no way of getting out and boots can become very hot and sweaty in warm conditions, plus the linings are open to damage from any grit that gets in the boot. They are especially useful, however, if you find your adventure takes you through boggy ground, rivers and wet snow.
Footbeds
Also known as the insole, the purpose of a footbed is to aid comfort by providing additional cushioning from hard ground and absorb any vibes from the bike. Footbeds are removable, which is good news, as most supplied by the manufacturers are not that great and when out of the boot you can wash and dry them quickly. If you have problem feet you may ­find a customised footbed by the likes of Super feet or Sorbothane aid support and can be contoured to provide a better in the boot and correct any walking anomalies. If you ride in winter, it's also worth checking out heated insoles such as Gerbings which can make a huge difference to comfort.
Cushioning
Most boots feature a layer of EVA or Polyurethane between the sole and footbed to provide additional shock absorption and help with cutting out vibrations from the bike.
Midsole
The lateral stiffness and flexibility of a boot is governed by the type of midsole used in the construction. Sandwiched between the footbed and sole unit, the more flexible the midsole the more comfortable the boot in use. However, in the event of an accident then a stiffer boot is better for protection and if you spend a lot of time standing on the pegs then it'll offer better long-term comfort and performance. You can test the flexibility of a boot by taking hold of the heel and toe and twisting in opposite directions the stiffer ones will not budge. The best mix for an adventure boot is a good level of flex along the length of the sole for comfort and a high degree of lateral stiffness for support and protection.
Uppers
Leather uppers come in many forms, thickness and weights and still top the popularity stakes. But there are credible alternatives including synthetics, nylon and thermoplastic mouldings. Whatever the upper, its purpose is to protect the foot and lower leg while offering maximum comfort. Synthetics are in the main less expensive and lighter than leather, though generally less durable. A leather upper with a minimum thickness of 2.5mm is preferable.
Leather: What's In A Name?
Suede
Suede is a leather that is finished by roughing up the flesh side (opposite the grain side) of the hide to produce a velvety handle.
Nubuck
Nubuck is a full-grain leather, lightly buffed on the surface to create a velvet-like appearance.
Split hide
Split hide is the outer or grain layer of the hide from which the under or flesh side has been removed to produce a reasonably uniform thickness of less substance than the entire hide. Slit leather (the inner side) is trimmed and finished as suede.
Full grain
Full grain is the term used for the outside, original skin or hide which has had the hair removed but is otherwise untouched. Full-grain leather possesses the genuine original grain of the animal.
How To Buy Boots
Gravity dictates that your feet swell during the day, more so on hot days, and in a some cases they can increase by over one shoe size, though half a size is more common. It's best, therefore, to go for a ­fitting in the afternoon rather than in the morning when your feet will be at maximum size. It's also advisable to take along the type of socks you'd normally wear when riding.
When choosing a boot, go by fit and not the size on the box. Take time to stand up and walk around the shop. It's also a good idea to sit on a bike (where possible) and get a feel for the controls.
You'll also­ find a big variance in the size of boots between different brands depending on the 'last' used by the manufacturers. For example, the Northern European foot is wider than the Southern European foot and so a size 11 formed on a Southern European last will be smaller than a size 11 constructed using a similarly sized Northern European last.
FACT!
The latest statistics show that 19 percent of hospital admissions for biking injuries involved broken bones in the lower leg, making it the most likely part of the body to get injured, so shielding your ankles and feet is vital.
Boots with metal plates or toe caps can protect your feet in certain circumstances, but they're also capable of cutting through your toes. Avoid these types of boots when riding.
CE Labelling
The European Personal Protective Equipment (PPE) Directive 1989, requires any clothing or personal equipment sold to provide protection from injury, for example motorcycle boots, to comply with the relevant European Standard. To comply, the gear has to be independently tested and certi­fied. The manufacturer is then issued with a CE (Conformité Européenne) label which shows that the motorcycle clothing conforms to the relevant European standard. The clothing or gear must carry a permanently attached CE label with the number of the Standard. When buying boots, the CE to look out for is – CE EN 13634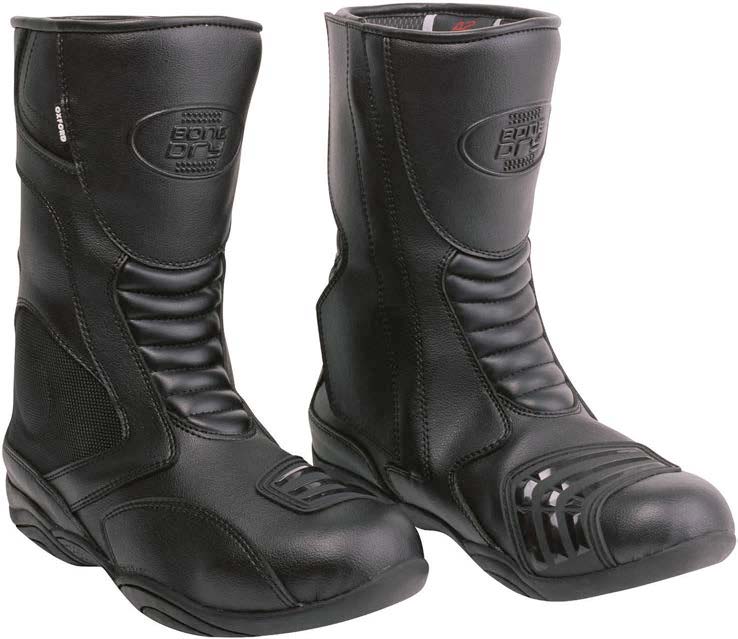 BRAND: BONE DRY
Style: Bone Dry Original Boots
Price: SRP £49.99
ABR RATING 4 out of 10
CONTACT: www.oxprod.com 01993 862 300
We think Oxford Products o­ffers some really good value-for-money motorcycle gear; we use the company's kit at the ABR offices and are happy to do so, but we'd need to be down to our last £50 with no potential of saving any more cash before we'd consider buying the low-cut Bone-Dry Original Boots. There's no other way of saying this other than they are below average in virtually every aspect of footwear construction when compared to other boots on test.
However, let's move on to a more positive area; these boots are so ­flexible (toe to heel and torsional) that they are as near to slipper comfort that you'll get with a motorcycle boot. That said, the degree of ­ flexibility also means that foot support is negligible. We also have to point out these boots will offer minimal protection in the event of an accident. In our opinion, there's too much of a trade off between flexibility and protection.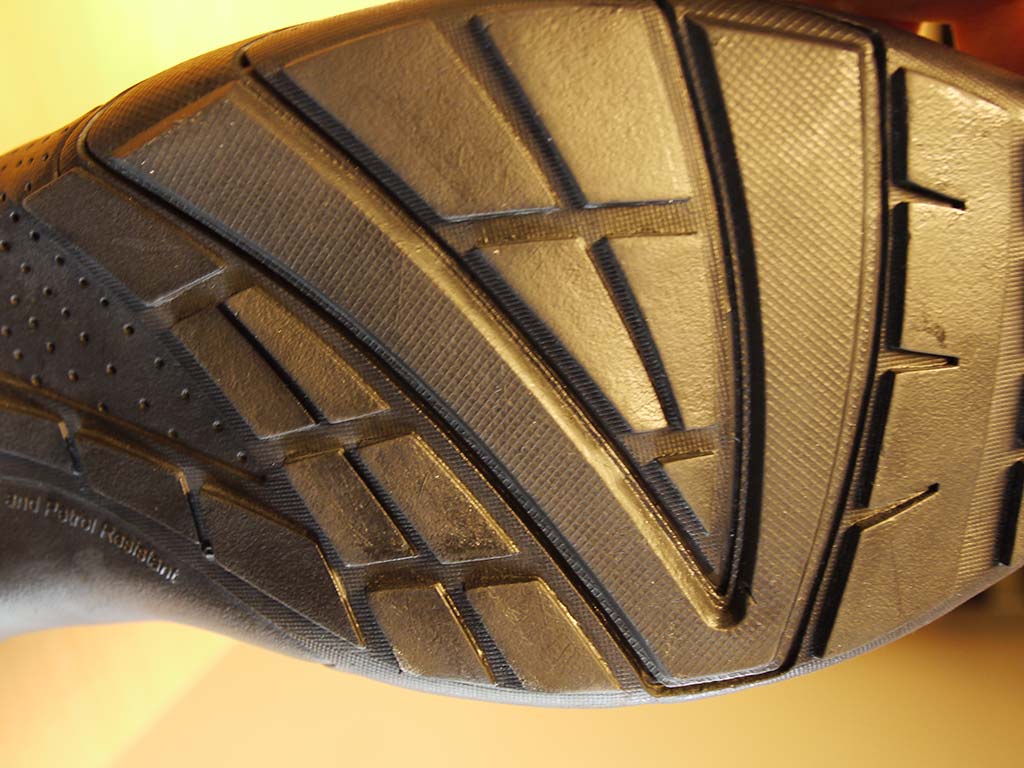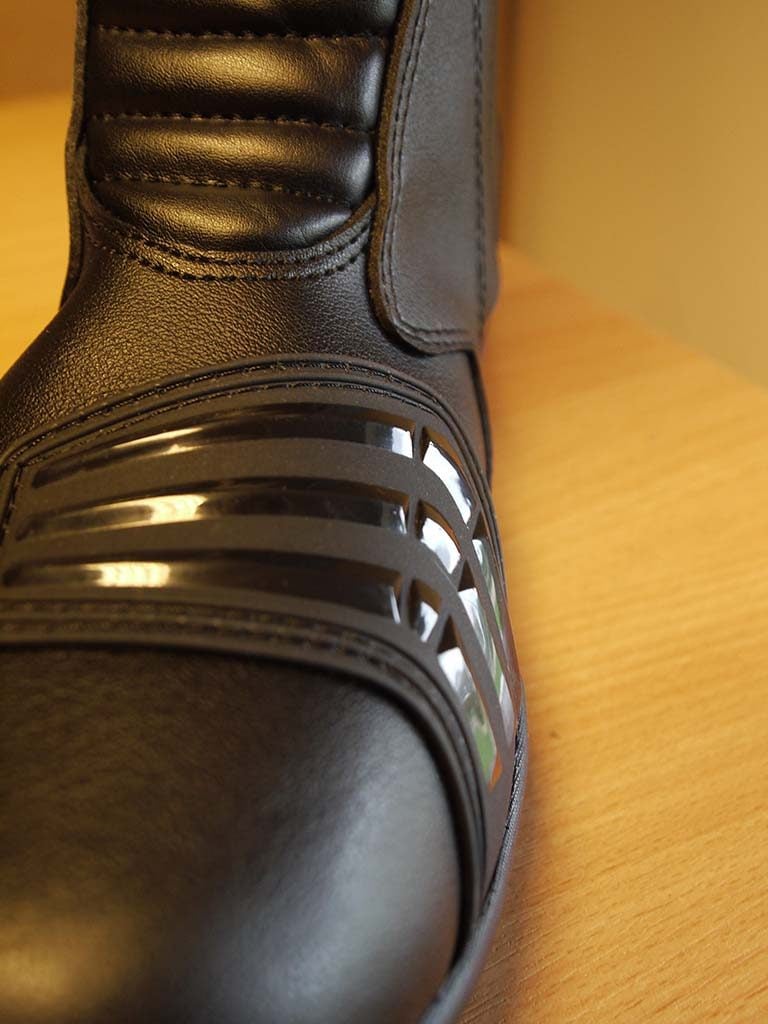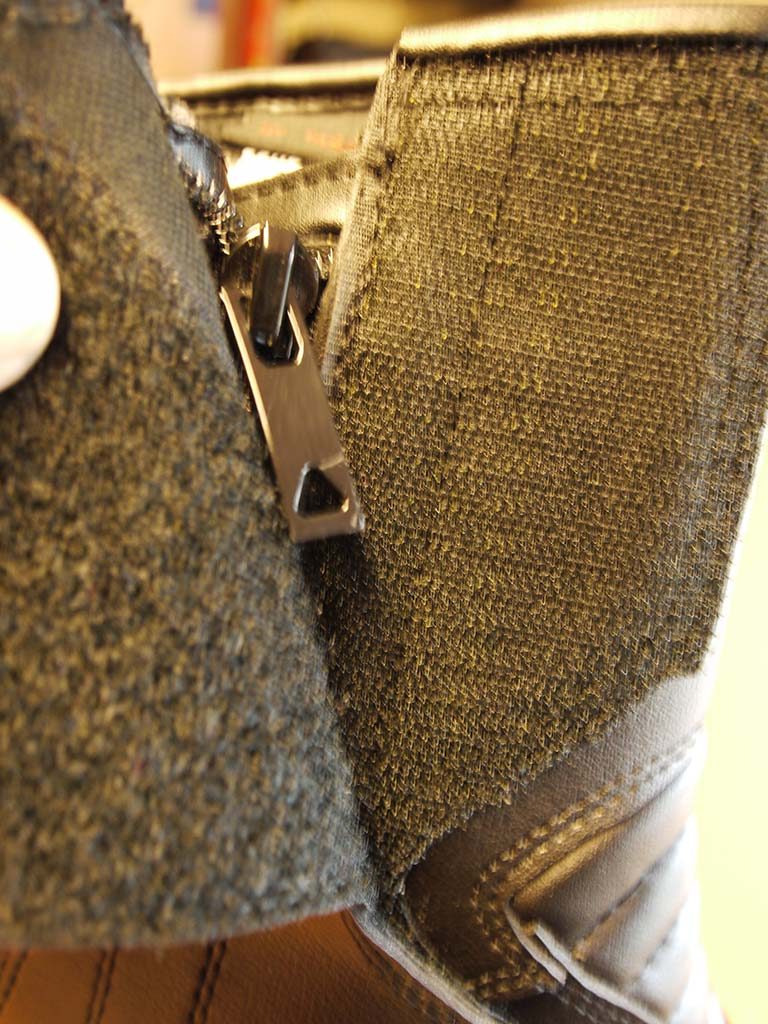 The quality of the components and construction is below average. The sole unit is not suited to off-road use and is soft enough for you to feel the pegs a little too much when standing. For road work, they'd be fine and grip well.
The upper is a leather look-alike manmade fabric and the styling is neat. The toe and heel caps are stiffened but not enough for our liking and will only get softer over time. There are reinforcement patches over the inner ankle and lower shin – I say lower as the boot is low cut and does not cover the upper shin. There's a full-length zip protected by a Velcro fastened storm ­flap to make pulling on and taking off a no-fuss event.
The boots come with a tag promoting the Hipora waterproof membrane which is essentially a waterproof bootie positioned between the inner lining and outer material. The Hipora lining is waterproof but the construction technique used, and the quality of the fabric mean that I'd not want to go on an extended trip without waterproof overboots.
In a line: Strictly road/budget buy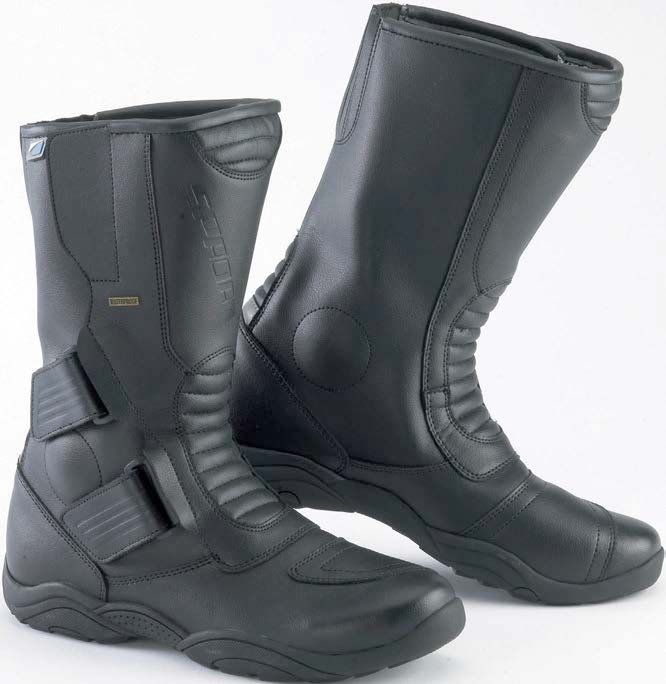 BRAND: SPADA
Style: Compass Boots
Price: £69.95
ABR RATING 7 out of 10
CONTACT: www.feridax.com 01384 413841
Spada is building a reputation in the ABR office for o­ffering good-quality motorcycle gear at very competitive prices. In short, it's nailed that old staple 'value for money' and the Compass boots follow in this tradition.
Many years ago my daily grind was earning a living as a quality control inspector at a Clarks shoe factory. In that role I inspected thousands of shoes and boots, and generally speaking I could tell from the first visual inspection if a product was up to the job. The Spada ­flew through the first inspection; sure, I could see where they were cutting costs and that the quality of the components were not as good as some of the more expensive boots on test, but the pair I had in my hands was faultless in the way they'd been assembled.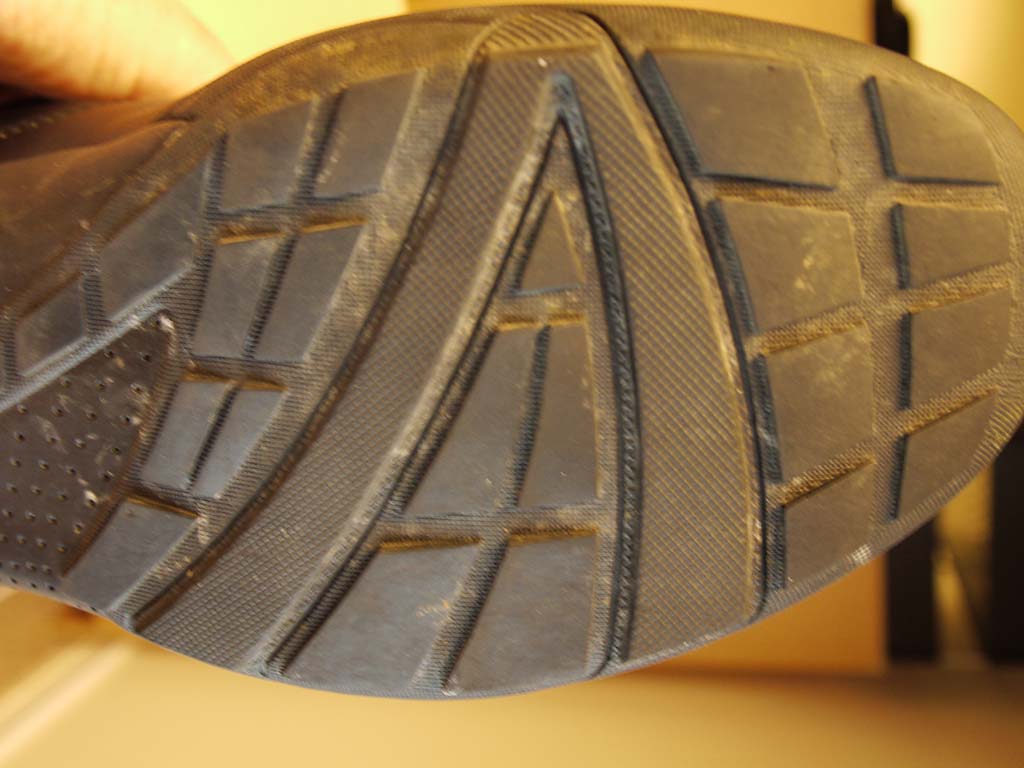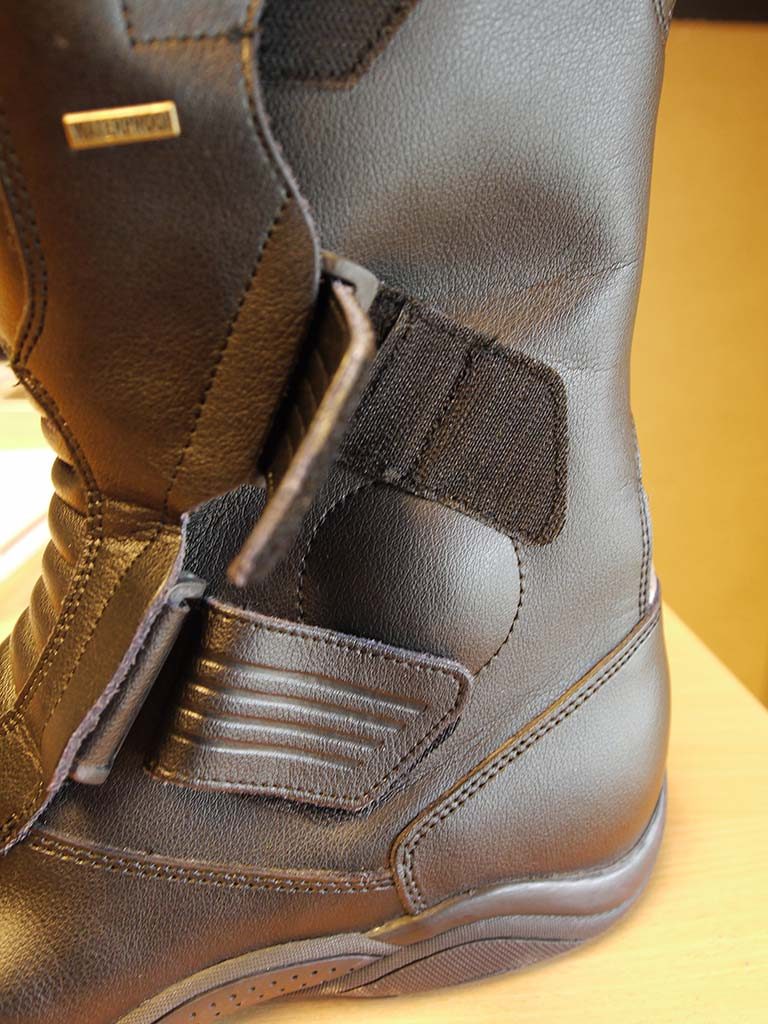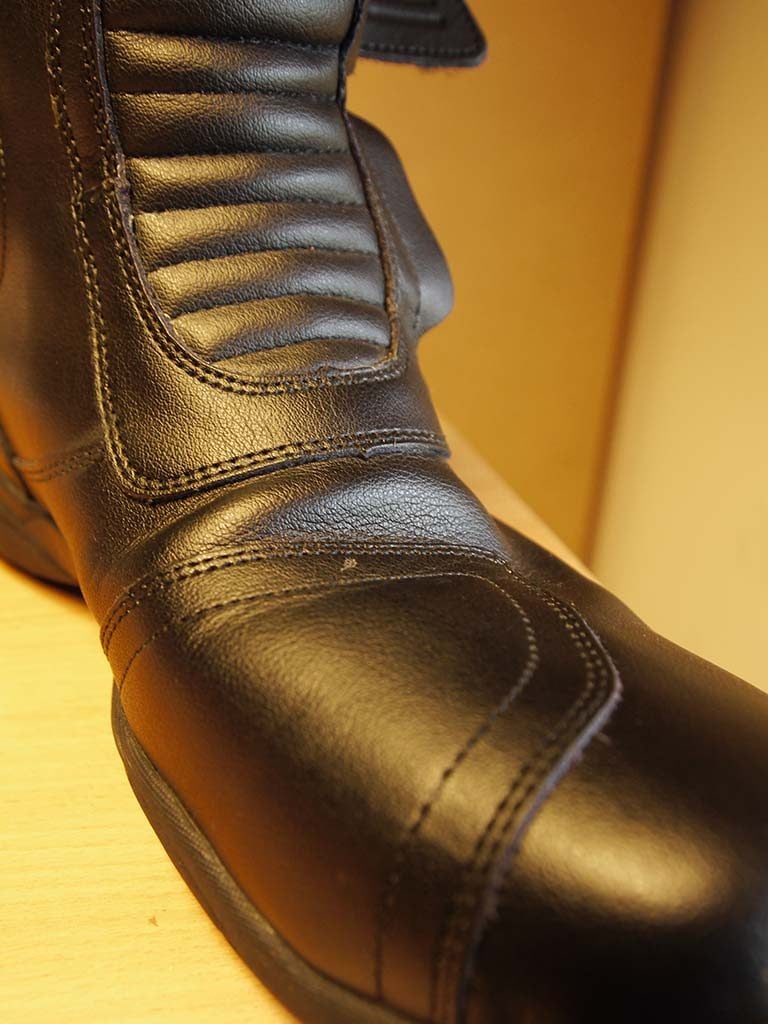 The Compass are a leather/man-made combo at mid-shin height. Secured via Velcro and a couple of buckles, they slip on and off easily enough. There's a lot of fore and aft ­flex and not too much in the way of torsional support, which means these boots are comfy out of the box but not as firm and supportive as some may like. The sole unit and tread pattern is not suited to wet, muddy conditions, so if your off-road plans include getting as mucky as possible you may be better off looking elsewhere. That said, they do offer a good level of stability and would be ne for most situations.
The uppers come with protective plates at the front of the shin and ankles, plus the toe and heel cups are reasonably firm to offer good protection, but these have softened in use. Both boots also come beefed up with leather gear-change pads.
Protection from the elements is by way of an Aero Tex membrane, which you can probably gather from the name serves the same waterproofing function as the better-known Gore-Tex. You also get a comfy, mesh-style inner lining.
At the price, it's difficult to find fault these boots as long as you accept that you're not coming anywhere close to the quality of, say, a Spidi.
In a line: Best budget buy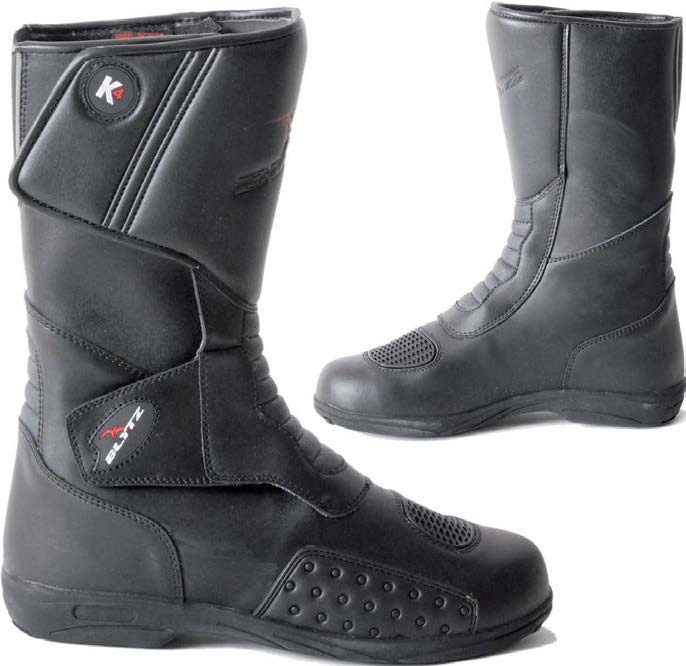 BRAND: BLYTZ
Style: K4 Long Boot
Price: SRP £70
ABR RATING 6 out of 10
CONTACT: See www.bifax.co.uk for your nearest stockiest or to order online
There are a lot of plus points about the K4 ranging from the competitive price to the features and comfort, but they are countered by some very sloppy finishing and construction. We've no confirmation where these boots are made, but they share a number of characteristics and components with other boots we've tested to suggest they are made in China, maybe even in the same factory.
On the whole we like these boots and we've certainly given them a good run out over the past few months, including a couple of full days on dry green lanes with a few deep fords thrown in to test the waterproofing. It's just a shame that slapdash work at the factory, mostly on stitching, has meant that a couple of the seams appear vulnerable for extended use.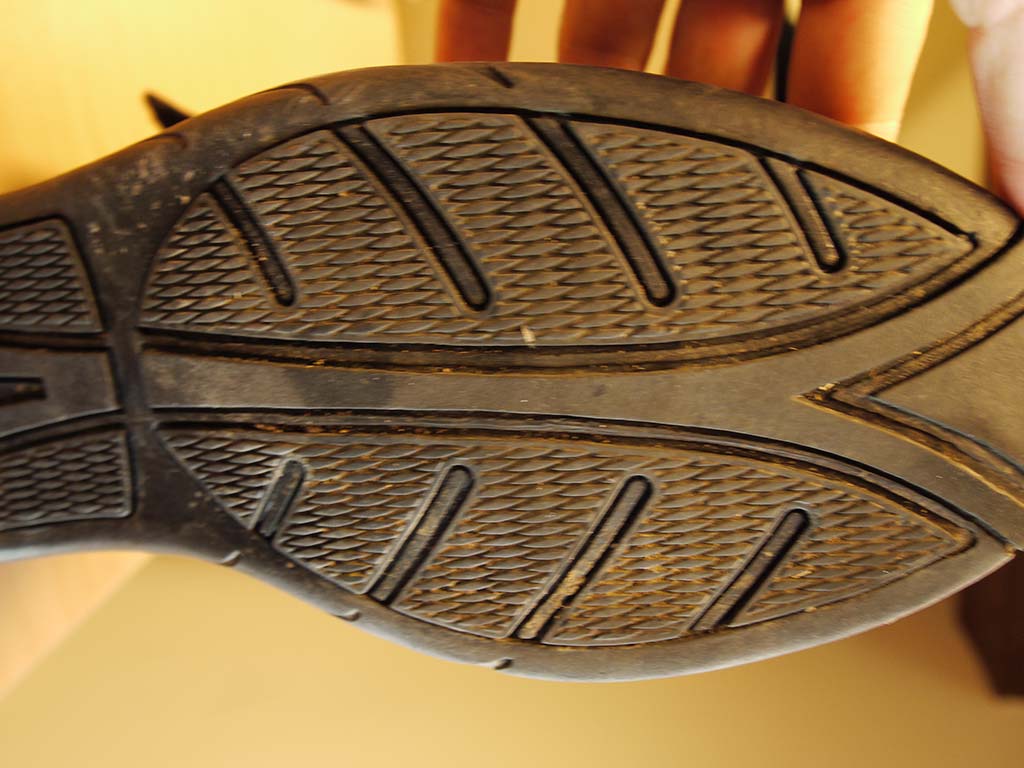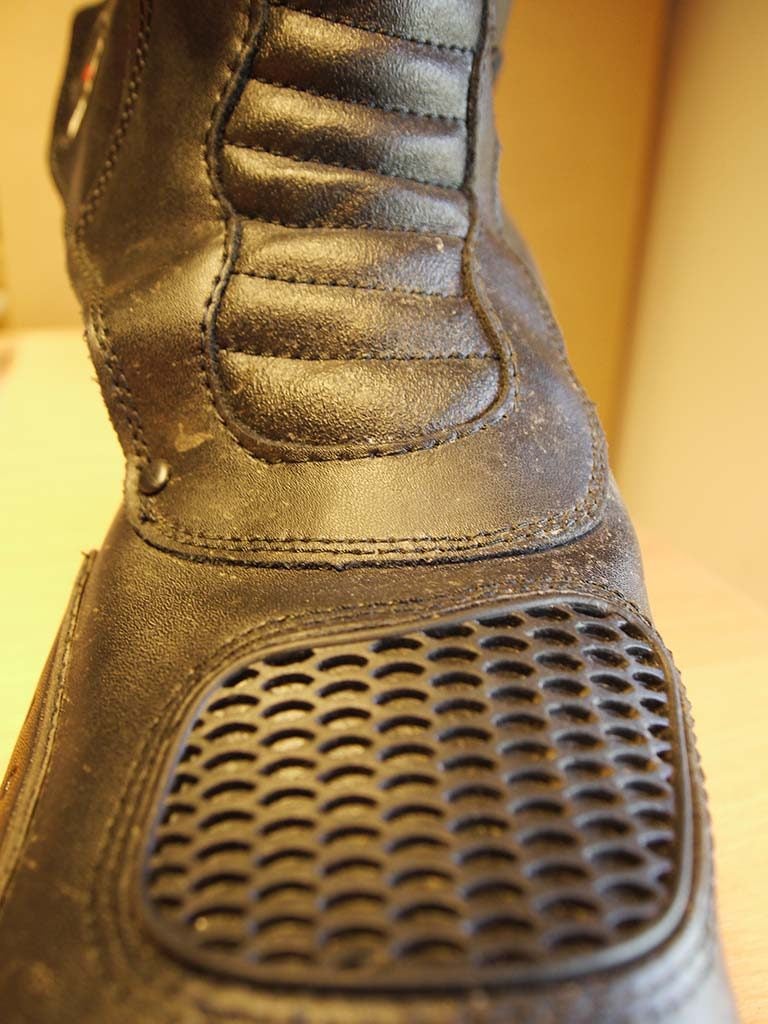 The sole unit is the same as found on the more expensive Weise boots, which means they're very ­ flexible with lots of out-of-the-box comfort, but little underfoot support. They grip fine on all road surfaces and dry trails, but these are no off-road adventure boots; a little wet grass or mud underfoot and you'd be on your backside. These are strictly road tourers.
The leather upper extends to mid-shin level and is fastened and secured around the foot and lower leg by way of a couple of Velcro pads. Slipping these boots on and off is as easy as it gets but we found that fine-tuning the fit via two Velcro pads was not as precise as other methods.
You get shock-absorbing protection at the shin, a firm toe cap plus there are robust protective patches for gear shifting. The rest of the upper is supple, very flexible and has no protection at the ankle. Some may like the comfort while others will want better protection.
The K4 come with a waterproof lining, which we assume means the waterproof layer is not a laminate, but a free hanging 'plastic' bootie placed between the outer fabric and the liner – a bit like a sock. This method is effective but not as robust as a bonded, quality laminate. In short, the price is good but it's re­ reflected in the overall quality of these boots.
In a line: If they ­fit, they're a budget buy for road tourers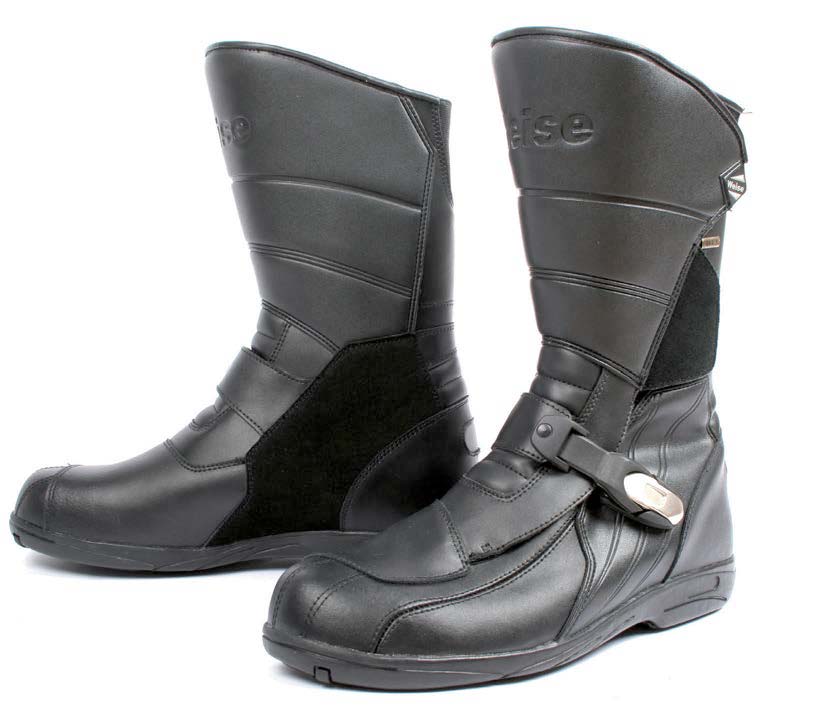 BRAND: WEISE
Style: Ventoux boot
Price: £89.99
ABR RATING 5 out of 10
CONTACT: www.weise-clothing.co.uk 0117 9719200
In this test and at £90, the Ventoux are competing against the less expensive Spada Compass, plus the more expensive TCX X-Action – both boots we rate.
First impressions of the Weise are that they are below average in all areas when it comes to foot protection. The sole unit is very flexible both front to back and side on. The upside of this is that they are straight-out-of-the-box comfy but when coupled with an upper with no ankle support or protection your lower leg and foot are more vulnerable than with other footwear on test.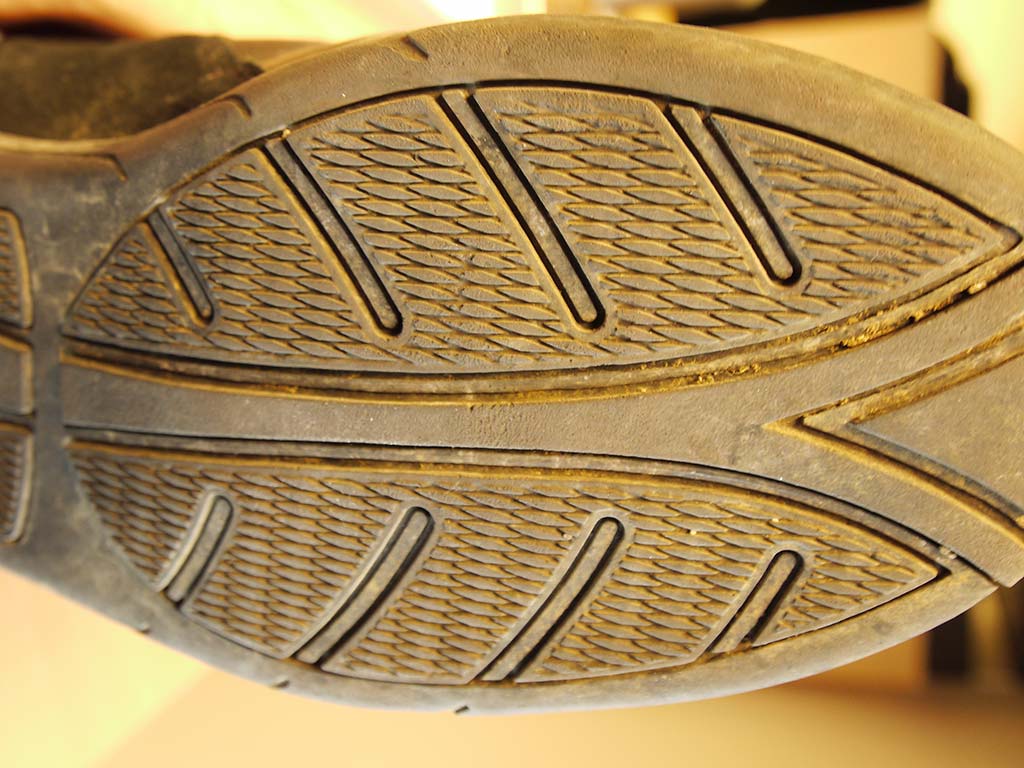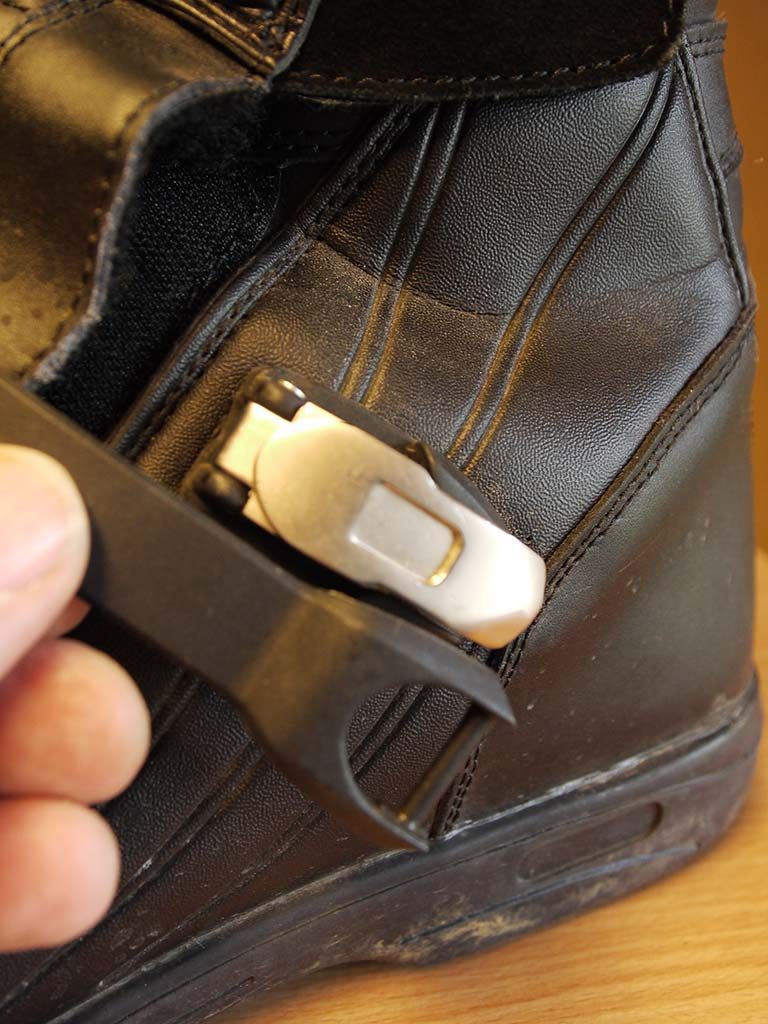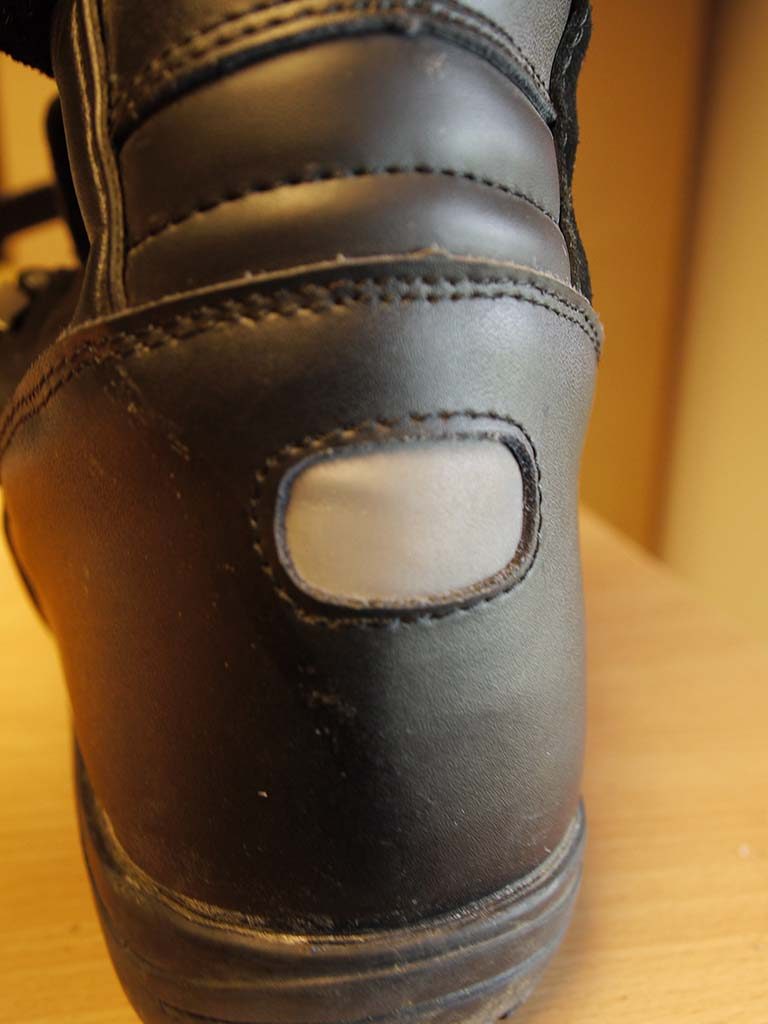 The sole unit is fine for gripping on tarmac and comfortable enough for hiking around towns and attractions when on tour. However, the tread pattern does not provide any purchase on wet or muddy off-road terrain, so the Ventoux is no all-round adventure boot, more a capable road tourer.
The upper is, in the main, constructed out of a soft, supple leather which is great for comfort but lacking in support. In our opinion there is also a lot of unnecessary stitching, which creates areas of potential weakness. The firm toe cap is spot on, while the heel counter is so soft it's difficult to tell if there is one under the leather at all. There is no reinforced gear-change pad though there is a protective shock-absorbing buffer at the shin.
Protection from the elements is provided by the inclusion of a Din Tex waterproof, breathable lining – we've not come across Din Tex prior to this test, but have to report that it performed adequately.
In use we found the Weise to be comfortable and they performed well in all that we asked. That said, we found the finishing and overall quality to be below average, even at the price on offer. In summary, these are not bad boots, it's simply a case that there are better value and higher quality products to be had at near enough prices. However, if these boots fit you better than the competition and you're not planning any off-road adventures, they'll do the job. Oh, and they come with a cleaning kit – a nice touch.
In a line: Better value and quality to be had elsewhere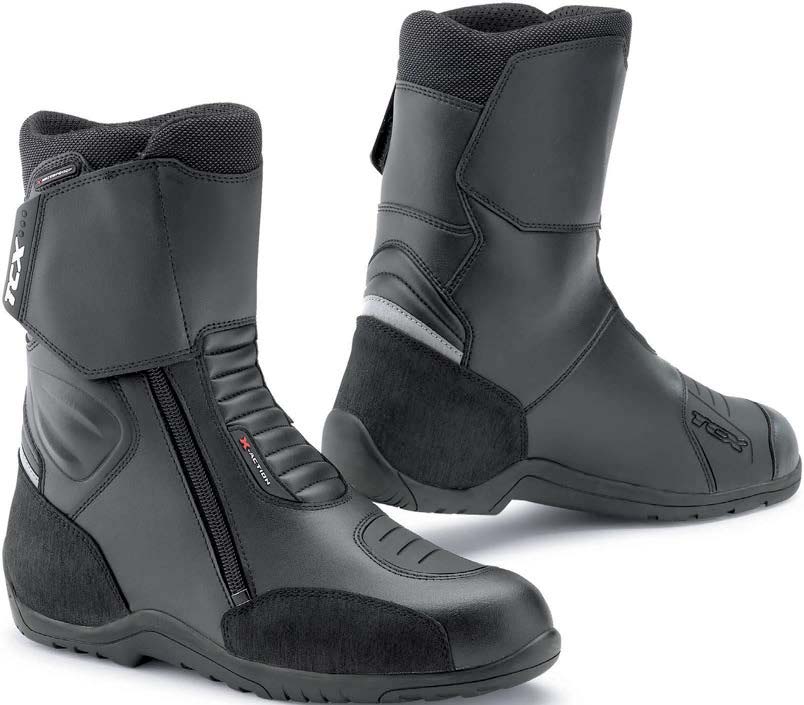 BRAND: TCX
Style: X-Action WP
Price: £99.99
ABR RATING 7 out of 10
CONTACT: www.nevis.uk.com 01425 478936
The X Action are classed as a sports touring boots, which means they're far better suited to road use but we reckon they'd also be ­fine for riding the kind of dry, dusty piste you'd ­ find in Morocco. That said, these are low-cut boots so you'd have no protection from flying rocks above the lower shin, nor would you have much grip should you hit any wet grass or mud.
In our opinion the TCX are good value, comfortable, spot on for touring European and UK roads, and wouldn't look out of place poking out from under a pair of jeans when the bike's parked up and you're out exploring the town.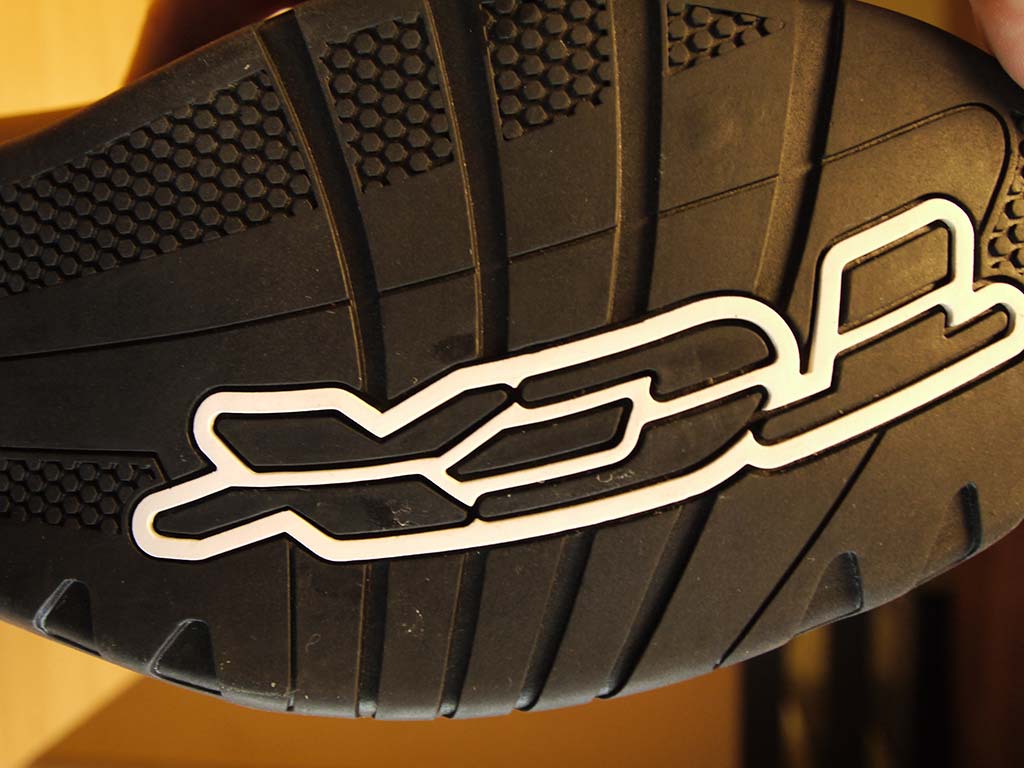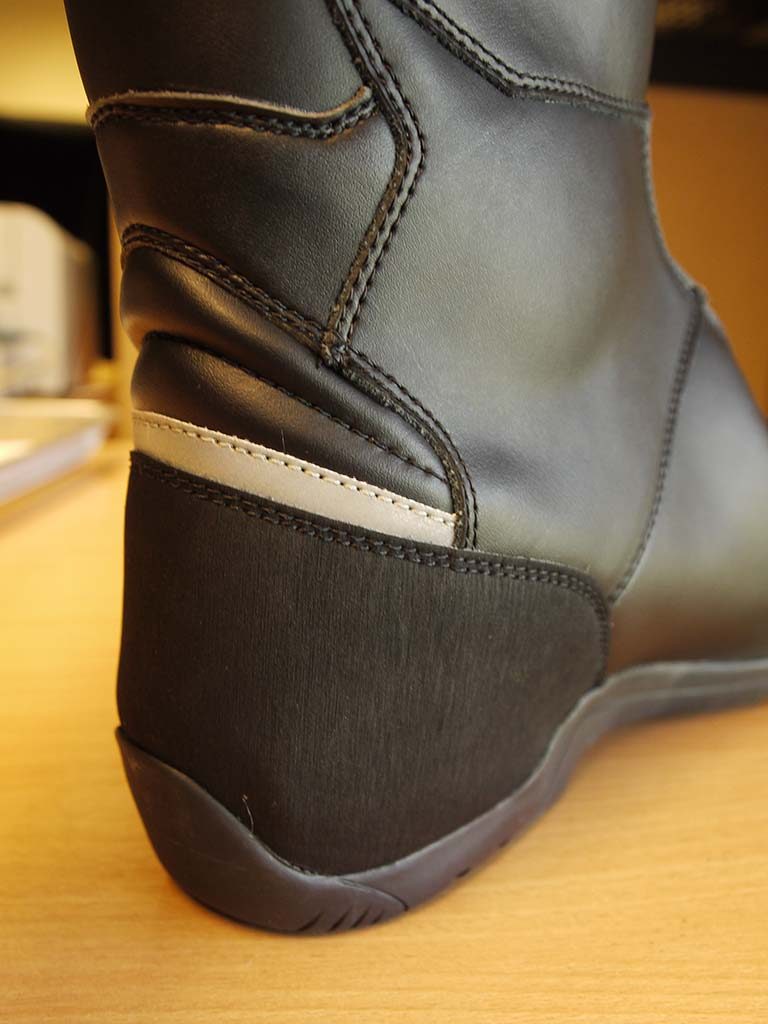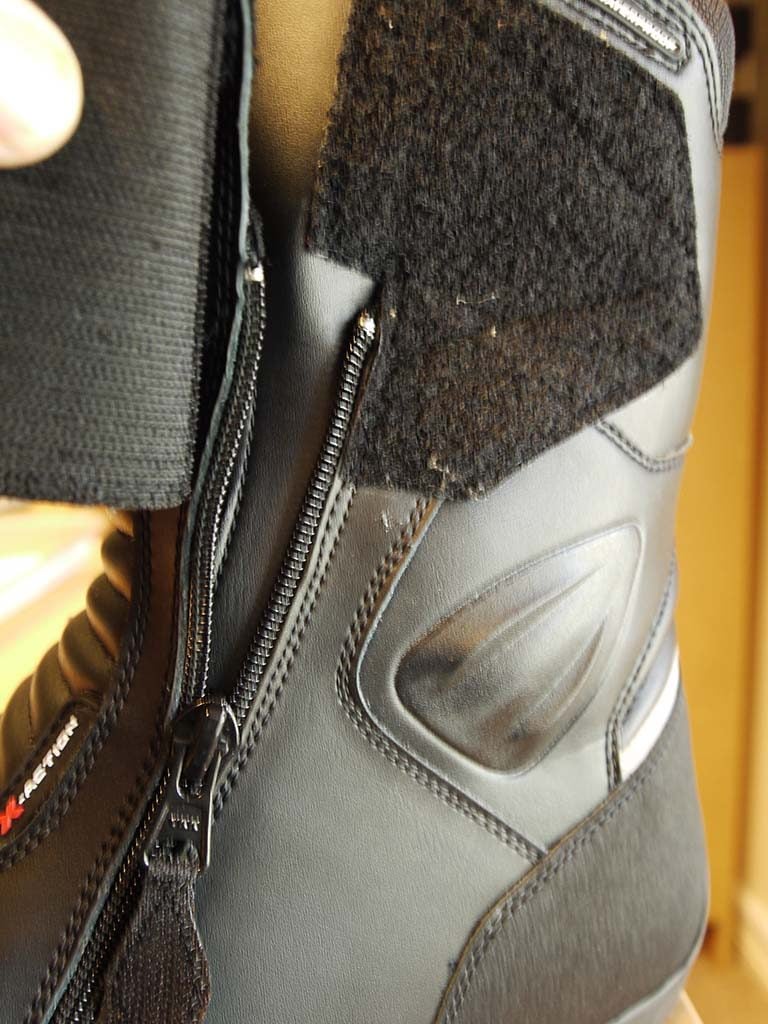 Slipping in and out of these boots is no fuss via a short zip (positioned on the outside of the boot) secured by a substantial, single Velcro flap. The sole unit offers good grip on tarmac and is ­flexible enough for out-of-the-box comfort but also has enough torsionally stiffness to offer a decent level of support – just how we like it.
The uppers are a combination of leather and synthetic leather, beefed up by Polyurethane shift pads and protective rands at high-wear areas around the heel and forefoot. In short these boots have been well thought out and designed.
Protection is supplied by stiffened heel and toe cups, plus you get tough shock-absorbent thermoplastic inserts at the ankles and shins. Once again, there's nothing to fault in this area.
On the inside of the boot you'll find a box-standard footbed (as with all the other boots on test) and a proprietary waterproof breathable membrane which does the same job as a Gore-Tex membrane at keeping out the elements, in other words these boots are waterproof and windproof. You'll also find a good level of comfy padding at the cuff and around the ankle protectors.
The X Action are a quality product and if you're looking for a predominantly road touring boot that's comfortable in use and the low-cut design is no hindrance then place these on your fit test list.
In a line: Tough, well made, comfortable – we like them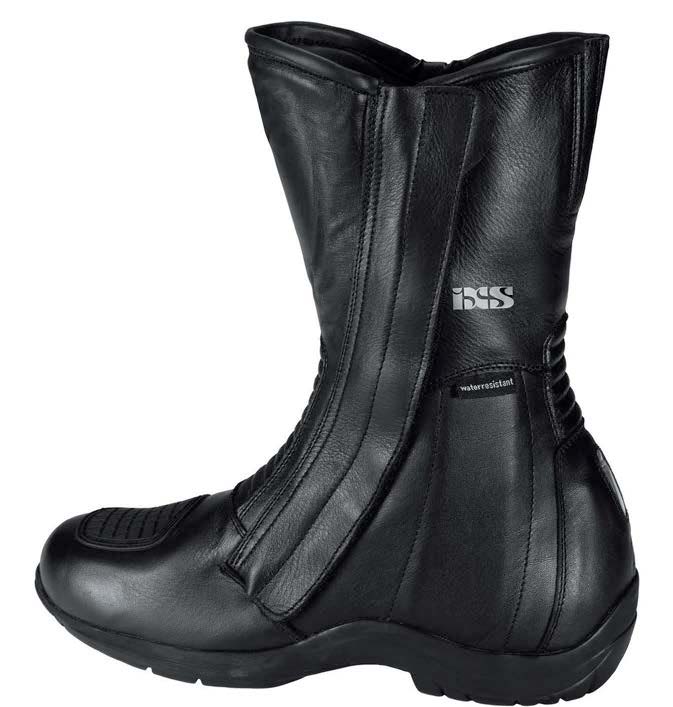 BRAND: IXS
Style: Bravo boots
Price: £145
ABR RATING 7 out of 10
CONTACT: www.ixs.com +49 (0) 763 118 040
IXS is a Swiss brand and as with most products that come out of the small Alpine country we've been impressed with their quality and performance. These comfortable mid-height boots have been put through their paces over the past three months in all conditions (snow and ice aside) and on varied terrain, including a full day green laning at an ABR Rally, which also included its fair share of ford crossings.
The ­first thing I need to point out with the Bravo, which isn't speci­fied in any of the company's literature or product info, is that these boots are waterproof. They come with a waterproof lining, which does exactly that and very well.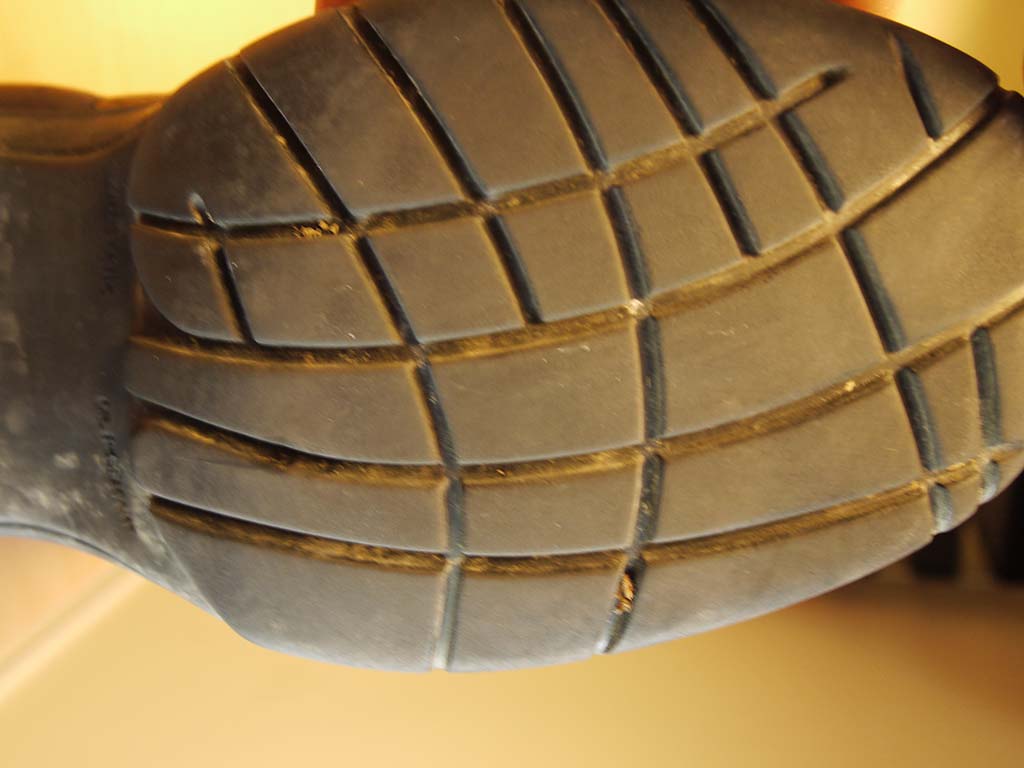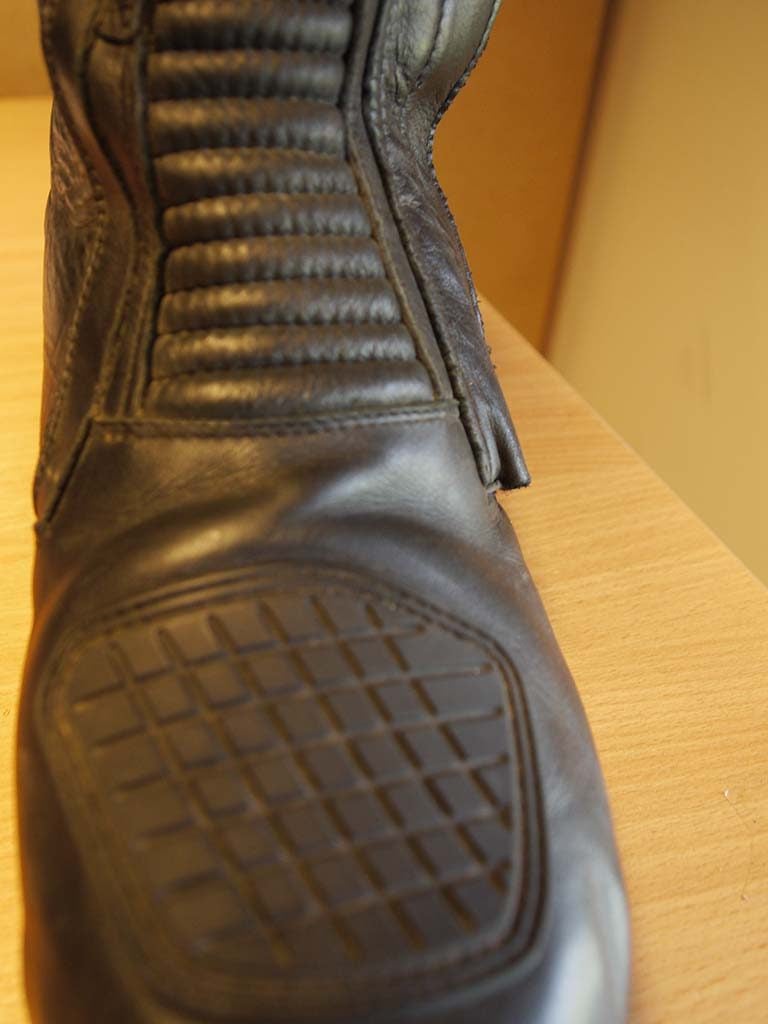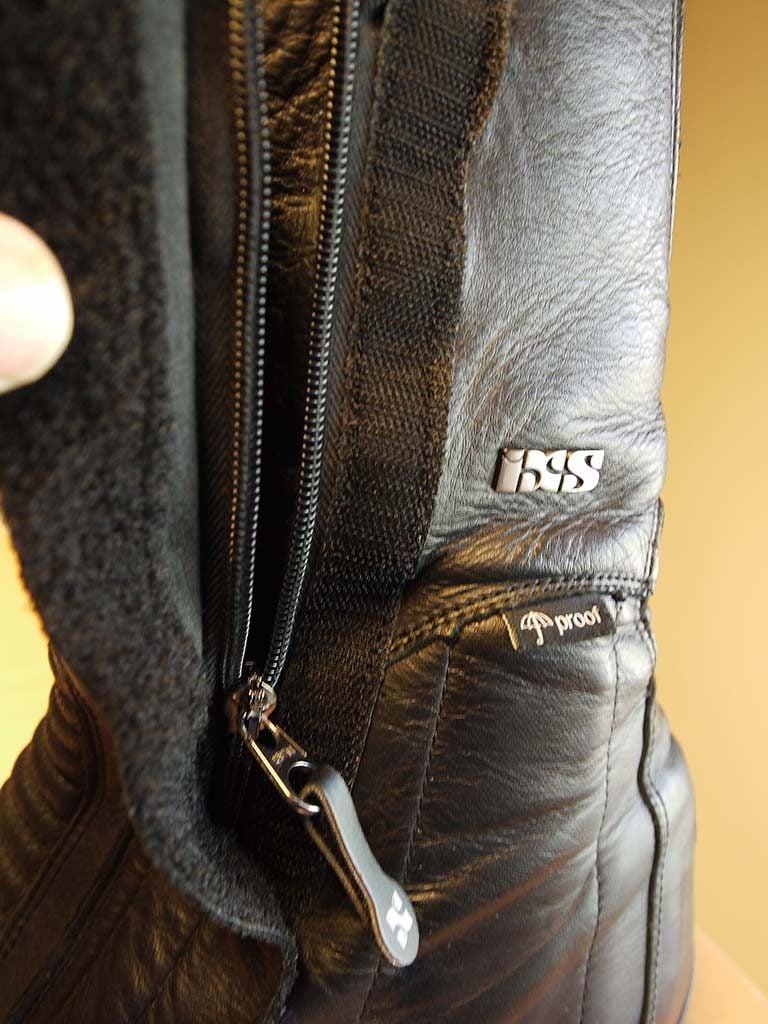 The tread on the sole unit is not suited for wet and muddy off-road adventures, but it grips just ­fine in all conditions on tarmac and will see you okay on dry, dusty off-road trails/green lanes too.
The fore and aft flex is for out-of-the- box comfort rather than underfoot support and there's little in the way of torsional support either. That said, IXS is at pains to point out its innovative 'torsional' support system, which is essentially a couple of plastic stiffeners/supports stitched into the sides of the boots from the sole and covering the ankles. And they work, comfortably cradling the foot while also delivering a level of support where twisting your ankle is going to require some effort from you.
The uppers are constructed from a quality, supple leather hide and are secured by way of a side zip, which is fully covered by a Velcro strip. There's a ­firm heel cup stiffener, little to no strengthening in the toe region, but there is a robust gear-shift patch.
These boots are well made with a quality of construction you'd expect to find in more expensive footwear. They are comfortable for all-day use, waterproof and reasonably supportive, plus they­ fit well under a pair of jeans – always useful when on an adventure or tour. The Bravo are de­finitely worth a ­fit test if you like a shorter cut boot and don't envisage mud plugging.
In a line: Swiss quality with all-day comfort.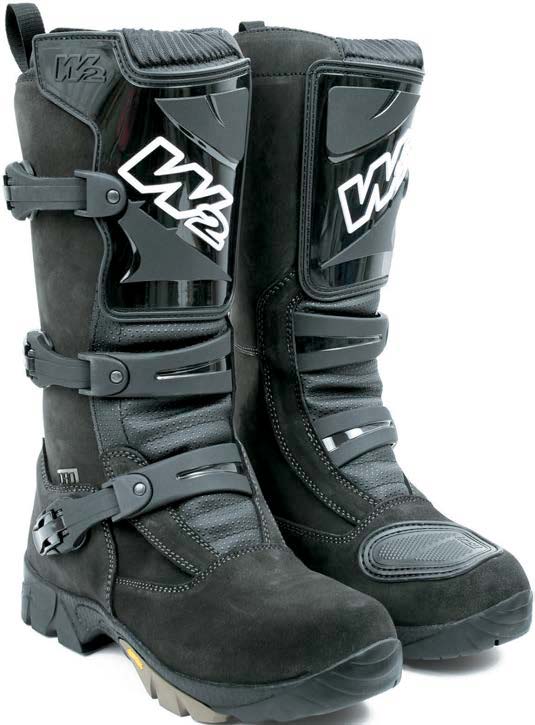 BRAND: W2
Style: 4-Dirt Adventure
Price: £149.99
ABR RATING 8 out of 10
CONTACT: www.tranam.co.uk 01425 620580
If you're in the market for a full height adventure-style boot and your budget is limited to £150 then you may as well stop reading now and go and buy yourself a pair of W2 4-Dirt Adventure boots. In short, these boots are well constructed, durable, comfortable (if they ­fit your foot shape, of course) look the part and are great value for money.
In essence the W2s have all the characteristics found in a tough hiking boots that would see you tramping safely over high alpine passes in comfort with the add-ons and extensions to convert them into practical adventure motorcycle boots.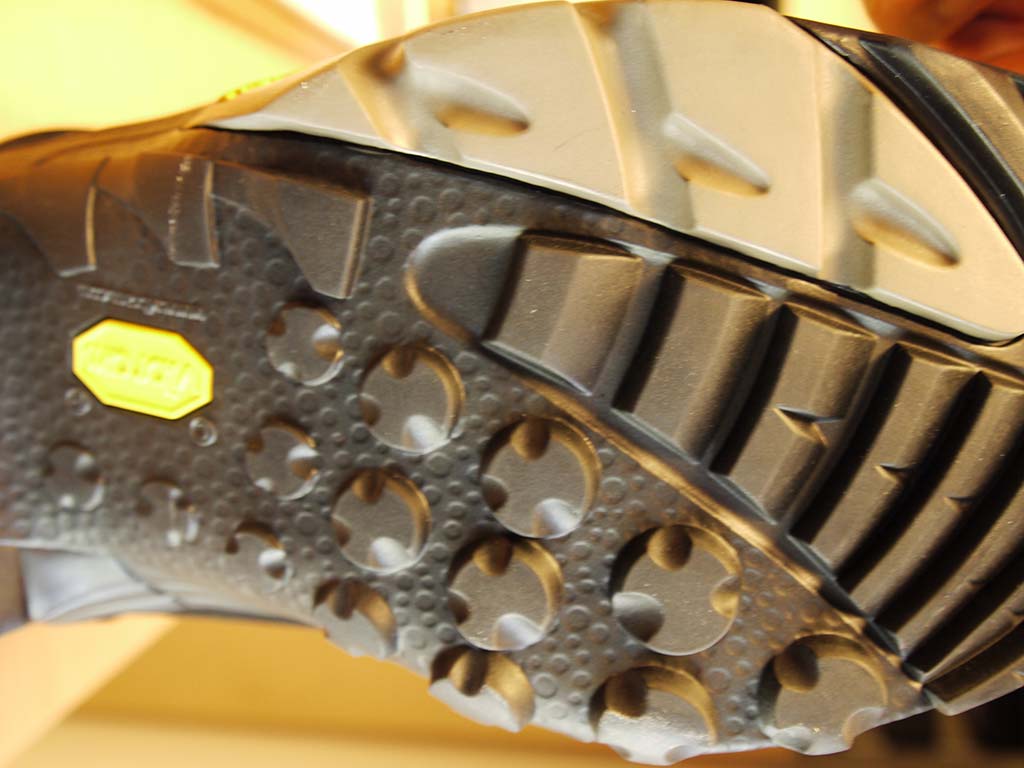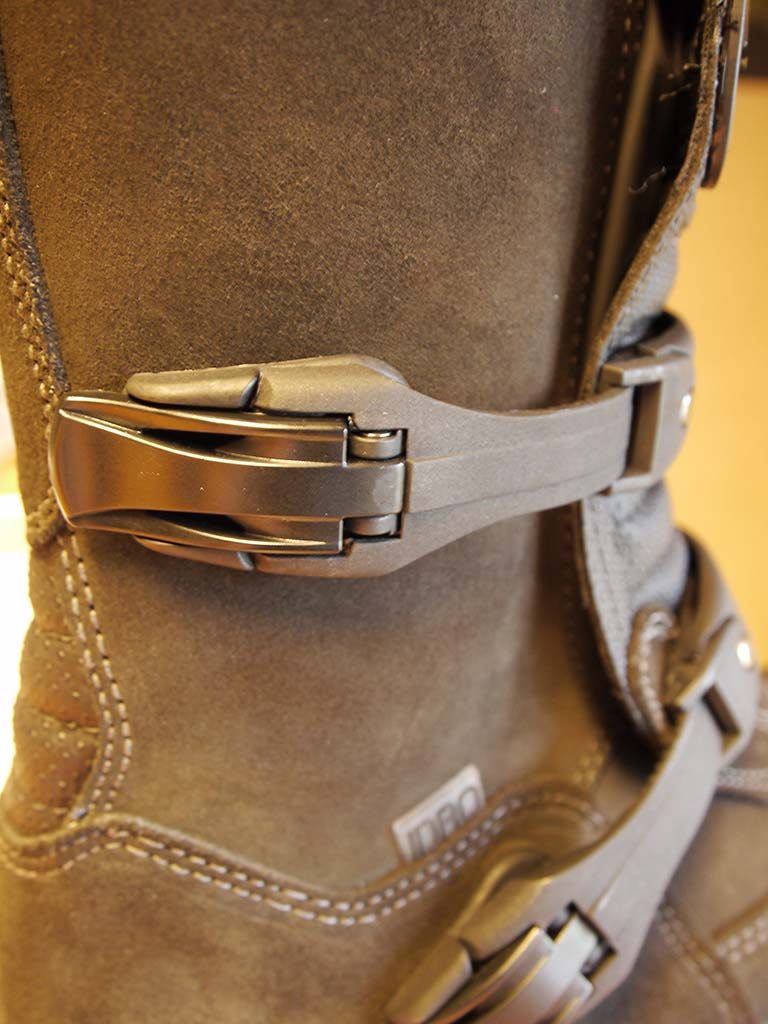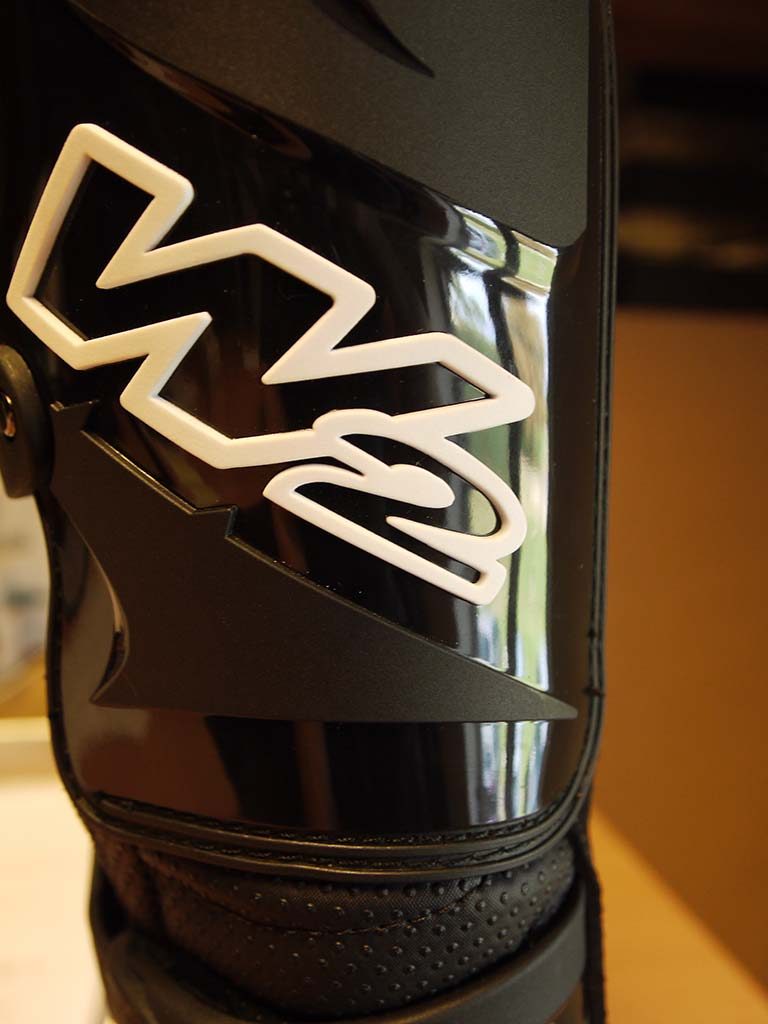 From the ground up the hiking in­ fluence is there with the inclusion of a tried and trusted Vibram sole unit. The tread pattern and compound is not the company's top mud-plugger but is good enough to keep you and your bike upright should you need a dab, paddle or push in wet, slippery ground. They also perform well on harder surfaces.
The high degree of forward ­flex means these boots defy their looks and are comfy for extended use and walks, should the need arise. The boots also come with a steel shank to provide underfoot support though in use we would have preferred a touch more torsional stiffness. However, it's not enough to unduly concerned us or put us off buying them.
The upper is constructed out of 3mmthick suede and is secured around the foot and lower leg via three motocross-style quick-release adjustable buckles and a small Velcro tab at the top. Should they break or wear out the buckles are easily replaceable, which we like.
The shin is protected by injection molded plastic protectors and you get a high-wear gear-change patch. When measured against the far more expensive Sidi Adventure the overall protection is inferior but is good enough for us to place our trust in.
Protection from the elements is via a waterproof, windproof, breathable membrane the name of which is new to us but we've found it to be as effective as high-priced 'tex' brands on test. I'll finish where I started and highlight that at this price the W2s are a recommended buy.
In a line: Excellent value-for-money adventure-style boots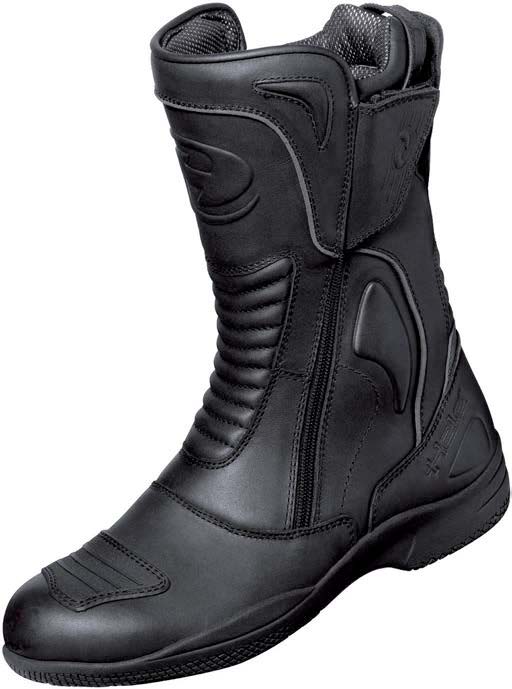 BRAND: HELD
Style: Marvin Enduro boots
Price: £179.99
ABR RATING 7 out of 10
CONTACT: www.held.de 01423 790121
It's inevitable that enduro/adventure footwear in this test gets compared against the superb Sidi Adventure (which we consider near perfect) even though they may be a lot less expensive, as is the case with Held.
There's a cost saving of circa £115 on the Sidi, but it's also apparent from the off where those costs have been clipped. While the Held are constructed using acceptable quality components the differences in workmanship and components are apparent to both the trained and untrained eye. That said, for the money, these are good boots and worth checking out if they ­fit your budget and your feet.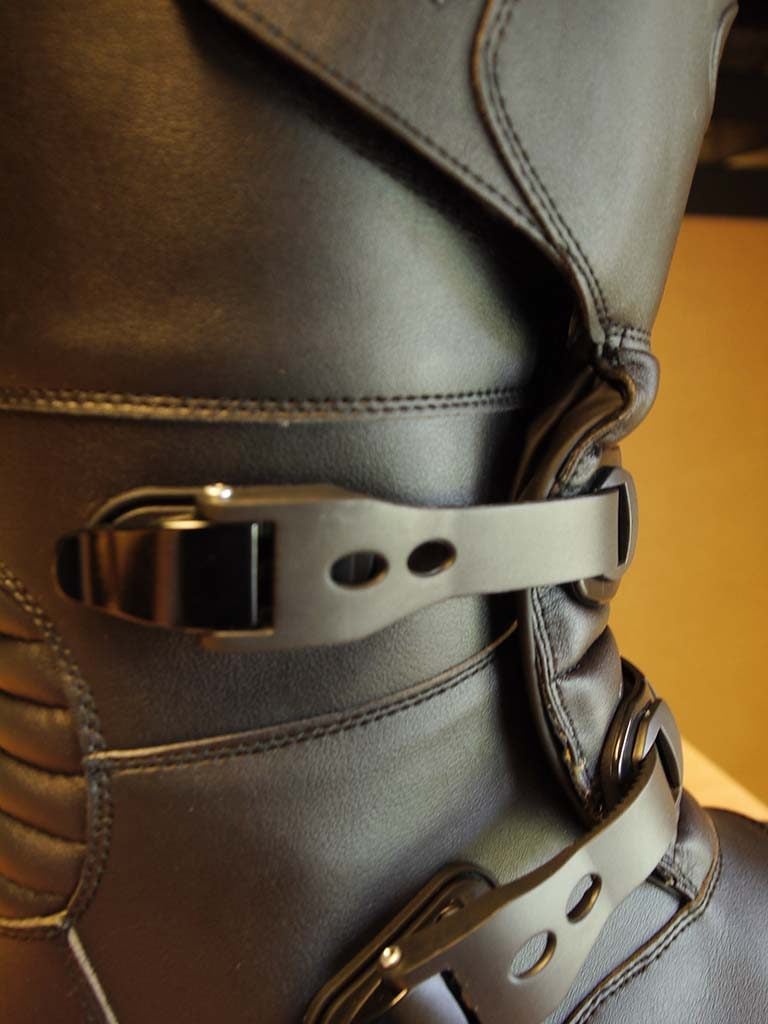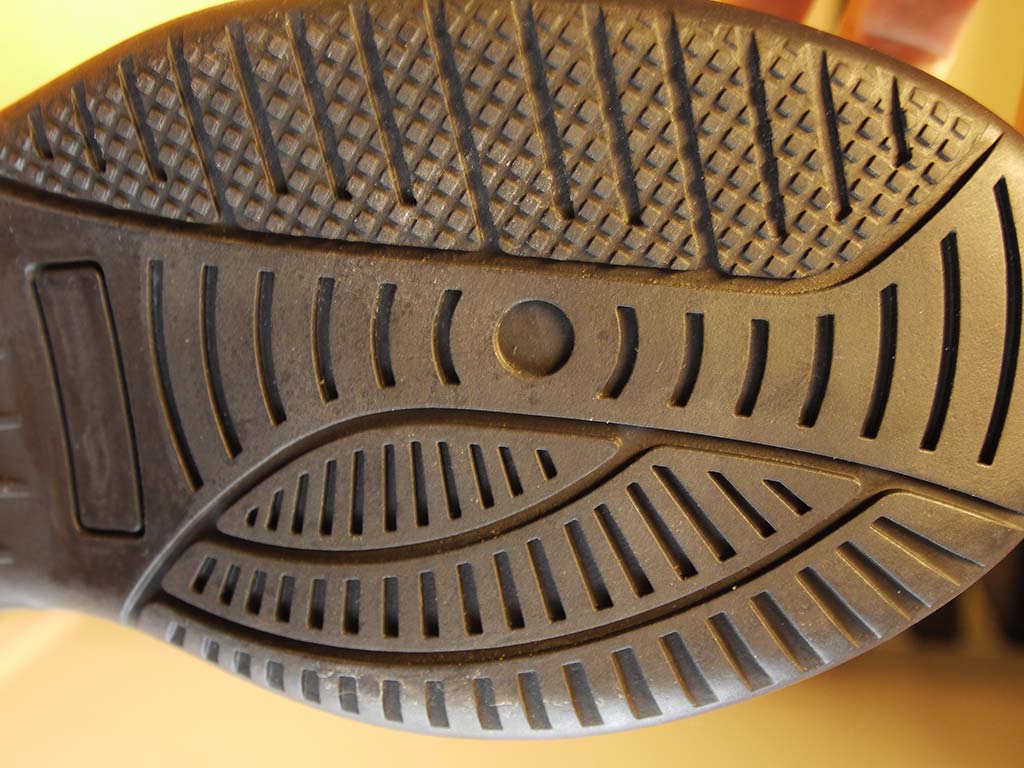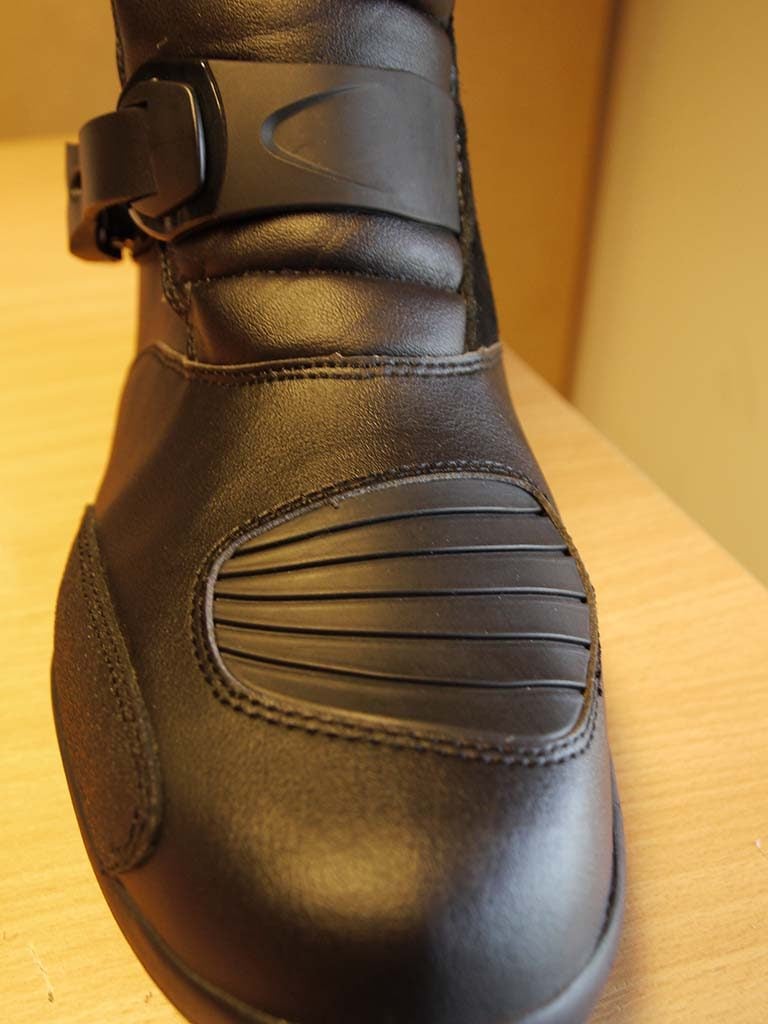 The sole unit is flexible enough for comfort, plus they offer support where needed, which we like. The tread pattern is not deep enough to provide the best of purchase if you need to paddle through mud or wet grass on a big adventure bike but is sticky enough for all other underfoot conditions.
The uppers offer good all-round protection, especially at the shins and around the ankles where they've been beefed up. The twin clasp and Velcro strap closure also offer a good range of adjustment and would be worth a ­fit test if your calves are bigger than average.
Protection from the elements is via a Miracle-tex membrane which is waterproof, windproof and breathable, plus Held claims it's permanently bonded with an anti-microbial coating which means they should smell a little sweeter after long hot days in the saddle. One point worth mentioning about this waterproof membrane is that it only extends just over halfway up the boot, which means it'll be fine in normal riding conditions but looks a little exposed if your plans include river crossings.
The toe and heel caps are less ­firm than average and will no doubt soften even more over time which is another factor to consider depending on your riding style. Other features include a protective plastic gear-shift pad, a robust wear patch on the outer edge of the boot and while the inner lining is not as forgiving as some it's comfortable enough for all-day use.
Overall we reckon the Held Marvin Enduro are good for the money and a reliable, robust lower-cost adventure-style boot
In a line: No problems, good value but would prefer better grip in the mud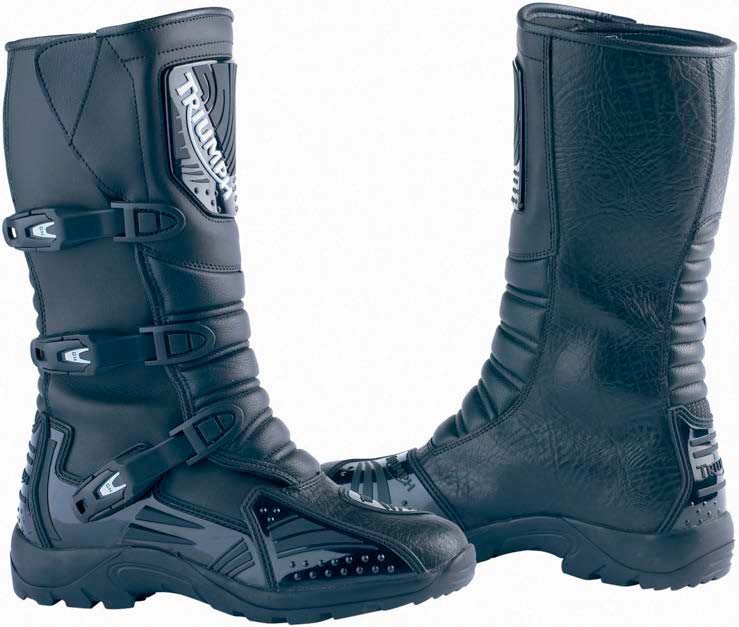 BRAND: TRIUMPH
Style: Adventures
Price: £180
ABR RATING 7 out of 10
CONTACT: www.triumphmotorcycles.co.uk
I'm always a little sceptical when hardware manufacturers expand their brand to include technical clothing. Very often the expertise they possess in their core business is shown to be sorely lacking in the selection of footwear to which they attach their brand. However, I have to say, I'm impressed with the Triumph Adventure boots. They're not up to the quality of the benchmark Sidi Adventures but at £180 they're competitively priced and a credible alternative to established footwear brands for around the same money.
The tread pattern on the sole unit is very similar to that found on hiking footwear and it does offer a good level of traction on wet, muddy terrain, plus they handle reasonably well on wet rocks, too. For urban conditions the grip is faultless, and it appears to be durable and hard wearing. There's enough frontal flex for all-day comfort and the torsional support is also good.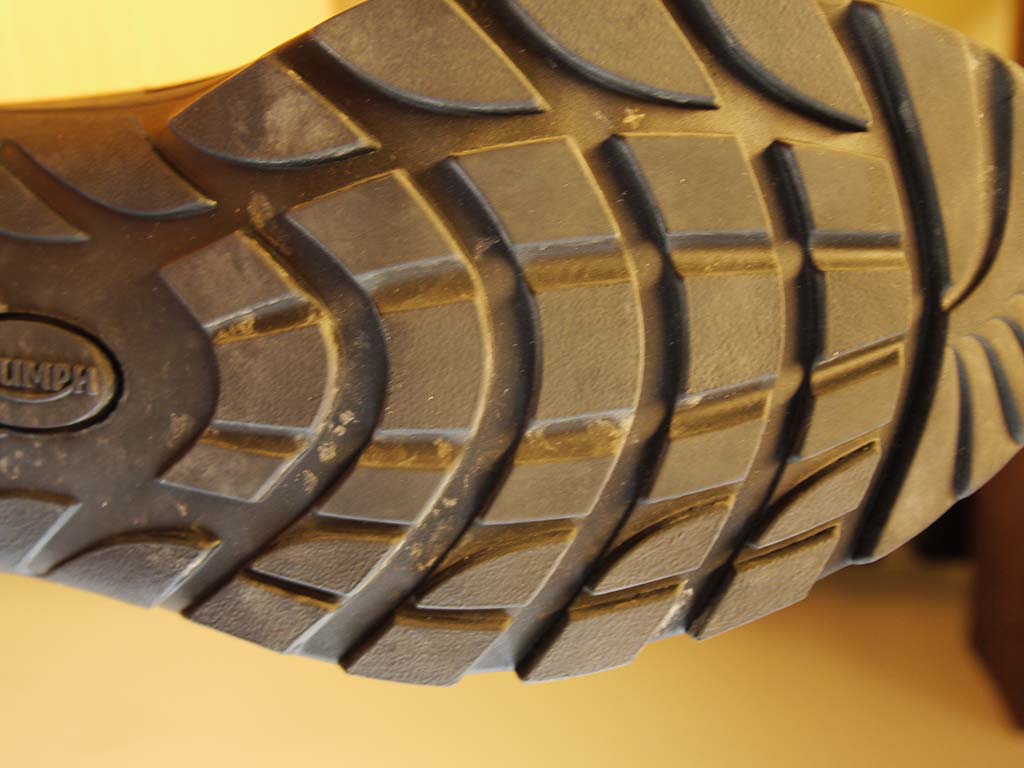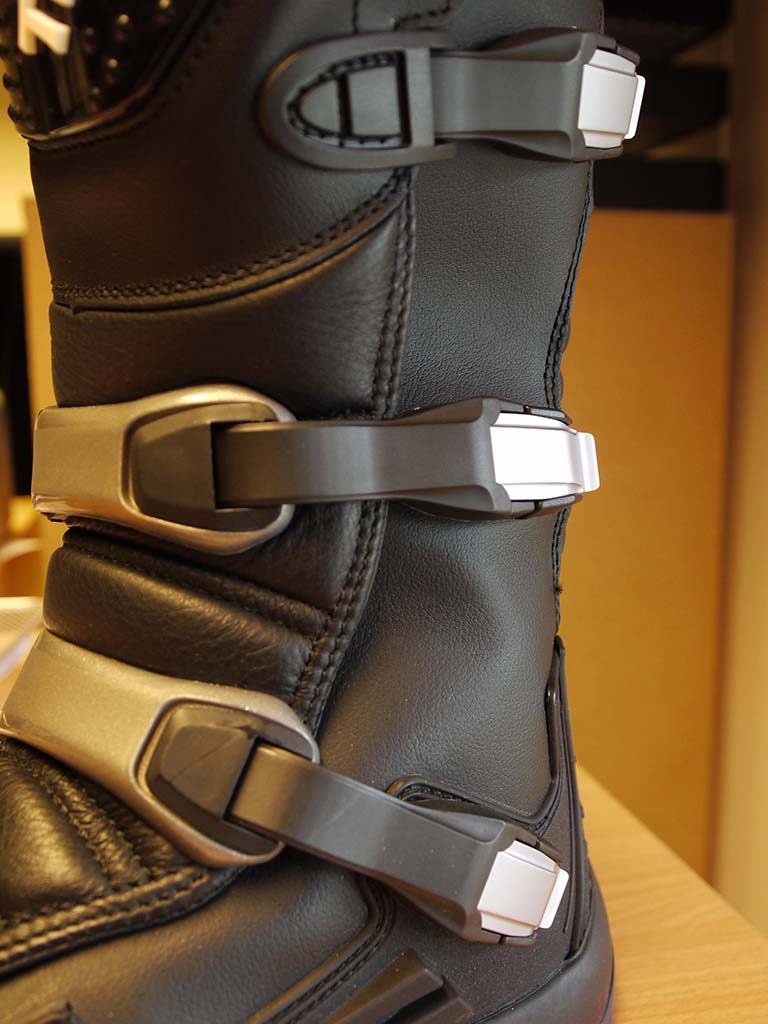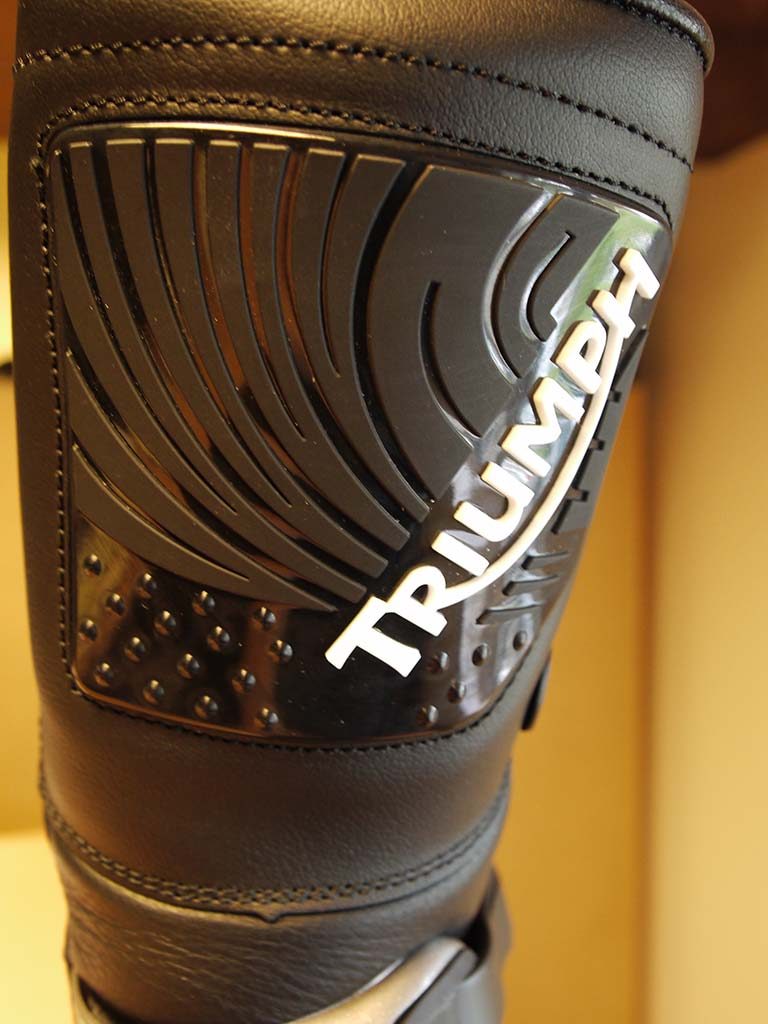 The uppers are slightly lower than the Sidi, not that that would worry us mind. In the main they are cut from leather with beefed-up plastic moulded sections in all the right areas. Combined with a firm toe cap, heel cup, shin guard, ankle protection and hard-wearing gearchange patches the Adventure offer good all-round protection and support.
Protection from the elements is provided via a Tri Tex waterproof, windproof, breathable membrane and although we've not had any prior experience of Tri Tex the boots have remained dry in all-day downpours and we'd doubt if it's any less effective than all the other 'tex' waterproof products on the market.
The boot is secured around the foot and lower leg by way of three motocross-style plastic buckles and a sizeable Velcro tab. The buckles are not as substantial as others on test, but we've not had any problems so far and they can be replaced easily enough.
In short we've been pleasantly surprised by the quality and comfort of the Triumph Adventure and would have no problem recommending these boots as a great all-round alternative to the more established adventure brands. That said, make sure you have a fit test as they are a little on the narrow side for the average British foot.
In a line: A competent, quality all round adventure boot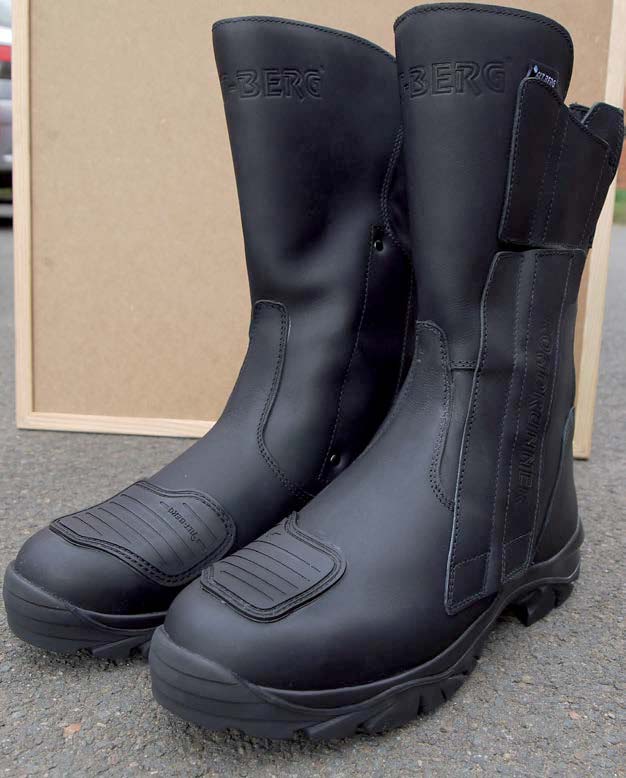 BRAND: ALTBERG
Style: Roadrunner boots
Price: £194.99
ABR RATING 8 out of 10
CONTACT: www.altberg.co.uk 01748 850615 / 824717
I've walked more miles in Altberg hiking boots than I care to remember, including a tough 100-mile section of the Appalachian Trail through the Smoky Mountains of North Carolina. The reason I mention the company's walking boots is to emphasise that Altberg come with comfort built in, which, it would be fair to assume, has something to do with the hiking heritage.
The Roadrunner are a new style for 2011 having spent 18 months in testing by a designer who rides a BMW before being classed as production ready. And while I'm not exactly sure if these boots were made in the UK or Italy (Altberg has recently taken on additional manufacturing outside of its Yorkshire base) the quality of construction and components are first class.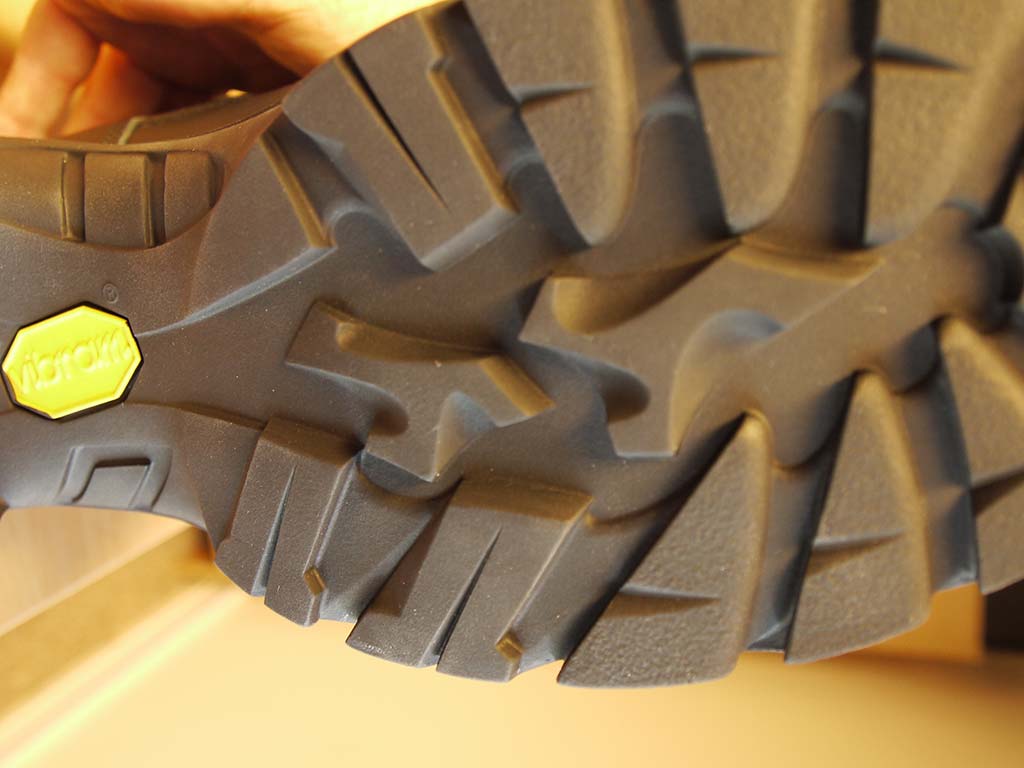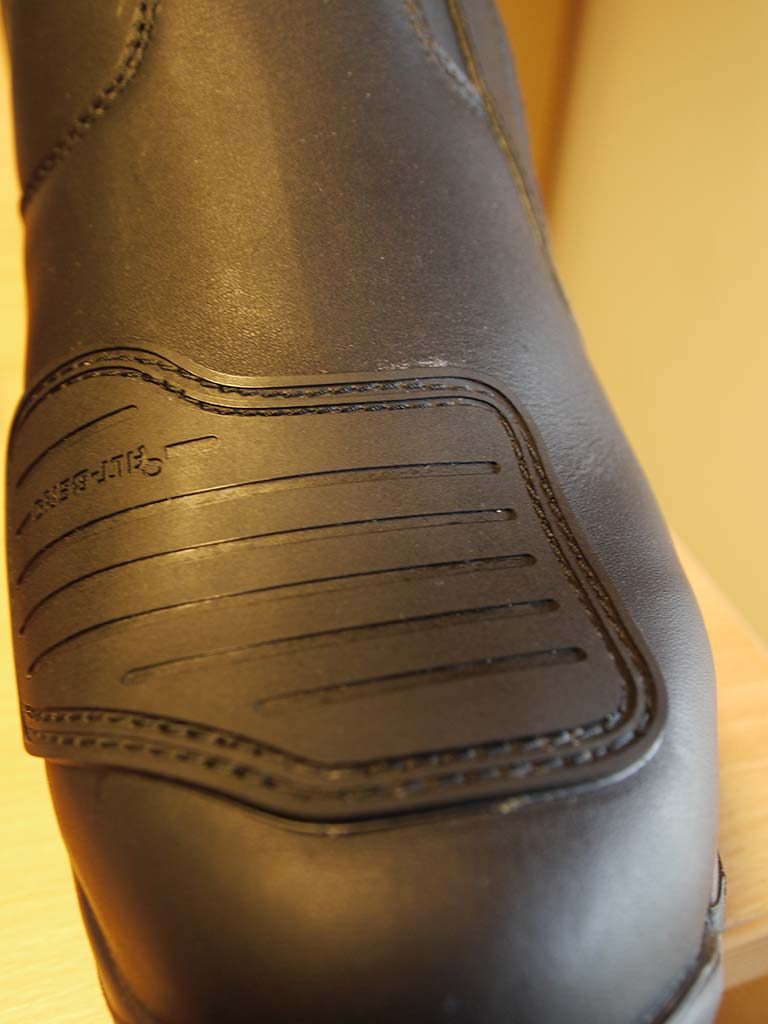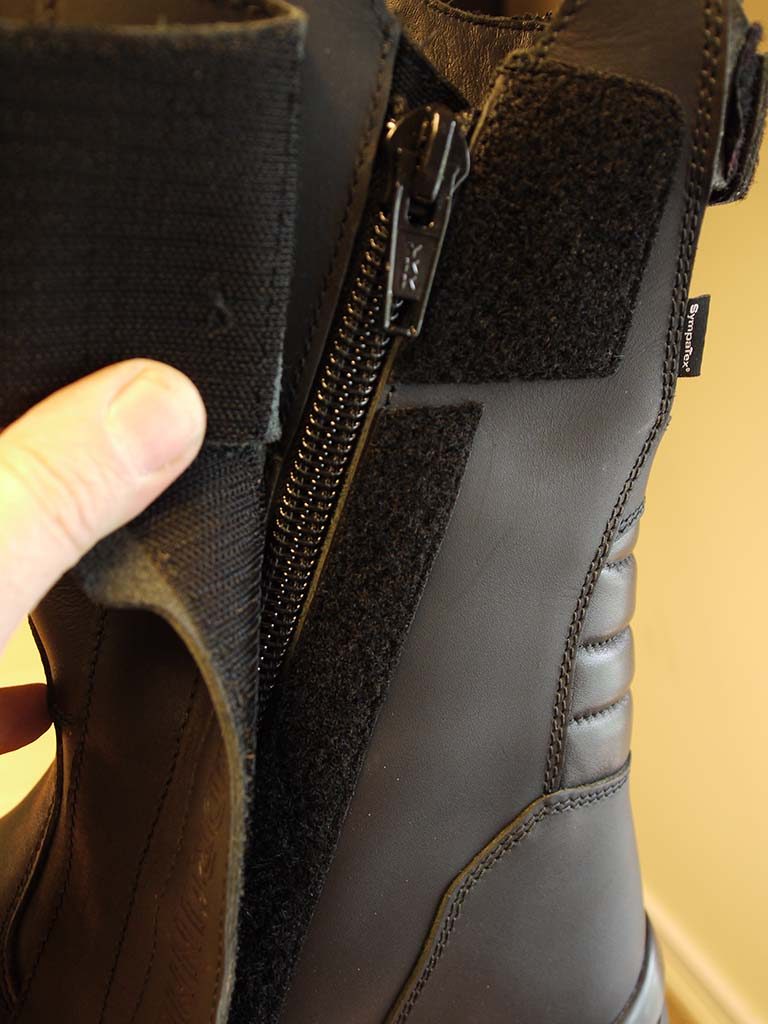 It's also worth pointing out that the company offers a made-to-measure service, the boots comes with five width fittings, plus you can have a footbed custom made for your foot. In short, getting the right fit with Altberg is part of the service.
Styled more as a traditional 'tourer' rather than an 'adventure' boot I'd have no problem recommending the Roadrunner for a mixed ride covering on and off-road. In fact the deep-cleated Vibram sole is probably the most grippy on test when it comes to mud plugging and the Sympatex waterproof/breathable liner is as good as any at keeping out the wet stuff.
You get a full side-entry zip (top spec YKK) backed by a waterproof gaiter and protected by leather flaps secured by Velcro. The Roadrunner also come with a substantial range of adjustment for fine-tuning fit and will accommodate riders with bigger than average calves. In use there is good fore and aft flex for comfort and the torsional stiffness is a spot on compromise of protection and comfort.
The heel and toe cups are both supportive and offer good protection; you also get a reinforced rubber patch for gear shifting and the shin area comes with additional padding for comfort and to take the sting out of low-flying gravel.
In use I found them to be as comfortable as a touring boot could be without compromising protection and the quality of the leather, components and workmanship mean these boots are going to last a long, long time.
In a line: Quality, comfortable footwear that you can have made to measure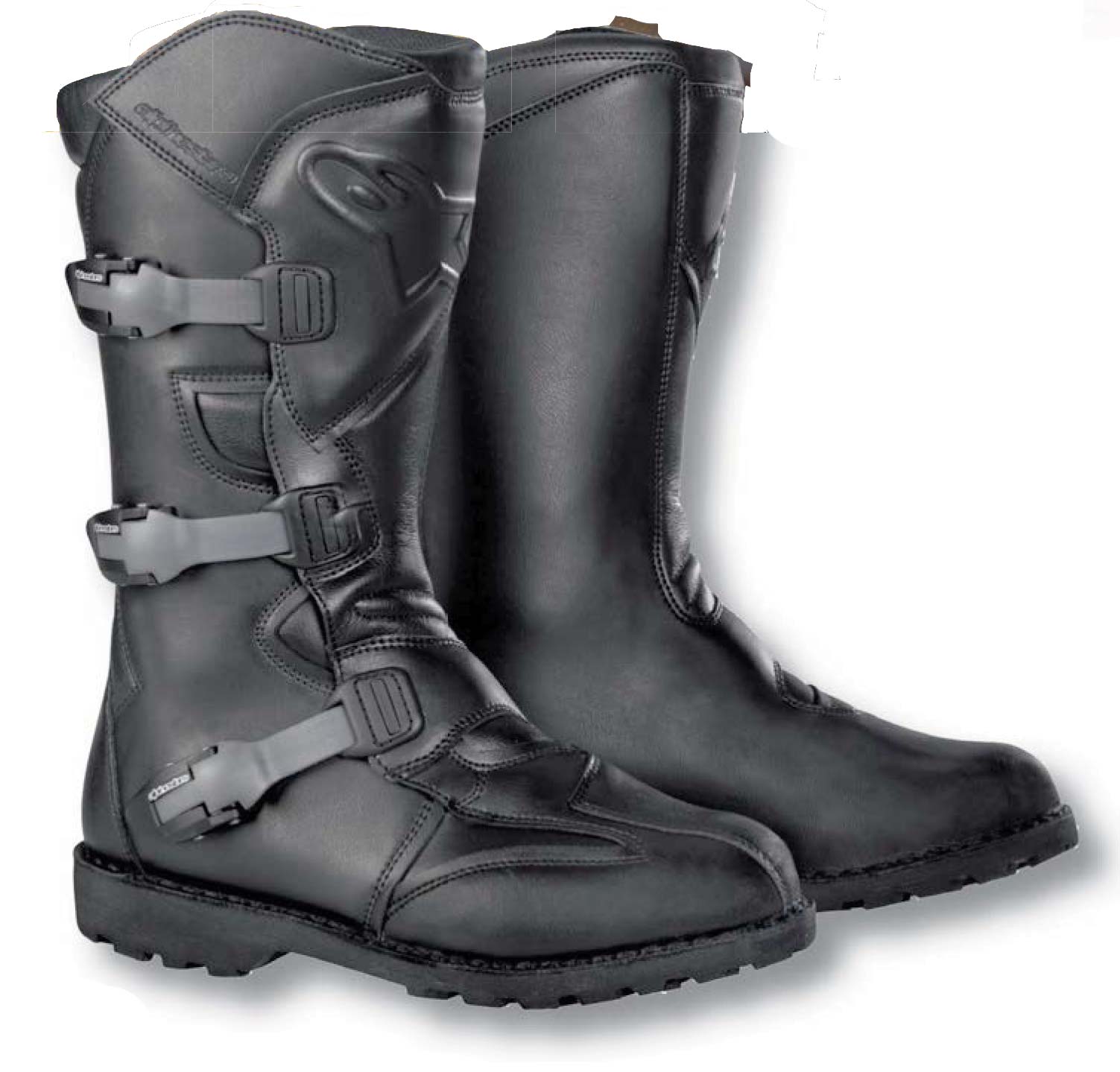 BRAND: ALPINESTARS
Style: Scout WP Boots
Price: £219.95
ABR RATING 7 out of 10
CONTACT: www.alpinestars.com 0039 0423 5286
In the ­final inspection departments in shoe/boot factories they check for symmetry in the footwear to ensure that the leather and construction processes match and you buy, as near as dammit, an identical pair. It may sound like a prime feature that boots match but I guarantee you that the vast majority you've bought do not. The difference won't be noticeable to the untrained eye, though, and what differences there are rarely affect the quality or the comfort. With the above in mind there was a noticeable di­fference between the right and left of the Alpinestar on test. We were equally sure, however, that those di­fferences did not a­ffect the quality so we've not down-grade the Scout's score because of it. It would be worth a quick in-store scan for symmetry before buying though.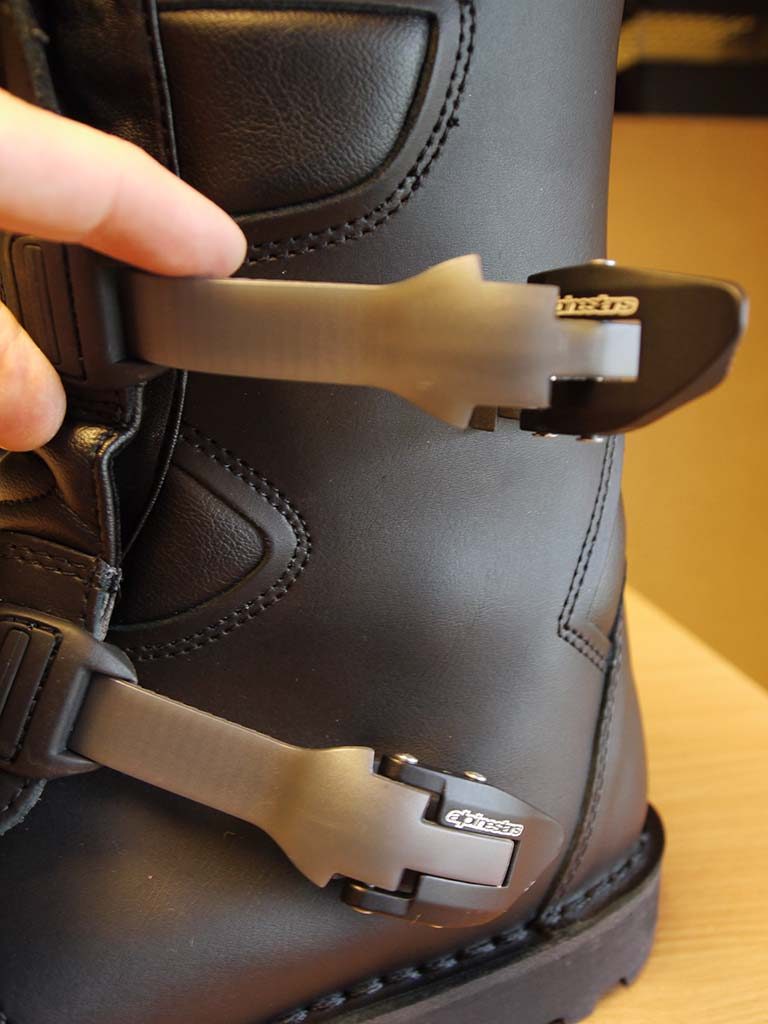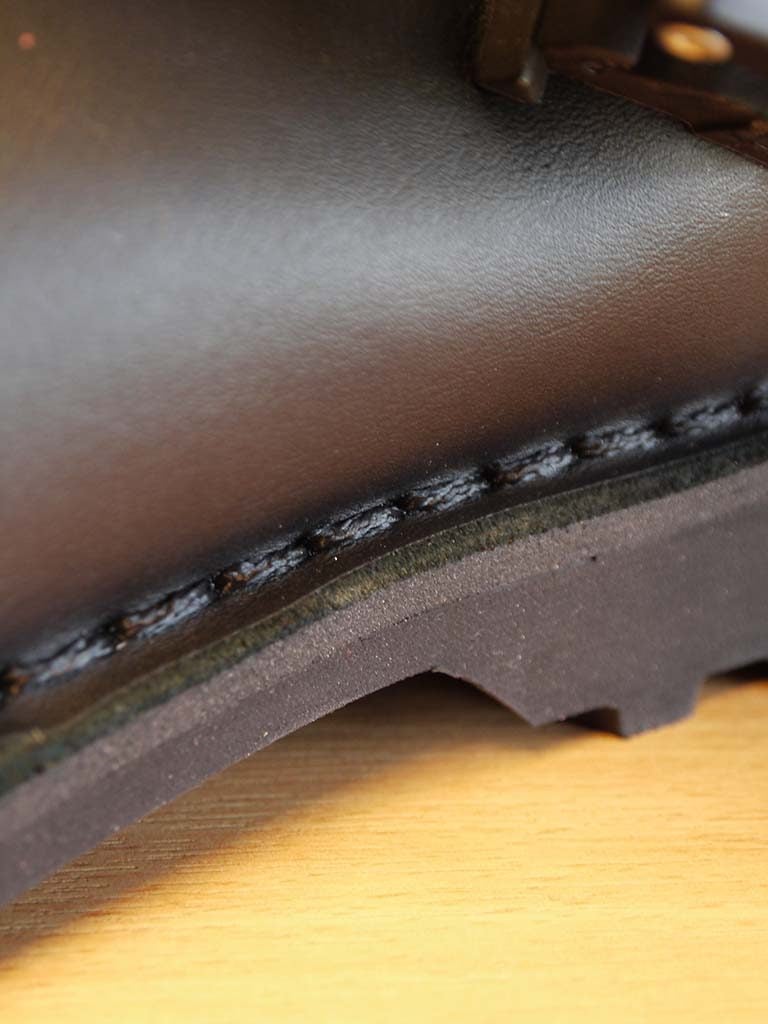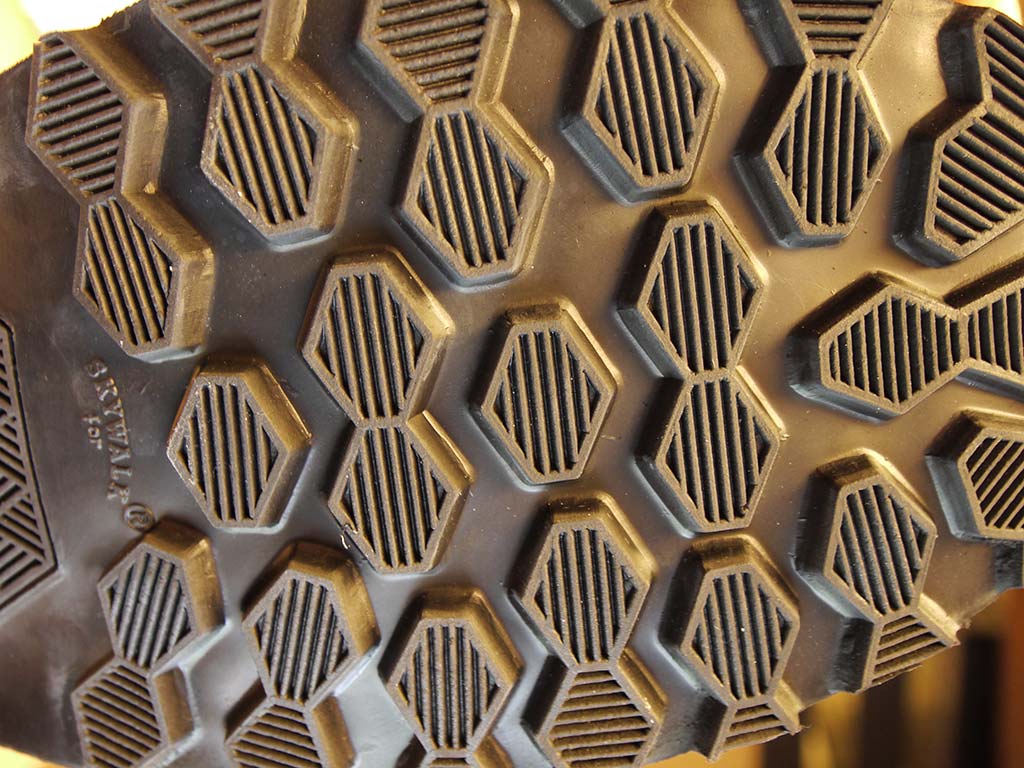 Lack of symmetry aside we really took a shine to the Alpinestars. From the ground up the materials used, and construction techniques are top quality. The sole unit comes with a good chunky tread that works well both on- and o­ff-road and while the comfort is not as out-of-the-box instant as others on test the extra sti­ffness and additional underfoot support will be welcomed by some – including us. As well as being glued to the upper the sole unit is also stitched in, which generally makes for a hard-wearing boot.
The uppers are cut from a quality hide which looks and feels too good to thrash off-road. The leather also comes with a PU coating which adds extra protection though it will wear o­ over time. The Scout are a high-cut boot secured with three motocross-style quick-release buckles and a Velcro tab at the cu­ff. They come with additional protection at the shin and ankle, plus the toe and heel cups are firmer and more robust than most.
Protection from the elements is provided by a proprietary Alpinestars waterproof, windproof and breathable membrane which works as well as any other waterproof barrier on test at keeping out the wet stu­ff. In summary, these boots o­ffer a high degree of protection, are comfy and if you like your boots to be all leather we'd recommend you check them out.
In a line: Tough enough to outlast you
BRAND: TCX
Style: Infinity GTX
Price: £229.99
ABR RATING 9 out of 10
CONTACT: www.nevis.uk.com 01425 478936
Here's a little bit of boot history: TCX took control of the brand Oxtar, which were owned by the Italian company Jolly Scarpe, based in the Montebelluna region of northern Italy. I've visited this area on many, many occasions as a guest of some of the boot and shoe factories and on personal climbing, hiking and riding adventures in the nearby Dolomites.
The region is the epicentre of quality boot manufacturing but over the past 15 years many of these Italian companies have transferred production to Eastern Europe and in particular Romania.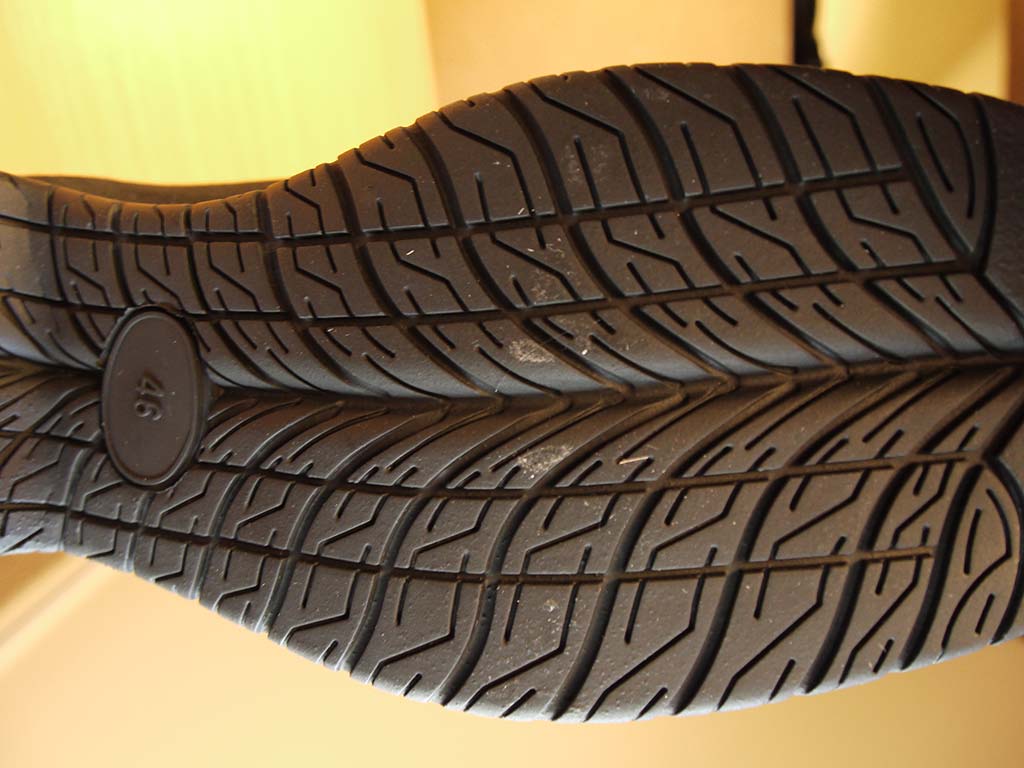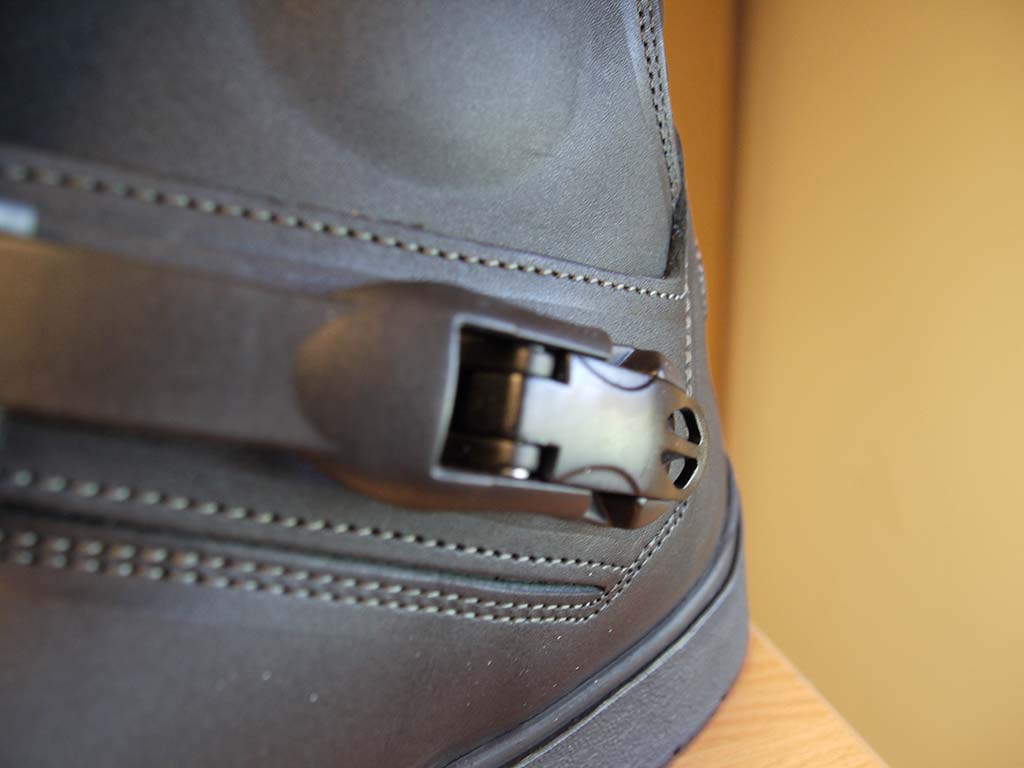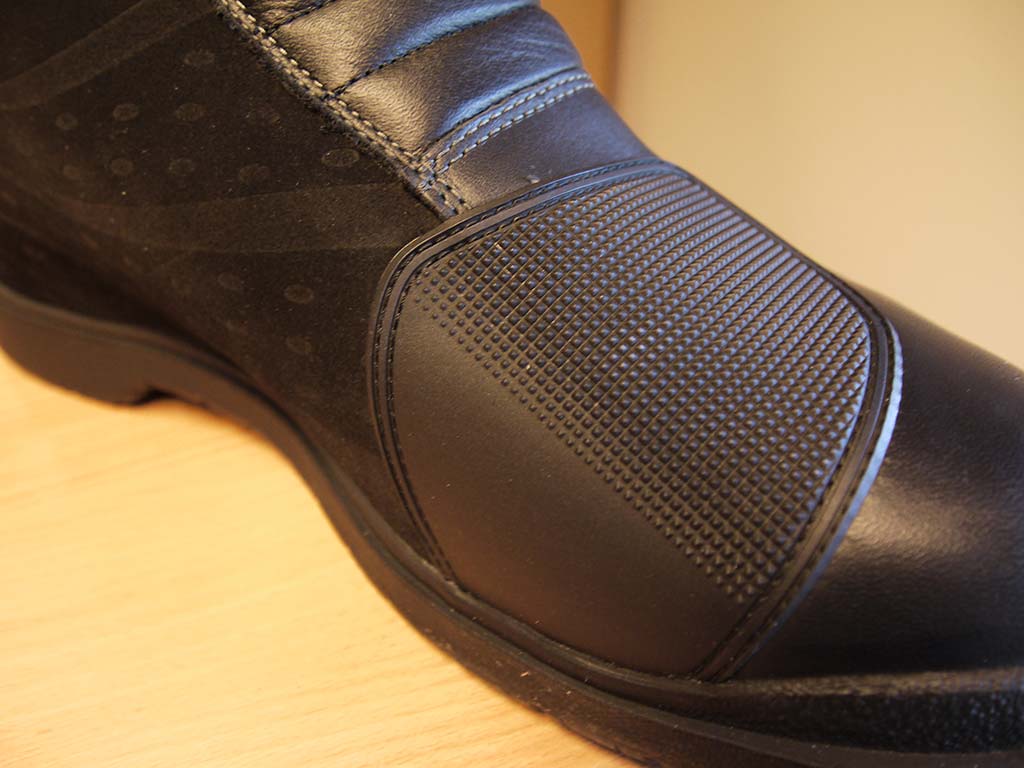 The reason I mention this is that I've yet to ­find a substandard pair of boots (hiking, climbing or motorcycling) that have been developed in this part of the world and the made-in-Romania TCX In­finity are no exception.
Boots made in Romania using Italian technology (a couple of other branded boots on test share quite a few of the Italian/Romanian telltale signs) are a class above the vast majority of products coming out of China and most other countries in the far east. The quality of the components is usually higher and the level of workmanship makes most of the Asian gear look like it's been put together by an underfunded scout group.
Having said all the above, I've limited space in which to comment on the In­finity GTX but then there's not a lot more to say other than these boots tick all the boxes for an adventure/touring boot and if they fit you then you can buy with con­fidence. We do have one proviso, though: the tread pattern on the sole unit is no mud-plugger so you'll have to look elsewhere if that is a priority.
The in­finity have a level of fore and aft flex to ensure all-day comfort while still offering enough torsional stiffness to provide good support and protection.
They come with a Gore-Tex waterproof membrane to keep out the elements and have additional protection in all the right places. As I've mentioned above, the components and workmanship are top draw, too. In fact, these boots may outlive you and become a family heirloom.
In a line: Great quality, top comfort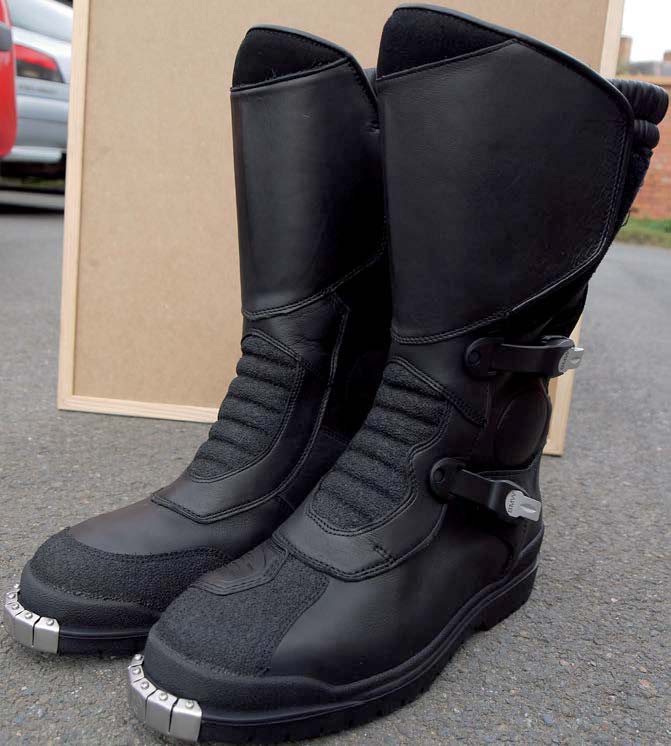 BRAND: BMW
Style: Santiago Boots
Price: £240 (incl VAT)
ABR RATING 7 out of 10
CONTACT: www.bmw-motorrad.co.uk 0800 777 155
So, you've bought the GS? Now for the matching boots! BMW claims the Santiago is the 'GS touring boot' but don't let that put you off if the German metal is not your first choice of wheels. The Santiago are well made, comfy and a great touring boot as long as you keep off the wet, muddy stuff.
The sole unit of the Santiago is more supportive than the average touring boot, both in its degree of lateral flex and fore and aft stiffness – a feature that some will like. What's also interesting is that the flex point on these boots is a little further back from the toes than most others on test and I for one found that an aid to walking comfort, but I'd also advise a fit test to establish if it suits you too.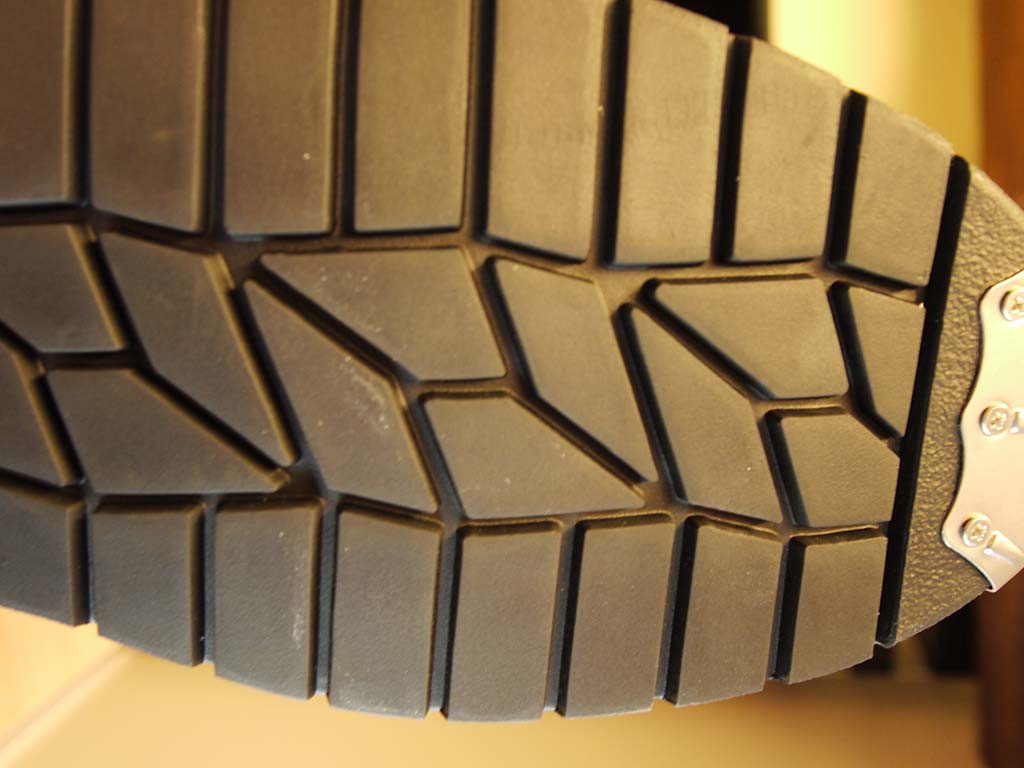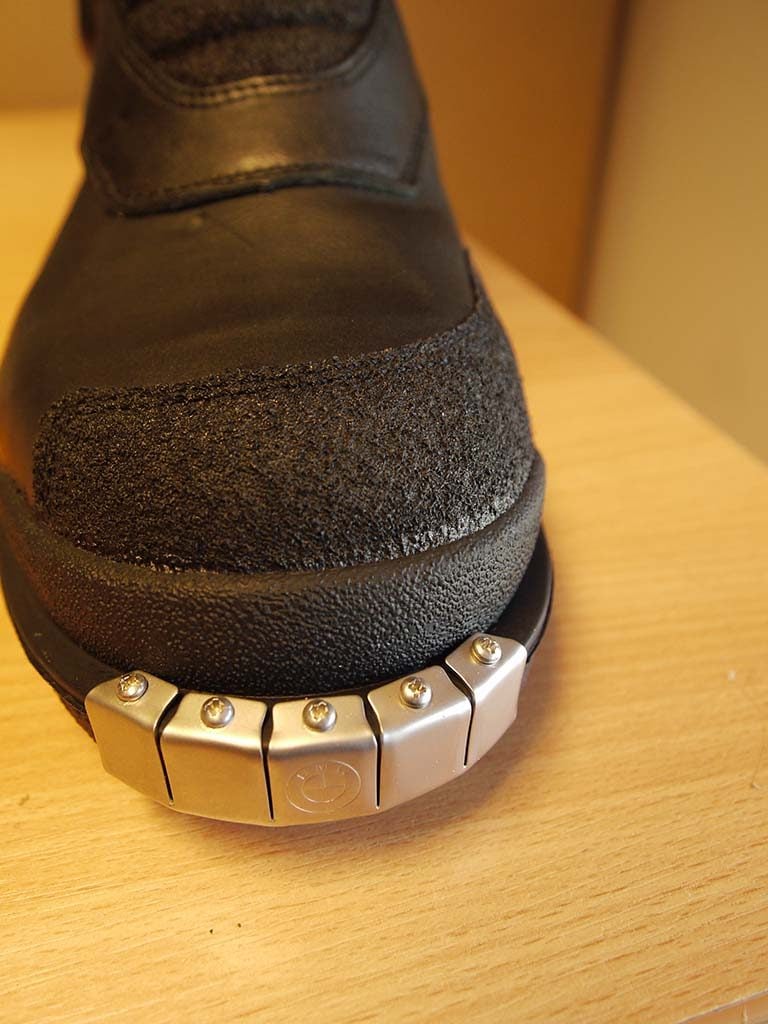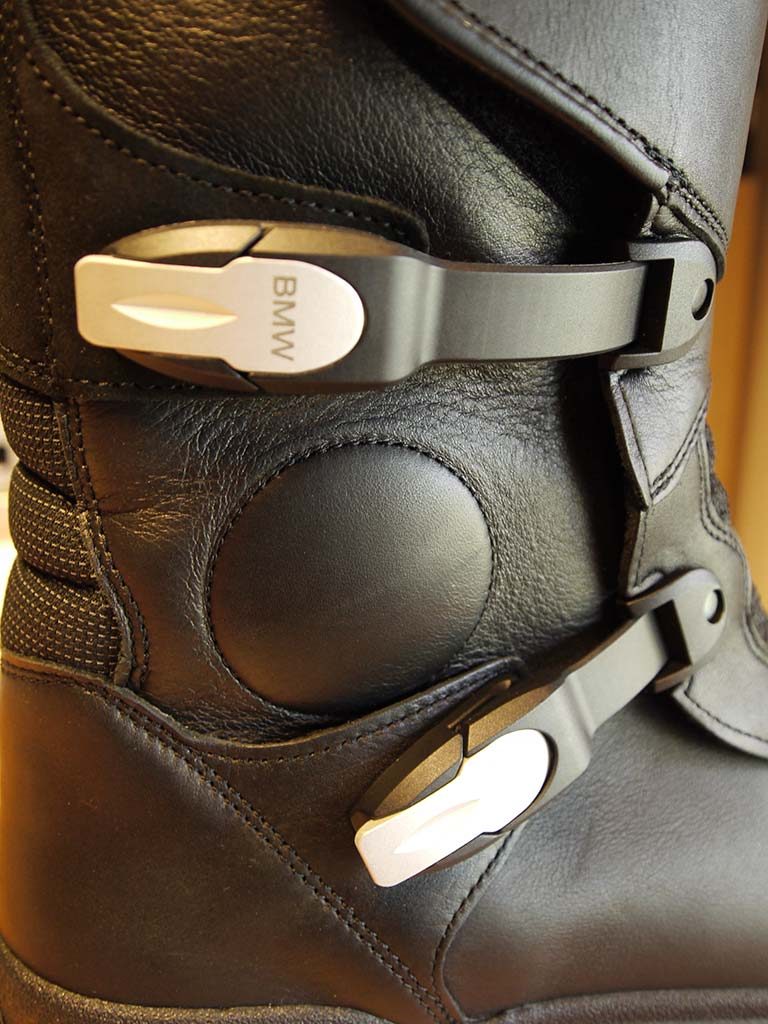 The tread is not suited to wet, muddy off-road riding and offers little in the way of traction when the going gets slippery. That said, if your plans only involve tar mac and dry trails you'll find them hard wearing and robust – the toe section comes with a metal wrap around.
The high-cut uppers are a complex mix of a soft, full-grain leather, suede and man-made materials including Kevlar for abrasion resistance, plus the shins and ankle regions are beefed up for impact absorption. The toe caps are firmer than average, you get a protective gear-shifter insert and all in all we reckon this is a well-thought-out and designed boot.
The uppers are secured around the foot and lower leg via a combination of two adjustable buckles and a Velcro tab, so slipping them on and off is as fuss free as it gets.
One of the reasons for the high price tag will be the inclusion of a waterproof, windproof and breathable Gore-Tex membrane, which unlike on a few other boots on test does extend to near the top cuff of the boot. In use the ABR tootsies have stayed warm and dry in all-day deluges – just how we like it.
There's little to fault on the Santiago and they certainly look the part if you're after rugged adventure-style boots.
In a line: Well made with top quality components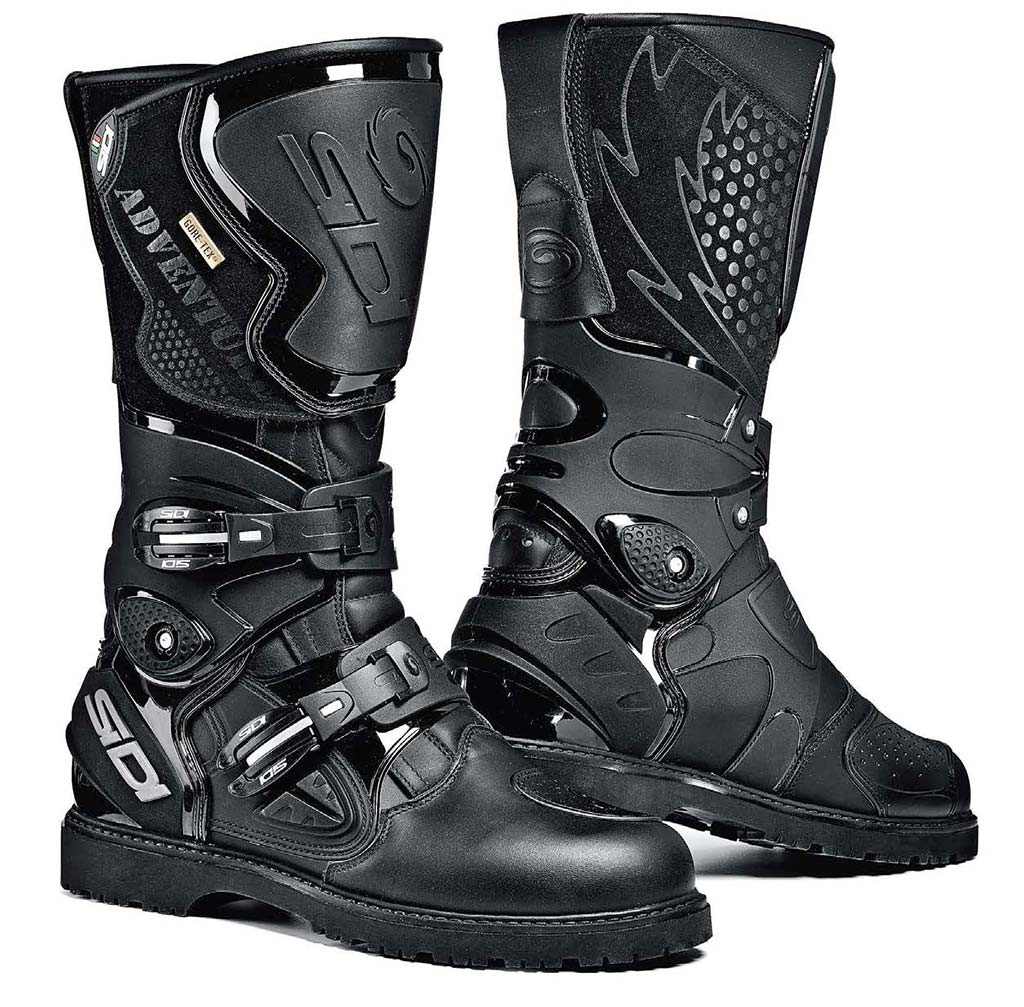 BRAND: SIDI
Style: Adventure Gore
Price: £294.95
ABR RATING 10 out of 10
CONTACT: www.feridax.com 01384 413841
If there's a benchmark pair of adventure boots to measure all others by then this is it. The Sidi Adventure Gore boots are, in our opinion, as good as it gets when it comes to looking after your feet on a motorcycle journey. They look fantastic, come with great features and offer all-day-long comfort with the proviso that they suit your foot shape, of course.
If I have a complaint it's that the soft rubber compound used on the sole unit wears out far too fast for my liking, but then if you want a superb level of grip, both off- and on-road, that's the compromise you're always going to have to make.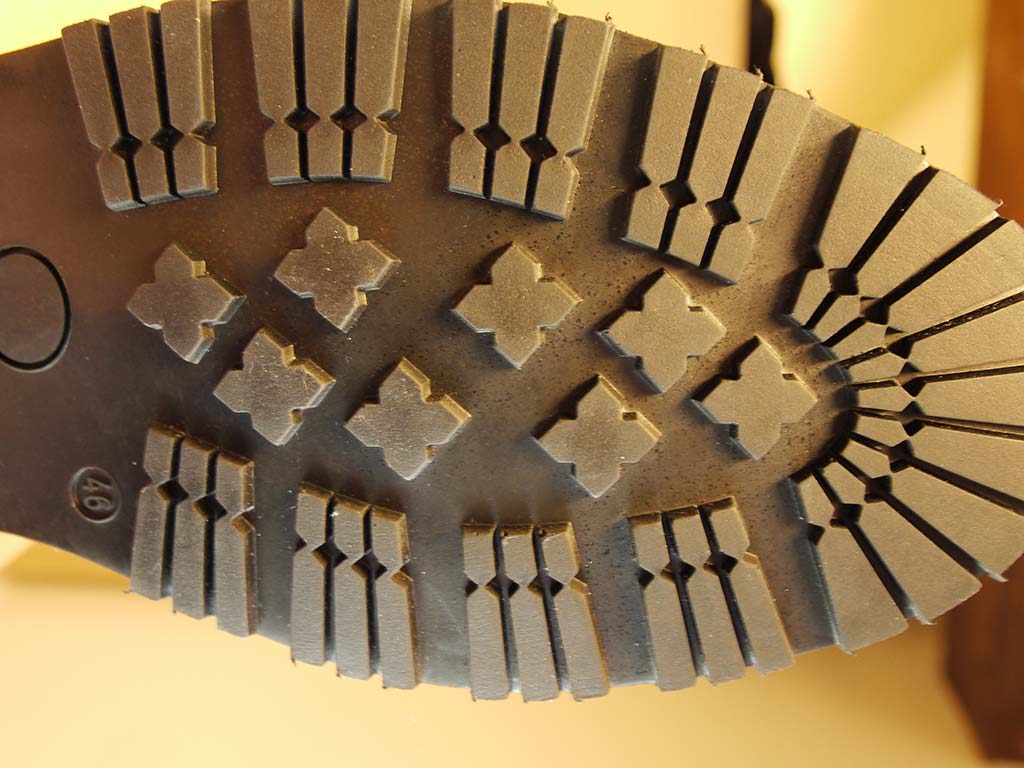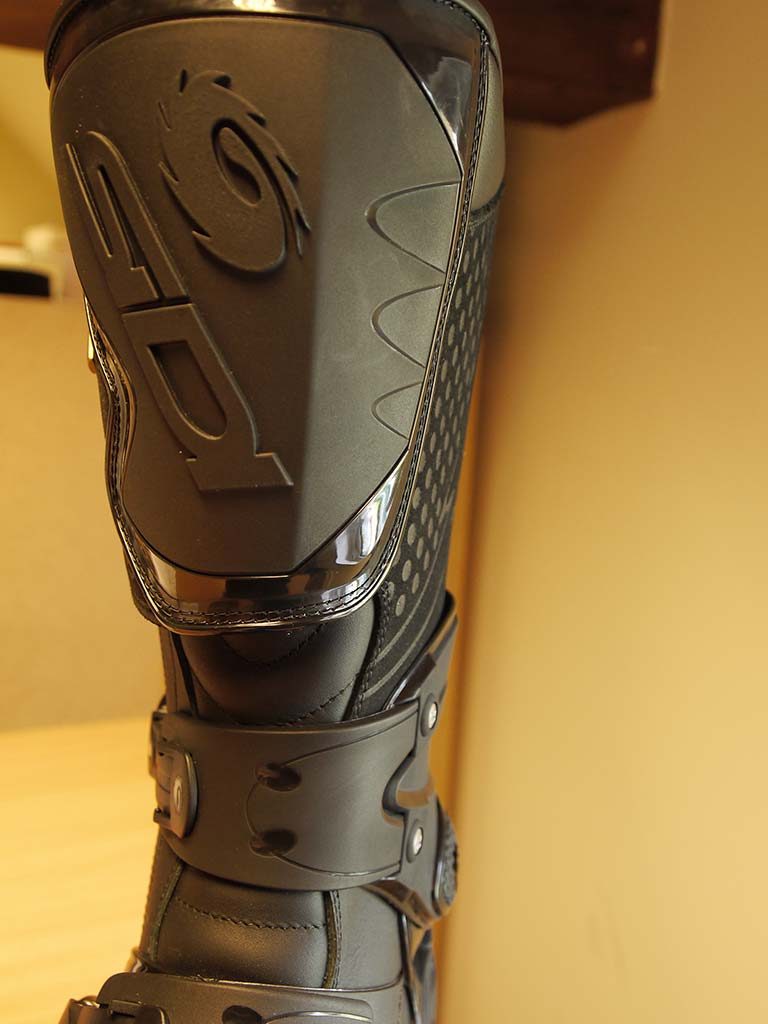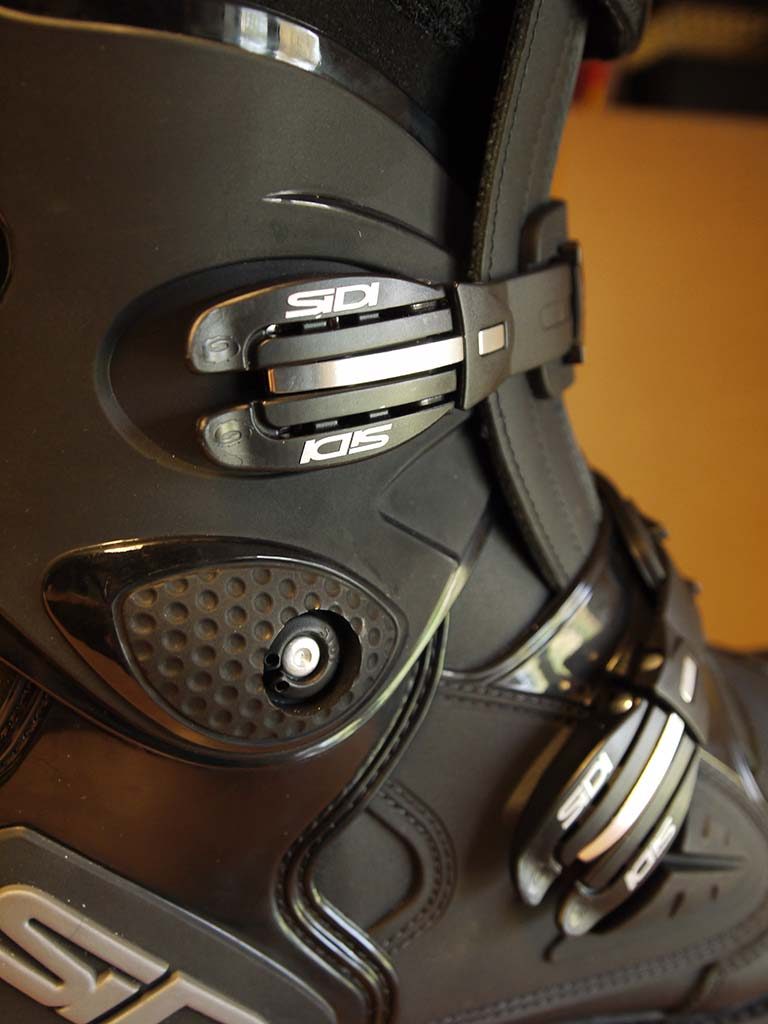 From the ground up the sole is almost an exact copy of the top-spec Vibram units found on up-market hiking and climbing boots, which means great grip on tarmac and good traction off road, plus the tread is self-cleaning; it's just a shame it wears out so quickly.
The midsole is spot on in providing good fore and aft flex for all-day comfort and enough torsional stability for a good level of underfoot support and protection. In short, the perfect compromise between comfort and protection.
The upper is so well made it's bordering on a work of 'adventure' art and that's from an ex-quality-control manager in a Clarks footware factory. You get a combination of quality split-grain leather, plus thermoplastic mouldings in high-impact areas such as the heel, shin and ankle.
The boots are secured using twin motocross-style clasps – with no-fuss adjustment and slick operation and a large Velcro adjustment tab at the calf. The fit is excellent if you've a standard size foot and lower leg proportions, though wide feet and thick calves may unfortunately struggle.
The boots are fully waterproof thanks to a Gore-Tex liner and have managed to keep my feet dry on river crossings, apart from the ones which were deeper Top In Test than the height of the boots.
Comfort, looks, fit, performance, quality components, well made… I could go on. If you've the money and they fit, buy them, you'll not regret it.
In a line: The new definition of perfect: 'Sidi Adventure Boots'