Bryn Davies rounds up some stats that will make your pulse race with fear, excitement or downright bewilderment. Prepare to be enlightened
Biggest… selling motorcycle in the world
It may not be the fanciest-looking bike around and it most certainly isn't the fastest, but the Honda Super Cub is not only the world's biggest-selling motorcycle, but also the world's biggest-selling motor vehicle. Since its introduction in 1958 (and as of 2008) Honda has manufactured over 60,000,000 (that's 60 million!) of the of the 49cc bikes, selling them in 15 countries around the world. The Super Cub has been discontinued in Europe, but in countries like China, India and Nigeria it's immensely popular due to its practicality, fuel economy and reliability. In fact, in an episode of The Discovery Channel's 2006 series The Greatest Ever, the bike was set on fire, thrown in water and generally mistreated and it still came out purring as sweetly as when the ignition was first turned, earning the Cub first place in a list of the greatest ever motorcycles. So great is it that The Beach Boys immortalised it in a 1964 called Little Honda. Some of the lyrics were, 'It's not a big motorcycle, just a groovy little motorbike. It's more fun than a barrel of monkeys, that two-wheel bike'. We couldn't put it better ourselves.

Lowest… road in the world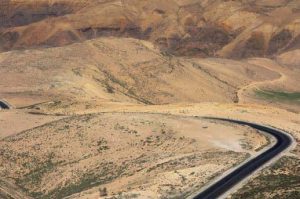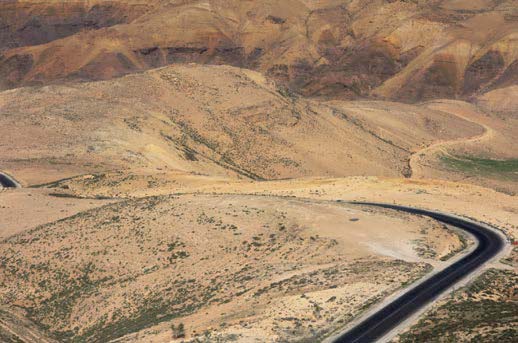 In issue 1 of Adventure Bike Rider we featured the highest motorable pass in the world, Semo La in Tibet, which reaches a height of 5,565m (18,258ft). How's about we look at the complete opposite end of the scale at the lowest motorable road in the world? Highway 90, Israel's longest road (298 miles or 480km) reaches a depth of 418m (1,371ft) below sea level at a section of the road called Dead Sea Highway, earning it the title of the lowest road in the world. Sounds pretty epic, huh? Riding to Israel to do the Dead Sea Highway sounds like an awesome adventure, too, but if you don't have the time to ride over 2,000 miles to the lowest road in the world how about settling for Britain's lowest road, the A1101? OK, it doesn't sound as grandiose as the Dead Sea Highway but it's still one to tick off your list of extreme(ish) roads! For much of its 53-mile (85km) length, the A1101 rarely rises above sea level and it often floods because of this. You won't be going anywhere near the 418m depth of Israel's Highway 90, though, as the lowest point in Britain is only 4m below sea level.
Fastest… speed reached on a motorcycle
So you thought riding down the autobahn in the 100s was fast? Well, okay, it is pretty fast, but next time you're doing it have a thought for American Rocky Robinson (cool name, eh?), holder of the world land speed record on a motorcycle. On 25 September 2010 he reached a ridiculous speed of 376.363 mph (605.697 kmph) on a Top Oil-Ack Attack Streamliner. As if the bike alone doesn't sound hardcore enough, Rocky's chosen ride has a twin turbocharged inter-cooled 2,600cc Suzuki Hyabusa engine. This wasn't Rocky's first WR, either. In 2006 he took the then-land speed record with 342.797mph only to have it snatched away two days later by fellow American Chris Carr with a top speed of 551.678. Bummer! The first motorcycle land speed record was set in 1903 by American motorcycle builder and pilot Glenn Curtiss using one of his own bikes (he also made the first officially witnessed flight in North America). Glenn reached a whopping 64mph (103kmph) on his first attempt, then four years later he broke into the 100's and achieved 136.27mph (219.31kmph). If anyone's interested, the land speed record for cars – dirty word, I know – is 763.035mph (1227.986kmph) over a distance of 1 mile, that's faster than the average passenger jet!
Maximum number… of people on a single motorcycle
You think your bike looks over loaded when you pack up the panniers, bungee on a few roll bags and stick the significant other on the back? If you were riding next to this lot your bike would look like the motorcycle equivalent of Kate Moss. In November 2010 a few bored airmen from the Indian Air Force motorcycle display team, called the Tornadoes, decided to see if they could all fit on a single Royal Enfield Bullet, and when we say a few we mean 54. Amazingly they all managed to fit on the 500cc Bullet and ride 1.1km around the airbase, setting a new world record for 'the maximum number of people on a single motorcycle'. Balancing crazy numbers of men on motorbikes seems to be a popular pastime of the Indian forces as the previous world record, which stood at 48 men, was set by another team in the Indian Army. Other than 54 grown men riding the same motorcycle, what's amazing about this feat is that the engine of the Royal Enfield Bullet that they used wasn't modified in any way. Of course, the frame was tweaked to allow room for all the bods to get on with the addition of an extra platform built around the bike. Perhaps this is something Touratech might like to give a thought…?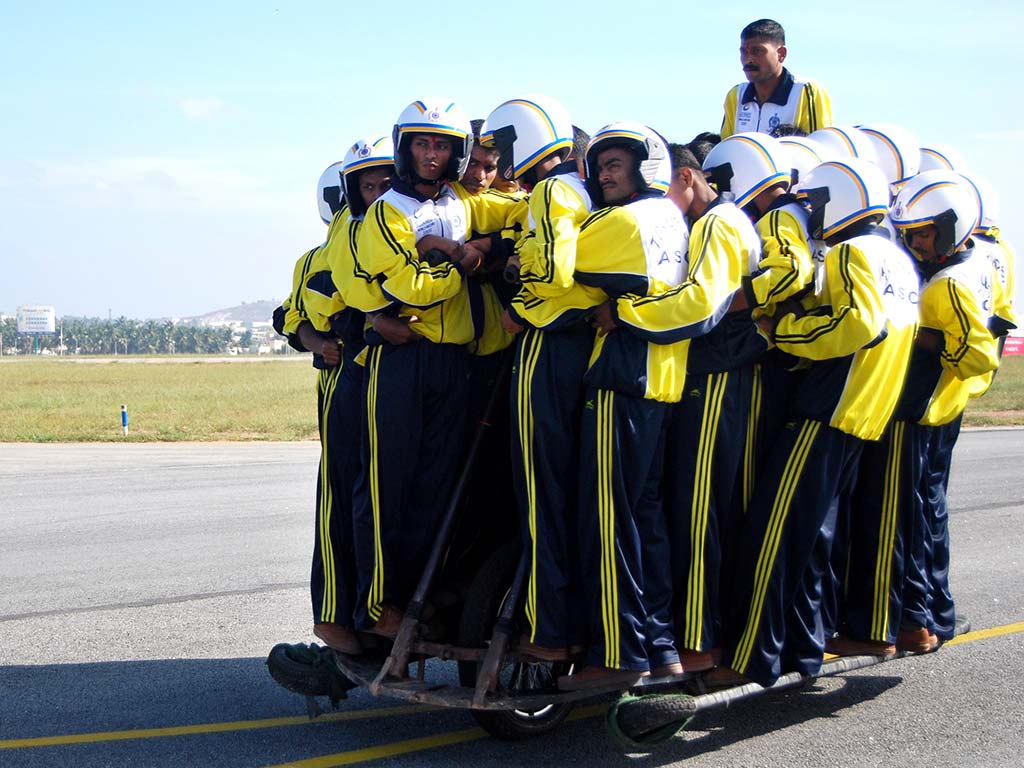 The most people on one moving motorcycle is 54 and was achieved by the Arm Service Corps Motorcycle Display team 'Tornadoes' (all India) at Air Force Station Yelahanka, Bangalore, India, on 28 November 2010. Image credit: Guinness World Records.