Do you yearn to earn a living from the seat of a motorcycle? From the claustrophobic concrete jungles of South East London to the wide-open panoramas of the Sahara Desert is quite a journey. In time, distance, and most of all perspective, Touratech MD Nick Plumb has come a long way. Craig Whitney finds out more…
Nick Plumb's biking career started on "someone else's bike". Like any big city estate, the one on which Nick grew up had several matey gangs of lads and at least one among them always seemed to have a moped or scooter. The biking bug bit when a young Mr. Plumb asked one of the big boys for a go on a 'borrowed' C90 and promptly stuffed it into a concrete pillar. "As soon as it shot forward I was hooked, even the crash didn't faze me," Nick remembers. "I just wanted more of that feeling, it was like the start of an addiction."
Throughout his teens Nick's biking timeline saw him progress through several 'borrowed' and shared old nails and mopeds until he got himself a paper round and finally bought his first true love, an old Suzuki TS250. "It was a real pooper," Nick admits, "but it was mine – all mine! Pushing it over to some wasteland and blasting around really captured what I love about bikes – the speed and feeling of freedom."
The current stable
These days, nestling in the Brecon Beacons and a long way from London's urban sprawl, Nick has access to a sizeable arsenal of bikes through Touratech's demonstrators and new Husqvarna franchise. "I'm spending a lot of time on the Huskies," he says. "The TE511 is just a hoot – it's bonkers! You can't get off it without a grin and a sense of exhilaration. The TE310 on the other hand is a brill bike for the tight stuff, so light and flickable." So what would be Nick's dream ride? "I'd like to make a rally bike from the TE449, I'd like to convert it into a road bike, too – what an overlander that would make!"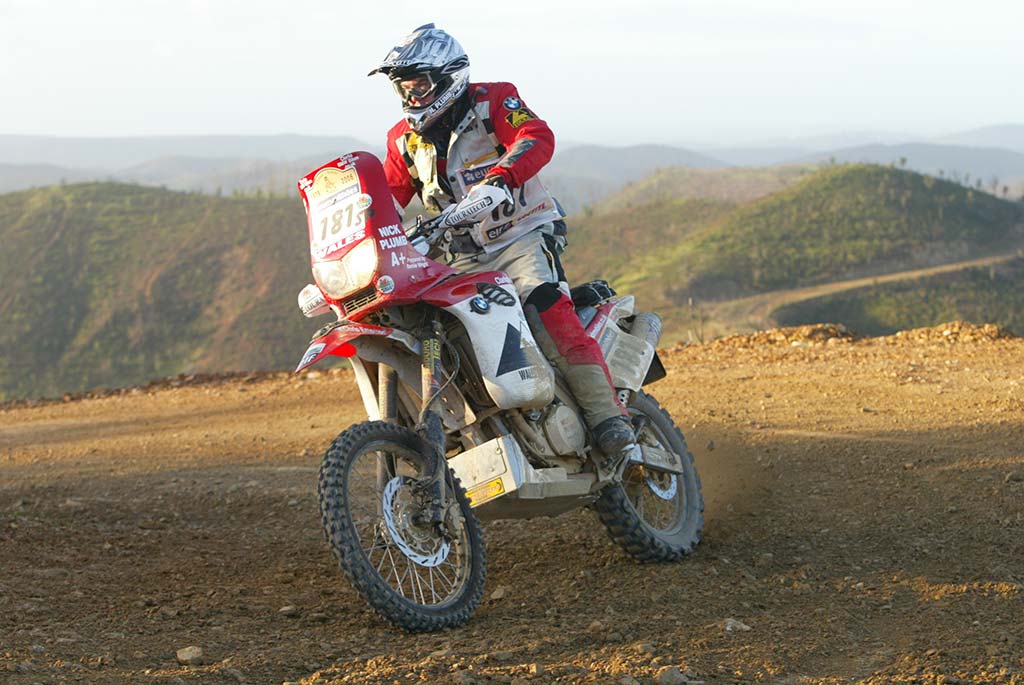 Wide open spaces
Nick's no stranger to foreign travel on two wheels, of course, having competed four times in the legendary Paris-Dakar and finishing it twice. "The first-time riding in the desert is mind blowing. The space, the freedom – the speed! But nothing can really prepare you for how hard it is to ride flat out, cross country and mainly on hard packed sand and rocky dirt for 15 days solid or the pounding your body takes."
Nick brings the same perseverance, grit and determination into running Touratech UK. "Whatever you do, you just can't give up or let the race beat you, I guess I'm the same with work," he says. "I always want to be going forward. More, faster, better – it's a racer's mentality. It's my name over the door and I only want to be associated with the best."
In the beginning…
It was while serving his time at a dealership near his South London home that Nick first came across the Touratech brand as a neglected and underdeveloped part of one of his employers. Typically, a mere lack of money, premises and business experience were not going to stand in his way. "I could see the ideas, the brand, the products were all top stuff and it was just going to waste in a corner," Nick recalls, "So I scraped up funds, borrowed, emptied piggy banks and upended the sofa for enough to put a deal in place. My instinct proved right and soon I'd made enough to buy out my business partner, take the whole stock and set up Touratech as a proper business."
It wasn't all plain sailing, though. "Like every business, the early days were challenging, but looking back it was great fun, too," he says. The move to Wales came shortly after, so Nick could be closer to his day job instructing at the BMW Off Road School, and Touratech UK took up residence in a Welsh castle no less! "We started off based in Craig-y-Nos Castle, which back then was a rather dilapidated stately home with space to spare so it was cheap! The whole family was literally living around stock in boxes, and between us we'd sort orders, pack and post. We just plugged away at it."
Word of Touratech's quality products soon got out, thanks to some well placed publicity and word-of-mouth and eventually the company's day-to-day running moved to a small industrial unit. Two years ago it moved home again to a purpose-built warehouse and showroom just a stone's throw from its castle origins.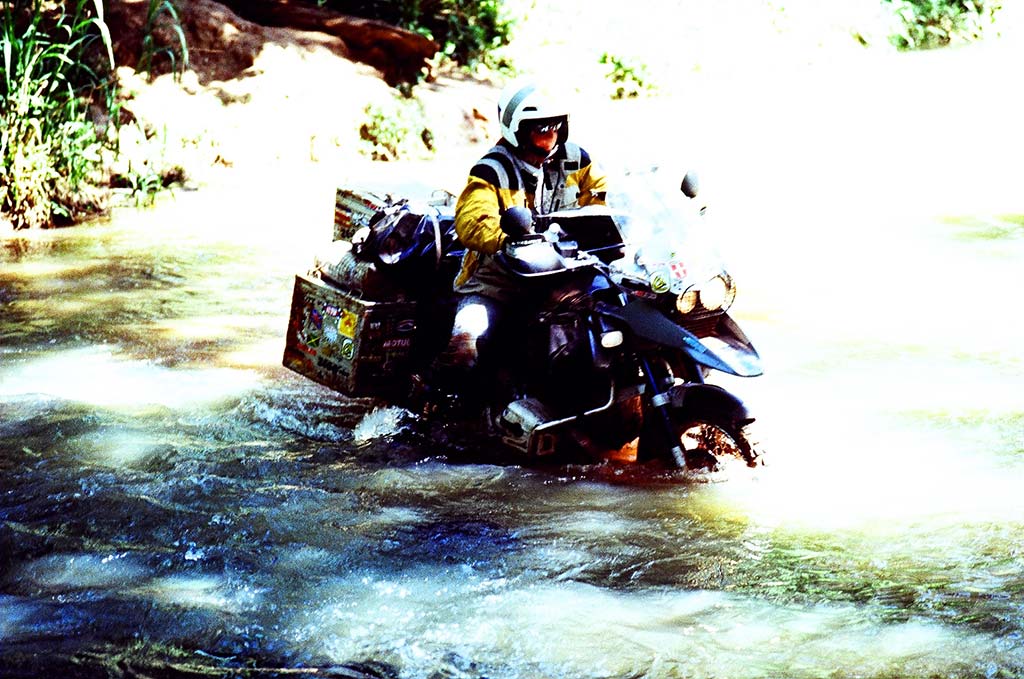 Keeping it going
Nowadays, with a turnover in seven figures, like many growing businesses Nick misses some of the fun of the early days, but wife Louise, son Alfie (17) and daughter Ellie (13) all help out. Two-year old daughter Ruby is still a bit on the small side to pitch in, but she charms the customers with a shy smile!
"Running a business is much harder than racing, you have to grind away at the essential stuff till you get it right," says Nick. A typical day starts around half eight when the previous night's web orders are processed and any customer enquiries and e-mails are dealt with. Then it's down to the main business of the day, fulfilling those orders, taking orders over the telephone, offering advice, managing stock levels so products are despatched in good time, and helping those customers who come to visit the spiritual home of Farkling. "Managing time, people, stock and, of course, money is the hardest aspect of my job," Nick admits. "I'm always juggling priorities; I hope I get it right most of the time!"
Hard work it may be, but there's still plenty of room for bike-based fun. "What I enjoy most is talking to customers, shooting the breeze about bikes, riding, travel, racing – whatever," says Nick. Then after a pause, "Actually no, riding with customers is far better! Since we started working with Husqvarna I have a brilliant excuse to go riding – it sells bikes!" A fountain of biking knowledge he may be, but there are certain areas which stretch even beyond Nick's expertise. "Because Touratech is regarded as an expert in adventure travel, customers expect us to know everything about everywhere," he explains. "One client even asked us the best ways to deal with bears, because he was off to Canada on a trip!"
So, bear repellent aside, Nick, what is the number one must-have Touratech accessory? "Our bottles, jerry cans and the ally brackets to mount them always fly out the door. You can never have too much fluid to drink in out-of-the-way places and extra petrol and oil are a must-have when you're a long way from the nearest garage!" And in a perfect world? "If I could have one fantasy accessory it would be an on-bike WC, because I lost so much valuable time on the Paris-Dakar stages stopping for a whiz!" Hmm… a Toura-potty? Watch this space.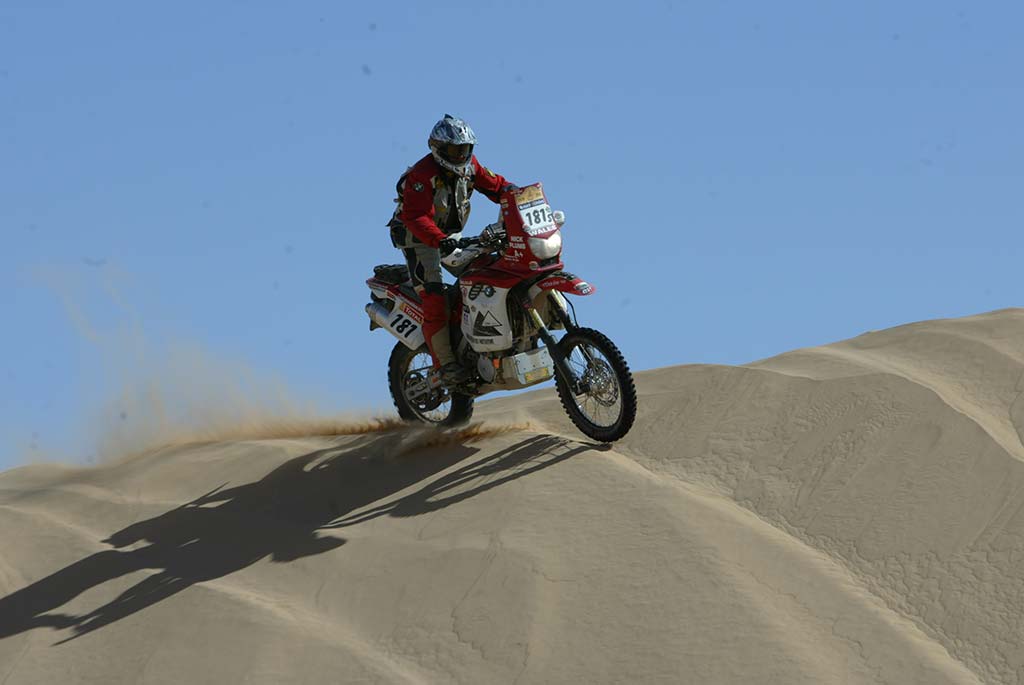 NICK SAYS…
Age: 34
Occupation: MD Touratech UK
What's the biggest challenge on your bucket list? To keep growing Touratech to a point where I can take my foot off the gas a bit more and spend more time with my family – and of course, on a bike!
What book or Album would you take to a desert Island and why? A mixture of both. I love listening to so called 'talking books' read by actors and such. I find it very relaxing, so I'd settle for any good story
What keeps you awake at night? Well it used to be my two-year-old, Ruby, but I can generally sleep on a chicken's lip
What do you miss most about home when you're away? My wife's cooking and spending time with the kids
What's your ultimate indulgence? I started Helicopter lessons a few years back, I wouldn't mind finishing them off and getting one to play with
What's Your best characteristic? Probably perseverance. I never give up
And your worst? I could probably do with a little more patience – it's that racer mentality again…
What's your best tip for adventure riders? Just go!
Who's your Motorcycle hero or heroine and why? Stephane Peterhansel, the ultimate Dakar-riding god
If you could have a super power what would it be and why? I'd like to be able to fly – preferably on a motorbike!
Who would you take as pillion on a round the world trip? My wife Louise, so we could get some quality time together away from the kids and the business. Unfortunately, she's not too keen on bikes!
What country haven't you ridden in that you would like to – and why? Iceland. There's a whole heap of space there and some wild terrain