Cool gear that's good to go riding with
KLIM TRAVERSE JACKET
£233
Distributor: Adventure Spec

Alun Davies reviews a jacket aimed at enduro and hardcore adventure riders and find it fits the bill for the more mainstream adventure market and (almost) Alpinists
As you thumb through this issue of ABR you'll come across an extensive adventure/ touring jacket test. So why haven't we included the Klim (pronounced Climb) in our main jacket review? Well it's like this: the Traverse is di­fferent. It's a highly technical outer shell jacket aimed at the enduro and hardcore adventure rider. That's not to say mainstream riders should discount it, far from it. This jacket has wowed us enough to give it a standalone position in Hot Stu­ff.
When I first picked up the Traverse it felt familiar, not as a motorcycle jacket but a mountaineering jacket. I've spent a lot of time over the past 30 years climbing in the the Alps and Himalaya, so I'm very familiar with mountaineering kit and the attention to detail, quality of components, bombproof construction and minimalist approach.
Granted, the Klim is a far heavier jacket than I'd ever wear to climb a Himalayan giant but the thought that's gone into the design, the quality of components and the excellent construction techniques would be familiar to all serious climbers.
Materials
The Traverse is a no-nonsense waterproof, windproof and breathable outer shell cut from Cordura and Goretex Performance Shell fabric, backed with a highly wickable polyester lining.
Cordura is a hard-wearing 840 Denier designed to take knocks and abrasions on high-impact areas like the shoulders, arms and cu­ffs. If I hit the deck in Morocco this is exactly the fabric I'd want between me and the sharp stuff. There's also Cordura in wear prone areas, like the draw cord channel.
The remainder of the jacket is Goretex Performance fabric, which means it's at the top end of the breathability spectrum. That said, keeping dry on the inside and temperature regulation has more to do with fit, design and venting, and here the Traverse is a cut above.
Venting
You get two huge underarm pit zips and an exhaust vent at the rear, which combine very e­ffectively. The Klim pit zips work because you get totally unrestricted airflow – not the case in many bike jackets where you'll find windproof fabric under the vents, defeat the object. Top marks to the Klim design team for just giving us a hole.
Staying with the vents; they are all covered by storm flaps and in the case of the pit zips there are double storm flaps and water-resistant zips. In other words the vents – which are weak spots – have been made as watertight as is possible. There's just one other point I should mention here: every zip is a quality YKK product and they come equipped with substantial pull-tags which can be operated while wearing gloves. Neat.
Fit and cut
The Klim is one of the few motorcycle jackets I've worn (with shoulder, back and elbow armour) o­ffering totally unrestricted movement. I can swing my arms over my head with ease and it doesn't ride up. The arms are articulated, cu­ffs tapered, it's long enough to prevent biker's bum and the fit is boxy. But there's a reason for all this extra space: plenty of room for full body armour and to layer up in cold conditions.
Armour
The Traverse does not come with armour included in the price though there are pockets at the shoulder, elbow and back to accommodate. Adventure-Spec, Klim's UK distributor, offers top-rated Force field armour at the point of sale; £30 gets you the shoulders and arms and a further £30 the substantial back protector.
Other features
You get a comfy fleece-lined collar; there's an exceptionally robust YKK front zip backed up by a protective and watertight double storm flap; the cu­ffs are Velcro adjustable and tapered to fit; visibility is enhanced with 3M Scotchlite reflectors all round; a single hand-operated hem draw cord helps with fit and keeping out drafts and the elements. You get two hand-warmer pockets, a chest high Napoleon pocket and a zipped internal pouch. All the outside pockets come with water-resistant zips. And in a move which heralds a snowmobile heritage there's a D ring to attach an engine kill cord.
Summary
Hard as nails and built with top spec components, the Traverse is clearly designed by folk who consider features and functions before inclusion. As a standalone waterproof, windproof and breathable shell it's excellent, combine it with a lightweight Rab insulated jacket for cold weather riding and you'd have an all-year-round a combo that would be almost unbeatable. More info: www.adventure-spec.com
PRIMUS OMNI FUEL
£145
What is it? A multi fuel camping stove.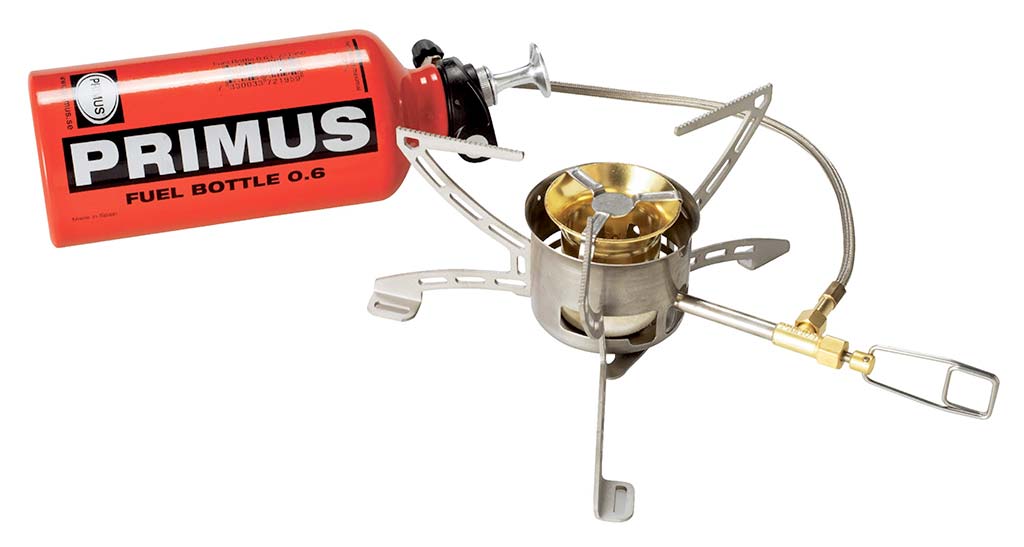 What's it like?
The Omni Fuel burns just about anything. Dodgy Diesel in Outer Mongolia or bottled gas in a layby on the M6, it's no matter, this stove will have you sipping hot drinks and concocting culinary delights wherever you travel.
There's no getting away from the fact that this stove is expensive but there's also no avoiding the quality of the kit. The design and construction is about as good as it gets and if you take just a little care you'll be handing the Omni down to your grandson.
The three legs provide unrivalled stability for this kind of stove, the pot rests are wide and serrated which means it'll take big pans and they'll not be slipping off­ in a hurry. The braided fuel hose connects directly onto gas canisters or the metal pump when burning liquid fuel. It's worth repeating that the pump is metal, unlike some other well-known brands which come with plastic pumps more prone to malfunction.
Cooking with gas is as easy as it gets and the simmer valve o­ffers a good degree of temperature control making burnt noodles a thing of the past. Equally so the Primus is fuss free when using dirty fuels such as petrol and diesel. Priming and lighting is straight forward and the design of the stove means that it stays reasonably clean and avoids the big soot build ups experienced with other multi fuel stoves.
It's difficult to find fault with the Omni and having used it extensively over the years we can report that it requires no maintenance if you stick to gas and it's easy to maintain and clean if your regularly burning dirty fuel.
Cooking times are very fast when at full throttle and if there is a downside to the Omni then it's the noise it produces; on full flame-thrower mode this cooker would out decibel AC/DC in their prime.
In summary
Top-quality camping stove that burns most all fuels known to man. Perfect for a RTW or a bacon sarnie in the Lake District.
What do you get for your money?
0.6l fuel bottle, neat carry case and stove pouch, detailed instructions, burner unit, metal plunge primer, wind protector, fuel jets, maintenance kit. More info: www.primus.se
POWER SPORT TYRE INFLATOR
£29
What is it? Mini-sized tyre inflator that'll work off your motorcycle battery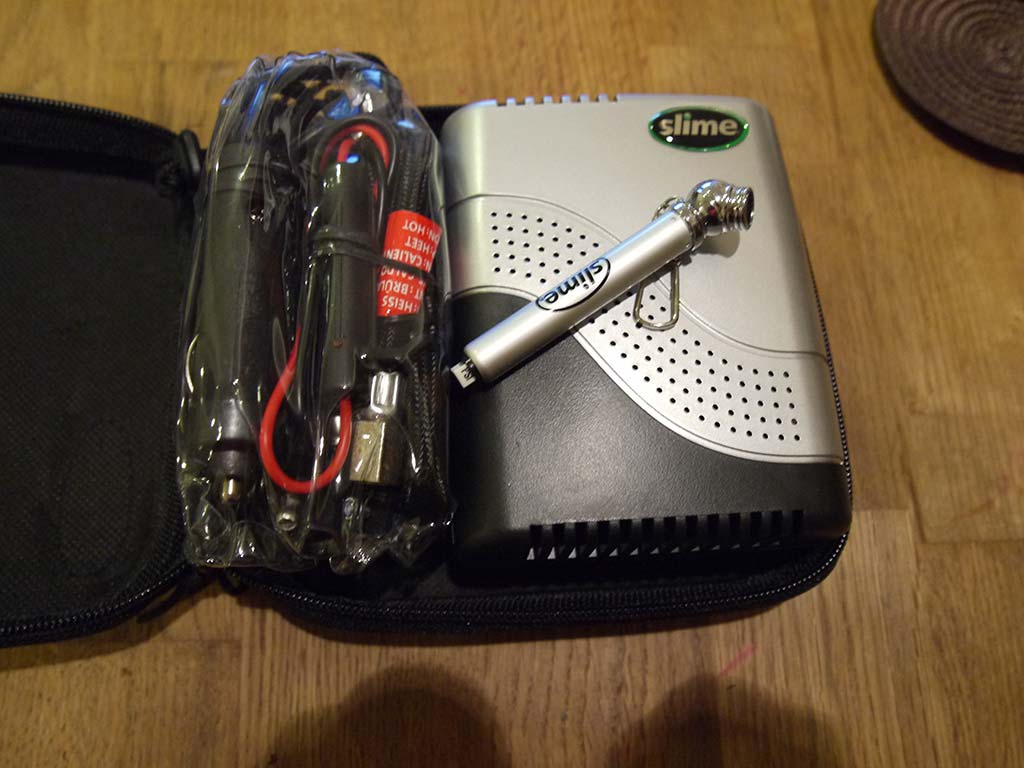 What's it like?
Tyres which are maintained at the correct pressure have an increased lifespan, they help increase fuel economy and ensures the handling of your bike is at its best. All good reasons for making sure you check and maintain tyre pressures on a regular basis. Except, if you're anything like me you tend to forget or lose the will to live when successive garages have out of service tyre pressure hoses.
A personal tyre inflator is the answer to all the above, plus it's also a handy yoke to have around if you've just fixed a puncture in the middle of the Siberian wilderness. The Slime Power Sport tyre inflator measures 125mm * 100mm * 50mm, weighs in at 955g, inflates up to 300psi and can take power from your bike via three different supplied leads; a cigarette light socket lead or a lead from the battery terminals or a lead with crocodile clips. You also get a 24cm-long cable so that you can reach the valves, a tyre pressure gauge, an instruction booklet and a neat carry case to sling the whole lot in your panniers and live happy ever after on tour.
As I've said above, it comes with a manual but just to demonstrate how simple and logical the system is to use, I worked off the Italian instructions. Anyway, what you need to know is does it perform well and the answer to that is yes. I was able to inflate the back tyre of a Triumph Tiger in just under five minutes.
In summary
A great tool for maintaining tip top tyre performance and a lifeline apres puncture repair while on tour.
Buy it from www.nippynormans.com