JACKET IN!
Alun Davies rounds up and rates the best textile touring jackets out there for all-year-round comfort, protection and style, of course
Choosing a motorcycle jacket used to be simple. The most important aspect had nothing to do with waterproof fabrics, protective armour or breathability – such terms were foreign to hardcore adventurers who just wanted a pocket for their fags. The single buying criteria was always: 'do I look like Thor?'
In the eyes of the current crop of fashion designers, Thor has been usurped by 'Charley and Ewan', and an adventure jackets cuts no sway unless it makes you look as if you spend every waking moment planning a trip to the Mongolian Outback.

Fashion aside, advances in technology and low cost manufacturing in the Far East mean that motorcycle jackets are actually great value, certainly when compared to less comprehensive box-standard waterproofs.
The jackets in this test feature complex construction techniques and a huge range of features, but when choosing what's best for you, it comes down to three basic issues; comfort in use, protection (from the elements and in a crash) and, err, do I look like Thor?
Comfort, fit and cut
Lord knows what's happened to the sizing of motorcycle jackets. One of the biggest surprises of this test was the lack of any, and I mean any, consistency in the sizing of the products, even with jackets carrying the same brand name. The problem appears to be the result of brands buying their products from a range of Far East manufacturers which all have a different view on what XL actually means. In practice it's best to try before you buy and make sure you take along the clothing you're likely wear underneath the jacket, too. And just remember, a good comfy fit is far more important than any must-have iPhone/Pod/Pad/Hydration feature.
Price
No surprises here in so much as you get what you pay for. That said, some of the budget brands are offering gear on a par with the mid-priced brands where you're essentially being charged for a more fashionable name. Products which feature Goretex are prone to being more expensive than cheaper brand 'tex' offering just as good waterproofing, but the construction methods used in Goretex jackets are usually superior and more expensive processes
Insulation
Most adventure and touring jackets come with a detachable thermal inner layer. These tend to be lightweight but offer a good weight-to-warmth ratio when worn in conjunction with the jacket – less so if used as a standalone jacket around the camp. Are they essential? No, but they do save you from having to pack and wear an extra layer of clothing in cold conditions.
Ventilation
It's important for comfort that your jacket comes with ventilation options. The 'breathability' of a jacket is often oversold as a temperature-regulating feature whereas in reality the breathability matters little (see box on breathability). A set of well-positioned vents on the arms, chest and back will be invaluable in hot countries or even in Grimsby if the temperature rockets. It's worth checking that the vents are well sealed when closed as they are potential weak points for letting in the elements in wet weather.
Zips
Having tested protective clothing for the best part of two decades it sometimes seems as if there's been a race to the bottom in the quality of zips over the past few years. Cheap zips are a pain so it's worth checking out the smooth operation and quality before buying. The more modern zips are being marketed as waterproof and come with no covering stormflap. They are very close to being waterproof but when pressed the manufactures will only claim they are 'water-resistant', so be aware. Newer still is the innovative Gore-Lockout technology which was due to consign zips to the history books but we've yet to be convinced of its merits and reckon zips will be around for some time yet.
Protection: armour and clothing The European Personal Protective Equipment (PPE) Directive 1989, states that any clothing or personal equipment sold with the purpose of providing protection from injury – such as motorcycle jackets – must comply with the relevant European Standard. To comply, the gear has to be independently tested and certified. The manufacturer is then issued with a CE (Conformité Européenne) label which shows that the motorcycle clothing conforms to the relevant European standard. The clothing or gear must carry a permanently attached CE label with the number of the Standard.
Remember to check what the CE label applies to, as it could be there to certify only a small part of a garment rather than the jacket as a whole. Motorcycle jackets, trousers and suits carry CE EN 13595 and impact protectors and body armour CE EN 1621.
Reflective material It's difficult to find a textile jacket that does not feature either hi-vis colours or reflective inserts and there's good reason: they help other motorists to see you.
Pockets
With the number and volume of pockets featured on some adventure styled jackets I might not bother fitting panniers to the bike for my next trip. Pockets are essential, though I'd question the need for any more than a couple of hand-warmers, twin chest pockets and a zipped internal security pocket. Ideally they need to offer easy access, be waterproof, and big enough for your needs; for example, I like to carry a camera close to hand and some of the more fitted pockets are not big enough.
Features we like…
DWR (Durable Water Repellent)
DWR is a coating applied at the manufacturing stage to help prevent a fabric becoming saturated with water. The noticeable effect of fabric treated with DWR is that drops of water bead up and roll off the fabric rather than soak in and 'wet out' the garment. The DWR wears off over time, but can be re-applied; it still won't be as effective as the factory treatment, though.
Neck and collar closures
We don't like press-studs as they're too fiddly; Velcro is better, but can be an irritant, magnetic closures are the most user friendly but not widely available. A detachable neck/chin scarf offers the best protection.
Cuffs
A Velcro closure adjustment offers greater versatility for fit and a small, well-cut bellows (the 'pocket' which lies under an expansion zip, providing the extra fabric which allows the garment to expand in this area when unzipped) avoids bunching of the fabric and interfering with glove fitment.
Vents
Venting channels that have a fixed waterproof/windproof layer of fabric behind them are less effective – a lot of jackets come like this. Venting flaps that can be secured in the open position via a press-stud or some other fix are the most effective. Exhaust vents at the back of a jacket help prevent the garment ballooning with air.
Storm Flaps
Zips are weak points through which the elements will pass. In our opinion, a single, well-secured and substantial storm flap over the main front zip is essential and a double storm flap is better still. Vents and pockets are also weak points and would benefit from a storm flap or a water-resistant zip to keep out the wet stuff.
Zips
Water-resistant zips (they are not fully waterproof) are very effective at keeping out rain and a storm flap is not classed as essential but be aware that they are not 100% effective. Standard zips need to be protected by a storm flap, period. A chunky, glove-friendly zip-pull is better than a small, fiddly one.
Hem draw cords
Some jackets come with draw cords around the lower hem, which help with the fit and shape of the jacket, stop loose fabric from flapping around, keep out drafts and are handy for battening down the hatches when the weather turns ugly.
Waist adjusters
Velcro waist adjusters are the most user-friendly and help in fine tuning fit, give the jacket shape and play a part in trapping warm air for added insulation.
Waterproof laminates or drop liner – what's best?
The more expensive jackets will have a waterproof laminate bonded to the inside of the outer fabric (think Goretex) while others will come with a detachable waterproof drop liner. In both instances the outer fabric of a waterproof jacket will eventually wet out in extended periods of rain, even if treated with a top-quality DWR treatment.
The advantage of a laminate is that there is generally less material to wet out and the uncomfortable cooling effect of soaked material is kept further away from the wearer, plus the jacket is more likely to dry quicker.
The advantage of a drop liner is that it is removable and therefore offers a jacket which will be a cooler running in hot weather.
In either instance, and no matter what the manufacturers would have you believe, the only way to keep your top half from wetting out in long, heavy downpours is to wear a cheap, lightweight waterproof over the top of your motorcycle jacket.
Breathability
Does your waterproof jacket 'breath'? Sure it does, but consider the following: for a breathable fabric to work there needs to be a pressure difference between the conditions inside the jacket and those on the outside. The perfect conditions for a fabric to breath would be those found at the summit of a high altitude mountain where it is cold and dry on the outside and hot and steamy on the inside of the jacket.
In a more conventional setting ie. the M6 on a wet Sunday afternoon, the breathability is seriously compromised. Further still if your jacket is not cleaned on a regular basis and if you use your pockets as intended, the breathability is further downgraded. Features such as venting and wearing the correct base/ mid layers play a far more practical role in regulating temperature and keeping you comfy.
Brand: Bone dry
Style: Switch Desert jacket
Price: SRP £99.99
ABR RATING 5 OUT OF 10
CONTACT: www.oxprod.com 01993 862 300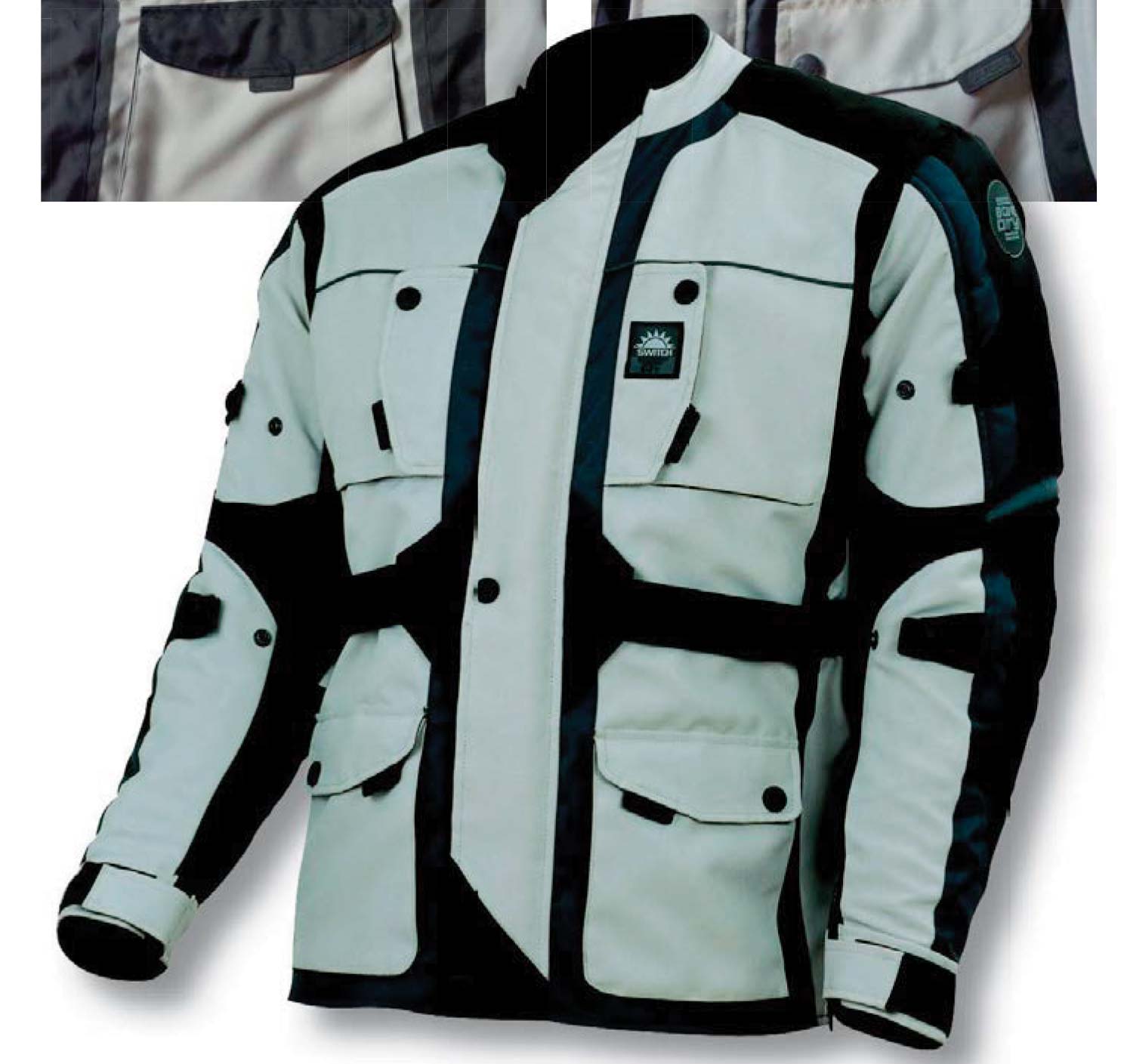 What we have here is the least expensive jacket on test from the UK-based company Oxford Products.
The Switch Desert jacket is from the company's Bone Dry collection and is essentially three jackets in one, comprising the outer layer, a mid-layer waterproof liner and an insulated inner liner jacket. Both the liners are removable, which means you get all-year-round versatility and good temperature control for touring comfort. The jacket also comes with CE-approved elbow and shoulder protectors and a sleeve for inserting a back protector – our sample came pre-fitted with a foam pad.
For a jacket that goes by the name of 'Bone Dry' it could do better at keeping out the wet stuff. The outer fabric does not appear to have been treated with a water-repellent which means it instantly wets out in rain and areas such as cuffs and collars can quickly become saturated. The pockets are not waterproof, so you'd need to put sensitive documents or paper money in a plastic bag first if you intend keeping them close to hand. That said, the mid-layer waterproof drop liner does its job well at keeping out the elements where it can, but the jacket's overall effectiveness is compromised by design and features – however, so are many far more expensive jackets.
In use, I liked this jacket; it's easy to live with. The fit is good, the cut and length actually resemble the human form (trust me, not all jackets do these days) allowing for good freedom of movement and all-day comfort, and the waist and cuff adjusters have enough Velcro to be useful, which is not something to take for granted – how annoying are unstuck Velcro flaps? I rest my case.
You get four external front pockets, a single internal pouch and a large back pocket. They are all useful, but none are zipped or big enough to take an OS map. The four front vents and large single back vent help to cool you down and the internal thermal liner defies its thinness to offer a good level of insulation for cold winter days or up on high Alpine passes.
In a line: Good range of features, budget-buy only
BRAND: SPADA
Style: Dakar jacket
Price: SRP £109.95
ABR RATING 8 out of 10
CONTACT: www.feridax.com 01384 413841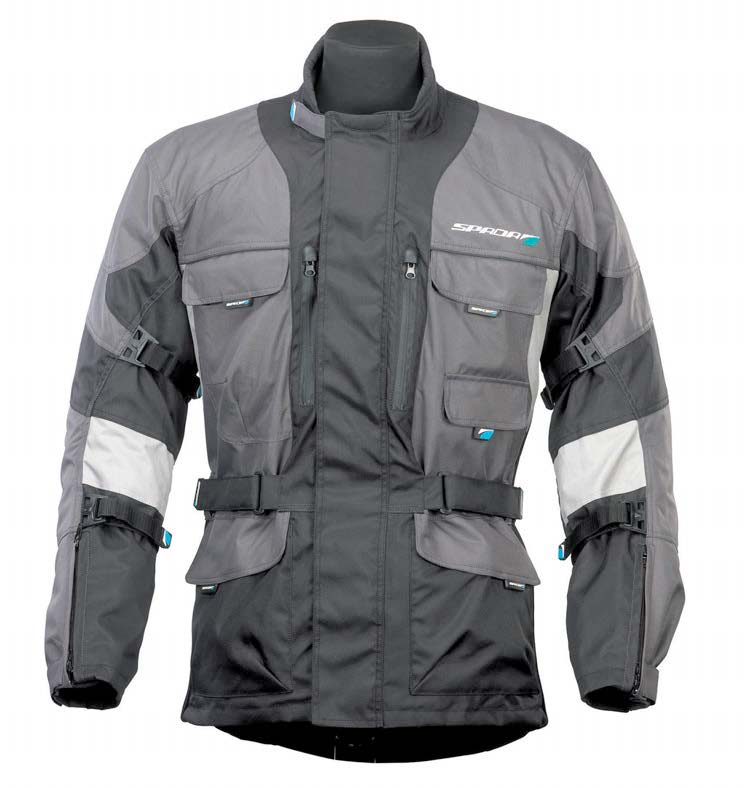 Spada is gaining a reputation in the ABR o­ffice similar to the one that Regatta has built up in the Adventure
Travel o­ffice (our sister title). Both companies are not what you'd call cutting-edge fashion but they do pump out good gear at competitive prices making them top contenders for the title of 'Best Value-for-Money Brands'. With that in mind the Dakar continues the trend of 'value for money', and it looks the part, too.
Fit-wise, you'll probably need to go up a size. If you're usually an XL, go for a XXL and what you get is a well-cut jacket with a long ­fit to cover up any potential biker-bum moments. The jacket comes in the standard three pieces; the outer, plus an inner waterproof liner and inner thermal jacket, both of which are removable, which means you get top versatility. Plus, the waterproof liner extends to the outer reaches around the collar and cuffs (as it should do) unlike some other brands on test.
The outer appears to have been treated with a water-repellent chemical, which means light rain beads up and rolls off the jacket. All the pockets, of which there are enough to satisfy the most passionate of gadget-carrying freaks, are protected by storm flaps and are watertight. Likewise with the zips, with the exception of the venting zips, which are of the highly water-resistant variety.
Fitting adjustments are where they need to be; cuffs, arms, collar and an exceptionally efficient waist adjuster, which when coupled with the elasticated panels makes for an excellent all-round ­ fit.
You get reflective inserts, CE-approved armour at the shoulders and elbows, plus a back pad, and the jacket zips into the corresponding pants for extra comfort and protection from the elements. The inner waterproof liner is fully seam sealed and is said to be breathable, but we tended to overheat in anything other than seriously cold conditions – which just proves the effectiveness of the thermal liner.
At this price there's nothing really to moan about but if pushed we'd like to see the ventilation a touch more effective.
In a line: Exceptional value for money
BRAND: BUFFALO
Style: Endurance jacket in black
Price: SRP £130
ABR RATING 6 out of 10
CONTACT: See www.bifax.co.uk for your nearest stockiest or to order online from a main dealer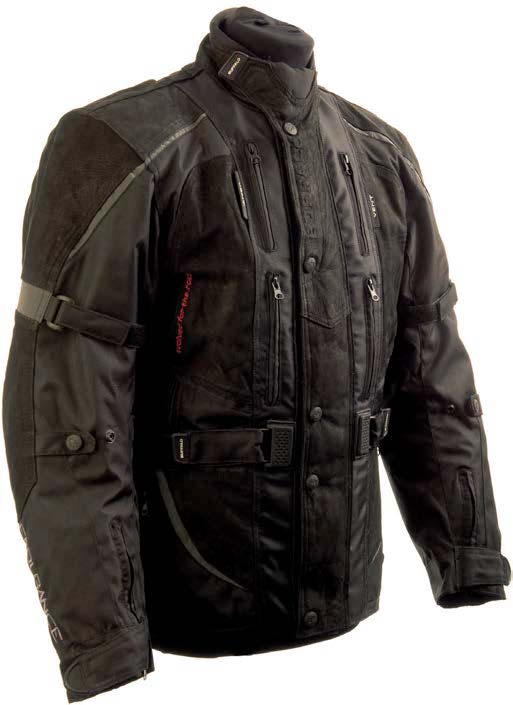 The Bu­ffalo Endurance has been around for a number of years and is the jacket that produced the most conflict in the ABR office. What there was no argument about were the looks, this is no Ewan and Charley clone but a seriously stylish mix of textile and leather that pushed everyone's 'I want one' button. Where we di­ffered was in its desirability when measured against performance for extended use in wet weather.
The Endurance comes with an integral waterproof lining, which is not detachable, and it would be fair to say it's not the most watertight jacket on test. We would only recommend the Endurance as suitable for extended touring if you also pack along an additional lightweight (and inexpensive) waterproof over-jacket for when the weather turns ugly. For some ABRs the overall plus points about the jacket outweighed the thought of packing an additional waterproof while for others it did not.
The cut is on the small side and the sleeves are noticeably shorter than with other brands, so you're probably going to need to go up at least one size on what you would normally purchase. Fine tuning the fit is via effective waist, arm and cuff adjusters. The four front pockets are small and have more in common with a '­ fitted style' than the practical adventure-style big pouch pockets. Again, some will see this as a positive while others will want the extra storage capacity for stashing bulkier gizmos such as cameras close to hand. You also get a further four internal pockets and a sizeable zipped pouch on the lower back.
Insulation for cold weather riding is provided by a removable thermal liner jacket, which is effective and detaches easily. Ventilation is via a couple of small zipped slots on the chest and shoulders, which some may ­ find insufficient on hot summer days, especially so as the waterproof liner is not removable.
You get CE-approved armour at the shoulders and elbow, discreet reflective inserts all round, but most of all you get a fantastic-looking jacket which comes with compromised touring and adventure features. Can you live with that?
In a line: You'll buy this jacket for the great looks and style
BRAND: RICHA
Style: Adventure jacket
Price: £150
ABR RATING 9 out of 10
CONTACT: www.nevis.uk.com 01425 478936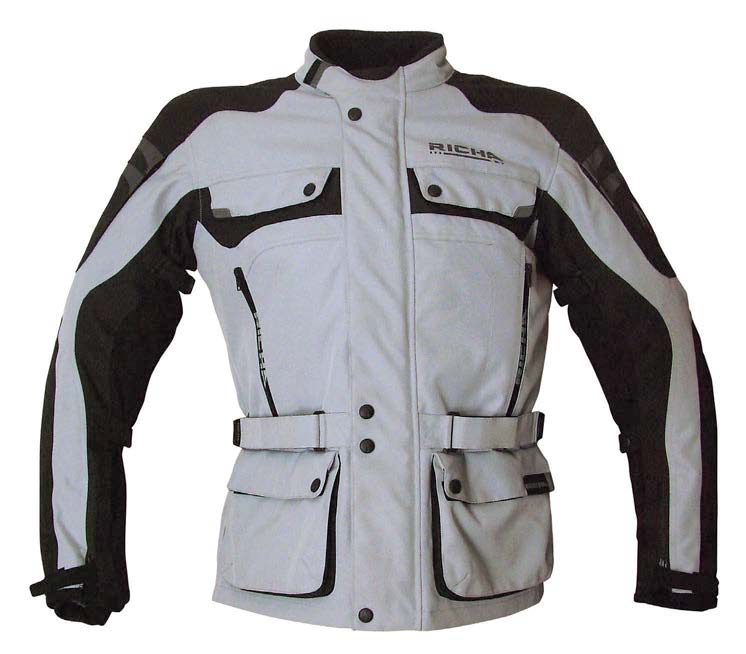 A motorcycle touring jacket has to provide the basics: it needs to keep me dry in wet weather, warm in cold conditions, have a level of fit and adjustment for all-day comfort, have enough of the right-sized pockets to store the essentials, be robust enough to cope with the odd scratch and scrape and it has to look good, too. And if I can get all that at a reasonable price then I'm a happy shopper.
There are jackets that score higher than the Richa Adventure in all the above categories but few that do so at a price south of £150, which means if you like your jackets low cost the Adventure on your short list for a fit test.
The Adventure is a two-part jacket with a removable thermal liner and it comes complete with CE-approved armour on the shoulders, elbows and back. The waterproofing is via a Comtex membrane, not one I've heard of previously but it does the job of keeping out the wet stuff as good as some of the better-known and more expensive 'tex' brands. Comfort in hot weather riding is aided by twin vents on the upper arm and two more on the chest. The chest vents feature water-resistant zips, unlike the upper arm vents which are a potential weak spot when riding for extended periods in heavy rain.
For stashing all your gizmos you get four useful-sized waterproof pockets on the front, which are big enough to take a camera, a 'Napoleon' pocket at chest height, a rear map pocket, plus a couple of internal pouches.
The cut and fit of the jacket are spot on, allowing for unrestricted movement and the armour is hardly noticeable when in use, unlike some jackets on test where it is a positive distraction. To fine tune the fit you get an efficient Velcro waist strap with a good range of adjustment, plus you can alter the fit on the arms and at the cuffs. The jacket also comes with a short zip at the lower back, which connects to the matching Richa pants. At the price it's difficult to find fault with the Richa Adventure.
In a line: Performs as good as jackets twice the price
BRAND: WEISE
Style: Nevada jacket in red
Price: £159.99 SRP
ABR RATING 7 out of 10
CONTACT: www.weise-clothing.co.uk 0117 9719200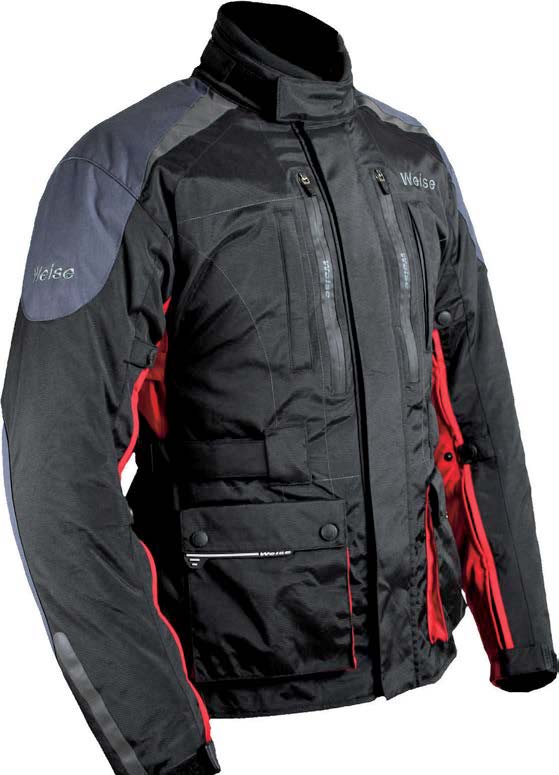 The fact that Weise is a British brand is evident in the cut and fit; it actually conforms to what you would expect British sizing to be and instead of squeezing into an XL (my usual size) it all fits rather nicely with unrestricted movement. Secondly, this is such a practical, easy-to-live-with piece of kit it would be right at the top of the pile if I were looking for a box-standard jacket for slinging on and riding to work on a daily basis all year round.
The Nevada is a two-piece jacket featuring an outer shell with a sewn-in Isotex waterproof drop liner plus an inner removable thermal liner jacket. Some will like the fact that the waterproof liner is fixed while others will miss the versatility of a fully removable liner when riding in hot summer conditions. To a great extent and to its credit, Weise has acknowledged the potential overheating issue by including huge vents on the front, arms and back; they help, but even with the vents open there's still the waterproof/windproof liner between you and the cool fresh air.
The Nevada is more trainspotter on tour than adventure rock star rampaging in the Sahara when it comes to looks, which are not helped by the shinny plastic appearance of the outer fabric. That said the outer has been treated with a water repellent coating which causes light rain to bead and roll off the jacket rather than wet out the fabric.
You get four good-sized front pockets – twin waterproof, zipped hand-warmer pockets and a couple of Napoleon pockets at chest level, which are spot on for carrying close-to-hand electrical gadgets and wallet. There is also an internal pouch. The Nevada is equipped with armour at the shoulders, elbows and back which is all CE approved and not too invasive in use. You also get reflective inserts for higher visibility.
All in all this is a difficult jacket to find fault with if you're looking for good value none-to-flash workaday kit which will also serve you well on tour. And, it'll appeal to those of, err, a more substantial physique.
In a line: Good value, highly practical, we like it
BRAND: HEIN GERICKE
Style: Desert jacket in black / beige
Price: £199.99
ABR RATING 6 out of 10
CONTACT: www.hein-gericke.co.uk 0800 165 165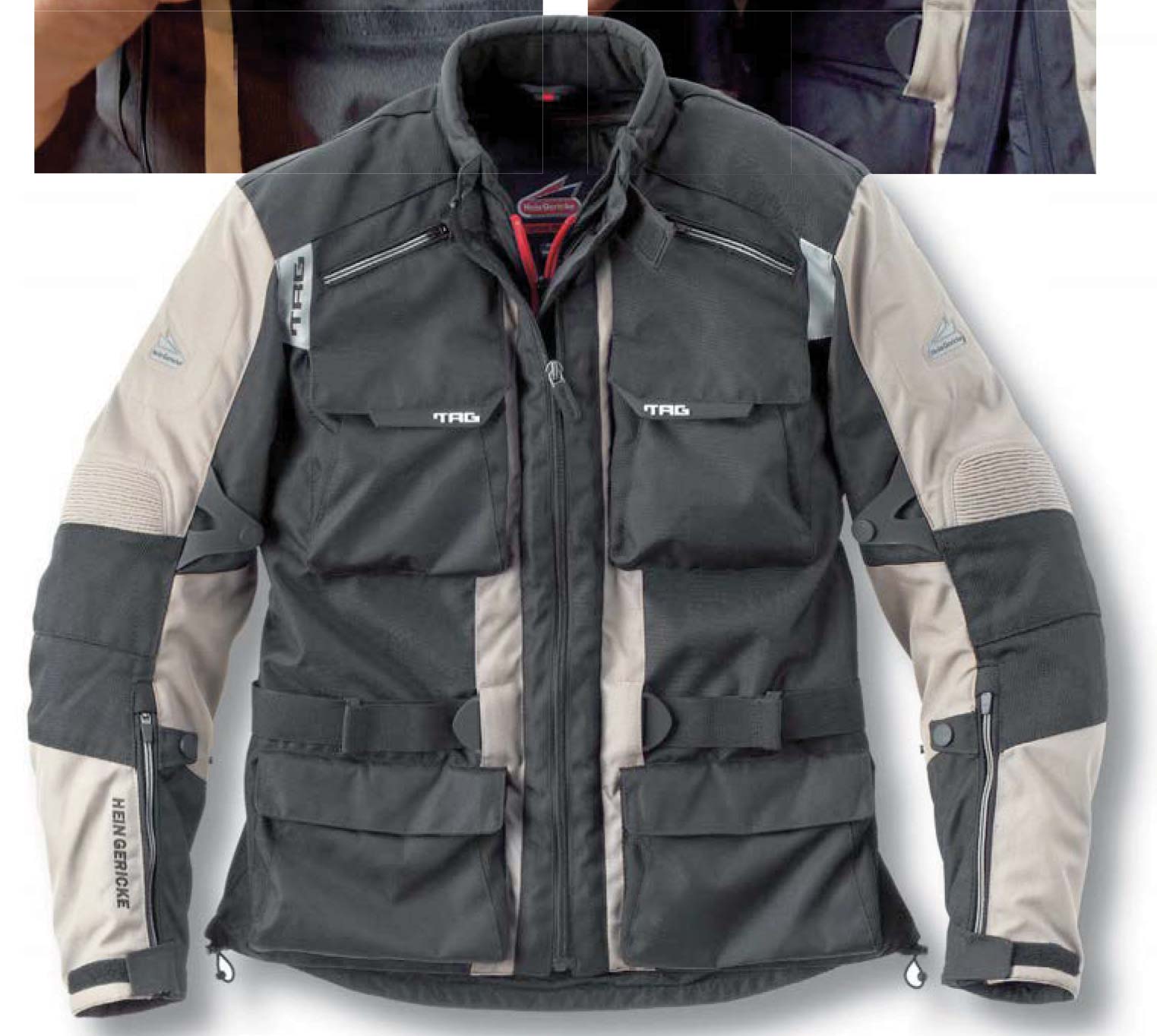 Having checked through the extensive range of Hein Gericke adventure and touring jackets, the Desert would not have been my ­first choice as an all-year-round adventure jacket. That's not to say it's inferior kit, just that the company offers products far better suited to riders who use their bikes for long-distance travel and touring.
What's noticeable about the Desert is that the main front zip (not waterproof) is not protected by a storm flap. There is a protective flap on the inside of the zip to channel moisture that penetrates but after 16 years' experience testing waterproofs I've not come across an internal rain gutter that performs as effectively as a double layer exterior storm flap. Ditto the venting zips.
As it stands, I'd pack along an additional low-cost, low-weight waterproof to wear atop the Desert for long days in the saddle in changeable weather. Perhaps the clue as to where this jacket would be more at home is in its name, but it does come with a removable thermal inner jacket for chilly conditions, so there is an element of versatility.
Weak spots aside, the Desert features a Sheltex windproof/waterproof membrane bonded to the outer fabric and you do get CE-approved armour at the shoulders and elbow (the protector extends a fair way down the forearms) plus a foam insert at the back. The cut and fit is slightly on the small side so you'd maybe have to look at going up a size and the fine adjustments at the wrist, arms, waist and lower hem are effective and a nice touch for tidying up loose fabric and battening down the hatches.
You get four good-sized front pockets, all big enough to take touring gadgets up to camera size, and as two of the pockets are waterproof they'll be well protected. Plus there's a map pocket at the rear, a Napoleon pocket (you need to unzip the jacket to access this), and an inner pocket. The Desert comes with an extensive zip to connect to the corresponding pants, plus there's a zipped pouch with a seat strap to prevent the jacket from riding up.
In a line: Hein Gericke has other jackets more suitable for adventure and touring
BRAND: FURYGAN
Style: Cup 3 EN1 jacket in black
Price: £200
ABR RATING 7 out of 10
CONTACT: www.Nevis.uk.com 01425 478936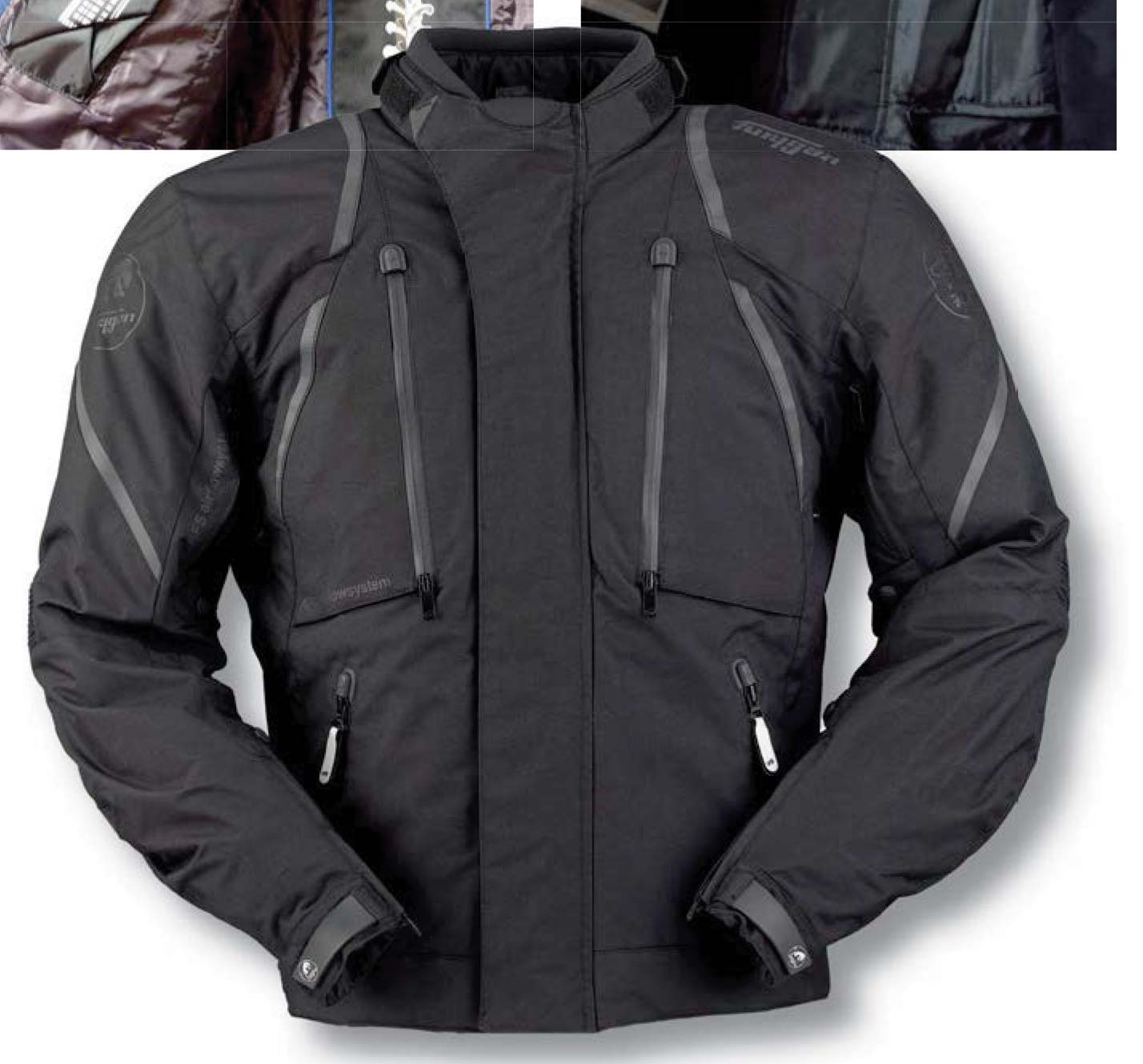 Walk into a room wearing this jacket and it could take a while before people realise you've a bike parked outside. Unlike some of the more uber adventure jackets with styling as subtle as a battery of neon lights, the Cup 3 (naff name, eh?) is a discreet affair. Or put another way, a quick glance will let you know if this is the jacket for you, and Ewan and Charley fans probably won't even notice it.
However, for those who value function as well as style this Furygan jacket is a 3-in-1 construction with a removable thermal inner and a detachable waterproof liner. The advantage of the 3-in-1 style is the level of versatility for all weather conditions; there is little doubt that with both inner liners removed this type of construction offers the most comfort for warm weather biking. That said, there are others who prefer the simpler two-piece jacket where the waterproofing is provided by a membrane bonded to the outer.
While some jackets on test appear to have been designed and made by a mass production facility in the Far East with little motorcycle heritage, the opposite appears to be true of the Cup 3. The giveaways are the attention to detail in little areas that make a difference, such as press-studs to keep vents open and increase air flow and comfort on hot days, and the higher cut on the front of the jacket to prevent bunching when sat on the bike. The collar tab is also magnetic, exposed zips are watertight and the front zip is protected by a double storm flap, all nice touches.
I've mentioned the ventilation above, but it deserves another call as this jacket comes with one of the best systems on test including a couple of large chest vents, twin arm slots and exhaust vents at the rear.
If you can't live without big pouch pockets for stashing your gear, then you'll need to look elsewhere as the storage options on the Cap 3 are limited and sacrificed for a trim line and the above-mentioned vents. Other than that the quality of materials (the armour is CE approved) and construction is a level above jackets below £200.
In a line: Stylish, well-made, we like it
BRAND: HELD
Style: Hakuna jacket in grey/orange
Price: £270
ABR RATING 9 out of 10
CONTACT: www.held.de 01423 790121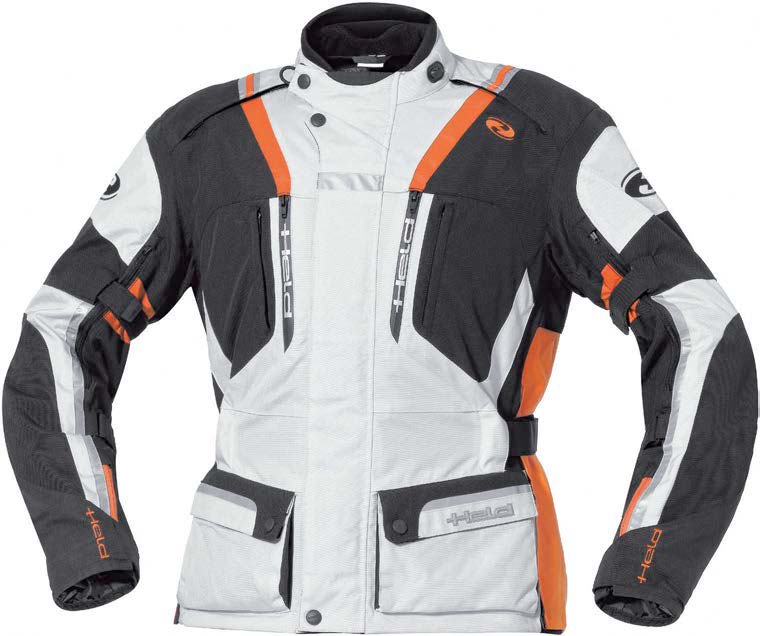 There's a big price jump between the £270 Hakuna and the well-made £200 Furygan, so what do you get for the extra 70 quid? First off the style of the Hakuna is what most would class as an adventure jacket. The square cut and bold colour scheme suggest that the wearer is currently on an RTW. That said, the Hakuna is a good-looking jacket without being over the top on the adventure catwalk and that made it one of the most desirable in the ABR office.
The jacket is of a two-piece construction, a bombproof Cordura outer and a detachable inner waterproof/windproof liner jacket, which also looks okay when worn as a standalone item. There is no insulation liner, so you'd need to bulk up with an extra layer in winter, which we don't class as a major issue.
Where this jacket scores high is in the technical features that would make it perfect for, say, a trip to Morocco where you'd need protection from the elements at the start and end of the trip in Northern Europe and then maximum ventilation under a North African sun. That said, we'd suggest packing an additional low weight low-cost waterproof over-jacket for extended riding in heavy rain
The venting on this jacket is exceptional; in addition to the standard air ­flow channels you find on most jackets you also get zip-off panels at the sides and if you've been riding in desert conditions, you'll know the value of such a feature for cooling you down. This is also a tough, hard-wearing jacket which comes with Knox CE-approved armour on the shoulder and elbow (it extends a good way down the forearm), just what you need to protect your upper body if you should happen to come into contact with the piste. You'll also appreciate the Velcro arm adjusters which not only tighten up loose material but also hold the elbow protectors in position.
If you like your pockets you'll not be disappointed, there are four outer, two inner and a couple on the back. There are non-intrusive re­flective inserts all round, stretch panels at the shoulder and the usual options for fine adjusting the fit.
In a line: Morocco here we come, in style and Comfort
BRAND: LINDSTRANDS
Style: Quattra jacket
Price: £299
ABR RATING 8 out of 10
CONTACT: www.jofama.se 0046 280 555 55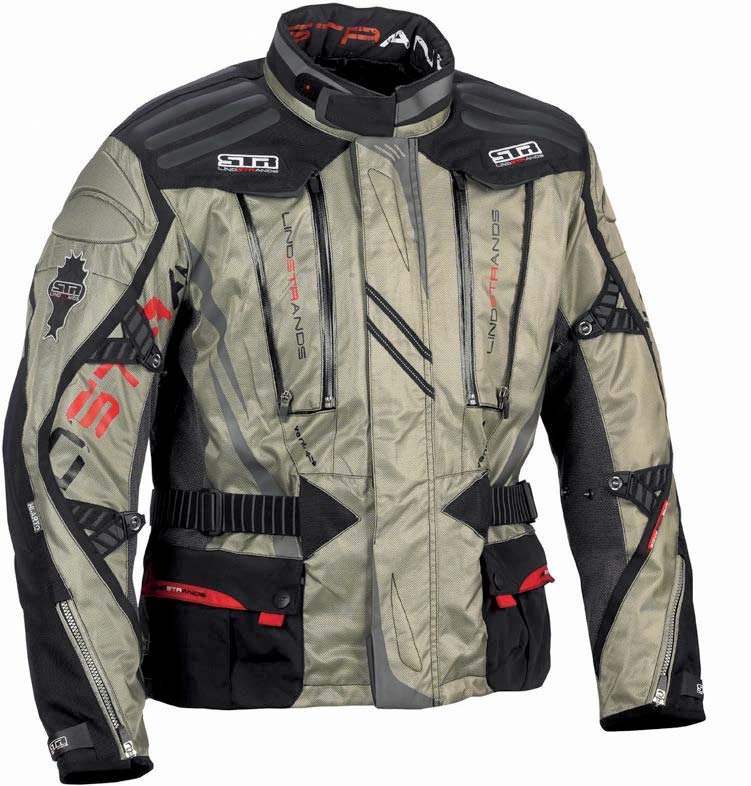 The Quattra has been used more than any other jacket on test. Why? Well it's not because it's the most technical, nor user-friendly, nor is it the warmest or most water-resistant jacket on test. The answer is down to the prime buying criteria: looks. By common consent the Quattra is the best-looking jacket on test and as such was the one, we reached for the most. How shallow is that?
Lindstrands is a Swedish brand, out of the same stable as the respected Jofama and Halvarssons clothing. The Quattra is a two-piece jacket featuring a tough Dobby/Ballistic outer shell and a waterproof/windproof detachable inner liner. There is no thermal layer, so you'll need to wear an extra layer on cold winter days.
The outer fabric feels indestructible and is further beefed up in the shoulder and arm areas where you'll also find CE-approved armour. It also comes with a good DWR coating which is evidenced by water beading and rolling off the jacket, but as with all drop liner styles the outer will wet out in extended rain so it's advisable to pack an additional low-cost, low-weight waterproof over jacket.
Where the Quattra scores high is in the venting department. There are two vent panels on the chest which can be zipped open and then secured in the open position. With the windproof liner removed and the twin exhaust vents at the back open, the through flow of air is as good as it gets and something you'll value on a hot weather ride.
You get two waterproof, zipped hand-warmer packets which are also protected by stormflaps, which means whatever you stash in them will stay dry. There are also zipped internal pockets and a watertight map pocket on the rear. In addition the vent openings double up as occasional chest pockets.
The  fit and cut is spot on with ­fine tuning provided by Velcro closures at the collar and cuffs, a waist adjuster and a hem draw cord. The armour is non intrusive and there's good all-round unrestricted movement. Additional features include reflective panels and the ability to zip into matching pants.
In a line: Highly desirable and practical; almost Perfect
BRAND: ALPINE STARS
Style: Excursion Gore-Tex jacket
Price: £350
ABR RATING 8 out of 10
CONTACT: www.alpinestars.com 0039 0423 5286.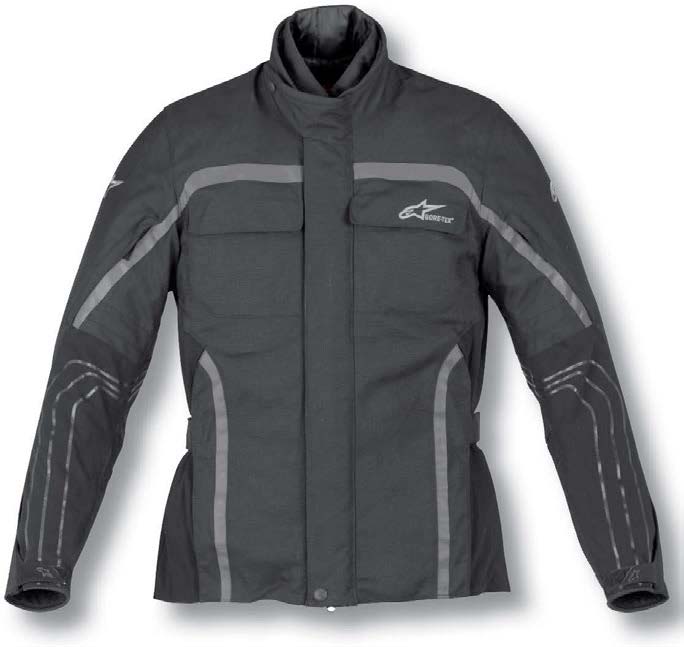 As supplied in the gray and anthracite colour way the Excursion is the most conservative-looking jacket on test; you'd be far more likely to have B&B owners inviting you in for tea and scones than locking up their daughters as there's a biker in town. No doubt the discreet look will have its fans.
At £350 this jacket is approaching the upper end of the price bracket and a fair chunk of the price is down to the use of Goretex fabric. It's a two-piece jacket, with a zip-out thermal liner, making it spot on for all year round use and the outer featuring Goretex Performance Shell which will keep out the wind and rain.
The Excursion also comes with a Teflon coating which means all but the heaviest of downpours will bead up and run off the jacket. It will eventually wet out in extended downpours, but a lot later than most of the jackets on test. Waterproofing is further enhanced by the water-resistant zips on the upper arm vents and a well secured double storm flap over the main front zip.
Protection is via CE-approved armour at the shoulders and elbows, plus the jacket comes supplied with two foam pads over the chest and another covering the back – all are removable and replaceable with CE-approved protection.
The fit of the jacket is on the trim side and the amount of waist adjustment is not great so if you like big dinners you'll have to look elsewhere. Otherwise, the cut allows for good freedom of movement and the armour is non intrusive.
Gadget fans are well catered for on the pocket front with twin hand-warmer and two chest pockets plus there's a host of inner pockets and pouches. All the outer pockets are zipped and well protected against the elements.
Venting on the jacket is limited with only two small zipped openings on the upper arm and an exhaust vent at the back; there are more efficient systems for hot weather touring.
Overall we've been impressed with the Excursion, there's little to fault; it's a well-constructed jacket made out of quality components, but one look will tell you if it's the jacket for you. Tea and scones, sir?
In a line: Quality all-year-round touring jacket with conservative styling
BRAND: REV'IT
Style: Defender GTX jacket in Silver-Safari
Price: £416
ABR RATING 9 out of 10
CONTACT: www.rev-it.co.uk 01702 482016 / 482017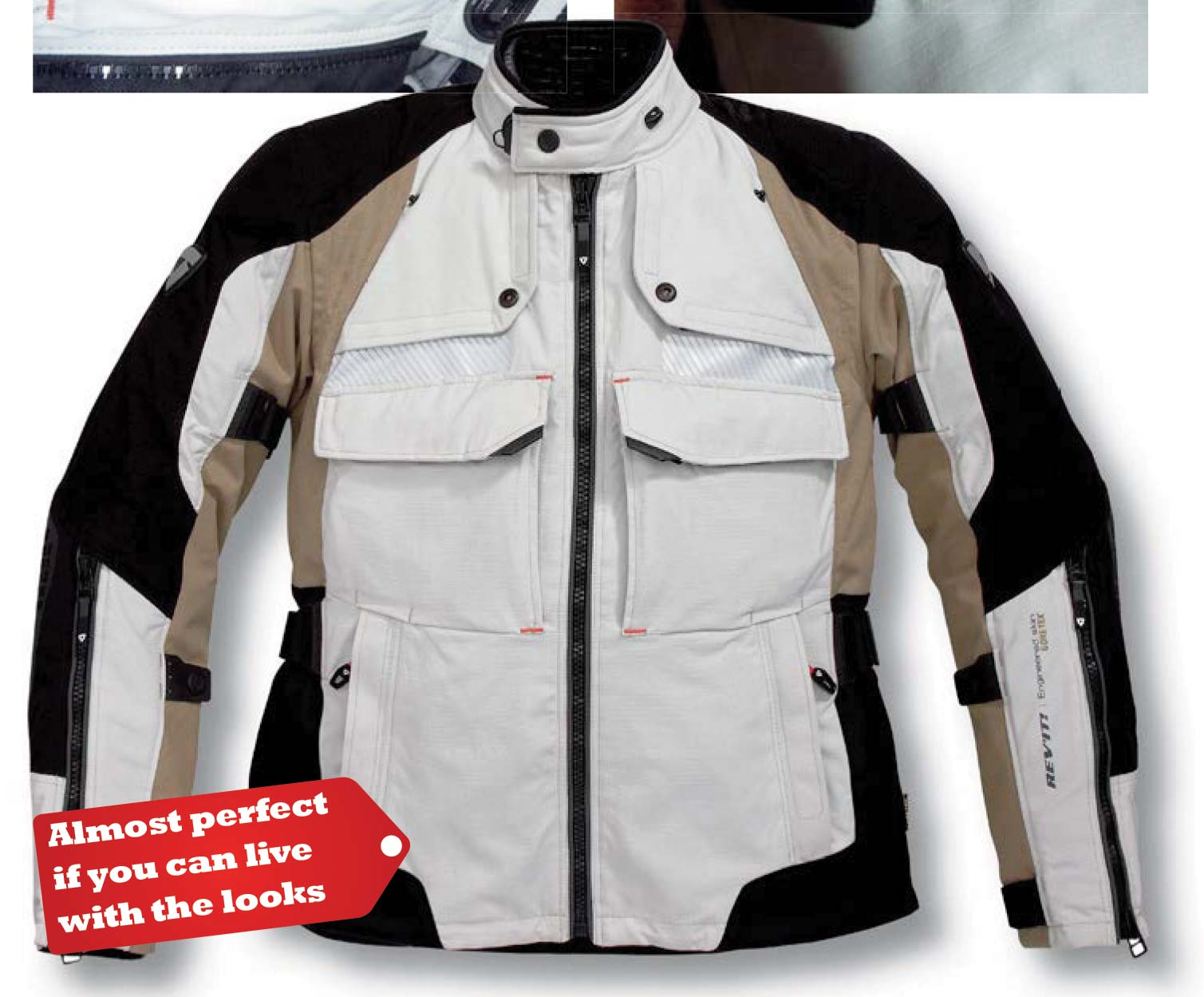 You're going to love or hate the Defender the moment you set eyes on it. This is the de­finitive 'adventure' styled jacket and some will consider it looks well over the top while others will want to sleep with it all the way to Outer Mongolia. Only you can tell which category you ­ fit.
What there'd be little argument over is that this Rev'it is expensive, so what do you get for your money? The defender is a three-layer jacket with a detachable waterproof/windproof liner and a removable insulated jacket. A sizeable percentage of the cost will be the inclusion of the removable Goretex Performance Shell drop liner which is a fully taped water-impenetrable barrier sitting between the outer and insulating inner layer.
Staying with weather protection, what's surprising about the Defender is that the DWR coating on the outer is not as effective as most on test and the jacket quickly wets out, which at the price is disappointing. However, if you must have the Rev'it you can apply a more effective aftermarket coating.
The detachable thermal liner is a class above what we've been used to, the insulation provided is excellent, you get a couple of zipped pockets and it comes part fleece lined. It looks okay as a standalone jacket for walking around town or for chilly camp sites etc. Protection also scores high on the Defender with CE-approved armour at the shoulders and arms, plus the fabric is beefed up at the high-wear 'slide' contact points on the elbow. No complaints there.
We're seriously impressed with the venting on the Defender; in fact it would be difficult to find a jacket that'll keep you cooler on a hot day. Air channels that can be secured in the open position, three-dimensional mesh panels to aid air flow and effective exhaust vents are all top features.
If you like your pockets you'll not be disappointed, they are legion, all of a useful size and the twin chest pockets are waterproof.
The Defender is a well-thought-out jacket with touches that could only be implemented by a motorcycle rider; the excellent two-way cuff adjustment and a hook to secure the collar open are two examples. A better DWR finish and options on colour would have made it an almost-perfect jacket.
In a line: Excellent product a genuine all climate Jacket
BRAND: RUKKA
Style: Kalahari jacket in brown
Price: SRP £750
ABR RATING 8 out of 10
CONTACT: www.tranam.co.uk 01425 620580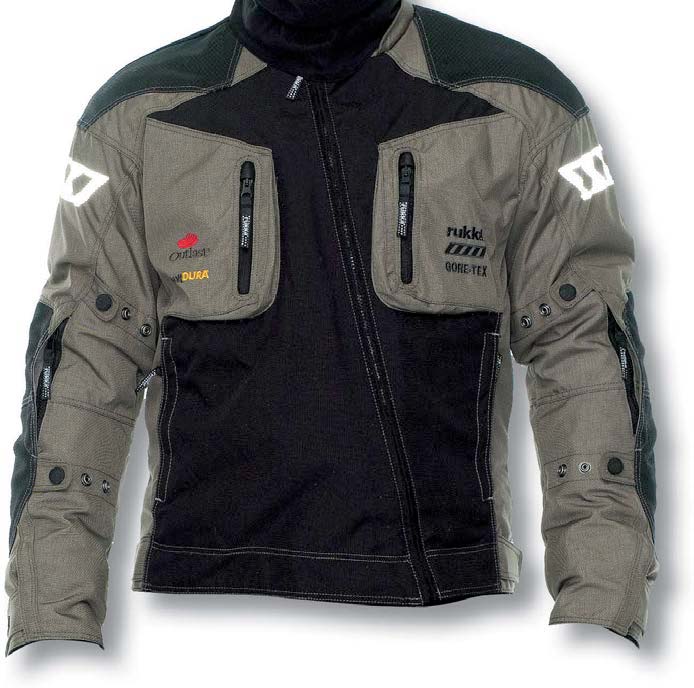 At this price Rukka should start offering mortgages, and I'm not being as flippant as you might think. My experiences with the Finnish company's products go back a long way and include choosing its gear for life-threatening midwinter Arctic expeditions where the performance of clothing was literally a matter of life or death. Ditto my old Rukka Armax motorcycle jacket (not in this test) which performed for years in all conditions and seasons without fault and came with a level of durability to outlive me – hence the mortgage quip.
So, the big question is does the Kalahari live up to my high expectations of Rukka clothing? First off, the Kalahari is a two-part jacket that comes with a detachable inner waterproof/windproof Goretex Performance Shell liner. There is no insulation layer in this jacket so you'll need to wear additional clothing in cold conditions – no big deal. The Goretex liner is itself lined with an Outlast skrim which feels far more comfy next to the skin and helps with moisture transmission and temperature regulation.
Sticking with waterproofing, the outer of the jacket has been treated with a Teflon DWR coating, which works well at shedding the odd shower but will wet out in extended wet weather riding. Rukka, to its credit, acknowledges this to be the case and advises that sensitive equipment (phones etc.) should always be carried in inner pockets. There's also a waterproof pouch secured in a chest pocket for stashing essentials.
The outer fabric has a bombproof appearance and is further beefed up at the high wear/risk areas. I've not had the Kalahari long enough to comment on the durability but if its anything like the old Armax it will survive years of both on-road and off-road abuse – I've seen off Arcasia trees in my Armax.
With the waterproof lining removed the jacket is spot on for warm weather rides, as the 'Kalahari' name would suggest. Other features include protection at the elbows, shoulders and back, an excellent neck wrap that extends to cover the chin, all-round reflective inserts, connecting zips for pants, enough pockets to appease the most active gadget man and a good all-round cut and fit.
It's exceptionally well made with quality components, but ouch! The price. Then again, it is a Rukka.
In a line: The quality and desirability is as high as the price