Fiji may be one of the planet's most overhyped travel destinations, but it's also a trailrider's wet dream during rainy season, says Ian Neubauer
Until a couple of weeks ago, I thought Fiji was basically one big resort; a holiday destination for people whose idea of a good time revolves around oasis-shaped swimming pools and tacky cultural shows. But when work took me there late last year, I picked up a guidebook and discovered the main island of Viti Levu was basically one big Enduro circuit; a volcanic atoll peppered with dramatic highland scenery, raging rivers and palm thatch villages locked in time. Then I got on the internet and typed in the words 'motorbike' and 'Fiji', and was taken to the website of a company that rented mopeds to the minions and which also had a couple of dirt bikes in stock.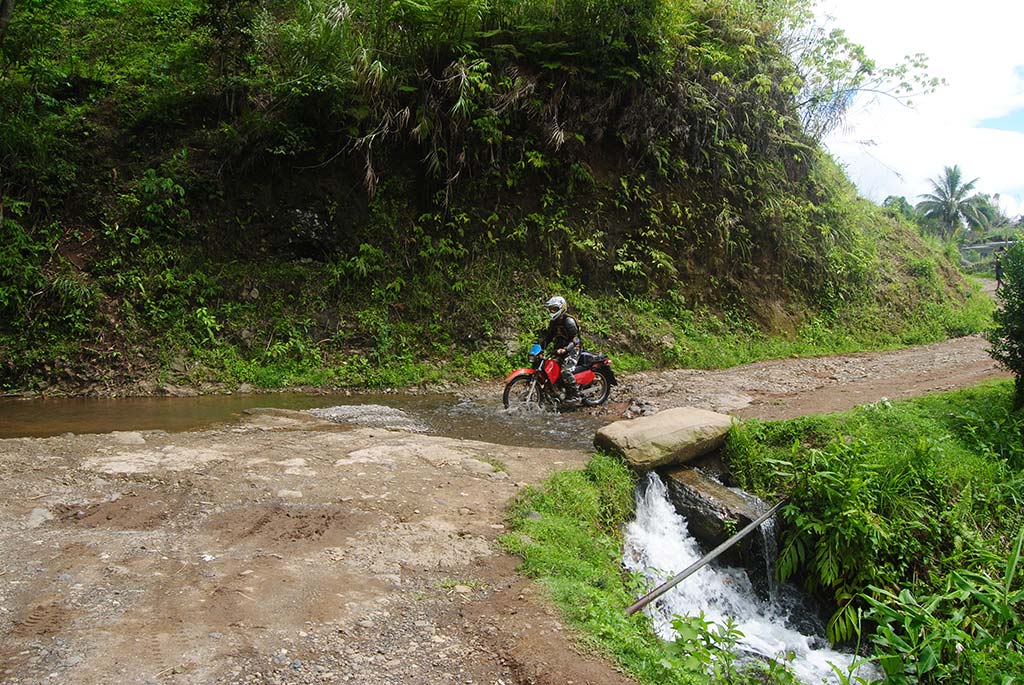 THAT'S NOT A BIKE
I could barely hold back my excitement as my taxi pulled into Westside Motorbike Rentals behind the international airport in Nadi. But when I walked into the garage and saw the bike they'd held for me – a rusty old Yamaha AG200 – I knew I was in for a rough ride. The back tyre was totally bald, the front trye was a roadie, the pipe looked like it had been nicked off a Vespa and the engine sounded like my grandma's sewing machine. But I wasn't going to let little things like safety and performance get in my way, and snapped into action. After sending the mechanic into town to pick up a new set of knobbies, I ripped off the mirrors and front indicators, greased up the shocks, and fiddled around with the carbi and valves until the donk started to sound as if it had double-digit horsepower. Two hours later I was ready to go and, after filling up my Camelbak, I hit the road.
Viti Levu is ringed by a two-lane tarred thoroughfare called Queens Road. Apart from a few potholes and gravelly bits it's easy going and allows me to get used to my clunker of a bike. I follow it north for 24km until I reach Lautoka, the second largest city in Fiji. Riding down the main esplanade I feel like I'm in my home town of Sheparton in Victoria, Australia, save one major difference: half the storefronts and most of its inhabitants are Indian. In the late 19th century, tens of thousands of indentured labourers from India called Girmitiyas were shipped here to work on sugarcane plantations, and today Indo-Fijians represent the country's largest ethnic grouping. Nowadays they're mostly traders and restaurateurs, and it doesn't take me long to find an eatery that dishes up a mean chicken masala.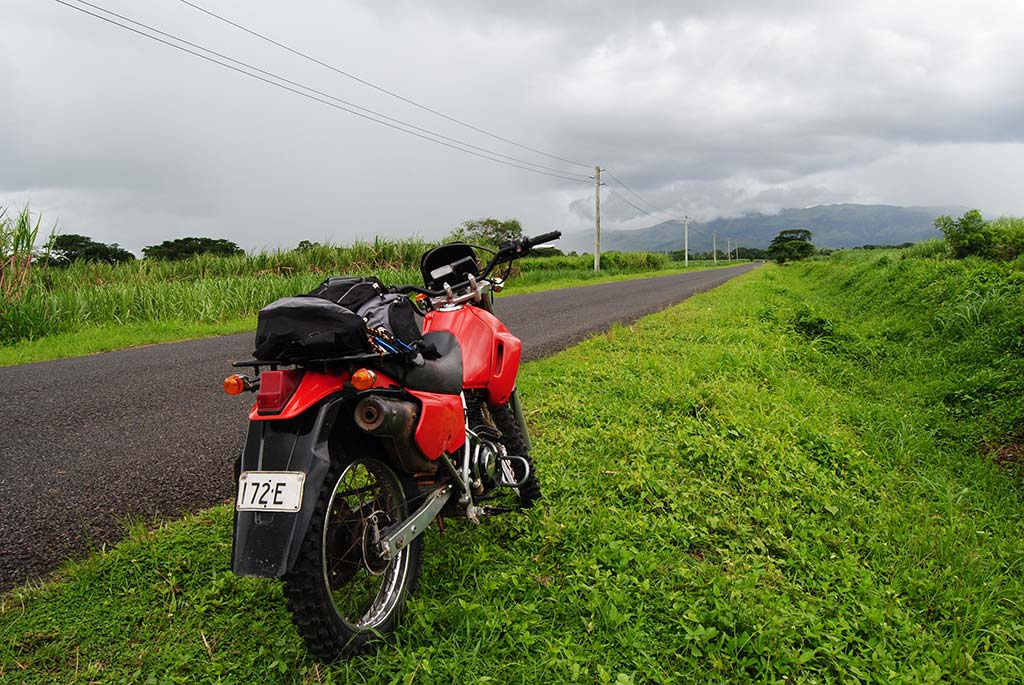 With my belly full, I continue north along Queens Road. To my left lies the coastline with black sand beaches and sparkling seas, and to my right I see endless sugarcane fields.
I'm hooning down a straight when, out of nowhere, a copper steps on to the road and signals for me to pull over. When I get a little closer, I see another cop hiding behind an unmarked sedan holding a speed-radar. I've been pinged! The national speed limit in Fiji is 80km/h and they've clocked me doing 85. I envision myself wasting away in a moldy third-world prison cell or being forced to hand over all the cash in my wallet, but sigh with relief when I'm presented with a fine for 20 Fijian dollars, the equivalent of £6.80. I'm even more surprised when the coppers tell me it's not an on-the-spot fine that'll end up in their pockets, and that I'll need to visit the municipal council office in Lautoka before I'm allowed to leave the country. So I backtrack to Lautoka and settle the bill, then retrace my tracks to the town of Ba, on the island's north coast.
Ba lies at the foothills of the Nasouri Highlands, a picturesque series of grassy hillsides that quickly ascend into a domineering mountain range. It also marks the first off-road leg of my journey as I hang a left on to a corrugated dirt road. I've been warned the inland roads are atrocious but in truth they're a piece of cake, with nothing more challenging than mud pits and fields of sharp stones.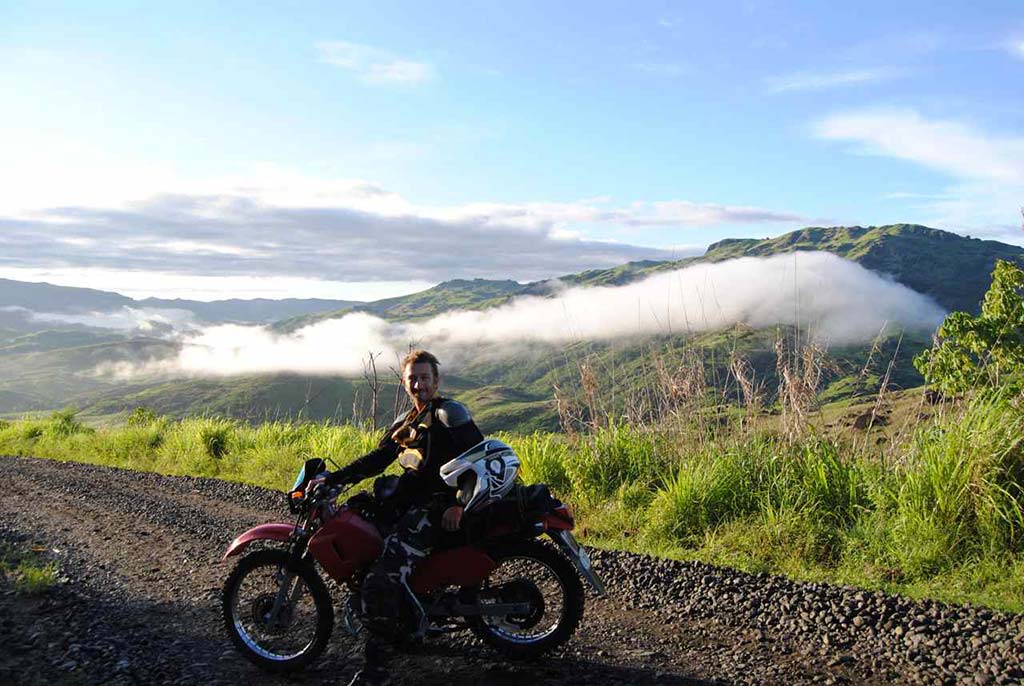 The real obstacle, however, lies not on the road but way up in the sky. It's the tail end of November, the beginning of the rainy season, and I find myself riding head on into an ominous black storm. Without warning, the heavens open up and rain buckets down. Now, I'm not adverse to a bit of a shower but this is Forrest Gump rain, the kind that falls sideways in sheets and soaks you to the bone. I can barely see 10 metres in front of me and the gentle dirt track I was scoffing at a few minutes earlier becomes a treacherous slip 'n' slide, and I have no choice to pull over and seek shelter under a concrete bus shelter.
I wait for an hour… two hours… and then three until it became painfully apparent the pelting rain has no intention of dying down. I'm just about to call it a day and retreat back to the coast when a wrestler-sized Fijian runs outs of the fields. He introduces himself as Ruba and asks me what the hell I'm doing here. After hearing of my mission to cross Viti Levu along the inland road, he tells me there's no way I'll make it – that entire sections of the track are flooded and impassable. He also informs me that I won't be able to retreat back to the coast today because the small bridges I crossed earlier on will also be submerged. But like all Fijians, Ruba is hospitable to the core, and insists I crash at his place for the night.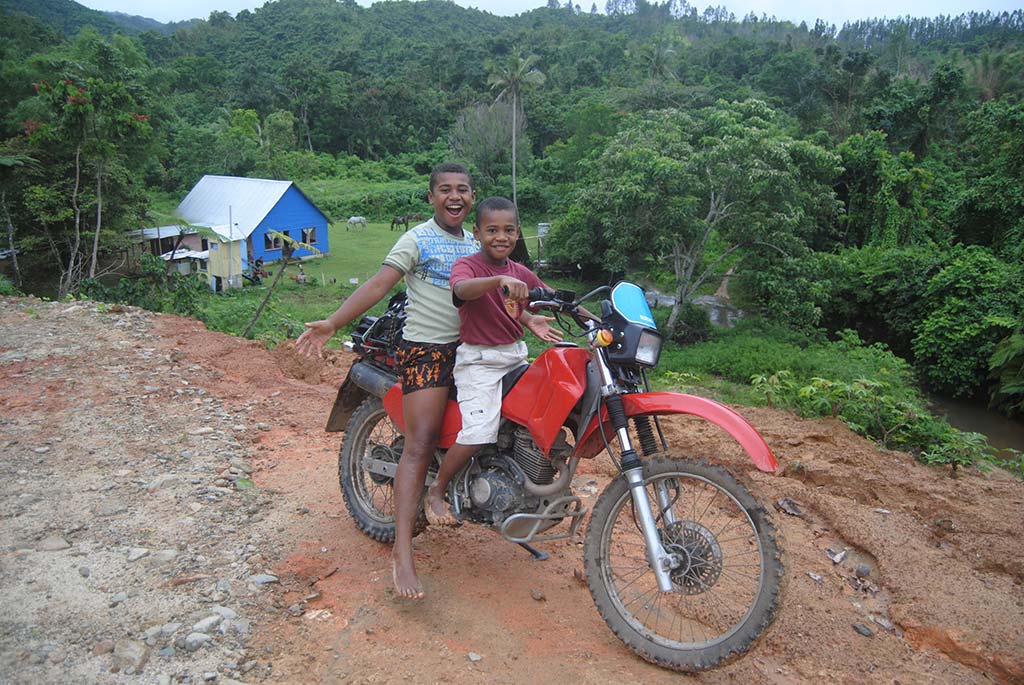 Ruba's home is about 1km up the road, but getting there is easier said than done. A river has broken the banks of a small ford and gushing white water intersects it at devilish speed. We try wheeling the bike across but are soon pushed towards the edge and are at risk of losing the bike. After a quick retreat, Ruba walks across with great difficulty and returns with two mates. Together, the four of us pick up the bike and carry it across. Only now do I appreciate the benefit of the little Yami, as even four grown men would've struggled under the weight of a 250 in the rapids. But the fun isn't over yet. Water has got into the pipe and when we get to the other side the damn thing won't start, and we have to push it up a ridiculously steep hill until we reach Ruba's place.
Ruba lives with his auntie and uncle in a small two-room shack. We store the bike in the second room and Ruba lends me a sarong so I can change out of my gear. We then meet his aunt Jimaima, who greets me with a huge hug. "I knew I would have a visitor today," she says, "but never in my wildest dreams did I imagine he would come from so far away."
Jimaima tells me that that morning a large butterfly came into her kitchen and planted itself on the wall. Fijian folklore tells that the when a butterfly enters a house it means a visitor is on the way, and she'd spent the day cleaning and cooking in anticipation of my arrival.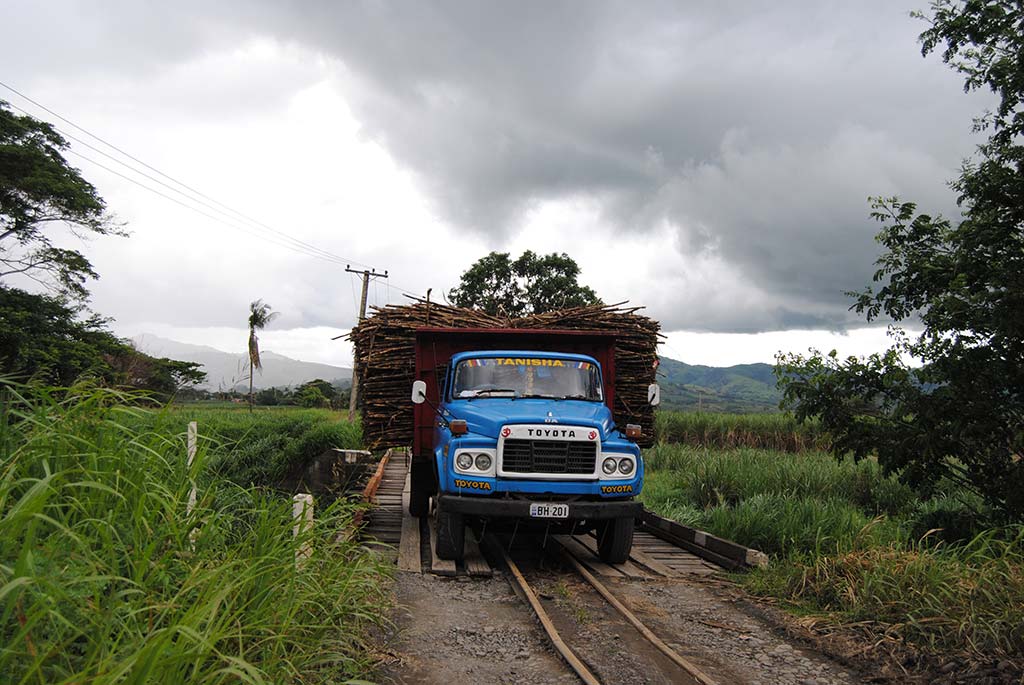 Dinner consists of spicy veggies with rice and is followed by a long kava drinking session. Kava is a mildly narcotic pepper plant traditionally drunken at Fijian cultural ceremonies. But today it's used to welcome and bond with visitors or simply to kill time with mates. After 10 or 20 cups my speech begins to slur and I feel super relaxed. We stay up late into the night, sharing stories and cups of kava until, one by one, we pass out on the floor.
By the time dawn has broken, the clouds have rescinded and there are only blue skies ahead. Ruba's uncle warns me not to be deceived because it's just a lull – the rain will be back in force in the afternoon and I should turn back to the coast while I have the chance. I thank him for his concern but explain that I've come all the way from Australia and can't possibly turn back now without giving it a red hot go! He insists I take his number and call at the first sign of trouble, which I agree to do even though I didn't bring my mobile phone. And with that I'm out of there, pacing quickly into the hills.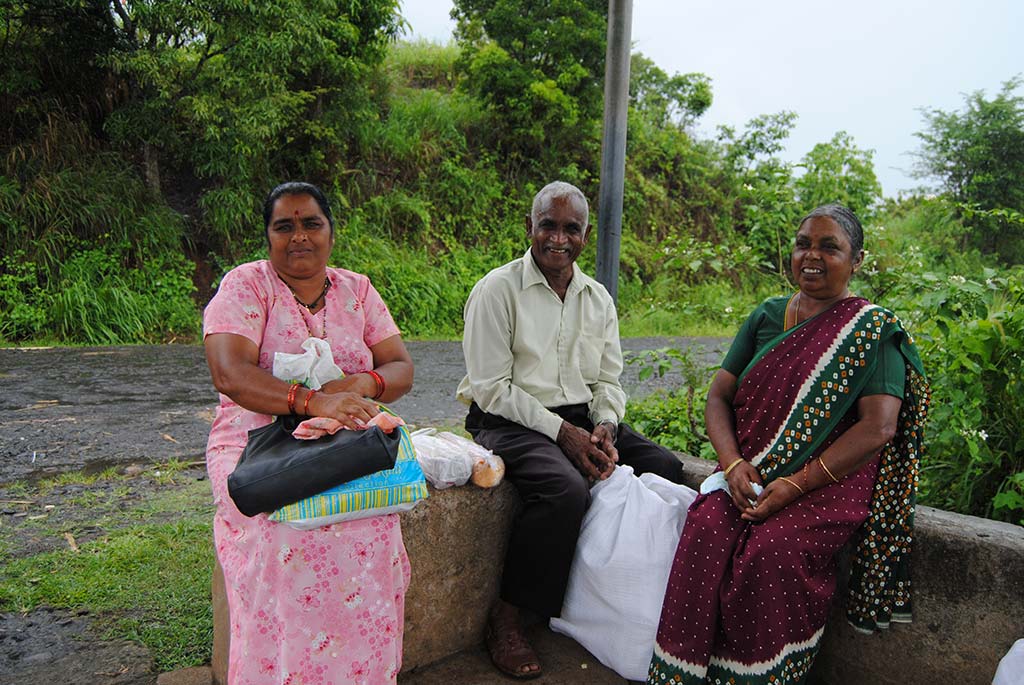 I've been fortunate enough to ride through many countries in the region, but never have I seen anything that matched the sheer magic of Viti Levu's highlands that morning. The road ebbed and flowed through a never-ending series of valleys and hills laced with low-lying clouds; at times I felt like I was riding through heaven… trailriding heaven, that is. After an hour or so I reached Navala, one of the few remaining villages in the country where every home is still built using local material in the traditional thatch-palm style. Having read up on local customs, I know I can't just wander in; I need to seek permission from the headman, who always lives in the highest house in town.
I find the headman perched on a large rattan chair with his multitudinous offspring and womenfolk sitting cross-legged on the floor. He beckons for me to enter but in my haste I fail to realise he wants me to go around through back door instead of the front entrance, which is reserved exclusively for him.
Back in the days, the mistake could've cost me my life. In 1867, Reverend Thomas Baker, a British Methodist preacher, was killed and eaten by Nasouri Highlanders for touching the headman's hair – a definite no-no. But luckily this headman forgives my transgression and offers me a cup of tea and some tapioca to munch on, which I duly repay with a stick of kava I picked up at the Lautoka market the day before.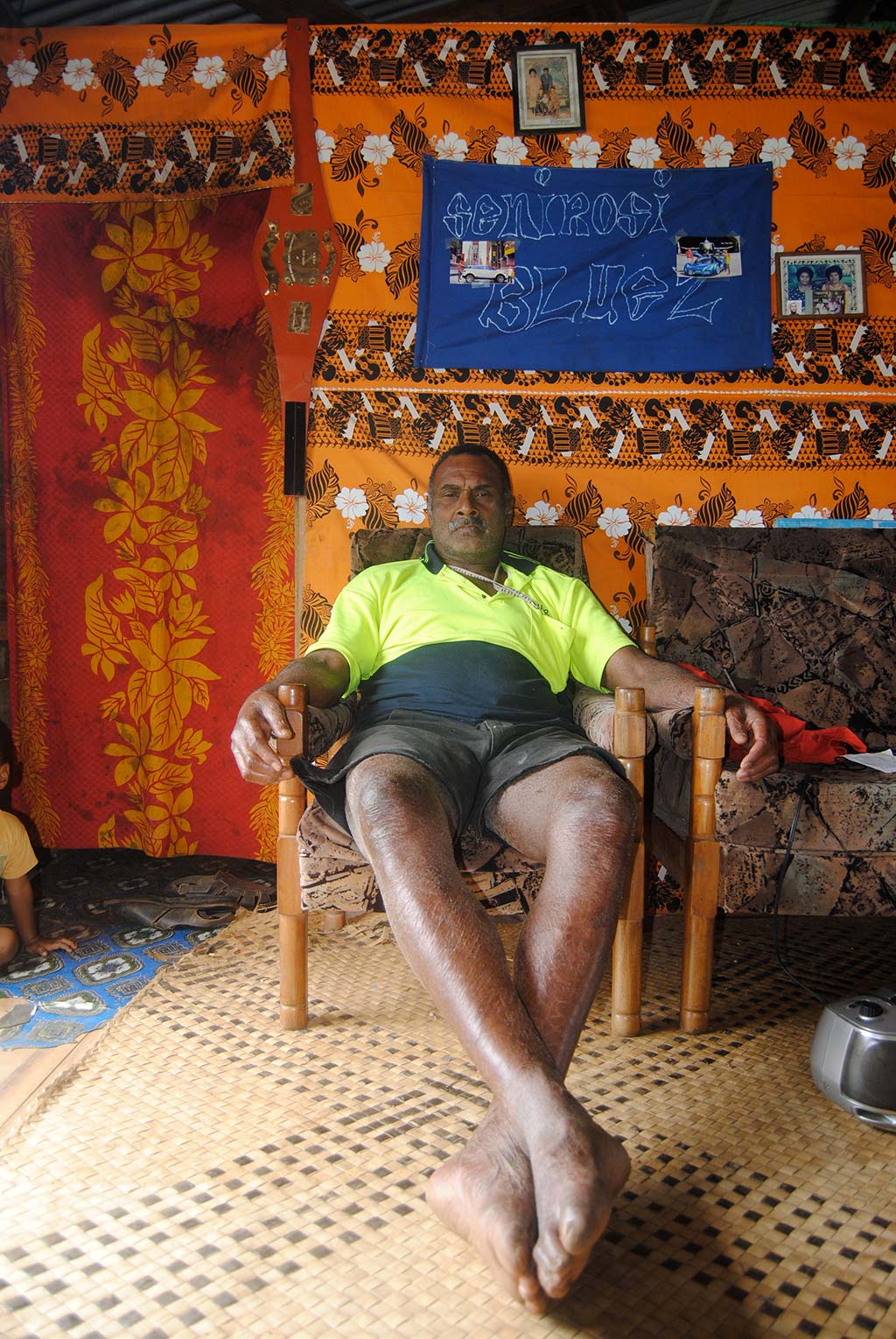 I cross a number of fords and bridges, often relying on villagers who help me push or lift the Yami when the waters reach too high. But as the day wears on, I also become aware of another potential danger. The eastern half of Viti Levu is about 100km from north to south as the crow flies. But after reaching the halfway mark at the village of Bukaya, the odometer tells me I've done 85k since filling my tank at Ba, with the same distance remaining until I reach the next petrol station at Sigatoka on the south coast.
To conserve fuel, I ride super slow, keeping the wattage to about 25km/h and coasting down inclines with the motor switched off in neutral. And while the slow pace allows me to take in the stunning mountain scenery, it also means I'm more likely to get rained on in the afternoon and forced to spend another night in the highlands, and perhaps lose my flight.
But lady luck smiles on me and the rain holds off until I cross the last ford and enter the Sigatoka Valley.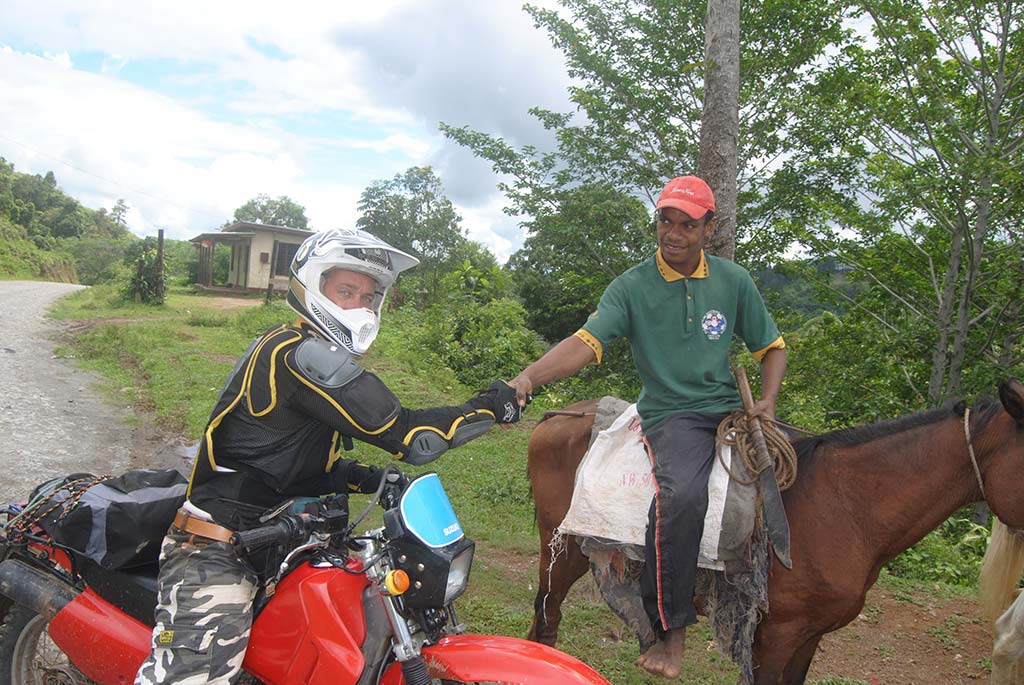 It's late in the afternoon when I reach Sigatoka, where a hot shower and warm bed await me at a small guesthouse run by a friendly Indian family. They invite me to eat with them in their home that night, listening with rapture as I tell them about my journey on the trusty little Yami, which, incredibly, made it all the way to Sigatoka without hitting the reserve. They tell me it's the first time they've heard of motorcyclist attempting – let alone completing – the feat in the rainy season, and invite all their neighbours around for yet another kava drinking session that lasts all night long.
The following morning I take in 60km of dry, heavenly tarmac until I reach Nadi, where I return my bike and catch a taxi to the airport. It's been a mad experience and one of the most enjoyable rides of my life.
Before I sign off, a big vinaka (thankyou) to Fiji Tourism for covering my airfare, and to the people of Viti Levu for showing me the real Fiji. I'll never forget your hospitality and can't wait to return.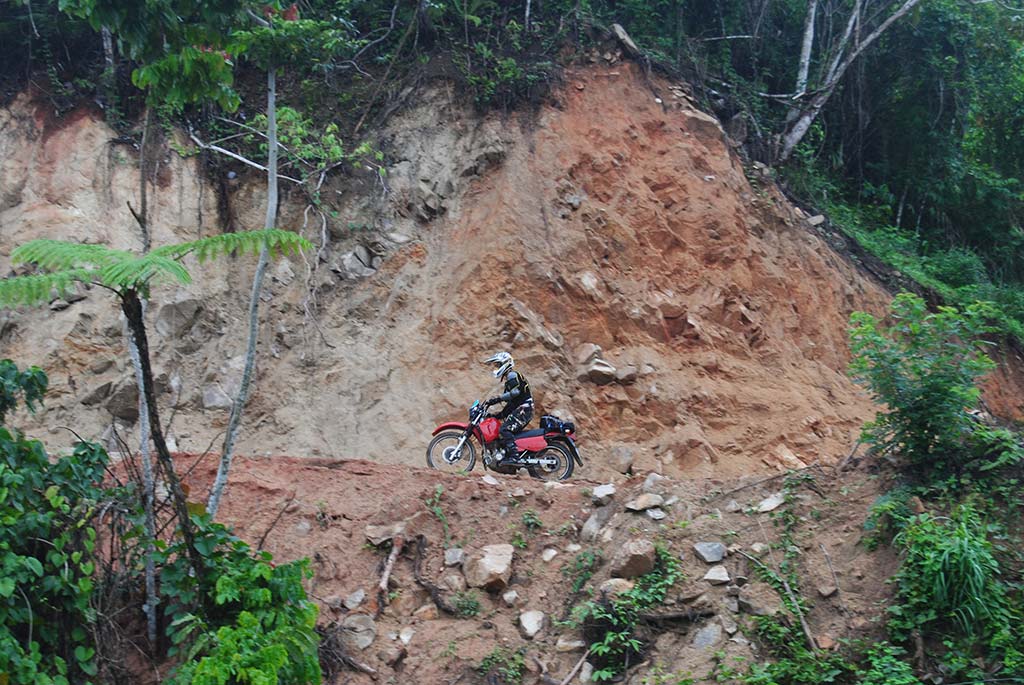 WHO'S RIDING?
Australian reporter, photographer and novelist Ian Neubauer has travelled extensively while answering the call of journalistic duty. From uncovering controversial internet censorship in Thailand to forced village evictions and sex slavery in Cambodia; even dodging death while on an assignment for dirtbike magazine hasn't put him off pushing the limits of reporting. With one fictional novel, Getafix, about Israeli ex-military running riot in India already under his belt, Ian's currently working on his second novel Marquis about a tourist who gets kidnapped by insurgents. See more of Ian's work at www.ianneubauer.com.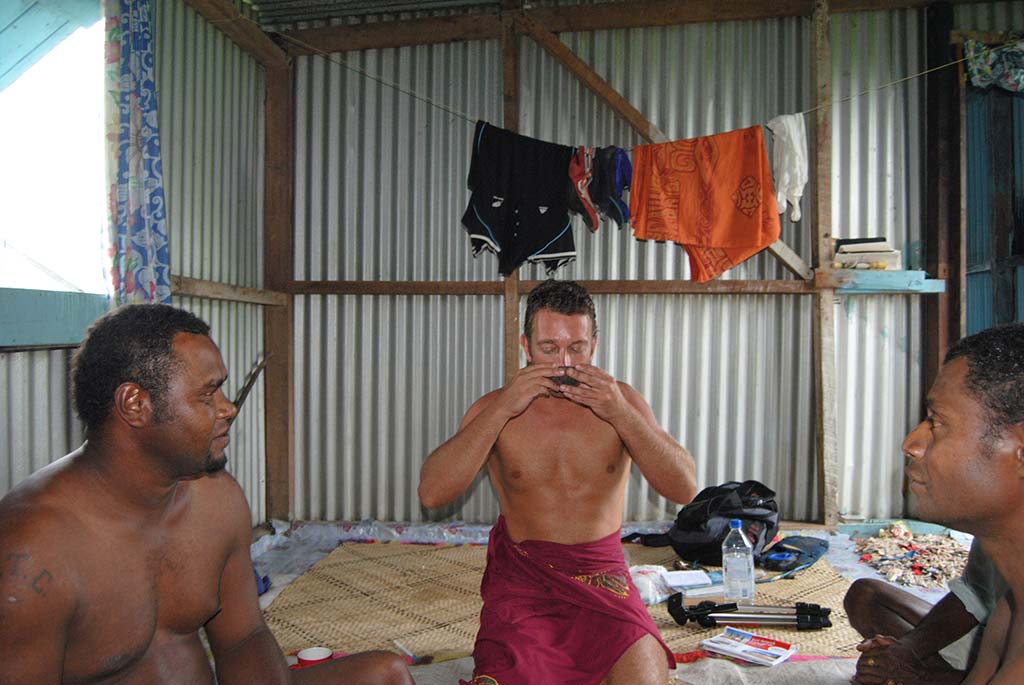 DIVE IN!
Exploring Fiji by dirt bike is one of the best ways to get around the island, but for a truly unique island experience you need to see under the South Pacific Ocean! Fiji is a wealth of diving opportunities and trips are available to satisfy every taste, from feeding sharks to uncovering coral reefs. One of the most popular diving destinations is the Sawa-i- Lau limestone caves, located on Sawa-i-Lau island, part of the northern section of the Yasawa chain. These caves – approximately 100 in total – are thought by Fijians to be a sanctuary for the gods, and inhabited by Uluitini, a 10-headed deity in Fijian folklore. See www.fijime.com for more
CLIMATE
Fiji enjoys a tropical marine climate and is warm most of the year round; rarely dropping below 22°C. November- April is when the island is at its hottest and also when it experiences the most rainfall, while May-October is the cooler season
ISLAND HOPPING
Fiji comprises 333 Fijian Islands set in the beautiful South Pacific. Some are inhabited but many are not and the best way to explore these, including the Yasawas and the Mamanucas islands, is using a Yasawa Flyer Travel Pass. The Travel Pass includes all transfers from Nadi to eight islands in the Yasawa Group aboard the Yasawa Flyer 200- seater Catamaran, which departs Port Denarau (Nadi) at 8.30am every day and returns to Port Denarau at 6pm. There are so many companies offering travel pass deals, which vary throughout the year; the best way to find a deal to suit you is to have a good old Google online before buying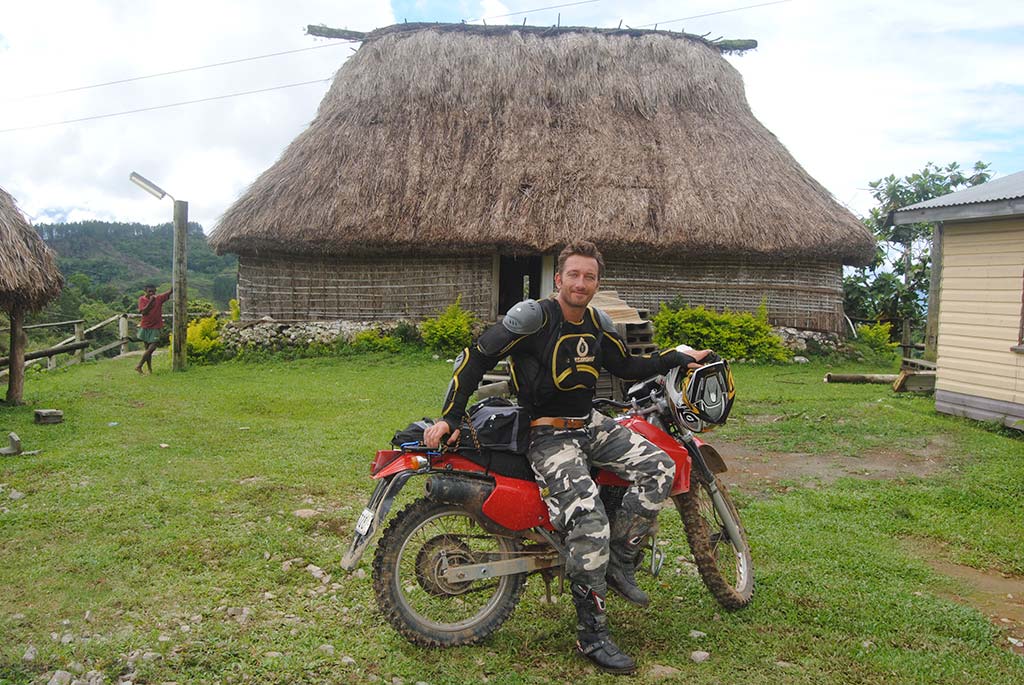 THE BIKE
Westside Motorbike Rentals (www. motorbikerentalsfiji.com) is the only company in Fiji that rents bikes. And while the Yami I rode was well past its prime, the owner, Anand Achari, reckoned he was expecting delivery of a brand new fleet in April this year. While you could ship over a bigger bike of your own, Anand swears no bike's better suited for Fijian terrain, and that previous attempts to rent out BMW F650s and the like invariably ended in tears. "The Yamaha AG200 is perfect for Fiji because it's very light and two people can carry it over a stream without a problem," he says. "And they are very economical. The petrol tank is only seven litres but they can easily do 200 or even 220km." So what does Anand ride? A Harley Davidson '96 Softail 1340cc. "But only around town," he says. "Most of the time…"
Photos: Ian Neubauer