ABR Dave Cook was front of the queue when he ordered Triumph's brand new Tiger, the 800XC, back in November last year. Eight months and 1,800 miles later he's reached his verdict. So how did the big cat fare?
IN SHORT
TIME OWNED: 8 weeks
MILAGE: 1500/350 on/off-road
I LIKE: Engine and gearbox
I DISLIKE: The screen
IN A LINE: Just a joy to ride every day, every where
Let me tell you where I am. I know it seems like a clichéd line from Dragons' Den but I wanted to like this bike. Yes, that's right. I wanted to like it. I wanted it to be so good it would make Deborah Meaden do business with me, or even better, make her smile. OK, I admit nothing's that good, but you get the idea.
Before the launch, I watched Triumph's viral internet ads and other media coverage with fervor, and I'll admit, I probably got hooked on the 'something different' tagline. A British 'something different'. There was nothing wrong with my current GSA and I would not hesitate in ordering another Bavarian twin, but I'd had two in a row and had convinced myself that it was time for a change.
At this point, I hadn't had a test ride or even seen the 800 XC with the naked eye. No high-pressure sales man was there offering me interest-free finance or free luggage with the bike. I'd not even had the chance to haggle for a little bit of a discount. (No discount was very, very hard to live with; I'm still not over it) but the decision had already been made. Tiger 800 XC it was.
When placing my deposit back in November 2010, I had to choose a colour. Black and white are not technically colours so it was an easy choice. I plumped for orange. With no firm delivery date quoted to me, I waited, watched the ads again, read all the printed media reports I could find, and then waited some more. Finally, in the first week of February 2011, 215Kgs of intense orange anticipation landed on my driveway. It was now mine to use and abuse.
But wait! Where was my sump guard? Where were my crash bars and heated grips? It was a bad start. Apparently two years of planning, development, testing, and the fact that all the bikes on the first production run were ordered with deposits paid was not enough to give Triumph the incentive to add some accessories. Cynical? Maybe. Acceptable? Not really. Still, the bike was PDI'd and ready to go, so after a small moan and lots of free coffee from the dealer, I was off .
Does it live up to the hype? At the time of writing (end of April 2011 and 1,800 miles later) I'm not so sure.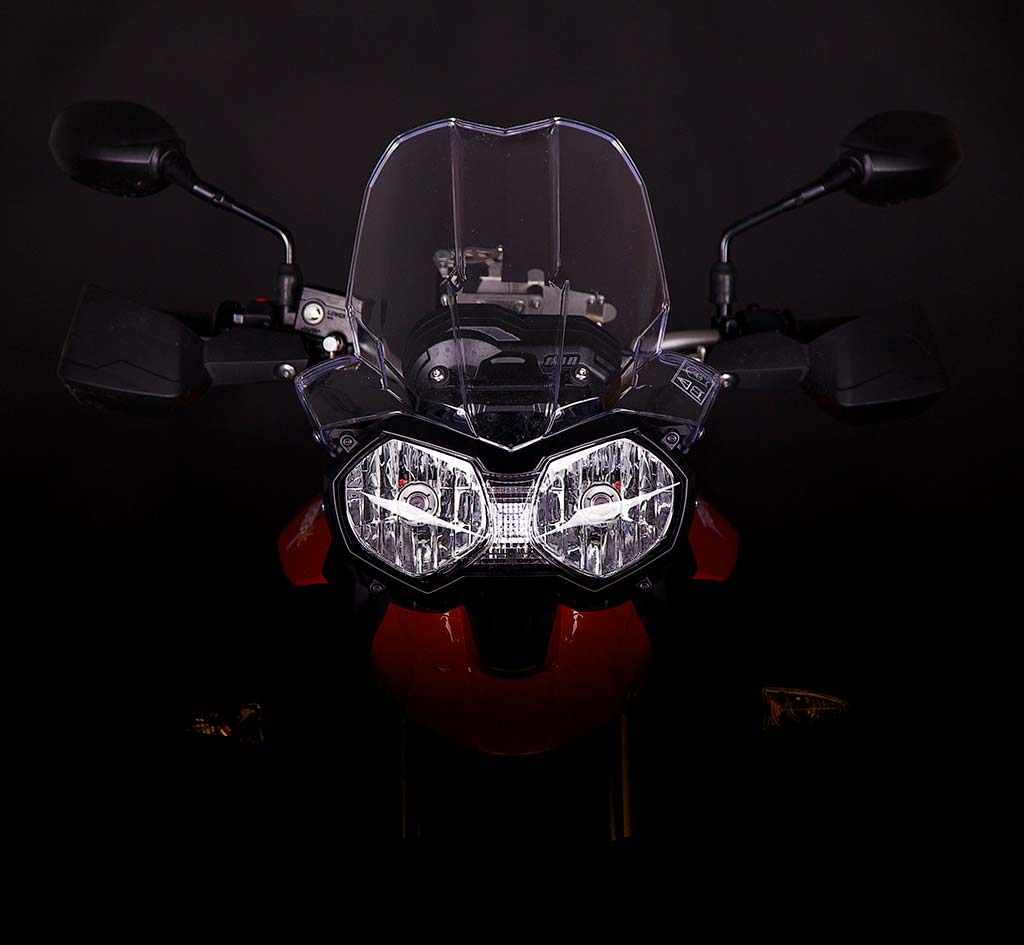 COMFORT
Without a doubt, the 800 XC is a good looking bike. It has the feel and styling of the current crop of adventure bikes, even down to the small beak at the front. A bit GS, a bit street, and yes, like most adventure bikes, a bit of TDM, depending on what angle you look at it from.
At 33 inches (843mm), the seat height is just about right for a 5' 10" rider. The seat has two adjustable positions at the front and rear giving you four custom options on what suits you best. The adjustment raises the seat height approximately 1.25 inches. The seat is also one of the few factory efforts that I've ridden which isn't styled on a bed of nails.
The suspension is quite stiff as standard, and I think is set for road use. This is something that I may look at changing at a later date. Nothing wrong with the standard set up, it's just my personal choice to have a little adjustment to suit the terrain I'm riding.
The screen is positioned at just the right height and angle to induce maximum wind turbulence at cruising speed. (70mph if you wear a blue uniform, 80-85 if you don't). Three inches higher and you would be in the air pocket. Three inches lower and the helmet would not be buffeted in the turbulent air. This becomes tiresome after a few hours on the motorway. Maybe the taller screen would cure it but I am too frightened to ask Triumph for a delivery date. It may be quicker to whittle one from a piece of wood Ray-Mears style.
The wide tank or narrow pegs (whichever you choose to blame) make the bike hard to grip with your legs and standing for a long time becomes uncomfortable.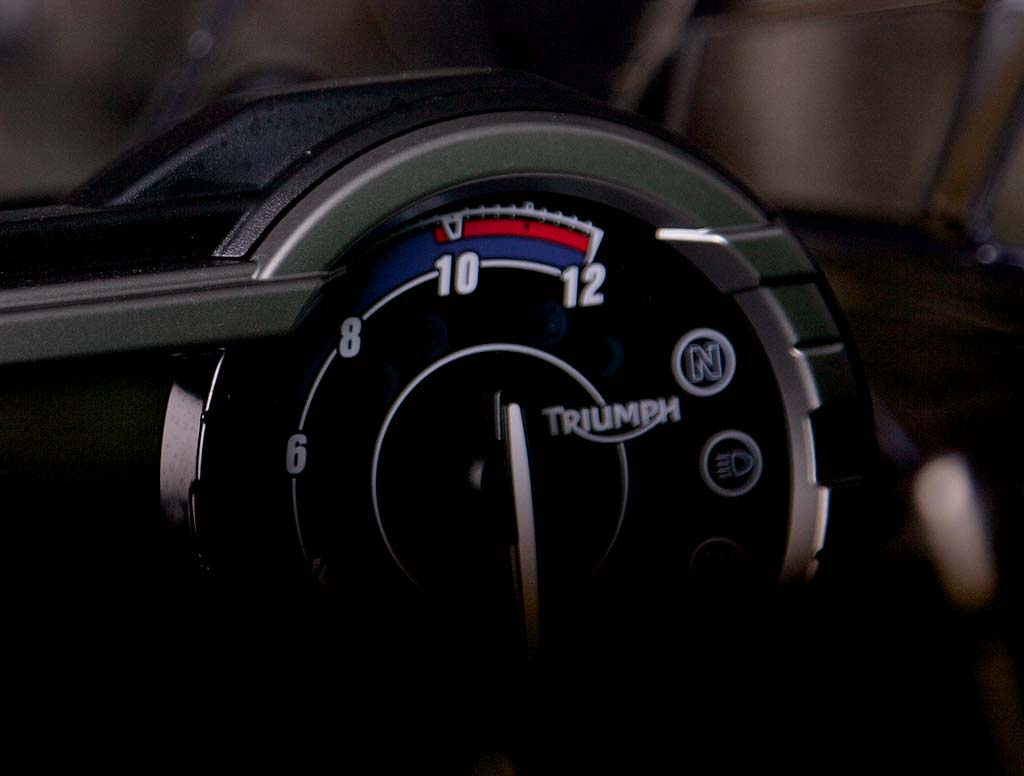 PERFORMANCE
Once the starter has breathed life into the three-cylinder engine the thought of no discount seems less important. At the heart of this bike and probably what makes it so different is the modified engine from the speed triple. It's a sports bike engine. Simple. Ok, so it may have a slightly shorter stroke and a few more torques for all you techno guys out there, but it looks, sounds, and more importantly, feels like a sports bike engine.
Best of all, it wants you to ride it like a sports bike. Adventure bikes should have arm-ripping low-revving torquey engines, shouldn't they? That was the norm until now. The upright all-day comfy position, wide bars, neutral handling and a power plant delivering 94hp of smoothness equals fun, fun, fun.
Coming from a low-revving torquey engine bike it takes a while to get back into the tune of the engine. I tend to change gear when my ears or the road conditions tell me to. On the Tiger I found myself changing at 4-500 rpm which is ok on the GSA. Cruising at 80-85 on the GSA has the same engine note as 60-65 on the Tiger. So the engine note made me feel I was riding faster than I was actually was. Not a bad thing but I had to get used to a high-revving engine all over again. But hey, there are worse things I could think of to get used to.
The sound and feel of the engine as it pulls through the rev range encourages you not to change gear too soon. The bars are just the right width to give you the feel of more precise steering than normal bikes in this category. The engine will pull smoothly in 6th gear from 30mph with no judder up to the (claimed) top speed of 130mph. You could almost ride the entire day in top, but that would deny you the pleasure of the best part of the bike – the engine. Or as I now call it, the 'grin-gine'.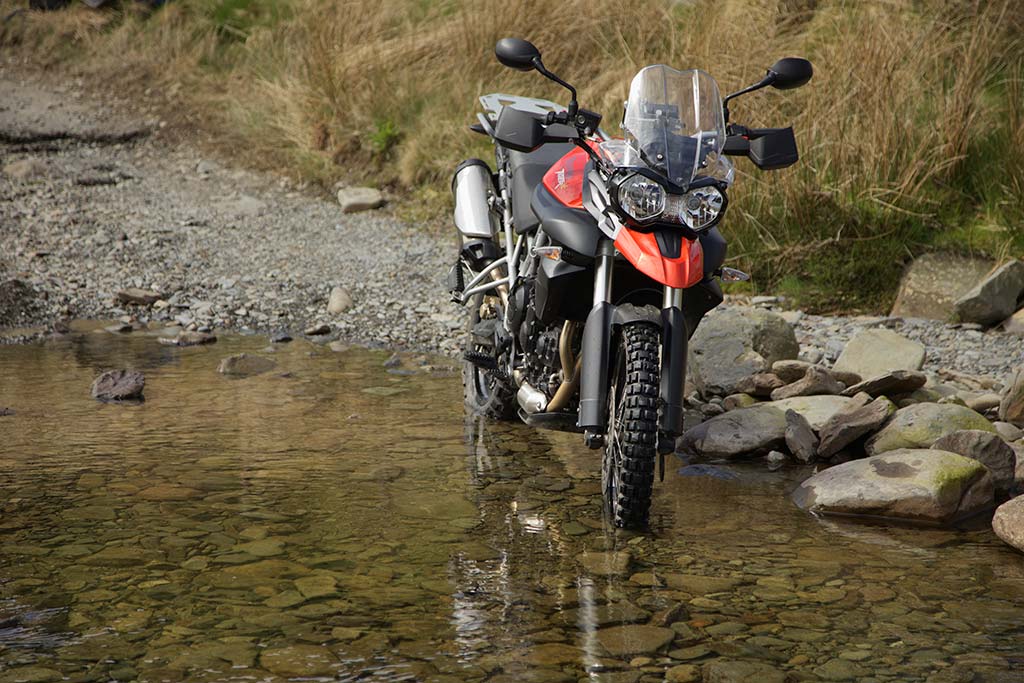 HANDLING
On the road it has me grinning like a little boy with a new toy, which is how it makes me feel ev. Clutch-less gear changes are on tap for those who use them up and down the box without any false neutrals. The 12-inch (308mm) discs at the front are sharp and give plenty of stopping power without having to have a vice-like grip on your right hand. The four- gallon fuel tank gives a range of around 200 miles per ­fill, not brilliant for touring or an Iron Butt run, but OK.
I've found myself having to relearn throttle control to get the best from the bike. Steep climbs are now done with more use of the clutch and a constant engine speed rather than just pointing and twisting as with the GSA.
I never ride with a pillion so can't comment on what it's like two up. With no easy way of adjusting the rear preload it may be tiresome adjusting the settings for a few weeks away with your partner. That is, of course, if you bother to count clicks, test ride, more clicks, etc, to change your settings.
The bike is better balanced than it should be given that the engine sits fairly high in the frame. Riding at walking pace is a doddle, but the bars or lever positions need adjusting for constant off-road use to avoid your wrists aching. This is the same for nearly all adventure bikes.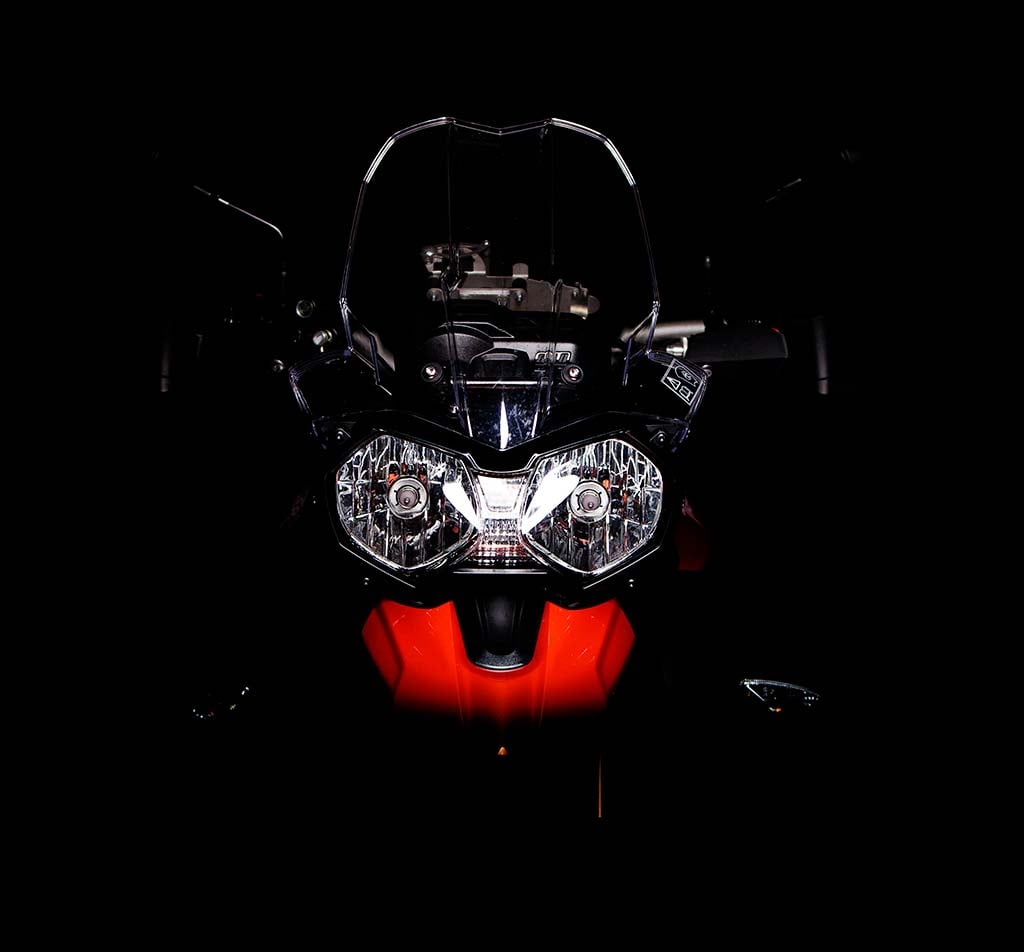 OFF-ROAD
Off the tarmac the bike is very predictable. It feels stable on the loose gravel fire roads with the front giving ever increasing confidence. There's a limit though; exceed it and the front drifts out due to the overall weight of the bike. Rear wheel drift out of corners is do-able, but again you have to rev the motor more than feels comfortable to gain complete control.
It's harder to ride through the technical sections. At low revs the ability to lighten the front wheel is all but gone. Riding slow means you have to slip the clutch to get the power to lift the front wheel over ditches and obstacles. Many unintentional wheelies are in the offing until you get this right. That said, the 800 XC can tackle more than its looks would suggest. The cheap-looking hand guards have survived five or six offs; so too have the plastic side panels round the tank.
You will also find the side stand slapping against its stop on rocky bumpy trails. Nothing too serious there, a simple well-placed piece of rubber would cure it. I am confused as why in the entire off-road testing no one has picked this up?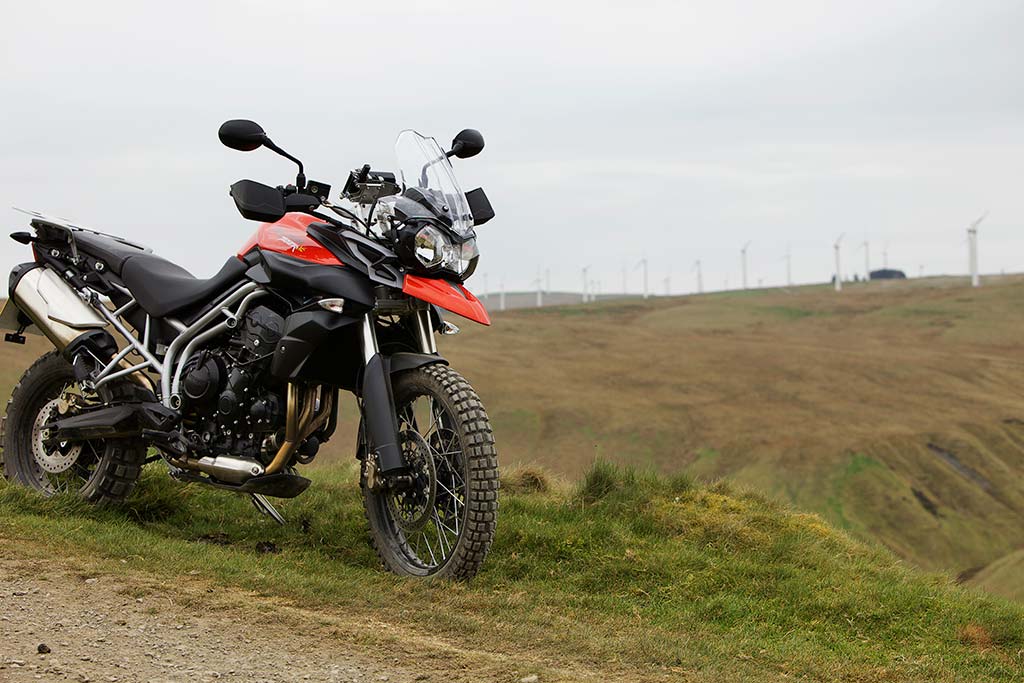 VERDICT
I have 8,000 reasons why the 800 XC should be all good, but in reality it falls far short of the great expectations I had back in November.
Looking closely at the bike you can see that Triumph has not developed it to its full potential, and that is disappointing. There seems to be areas that have been made for a price. Coming from a manufacturing background makes me more critical, I suppose, but that's my honest appraisal.
The rear brake lever and gear lever are cheap-looking pressed steel, the hand guards are thin and weak-looking and the clutch and front break lever are not as good as they could be; £150 a time gets you the proper ones that should have come with the bike in the first place. Triumph has used the same switch gear from its other bikes, which is common practice now, but I was expecting something more. I was expecting every detail to be new and different. So much for the viral ad's claim and my gullibility.
Selling a bike with the centre stand as an optional extra is a bit of con. Especially as the side stand is not without its problems. It will roll off the stand on even the slightest downhill slope. Having to turn the engine off to open gates on the trail is a pain, especially when you have to leave the bike in gear or it will be on the floor. Again, owners beware!
The exposed oil filter looks vulnerable and the lack of a standard adequate sump guard also gets the thumbs down. For an adventure bike these should be standard equipment, not an extra. I think this is more to do with marketing than producing a class-leading product. The aftermarket department will get a big bonus for the farkles they will sell for this bike.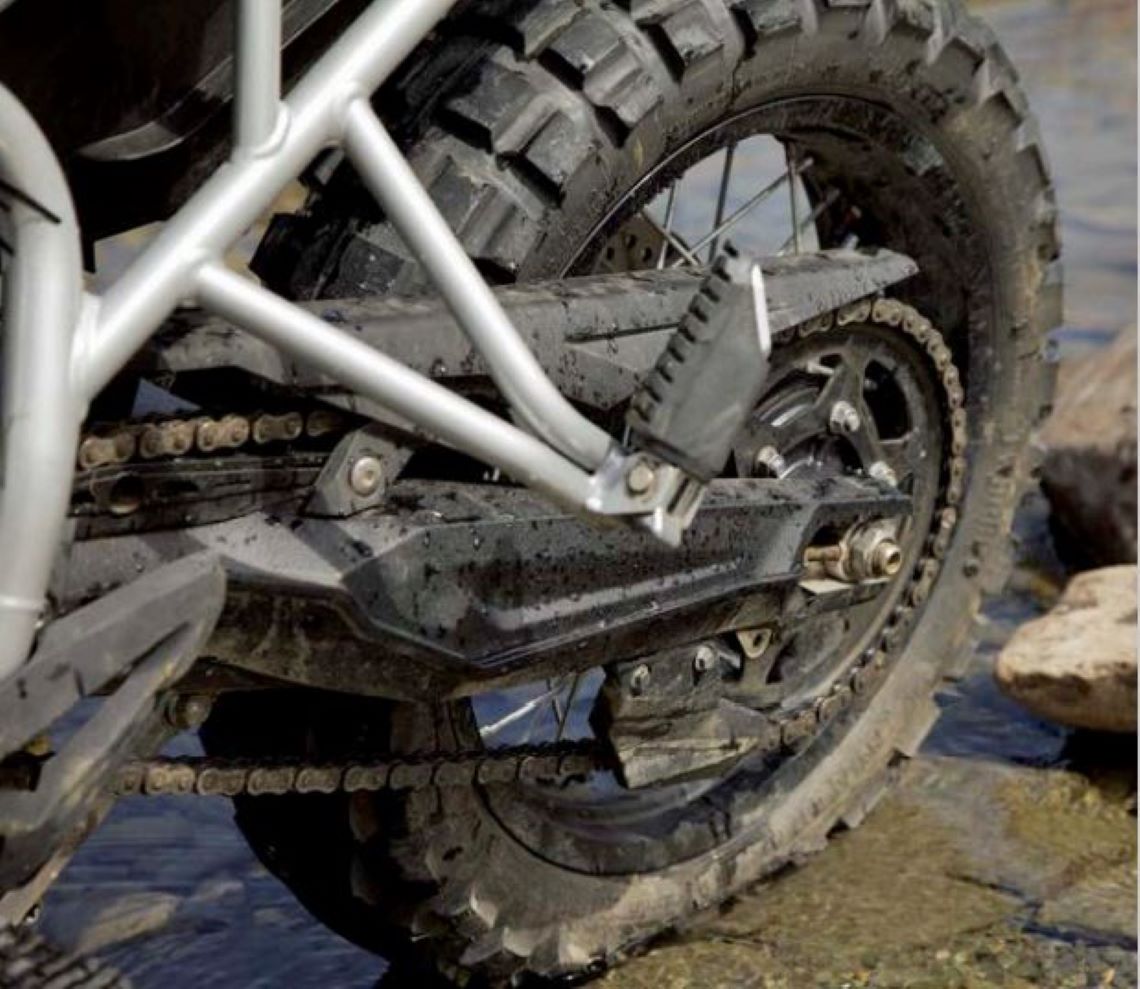 If you're one of the 95 percent of riders that ride 95 percent of the time on the road then this bike is an utter beauty. It's a midweight adventure bike that will take sales from its competitors because of its looks, engine and gear box.
Would it be top of my list for an RTW? Sadly, no. But I don't think it was ever designed for that purpose. For everyday fun and Euro road touring it would be my number one choice, however. That is what I think it was designed for, and that's what it excels at. There's more good than bad to say about this bike, but the few picky things that could have been made or designed better do grate a little. For a first attempt at a very competitive market Triumph has done well, though, and the second generation should be a whole lot better if the people that matter listen to customer feedback. That said, I hope the grin-gine doesn't change too much. The concept of a sporty engine in a traillie frame works like a dream. I'm a convert, and despite the niggles, I can't stop smiling every time I pull off the drive. It's been a long time since I've had that feeling. Has it lived up to the hype? Honestly, 95 percent of the time it's a resounding 'yes!'
Me and the grin-gine have some more smiles to cover; to quote another dragon, "I'm out".
THE STATS
Manufacturer: Triumph
Model: Tiger 800 XC
List price: £7,749
Top speed: 130 mph
Engine size: 799 cc
Engine type: In line tripple
Compression ratio: 12.0.:1
Power: 94 bhp
Torque: 78.65 Nm
Gears: 6
Fuel capacity: 18.9 ltrs
Seat height: Adjustable between 83-84.25 inches
Wet weight: 215 kg
Front suspension: Showa 45MM upsidedown forks
Rear suspension: Showa monoshock
Front tyre: 90/90 21 Battle wings
Rear tyre: 150/70 17 Battle wings
Front brakes: 308 ida twin discs nisin 4 pot calipers
Rear brakes: 255 ida single\ disc nissin 2 pot caliper
Ratings (out of 5)
LONG DISTANCE TOURER (solo): 4
OFF ROAD: 3
AROUND TOWN: 4.5
ACCESSORIES: 1 (still bitter at the late delivery)
RELIABILITY: N/A
HANDLING: 5
ENGINE: 5
ECONOMY: 4
VALUE FOR MONEY: 4.5
OVERALL RATING: 4